A Detailed Guide on McDonald's Organizational Chart
McDonald's Organizational chart- a visual way to learn the processes & operations carried out across all departments.
1. Introduction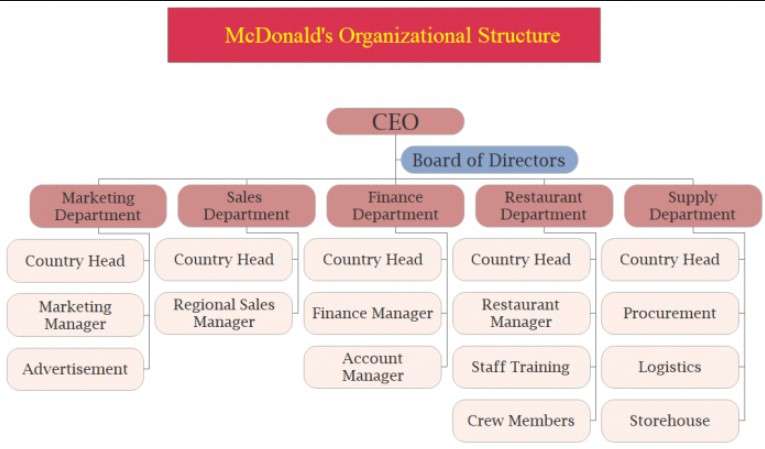 It seems quite pragmatic to have well-designed organizational charts to better perceive organizational staff relations and streamline tasks. Given this expediency, most organizations or firms opt for designing an exhaustive org chart to delineate the roles & responsibilities of the workforce more precisely.
As a case in point, McDonald's, a highly popular fast-food chain, is also based on a scrupulous org structure that defines the operational epitome and functions of the workforce of its varied departments. Therefore, here we'll elaborate on McDonald's organizational structure and thoroughly illustrate how an epic Organizational Chart of McDonald's can be created digitally.
2. McDonald's Organizational Structure
McDonald's amalgamates various organizational structure models to achieve its global targets. Primarily, the brand holds a geographic-based divisional organizational structure (Divisional organizational structure is the one that is divided into divisions based on product, geographical area, market, or trend) where each division independently assigns operational responsibilities and attains strategic objectives.
The modern structure of McDonald's brand is based on functional needs, comprising the CEO, Chris Kempczinski and the board of directors working under him. Below that level, the business is segmented into other divisions like supply, restaurant, finance, marketing, and sales. Each country or region has an independent department with its own head, manager, and other employees.
Together, they constitute McDonald's divisional organizational structure, a framework describing how tasks are efficiently handled worldwide.
3. Example of McDonald's Organizational Chart Template
The company utilizes multiple approaches and hierarchies to operate its business worldwide, including global hierarchy, functional-based grouping, and performance-based divisions. The following template from the EdrawMax gallery will help you better understand McDonald's functional-based hierarchy:
Former CEO, Steve Easterbrook, revised & implemented the current McDonald's organizational chart in which several modifications regarding regional hierarchies were made for modernizing and propagating the fast-food chain. The whole structure is organized according to the functional needs of the business, including marketing, finance, sales, restaurant, and supply department, each having its country head and respective department manager.
This McDonald's organizational chart visualizes the divisional hierarchy based on assigned responsibilities, highlighting the pivotal ranks & departments. Each division controls a specific geographical area or an array of strategic objectives. The reporting procedure is aligned to a particular channel due to grouping individuals with comparable roles based on their organizational assignments.
EdrawMax Desktop
Create over 280 types of diagrams
Windows, Mac, Linux (runs in all environments)
Professional inbuilt resources and templates
On-premises software for business
Enterprise-level data security
EdrawMax Online
Create over 280 types of diagrams online
Access diagrams anywhere, anytime
Team management and collaboration
Personal Cloud and Dropbox Integration
4. Characteristics of McDonald's Organizational Chart
Almost all the renowned businesses in the world conform to some specific characteristics that make them unique and recognizable in the global market. Following are the characteristics of McDonald's organizational chart which assist in managing the fast-food restaurant business effectively worldwide:
Global Hierarchy:
McDonald's upholds a global hierarchy to carry out global operations. Using this hierarchical characteristic, McDonald's controls and manages the operations of all corporate divisions. The CEO delegates strategic instructions and guidelines down the corporate hierarchy to intermediate management, which in turn, disseminates them to restaurant managers and staff.
This hierarchical aspect of the organizational structure, which is typical in various international commercial organizations, has helped McDonald in proficiently managing its global business.
Performance-Based Divisions:
The performance-based division is one of McDonald's organizational structure's most distinctive and noticeable characteristics. These divisions reflect regional branches categorized in accordance with the fast-food company's financial performance and current market trends. After reorganizing the company's structure in 2015, the brand employs performance as the foundation for new divisions in its commercial business.
Now, the company has the most frequent franchises in US and UK since the performance output in these areas is the highest. Additionally, McDonald's focuses on strategic alignment, which means that it forms different strategies for high and low-competitive markets.
Function-Based Groups:
McDonald's org chart comprises function-based groups for handling each department separately. For example, the company possesses a People Group for human resource management and a Supply Chain group for the supply chain management. Function-based divisions allow regional franchises to meet the demands of basic activities.
In addition, the company frequently adds and modifies the groups to foster business growth and target market trends.
5. How to Create an Effective Org Chart?
Creating a visualized delineation of an organization's personnel designations and roles simplifies the understanding of the company's workflow & its growth patterns. If you want to constitute an organizational chart of McDonald's to assess its progress, the ultimate way is to figure out its organizational layout through an org chart. You can employ a professional and state-of-the-art tool like EdrawMax to fabricate an organizational chart for your needs.
Providing hundreds of organizational chart templates, an intuitive user interface, and multiple format options, EdrawMax remains the most exquisite diagramming solution for its users.
How to Create an Organizational Chart Using EdrawMax?
EdrawMax does not necessitate you to acquire technical or in-depth diagramming knowledge to master your org chart; rather, you can readily craft a high-end organizational chart with a little effort by utilizing its premade templates. You can check this video tutorial or follow the below-given procedure to streamline your org chart diagramming.
• Step 1: Download and launch the "EdrawMax" application to utilize it for making your organizational chart.
• Step 2: Click the "New" option from the left panel and choose the "Org Chart" option from the main window. You can proceed with the template by navigating to the "Templates" option and choosing a desirable one.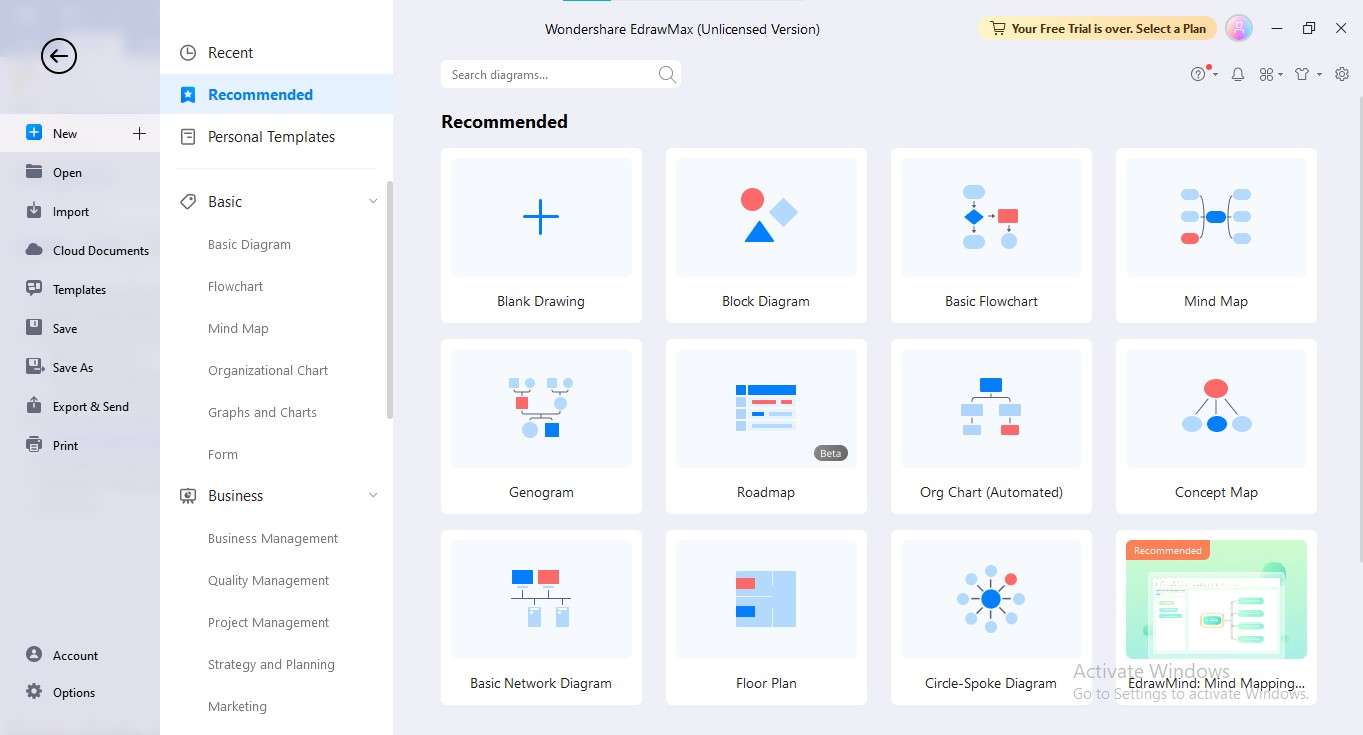 • Step 3: Embed the information into your org chart to complete the diagram.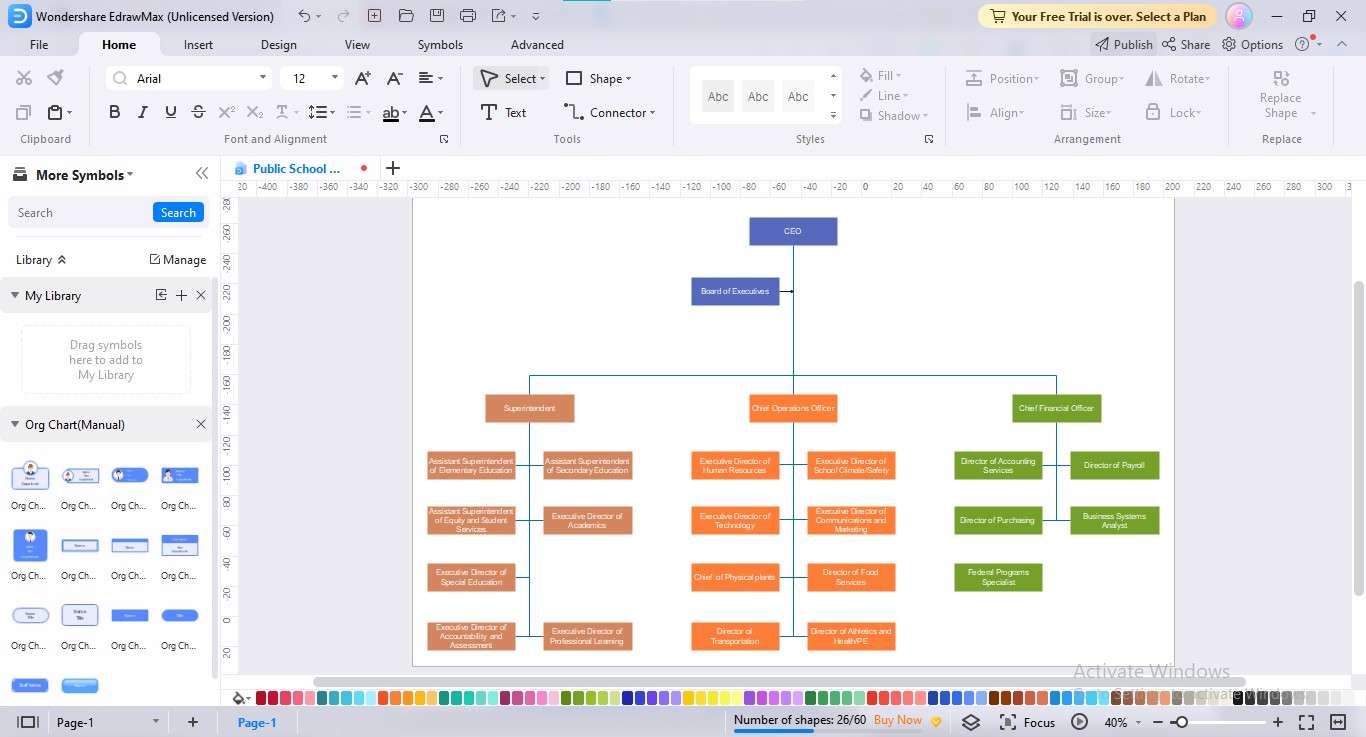 • Step 4: Personalize your organizational chart by applying your favorite color scheme, theme, shape layout, and other elements. You can also insert icons, Emojis, stickers, images, notes, comments, and other designing-related components to embellish your org chart.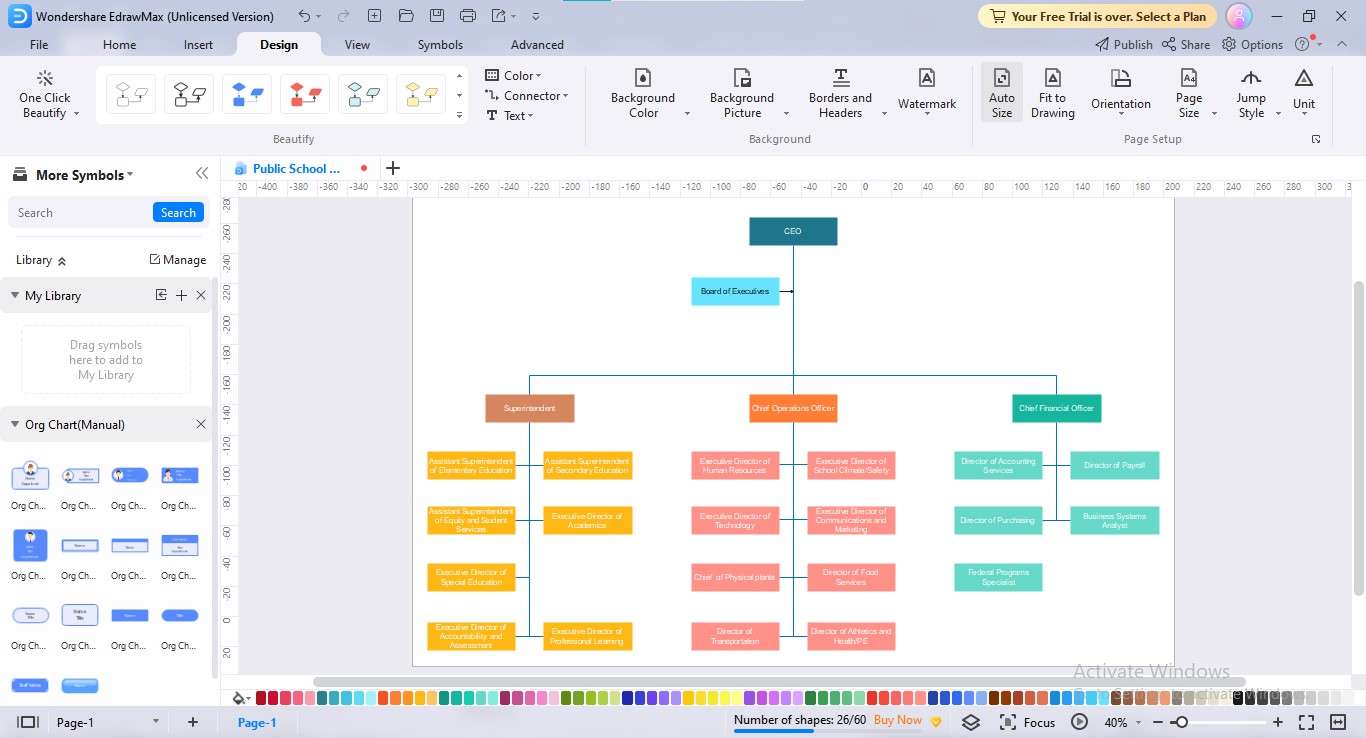 • Step 5: Export your org chart by navigating to the "Export" button and selecting your preferred export format.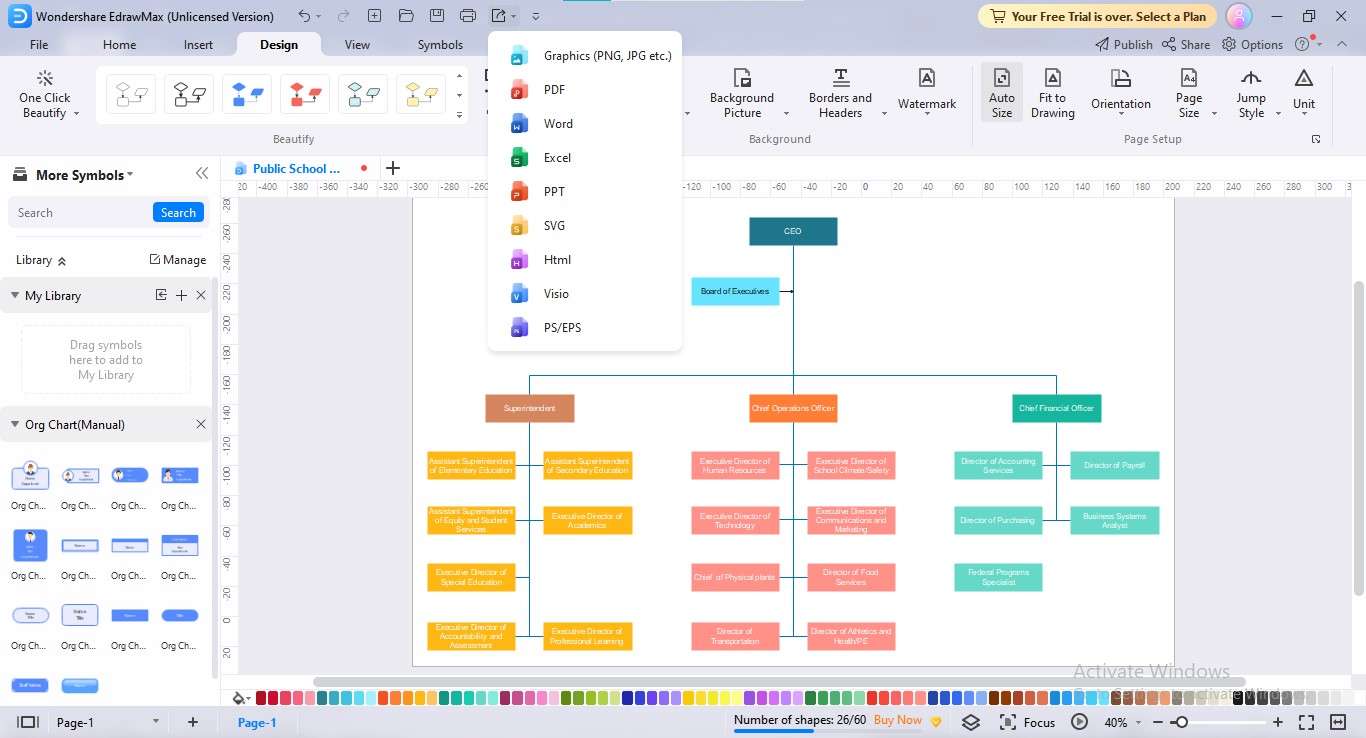 6. Advantages of the Organizational Chart of McDonald's
McDonald's continuously maintains and updates its organizational structure to achieve the following perks:
A structured layout of ranks and roles clarifies each member's responsibilities, from CEO to Country Head to Franchise Manager.
Demarcated hierarchy displays an image of McDonald's as an accomplished and responsible brand, further developing customers' credibility.
A flawless chain of command makes it easy to report to the authority in case of an issue.
Divisional hierarchy enables managing such a global business to run smoothly.
McDonald's organizational chart allows for making successful and feasible strategies for the prospective business objectives.
Divisional structure enables strategic alignment; McDonald's strategizes differently for lead and high-growth markets.
7. Challenges of McDonald's Organizational Chart
Like other real-world companies, McDonald's organizational structure also faces certain challenges in the business world, some of which are presented below:
McDonald's generalizes regional strategies within the same division or country, ignoring their cultural or social differences. For example, the company employs the same strategies for South American and Asian markets, although their fast-food fondness and selection differ.
An issue at the divisional or regional level may not receive adequate and in-time attention due to several intervening management layers.
There has been a long time since McDonald's has revised its organizational structure; the ever-changing food market trends can pose a significant challenge to McDonald's products sales and revenues.
8. Final Words
McDonald's, one of the most renowned cuisine brands in the world, develops and maintains a divisional organizational structure to market its products and generate maximum revenue. The divisional structure further delineates territorial, regional, and functional hierarchies to streamline the business at a more profound level.
Global hierarchy, performance-based divisions, and function-based groups are some salient characteristics of McDonald's organizational structure that assist it in elevating its productivity in the global market.
Additionally, McDonald's organizational chart allows efficient resource management, prolific strategy development, and reporting. On the other hand, monotonous strategies for different territories, lack of direct access to the authority, and traditional chain of command are some of the few challenges which McDonald's needs to overcome.
EdrawMax Desktop
Create over 280 types of diagrams
Windows, Mac, Linux (runs in all environments)
Professional inbuilt resources and templates
On-premises software for business
Enterprise-level data security
EdrawMax Online
Create over 280 types of diagrams online
Access diagrams anywhere, anytime
Team management and collaboration
Personal Cloud and Dropbox Integration
Related Articles