Harness ChatGPT Artificial Intelligence Chatbot to Improve the HR Management
ChatGPT technology has innovated the HR department operations, from recruitment to employee management to compensation, leading to improved performance.
1. Introduction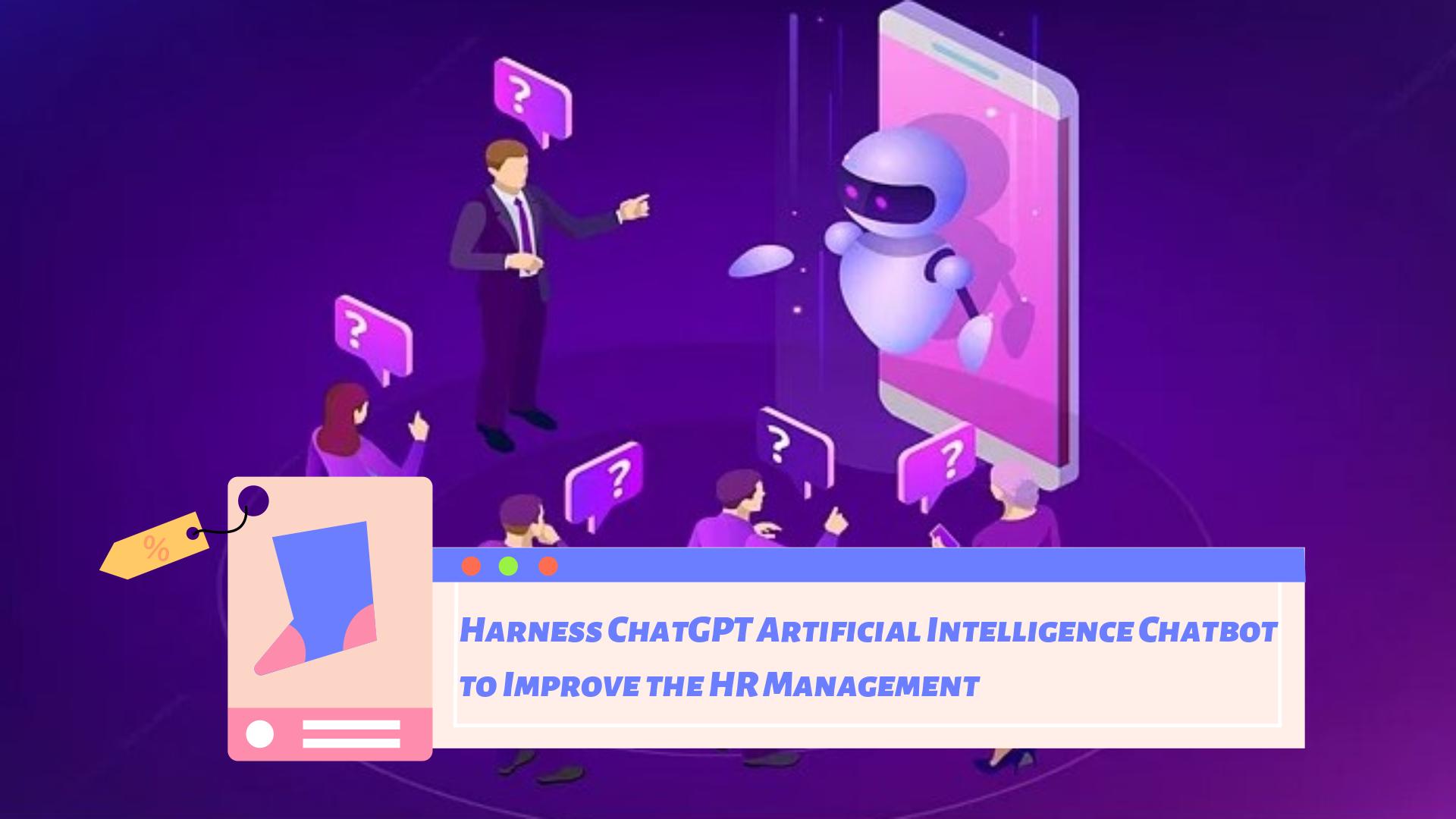 Human Resources is an integral department, serving as a backbone for the corporation; however, the manual management of multiple HR operations can be a tedious task. An HR manager confronts dozens of interview schedules, pay slips, job applications, interview statuses, tax reports, and other tasks. Managing all these operations by one individual can affect HR performance, resulting in employees' dissatisfaction with late or partial responses.
AI-driven Chatbots are a recent trend in human resource management that has revolutionized the working of the HR department, automating various tasks, including leave processing, candidate interviewing, pay slips, and workforce management. Given this pursuit, we have conducted a thorough analysis of ChatGPT examples, its capabilities, benefits, and challenges to its implementation.
2. What Is ChatGPT?
ChatGPT is a Chatbot developed by OpenAI, an AI-powered language processing tool that simulates a human conversation to solve employees' problems and queries. By automating the department's repetitive tasks and providing a personalized communication experience to the employees, ChatGPT brags about undertaking various HRM tasks and eliminating day-to-day performance glitches.
Unlike traditional Chatbots, ChatGPT employs Deep Learning (DL) techniques to generate responses, holding the capability to comprehend employees' intent, preferences, behavior, & emotions and providing answers based on these factors.
Working of ChatGPT:
ChatGPT is excessively trained by OpenAI through various techniques, including Deep Learning to generate accurate & relevant responses. OpenAI nourishes ChatGPT with millions of text data, such as books, articles, and other written content. ChatGPT, in return, operates by predicting the next word based on the patterns it has grasped from the massive lump of text during training.
OpenAI evaluates & analyzes those responses and rectifies errors through recommendations. This process recurs thousands of times until ChatGPT generates accurate, personalized answers to human prompts.
3. Implementing ChatGPT for HR
ChatGPT is taking HR management to the next level through its technological innovation and swift & intelligent responses. Let's delve deeper into how artificial intelligence in HRM is setting new trends and how you can benefit from AI-powered ChatGPT in managing your business operations.
1: Write Job Descriptions for HR Assistant Using ChatGPT
ChatGPT can assist you in writing a professional and attention-driving job description that will attract candidates' attention to apply for the job. Using its smart text interpretation capabilities, ChatGPT will generate an inviting job description.
How to Generate a Job Description Using ChatGPT?
Using ChatGPT on your PC requires setting up an OpenAI account by filling in the required information. Enter your query in ChatGPT to write a job description for you.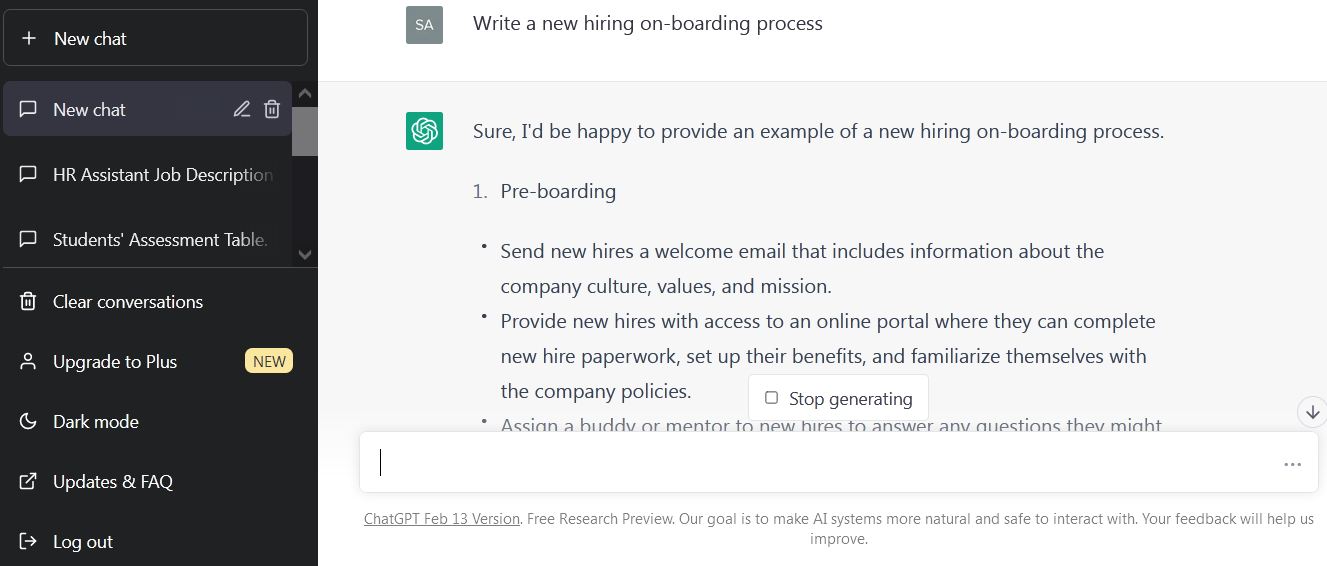 After entering the required information about the post, ChatGPT will write a professional and well-formatted job description. HR managers can use this technique in HRM to constitute an AI-generated job description for a new post, saving additional costs and time.
Note: You can forge the job description formulated by ChatGPT into a poster using EdrawMax, a certified diagramming solution for both personal and enterprise uses. EdrawMax provides hundreds of templates to tailor your job poster according to your requirements and preferences. Even you can inquire about ChatGPT to form a job poster of this description using the EdrawMax application.
How to Create a Job Poster of ChatGPT-Generated Description Using EdrawMax?
Using ChatGPT on your PC requires setting up an OpenAI account by filling in the required information. Enter your query in ChatGPT to write a job description for you.
Step 1: Download and launch the EdrawMax application to access its main interface.
Step 2: Go to the templates option and enter "Poster" in the search bar to get poster templates.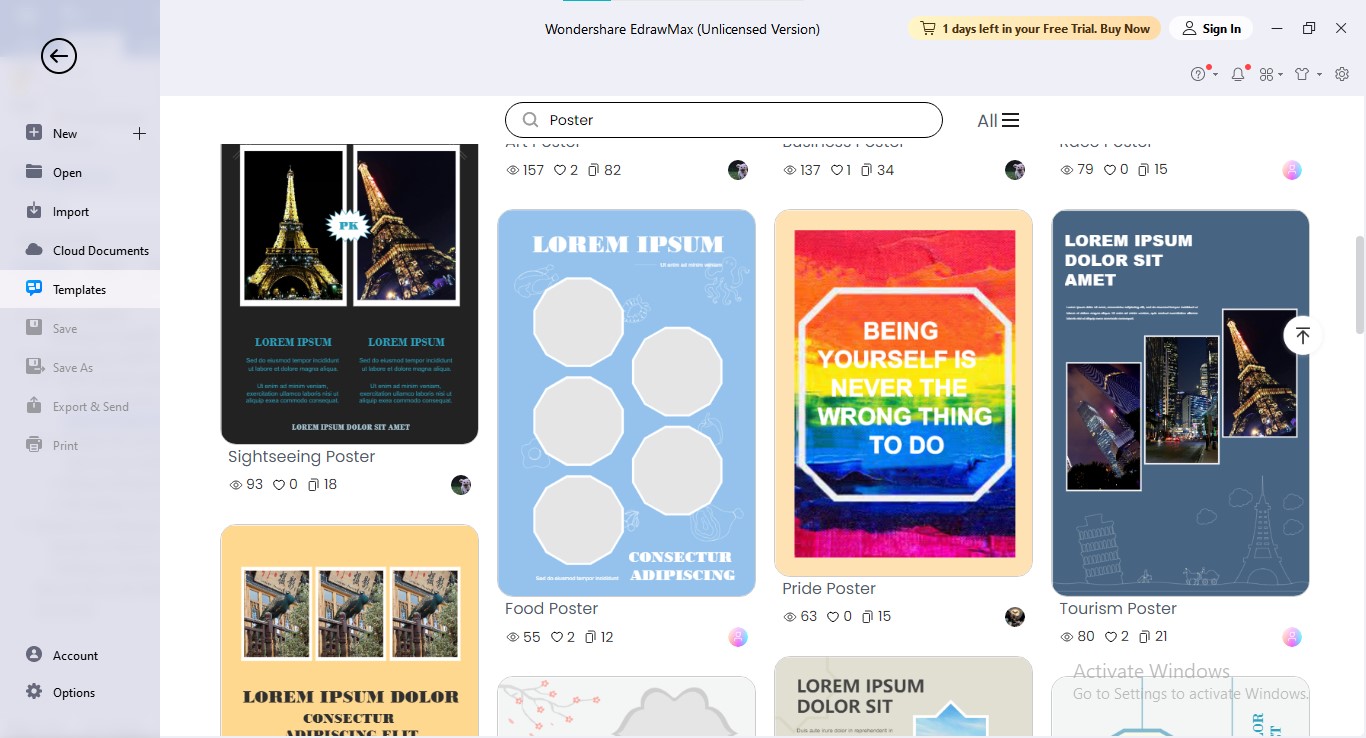 Step 3: Enter the job title at the top of the poster clearly and list the key responsibilities, required qualifications, & other relevant information on the poster.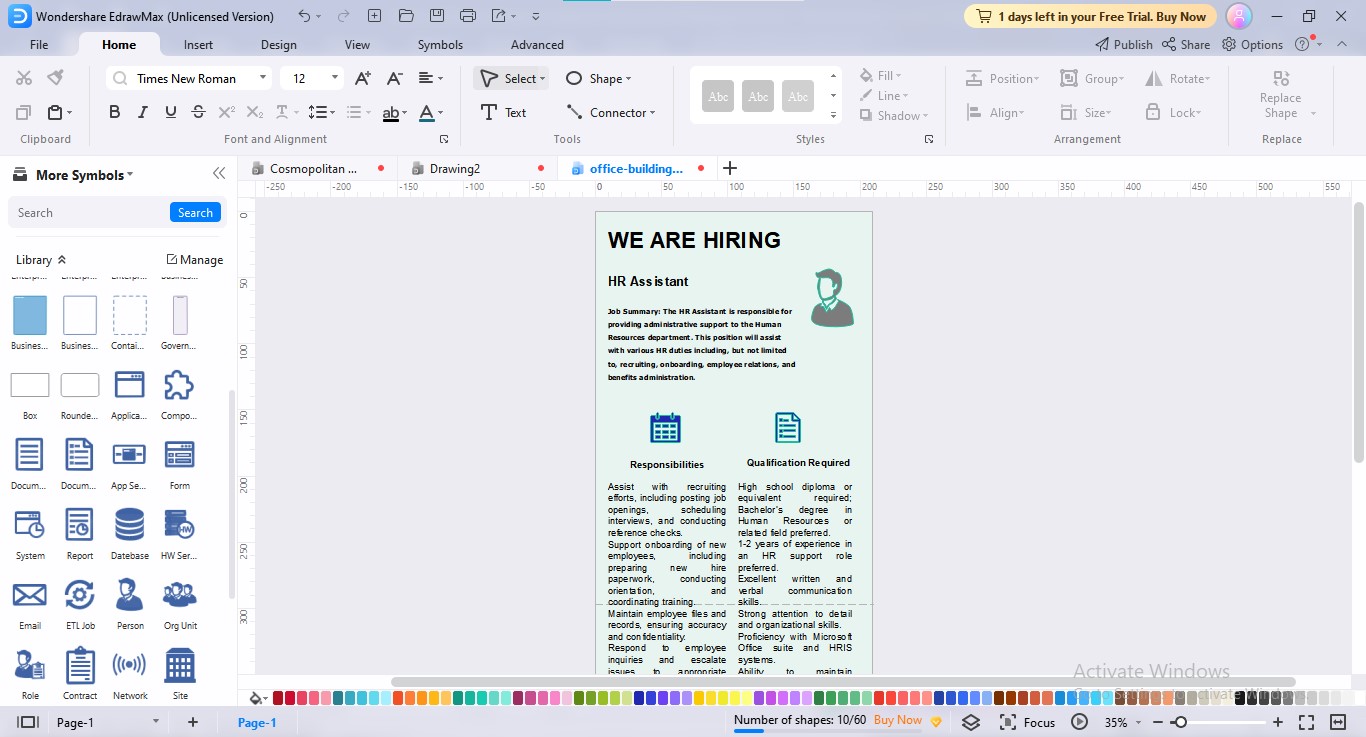 Step 4: Customize the poster according to your preference by implementing your favorite theme, layout, color scheme, shapes, font, or other elements.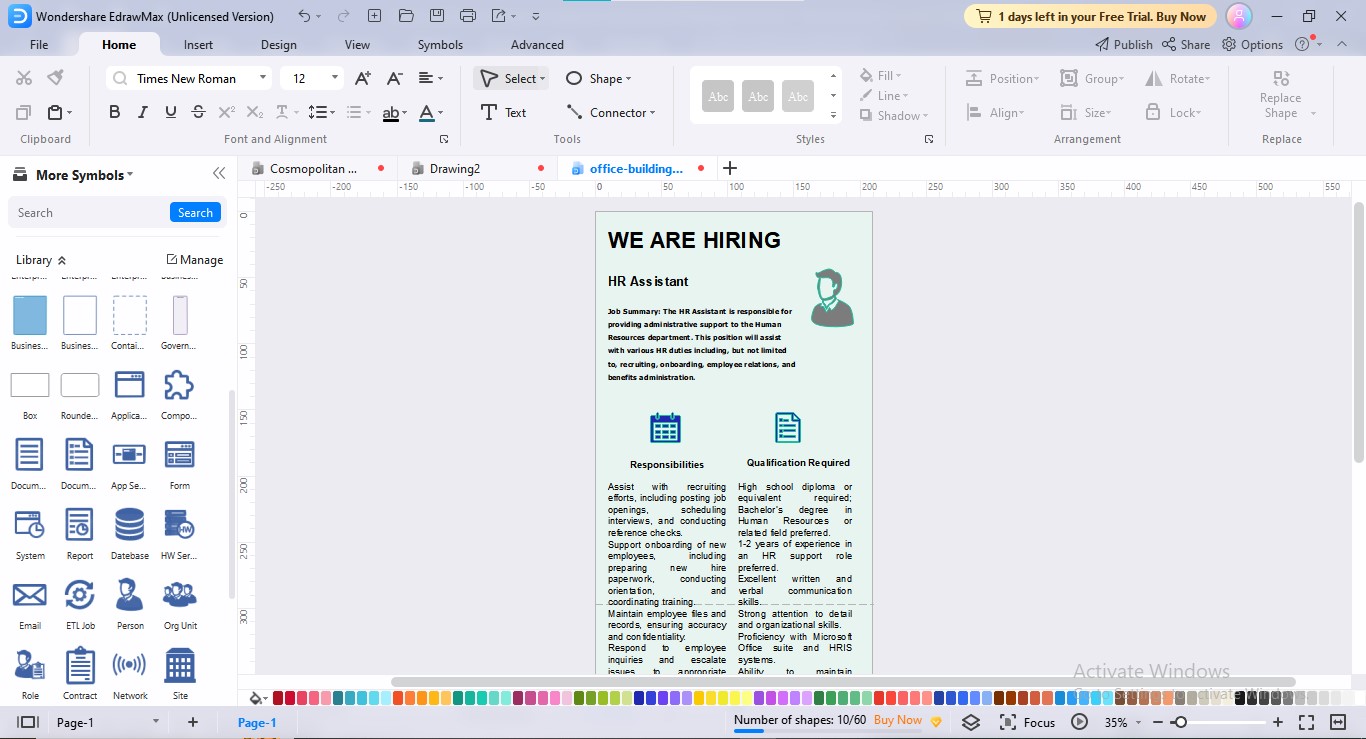 Step 5: Export your poster into a desirable format; click the "Export" button at the top panel for exporting your file.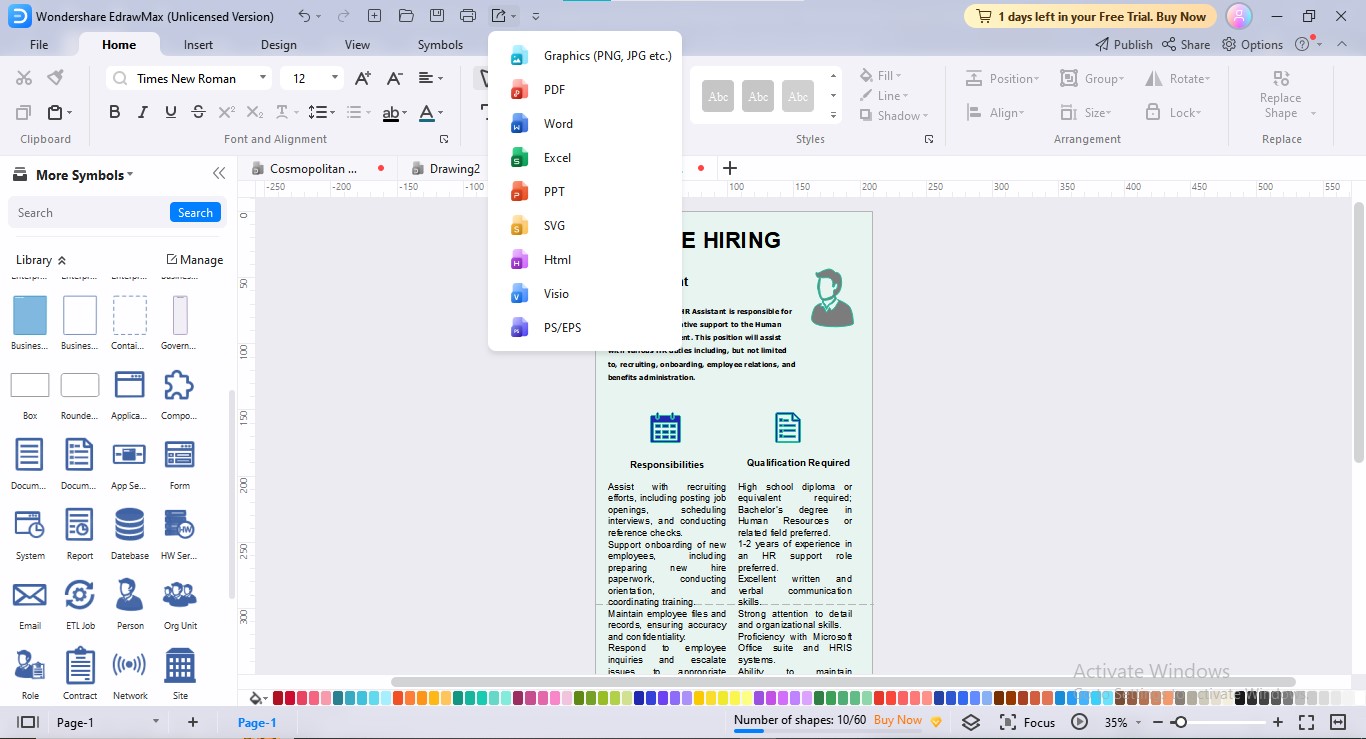 2. Simplify Recruitment and New Hiring Onboarding Processes With ChatGPT
The human resource department can utilize ChatGPT to accomplish recruitment-related tasks, such as writing outreach emails, screening resumes, calling candidates for interviews, taking tests, and taking feedback. Additionally, ChatGPT is an emerging trend regarding candidate onboarding; it welcomes new employees, familiarizing them with the company's policies, rules, values, culture, expectations, and future goals.
ChatGPT can assist new candidates in several ways, including providing information, answering questions, conducting surveys, collecting feedback, etc.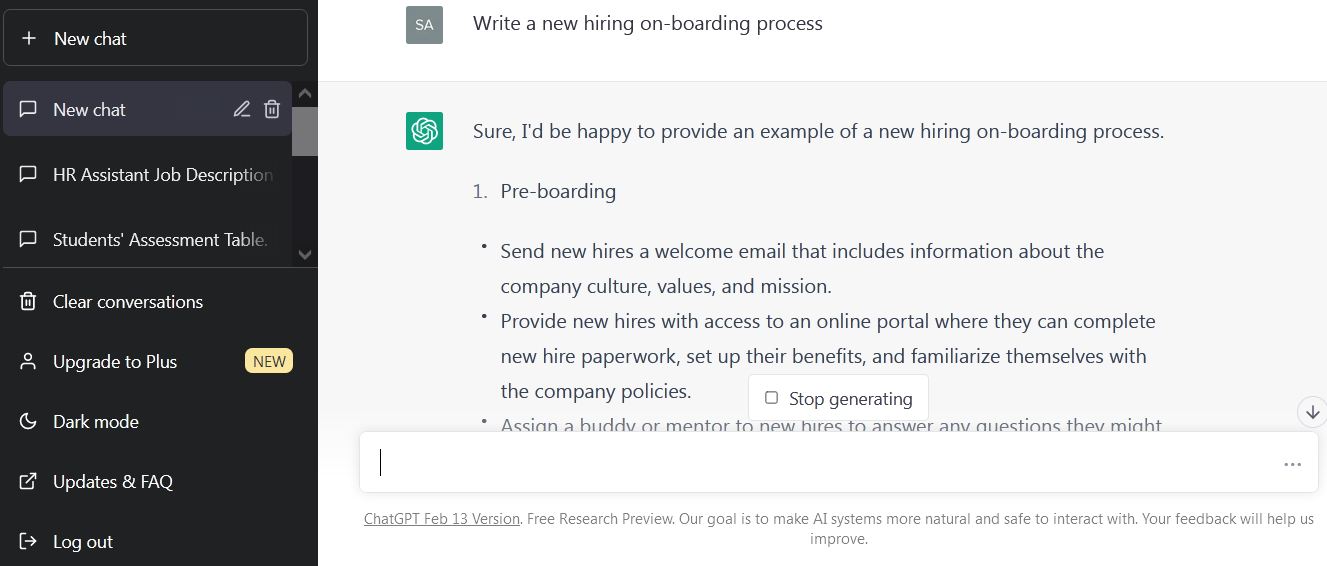 The above screenshot inquires ChatGPT about onboarding new employees, and ChatGPT has figured out the ways in which it can assist in the onboarding processes. You can also create a flowchart diagram using a reliable application like EdrawMax to visualize the onboarding procedure.
How to Use EdrawMax for Making an Onboarding Flowchart?
The detailed procedure for crafting a visualized flowchart of the onboarding process is presented below:
Step 1: Click the "New +" option from the left panel of the main interface and choose the "Basic Flowchart" option.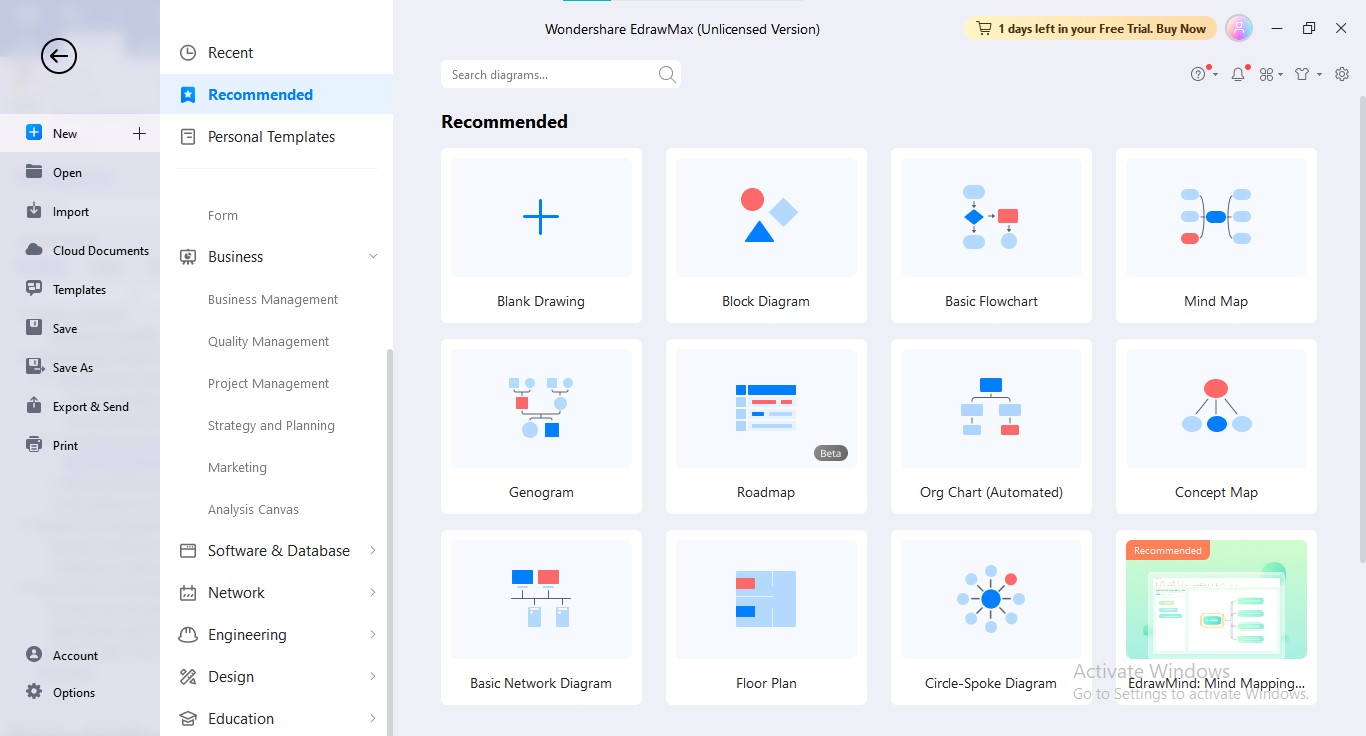 Step 2: Add shapes and connect them using connectors to join the ideas. Enter your ideas to develop a sequence and flow of thoughts.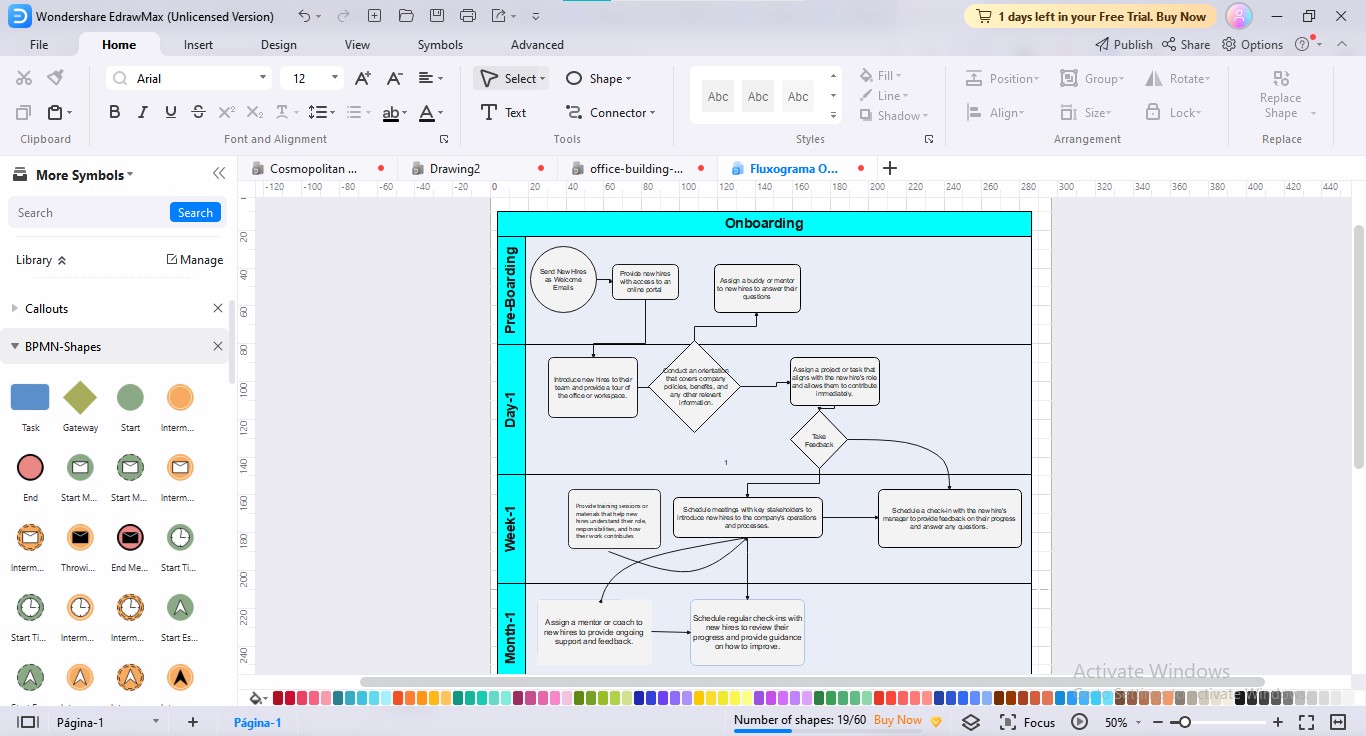 Step 3: Customize your flowchart according to your requirements using shapes, fonts, colors, themes, icons, and elements of your choice.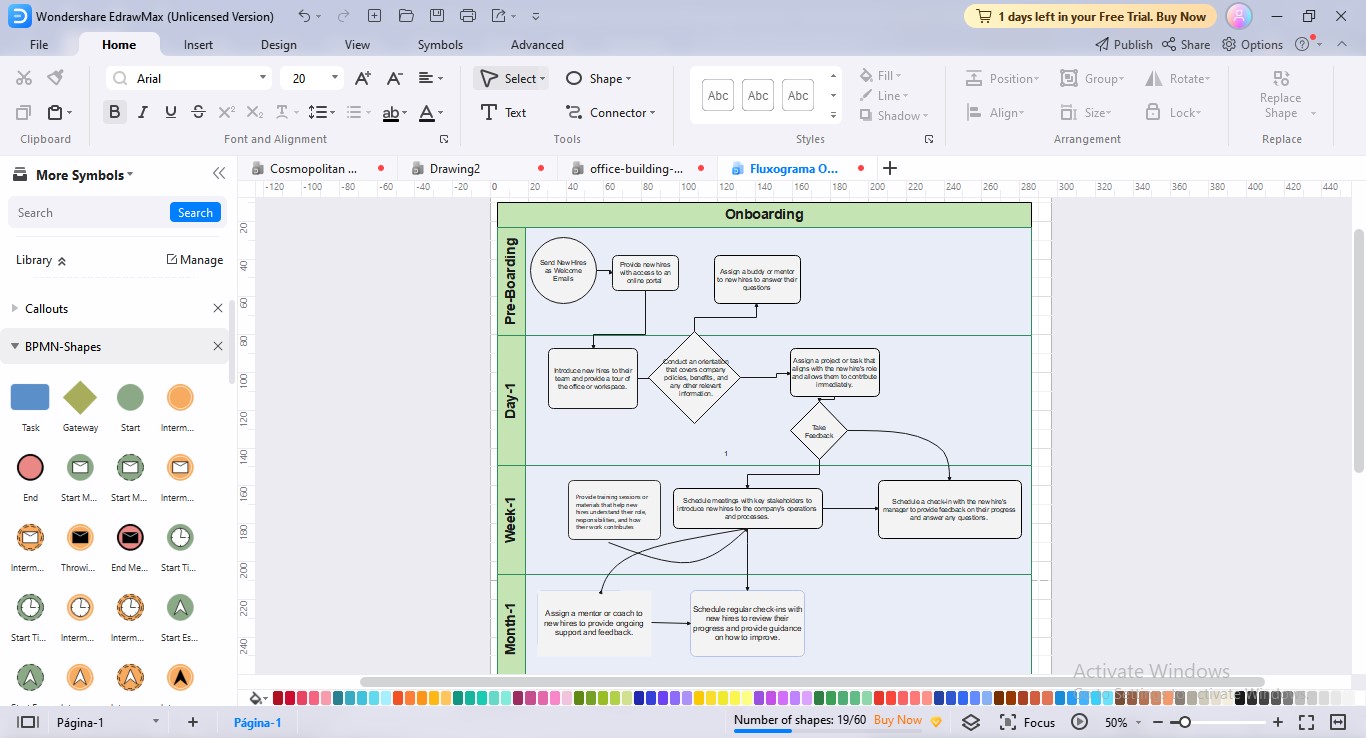 Step 4: After completing your project file, click the "Export" button at the title bar to export it in your preferred format.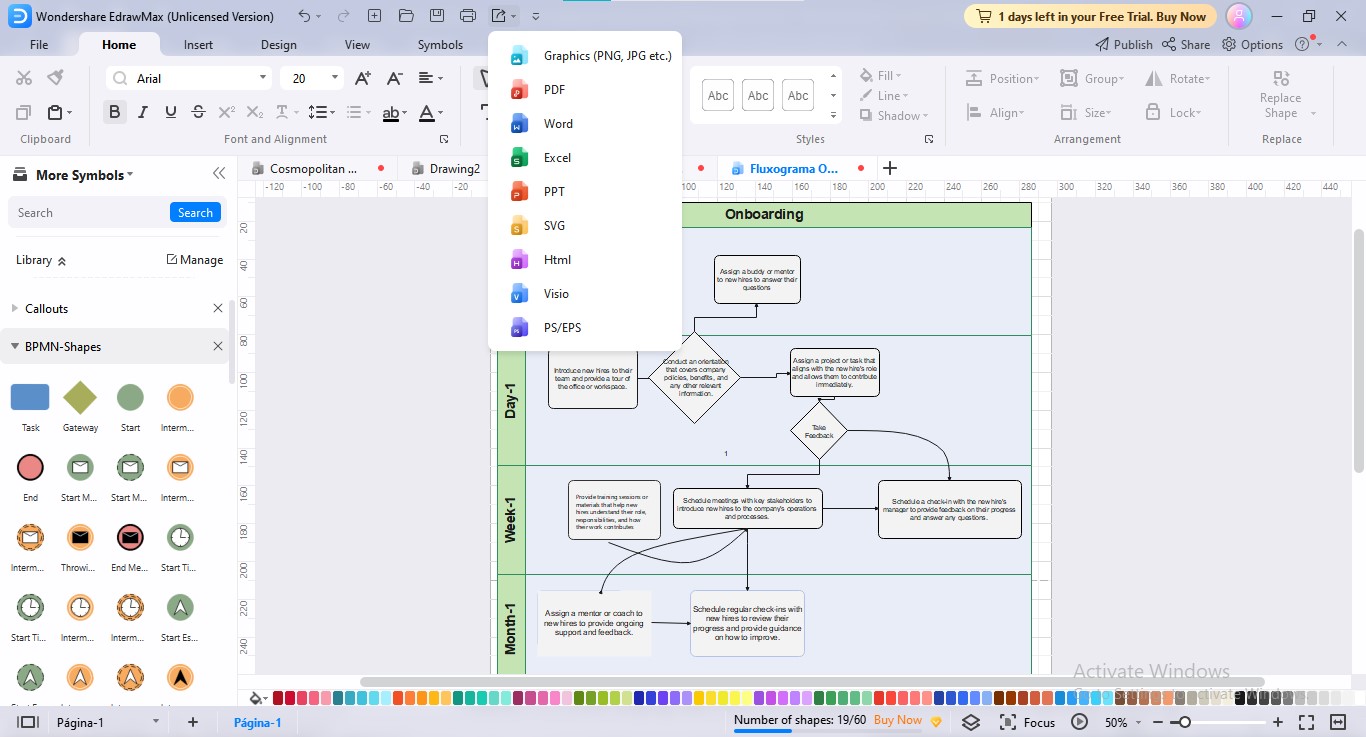 3. Efficient HR Data Management With ChatGPT Artificial Intelligence Tool
Keeping a record of each employee's data, including his duty hours, attendance, leaves, pay delivery, or other aspects, can be challenging to be handled manually. According to a report, data managers dissipate 80% of their time preparing and managing data analytics.
You can develop a database of employees' information, track their individual progress, and disseminate the company's new guidelines using ChatGPT. Additionally, this AI-driven Chatbot can answer employees' questionnaires, solve their day-to-day problems, and provide them company's resources, ensuring a streamlined workflow.
Chatbots can even perform predictive analysis of the available statistics and recommend suitable solutions to avoid undesirable outcomes.
4. HR Chatbots To Enhance Employees' Experience
ChatGPT is a trend-shaping innovation in the human resource department regarding enhancing employees' experience. Generally, employees' satisfaction has remained a pivotal value of accomplished organizations. AI-powered ChatGPT collects employee feedback about their working experience and suggests helpful tips to maximize their performance.
Additionally, ChatGPT can act as a 24/7 available help desk to answer employees' queries. Delivering human-like responses to workers is a perk which improves their confidence in the company, and they work with full motivation.
Frontline workers' training is an important task which ChatGPT aptly fulfils. Providing them access to training courses, tutorials, books, and questionnaires, ChatGPT facilitates workers to understand the company's objectives and prospective aims.
EdrawMax Online
Create 280+ types of diagrams online
Access diagrams anywhere, anytime
Everything in desktop + Templates Community
Team management and collaboration
Personal Cloud and Dropbox Integration
4. Benefits and Challenges of Using Artificial Intelligence Technology in HR Management
With the emergence & maturing of tech-inspired solutions and their introduction into the business realm, the working trends have changed. Although Artificial Intelligence in HR management has proved fruitful from various points of view, it has detrimental effects on your overall performance if used improperly or without check.
Benefits of Artificial Intelligence in HR Management:
The most apparent advantages of ChatGPT pertain to automating the company's vital tasks, making HR management less stressful and more productive. Following are the benefits businesses have experienced after incorporating AI technology in their system circle:
ChatGPT streamlines your hiring and onboarding processes by undertaking various recruitment operations.
Serving as a 24/7 user assistant, Chatbot detects and solves significant issues faced by employees.
ChatGPT can help develop practical training strategies to enhance employees' efficiency and achieve the company's targeted goals.
You can track employees' contributions and overall progression rates to evaluate whether workers are performing their duties proficiently or not.
Challenges of Artificial Intelligence in HRM:
The bad side of using AI in HR management is that it is developed by human programming, implying there's room for biases, errors, and incompetence. Here are the challenges you may face while implementing an AI-inspired system into your business:
Artificial intelligence cannot be a replacement for actual human involvement; ChatGPT doesn't have a global understanding of your company which you or your employees may possess.
Although ChatGPT is intelligent, still, it cannot "Read" employees' minds or has no algorithm to detect their motivation or loyalty level. In contrast, a human manager can comprehend many facets of a worker's personality, even through face-to-face interaction.
Chatbots are developed by human beings, because of which they may make biased decisions, eliminating some eligible candidates.
They are extremely liable to security risks, leaving you open to cyberattacks; hackers may target your personal data through these apps.
5. Tips on How to Get Started with an AI-powered Chatbot in HR Management
Reading the theoretical perks may attract you towards incorporating Chatbot in your business HR regime. Still, when it comes to practicality, things often deviate and do not result in what one expects. If you want to implement ChatGPT in your HR department, here are a few valuable tips for a maximized success rate:
Do Not Leave the Entire Task Solely on AI Chatbot:
Chatbots are human-built, thus having a chance of error and lack of intellectual reasoning. Therefore, leaving all tasks solely on Chatbot is not advisable. AI operates on digital data, not on analytical reasoning.
For example, if a candidate is less qualified or has low grades but is competent in his relevant field, AI may reject his job request on the basis of his grades. Hence, rather than totally relying on AI tools, mix both AI and human efforts by taking partial responsibility on your shoulders.
Make Demarcated Divisions Between AI and Human Labor:
There are some areas of work in which AI cannot replace human intelligence. Similarly, some tasks are not as efficiently handled by human beings compared to Chatbots. Thus, demarcate a sharp boundary between AI and human involvement. Giving space to human involvement will not only improve efficiency but will also prevent the complete takeover of human labor by machines.
Use the Latest Version of Chatbot:
Always ensure that you are using the most updated version of Chatbot. It is because primitive Chatbots used to trigger repetitive and illogical responses or answer only predefined questions. Contrastingly, the latest Chatbot versions are exclusively smart to generate exact and relevant responses because they use Natural Language Processing (NLP) and Deep Learning (DL) techniques to generate answers.
6. Conclusion
ChatGPT is an innovative AI-driven solution that will help you smoothen your HR tasks, including recruitment, onboarding, job descriptions, training, payslips, meeting schedules, etc. Based on the Deep Learning technique, it generates human-like responses to prompts.
Although the recent upsurge of AI-driven technology has brought limitless benefits regarding HR management, it still possesses downsides, such as biases, errors, or lack of human-like perception of things. The ideal way out is to mix and balance both solutions to achieve a well-maintained work environment.
EdrawMax Online
Create 280+ types of diagrams online
Access diagrams anywhere, anytime
Everything in desktop + Templates Community
Team management and collaboration
Personal Cloud and Dropbox Integration
Related Articles