How To Create an AI Mind Map? A Comprehensive Guide
Whether you are a professional designer, mentor, or business professional, AI mind mapping will facilitate the effortless portrayal of complex concepts.
Also available for
Windows, Mac, Linux, iOS, Android, and Web.
All options >>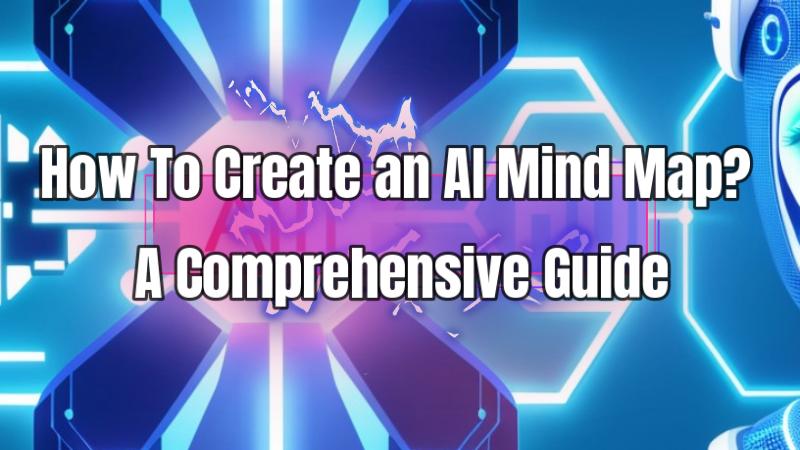 In the realm of traditional problem-solving, our thoughts often follow a linear path, constrained by a single course of action. But with mind mapping, we surpass these margins and immerse ourselves in a dynamic backdrop where ideas blossom in a multidimensional symphony. However, the induction of AI in the mind-mapping domain has taken this valuable technique to new heights. AI advancements have elevated the mind-mapping experience by introducing intelligent breakthroughs.
AI mind maps have become more than just a static representation of ideas. The automated ideas delivery sparks creativity and encourages you to excavate vague thoughts. This article will illuminate the positive aspects of utilizing mind map AI technology. Also, you will learn to construct a personalized map using a reliable AI mind map generator.
1. What Is Meant by AI Mind Map?
A mind map is a visual illustration of ideas, concepts, and their relationships, organized in a hierarchical structure. AI adds a new dimension to mind mapping by automating the mind map processes.
An AI Mind Map is a cutting-edge approach to visual thinking and information organization. Machine learning algorithms automatically analyze user input, identify key concepts, and generate mind maps. Additionally, AI-powered mind-mapping tools offer features like smart recommendations, layout optimization, and integration with external data sources.
Benefits of Using AI Mind Maps
AI mind maps offer a plethora of benefits that can take your data visualization to the next level. Let's delve deeper into some of the advantages of Artificial Intelligence mind mapping and explore how they can enhance our experience: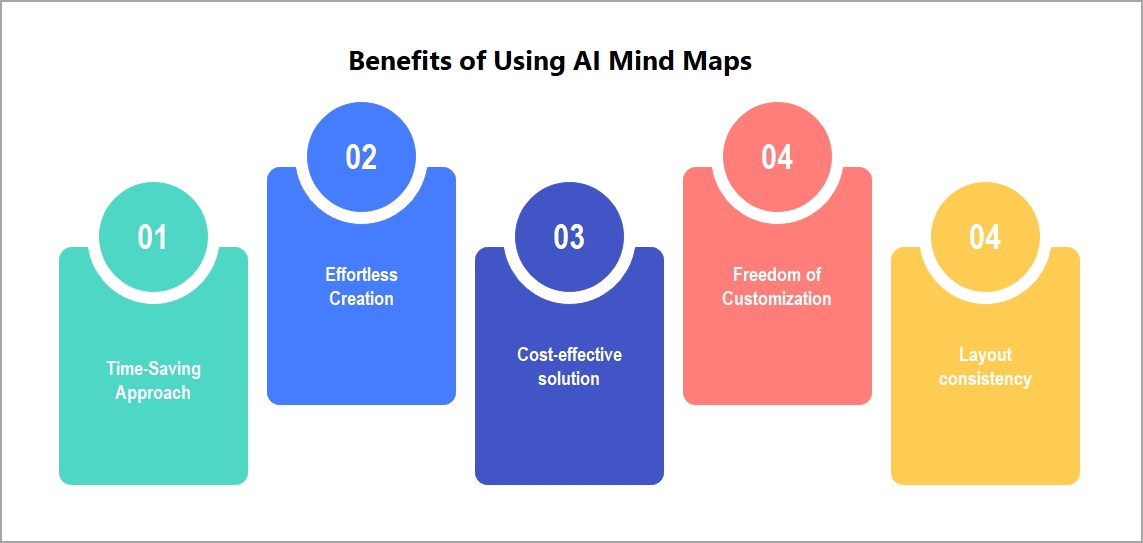 Time-Saving Approach
AI mind maps provide a streamlined and efficient method for capturing ideas. With intelligent algorithms at work, the process becomes faster and more intuitive. Instead of spending precious time on manual tasks such as formatting and structuring, mind map AI generators automate these processes. AI mind maps save you precious time by eliminating the need for hard manual efforts. You can channel your energy into deeper thinking and creative exploration.
Effortless Creation
Traditional mind-mapping techniques often need meticulous attention to the details. However, the mind map Artificial Intelligence tools simplify the map creation process, making it more effortless. AI algorithms suggest relevant branches, connections, and formatting options based on your input content. Whether you're a seasoned mind mapper or a novice, AI mind mapping tools empower you to quickly and effortlessly transform your thoughts into visually engaging mind maps.
Cost-effective solution
Hiring professional designers or graphic artists to create visually appealing mind maps can be costly. AI mind map generators offer an economical alternative by eliminating the need for external design expertise. With pre-built templates, intelligent layout algorithms, and customizable styles, AI mind map tools create impactful maps. This cost-effective approach opens up a mind-mapping landscape to individuals and organizations of all budgets, fostering greater accessibility.
Freedom of Customization
AI mind maps provide a canvas of limitless customization options. You have the freedom to personalize every aspect of your mind map, from the arrangement of branches to the choice of colors. Mind map AI generators offer intuitive interfaces that allow you to easily adapt the structure, style, and content of your mind maps. This flexibility of customization ensures that your mind map reflects your unique thought process and visual aesthetics.
Layout consistency
Consistency is key to creating visually appealing mind maps that reach the target audience. AI mind mapping tools excel in maintaining layout consistency throughout the mind map. The tools ensure that branches, subtopics, and connections align harmoniously. This consistency enhances readability, enabling a clear and logical flow of ideas. By taking care of the layout nuances automatically, AI mind maps save you the effort of manually adjusting the items.
2. EdrawMax- A Top-Notch Tool to Generate AI Mind Maps Conveniently!
If you are searching for the best mind map generator AI tool, EdrawMax should be your priority. The tool primarily works as an AI mind map generator from text, combining the power of artificial intelligence with an intuitive design toolkit. Using advanced natural language processing algorithms, EdrawMax analyzes and understands the textual input, extracting key concepts, relationships, and hierarchies.
EdrawMax's AI capabilities also encompass the layout and formatting of the mind maps. The software intelligently arranges the branches, optimizes spacing, and ensures visual coherence. You can refine the AI-generated mind map by modifying the structure, adding or removing branches, adjusting the colors, and personalizing the content. Also, the tool enables image text extraction, through which you can effortlessly dig out textual content from the images without typing a single letter. How-to List:
How To Generate an AI Mind Map With EdrawMax's AI feature?
With EdrawMax, the mind map creation process is as seamless as waving a wand. Simply input your text, and watch as the AI Assistant awakens, meticulously analyzing every word. Like a skilled cartographer, it intuitively maps out the relationships and hierarchies within the text, crafting an intricate web of ideas. Let's see how to create a mind map AI diagram with Edraw AI:
Step1
Download and launch the latest edition of the "EdrawMax" application.
Step2
Click the "New" option in the left sidebar and go to the "AI" tab at the top. Click the "Create New" option to wake the Edraw AI Assistant.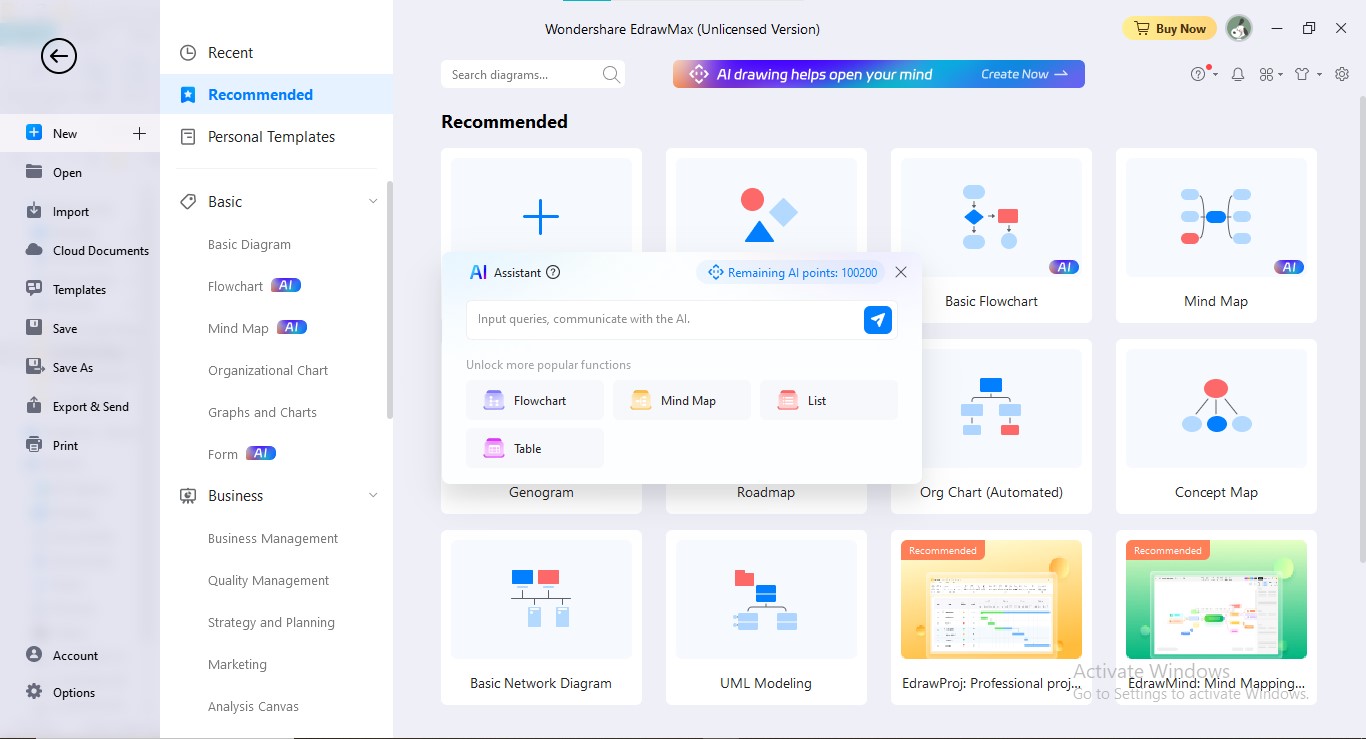 Step3
Choose the "Mind Map" option from the given tabs. You can directly describe your query by typing it in the search bar.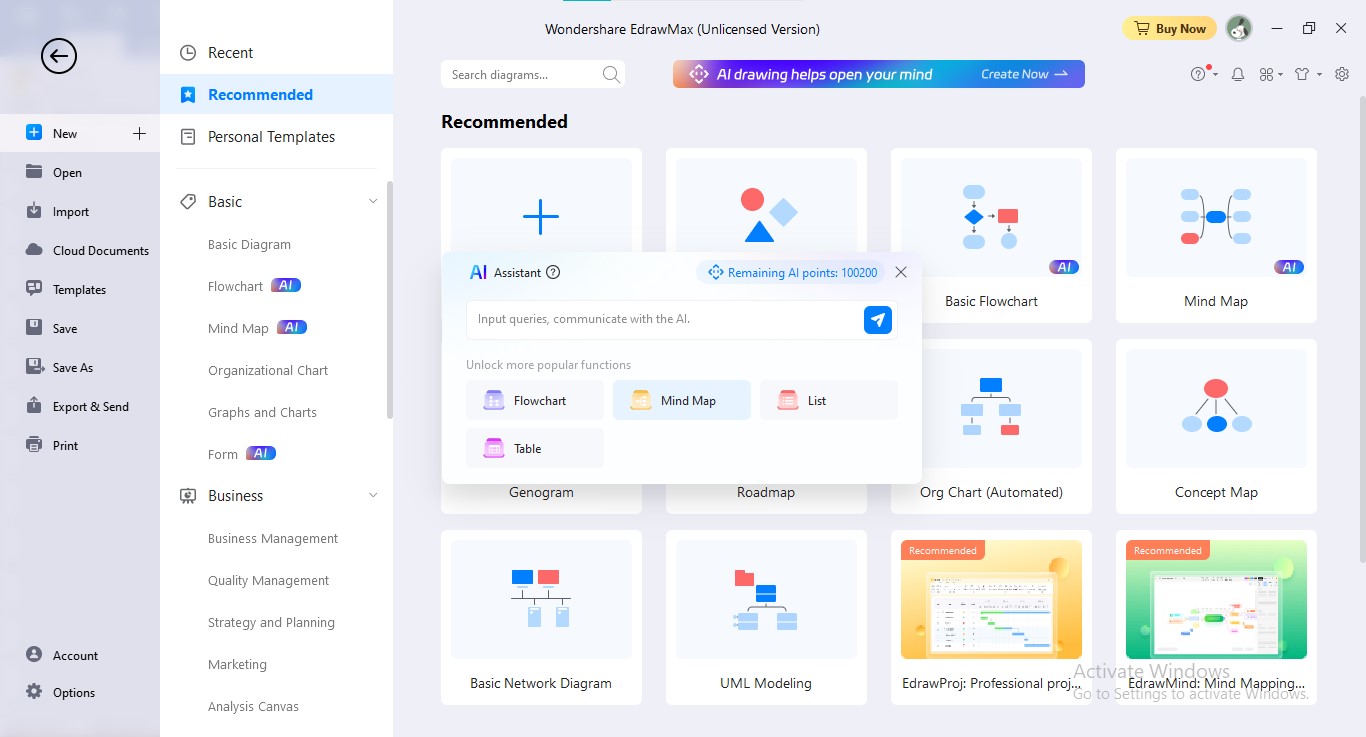 Step4
When you choose the Mind Map option, Edraw AI will ask for your requirements. Type your AI mind map idea in the search box. Click the "Go" button to proceed.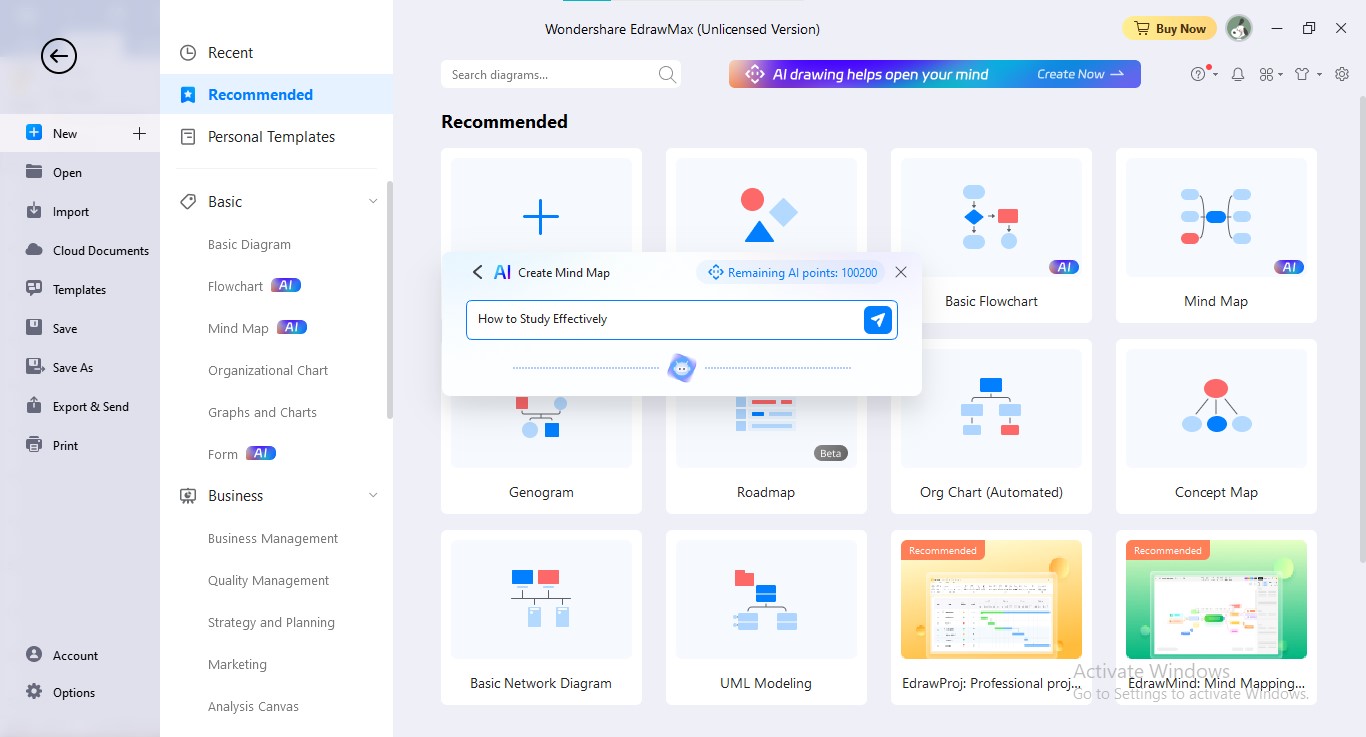 Step5
Edraw AI will process your request for a few seconds. You will get a full-fledged AI mind map on the canvas.
How To Polish Text in Mind Maps?
With a dash of digital intelligence, the software makes your content unique, representative, and presentable. You can use the text polishing feature to make your text consistent with the used layout. Follow the given process to polish your mind map text:
Step1
To polish a text, select it by clicking once. The click will launch the quick customization toolbar.
Step2
Choose the "AI Generated Content" tab from the quick customization toolbar. Click the "Polish Text" option from the dropdown menu.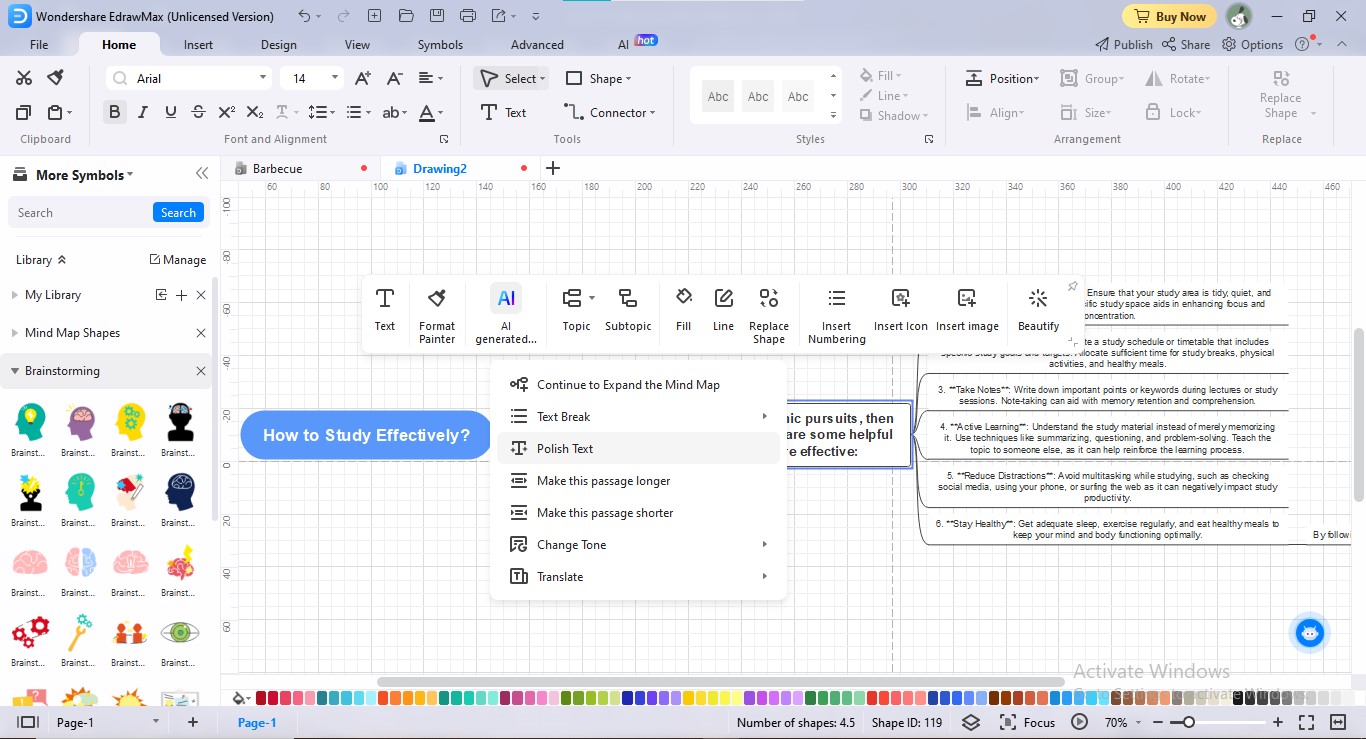 How To Beautify the AI-Generated Mind Maps?
Not only text polishing but its AI prowess also extends to the artistry of design. You can impart a personalized touch to your maps with a consistent layout, vibrant colors, and unified fonts. Here is how you can customize the outlook of your AI mind map:
Step1
To tailor the layout of your AI mind map, go to the "AI" menu.
Step2
Choose and click the "One Click Edit" tab under the "AI" menu. It will launch a dialogue box containing several features.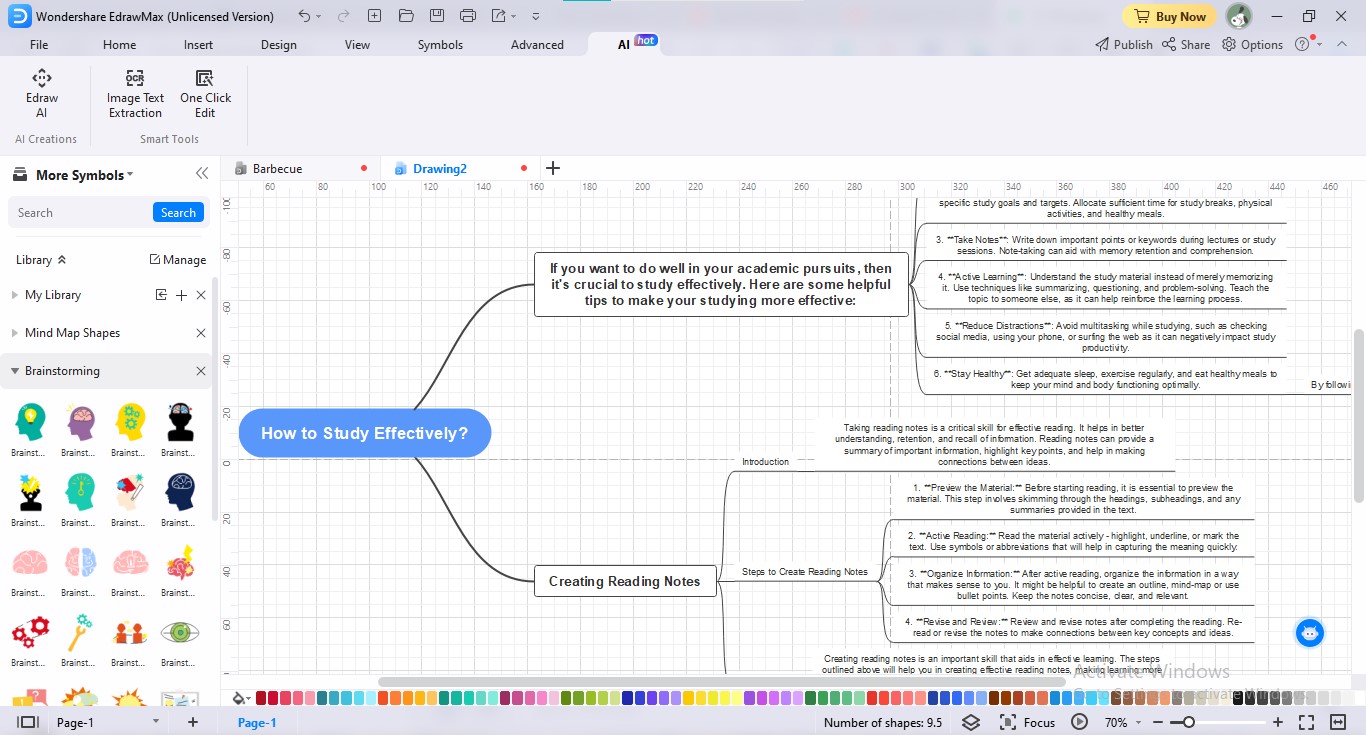 Step3
Choose the "Change Global Style" option from the given tabs to set the overall theme. Select your preferred style and click the "Apply" button.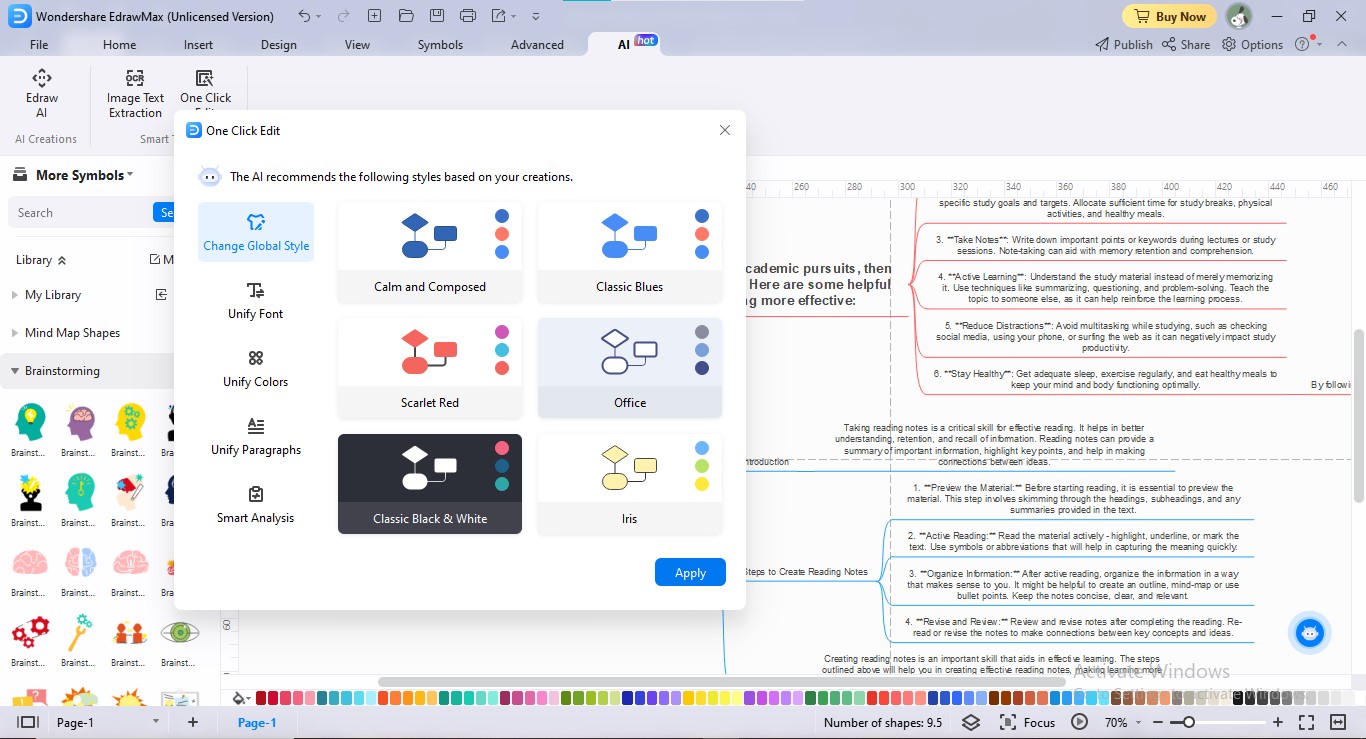 Step4
If you want to keep your fonts consistent, click the "Unify Font" tab. Choose your desired font type and click "Apply." You can also search for an intended font in the search bar.
Step5
To unify the colors throughout your mind map AI diagram, click the "Unify Colors" tab. Set your desired color for each visual element. Hit the "Apply" button to implement the modifications you made.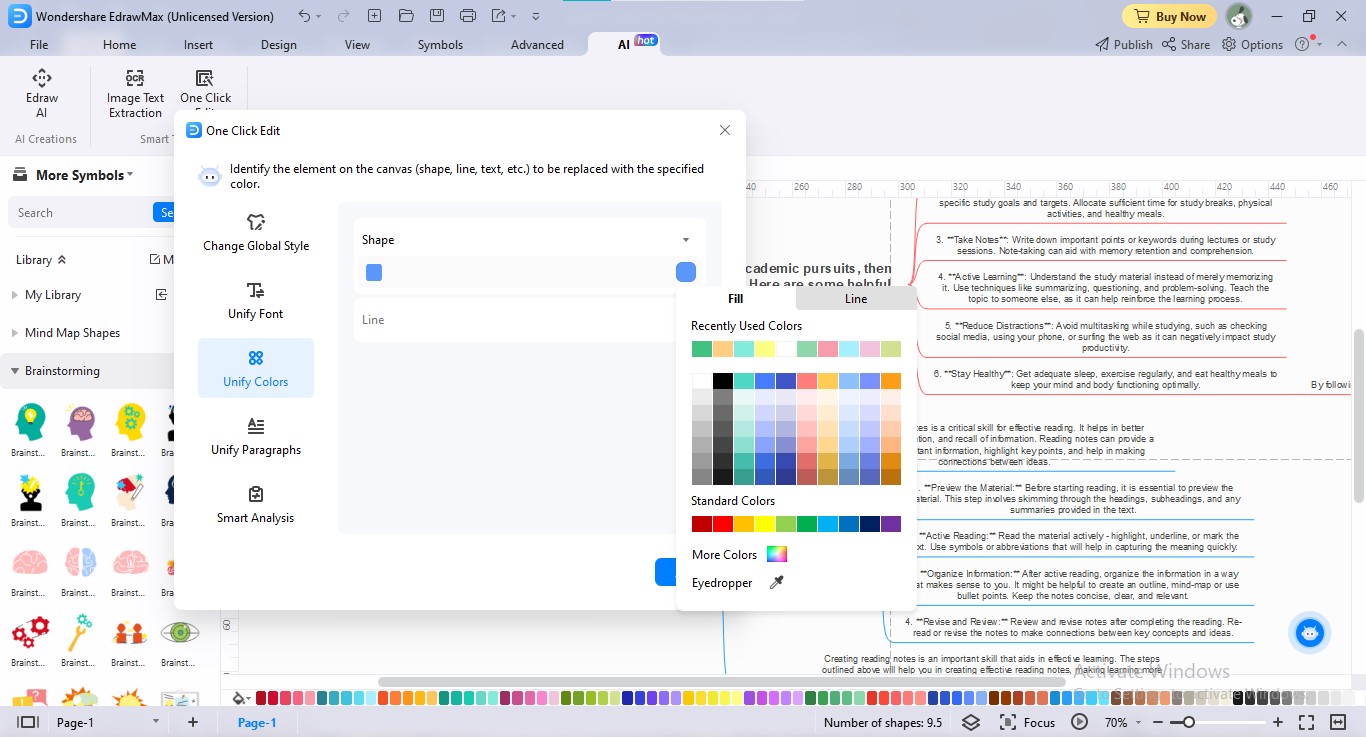 Step6
If you are facing inconsistency issues in paragraph formatting, you can fix it. Go to the "Unify Paragraph" tab to unify your paragraph formatting.
Step7
Set your text's alignment, indenting, and spacing. After making your desired formatting changes, click the "Apply" button.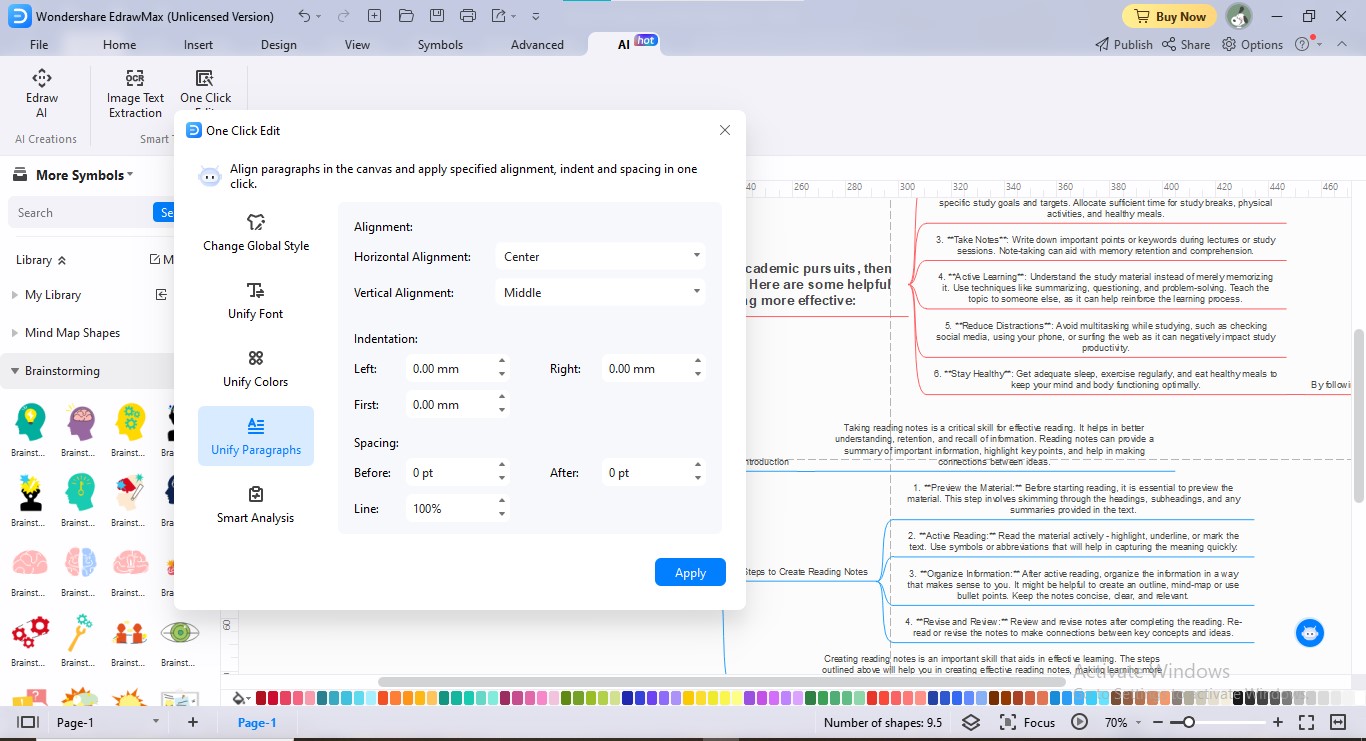 Step8
If you are unsure whether your diagram is perfect regarding formatting or professional outlook, you can use the Smart Analysis feature. For this, go to the "Smart Analysis" tab.
Step9
Edraw AI will analyze what are possible flaws in your diagram. Accept its suggestions to improve your AI mind map look. Click the "Optimize" button to apply the required reforms.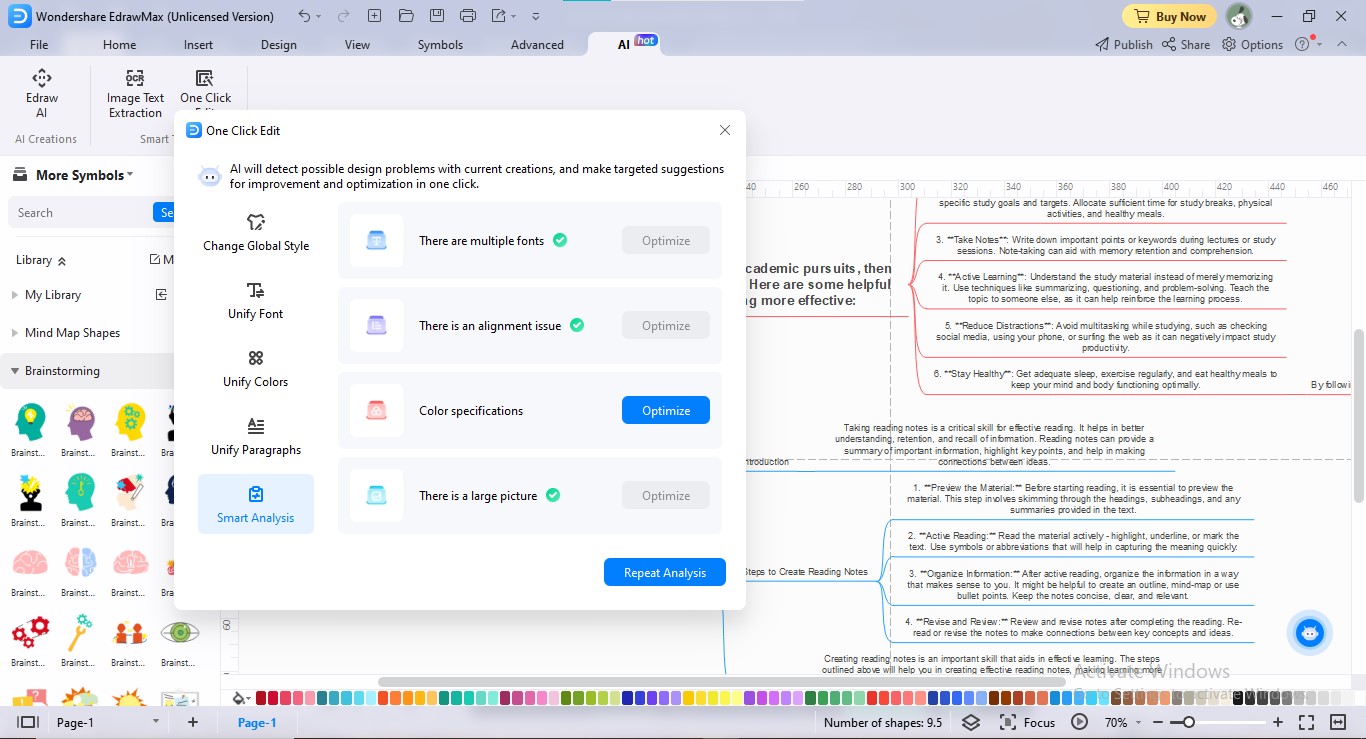 Step10
Click the "Export" icon at the top to save your mind map AI project. Choose your preferred export format from the dropdown.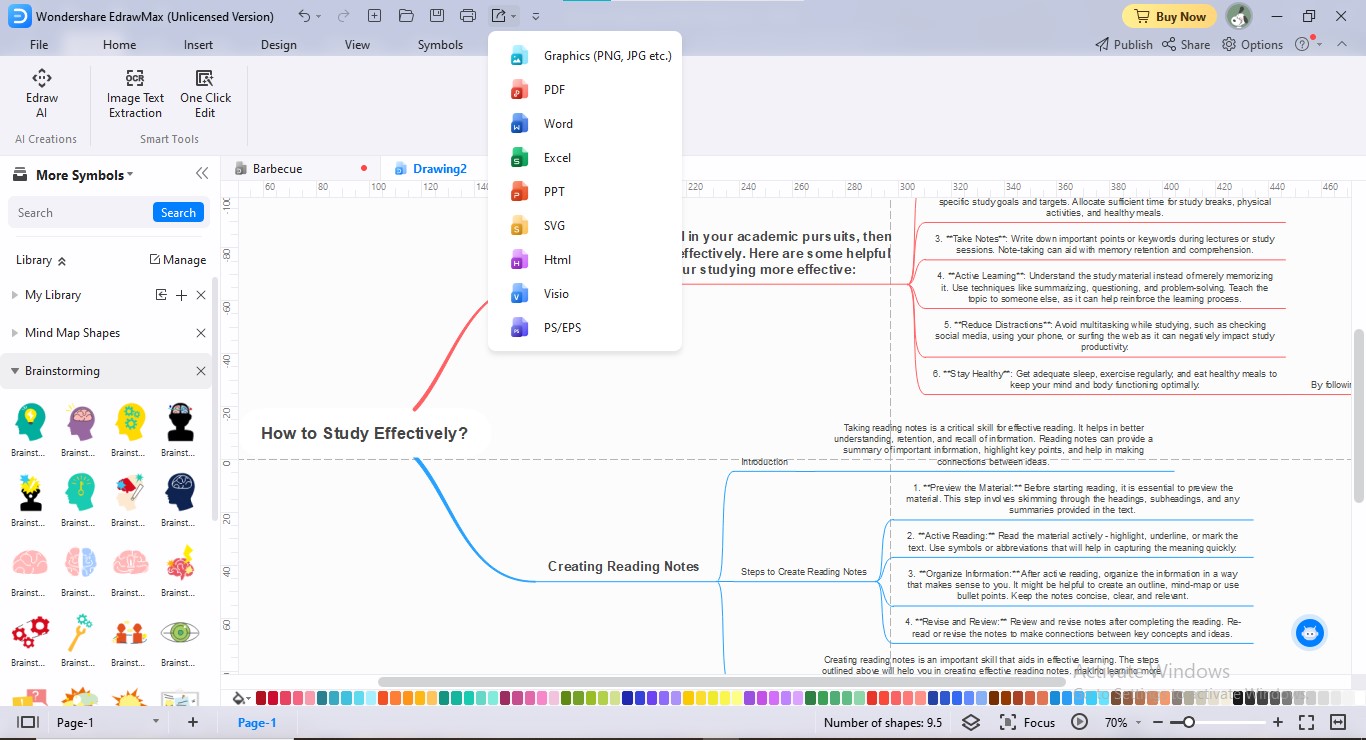 3. Conclusion
AI mind maps represent a transformative leap in the world of visual thinking and information handling. In this fast-paced era, technology continues to revolutionize every aspect of our lives. Likewise, we can observe ourselves on the cusp of remarkable innovation in mind-mapping approaches. By merging the power of artificial intelligence with the intuitive nature of mind mapping, one can communicate ideas with supreme clarity.
If you want to explore the best AI mind mapping tool, EdrawMax is the best pick for you. With EdrawMax at your fingertips, confidently navigate the vast landscapes of data visualization.
EdrawMax Desktop
Create over 280 types of diagrams
Windows, Mac, Linux (runs in all environments)
Professional inbuilt resources and templates
On-premises software for business
Enterprise-level data security
EdrawMax Online
Create over 280 types of diagrams online
Access diagrams anywhere, anytime
Team management and collaboration
Personal Cloud and Dropbox Integration
Related Articles