Everything You Need to Learn About SheetAI
The sheet AI app serves as a one-stop solution to all the complexities you may encounter in the creation of spreadsheets manually.
Also available for
Windows, Mac, Linux, iOS, Android, and Web.
All options >>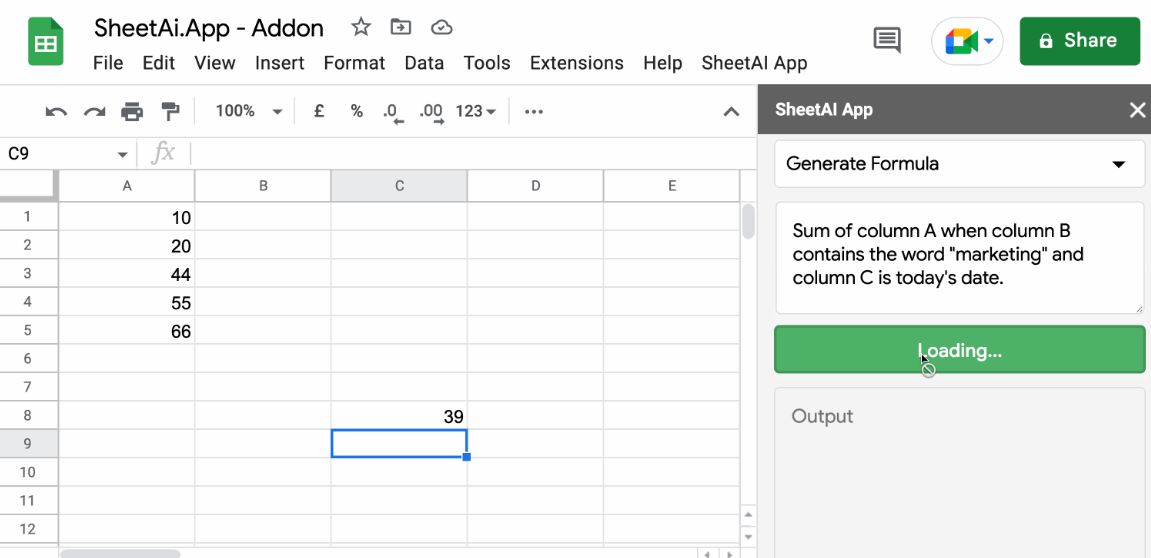 Imagine a world where your spreadsheet tasks are automated, allowing you to save time and focus on more important aspects of your work. In today's fast-paced business environment, efficiency and productivity are crucial for success.
Managing and analyzing data in spreadsheets can be a time-consuming and tedious process. That's where Sheet AI comes in, offering a cutting-edge solution to automate repetitive tasks and enhance productivity. Here, you'll explore the capabilities of Sheets AI and how to leverage its power to streamline your workflow.
1. Influence of Artificial Intelligence Technology
Artificial intelligence in every walk of life has revolutionized lives by unlocking new opportunities leading to impeccable progress. AI-powered tools are playing the primary role in elevating the productivity level significantly because the high convention of AI technology has leveled down human struggles by automating tasks and processes so that time consumption can be evaded.
Regarding AI tools, you can come across various choices in the market, i.e., Bots, ChatGPT, SheetAI, etc. However, the selection is mainly dependent on the users' requirements. You must perceive your needs prior to opting for the most optimum AI tool.
2. Introduction of Sheet AI
Sheet AI is a prevailing AI-powered tool designed to simplify spreadsheet management. With its advanced algorithms, Sheet AI enables users to automate complex calculations. If you're a business analyst or a financial professional, Sheet AI provides the tools you need to optimize your workflow.
Exploiting the Sheet AI tool is a breeze; integrate it into Google Sheets as an extension and let the AI algorithms do the rest. SheetAI's intelligent system will analyze your data, identify patterns, and suggest automated actions to improve the efficiency of your spreadsheets.
Use Cases of SheetAI
Sheets AI is a versatile AI-powered tool that can be used in multiple cases to perform various tasks quite conveniently, such as email extraction, tagline creation, text editing & summarization, table creation, etc. Here we have shed light on the few most common use cases of SheetAI app.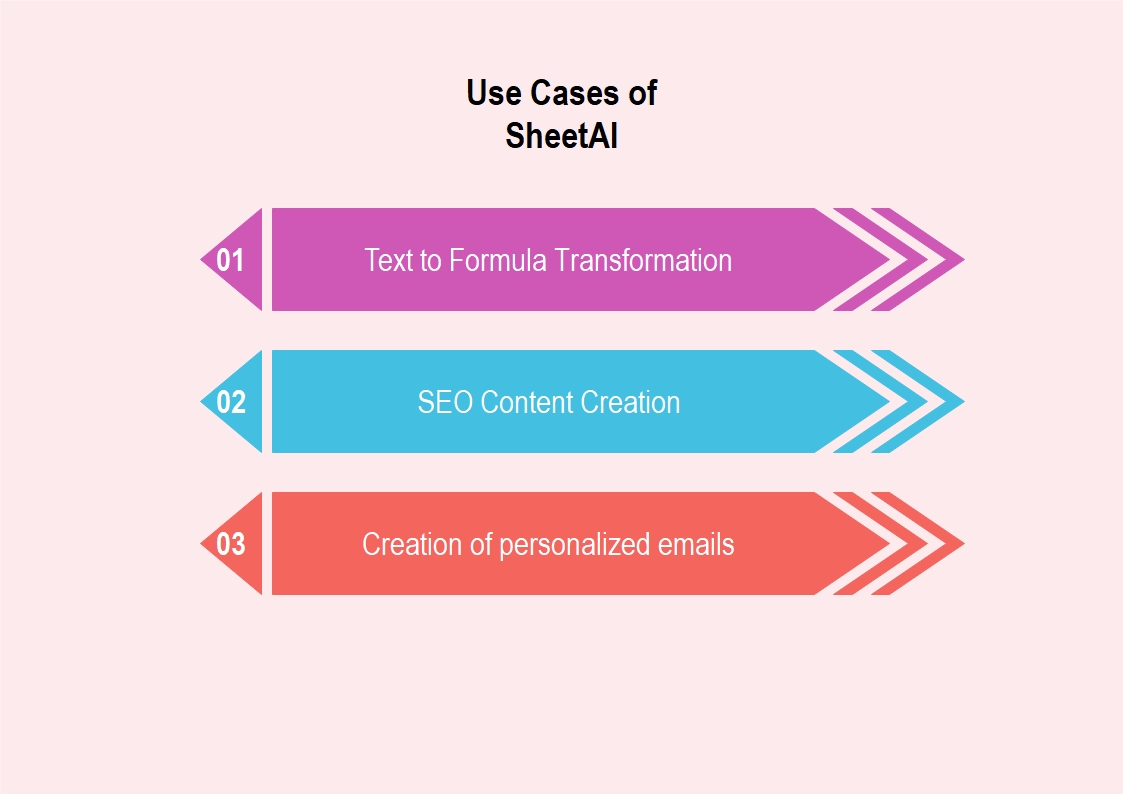 Text to Formula Transformation
Manual creation of spreadsheets might be complicated and time-consuming, as the process may involve the exploitation of formulas redundantly. Sheet AI offers the utmost convenience in this regard. You need to provide textual instructions to Sheet AI, which will then transform your text into formulas in a flash.
SEO Content Creation
With SheetAI's copywriting feature, you can easily generate SEO content without spending much time on SEO strategies. The Sheet AI app precisely analyses your given command to generate the most relevant content.
Creation of personalized emails
Extraction of emails is just a piece of cake with SheetAI; moreover, it facilitates the users to create personalized emails given particular scenarios.
How To Use Sheet AI For Spreadsheets?
Though Sheet AI can be employed in multiple scenarios, Sheet AI spreadsheet is the most common. The tool has been extensively used in Google Sheets to generate automated spreadsheets eliminating formulas-related complexities. Therefore, we have visually explained how you can integrate the Sheets AI tool in Google Sheets as an extension.
Communication with EdrawMax AI Assistant
The interface of EdrawMax AI opens up with an AI Assistant asking for the requirements. You can enter your design or form requirements, and EdrawMax AI will create the document form for you. Additionally, you can mention a specific brand standard theme, font, or layout.
Font unification
If you want to unify the fonts of all the forms, stop selecting a box one by one and changing its font type from the toolbar. Instead, use the EdrawMax AI font unification feature to make your fonts consistent throughout the document.
Color unification
The color combination is a decisive factor, especially in branding and marketing. If you want to implement your personalized brand colors, use the color unification feature. For example, if your brand follows a combination of blue and white, set the boxes color white & blue whereas keeping the text black.
One-click theme editing
Rather than making the overall theme consistent through color or font adjustments, you can implement a consistent theme to the entire AI form with just one click. If your AI form is long-winded and requires excessive time for editing, use this feature as a substitute.
Smart Analysis of diagrams
EdrawMax AI performs a smart analysis of your forms of AI-created projects and suggests possible improvements. Additionally, it will rectify the drawbacks within the document with just one click.
Expand or Shrink Textual Content
If you are not capable of making your content expansive or shrunk, use AI content functionalities. EdrawMax AI Assistant makes your content passages longer or shorter without damaging their creativity.
Content's Tone Modification
You can set the tone of your AI form content, such as informal, professional, confident, or friendly, using the Changing Tone feature. Content's tone determines how you structure your business document for your target receivers.
Translating the Content
EdrawMax AI's content translation feature helps you to translate your business form into another language. You can decode your content into more than ten languages, making your document understandable to a foreign audience.
Image Text Extraction
EdrawMax utilizes OCR recognition technology to extract text from images. Thus, if you fret about inserting textual content from an image into the form, use the EdrawMax AI image text extraction feature.
How To Design a Table/Form Using EdrawMax's AI Feature?
Follow the below-given procedure to generate an AI form using EdrawMax:
Step1
Launch the Google Sheets app and click Blank to start a new spreadsheet.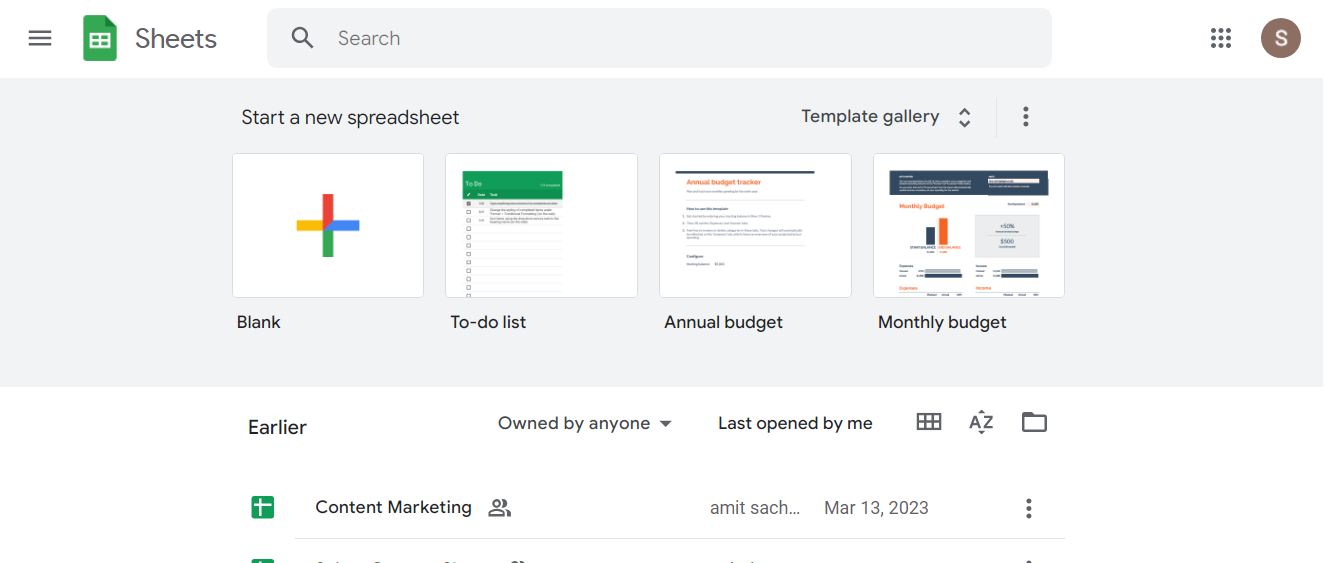 Step2
Access the top menu bar, click the Extensions option, and follow the path Extensions > Add-ons > Get add-ons to access the Google Workspace Marketplace.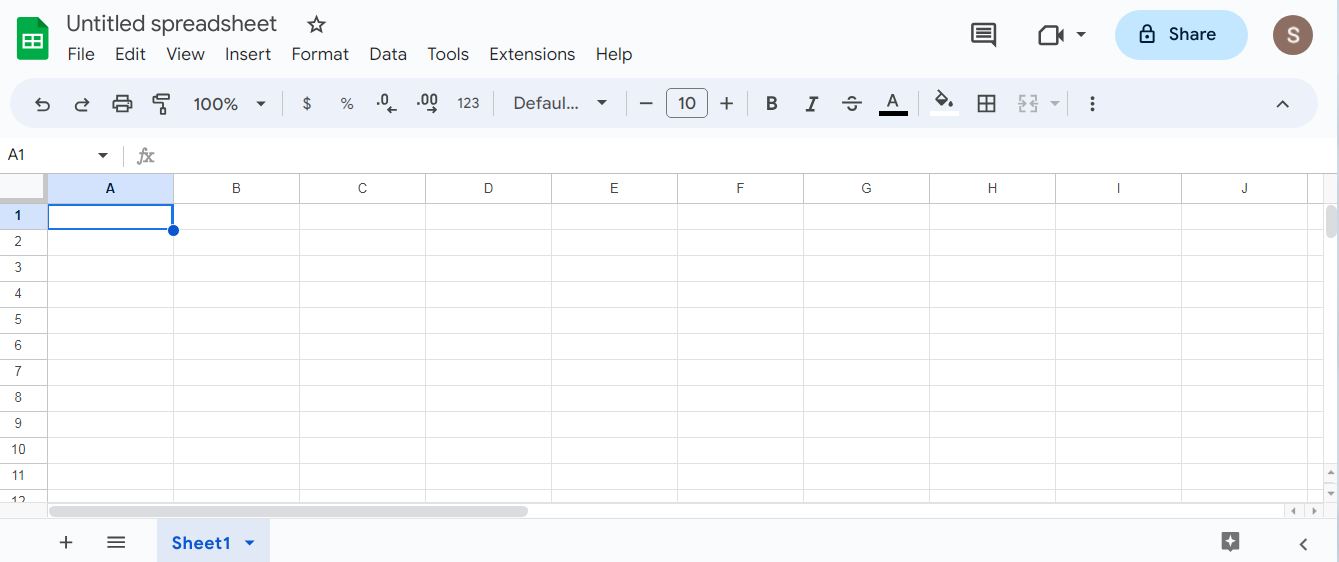 Step3
In Google Workspace Marketplace, search the SheetAI App by entering the name in the search bar. Choose the first displayed option from the search results.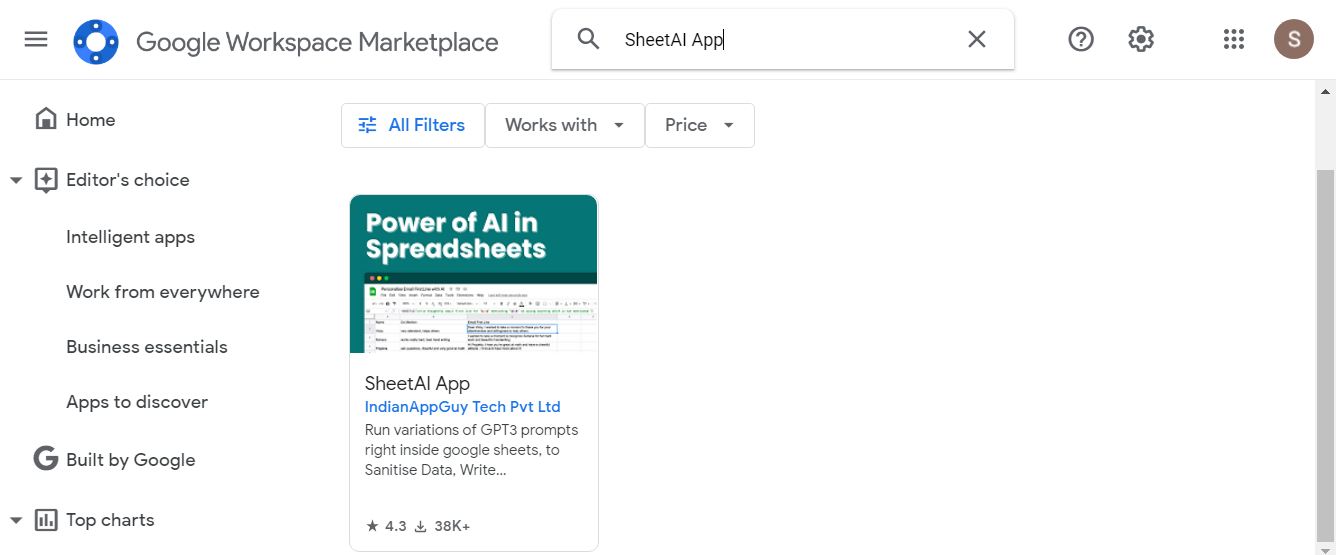 Step4
Click the Install button and initiate the installation by choosing the Continue option. In this process, you'd have to choose the Google account you use for Google Sheets app.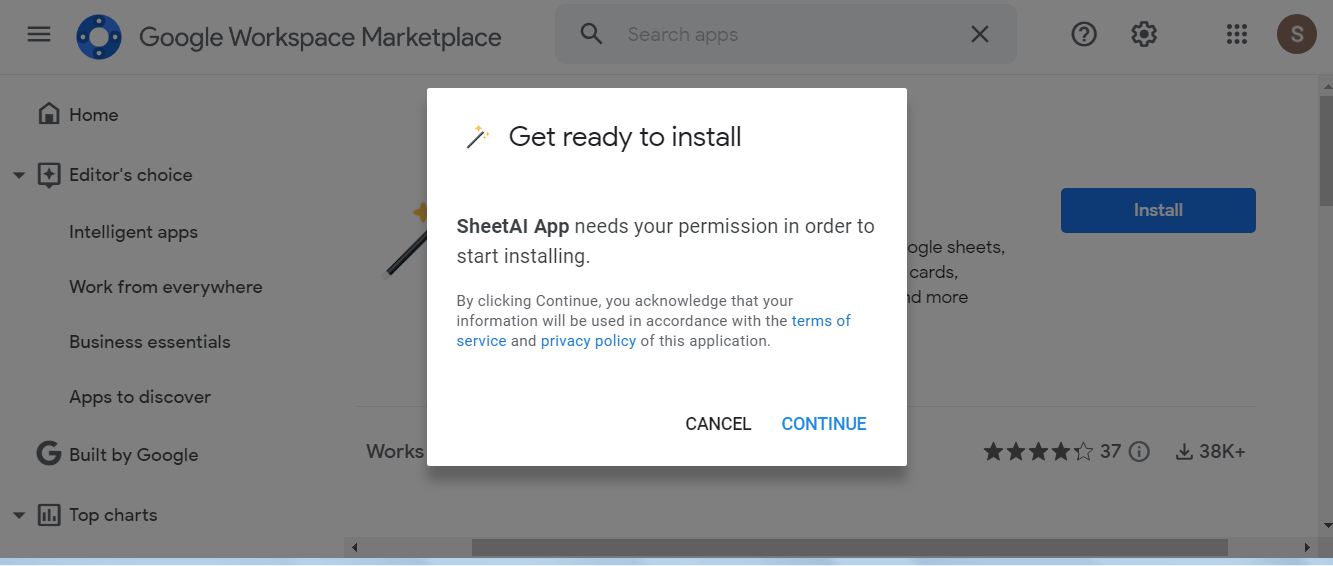 Step5
Upon successful installation, a window gets displayed; click on the Next option and then Done to finalize it.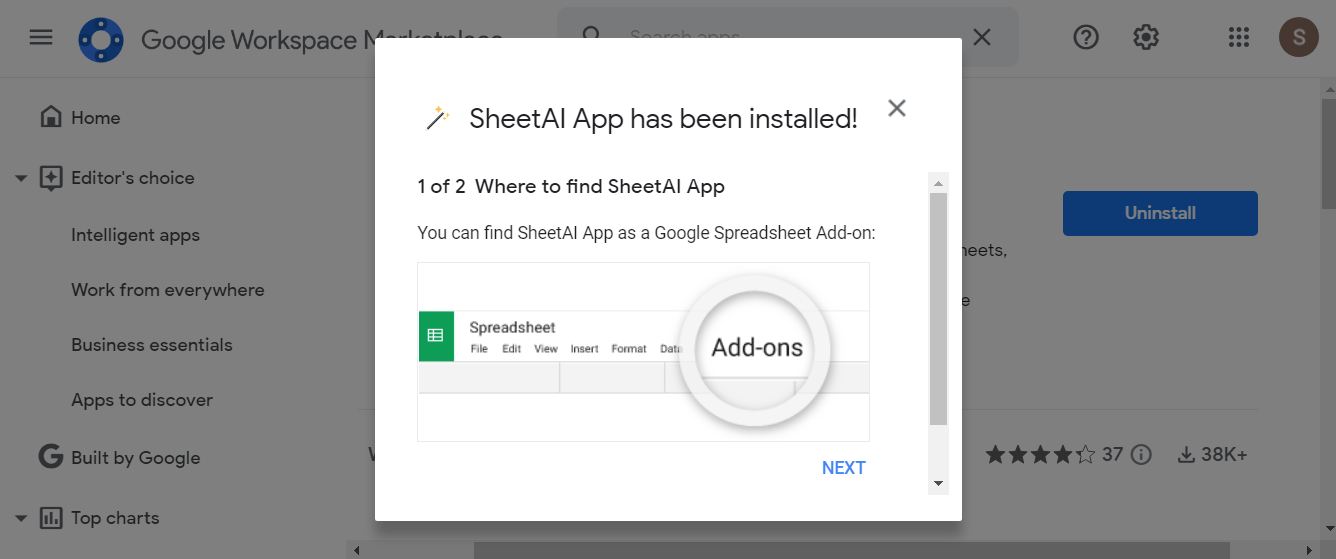 Step6
Reload the existing spreadsheet or open a new one and follow the path Extensions > Add-ons > Manage add-ons to confirm the successful installation of the Sheet AI app in the spreadsheet.
Step7
To start using SheetAI functionalities in spreadsheets, you must first have an OpenAI API key.
How To Get OpenAI API Key For Sheet AI?
Step1
Navigate to the OpenAI site and log in after creating an account.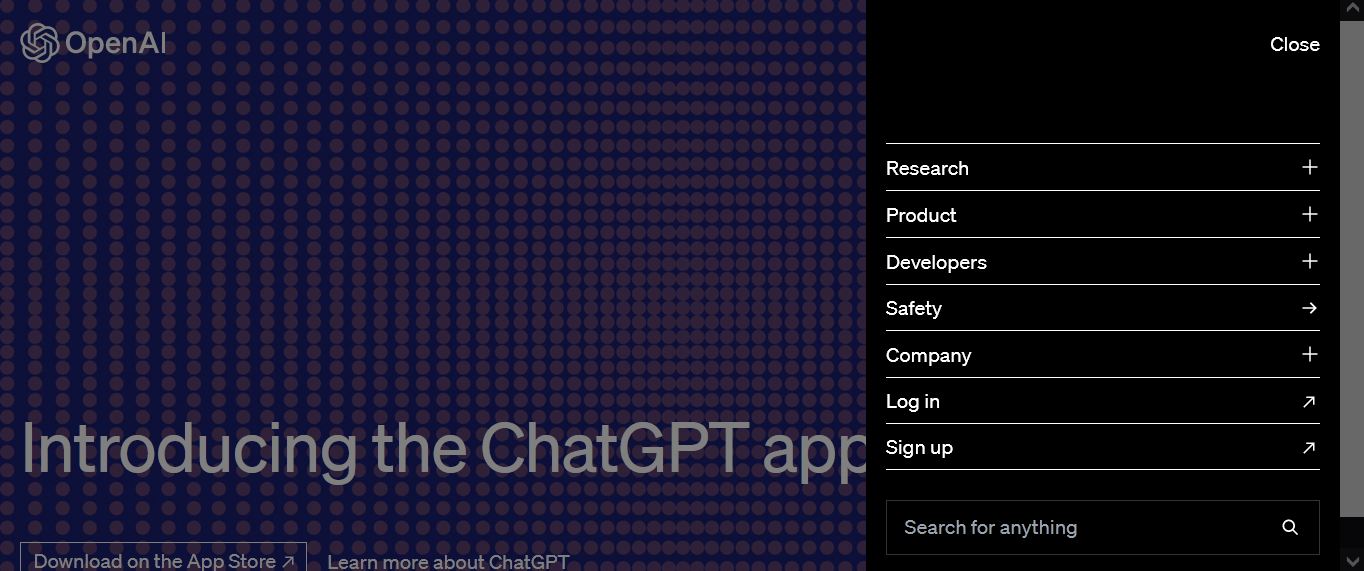 Step2
After a successful login session, select the API option to access the OpenAI API keys page.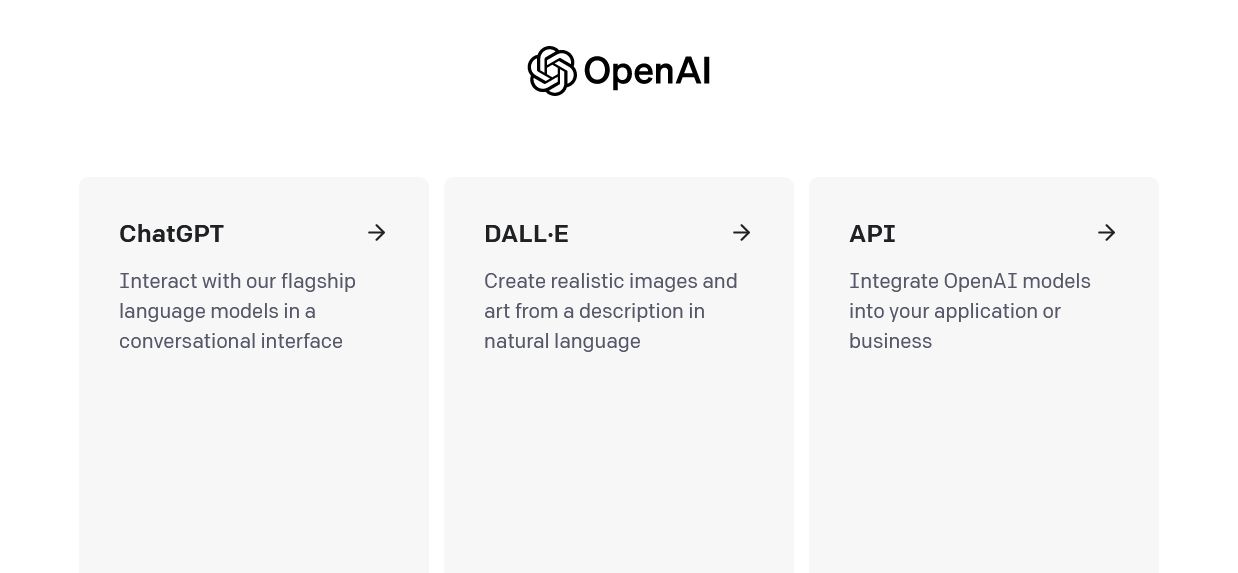 Step3
To generate a secret key, proceed with the option Create new secret key on the API keys page. Save the secure key precisely, given the security concern, as you can create this secret key only once.
Step4
Go to the opened spreadsheet and follow the given path.
Extensions > SheetAI App > Set API key.
Step5
Here, you need to paste your recently generated API secret key and click on the Check option. Then finish the process by clicking the Save API key button.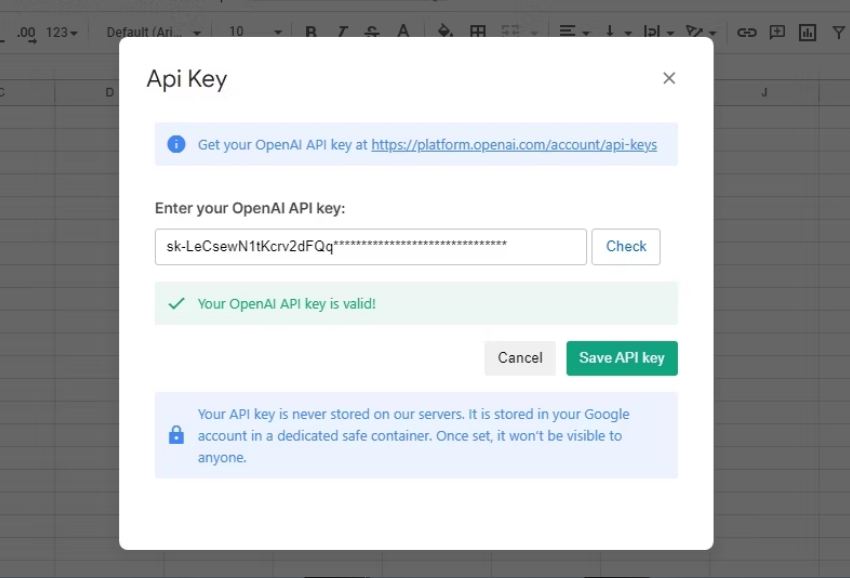 3. EdrawMax- A Remarkable AI-Powered Tool!
Whatever AI tool you use, you can automate your tasks straightforwardly. Though the above discussion explicitly demonstrates the effectiveness of a popular AI tool SheetAl, still it's vital to have an eye on a few other reliable AI tools to improve your work routine.
In this connection, Wondershare EdrawMax is worth mentioning. Primarily it was designed to revolutionize the diagramming experience; however, its latest introduced AI feature has made it a top pick in the market of AI-powered tools.
Whether you intend to create a mind map or flowchart, you don't need to structure the shapes & symbols manually; you can exploit the AI-powered EdrawMax tool to craft tables, mind maps, flowcharts, lists, etc., instantly with just a click. Furthermore, the tool also allows you to create, modify, expand, or translate content.
How To Craft a Form/Table Using EdrawMax's AI Feature?
Nevertheless, tables apparently have a basic structure comprising rows & columns; you may still need to invest hours designing complex table structures. In such a scenario, EdrawMax's AI feature turns out quite handy, as you merely have to instruct the AI assistant to craft a table with custom specifications.
Step1
First, open the EdrawMax app on your computer.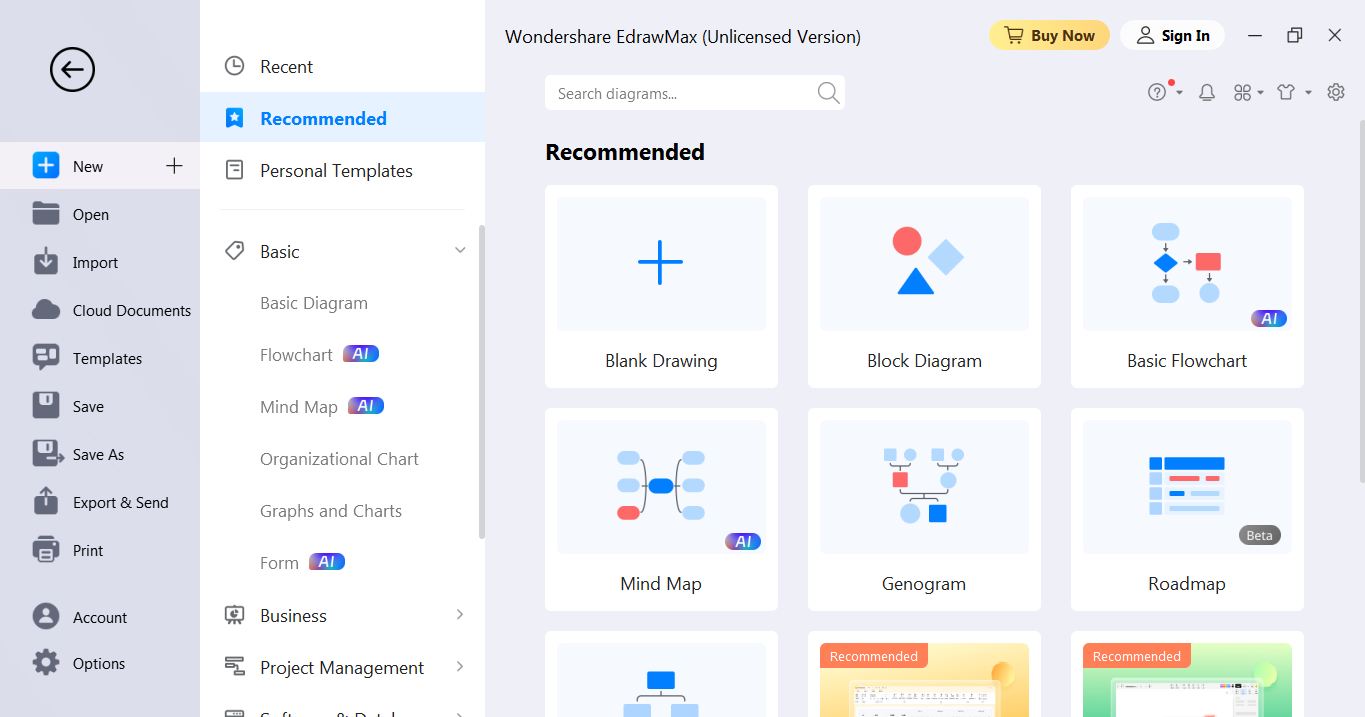 Step2
Navigate to the Edraw AI tab on the Homepage to launch the AI window. Choose the Table option in the EdrawMax AI window.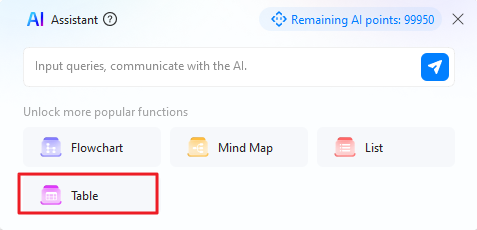 Step3
Enter your particular command to instruct the AI in generating a table, then click on the Send button next to the AI search bar.

Step4
EdrawMax's AI feature will instantly create a table as per your need after analyzing the entered command.
Step5
If you need to make further changes to AI generated table, you can readily customize it manually.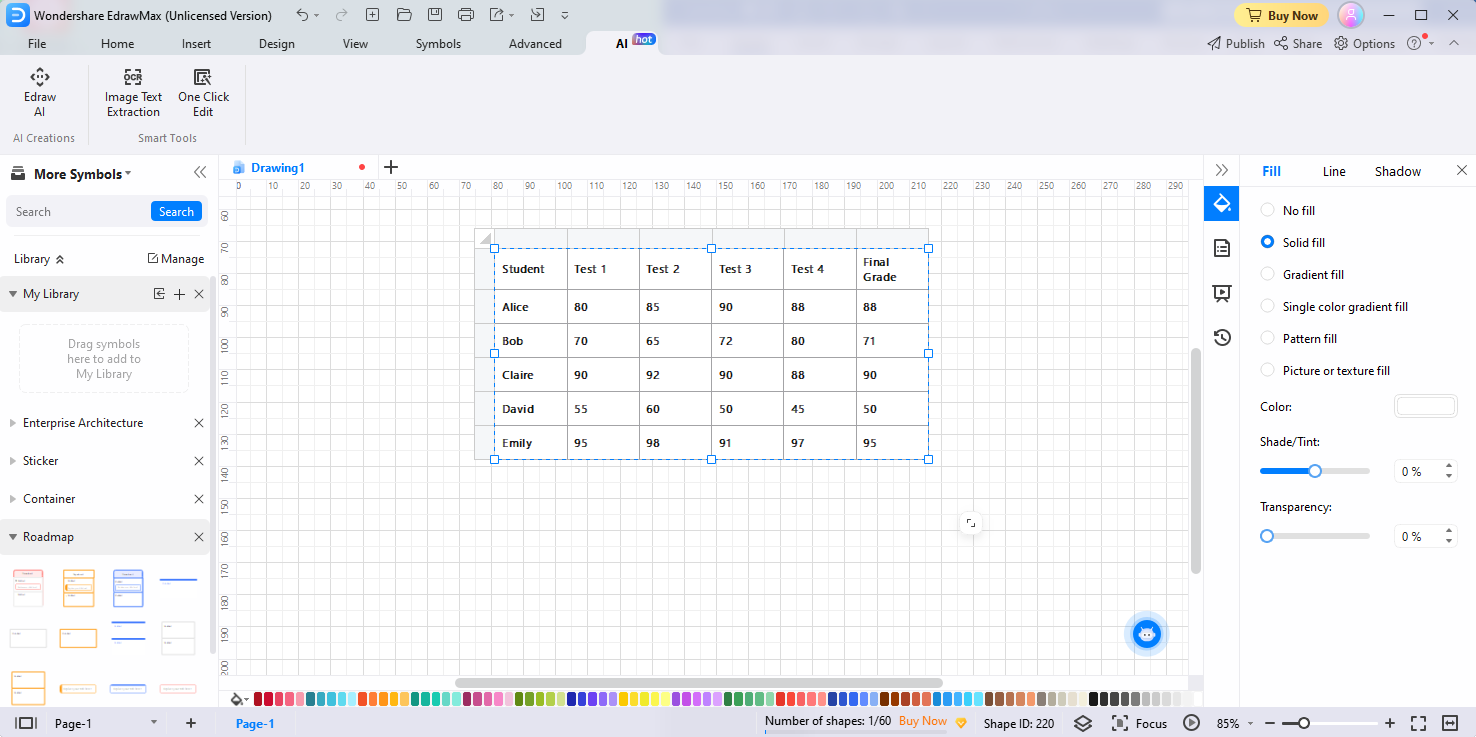 How To Generate Textual Content Using EdrawMax's AI Feature?
The EdrawMax won't disappoint you when it comes to creating textual content. You can generate content of varying lengths in no time using EdrawMax's AI feature. Here we have illustrated how effectively you can utilize the AI-generated content of EdrawMax in your diagrams.
Step1
Once you have crafted your required diagram, right-click on the textual section of the diagram and select the AI-generated content option from the displayed menu list. Click on the Continuous Text option to expand your textual content.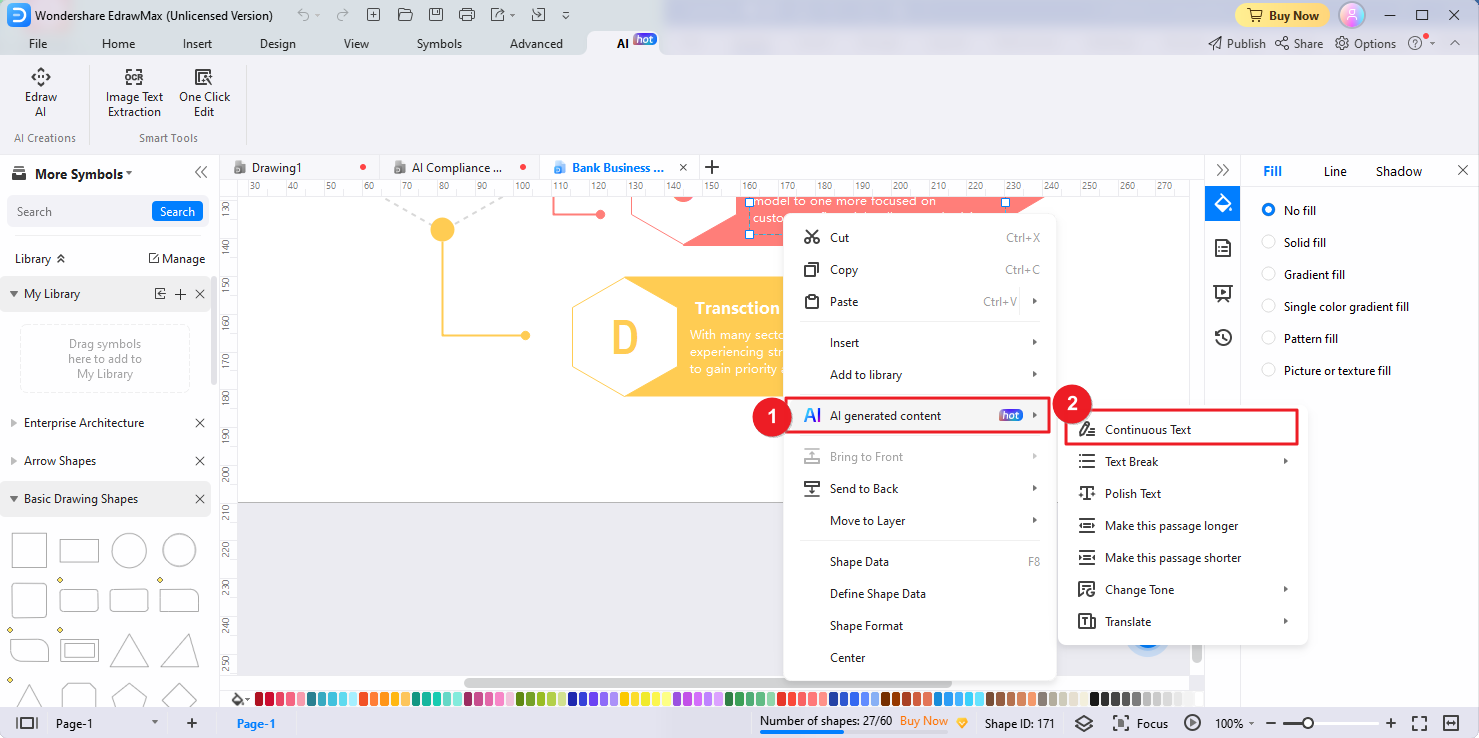 Step2
The Continuous Text tool will deeply analyze the context of the existing content and will generate more detailed information given the content context. You can expand this AI-generated textual information as elongated as you need. Then click on the Complete option to finalize the process.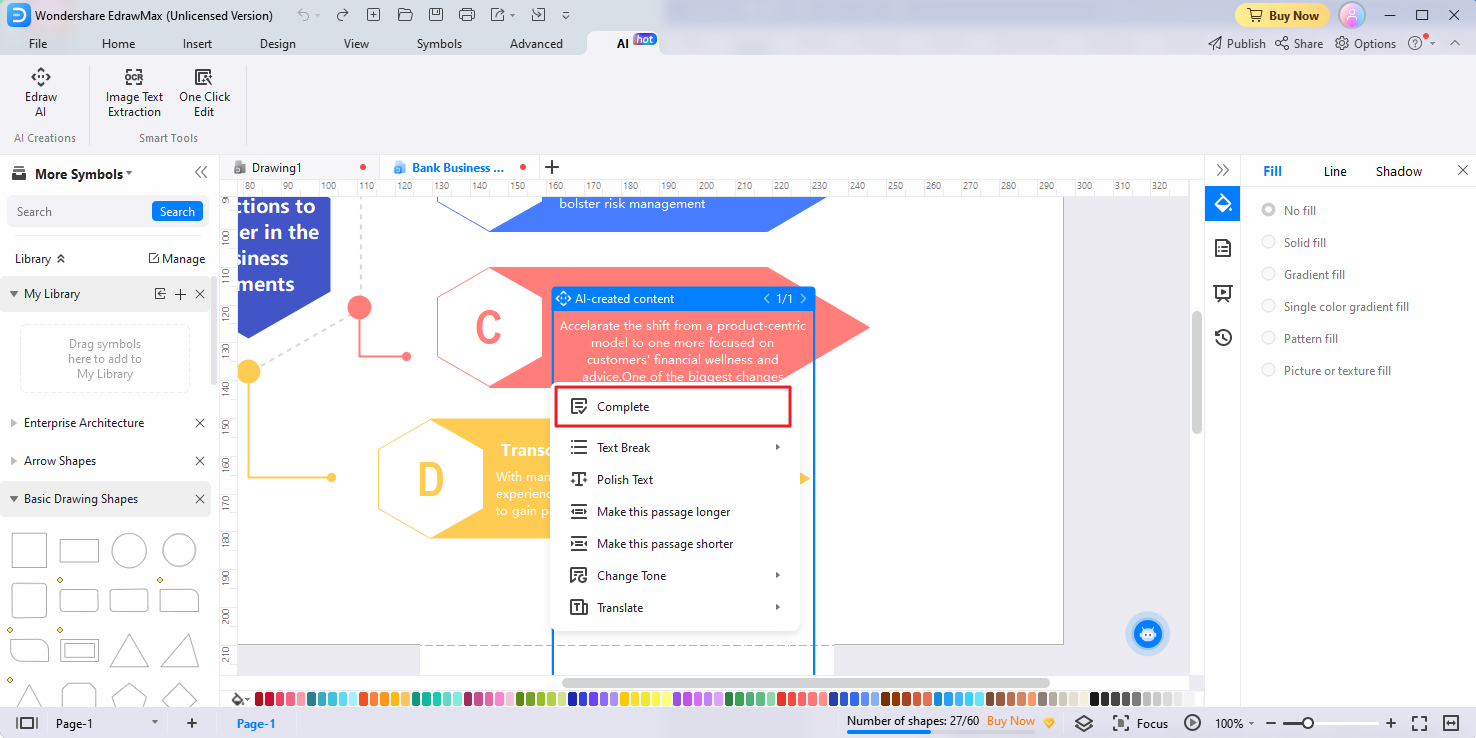 4. Conclusion
Sheet AI is a remarkable tool developed to automate spreadsheet tasks. You can perform multiple jobs instantly using Sheet AI's advanced functionalities, for instance, table creation, content & tagline creation, email extraction, etc.
The utmost usage feasibility factor has made it super easy to use SheetAl for spreadsheets, as you can conveniently employ it in Google Sheets as an extension. Against this backdrop, you can explore more about the Sheet AI app here. We have also suggested another efficient AI-Powered tool, EdrawMax, that is efficient enough to make the diagramming experience amazing with its AI features.
EdrawMax Desktop
Create over 280 types of diagrams
Windows, Mac, Linux (runs in all environments)
Professional inbuilt resources and templates
On-premises software for business
Enterprise-level data security
EdrawMax Online
Create over 280 types of diagrams online
Access diagrams anywhere, anytime
Team management and collaboration
Personal Cloud and Dropbox Integration
Related Articles