A Quick-Start Wireframe Maker
Visualize First, Actualize Then.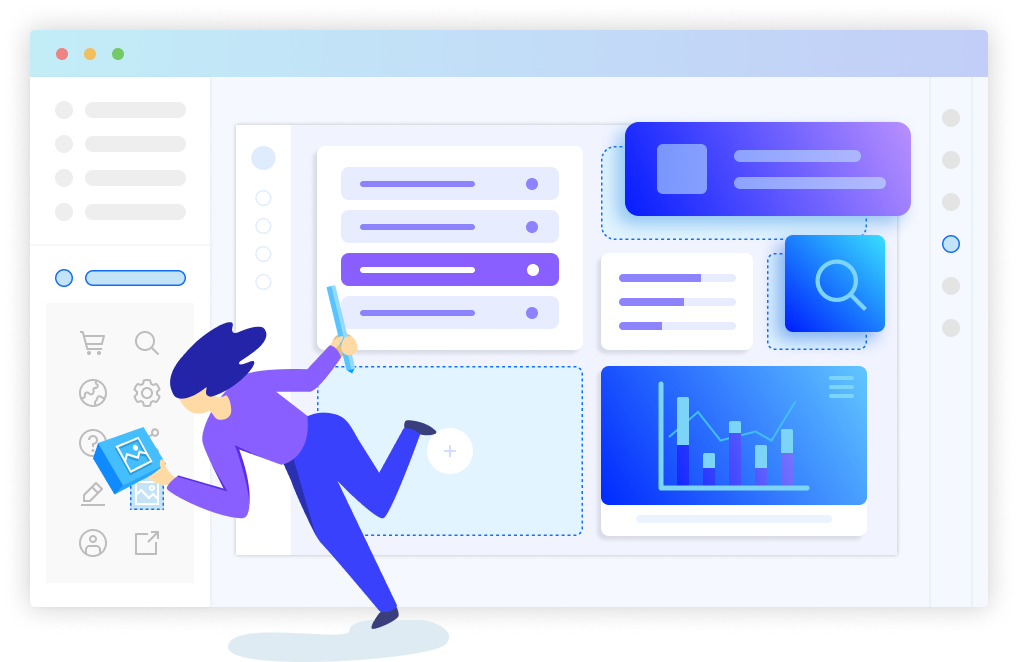 How Can Wireframe Helps you?
Better Visualize & Faster Change: Wireframes turn your site map into something tangible in order to determine which elements to include on the webpages. In addition, wireframes can help make changes in just a few minutes. Don't like the color of the title? Test your favorite one right away. Change the position between functions? Move the module accordingly to where you want it. Thus, get clients, web developers, product managers, and designers are on the same page now!
Speed up Your Design Process


We allow you to get started in only a matter of minutes, no matter your design level. If you are a starter, the professionally-designed templates could accelerate your design process through easy drag & drop. Yet, if you are an expert, all the interactive UI elements and functionality for the web and mobile are predefined for customization.
Leverage Your File Compatibility

Export

Visio Alternative
We support exporting your wireframe in multiple formats, including MS Office, Graphics, PDF, PS, HTML, SVG, and Visio. You can work with your team members perfectly even you are using different diagram tools. Or generate specific documents at one click to hand to your team.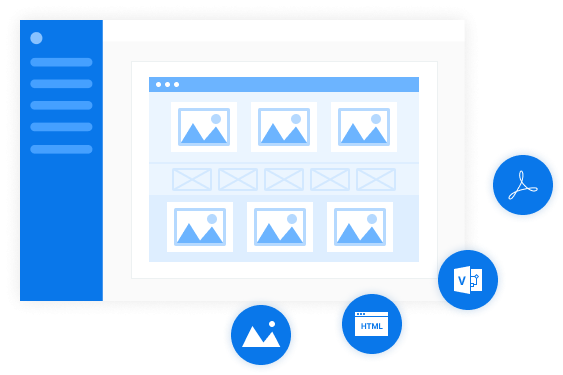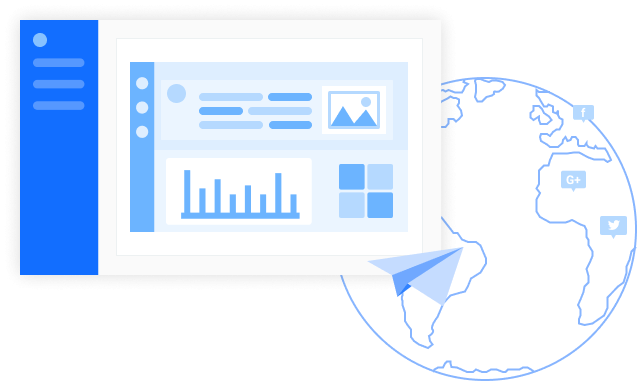 Empower Your Team Sharing

Sharing

Comment
We enable you to create your wireframe in web and desktop and then share it to your team on social media, which includes Google+, Facebook, Twitter, LinkedIn, Pinterest and Wechat, for ensuring your wireframe will make a significant final design for everyone involved.
More Features

Note & Comment
The note & comment functions significantly improve your team communication by writing messages in one click.
Color Palette
The color solutions help you avoid wasting time on the unnecessary design process and work on important stages.
Font Libraries
The powerful fonts libraries ensure your text perfectly matched with your design by typography controls.

Attachment & Hyperlink
By using attachment and hyperlink, it is helpful for a supplementary explanation, especially when illustrating complex issues with your team.
How To Create Wireframes in EdrawMax?
Know What You Want
List all the functions you want your final design to include and everything that needs to be done.
Know What Should Involve
To keep your audience stay on the page, focus on how to make your site seamless and enjoyable and how users will interact with the basic functions of your site.
EdrawMax & Done
Select the user-approved templates to have a quick start or highly customize everything in a blank canvas. Then share your wireframe with anyone according to your needs.
Choose EdrawMax Templates &
Get Started Right Away!
Frequently Asked Questions in EdrawMax
1. Can I create wireframe diagrams online?

Of course! Use EdrawMax to create your wireframe diagrams in every scenario you can think of, online or offline. EdrawMax will be here for you!

2. Are the wireframes completely customizable in EdrawMax?

Yes! You can customize every single thing in a wireframe, including UIs, option boxes, touch gestures and etc. Show your style with EdrawMax!

100% sure! All information and file transfers are secured with the highest level of SSL encryption.

4. Where can I find more resources and support?
Over 25 million Users in 180 Countries
With the ability to create wireframes in different screen sizes, it is helpful for me to differentiate the design according to the devices. Besides, since it can export multiple formats, I can show the team members my design in PDF or PNG, which is convenient for display. All in all, EdrawMax is a good tool in somehow.
More Than A
Wireframe

Maker
All-in-One Diagramming Tool
EdrawMax is committed to optimizing features to satisfy your needs continually, and further builds powerful all-in-one diagramming tool over the world. Just try it, you will love it!