The Ultimate One Hundred Years of Solitude Family Tree
One Hundred Years of Solitude is a pinnacle of Latin American literature with a complicated family tree. You can create an understandable Buendía family tree with a special tool.
1. The One Hundred Years of Solitude Family
The novel One Hundred Years of Solitude is written by a Colombian author. It tells the multi-generational story of the Buendía family. Arcadio Buenda is the patriarch of the family and the founder of Macondo. The story progresses as the seven generations of the Buendía Family live in the town of Macondo. The story starts with José Arcadio Buendía marrying his cousin, Úrsula Iguarán, despite being despised by society.
As the generations pass, many characters repeat the family's mistakes. The fear of a child with pigtails due to incest stems from the start of the novel. However, incest's social and psychological effects are where the real problems start to occur. Furthermore, many characters are separated from the person they love due to social propriety, which causes family divisions and insecurity about one's parentage. This social shame claims many lives, destroys families, and creates secrecy surrounding bloodlines. Finally, all of the secrecy and unethical behavior results in the child with the tail of a pig, which eventually leads to the family's demise.
What Makes the One Hundred Years of Solitude Popular?
One Hundred Years of Solitude is frequently cited as one of literature's pinnacle achievements. The novel's magical realist style and thematic content established it as a significant representative novel of Latin American Literacy. It was also stylistically influenced by Modernism and the Cuban literary movement Vanguardia. This novel has received international acclaim and has been translated into 46 languages.
One Hundred Days of Solitude is well-known for the following reasons:
This book is so beautifully illustrated that you become entangled in the absurdities of its magical realist narrative.
It consists of a century of many fortunes and misfortunes of seven generations of a family.
It investigates the subjectivity of realities among the characters.
It cyclically blends time as the past and future always find a way to present.
Many intense romances blur the lines between true love and obsession, as well as between sanity and insanity.
It also contains reflections of Latin American history, vast magic, absurdities that feel so real, and an emotional roller coaster.
It's a remark on how social decorum rules can end up doing more harm than good.
Although it implies that the universe has some taboos that must be observed, it demonstrates that honesty and desire should take precedence over social propriety.
It demonstrates how conforming to social norms can lead to unsatisfying relationships, shame, loneliness, and life-destroying secrecy.
Spoiler Warning: Spoilers are also included in multiple places in this article.
2. The One Hundred Years of Solitudes Family Tree
The One Hundred Years of Solitudes family tree is extremely complicated due to numerous affairs and repeated names. Even after reading the novel several times, it is difficult to understand, but a visual display can help.
The Buendía family lives in the fictional town of Macondo. The family patriarch, José Arcadio Buendía, founded this town when he moved here with his wife, Úrsula Iguarán. The second generation consist of José Arcadio Buendía, Aureliano Buendía, and Amaranta. Aureliano Buendía is married to Remedios Moscote. He has a son, Aureliano José, with Pilar Ternera, as well as 17 other sons from unknown women. José Arcadio Buendía is married to Rebeca. However, he has Arcadio with the Pilar Ternera. In the third generation, Arcadio marries Santa Sofía de la Piedad and has Remedios the Beauty, José Arcadio II, and Aureliano II. In the fourth generation, Aureliano II has extramarital relation with Petra Cotes while he is married to Fernanda del Carpio. Aureliano II and Fernanda del Carpio have three children, the fifth generation, consisiting of Amaranta Úrsula, José Arcadio, and Renata Remedios. Amaranta Úrsula is married to Gastón. Renata Remedios and Mauricio Babilonia affair results in Aureliano Babilonia in the sixth generation. Amaranta Úrsula has affair with Aureliano Babilonia which result in the last seventh generation Aureliano.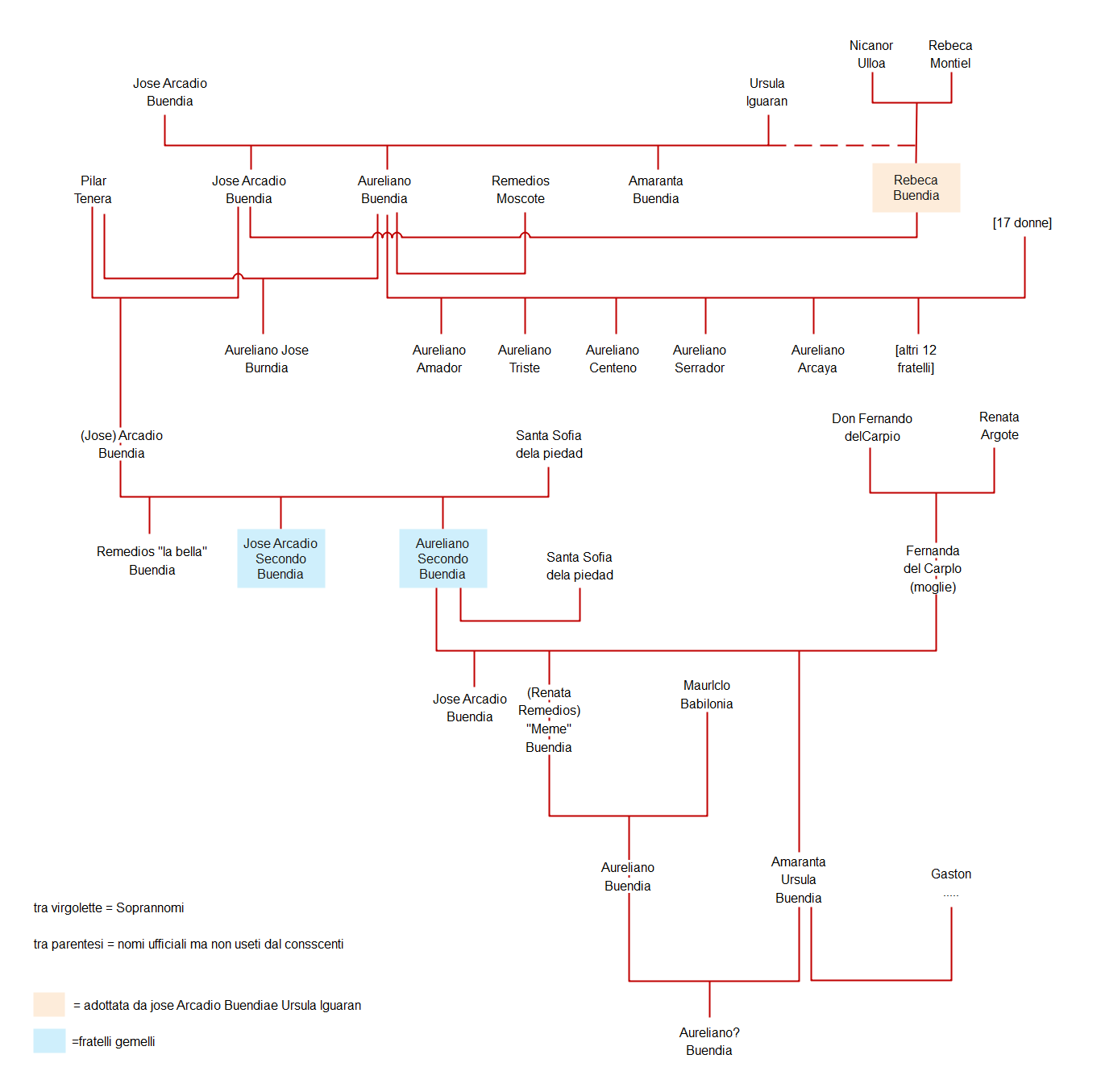 3. How to Draw One Hundred Years of Solitude Family Trees Online?
If you want to make your own One Hundred Years of Solitude family tree from scratch, we recommend you use EdrawMax Online, developed by a well-known software industry called Wondershare. The application is so powerful and lets its users make a perfect diagram in minutes with drag-and-drop functionality. The application allows users to make over two hundred and eighty diagram types. The application has more than five thousand diagram symbols.
The application's best feature is its templating feature, which allows users to choose any template from the EdrawMax template community and start editing it. With this feature of EdrawMax, you can boost your diagram-making speed and avoid potential errors. EdrawMax allows users to import their projects, edit them, and export them in multiple file formats. You can take the One Hundred Years of Solitude Family tree templates from this article or EdrawMax template gallery and start editing them and exporting them in SVG, PNG, PDF, HTML, and other formats.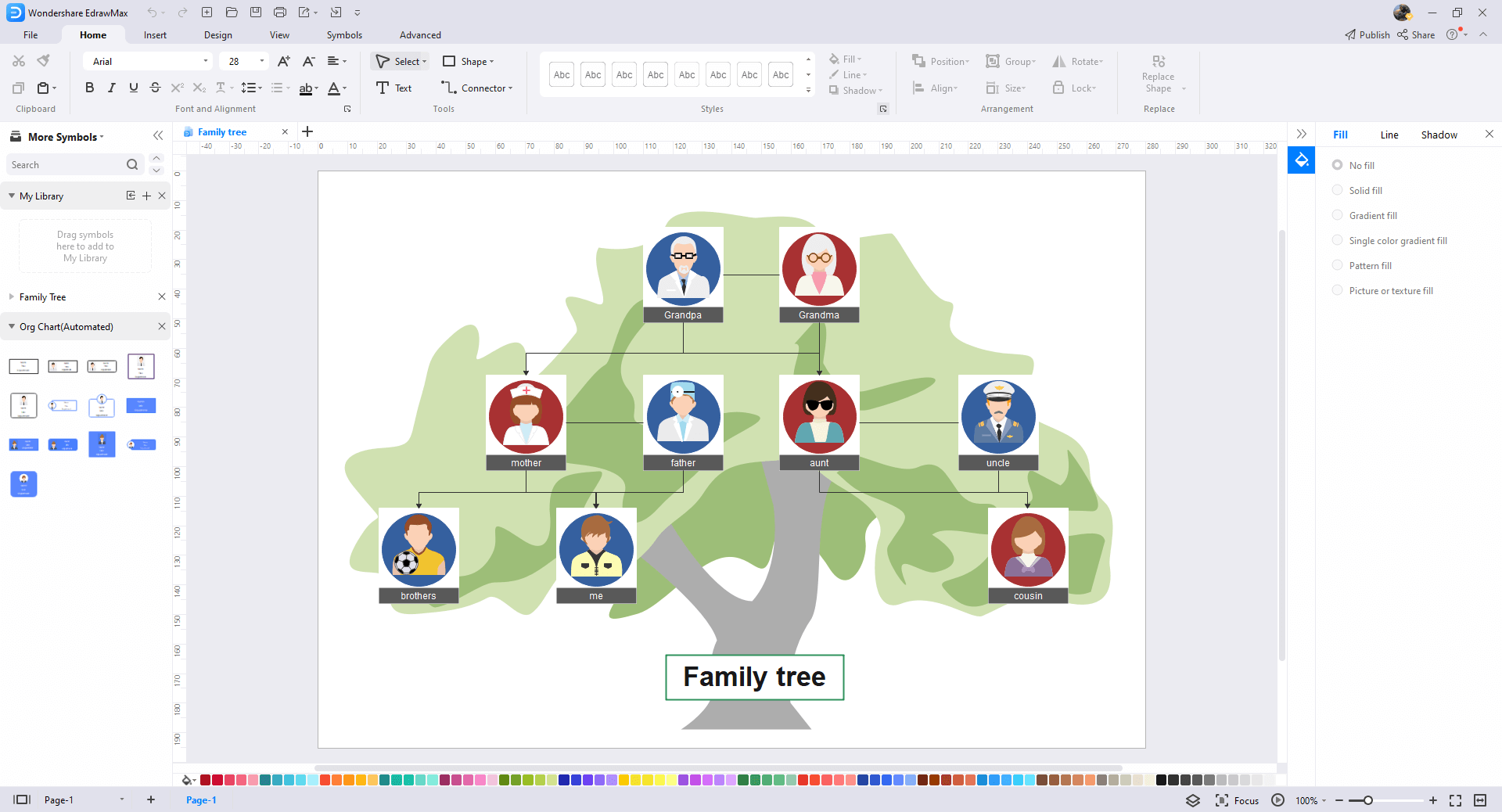 EdrawMax Online
Create 280+ types of diagrams online
Access diagrams anywhere, anytime
Everything in desktop + Templates Community
Team management and collaboration
Personal Cloud and Dropbox Integration
Related Articles