Apple Organizational Structure: A Closer Look Into How This Corporation Operates?
Well, an organizational structure presents quick information about how a company operates to achieve its goals. It is also known as an organizational chart. It defines a standard process and set of certain rules to follow within the organization. This guide presents a detailed discussion of Apple's organizational structure and how it makes the company stand out in today's market. The top benefits of the Apple organizational chart are also part of the below discussion. Let's get into the detailed specifics.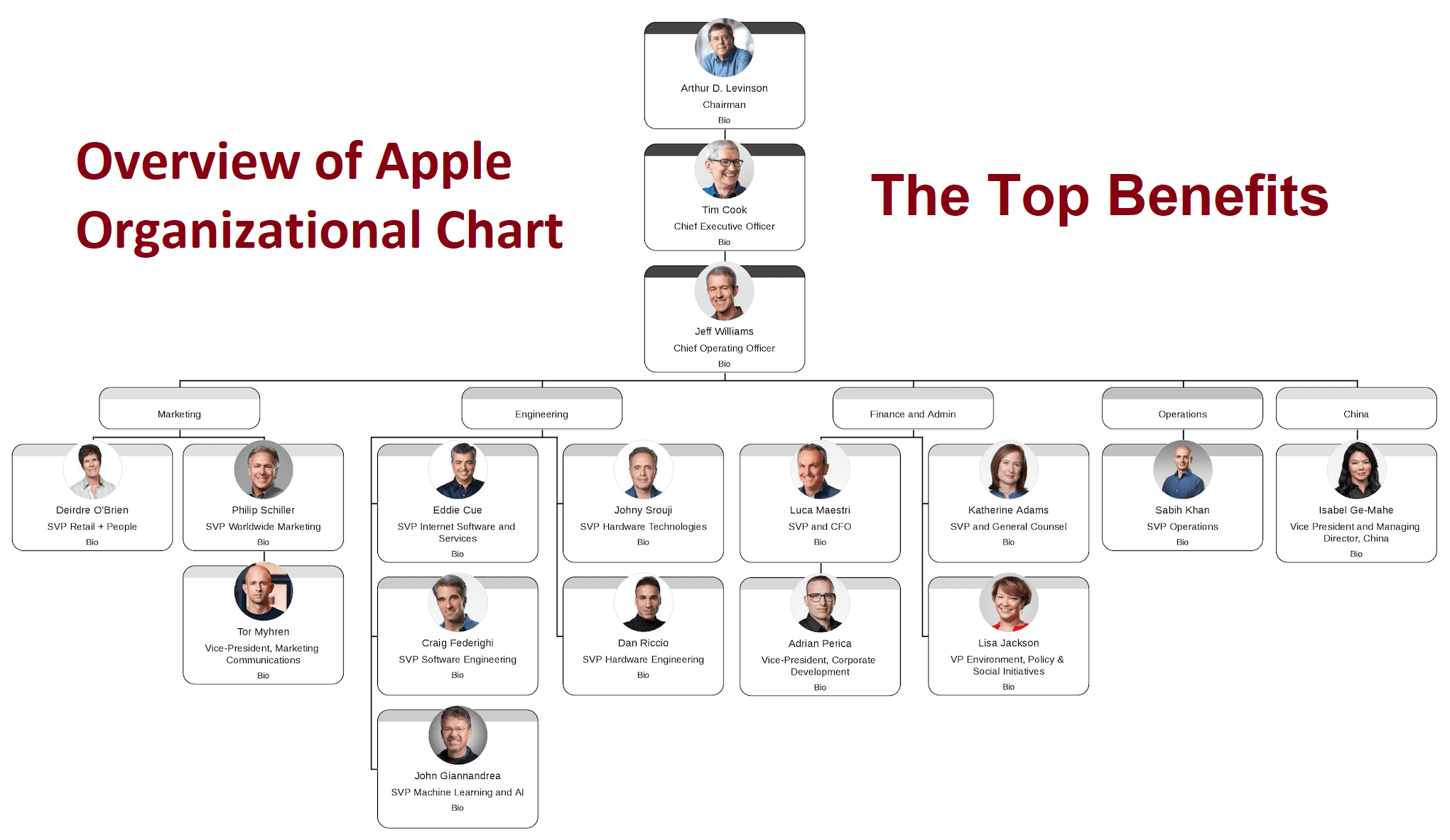 1. Apple's Organizational Chart
Organizational charts come in different types. The one Apple chooses is called the hierarchical and functional organization structure. It shows that the company is organized, keeping the areas of expertise in mind, not the different products. You can get a clear picture of the functional and hierarchical structure from the organizational chart of Apple company.
Steve Jobs (along with the founder and former CEO) created the first Apple org structure in a way to deliver a focused approach toward his vision and unique ideas. In 2011, Tim Cook joined Apple as a Chief Executive Officer. He introduced some changes to the existing organizational chart by decentralizing the decision-making process. The mission behind this amendment was to encourage creativity and innovation at different levels.
You can also see the product-based grouping from the latest organizational structure of this company. It presents different divisions, and each of them has different vice presidents and upper management. You can see that Mr. Deirdre O'Brien, Mr. Eddie Cue, Luca Maestri, and Sabih Khan are the Senior Vice Presidents in the Marketing, Engineering, Finance, and Admin, and Operations departments. With this unique approach, they enjoy solid corporate control. The latest Apple org chart is shown below.
2. Type and Characteristics of Apple's Organizational Structure
As stated earlier, organizational charts have different types, and each carries unique characteristics. This section closely focuses on what type of org chart Apple company uses and what characteristics this structure possesses.
Apple has used the hierarchical organizational chart. It has a weak functional matrix and notable characteristics based on certain divisions, like macOS and iOS. The product-based grouping within the company is referred to by divisional characteristics. At the same time, inter-divisional collaboration is associated with a weak functional matrix.
The top 4 characteristics of Apple's organizational structure are as follows.
#1 Hierarchical Structure
The Apple company has around 132,000 full-time employees. With the hierarchical structure, it becomes very easy for the management to fulfill their responsibilities. It helps them maintain tight control over the complete process. Furthermore, employee promotion and salary increments encourage everyone to perform well for the company's growth.
At the same time, the hierarchical organizational chart of the company may compromise the business's flexibility to reflect different changes in the market worldwide. It is the negative side of this feature. Moreover, communication between different departments is less effective in hierarchical organizations compared to flat setups.
#2 Grouping Based on Products
The Apple company has created five different groups based on their products and services, as listed below.
1.Mac
2.iPad
3.iPhone
4.Services like Apple Music, ApplePlay, App Store, and iCloud
5.A number of other products, including iWatch, storage devices, headphones, Apple TV, displays, and other computing and connectivity items.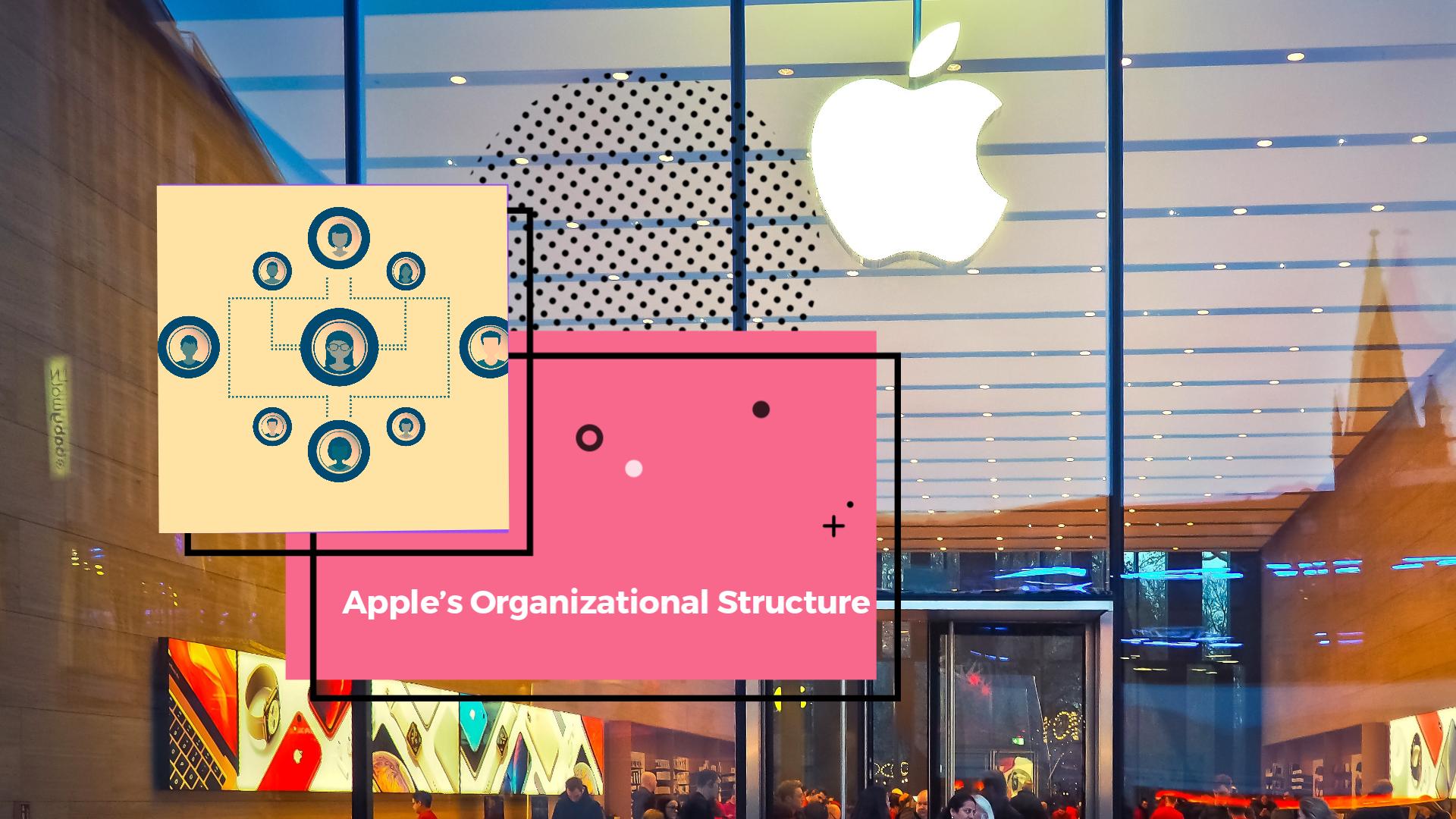 #3 Collaboration
To increase productivity and ensure better growth for the company, Apple has developed a strong system to maintain effective communication and collaboration between different divisions and groups within the company. The board of directors has proven experience in leading leadership positions in different sectors. Their experiences lead the company from the front.
You can say that the Apple org structure needs some changes or fine touches because the sales of Mac products, iPads, and iPhones have declined in the recent past. It would definitely be a matter of serious concern for the company.
#4 Functionality
The functional structure of Apple allows the management not to focus on short-term financial targets while introducing new products where considerable investment is required. This is something that helps them achieve bigger goals. Interestingly, experienced R&D executives get bonuses based on the company's overall performance and not the performance of a single product they have developed.
3. Pros & Cons of Apple's Organizational Structure
The Apple organizational structure has many benefits coupled with some disadvantages. Let's take a look at both.
Pros
The prominent benefits are as follows.
The organizational chart of the Apple company empowers the top management to make all important decisions in crucial circumstances.
The decision-making becomes super simple and fast because the whole control remains in the hands of the top-tier management.
Controlling the business and the product-based groups becomes convenient just because of the quick decisions made by the chief executive officer and other board of directors at Apple.
This organizational structure encourages the quick and effective process of strategic management and ensures its successful implementation. It helps the management establish a great thought process throughout the company.
The Apple company opens doors for overseas professionals and welcomes a multinational workforce. This way, thousands of talented individuals from across the world get the opportunity to work with experienced professionals at Apple.
The opportunities and scope for all employees increase greatly because the company is directly involved in various products and industries.
Working with different mindsets allows everyone to develop creativity and adopt an improved working style.
Due to the certain powers assigned to the top management, they offer lucrative incentives and salary increments. It helps them maintain an awesome rate of job satisfaction and employee retention.
The beneficial program of the Apple company provides all employees with site fitness, flexible spending account, stock purchase, insurance, product discounts, and much more.
Any change in the existing organizational chart of Apple company will result in changing the benefits listed above.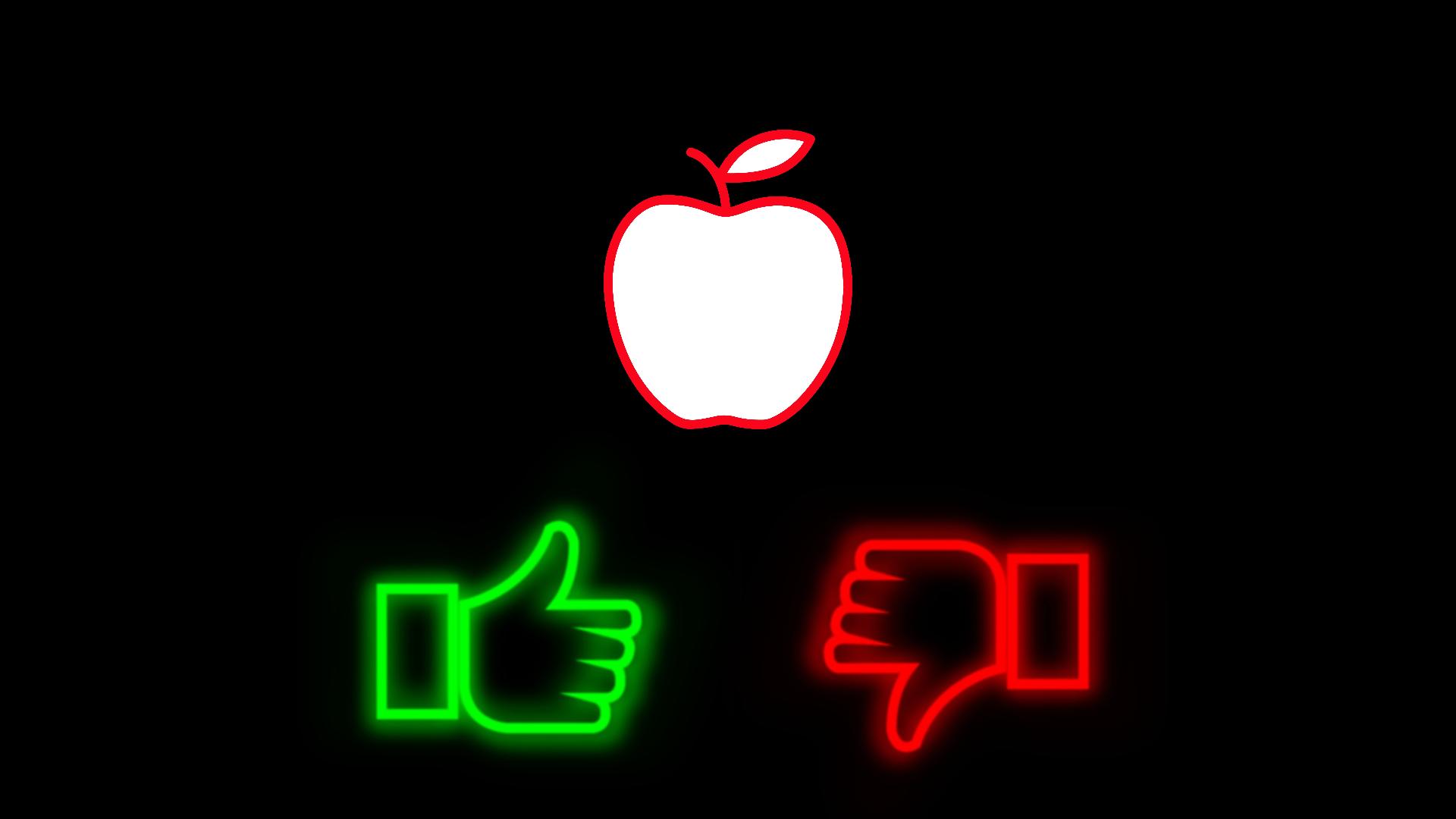 Cons
The top disadvantages of adopting the hierarchical organizational structure are listed below.
The flexibility it offers is very little.
Any sort of approval takes a long time because the final approval has to come from the top management. So, implementing sudden changes becomes almost impossible.
Due to the hierarchy system, lower-level employees can't participate in the decision-making process.
A number of unfair compensations and promotions have been seen in the past due to the Apple company's unique corporate culture.
The information does not remain readily available due to the lack of transparency.
The management encourages all employees to work long hours. It increases the stress level and directly impacts their mental and physical health.
4. How To Create an Organizational Chart Without Hassle?
Do you want to create an efficient and effective organizational structure for your company to streamline the overall business process? Looking for a credible tool to rely on in this regard? Look no further! EdrawMax will be your trusted partner for sure.
This tool provides you with pre-built templates to make it easy for you to create your org charts. It also allows you to create an org chart from scratch. It all depends on the users' requirements. Let's look at how you can use this tool to create your company's organizational chart.
Step-By-Step Guide
Below is a list of 6 super easy steps you can follow to create your org chart within a few minutes.
Step 1: Go to the official website of EdrawMax, download the tool, and install it on your computer. To get this utility on your device, hit the "Try It Free" button, and you will get a free trial with limited features for 15 days. If you want to download the complete version of EdrawMax, tap on the "Download Now" button.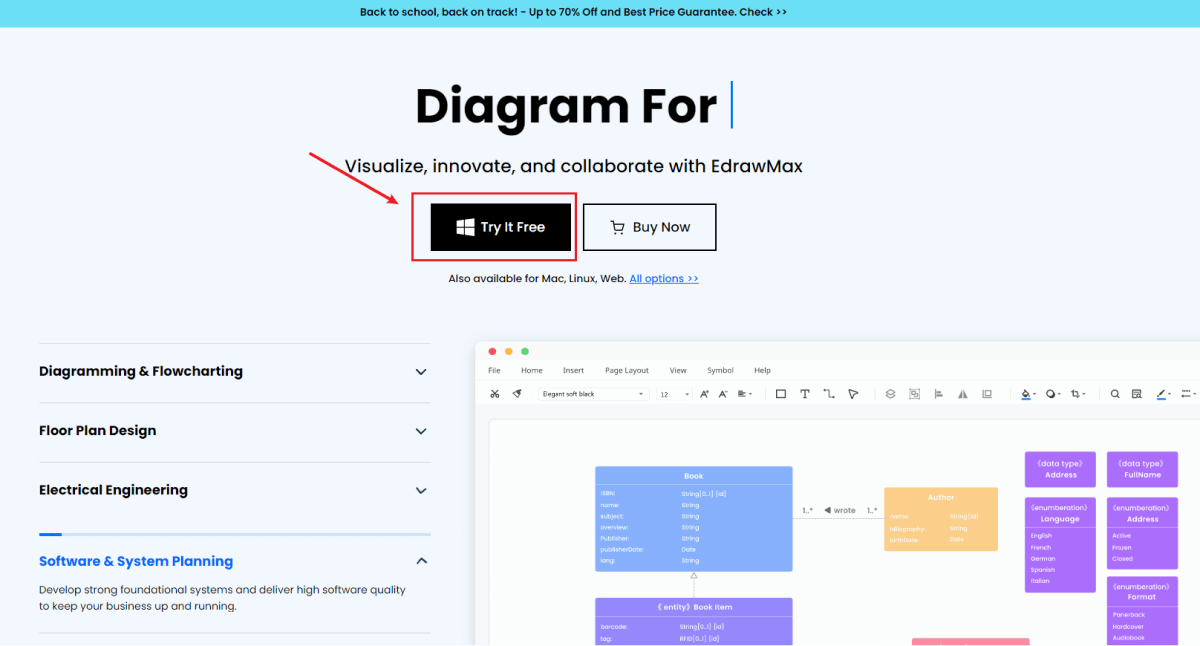 Step 2: This tool comes with a wide selection of built-in, ready-to-use templates. If you don't want to create an org chart from scratch, you can choose the template that suits your requirements the most.
As soon as you log into EdrawMax, you will see the "Templates" option on the left side of the main window. Tap on this option, go to the search bar, and then type "Organizational chart". Doing this will show you a series of amazing org chart templates. Move your cursor on the chart you want to select and hit the "Use Immediately" option. Now, you will be able to edit it, keeping your requirements in mind.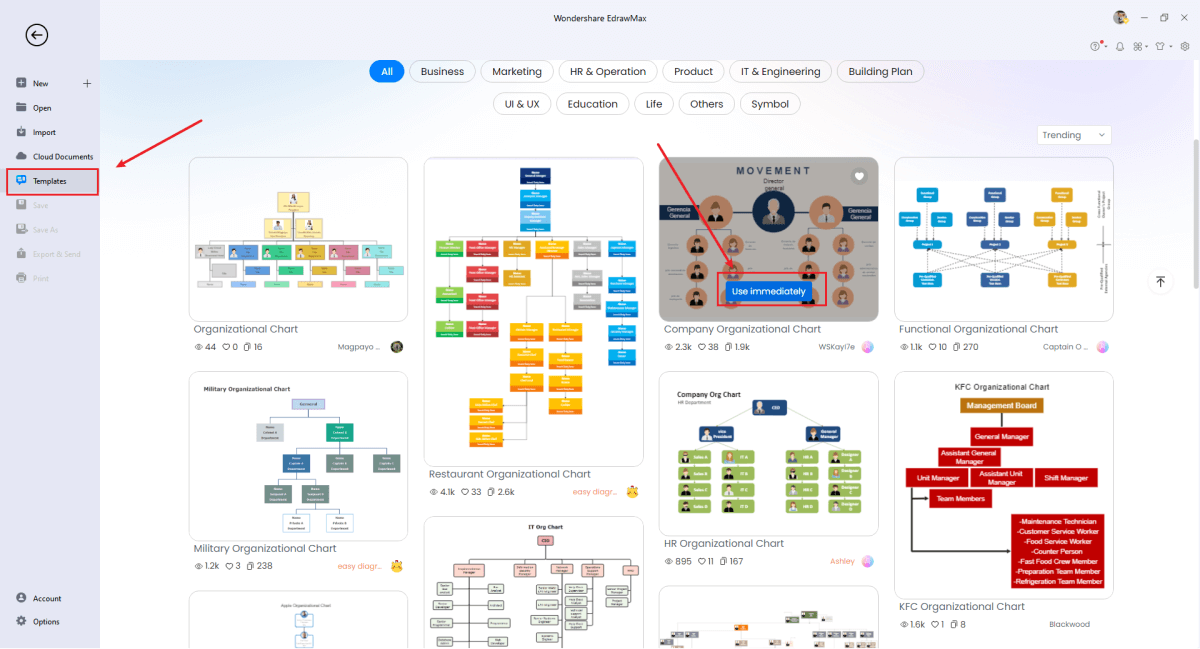 Step 3: If you didn't find a suitable template or you want to create your company's organizational structure from scratch, click the "New" button from the left menu and tap on "Organizational Chart," as shown below. Here, you will see a couple of layouts to choose from and proceed.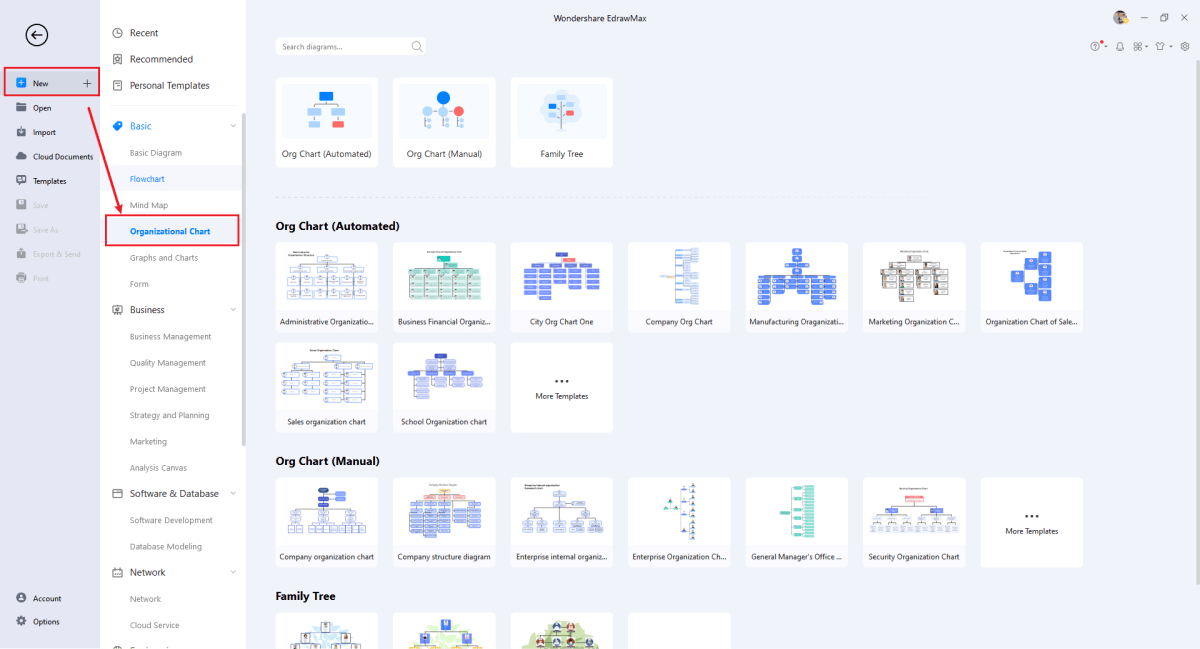 Step 4: It is time to introduce symbols to your org structure. For this, go to the top menu, and hit the "Symbols" option. You have the option to select different symbols and drag them to "My Library". It will help you save them for future use.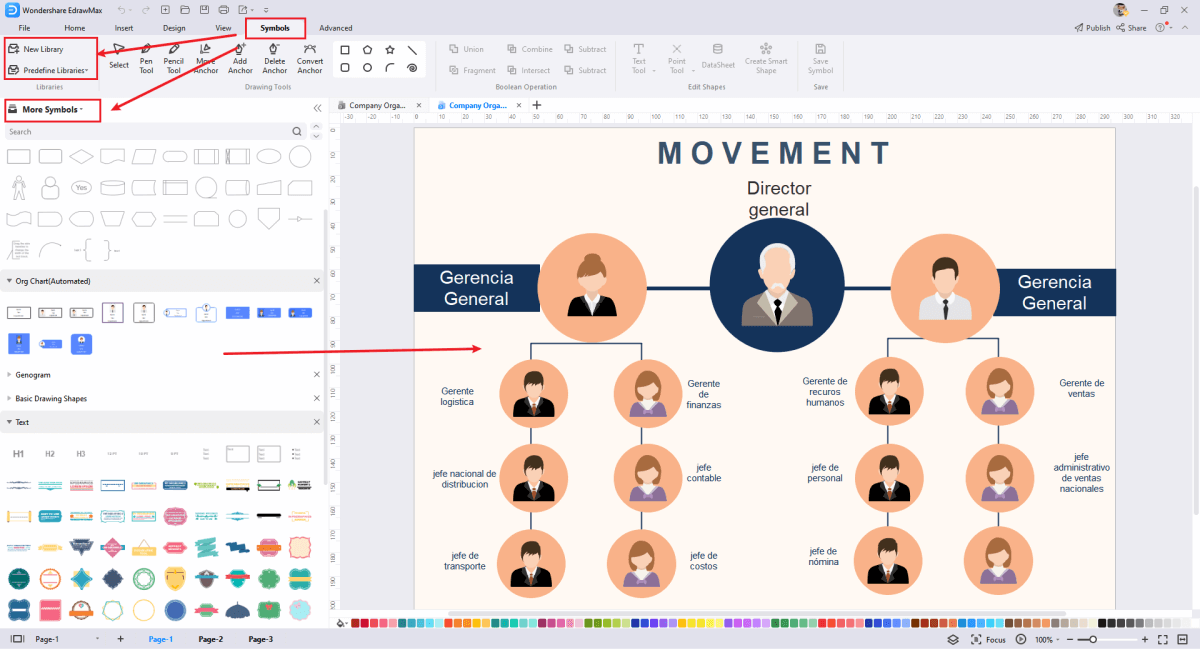 Step 5: This step is about personalizing or customizing your org chart by changing colors, font style, font size, symbol resizing, and other similar parameters. A huge range of components is available within the EdrawMax. You can explore them to find suitable ones for your organizational chart.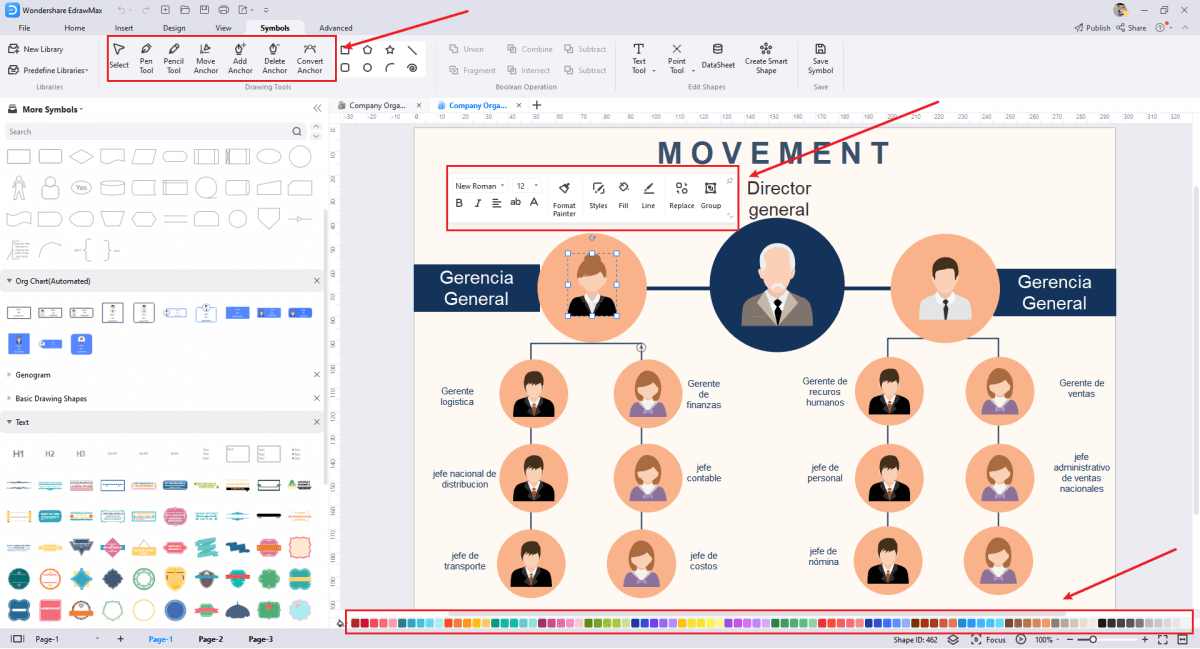 Step 6: Once you prepare your chart, go to the "File" menu and click the "Export & Send" option. Now, choose the suitable file format you want to export your organizational chart. If you want to share your chart with your social community, you can hit the "Publish" button to get this job done.
Following the above steps carefully will help you create an unmatchable organizational structure for your business. Give it a try, and you will be amazed by the outcomes for sure.
Note: If you are looking for a step-by-step visual guide to creating an organizational chart, make sure you watch this complete video:
5. Final Words
The Apple company uses a hierarchical and functional organizational chart to maintain discipline within the organization.
This chart has a couple of benefits and a few cons at the same time. For example, Apple's organizational structureenables the chief executive officer and the top management to have complete control over every decision because they have absolute power within the company. At the same time, this org chart does not allow any sudden change because the final approval comes from the top management only, and it takes time.
If you are looking forward to creating an organizational chart for your company, try using EdrawMax to get an unmatchable experience at a fair cost. A 15-day free trial is also available to give this tool a try.
EdrawMax Online
Create 280+ types of diagrams online
Access diagrams anywhere, anytime
Everything in desktop + Templates Community
Team management and collaboration
Personal Cloud and Dropbox Integration
Related Articles