Shape a Future-Proof HR Department Structure
A well-constituted human resource department can elevate the company's performance by recruiting high-performing & skillful employees and removing potential discrepancies.
1. Introduction
A company's progress rate dramatically depends on the prowess and devotion of its employees. You might experience performance reduction and bottlenecks if the chosen employees are incompetent. Hence, improving your human resource department structure is the reliable solution you should try to unveil the company's full productivity abilities.
This article is a comprehensive description of the HR Department Structure, various models for structuring your HR Department, and considerations to take into account while contriving your HR organizational structure.
2. Functions of HR Department Structure
Human resource is the business department responsible for recruiting, training, retaining, and administrating employees so that they may impart maximum of their abilities to augment the company's performance.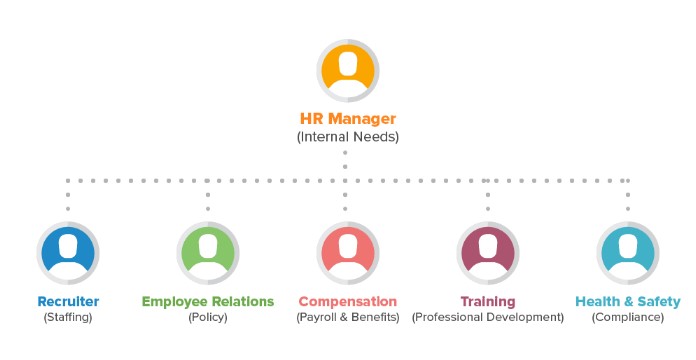 Here is an array of some salient functions the HR department is supposed to perform:
Defining Roles & Responsibilities:
Serving as a blueprint for the company's entire body of personnel, the HR department defines each employee's role, signifying which individual will fit in which tier. Placing competitive individuals in their relevant and desired fields will help them fully unleash their potential for thriving the company's network.
Determining Decision-Making Mechanisms:
Another function of the HR department structure is to clarify whether the decision-making process will be centralized or decentralized. For instance, if you own a small-sized business, you can devise a flat HR organizational structure for making decentralized decisions. On the other hand, you can develop a hierarchical HR structure for a formal and channelized decision-making process.
Enhancing the Company's Performance:
If you hire individuals without proper strategies, it would be challenging for you to monitor and handle their salary, competence, & working time models. On the other hand, developing an organized HR department structure will allow you not only to monitor the employees' working hours and salaries but also to keep an eye on any emerging bureaucracy.
Hence, when employees get in-time salaries and justifiable working hours, they will work with motivation, leading to the company's progress.
EdrawMax Desktop
Create over 280 types of diagrams
Windows, Mac, Linux (runs in all environments)
Professional inbuilt resources and templates
On-premises software for business
Enterprise-level data security
EdrawMax Online
Create over 280 types of diagrams online
Access diagrams anywhere, anytime
Team management and collaboration
Personal Cloud and Dropbox Integration
3. Free Editable Examples of HR Organization and Team Structure
For your insight, we have protracted some reality-based HR organizational charts to portray and illustrate the HR organization and team structure.
This human resource org chart visualizes the employees working in the HR department, each one allocated for a specific task. The director of human resources is the leading figure that controls and instructs the sub-departments, such as risk managers, compensation analytics, trainers, and staff managers.
The diagram clearly shows that frontline workers will report to their managers, while managers are supposed to report to the human resource department director.
The internal structure of the HR department is represented here, including the names and posts of the personnel. The hierarchy depicts the director as the company's leading authority, the executive secretary who receives instructions from the director, the front-desk staff who receives orders from the executive secretary, and the frontline workers.
The above-mentioned chart encompasses the director, who is the pivotal authoritative body, the manager tier, which instructs the frontline employees, and the frontline workers, who perform operations on managers' commands. Such HR organizational structures befit medium-sized businesses and corporations containing up to 250 or 300 employees.
You can go to this org chart complete guide to learn more about org chart.
4. 5 Types of HR Organizational Structures
With the emergence & maturing of tech-inspired solutions and their introduction into the business realm, the working trends have changed. Although Artificial Intelligence in HR management has proved fruitful from various points of view, it has detrimental effects on your overall performance if used improperly or without check.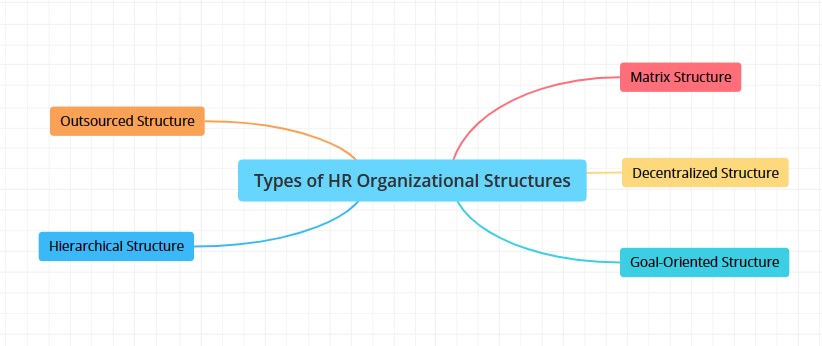 Here are those widely-used frameworks on which you can structure your company's HR department:
Centralized or Hierarchical Structure:
Most large organizations implement a centralized or hierarchical structure in which the ultimate authority makes decisions on behalf of the whole company. The structure of centralized HR departments is hierarchical, where the authority reports to the high-level management. Hierarchical structures comprise different divisions to control the company's diverse affairs, such as recruitment, employee development, training, compensation, etc.
Decentralized Structure:
In decentralized structuring, the company distributes different roles and responsibilities across different tiers or individuals, irrespective of the hierarchical divisions. The designated individuals work independently, and multiple authority points exist for decision-making.
Decentralized structures often follow flat org models, smoothening the communication between the authority and workers. Such structures also enhance flexibility because there is no formal management system prevailed.
Matrix Structure:
Matrix structure amalgams centralized and decentralized structures, having an appropriate central department but independent HR functional departments for project-specific tasks. Employees can report to the HR manager but can also report separately to the specific departments in the company.
Outsourced Structure:
In an outsourced structure, the company hires a third-party or freelance agency for the primary HR functions of the company. These structures are prevalent among small organizations that can't afford enough budget to recruit physical staff. Moreover, the company can well manage central activities, saving excessive costs and time.
Shamrock or Goal-Oriented Structure:
The goal-oriented approach proposes that the HR department should be structured according to the company's goals, giving reign to the most qualified and relevant employees. For this structure to be effective, each individual should know their responsibilities and the ways to track their progress.
5. 3 Steps To Evaluate Your Current HR Department Organizational Structure

If you want to analyze whether your current HR organizational structure is satisfactory in terms of productivity, follow the below-given procedure:
#1. Identify Critical Issues:
Make a list of all critical issues that pose a challenge and could hinder your progress as bottlenecks. Identifying these hampers would pave the way for future HR structures. You can hire a specialist to monitor all these areas.
#2. Define HR Processes:
This step is the most important, as a bit of negligence can ruin the entire performance of your HR department. Define your ongoing HR processes, working mechanisms with external service providers, and planning for future staffing needs. Additionally, it is advisable to align your priorities and eliminate redundant ongoing tasks.
#3. Implement an HR Software:
Competent HR software will help you keep things organized and uncluttered. The software you choose to incorporate will decide how your department processes will operate. Additionally, professional HR software will facilitate collaboration with external service providers.
6. 6 Steps To Structure the HR Department in Your Business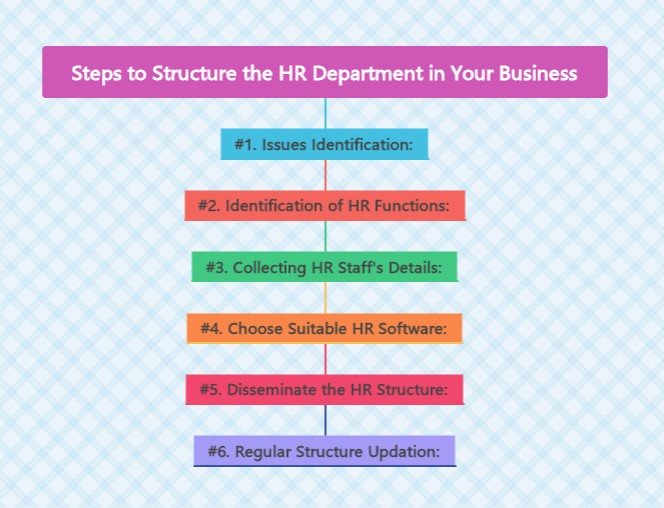 Restructure your company's HR department is a step-by-step process, which is presented below:
#1. Issues Identification:
The foremost step to commence formulating your HR department structure is to identify the major challenges your company is facing. Identification of bottlenecks will assist in figuring out the idealized structure for your firm's HR department.
#2. Identification of HR Functions:
After identifying pivotal issues, you must determine the significant functions of your company's HR department. The typical HR functions include recruiting & hiring, team development, human capital management, safety, compensation, and benefits administration.
#3. Collecting HR Staff's Details:
The next step is to gather all staff's detailed information, including their names, email, photos, address, qualifications, skills, etc. After acquiring in-depth information about the employees, you can easily craft your HR department's structure, deciding whom to appoint for which purpose. Also, pen down each member's distinguishing talents to determine their roles clearly.
#4. Choose Suitable HR Software:
When you finish collecting staff data, start making your HR department structure using dependable software, such as EdrawMax. If you don't know the fundamentals of designing, you can edit & customize a prebuilt template.
#5. Disseminate the HR Structure:
After creating the company's HR department structure, disseminate it to make it accessible to all staff. You can send the org chart via email to the staff or post it on an online portal so that everybody can view and access it.
#6. Regular Structure Updation:
If some employees leave and you hire new ones, don't forget to update the chart's modifications so that everyone remains aware of their responsibilities.
7. Org Chart Software To Create an HR Organizational Structure Chart
If you're looking for a professional platform for constituting an HR organizational structure chart, you can utilize Wondershare EdrawMax. Providing myriads of symbols for multiple fields, visualization components, a user-friendly interface, and step-by-step tutorials, EdrawMax proves to be the consummate solution for organizational diagramming.
How to Create an HR Organizational Structure Chart Using EdrawMax?
Formulating an HR org chart via EdrawMax is quick and straightforward, requiring you to follow some easy steps. You can view the video tutorial or follow the given steps for the detailed procedure:
Step 1: Download "Wondershare EdrawMax" to employ it for creating your HR department organizational charts.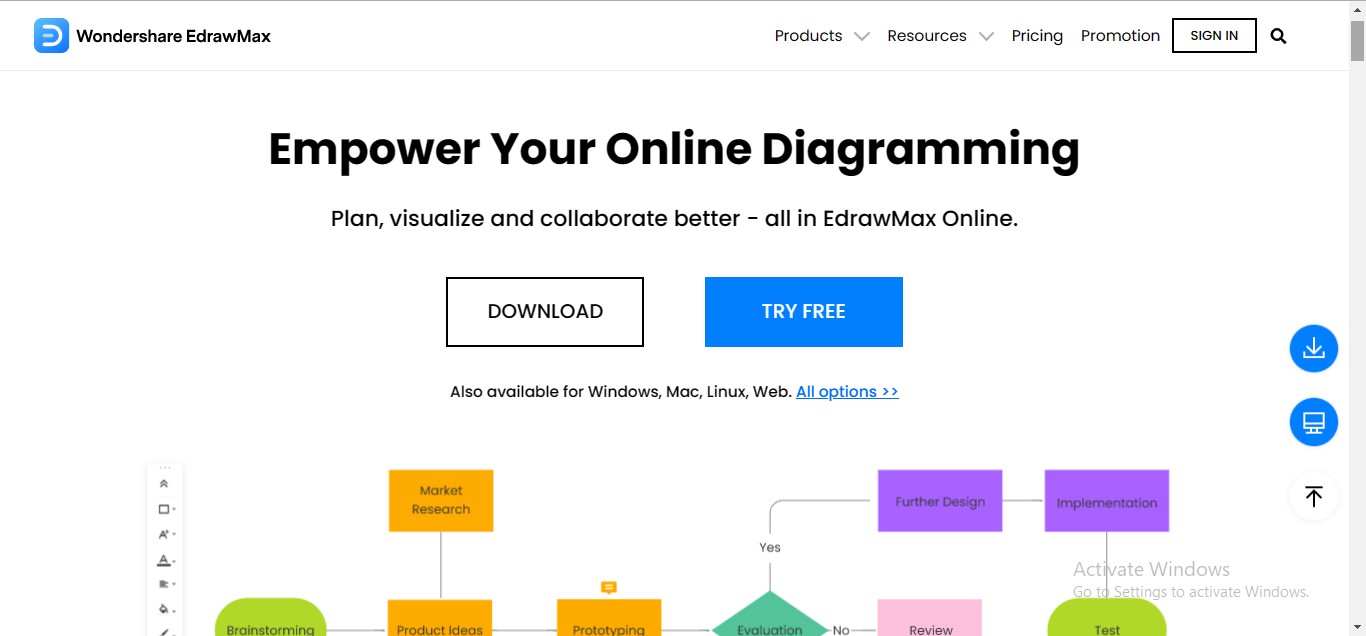 Step 2: Click the "New" option from the main interface's left panel and select the "Org Chart" tab to commence your HR organizational chart.
Step 3: Add Symbols to your HR organizational chart; right-click any box and choose the "Add" option to add a new designation. You can also integrate symbols relating to your field by navigating to the "Symbol" option in the Menu Bar.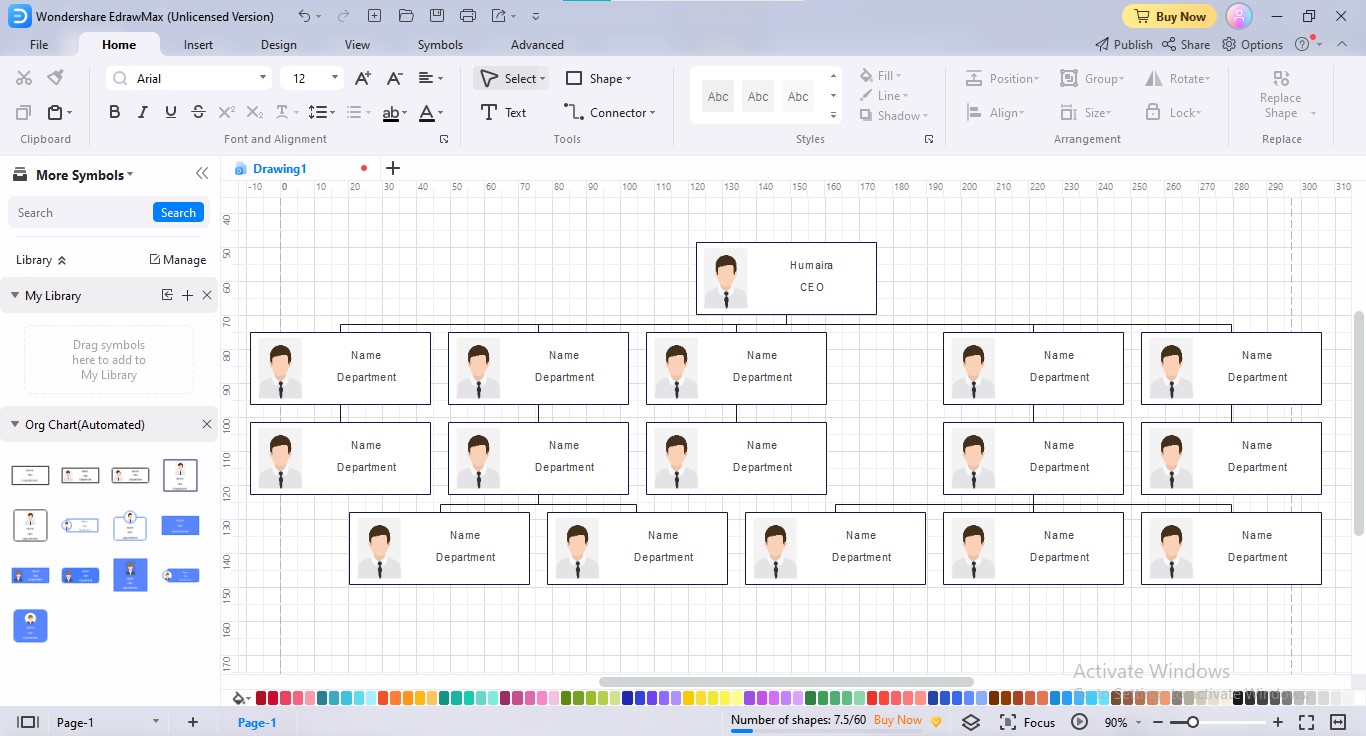 Step 4: After adding your symbols, you can Customize your HR department organizational chart by applying your favorite theme, diagram layout, font, and color scheme. Aggrandize your diagram with appealing clipart, icons, and other customizations.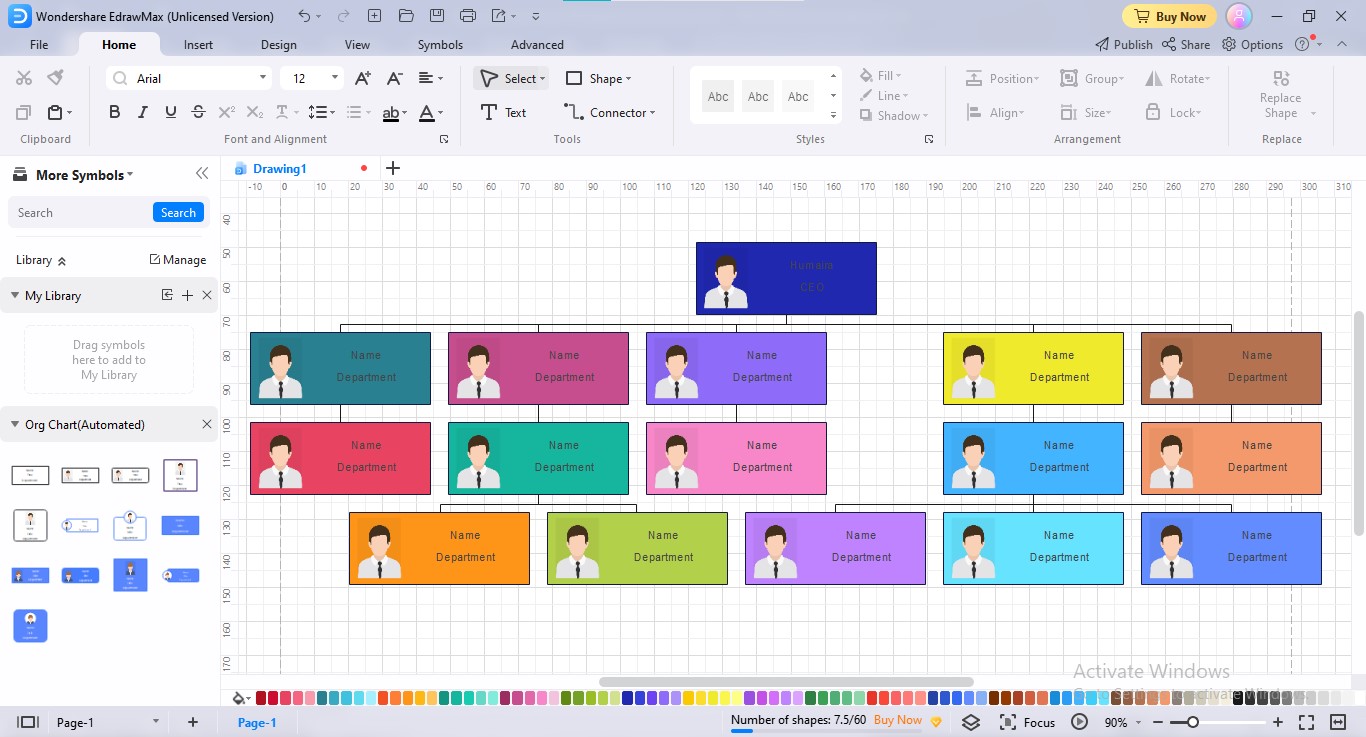 Step 5: After finishing your organizational chart, Export it for prospective use. To export your document, click the "Export Button" and select your preferred format.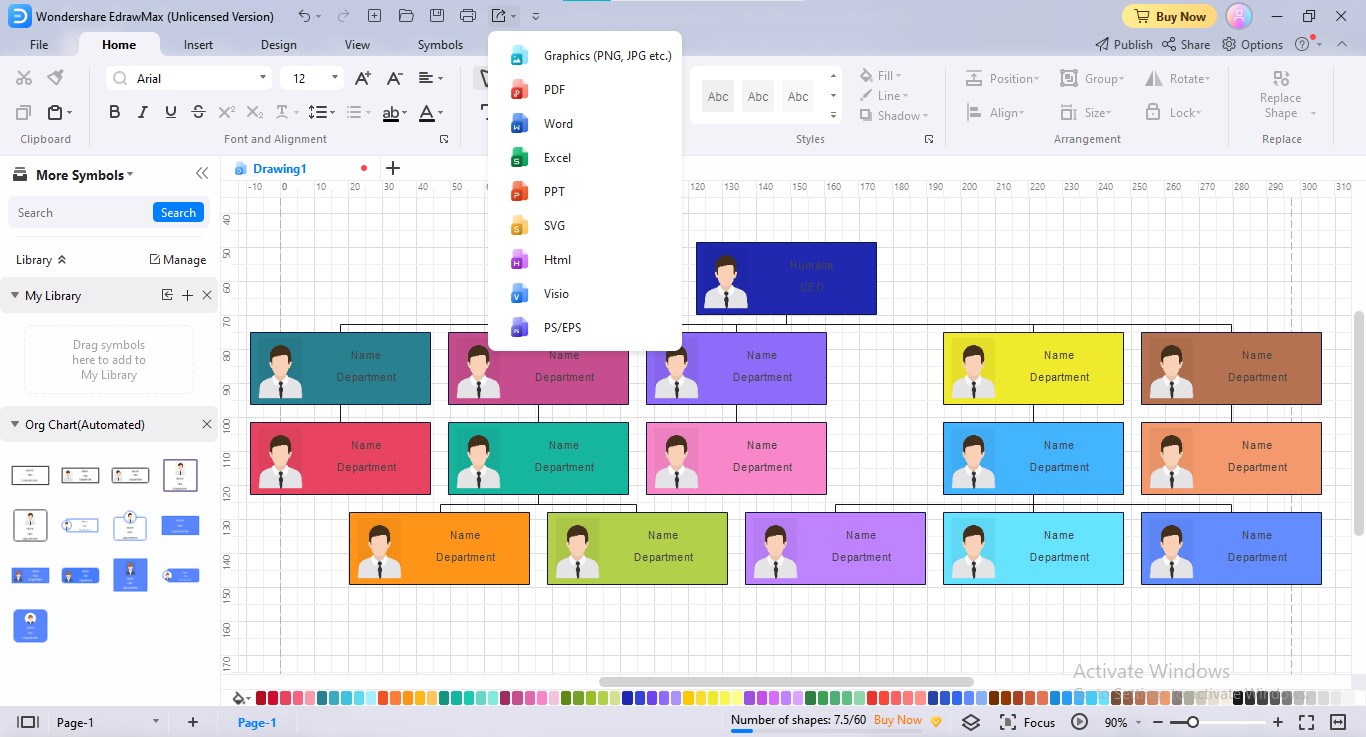 8. Conclusion
If you want to maximize your business performance, you need to work on HR department structuring. Different structuring models exist for constituting a befitting structure for your HR department, including centralized, decentralized, matrix, outsourced, and goal-oriented structures.
Modifying your HR department structure requires evaluating your existing HR structure, analyzing your business needs, and making alterations according to your requirements.
EdrawMax Desktop
Create over 280 types of diagrams
Windows, Mac, Linux (runs in all environments)
Professional inbuilt resources and templates
On-premises software for business
Enterprise-level data security
EdrawMax Online
Create over 280 types of diagrams online
Access diagrams anywhere, anytime
Team management and collaboration
Personal Cloud and Dropbox Integration
Related Articles