What Is an Architecture Diagram?
The architecture diagram is a schematic representation of a collection of ideas that are part of an architecture including its principles, elements and materials. Architecture diagram will support designers and engineers in visualizing a system or application's high-level, overarching layout to ensure the framework addresses the needs of their customers.
You may also use architecture diagrams to explain patterns which are used in the design. It's a bit like a blueprint that can be used as a guide for convenience among your team to discuss, improve and follow.
The architectural diagram layout online is a broad illustration of a house, or group of buildings; as well as different kinds of interior views. More accurate diagrams (engineering drawings) include the blueprints used by design engineers to render parts lists, schedule assembly phases, and generally work from basing, constructing the structure, running electrical wires & plumbing, etc.
The Value of Architecture Diagrams
Architectural diagrams will primarily strive to encourage teamwork, improve cooperation, and provide direction and guidance.
Specifically the architecture diagram and the documents, in general, can be used specifically for coordination, correspondence, vision and feedback within the team and through departments.
Architectural diagrams should help us understand the significance and the environment.
It lets the team have a shared understanding and promote cooperation among the stakeholders.
Symbols of Architecture Diagram
Illustrated below are the symbols of architecture diagrams. It includes key symbols like database, program, business flow, organisation unit, role association to simpler symbols like goal, impact, component, form, system, etc.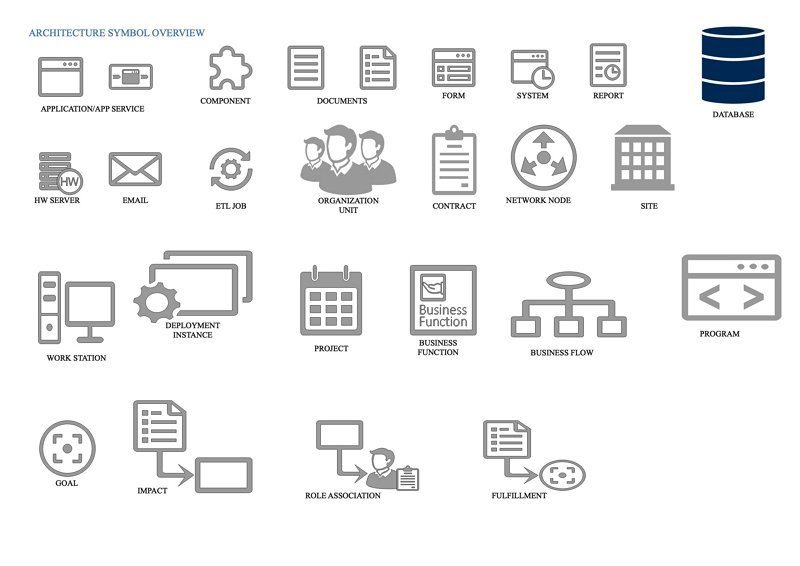 Application Scenarios of Architecture Diagrams
System Architecture Diagram

Architecture diagram systems need a system developer to understand, explain and express ideas about the nature of the system and the user needs that the system will meet.

To display the interaction between various components a system architecture diagram should be used. They are usually designed for structures that require hardware and software and these are illustrated in the diagram to display the relationship between them.

Furthermore, web applications can also be developed. It is a basic tool that can be used in the design process of the program, helping stakeholders understand the architecture, proposing improvements, and expressing expectations.

Website Architecture Diagram

Website architecture is an approach to website design and planning, including technological, artistic, and practical considerations.

Website architecture diagram uses a hierarchy structure to represent the overarching layout of a website, from where you can see website directory structure and website content management.

Website system architecture breaks down functions and demonstrates the hierarchical relationships between functions and sub-functions. The network architecture specification for a software application will include elements such as database, application server, web server, website, browser, etc. A sitemap is a graphic representation of a website's specific context.

CRM Architecture Diagram

A CRM architecture outlines the policy, framework, and procedures necessary to effectively handle customer interactions. When applying this architecture CRM programs play a key role.
Plan: Your CRM priorities will set your CRM strategy and lead the selection process for your apps.
System: The CRM system should give priority to data collection and organisation.
Processes: CRM processes will describe workflows to perform on CRM priorities.
To explain elaborately, the customer relationship management (CRM) strategy of a company will be the backbone for adopting CRM software. Its functional application should be the framework for system procedures.
Software Architecture Diagram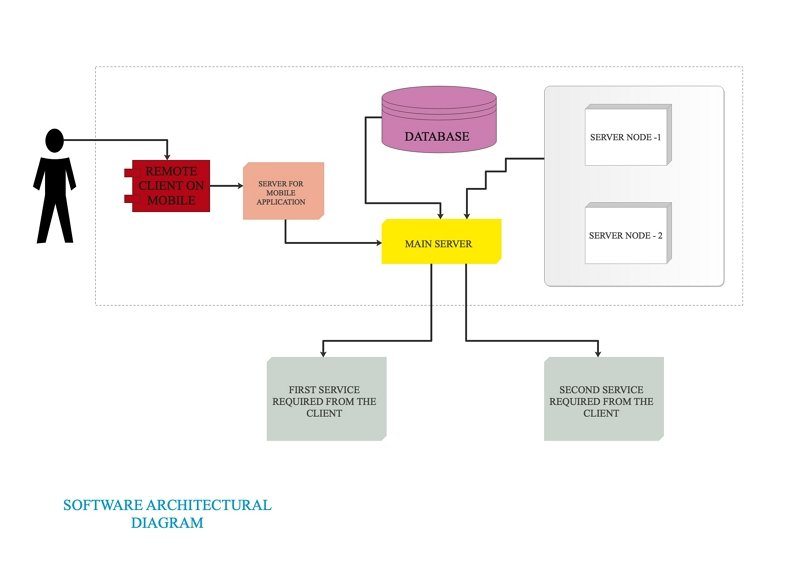 Software architecture diagram refers to the basic structures of a software system and the discipline of creating structures and systems like these. This arrangement comprises elements of the program, relationships between them, and property of all elements and relationships.
The software architecture diagram is a critical step for creators of apps and applications to explain the fundamental layout of the computer by dividing functional areas into strata. It shows how a typical system of software could interact with its users, external systems, data sources, and services.
Software architecture should not be regarded simply as a collection of templates or configurations but should include the decisions that contribute to, and the reasoning behind, certain specific structures.
Enterprise Architecture Diagram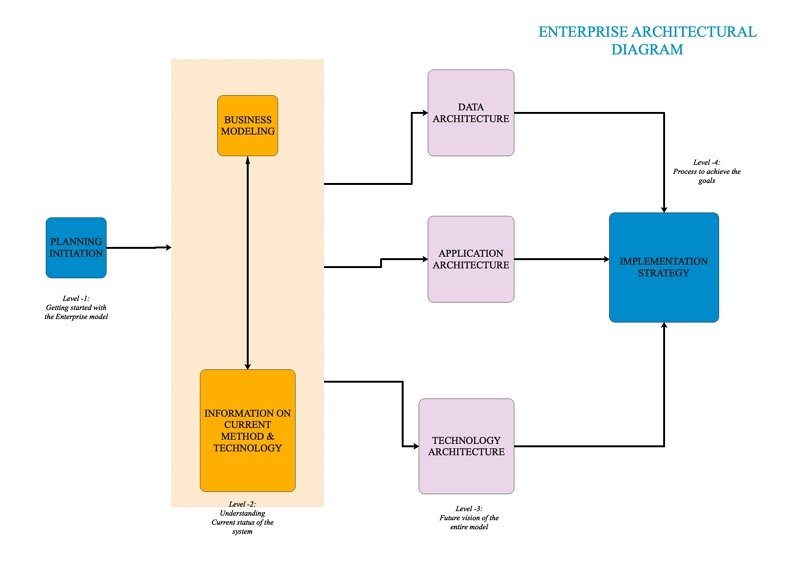 Enterprise architecture is a framework for the study, preparation and execution of corporate business operations. Each provides a number of standards and procedures across the business process to drive enterprise.
It is a methodology for proactively and holistically directing client reactions to transformative forces by defining and evaluating transition implementation to optimal market strategy and outcomes.
Enterprise architecture has four key levels: business, application, data, and infrastructure.
Why EdrawMax to Draw Your Diagrams?
EdrawMax is extremely user friendly and compatible with architecture diagrams. There are also hosts to various templates of 100+ different types of diagrams and graphical representations.
Compatibility across platforms - EdrawMax is available on the web and mobile so that you can create and share ideas anytime you hit. EdrawMax supports all types of operating systems like Windows, Mac and Linux as well as all common browsers like Chrome, Firefox, IE, and Safari as a web-based program.
100% security of privacy - With the highest degree of SSL encryption, all communication and file transfers are secured. Without your consent, nobody will be able to access your files.
Template Options and User Interface - There are many templates and design options available to ease the process of making these graphical diagrams. And the software has an easy to adapt to user interface.