Suppose you run a popular business, and your customer satisfaction score is gradually getting worse. Customers are complaining about damaged articles and late delivery.
So you decide to work with a new supplier to deliver your goods to a small number of people. In return, you got positive feedback. Therefore, you make a final decision that you're going to work with that new supplier. What did you just do? You go around the loop, which is called the PDCA cycle. It helped you to improve your services and business.
Let's discuss PDCA with further details.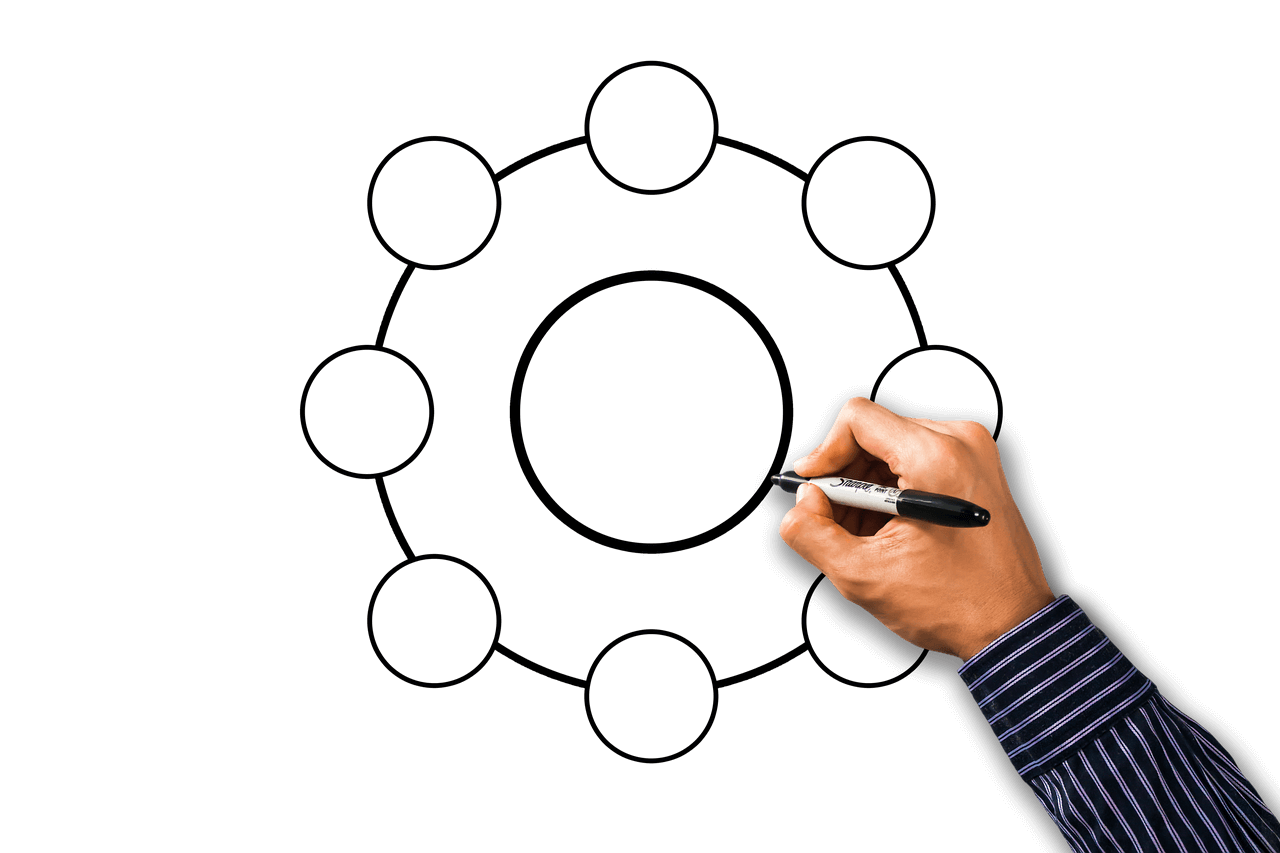 What is a Plan-Do-Check-Act Cycle?
William Deming developed the PDCA cycle in the 1950s. He also named this model Shewhart cycle because he builds this model based on the idea of his mentor, Walter Shewhart.
PDCA, PDSA, Deming cycle, or Shewhart cycle identifies what causes products to fail to meet the customers' expectations. It is an iterative approach that is important for continuously improving products, services, people, processes, and resolves the problem. Moreover, a Deming cycle test for a possible solution assesses the results and implements those solutions that prove to work.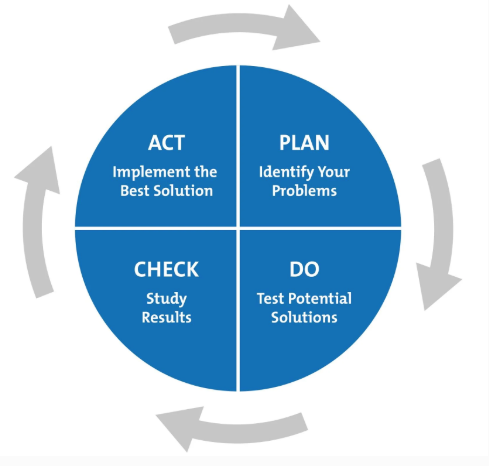 Image Source:
mindtools.com
Four Steps of the PDCA Model
A PDCA cycle is a four-stage approach that resolves problems and implements solutions systematically and rigorously. Follow these steps to obtain high-quality results.
Plan
In this step, you have to determine and understand your issue. It may also be an opportunity that you may feel like taking advantage of it.
Planning can take a significant part of your team's efforts because it consists of smaller steps. Therefore, it eliminates the possibilities of failure. Before jumping to the next stage, make sure that you answer these questions.
Which core problem we have to solve first?
Which resources do you need?
What different resources do you have?
What will be the best solution for mending the problem with available resources?
In which conditions will your plan be successful?
What are your goals?
Keep in mind that you and your team have to go through the plan several times before proceeding towards the next step.
Do
"Do" means try or test. After identifying your potential solution, check it on a small-scale project. This project will enable you to assess whether you achieved your desired outcome with minimal disruptions or not.
Moreover, when you run a pilot project, make sure to gather data to show whether the changes have worked. Standardization will help you and your team members to apply the plan smoothly, so make sure that all your members know their roles and responsibilities.
Check
This is the essential stage of the Deming cycle. In this stage, you analyze your pilot project's results against the expectations you defined in the earlier step.
You assess whether the solution you picked out worked or not. If your solution failed, you have to go back to Step 1. You have to come up with new solutions and repeat the phases.
Furthermore, you and your team members must identify the problematic areas in the current process or service. Then remove these issues, so they do not occur in the future again. Don't settle for mediocre and sub-par results! Once you're genuinely happy with the outcome, proceed to step four.
Act
Now you've arrived at the last stage. Before you only build, applied, and assessed your plan. In this stage, you implement your solution.
Remember, plan-do-check-act (PDCA) is a loop and not a process. It means your upgraded process or a product becomes a new baseline. This cycle doesn't stop here; you have to continuously look for ways to make it better for your customers.
When to Use the PDCA Cycle?
Plan-do-check-act is a tool that can be used for various purposes, such as:
Beginning a new improvement process, product, or services
Testing and exploring multiple solutions on a small-scale project
Data collecting and analyzing to prioritize or verify the root causes or problems
Implementing a change
Progressing towards continuous improvement
Since you know when we can use the PDCA cycle, let's proceed towards its pros and cons.
The Pros and Cons of PDCA Cycles
There are several merits and demerits of a PDCA cycle that you must keep in mind before applying it to your different projects.
Pros of Plan-Do-Check-Act:
● Versatility
You can use this tool in many business environments and other applications. It can be used in change management, resource management, and product development.
● Provide Continuous Improvement
It allows you to improve the productivity and efficiency in a controlled manner on a small-scale project. Hence, it avoids making large scale and untested changes to your process.
● Powerful and Straightforward Tool
This model is very simple to understand. Moreover, it is a powerful tool that resolves new and recurring issues. Thus, it minimizes waste and increases efficiency.
Cons of Plan-Do-Check-Act:
● Takes Time
The tool is easy to use, but the work takes time. It is slower, and this model breaks process improvements into small steps. Therefore, it is not an appropriate approach to deal with urgent problems or an emergency.
● Needs Commitment
PDCA is not a one-time event. It requires commitment from team members because it is an on-going and continuous process. In the absence of committed leadership, your model won't work effectively for an extended period.
Now you are well-informed about its pros and cons if the PDCA cycle template is of interest to you, scroll down to obtain free templates.
Free PDCA Cycle Templates
Here are a few free templates that you can use to make your plan-do-check-act cycle to carry out a change.
PDCA Cycle Template - Create your free customizable cycle by modifying and redesigning it to match your requirements.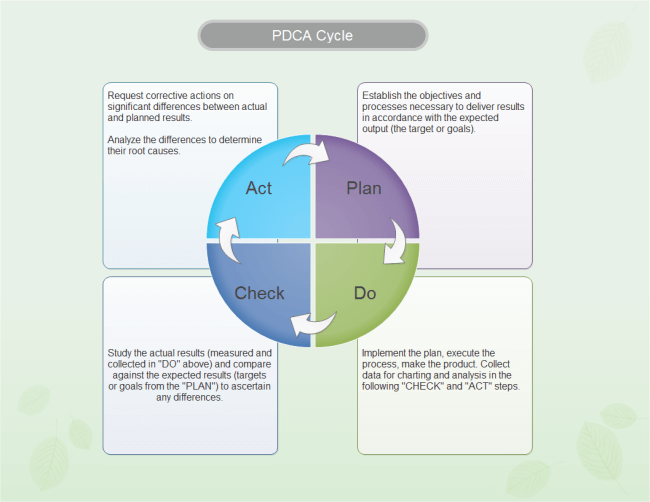 Click here to download, edit, and print this template right now.
PDCA/Deming Cycle Template - Design this PDCA cycle to test your problem-solving approach and then implement your correct plan.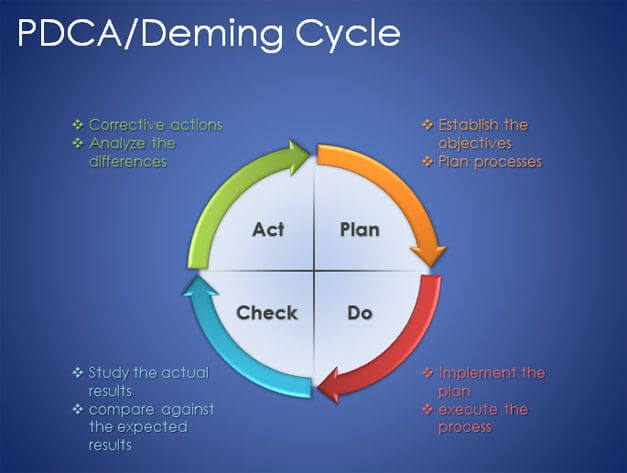 Click here to use this free template instantly!
Plan-do-check-act cycle- Create your PDCA cycle by using the pre-designed template and edit it according to your needs.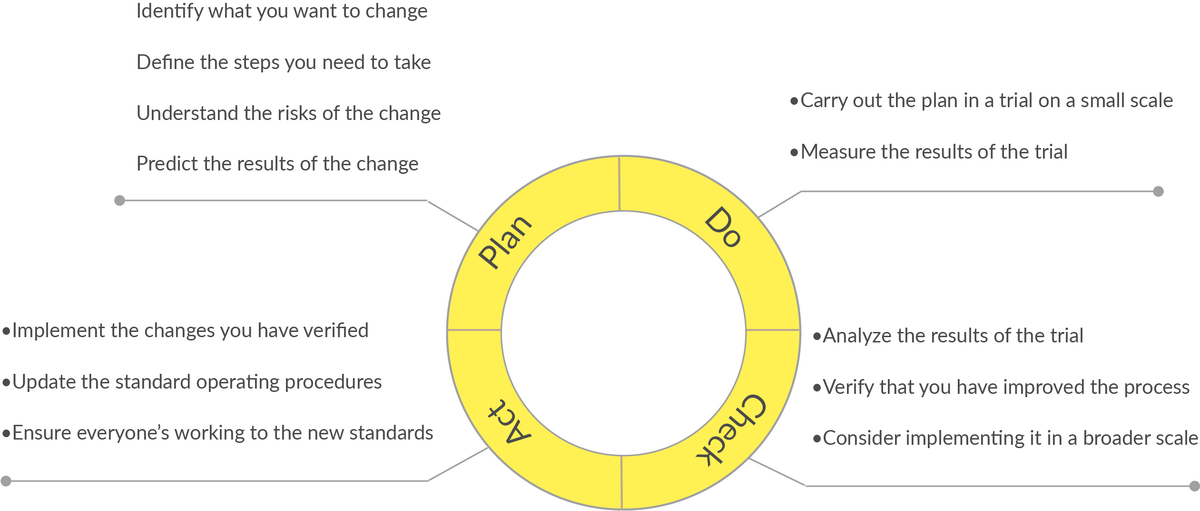 Click here to edit and download this free template right now.
Plan-do-check-act Model - Use this model to build your cycle as it will help your company break stagnancy and provide continuous improvement.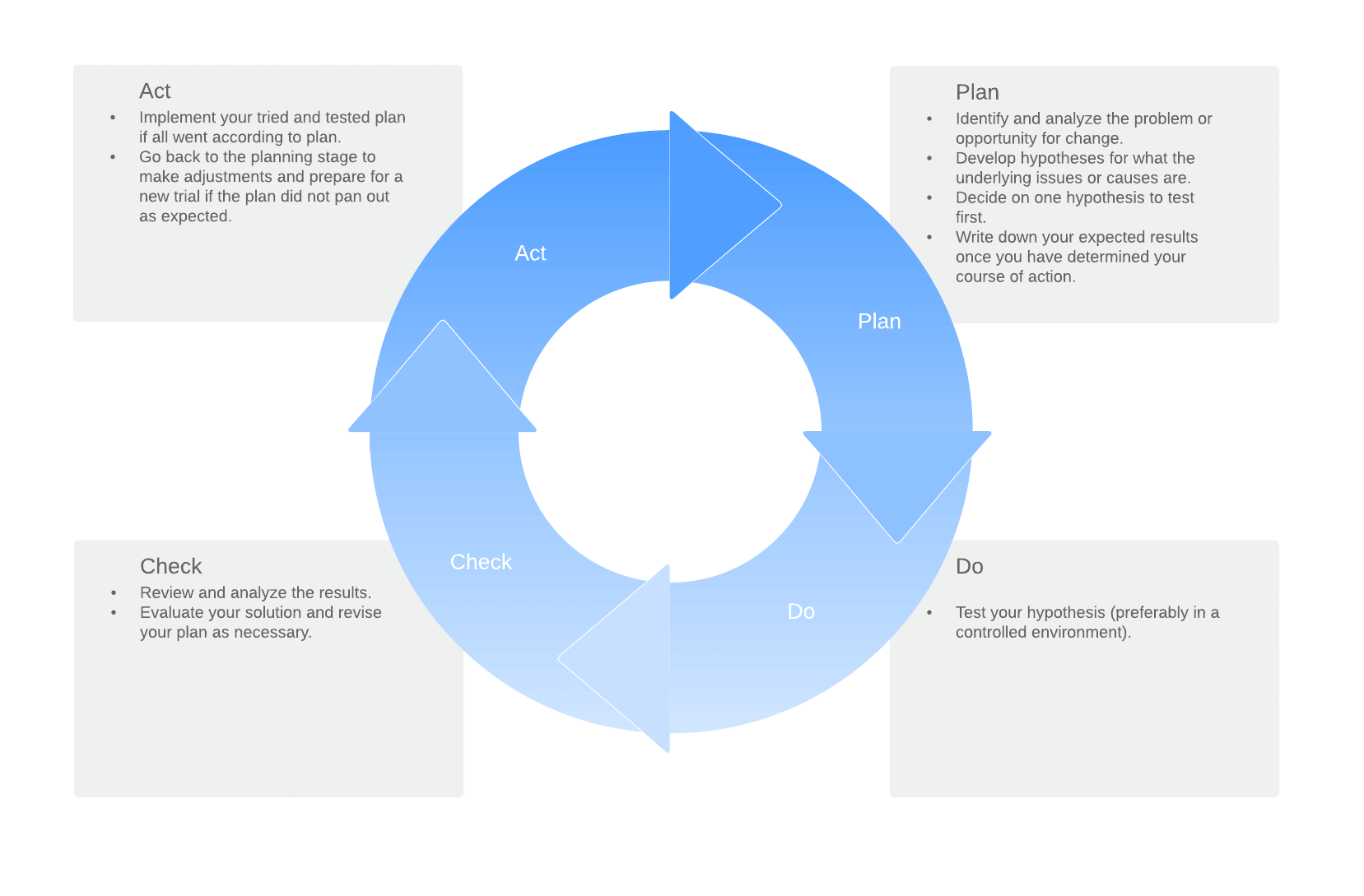 Click here to use and edit this free template instantly!
PDCA Cycle Model - Create your free customizable model quickly by using this simple and easy template.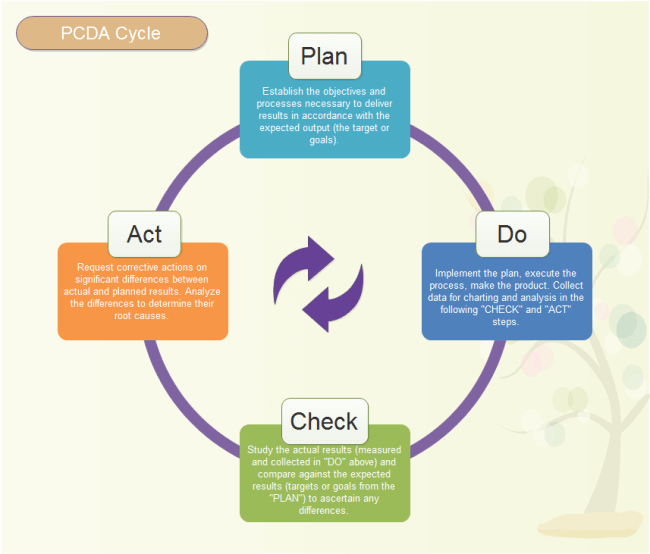 Click here to edit, download, and print this model right now.
Plan-do-check-act is a four-step model that carries out the change in a process, product, or service. This cycle has no end, and it can be repeated over again for continuous improvement; therefore, this cycle is called a loop.
Moreover, this model is considered as a project planning tool. The PDCA cycle has several pros and cons that need to be considered before applying to different small-scale projects. There are several templates available, but we have mentioned some free templates that you can use to create your model in no time.