Free Editable Bathroom Layouts
Renovate and design your bathroom with the most amazing tips and tricks and the free templates from EdrawMax! Learn how to create unique and efficient bathroom layouts in the easiest way possible.
1. What is a Bathroom Layout?
Bathrooms might be the most neglected area when remodeling houses or spaces just because they seem so simple, but they are not. You spend a lot more time in bathrooms than you think you do. In that case, they should not be boring, or there should not be any technical issues in the space, or else they can be a great nuisance. Drawing a bathroom layout is the best thing you can do before remodeling it. This way, you can quickly check and place the fixtures such as shower trays, bathtubs, toilet seats, and so on without fixing things on site. It is probably the best way to ensure that things do not collide or interfere with each other when they are placed. You may think that there are limited options due to the tight spaces you are working with but keep reading to learn the best ways to design a bathroom layout.
Things to Consider While Designing a Bathroom
Here are a few things you should keep in mind while designing a bathroom.
#1: Dimensioning
Take accurate dimensions of each wall and any existing plumbing. This will help you place objects precisely without any hassle.
#2: No Overlapping
Make sure none of the objects or fixtures overlap or interfere. For example, make sure that the door opens, and the toilet seat or sink does not come in between. Another example can be that bathtub is at a decent distance from the toilet seat, so there is no problem with using either of them.
#3: Human Circulation
Always keep movement and circulation in mind while designing layouts. It is essential that a person can quickly move in and out of the area without bumping into things rather than cramming up the place with unnecessary features that may not be practical.
#4: Standard Size
All the fixtures in your bathroom will have standard sizes. Make sure to check those sizes and place them accordingly. For example, for a small bathroom or a powder bathroom, a small toilet seat and half basin will be used to accommodate them in a smaller space. You can use a full-sized bathtub, shower tray, toilet seat, and sink in a primary bathroom. There are different styles and types of bathrooms that you will learn ahead.
#5: Keep existing fixtures in mind
A bathroom remodeling does not always have to be expensive. If you design the layout so that two or more fixtures such as shower tray and vanity share the same wall, it can cut the extra plumbing cost and so on. So you can design things accordingly, making things visually pleasing and cost-efficient.
2. Bathroom Layout Ideas & Examples
Here are a few examples of different types of bathroom layouts and plans for you to look at.
Example 1: Bathroom Layout
This first example is of a full-sized bathroom with all possible features. It includes a walk-in closet, two separate sinks with vanity cabinets, a laundry basket, a full-sized bathtub, shower tray, and a toilet seat. Even with so many fixtures, there is ample space for the users to move around and use the features with ease. The shower tray and toilet use the same plumbing line, and on the other hand, the two sinks and the bathtub share the same pipeline. This helps save costs as well. The division and partition of spaces also keep the environment ambient, without too much happening in a single frame, which is excellent for the user's peace of mind.
Example 2: Small Bathroom Layout
This is a small-sized bathroom, yet the designer has managed to fit in most of the necessary features without compromising the space required for movement. The central space is empty with a ventilator installed to suck out any foul smells and not make the space suffocating. One wall houses the plumbing for both the toilet seat and the washbasin. The shower and bathtub are conjoined. It is a great way to save space yet provide both functions without compromising any features.
Example 3: Master Bathroom Layout
This is the layout of the main bathroom. The main bathroom is known for its luxurious spaces and features. As you can see, there are built-in closets to store your clothes and other stuff in, as you can see. The dual washbasin counters have cabinets installed in them for storage as well. The toilet seat is placed in a confined space near the ventilator, so it does not interfere with the pleasant environment of a primary luxury bathroom. Along with all these features, this bathroom features a separate shower area and a full-fledged bathtub. Even with so many features crammed in, there is a lot of clear space for easy movement. It is not suffocating or claustrophobic at all.
Example 4: Bathroom Floor Plan
This example of a bathroom floor plan will help you consider small details while designing your bathroom, such as where the toilet seat will be, where you should hang the tissue paper, the placement of the dustbin, vanity mirror, closets, and so on. This specific bathroom plan is quite detailed and has a lot of clear space for movement, a sloped bathtub, two sinks, closets, towel hangers, and many other facilities. None of the features interfere, collide, or overlap, which is very important to have on an excellent bathroom plan.
Example 5: Narrow Small Bathroom Layout
If you do not have enough space or have a long narrow passage to use as your bathroom, don't worry! We have got you. This bathroom layout is designed in a long narrow space that is not even 5 feet wide. Yet, the designer has put in a dual sink, a toilet seat, and an excellent and separate shower area without compromising anything. One of the significant innovations is that all plumbing fixtures use one wall, which immensely saves plumbing costs and time. This design is quite efficient and space-saving as it has a comparatively wide passageway for users to pass through and reach every bathroom feature.
Example 6: ADA Bathroom Layout
ADA is the American disabilities act compliant bathrooms are designed for those who have mobility issues or are in a wheelchair. ADA requires the bathroom door to be at least 32 inches wide and a clear floor space of at least 60 inches. This bathroom layout is ADA compliant and includes a bathtub, toilet seat, and sink. Inclusion of handrails with all fixtures is a must to help the person sit down and get up if they have mobility issues. Clear floor space is required to move the wheelchair around and the door width for the wheelchair to pass through.
Example 7: 5x8 Bathroom Layout
A 5x8 bathroom is considered a smaller main bathroom and sometimes a full bathroom if it has three things; a bathtub, toilet seat, and a sink. Below are some different configurations of a 5x8 bathroom layout. You can have a chamfered shower tray, toilet seat, sink, door in all four corners, and central movement space. Another option is to have all three necessities in line. It will also save plumbing costs and be space-saving, providing ample clear floor for the users to move around quickly.
Example 8: 8x8 Bathroom Layout
This is a unique 8x8 bathroom layout as it does not have a toilet seat. This is specifically a bathroom that includes a sink, bathtub, and a laundry machine to wash your clothes. It is more of a laundry room where you can wash your clothes, take a bath, and wash your hands. It also has ample storage spaces to put your washed clothes or dirty laundry in. The countertop over the washing machine also provides additional surface area, and the laundry basket under the sink potentially saves space and helps hide the plumbing pipes.
Example 9: Jack and Jill Bathroom Layout
This Jack and Jill bathroom layout aims to save space but still provide a complete experience to the users. In this layout, two users have separate closets, sinks, and rooms but a shared space for a toilet seat and bathtub. Both users can easily access the bathrooms from their separate rooms. Sizes of this type can vary and are designed according to users' needs. Some of these are designed for children; however, for adults, a larger bath area is designed to maximize privacy between both users. Some of these layouts are designed with shared toilet seats, and somewhere only the bath area is shared, and the rest of the features are separated. In the end, it all depends on the user's requirement.
3. Online Room Planner
These floor plans may look very complicated to make. Still, by using EdrawMax Online, one of the best floor plan makers on the market, you can easily design and remodel your bathroom by creating these bathroom layouts. You can choose from hundreds of free existing templates in the Templates Community, or you can also make it from scratch. EdrawMax has tons of symbols and architectural blocks that you can use, modify and place according to your preference.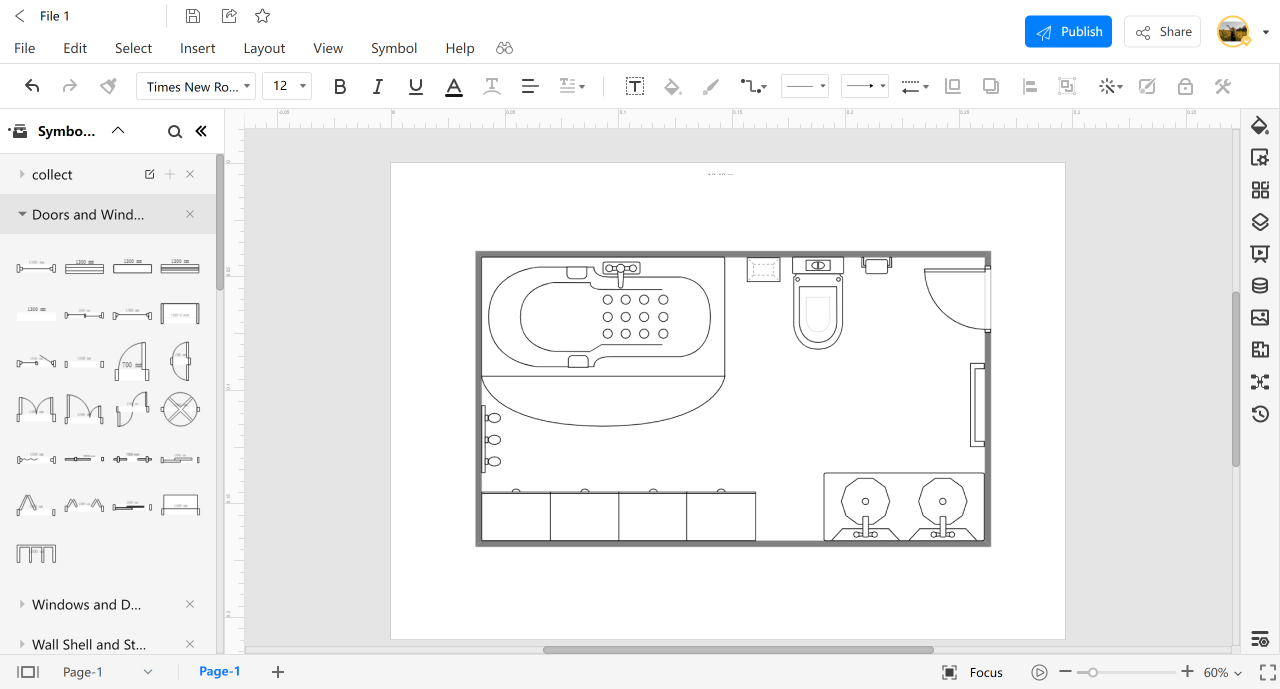 4. Key Takeaways
Bathrooms are usually the most neglected areas for design focus, but not anymore. With the tips and tricks and the examples managed above, you can quickly redesign, remodel or visualize your bathroom layouts and plans and create the utmost lively environment you need in your bathroom. No more boring, monotonous, and crammed bathroom spaces!
Related Articles