Free Editable Blank Calendar Examples
We use calendars for scheduling, planning, and keeping track of the date and year. Calendars are very important because we will not be able to see what date or year it is. How about having an editable blank calendar template to create your calendar with events, appointments, schedules, and everything you need to organize your life. Let us check some blank calendar templates.
1. What is Calendar
Calendar templates are personal information managers that support you in coordinating schedules and planning your calendar years, days, or months. An editable blank calendar template allows you to use calendars in multiple ways. You can plan your coming week, month, or year by adding important reminders, events, and appointments beforehand. You can also add important notes to your days when you are planning your day-to-day life. And, there are some birthdays and anniversaries you cannot afford to forget, isn't it? So, yeah, you can add them to the calendar too.
2. The Blank Calendar Template Examples
As we have discussed the importance of editable calendar templates, let us see some salient features of a good printable or online blank calendar template. It depends on your main purpose for using a calendar template. If you are using it for notes taking for meetings, you would want enough space for writing. For day scheduling, hourly scheduling tabs are preferable, and for general blank calendar templates, we will prefer an all-in-one template. Following are some of the best blank calendar templates.
Example 1: Blank Calendar
This blank calendar is the simplest editable calendar template. It allows you to add months and days by yourself. It needs some work because you have to add months, dates, and days based on the current year or the previous year you are probably making notes about. If you just want a simple classic printable calendar for tracking events and appointments, then this blank calendar is for you.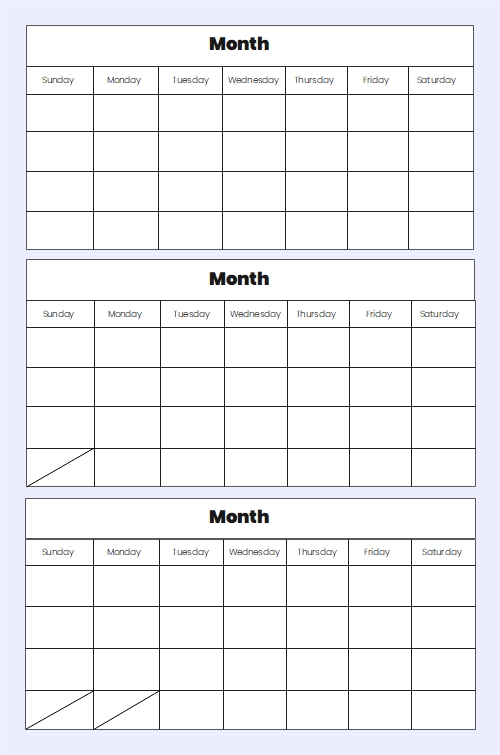 Source:EdrawMax Online
Example 2: Calendar Blank Template
This blank calendar template is a perfect template for students. It helps students to keep track of their assignments by putting them into their editable scheduler. Another use of this calendar blank template is for the teachers. Teachers can fill in all due and planned assignments in the template and send it to the students to follow or print this template to place in the class. Again the dates and days are not pre-filled, so you have to work on this aspect too.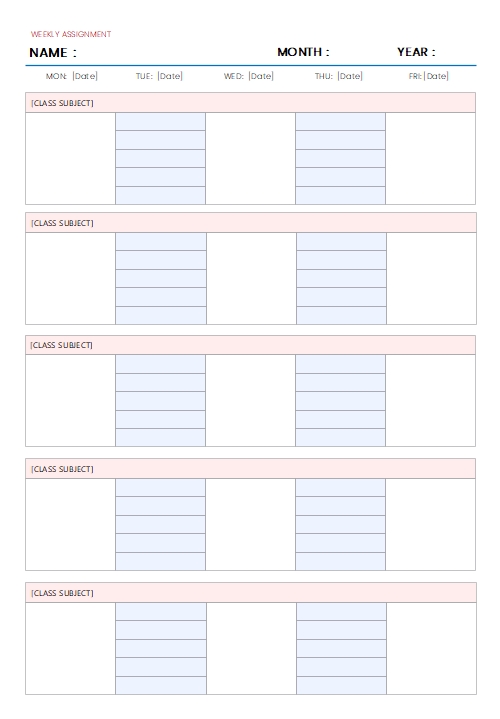 Source:EdrawMax Online
Example 3: Printable Blank Calendar Template
This printable blank calendar template is very detailed planning and scheduling tool that everybody can use. It starts with filling in the week, month and year. The next section has columns for every day of the week with blank lines in each column to fill in the details. This part can be used for scheduling the days by time and hours. The next part has three wider columns for to-do, list, and notes. We suggest this weekly blank calendar template for people who want to organize their days properly by the hour and do not like skipping anything.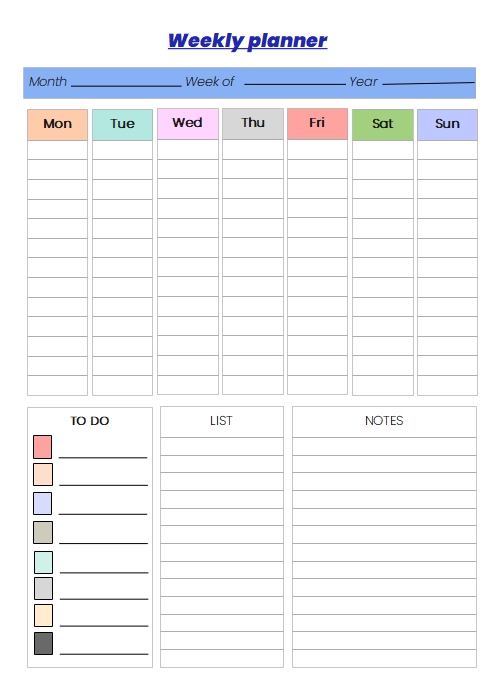 Source:EdrawMax Online
Example 4: Blank Monthly Calendar
You can use this blank monthly calendar for every month of the year. Simply fill in the month and year on top of this editable blank calendar template. You will fill in the dates in the designated small triangles on the top right of each day block. The blocks are big and spacious enough to write little details about the day, be it an appointment, assignment, or notes.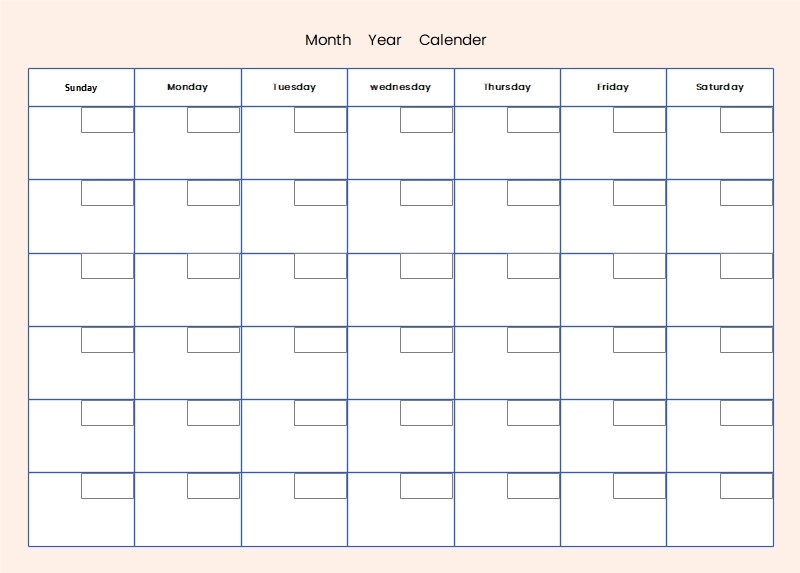 Source:EdrawMax Online
Example 5: Workout Calendar Template
This is a workout calendar template for the fitness freaks. They can use it to plan a workout regime for the entire month. The options can be writing in scheduled time, the exercise line up or even the notes after doing the exercise to record the impact and observations. There is a blank space for date in every block; however, in our opinion, this is eating up too much space, which can be used for other purposes. A simple number for the date should suffice if the month and year are recorded on top of the blank calendar template.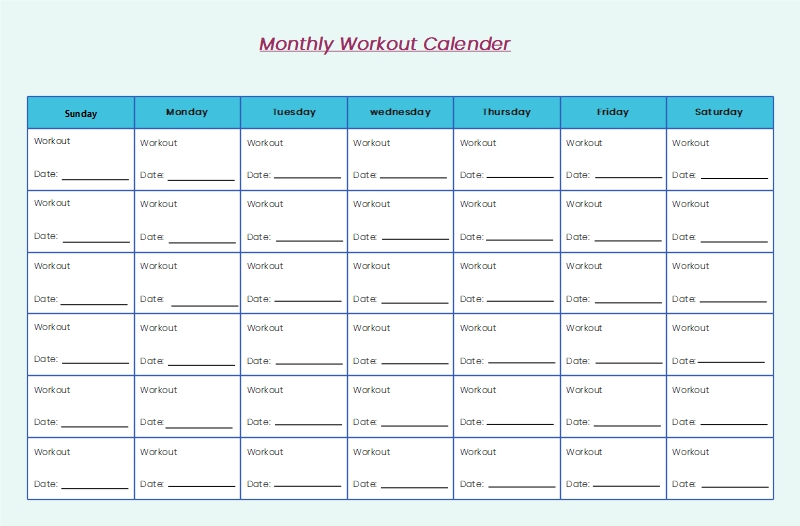 Source:EdrawMax Online
Example 6: Blank Weekly Calendar Template
Ok, now this is a colorful and aesthetically created blank weekly calendar template. It will look perfect on the class soft board or even on my work desk. Also, it is an excellent calendar functionally with enough space for detailed write-up under each day. After the seven-day blocks, an extra notes section is available that can be used in multiple ways to summarize, suggest or add observations about the day.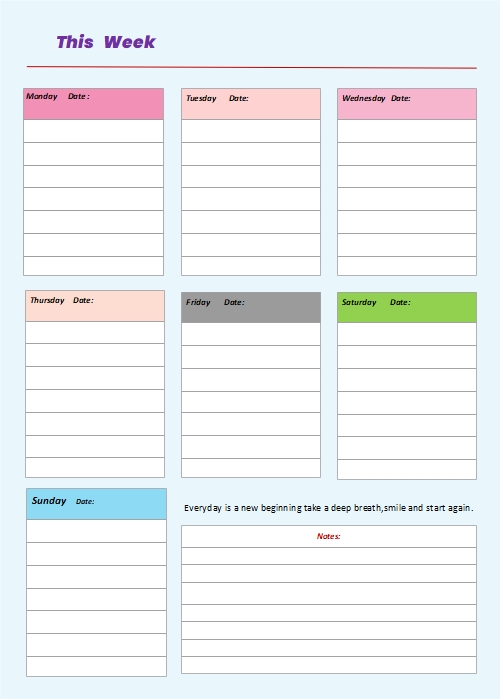 Source:EdrawMax Online
Example 7: Blank Yearly Calendar
The blank yearly calendar shown here is an event planning or project planning calendar. It has less space for writing but more functionality with project phases placeholders with starting and ending dates. The color-coding of the phases allows the user to highlight the specific phases with the same colors in the calendar placeholders with months and dates. It is a fully functional and easily editable blank calendar template for projects.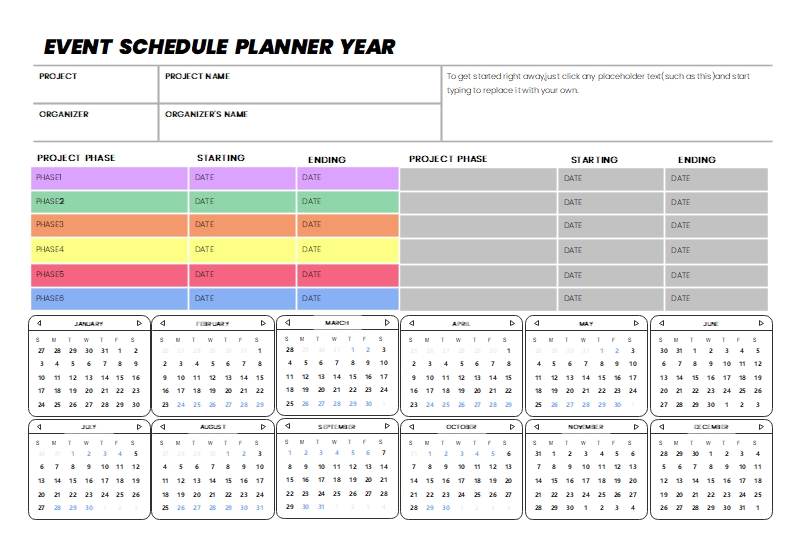 Source:EdrawMax Online
Example 8: Cute Blank Calendar Template
Wow, summer vibes. After all the work we need some vacations surely. This cute blank calendar template focuses on vacation planning, with each day of June and July marked in the grid. Though the space allocation is not very generous, single words or small sentences can be adjusted in blocks, and color-coding can be used to specify special days for particular spots and so on.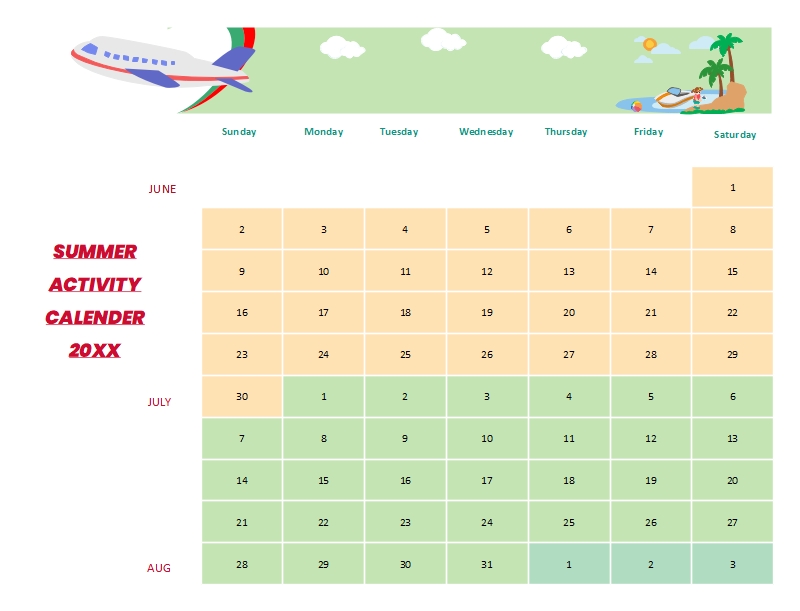 Source:EdrawMax Online
Example 9: Social Media Calendar
Social media calendar is a blank calendar template for social media editorial theme planning. The columns used here are deadline, publish date, theme, working title, channel, and status—a great tool for planning social media channels and scheduling content releases.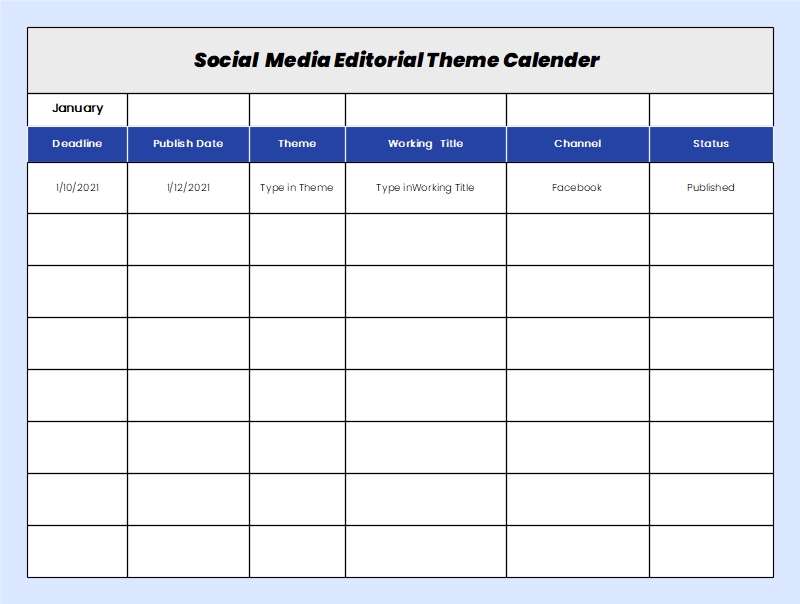 Source:EdrawMax Online
3. Online Calendar Maker
Every user has individual needs for planning and scheduling. Though many ready-made editable blank calendar templates are available in the field, you might need something unique tailored for your needs. EdrawMax Online is an excellent choice for creating your editable calendars. The main advantage here is that you can make it according to your specification, and then it can evolve as you grow. If you are worried that you will have to do all the work yourself, don't worry. Because EdrawMax has its well-stocked library for professionally made customizable and free calendars that you can customize and use for a quick start. So, yes, it is a win-win game in EdrawMax Online.
EdrawMax Online
Create 280+ types of diagrams online
Access diagrams anywhere, anytime
Everything in desktop + Templates Community
Team management and collaboration
Personal Cloud and Dropbox Integration
4. Key Takeaways
Calendars are an essential and handy tool for teachers, professionals, project managers, social media experts, managers, and even busy moms. The blank calendar templates available in the market support everyone to take a quick start at planning and scheduling. However, a customized solution unique to your requirements is a much better choice. EdrawMax Online makes creating cool, creative, and functional calendars a breeze with easy drag and drop features, advanced formatting tools, and a great bundle of professionally made calendar templates that can be fully customized.