Free Editable Graphic Organizer for Research Paper
If you are looking to learn more about how to come up with a graphic organizer for research papers, you are in the right place. In this post, along with looking at the basics of these organizers, we are also going to share some editable examples for free.
1. What is a Graphic Organizer for Research Paper
A graphic organizer in general can be defined as a graphical representation of the various elements in an activity/process. It also displays their relationship and/or chronological order. Not all organizers stick to the same pattern, but the gist remains the same. Similarly, a graphic organizer for research papers can be defined as a representation using which arguments, facts, and reasons pertaining to a research paper can be mapped out and displayed in an easily perusable form.
Coming up with a graphic organizer prior to actually writing out the research paper can be a highly useful and beneficial step. The quality of a research paper relies on being professionally and adroitly written, with little to be pointed out or corrected. In order to be written correctly, a proper pattern and order have to be followed. The arguments must be written one by one with their respective evidence and reasoning. This can be achieved if they (the arguments) are planned and assembled beforehand. Then the writer can simply tackle one part at a time. On the contrary, if the arguments are written all together, then the reasoning and the evidence can get jumbled up, leaving the reader confused.
2. The Graphic Organizer for Research Paper Examples
In order to better illustrate how these graphic organizers look like, we are going to look at some examples of the same. As we saw before, these organizers can be really important for the integrity and proficiency of the research paper. By giving the paper structure and order, the writer can make sure that each argument hits home and convinces the reader.
Example 1: Graphic Organizer for Research Paper
The core and crux of a graphic organizer for research papers can be understood from this example. This organizer features three sections in a vertical alignment. The top section is the introductory part where the title or topic of the discussion/research has to be mentioned. Similarly, the introduction points are also to be enumerated here. In the next segment, there are three columns. The details and evidence for each paragraph of the paper are to be filled in the spaces given in the columns.
In the end, there is a conclusion part where the summation of the arguments and their support can be given. This template is specifically for a paper that features three paragraphs. However, if you need to add more, you can simply increase the number of columns and structure your details according to your need.
Source: EdrawMax Online Edit Now
Example 2: Graphic Organizer Research Paper Outline
In this outline, there is firstly the introductory part where the name of the topic and the stance/perspective is mentioned. Then, in substantiation of the stance, three reasons can be given in the oval-shaped sections. Each reason is to be further supported by a concrete example, and an explanation pertaining to that example and its relevance to the reason.
The concrete examples/explanations are given in a rectangular section. You can add as many examples as you need to support your reason. Similarly, you can take inspiration from this design and come up with a similar layout that has a larger number of included reasons/arguments.
This outline can help you understand how a research paper organizer has to be created. It can also help you when you actually want to write one out, and you want to divide your content separately and tackle it part by part.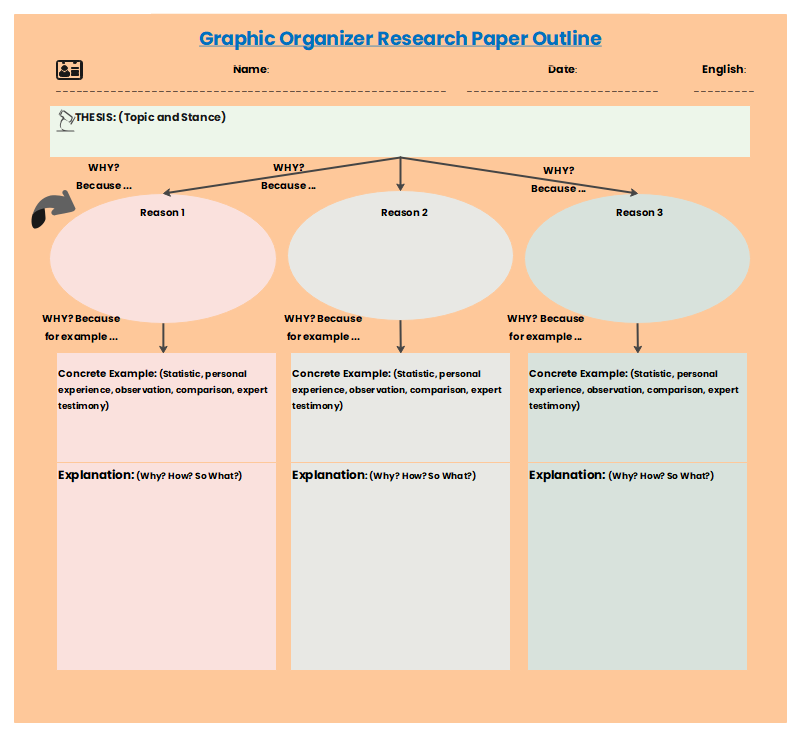 Source: EdrawMax Online Edit Now
Example 3: The Research Paper Graphic Organizer
This outline is much more elaborate and detail-oriented as compared to the last example. While the previous example was about planning and structuring the content of a research paper, this organizer focuses on the style, convention, and order that is to be featured in the paper.
The organizer starts off with the preliminary 'Focus' part, where the thesis statement has to be written. This is the part where the purpose of the paper and the aim of your argument is usually elucidated. Then there is the 'Content' part where the arguments or subtopics have to be separately mentioned and listed. Then comes the 'Style' section where you can plan out what sort of grabbers and zingers you are going to use in your content.
After that, there is the 'Organization' part where you can write out the order in which your arguments have to appear. The sequence of the arguments can have quite an impact on your paper. Last but not least, there is the 'Conventions' box that you can fill out.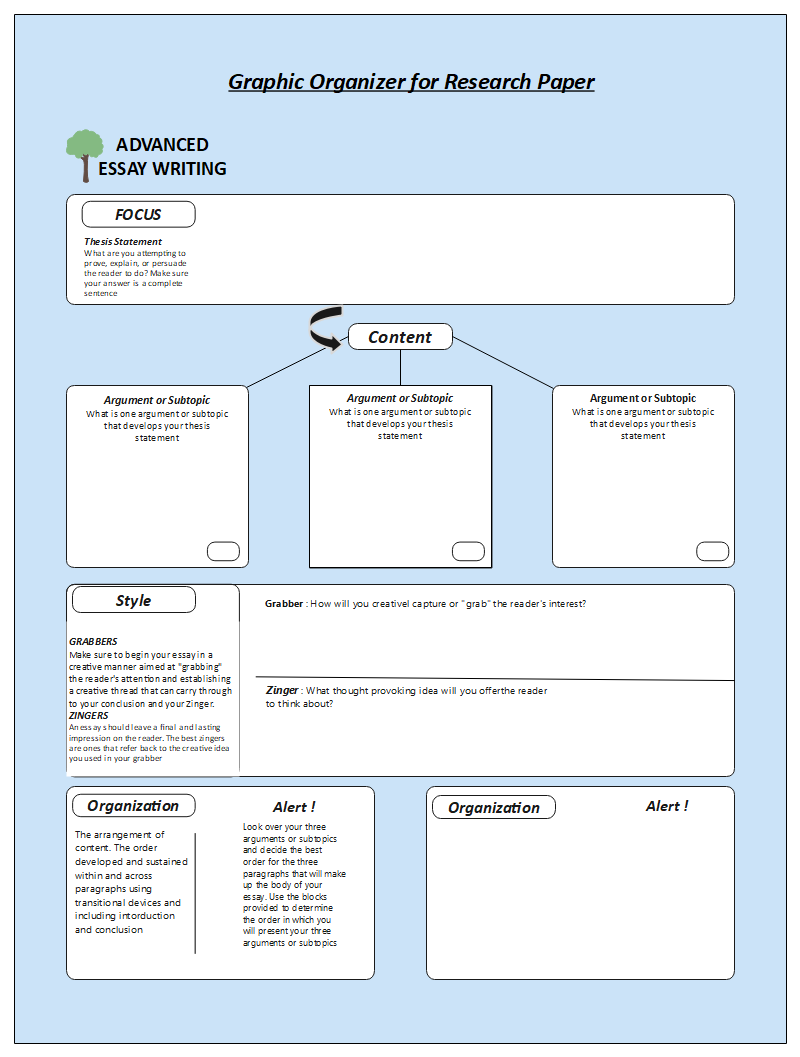 Source: EdrawMax Online Edit Now
Example 4: Graphic Organizer for Research Paper
In this example, the primary purpose of the outline is not to plan out how the research paper has to be written. Instead, this example is labeled as a 'Research Note Taker'. This outline can be defined as a form that is used to gather relevant information about the research.
This organizer can affect the quality of your research paper despite not being a planner in the strictest of sense. Using this organizer, you can list various notes and points about your research along with their sources. This can help you by a) making the referencing easy and b) by giving you an order to follow while writing out the paper. You can, while taking the notes, place them in the order you would like them to appear in the writing.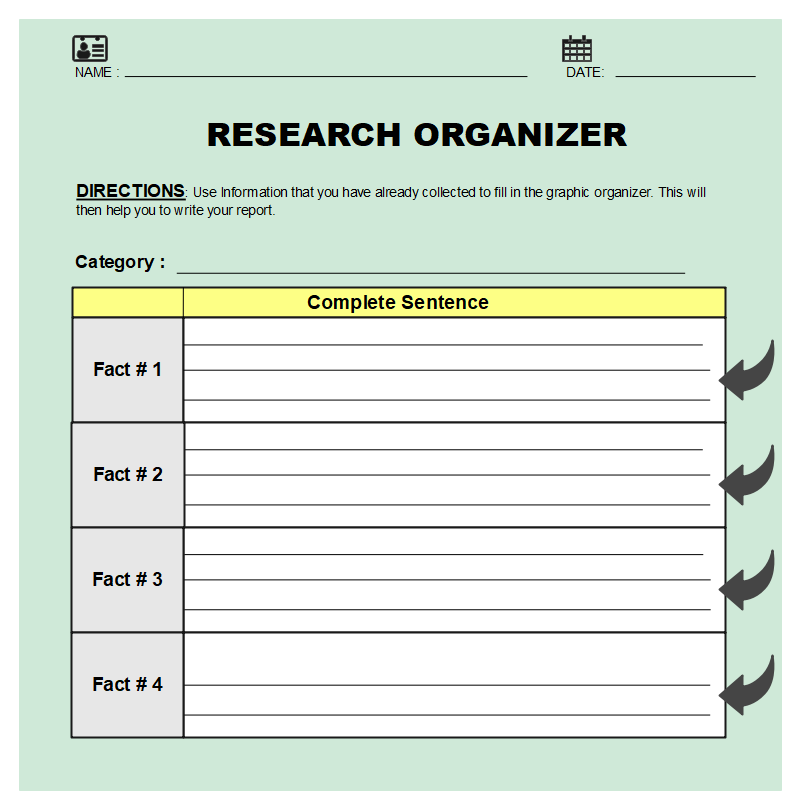 Source: EdrawMax Online Edit Now
Example 5: Research Paper Graphic Organizer
This research paper graphic organizer utilizes a distinct layout and method of planning. This organizer starts off with a 'Sources' section rather than jumping straight to the arguments, and the 'why?', 'how?' or 'when?' of the whole affair.
After mentioning the name of your topic in the upper right corner, you can write out the sources you are using for your research. By default, this layout has five boxes available for this purpose. Then follows the 'Thesis Statement'. This is where the purpose and perspective of the arguments are mentioned. After that, the 'Notes' are to be mentioned, and then the paragraphs can be individually planned.
In the last example, we saw that the graphic organizer was about taking notes/quotes relevant to the research rather than organizing the paragraphs and content of the paper. In this Research Paper Graphic Organizer, we can see that it features both. It can be used as an organizer for the layout of the paper, and it can also be used to write the notes thanks to the dedicated 'Notes' section.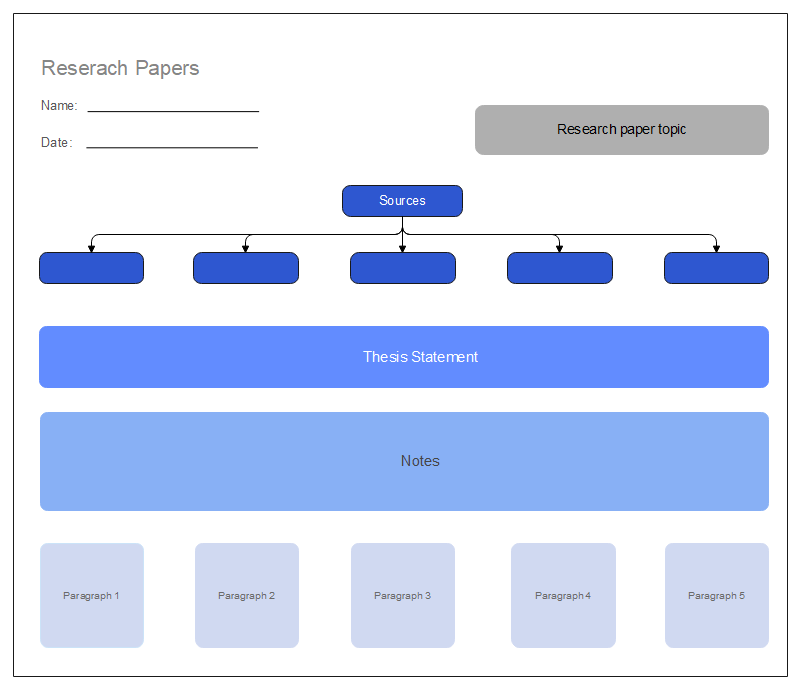 Source: EdrawMax Online Edit Now
Example 6: Graphic Organizer for Research Paper PDF
Next comes the Research Paper Graphic Organizer PDF. This template can be used to plan out the various points and aspects of a particular research question. The drawing features a triangle in the middle, where the 'Main Research Question' has to be written. After that, there is a whole bunch of boxes circumscribing the center. This is where 'Questions' and 'Facts' have to be mentioned.
Unlike some other examples on this list, this organizer does not explain the order or sequence of the paper. It merely gives us the option of writing out different reasons and pieces of evidence in substantiation of our argument.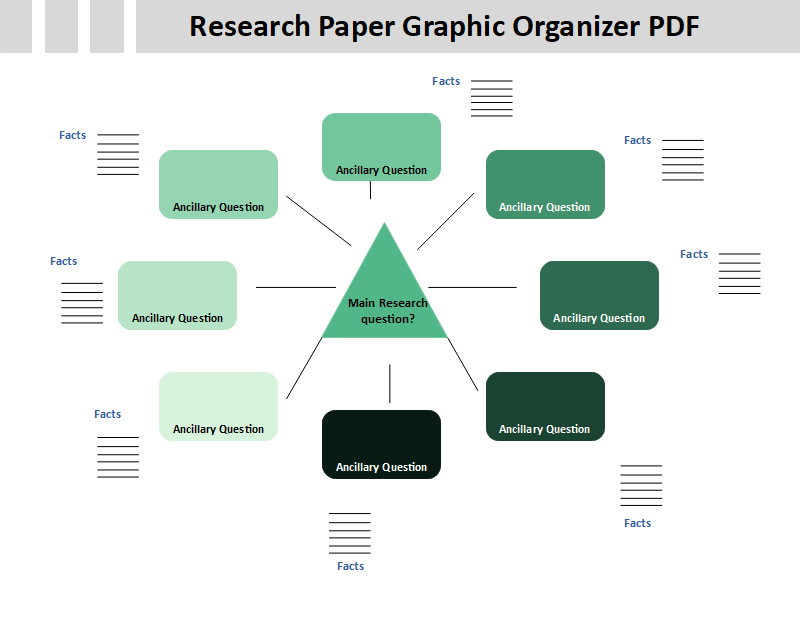 Source: EdrawMax Online Edit Now
Example 7: Graphic Organizer for Persuasive Writing
This template is a nice and simple example of what a graphic organizer should look like. There are three sections in this example. First is the part where the stance or opinion of the writer is mentioned. Then, there are three boxes underneath where the arguments will be listed and explained. And finally, the conclusion will wrap up the whole affair.
In contrast to some of the more complex structures we have seen in this list, this organizer looks really simple and straightforward. If you are just looking to create a plan for yourself using which you can organize different arguments and reasons in your research paper, this type of organizer can suffice for you.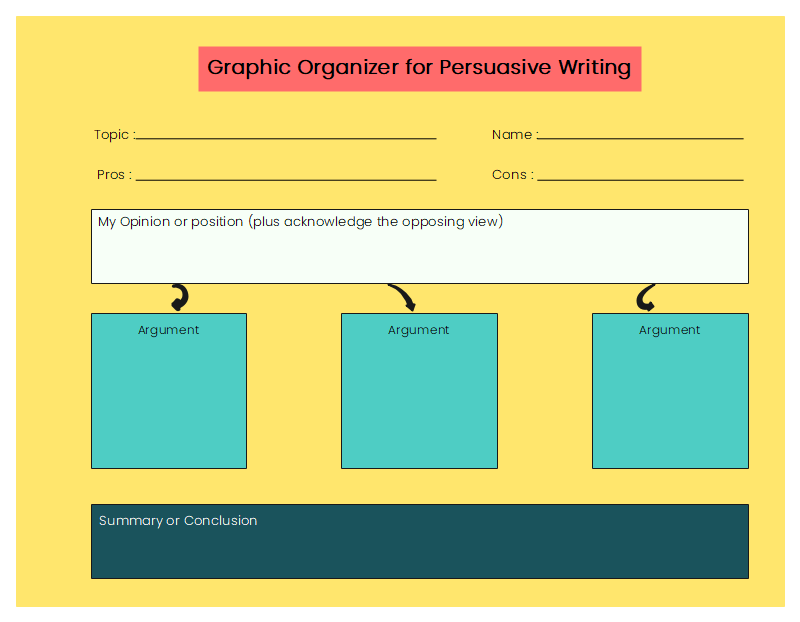 Source: EdrawMax Online Edit Now
Example 8: Graphic Organizer for Research Papers
If you are looking to plan out each paragraph of your paper with detail, this sort of graphic organizer is what you are looking for. Up till now, the examples we saw merely had a box or two for the paragraphs, where the contents could be lightly introduced and explained. However, in this organizer, each paragraph is written as a separate heading. For each paragraph, you can write the topic sentence, conclusion, and the included facts/details.
On the first page, you get a blank space which is where the crux or the introduction of the paper will go. After that, you can prepare your paragraphs in a sequence by numbering them and filling out their details one by one. In this particular example, the topic under discussion is 'Natural Disasters'.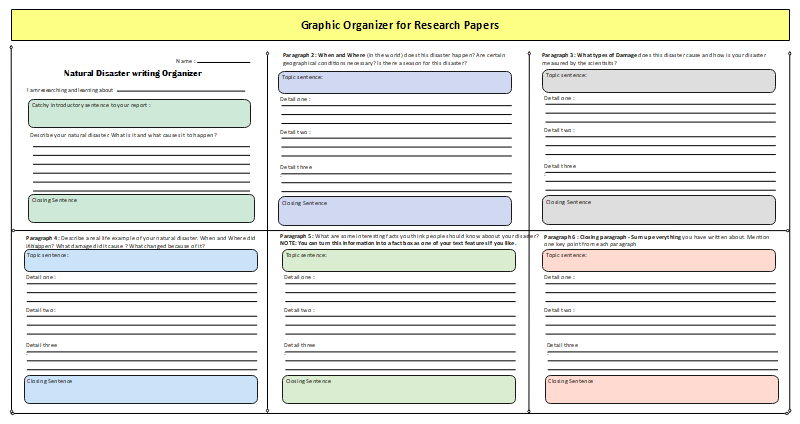 Source: EdrawMax Online Edit Now
Example 9: Graphic Organizer for Insect Research Papers
While this example focuses particularly on insects, the included layout can be used for any topic of your choice. There is not a particular order or sequence in this graphic organizer. It simply features various boxes and containers where different pieces of information can be written about the subject.
In the example, the boxes are labeled 'Where does this insect live?' 'What does it look like?' and 'What does this insect like to eat?' etcetera. Since the subject is a June bug, these boxes are for details related to it. If you want to come up with a similar graphic organizer, you can simply choose your desired topic and then arrange bits of information such as 'How does it occur?', 'Why does it happen?' etcetera.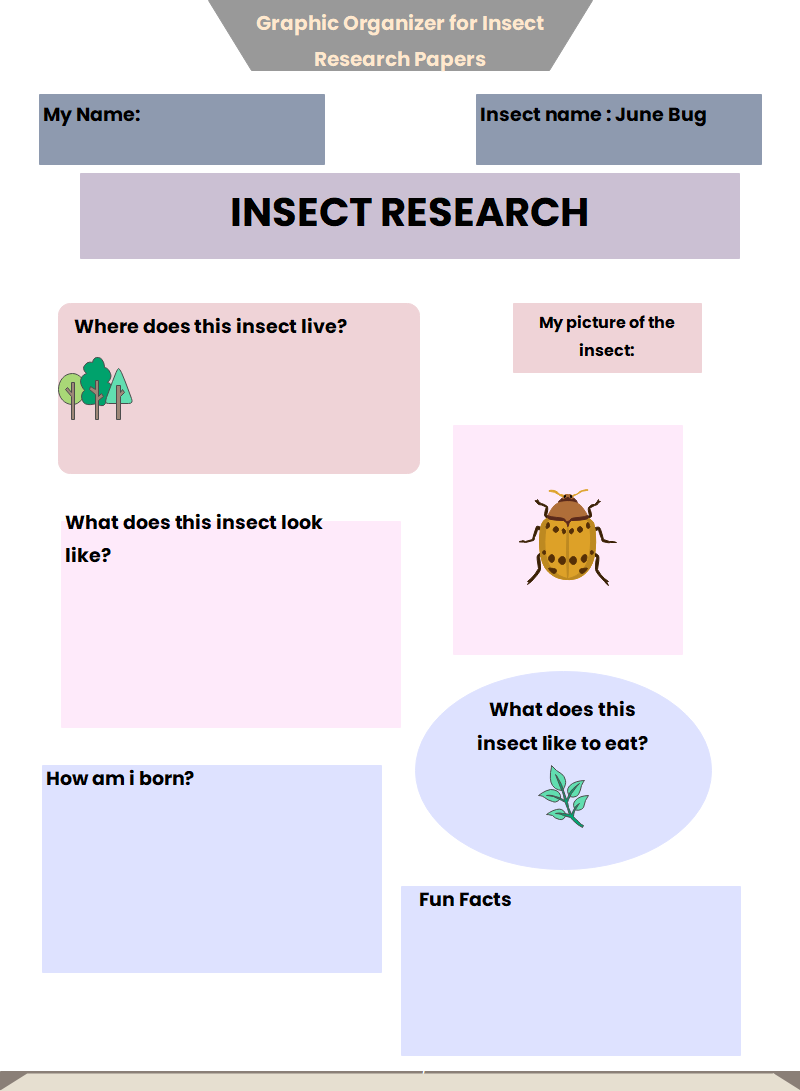 Source: EdrawMax Online Edit Now
3. Online Graphic Organizer for Research Paper Maker
EdrawMax Online is a cloud-based software that allows users to come up with a variety of different diagrams, charts, drawings, and graphic organizers. By simply signing up, you can get access to a canvas where you can draw any organizer of your choice by dragging and dropping various shapes and symbols from the included library. You can also use EdrawMax Online to come up with graphic organizers for research papers. You can choose to create one from scratch or just use a template, albeit the latter option relies on the presence of a template in the template gallery.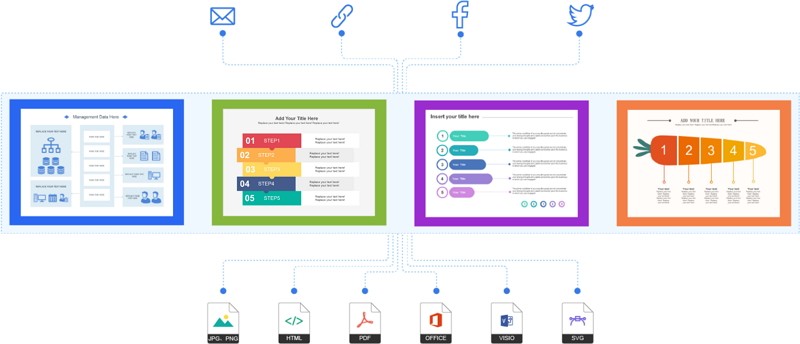 Why Choose EdrawMax Online
Create over 280 diagram types
Supports team collaboration
Personal cloud & data protection
Print, share and download
Powerful template community
4. Key Takeaways
Coming up with a graphic organizer for research papers can be very useful and beneficial. By organizing your ideas and arguments in a structured form, you can save yourself confusion and trouble when the time arrives to put everything in writing.
By using EdrawMax Online, you can create a graphic organizer easily by using existing shapes and symbols and filling them out with text. There are a bunch of features that you can use to personalize your drawings and give them a unique touch. The ease of use, availability and multiple-format support makes EdrawMax an excellent option for making drawings, diagrams, flowchart, UML diagram, graphic organizers and 280+ types of diagrams. You can find out more graphic organizer examples in the Template Gallery.