Utilize ChatGPT Artificial Intelligence Tool for Business Growth & Success
It's deemed a drastic need to integrate business strategies with AI-Powered tools to stand out in the highly competitive market.
1. Introduction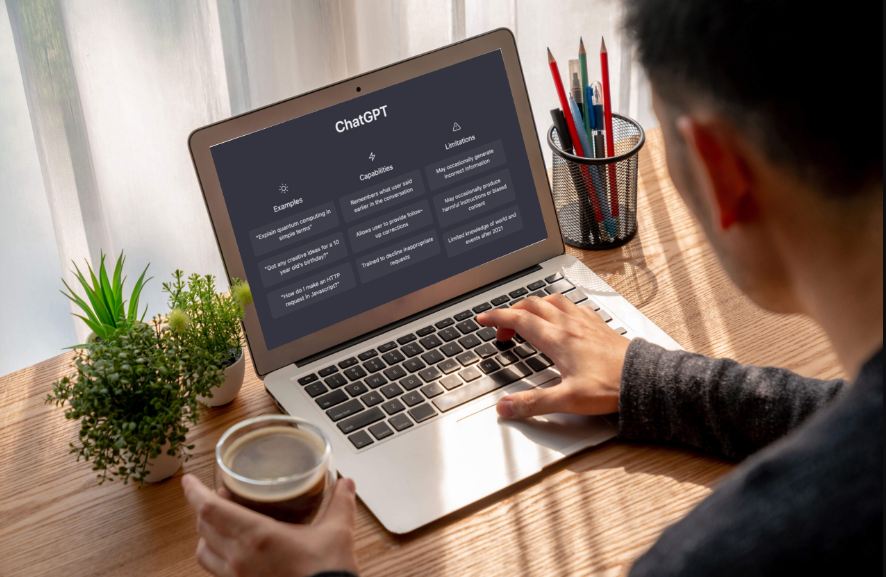 It's quite evident Chatbot programs hold immense popularity at present and even came off exaltedly by integrating with Artificial intelligence.
The magnificent AI technology is swiftly swaying every sphere of life, and we can't renounce its eminent positive repercussions in our lives. Especially if we bat around the business sector, AI tools for business have taken the reins of all routine processes.
Against this backdrop, it's worthwhile to mention ChatGPT, developed by OpenAI, is making a clean sweep in the chatbot world. So, let's dig deeper into how to apply AI in business more productively.
2. How To Use ChatGPT AI Chatbot in Your Business
AI-powered chatbot, i.e., ChatGPT, is the boon of the technology era. Although the ChatGPT uses are quite vast, a question may flash into various minds: How can we use ChatGPT for business growth? To illustrate this expediently, we have exhibited the best ChatGPT examples given different business scenarios.
Scenario 1. Do Research and Create Business Presentations With ChatGPT
Market research is the first step to initiating a business and is essential for a strategic business plan. Therefore, carrying out a strong imitative relying on business AI tools proves to be quite helpful, such as using ChatGPT for research on a particular business. In fact, you can create a proper business presentation by searching the relevant query in ChatGPT.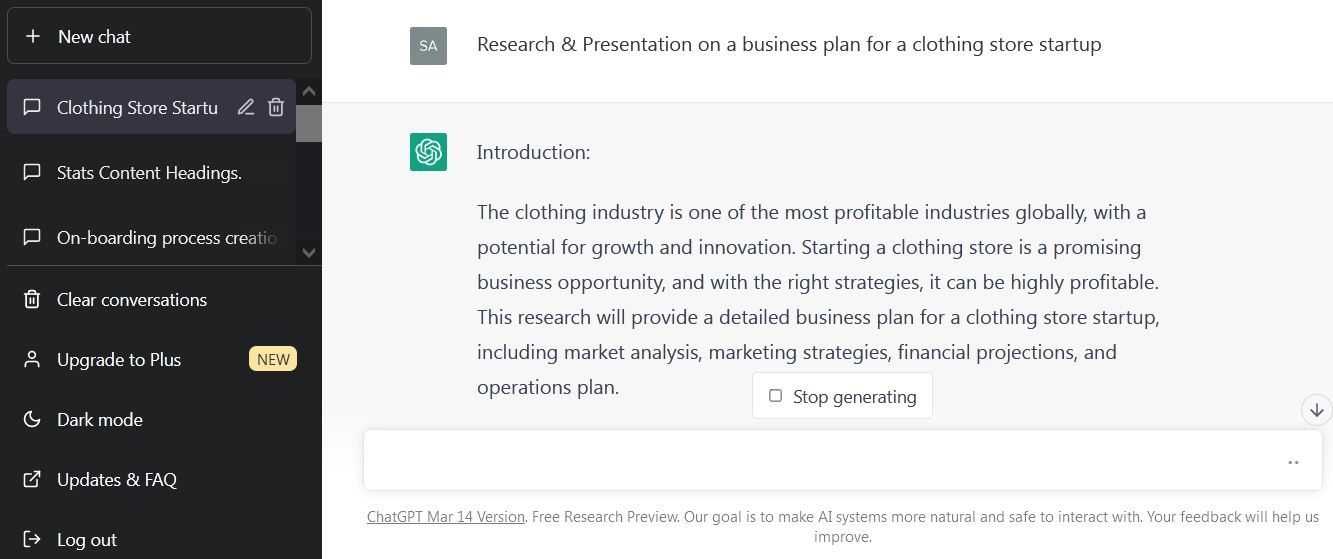 Utilizing a professional platform like EdrawMax will allow you to visualize your ChatGPT-generated business information compellingly in presentation form, ensuring your partners and stakeholders are equally engaged. EdrawMax imparts exquisiteness to your business presentations by providing a massive templates gallery, an intuitive interface, and a plethora of customization features.
How to Create a Business Presentation from ChatGPT-Generated Information Using EdrawMax?
Creating a business presentation via EdrawMax is pretty straightforward; you can start from scratch or edit a pre-designed template.
• Step 1: Download the "EdrawMax" application and launch it to access its canvas interface.
• Step 2: Click the "Templates" option in the left panel and type "Presentation" in the search bar; you can filter the results for more precision. To start from scratch, choose the "Blank Drawing" option.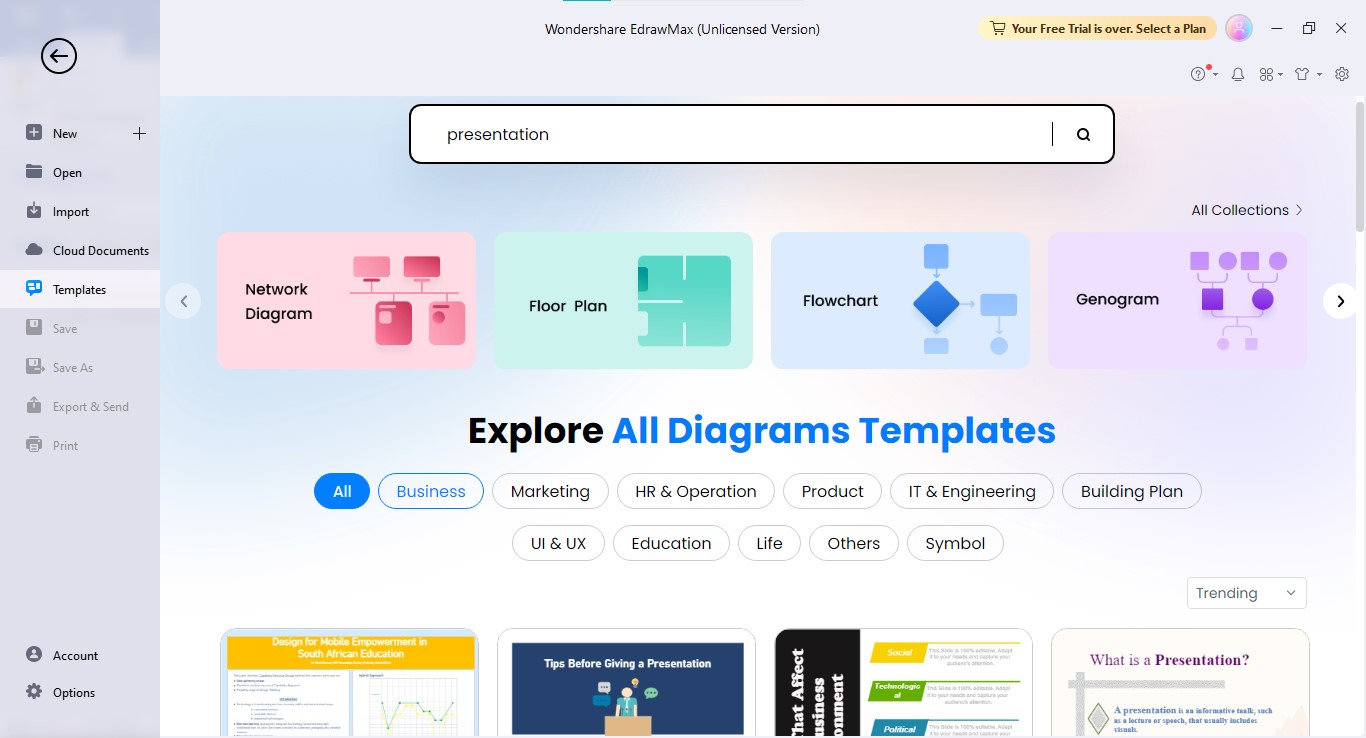 • Step 3: Embed the information to complete your business presentation.
• Step 4: If you're making a presentation using a blank template, customize it by applying a color scheme, background, shape layouts, and other elements of your choice. On the other hand, a pre-designed template requires little or no customization.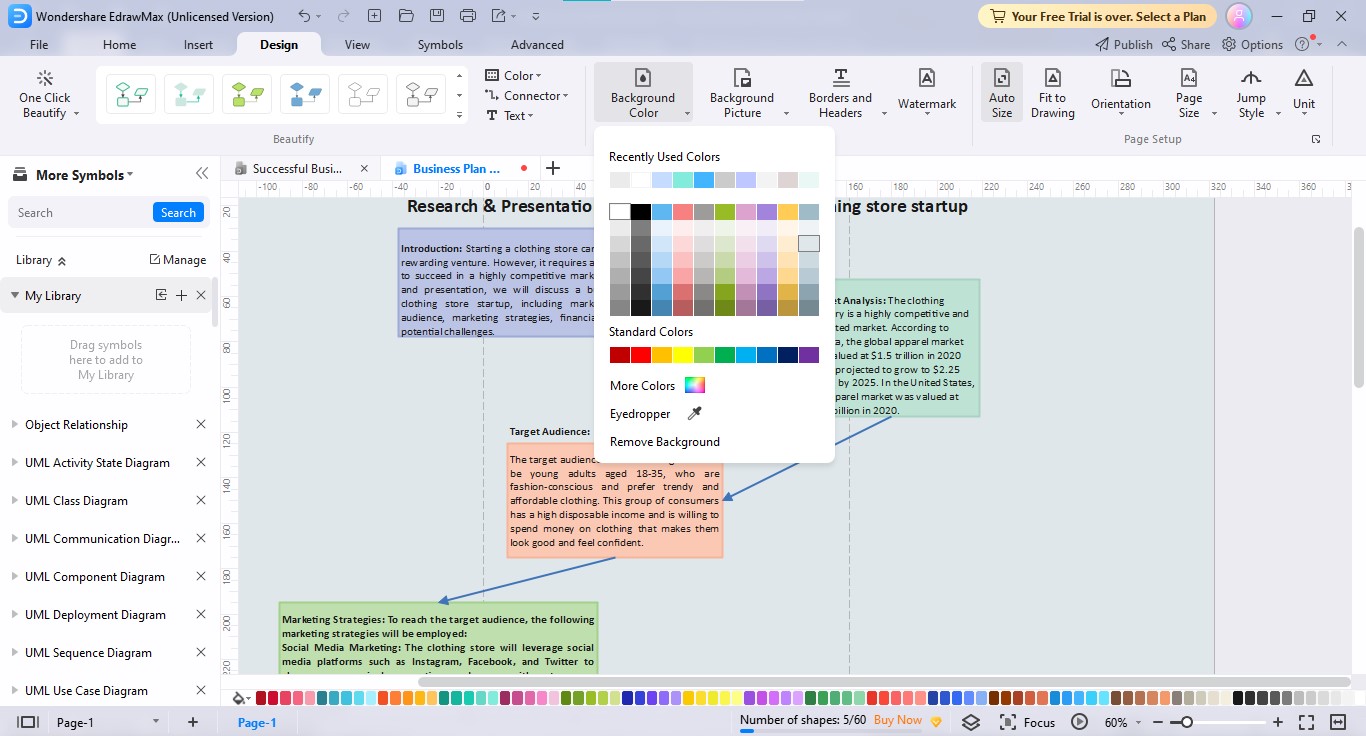 • Step 5: If you have completed your presentation, export it by clicking the "Export" option at the top panel.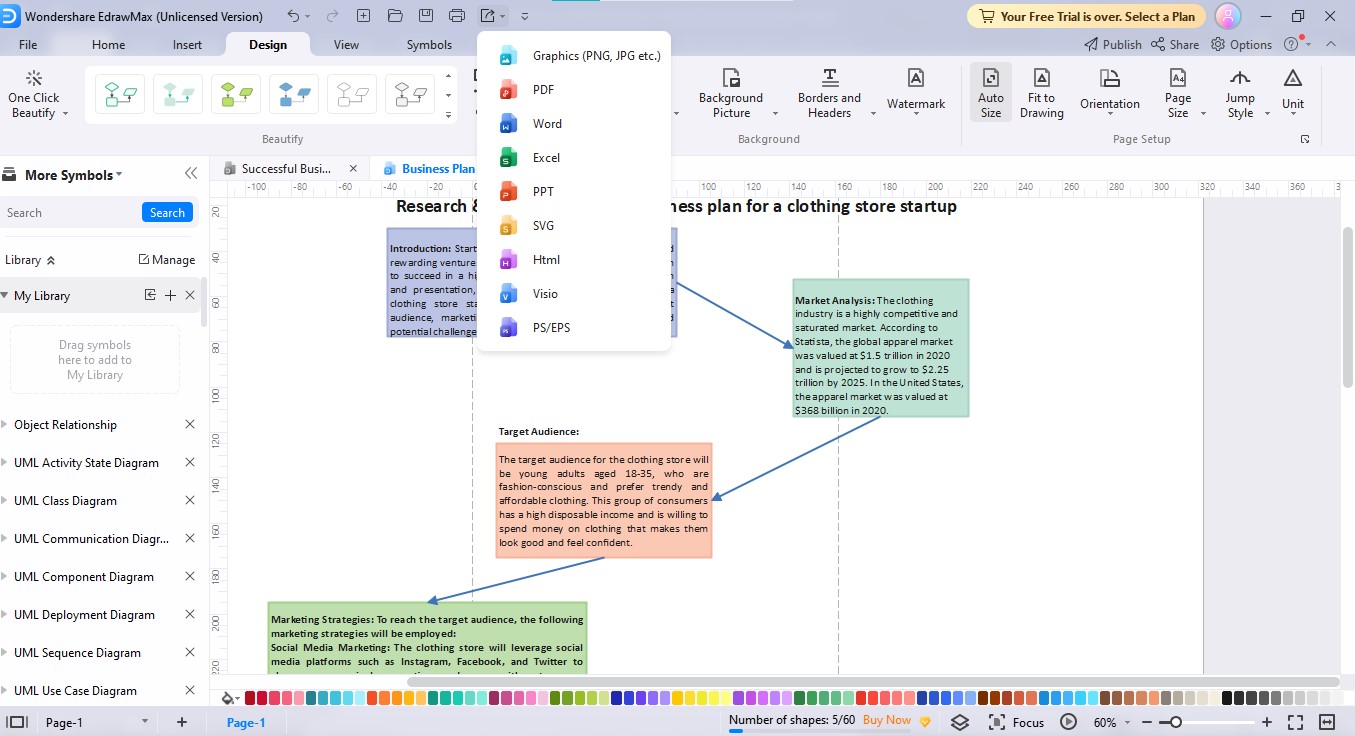 In addition, EdrawMax has a Presentation Mode, with which users can quickly and easily convert any section on the canvas into a slide. This innovative feature allows you to instantly create a presentation from any EdrawMax file, which helps save time in busy meetings.
Scenario 2. Streamline Internal Business Processes Using ChatGPT AI Tool
One of the key perks of using ChatGPT for business is that it optimizes internal business processes quite efficiently. It allows you to create a detailed work schedule for your business to streamline its internal processes. For instance, if you run a software development company, you can ask the ChatGPT to create a key work schedule specific to a software development company, such as: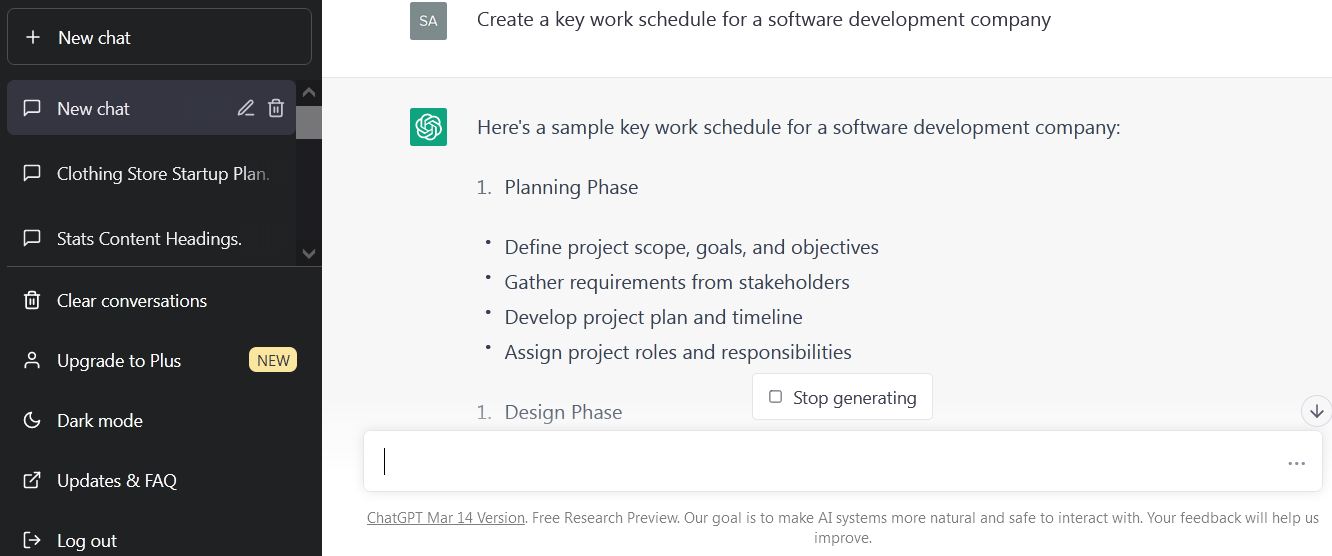 You can visualize the work schedule devised by ChatGPT using the EdrawMax application and post it on your online portal so that all the employees can view, access, & mechanize according to it. With hundreds of templates to craft an attention-capturing work schedule, EdrawMax serves as the one-stop solution for all your business-related diagramming needs.
How to Create a Business Work Schedule from ChatGPT-Generated Information Using EdrawMax?
Creating a work schedule via EdrawMax requires no technical knowledge; you can initiate your diagramming procedure by customizing a pre-built template. The detailed process is given below:
• Step 1: Download the "EdrawMax" application and launch it to access its canvas interface.
• Step 2: Click the "Templates" option, enter "Work Schedule" in the search bar, and start with any of the given templates.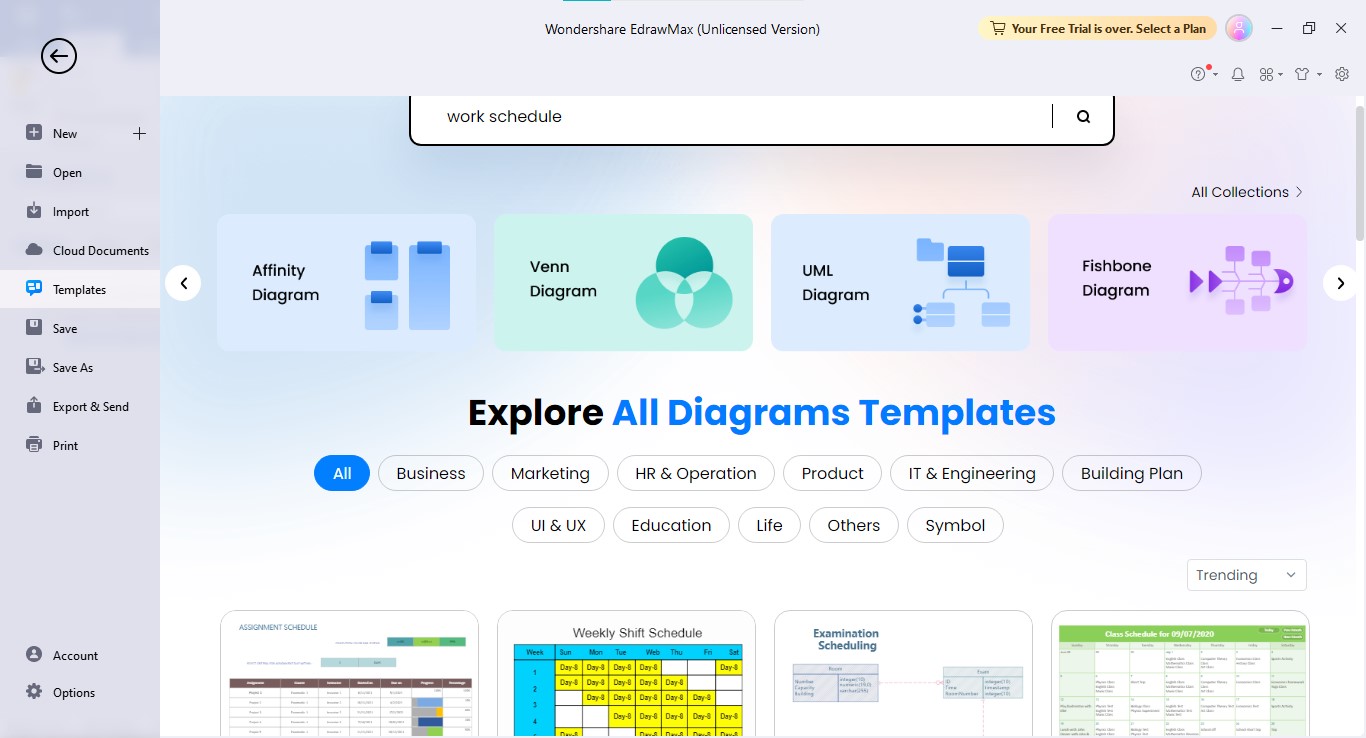 • Step 3: Add the required information to complete your diagram.
• Step 4: Personalize your work schedule according to your preference by implementing the desired theme, color combination, and shape layout.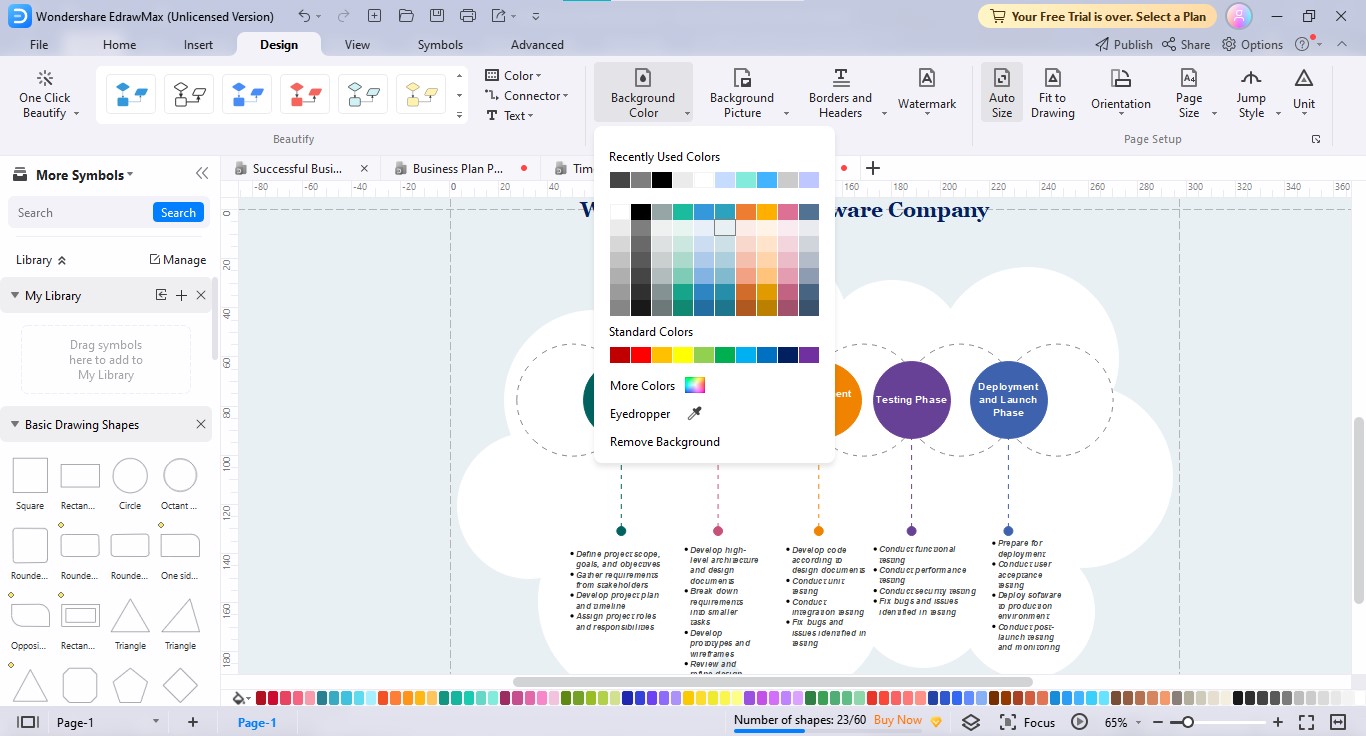 • Step 5: Click the "Export" option at the title bar to export your file in an appropriate format.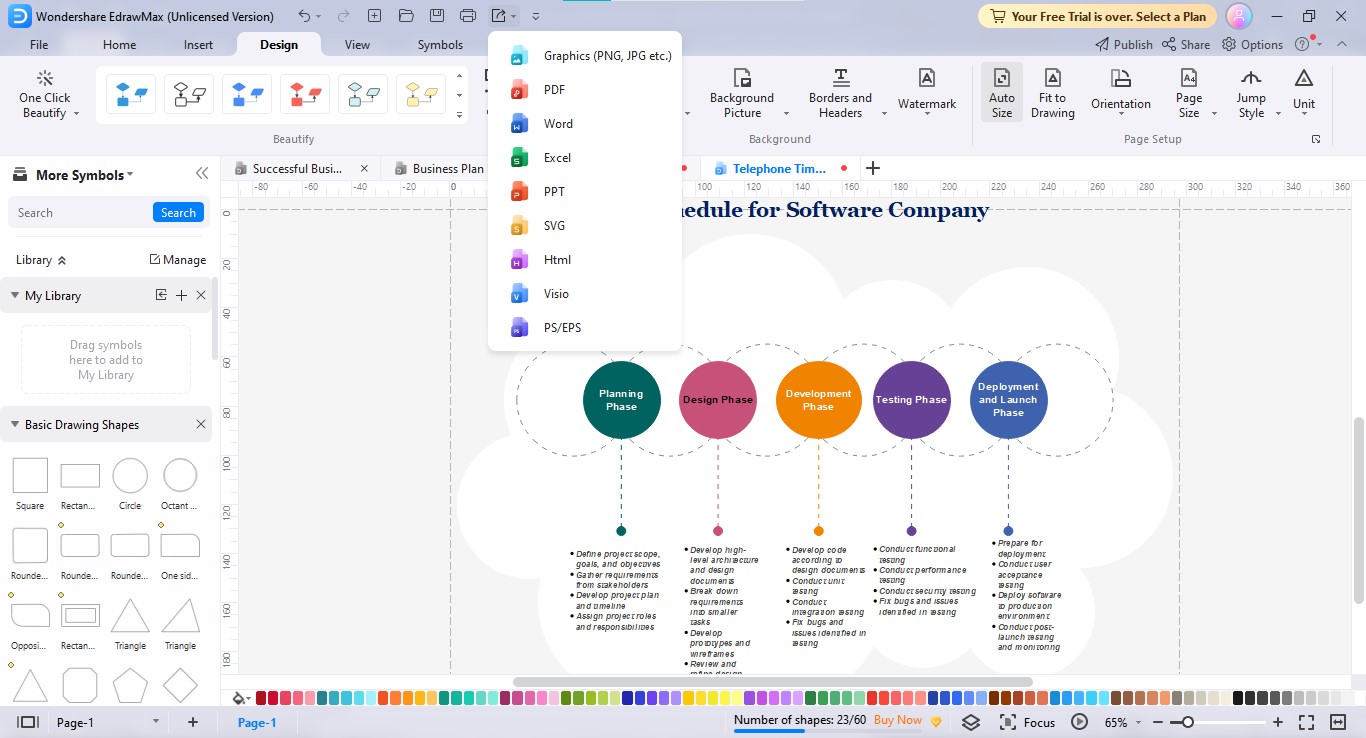 Scenario 3. Try ChatGPT To Facilitate Business Content Marketing
To run a business smoothly and successfully, marketing plays a vital role. It's very important to properly market the business to the right audience, regardless of the business level. You may need good marketing content and strategies to execute the marketing process prolifically.
These days, businesses have integrated with artificial intelligence technology for marketing & expansion of their business models. So, in this context, ChatGPT can be very assistive in carrying out such marketing content-related chores. ChatGPT chatbot is capable of generating unique and custom marketing strategies that work superbly for the extension of your business in the long run.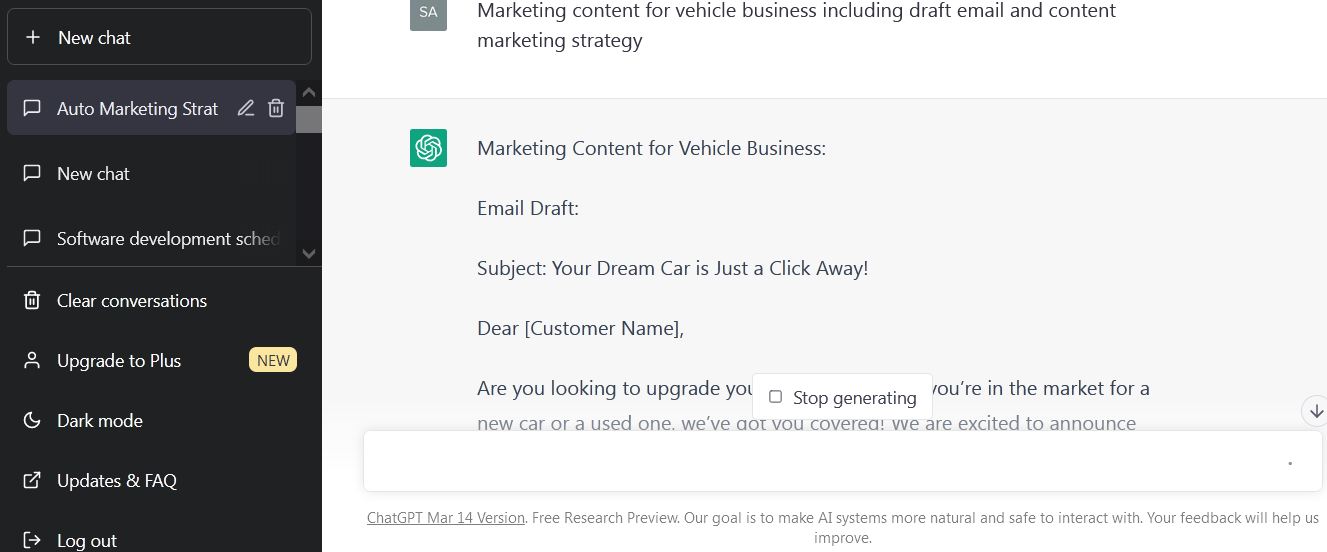 Scenario 4. Use AI to Help Your HR Management Functions
HR management functions encompass many tasks that need to be performed by an HR professional, i.e., recruitment & selection, training & development, HR information systems, HR data & analytics, compensation & benefits, employee relations, etc. This entire chain is quite time-consuming and requires a lot of human effort.
Therefore, you can opt for a more flexible approach instead of investing a significant amount in human labor, that is, using an AI-powered tool ChatGPT, that can instantly solve all your queries. You need to enter a specific query regarding your requirement in the text field; for instance, if you intend to perform recruitment & selection, the ChatGPT will create the optimum job listings and facilitate the job posting process across various channels.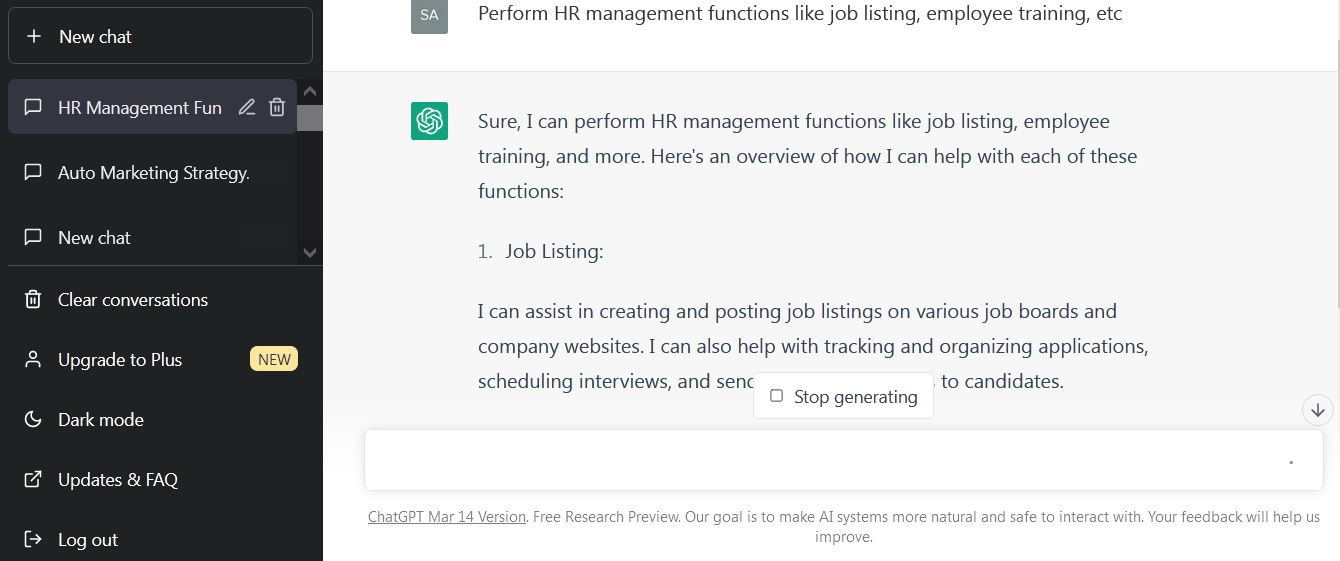 3. AI's Impact on Business Processes & Industries
The impact of Artificial Intelligence on industry processes & current business trends is profound, bringing the element of both advancement and fear among business professionals. The major inclinations regarding implementing Artificial Intelligence into business systems exist in favour of their benefits than drawbacks.
Performance Impacts: A survey conducted at EmTech Digital Conference by ER recounts that the clear majority of the audience appreciated the use of ChatGPT technology in the business world. Another research revealed that AI-driven ChatGPT innovation in business would become a norm in the future. However, some organizations employing ChatGPT for real-time business processes have complained about its quality degradation and ethical impediments.
Economic Impacts: Regarding economic advancement, ChatGPT has proved to be a productive step because it reduces the cost spent in recruiting & paying employees. On the other hand, the other side of the picture may be gruesome; implementing AI technology in business by small-scale organizations can be expensive, in addition to storage, computing, & software development costs.
4. Benefits of Implementing AI in Business Areas
Implementing AI in businesses is the case of need, but how AI can help your business to flourish is poignant. In this connection, we have shed light on a few paramount advantages of utilizing the best AI tools for business.
ChatGPT uses advanced algorithms to process data swiftly, without the involvement of human labor; such automation of business processes increases productivity by cutting down cost & time consumption.
It optimizes internal business functioning by transforming internal functioning ways by integrating innovative strategies regarding enhanced monitoring systems, speed & quality improvement, optimum management, etc.
The AI tools can improve your business's external operations, i.e., sales, marketing, and product development decision-making, by identifying the production & pricing trends to implement cost-effective & revenue-generating approaches.
The ChatGPT is quite efficient at accomplishing repetitive tasks at high speed and eliminates the chances of human error. This is how the overall business functions and performance improve, leading to increased productivity of employees.
EdrawMax Desktop
Create over 280 types of diagrams
Windows, Mac, Linux (runs in all environments)
Professional inbuilt resources and templates
On-premises software for business
Enterprise-level data security
EdrawMax Online
Create over 280 types of diagrams online
Access diagrams anywhere, anytime
Team management and collaboration
Personal Cloud and Dropbox Integration
5. Tips for Using ChatGPT for Effective Business Interactions
Business growth is considered a common goal set in the business community, but how smartly we utilize AI technology to achieve the goal makes a big difference. The uses of ChatGPT in business sectors are extensive, so here we have proposed a few tips to bring into play ChatGPT capabilities more productively.
You can use ChatGPT to perform market research to get insights into the competitors' businesses, their financial information, products & services so that you evaluate the collected data to make better decisions in your business.
ChatGPT is an excellent source of copywriting; you can exploit this feature to generate compelling descriptions regarding your products or services, then optimize the ChatGPT content to make it more beneficial.
Marketing of a business is crucial to reach potential clients; given this need, you can use ChatGPT to create marketing content and propose marketing strategies to market the business on a wider scale.
6. Conclusion
ChatGPT, a chatbot developed by OpenAI, has revolutionized every walk of life by facilitating users cut down workload burnout. If you're familiar with how to use AI in your business, you can reach success heights by relying upon the best AI tools for businesses. Different AI tools can be utilized at variant stages to automate the processes.
Therefore, in this comprehensive guide, we have elaborated on ChatGPT's best examples considering different business scenarios and the major impact of integrating Artificial Intelligence in businesses & industries. You can implement the ChatGPT chatbot in your business processes to elevate growth significantly.
EdrawMax Desktop
Create over 280 types of diagrams
Windows, Mac, Linux (runs in all environments)
Professional inbuilt resources and templates
On-premises software for business
Enterprise-level data security
EdrawMax Online
Create over 280 types of diagrams online
Access diagrams anywhere, anytime
Team management and collaboration
Personal Cloud and Dropbox Integration
Related Articles