How to Create a Swimlane Diagram
How to create a swimlane diagram? You can make them by illustrating the process flow at a glance. It is commonly used in the management sector to help the company analyze the workflow and examine the employees involved in the process.
1. Introduction
Do you want to examine the workflow of a product in your company? Creating a swimlane diagram is the easiest way to understand how a process flows within your organization. For instance, if you want to illustrate the development of a new product and the contribution of different departments in its production, a swimlane diagram will best suit your needs!
Before learning about how to draw this flowchart, you must know what a Swimlane diagram is. Flowcharts can represent different processes in the business and marketing sector. The drawback of a standard flowchart is that it cannot determine the allocation of responsibilities and the process flow. However, a swimlane flowchart is the one that describes who does what with the help of grid-like or swim lane diagrams in which each process step has a different category. Organizations most commonly use it.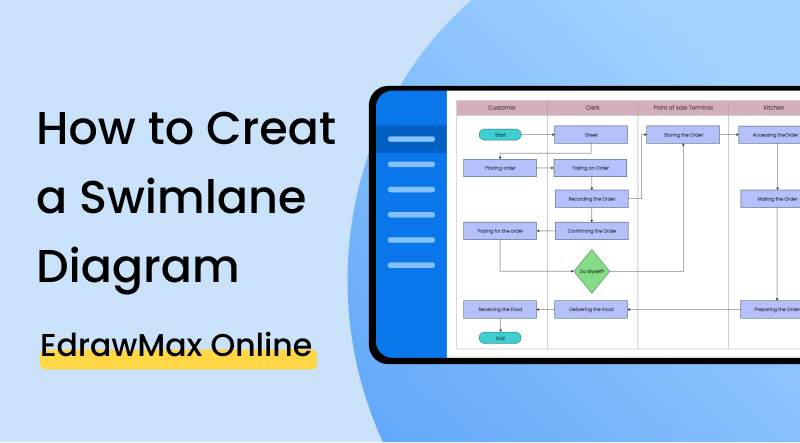 2. How to Create a Swimlane Diagram?
Swimlane diagram is a flowchart that describes who does what. It has usage in business and marketing departments. It uses vertical and horizontal swim lanes to represent different process steps, employees, and different departments. It is common to use because it provides clarity to the details of a process. The complex flowcharts of an organization are convertible into simple diagrams. You can use different softwares and online tools to create a swimlane diagram. If you're new to this concept, follow these steps to create a Swimlane diagram:
Step 1: Define your purpose
Before drawing a Swimlane diagram, you should figure out your purpose for making it. Why do you need to make this flowchart and the details it should cover in your search and determine the level of knowledge necessary to make the diagram efficient? You can start the diagram by adding a rounded rectangle on the starting swim lane at the top to decide the start of your process.
Step 2: Gather data
In this step, you have to gather specific data needed for the construction of the diagram. The type of data required directly depends on your purpose. For example, suppose you are going to illustrate the performance of the employees working in your company. In that case, you should make a list of the participants and detail the factors you'll be considering while examining their performance.
Step 3: Identification of Swimlanes
After gathering data, you should identify the horizontal or vertical swimlanes to draw the Diagram. You have to point out swim lanes to represent various divisions and labeling them to make your diagram easy to understand. Along the axis of these lanes, all the tasks lie in an organized way. You can separate different processes with the help of swimlanes. Further, you should also figure out which process will fit in which category.
Step 4: Clarity of 'who' and 'what'
If you are working on an existing process, you should first gather details about who is performing the process and what the process is. Establish the interconnections and communications properly while categorizing the steps.
Step 5: Add steps to shape out all the processes
Lastly, after collecting the relevant data, shape out the Swimlane diagram with the help of horizontal and vertical lanes. You can add more steps to the chart by connecting it with a straight line with one of the previous steps. Make sure to add steps in a top to bottom order. When you depict other divisions in the process, add steps from left to right and label them.
If the video doesn't play, please visit it at YouTube.
3. How to draw Swimlane Diagram using EdrawMax Online
Drawing a swimlane diagram by using hands is not a piece of cake. It would help if you searched for the right online tool that can help you with readymade flowcharts. EdrawMax Online is one such software that provides different types of diagrams to help companies meet their visual needs. With the help of diagrams, you can turn lengthy paragraphs into a concise flowchart. Furthermore, it is a time-saving method that helps business companies to market their product and analyze their process quickly. EdrawMax Online can help you get to your point instantly by providing more than 280 templates of diagrams. You can use this software and draw your swimlane diagram in the following steps:
Step 1.
Visit the Webpage and Login
You can search online to find this software and tap on its webpage. You can try the free version, but it gives you limited access to the templates. Suppose you want to access the pro-account, log in or sign up to create an account. Preferably, choose a strong password and username for your account.
Step 2.
Select your desired template for Diagram
After signing in, go to General>Flowchart>Cross Functional Flowchart.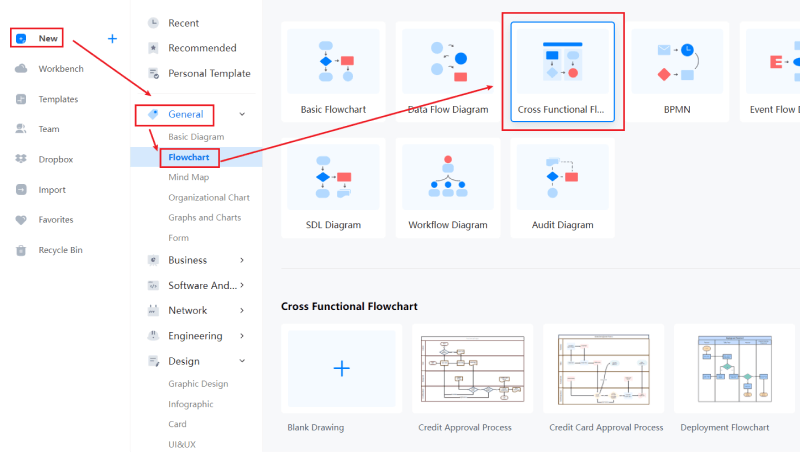 After clicking this much, look for the Swimlane Diagram template. If you can't find your relevant template on this page, select the templates option from the left side and write the name of the Swimlane diagram in the search bar. You'll find the related templates below the search bar. Among the various options, select the first one, i.e., Swimlane Flowchart. Find more templates in Templates Community.

After selecting the right template, it is now time to edit the Swimlane diagram template and add information about the processes you will illustrate. One such example of an online full shopping process is given in the picture below: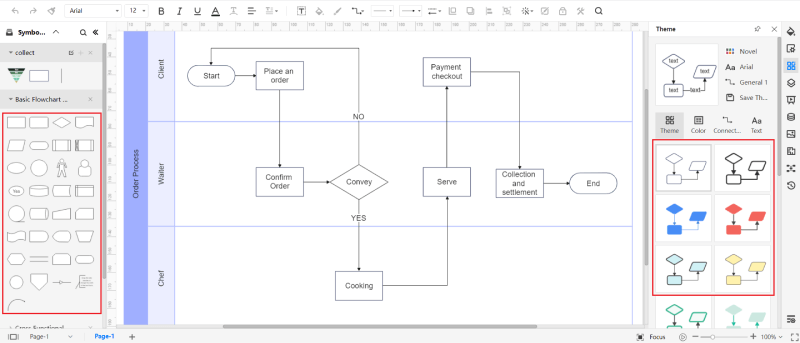 Step 4.
Save your File and Export
When your Diagram is all ready, save your file and then export it to use in the business processes. You can auto-save your historical versions also by tapping on the right tool to recover your unsaved files. It will protect the files from computer errors such as sudden shutdown. Make sure to activate this feature if you want to save time.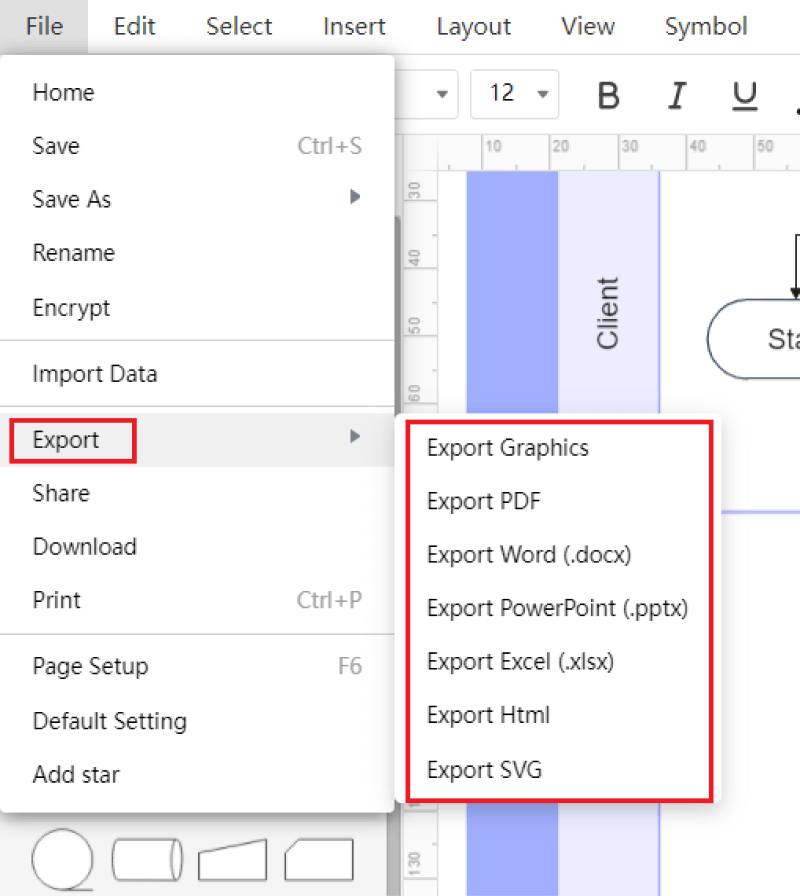 You can create presentations on EdrawMax Online for your project. You can add slides to explain your diagram. You can style every slide differently to make it more creative. And you can also export the sildes to PowerPoint format.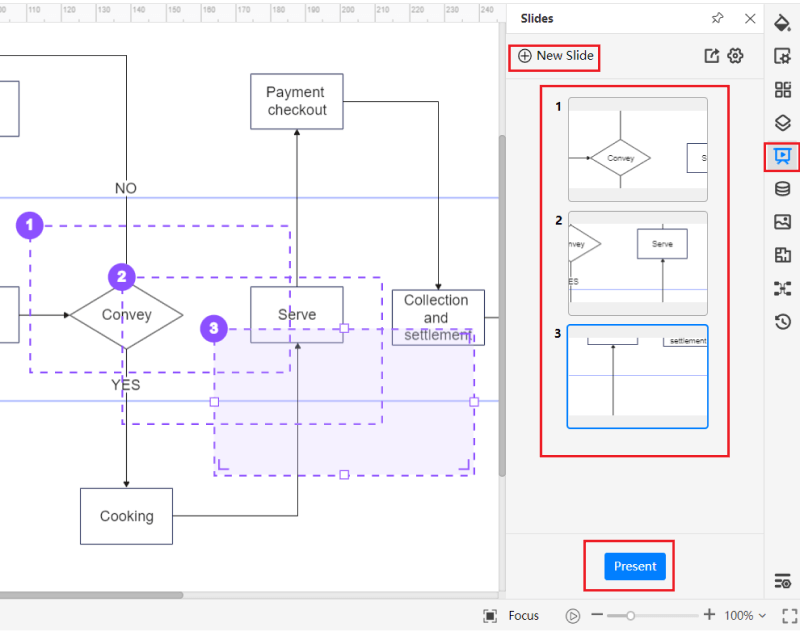 4. Expert Tips for Drawing a Swimlane Diagram
Although drawing a Swimlane diagram from a cross-functional flowchart is simple as long as you're 100% clear about your idea. But the following three pro tips may help in making your Diagram a bit well-detailed and better:
Tip 1: Make notes
When you are drawing a cross-functional flowchart, make sure to keep a paper and pencil with you. Make points of all the main points and use them later as a reference. It will save you time, and you'll have a deeper idea of your required knowledge.
Tip 2: Label the diagram
Label and customize your Diagram properly by adding columns and headers. Make sure to label each swim line from the start to the end of the process. When you add divisions, make sure to follow the structure of the diagram, moving from left to right.
Tip 3: Add comments
Add comments beside the shapes to explain the 'who' and 'what' of the processes. You can also use text boxes to write about the role that each member has throughout the process.
EdrawMax Online
Create 280+ types of diagrams online
Access diagrams anywhere, anytime
Everything in desktop + Templates Community
Team management and collaboration
Personal Cloud and Dropbox Integration
5. Key Takeaways
Swimlane diagrams are used in the business sector to differentiate a job and the responsibilities associated with it. The swimlane diagram is helpful in the sub-processes of businesses and organizations. If you want to create a swimlane diagram, you need to define your purpose, gather data, identify the swimlane, clarify the 'who' and 'what' of the processes, and shape the model. Find more swimlane diagrams examples.
EdrawMax Online is an online tool that makes your work a lot easier. Customize your flowchart by adding or removing shapes and text. With the help of the different templates, you can easily select the one that suits your business process well. Through this tool, you can save and export your file and keep it for later use.
Related Articles