Maximize Learning Potential With ChatGPT for Students
Accelerate your studies with ChatGPT—the most comprehensive and powerful study tool for students. Take your grades to the next level now!
1. Introduction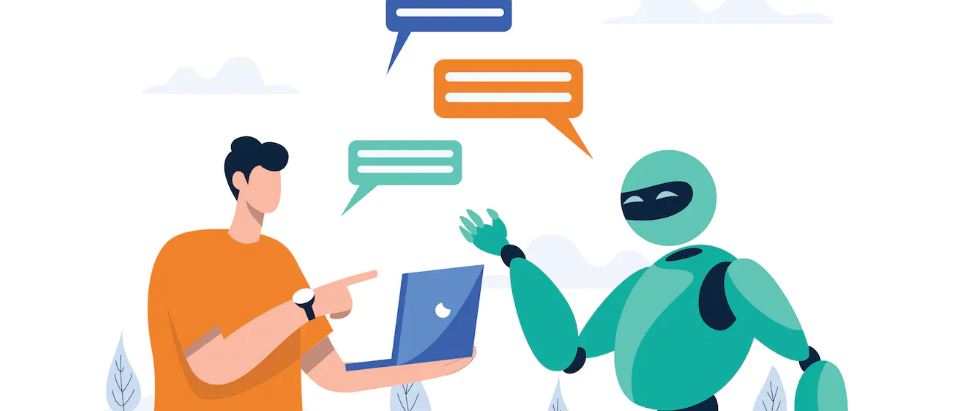 Doubtlessly, Artificial intelligence is the utmost impeccable reality of this technology era, and chatbots are taking a significant part in the advancement of technology. Chatbots are computer programs designed to evaluate & process human instructions using Artificial Intelligence.
Emerging chatbot trends aren't surprising since everything is consistently revolutionizing with the time pace. In the present era, all areas of life, even the study sector, are highly influenced by the new technology trends, i.e., ChatGPT. Given this context, here we will profoundly elaborate on ChatGPT capabilities, ChatGPT uses & examples, and how ChatGPT can motivate and inspire students to learn, allowing them to become more engaged in their studies.
2. What Is ChatGPT?
ChatGPT is a chatbot developed by OpenAI- Artificial intelligence research-based Organization. The tool is magnificently creative enough to process any information to drive accurate results.
How it works:
ChatGPT- a free and popular Artificial intelligence tool, can be used quite conveniently. The users interact with the software by entering specific terms or phrases in the text field, and the ChatGPT puts forward ¬the most relevant answers based on a particular search query.
A Statistical Analysis of ChatGPT Usage in Education
The survey conducted by Impact Research has concluded that 22% of the students employ ChatGPT to seek assistance for coursework every week. 73% of the teachers hold that ChatGPT has improved students' performance, helping them to learn more.
According to a survey by the magazine, Intelligent, 30% of the students employ ChatGPT for written assignments, whereas 60% of the disciples have utilized it for solving math queries. All these statistics emphasize that ChatGPT has transformed learning patterns and educational approaches.
EdrawMax Desktop
Create over 280 types of diagrams
Windows, Mac, Linux (runs in all environments)
Professional inbuilt resources and templates
On-premises software for business
Enterprise-level data security
EdrawMax Online
Create over 280 types of diagrams online
Access diagrams anywhere, anytime
Team management and collaboration
Personal Cloud and Dropbox Integration
3. How Can ChatGPT Works for Students?
The uses for ChatGPT capabilities are infinite. Taking the study field into account, ChatGPT helps students find instant answers to their questions.
Moreover, it is powered by the latest technology such as Natural Language Processing (NLP) and Machine Learning (ML), which helps it adapt to the student's query using AI and quickly fetch relevant results from huge datasets. Therefore, fueling students with comprehensive solutions wherever feasible.
To go deeper into the respective subject, here we have enlightened a few scenarios of using ChatGPT by students in their study.
Scenario 1. Make Study Plan for Students With ChatGPT
ChatGPT is a powerful study planning tool that enables students to easily create and follow through with their personal study plans. Now, you can create custom lesson plans for students quite conveniently. It employs NLP technology to work out what you need to do, understand your motivations and objectives, and provide you with comprehensive advice based on your input.
ChatGPT helps you create a personalized schedule that prioritizes the most important tasks and fits within your daily life. With ChatGPT's automated feedback system, it is easy to keep track of progress and identify areas for improvement so that you can stay ahead in classes and exams.
For instance, to create a study plan for a final math exam for a K8 student, you need to enter your query in the ChatGPT text field, and a comprehensive lesson plan will be generated instantly.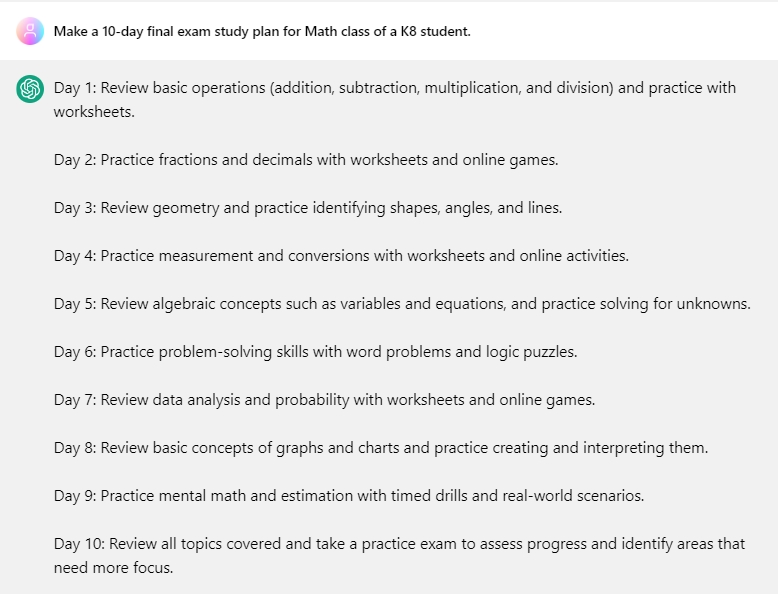 To enhance the appeal of the ChatGPT-generated study plan for arrange your schedule, you can convert it into a chart using EdrawMax. Serving as a one-stop solution for multi-functional diagramming, EdrawMax imparts beauty, perfection, and a professional outlook to your charts.
How To Create A Schedule Chart Using EdrawMax From The Study Plan Created By ChatGPT?
Observing these simple steps would help you establish an attention-driving chart that will draw your attention to your study plan.
Step 1: Download and launch the "EdrawMax" application to access its main interface.
Step 2: Click the "New" option on the left panel and enter "calendar" or "schedule" in the search bar. Select one of the templates which meets your needs.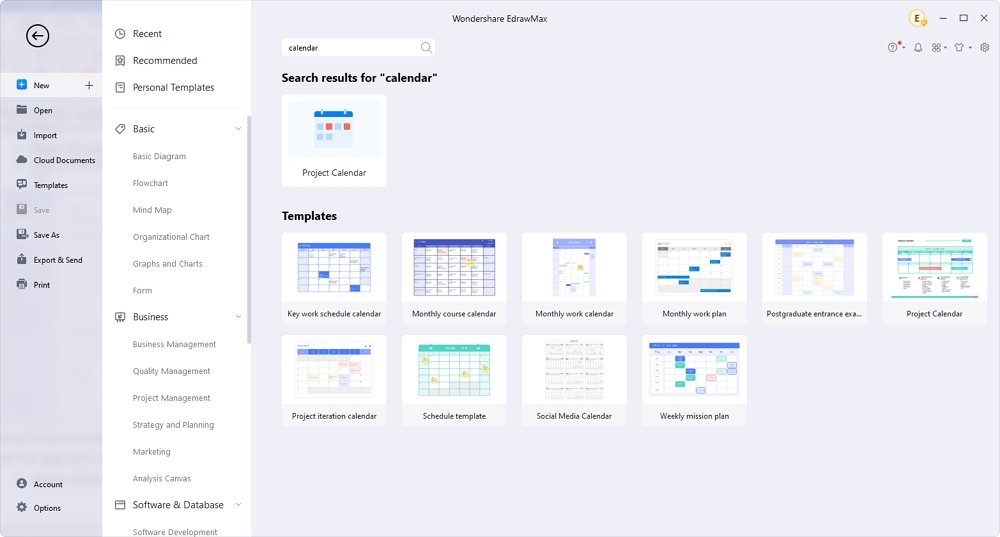 Step 3: The "Customize" button will pop up after clicking the calendar table. You can select to change the calendar to the date you want. You can also add the title and other details to complete your chart.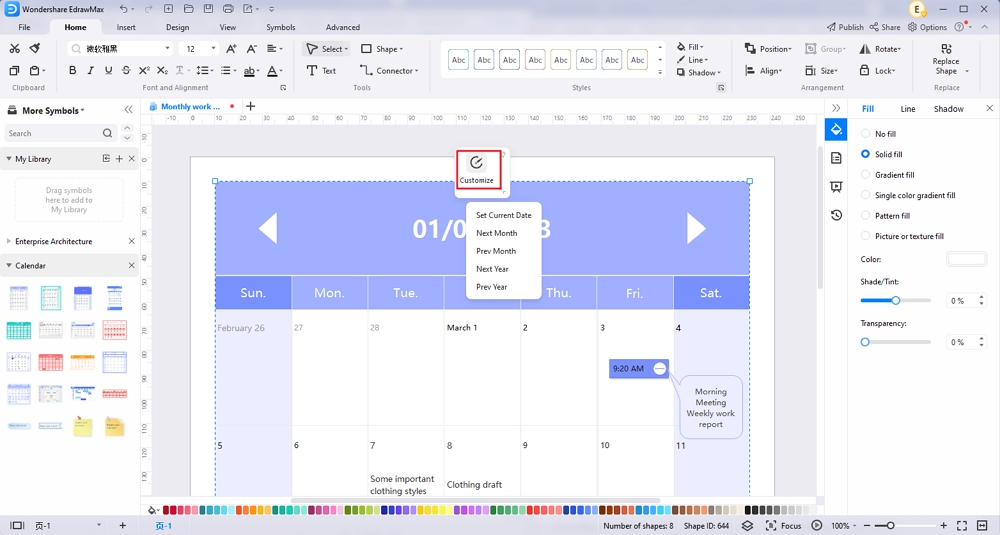 Step 4: Fill in the calendar with the information provided by ChatGPT. Customize your study plan chart using color schemes, icons, or other elements to make it understandable and appealing.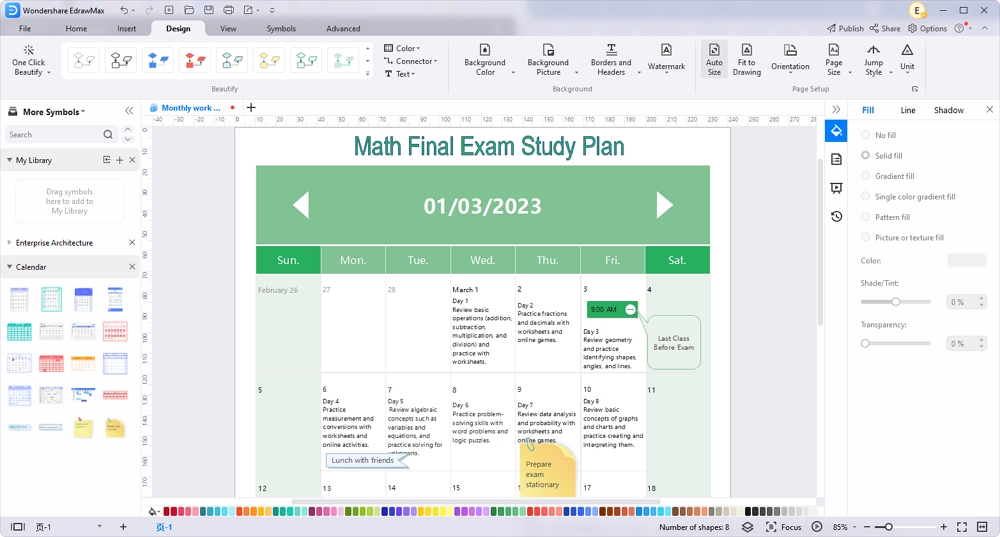 Step 5: After completing your chart, click the "Export" button at the top panel to export your file.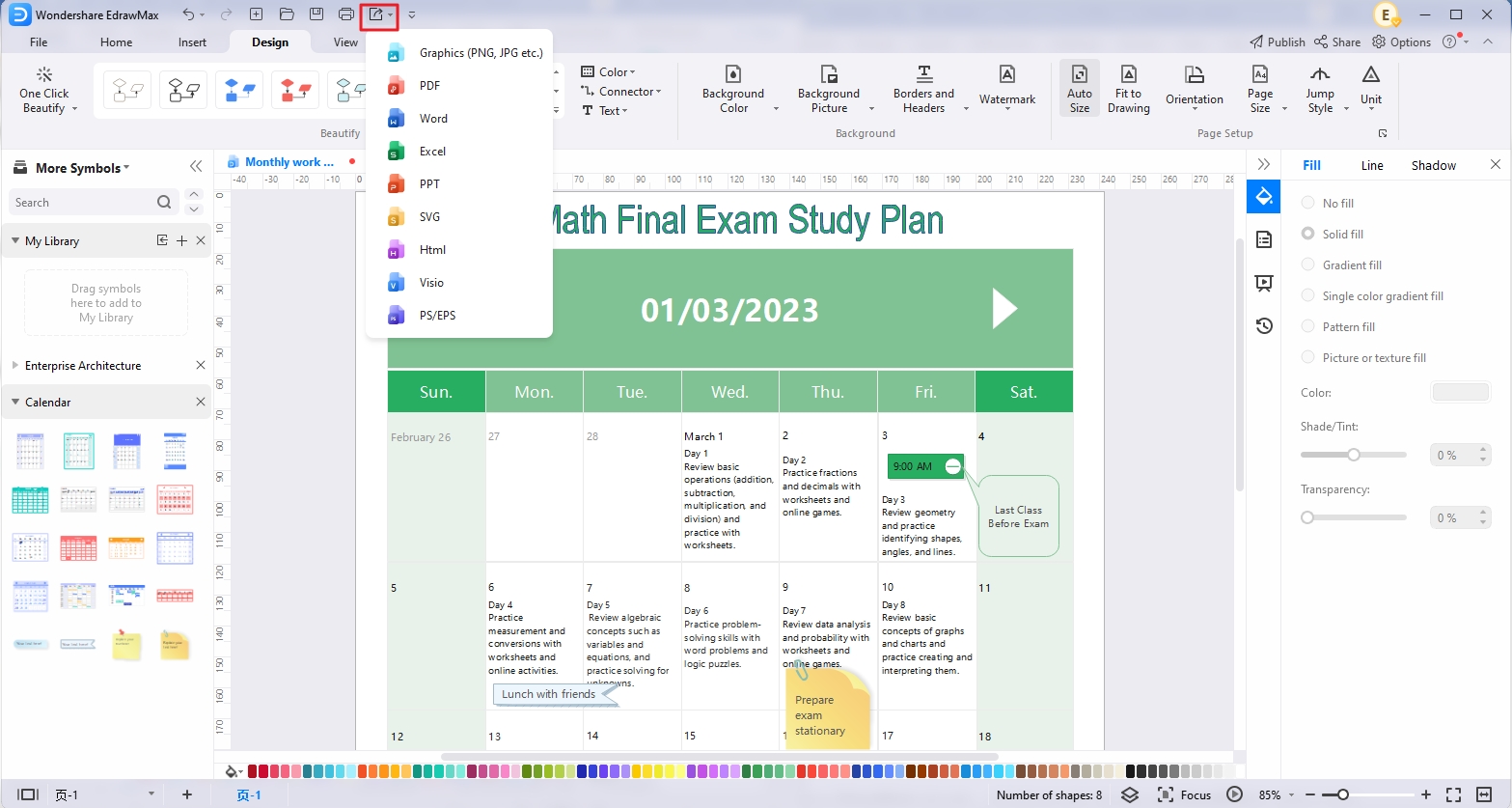 You can also download the template study plan and customize your own based on it.
Scenario 2. Summarize Long Paragraphs Into Bullet Points With ChatGPT
Long paragraphs can be difficult to understand for students because there is a vast amount of information presented at once. As a result, breaking the long paragraph down into bullet points and summaries can be far easier for students to digest the information effectively.
ChatGPT can help users summarize long paragraphs into organized and brief bullet points. By allowing students to simplify lengthy concepts into simple summaries, they gain a better understanding of what is being taught and thus improve their learning experience. For example, we summarize a long paragraph in an Economic text book into bullet points.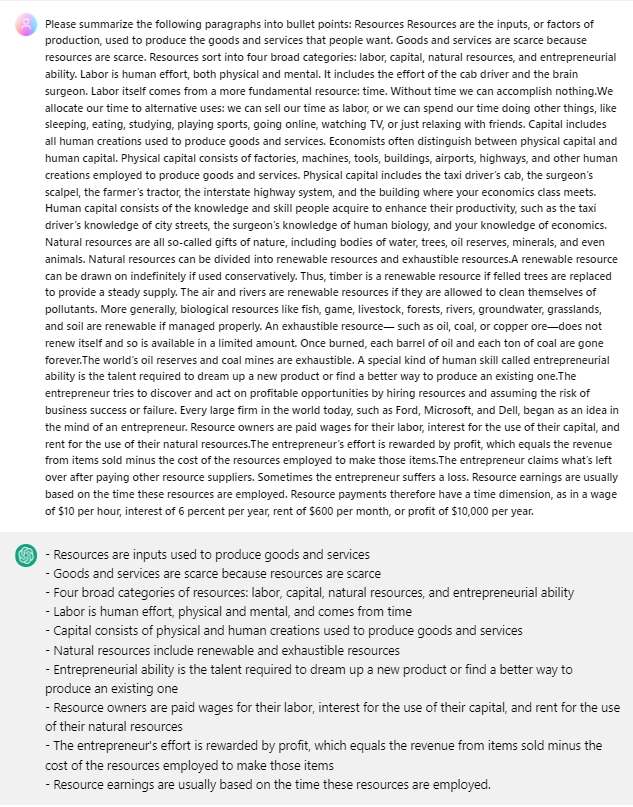 For anyone studying for a test or needing to quickly process large amounts of information, mind maps offer a great way to go about it. Mind mapping allows students to quickly summarize what they have read, as well as seeing and understanding the main points more clearly.
Students can employ the EdrawMind application to constitute a mind map from the bullet points generated by ChatGPT. EdrawMind provides users with endless customization features to contrive their mind maps according to their requirements.
How To Create A Mind Map Using EdrawMind From The Bullet Points Created By ChatGPT?
Here is the detailed procedure for creating mind maps from ChatGPT-provided information using the EdrawMind application:
Step 1: Click the "New" option from the left panel. Click the "Mind Map" option to start.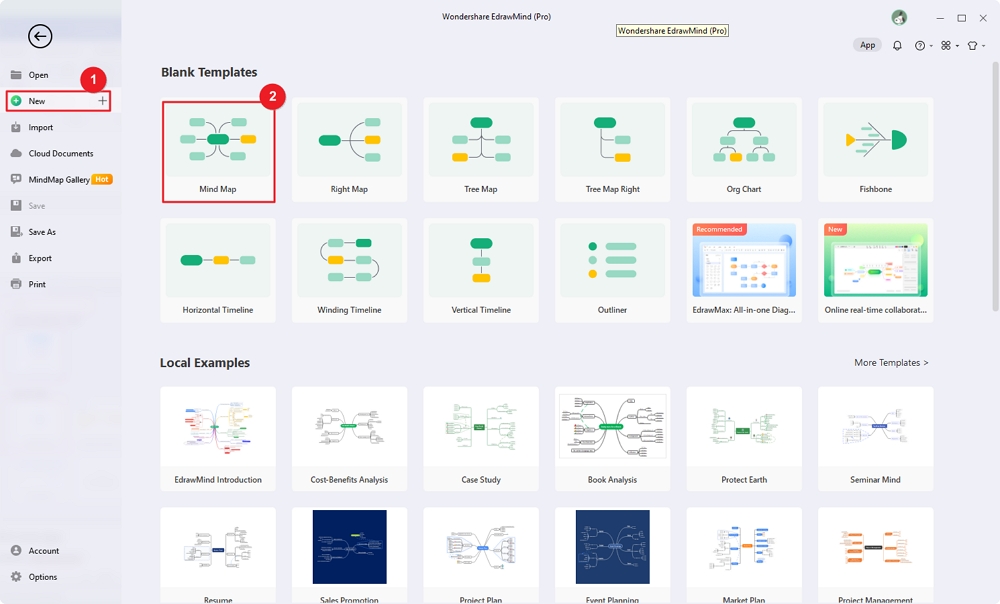 Step 2: Type the main topic into the main idea area. Enter the information provided by ChatGPT into the mind map.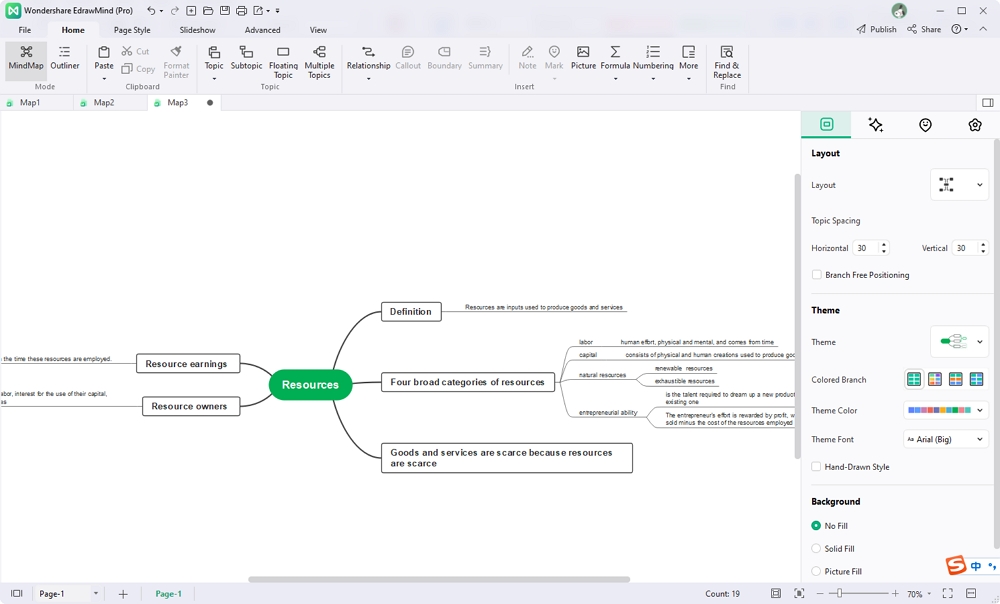 Step 3: Customize the mind map according to your preferences and requirements by applying the theme & color combination of your choice.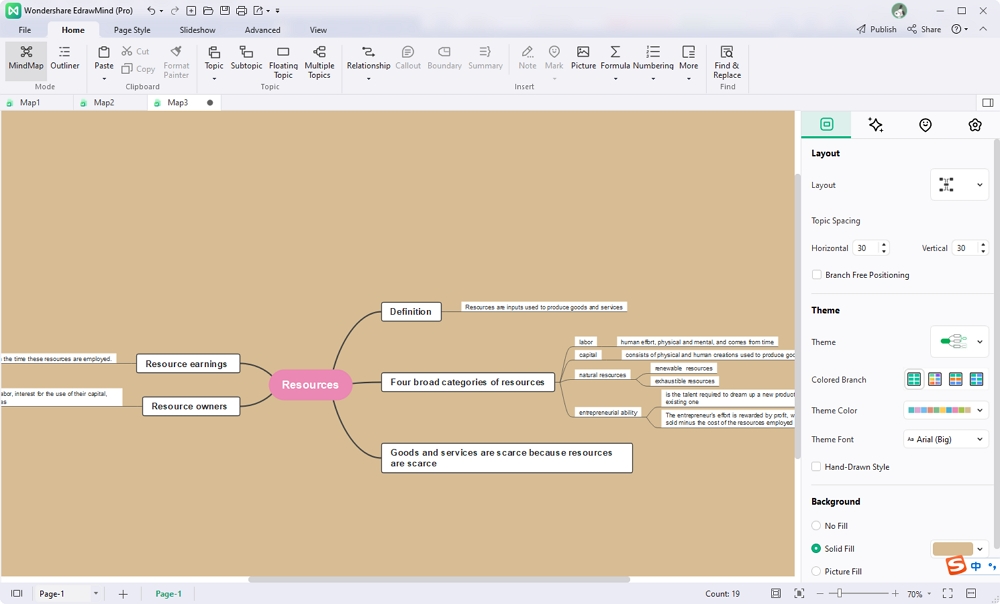 Step 4: To export your document after completion, click the "Export" option at the top of the window and choose your desirable export format.
Scenario 3. Translate Text in Foreign Languages With ChatGPT for Students
ChatGPT is a breakthrough translation technology that makes it easier for students to translate text from one language to another. With ChatGPT, student can simply copy and paste the text into the app and select the source language and target language they want the text translated into. The AI-powered system then instantly translates the text, allowing students to easily understand foreign material.
This technology offers fast and accurate translations that enable learners to experience greater levels of engagement with foreign content and enables them to have an improved understanding of foreign topics or concepts. This tool also comes in handy when students are collaborating on group assignments or researching global topics.

Scenario 4. Draft Students' Presentation Using ChatGPT
ChatGPT can be used to draft students' presentations by quickly and effectively assembling the right pieces of content into a cohesive whole. It eliminates the need for tedious hours of research, instantly providing sound bites and content that is tailored to any given topic.
ChatGPT allows students to focus their time on creating worthwhile material for their presentation, rather than trying to piece together disconnected bits of information. ChatGPT provides an efficient way for students to craft engaging presentations that are focused and comprehensive, without sacrificing quality or accuracy. For example, you can use ChatGPT to give you some presentation ideas for a topic of "History of the Animal Rights Movement in the USA."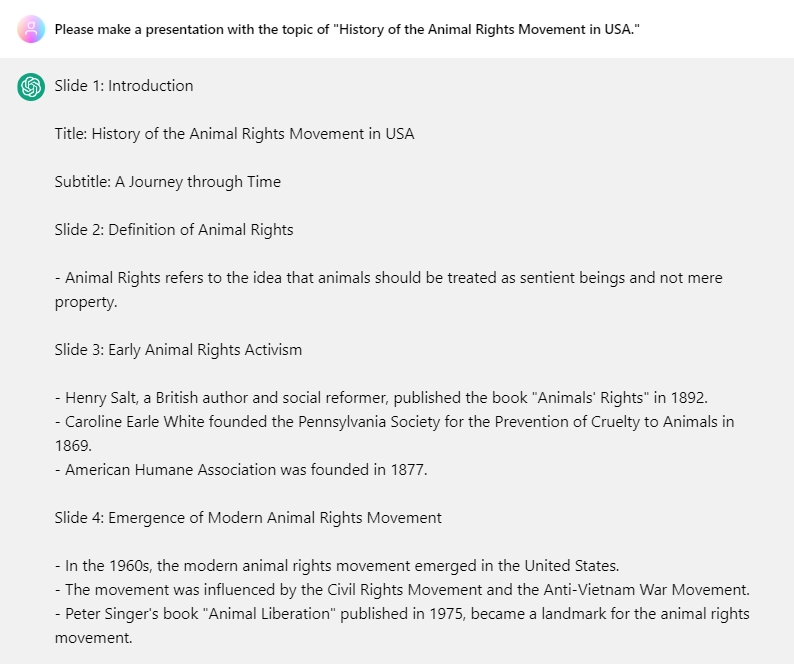 You can also use EdrawMax to make professional-look slides with the presentation ideas provided by ChatGPT.
How To Create Make Presentations Using EdrawMax From The Ideas Created By ChatGPT?
Here is the detailed procedure for making slides from ChatGPT-generated ideas using the EdrawMax:
Step 1: Click the "New" option from the left panel, type "Presentation" into the search bar, and select a template from the results.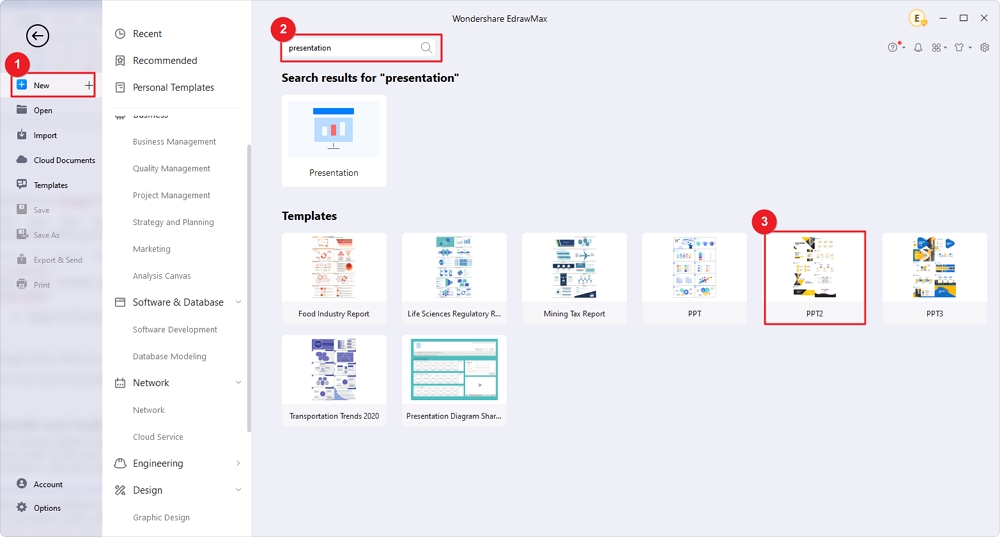 Step 2: Enter the information provided by ChatGPT into the presentation template.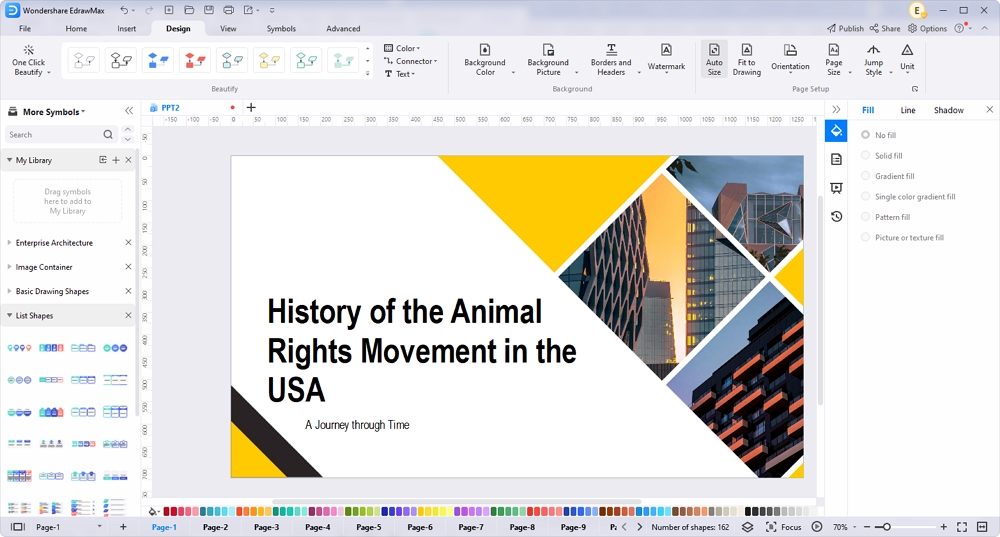 Step 3: Click the page tag to navigate to different slides, and add more information. You can also drag other pictures into the page to replace the current images.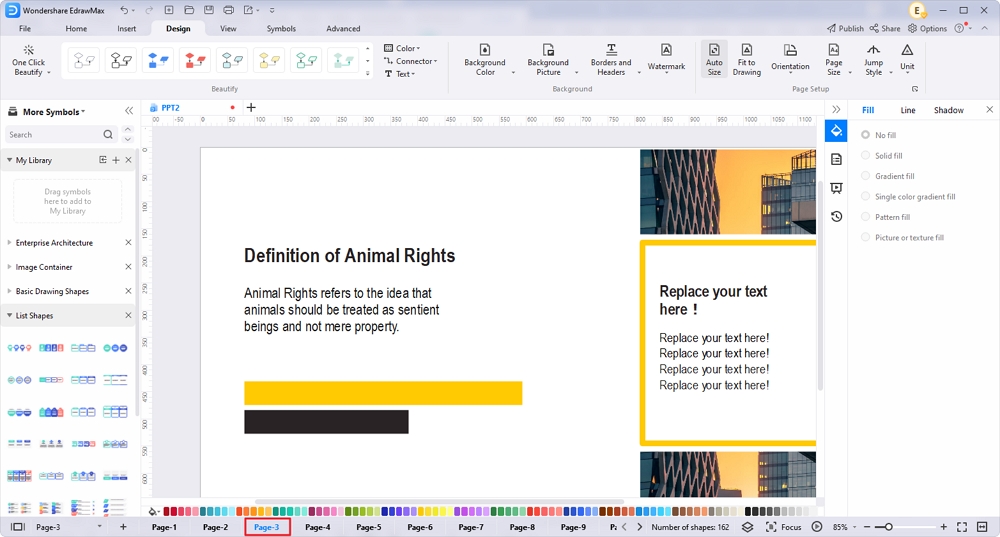 Step 4: After completing the presentation, click the "Export" option to export the final slides.
4. Benefits and Challenges of ChatGPT for Students
The extreme effectiveness of the ChatGPT chatbot is undeniable, as it has revolutionized almost every field of life and constantly eases things for users. Still, given its few limitations, we can't consider it a flawless technology.
Benefits of Using ChatGPT for Students
Here we have enlisted a few positive aspects of using ChatGPT to improve the study experience by integrating skills with the latest technology.
ChatGPT allows students to get immediate responses to their questions.
They can gain more insights and ideas by interacting with AI tutors.
It helps to accommodate students with different learning styles.
Accessible to students anywhere in the world
Challenges of Using ChatGPT for Students
Regardless of the endless benefits you can avail yourself of by using ChatGPT in the study, some of the challenges you may encounter are undeniable.
Limited availability of response from AI tutors as compared to human teachers.
In some cases, it may lack the deeper understanding of the subject matter.
Risk of misunderstandings and false information
Not all students are comfortable with using chatbots
EdrawMax Desktop
Create over 280 types of diagrams
Windows, Mac, Linux (runs in all environments)
Professional inbuilt resources and templates
On-premises software for business
Enterprise-level data security
EdrawMax Online
Create over 280 types of diagrams online
Access diagrams anywhere, anytime
Team management and collaboration
Personal Cloud and Dropbox Integration
5. Tips for Maximizing Benefits of ChatGPT for Students
The learning process can be improved remarkably by using ChatGPT in study environment. Certain practices can be carried out to utilize the tool more productively. You can use it to explore different ideas for learning activities that can be performed in classrooms and at home.
1. Familiarize yourself with the ChatGPT platform:
Before you start using ChatGPT as a learning tool, become familiar with the platform and its features. Take time to explore the menus and options available in order to get the most out of it. Know what kinds of questions to ask and how to manage your conversations with AI bots
2. Use effective keywords:
Keywords are an essential part of getting the most out of your conversation with AI bots on ChatGPT. Make sure to use keywords that are specific but still encompass your goal topic, so that you can ensure that each conversation is productive and relevant to what you are trying to achieve.
3. Break down tasks into manageable sections:
Don't try to tackle too much at once with ChatGPT. If you cannot get satisfying answers from ChatGPT, try to break down larger tasks or topics into smaller, more manageable inquiries so that ChatGPT can provide more specific information.
This way also allows for more focused conversations on particular topics, which is much easier for ChatGPT to generate information that you need.
4. Practice dialogue building:
Even though natural language processing technology has improved enormously since its debut, you should practice engaging in human-like communication on ChatGPT if you want maximum performance from it - subtly asking clarifying questions such "how does this relate?" will help stimulate coherent discussion.
5. Use other learning tools as supplements for ChatGPT:
The goal of ChatGPT is to help students and users quickly search for information they need. To expand the utility of ChatGPT even further, learning tools and diagram applications such as EdrawMax and EdrawMind can be employed to supplement the capabilities of ChatGPT.
Utilizing these complementary learning tools in addition to ChatGPT enables students to further visualize information and track their progress - this is great for keeping sight of where one might need improvement or guidance which can lead towards better results overall!
6. Conclusion
If you're enquiring how I can use ChatGPT in study, you must go through this comprehensive article to get all your queries answered. ChatGPT, developed by OpenAI, summarizes the input data and can generate human-like content based on users' queries. Given this, the students are also reaping its endless benefits equally.
We have demonstrated a few practical scenarios on how ChatGPT is benefiting students' study. Moreover, practicing the EdrawMax and Edrawmind also proves to be an optimum way to improve the learning processes.
EdrawMax Online
Create 280+ types of diagrams online
Access diagrams anywhere, anytime
Everything in desktop + Templates Community
Team management and collaboration
Personal Cloud and Dropbox Integration
Related Articles