How to Create a Thank You Card
If you want to get the hang of using EdrawMax Online for creating thank you cards, give the above guide a look. Follow the tips at the end to make your note stylish and meaningful.
1. Introduction
A 'Thank You' card is a good way of showing your gratitude to someone. Sending a text or a simple 'thanks' may seem a bit unappreciative. Making a colorful and decorated card can be more meaningful and has a chance of being warmly received by the other person. To learn how to make a thank you card using EdrawMax, check out the guide given below on using the various perks and features offered by EdrawMax.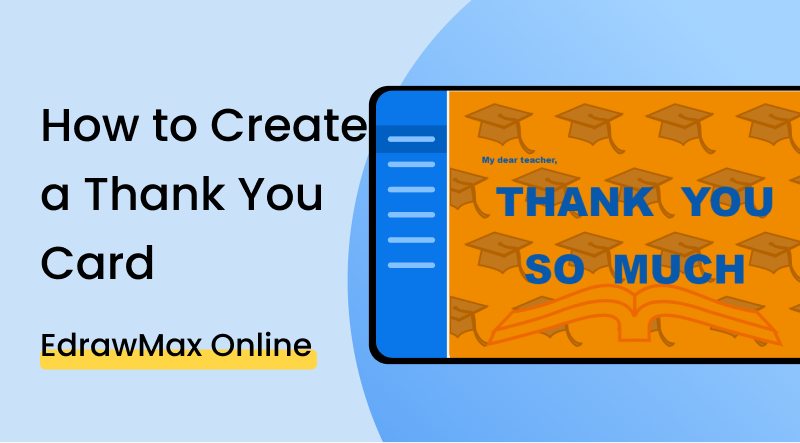 2. How to Create a Thank You Card?
Thank you cards are typically sent when a verbal or typed thanks seems insufficient. You can post the card alone, send it to the receiver via a multi-media message or slip it inside a package or parcel. Even if you don't print the card out in hard form and simply send the file in an image format to the other person, they will still value the fact that you made something specifically and especially for them. Here are some steps on how to make a thank you card.
1. Choose your words
You could simply write down a big 'Thank You' on the front. There are a bunch of other phrases that are used interchangeably like 'Thanks a lot', 'Thanks a bunch', 'Thank you very much' or 'I owe you one' etcetera. So the first thing you need to decide when making your card is the exact wording you want to use. You could also get away with a couple of lines of text.
2. Make your design
You can choose to make a card that has stuff on two sides or only one. 'Stuff'' here refers to the clip art or decorations. If you choose a one-sided design, the other will be blank or white. You can decide on this part on your own. It generally comes down to personal preference.
If the video doesn't play, please visit it at YouTube.
3. How to Create a Thank You Card with EdrawMax Online
Step 1.
Sign up or login EdrawMax Online
Before using EdrawMax Online, you are going to need a profile. If you have one already, good and well. You can proceed to step number 2. If you don't, then open up the EdrawMax Online homepage by clicking on this link: EdrawMax Online.
From the top right corner, click on the blue 'Login' button. Under the email field, select the 'Create Account' option. Fill in the details and follow the instructions to complete the registration.
Step 2.
Go to Diagram Type
Once you are done with step 1, go back to the homepage. Click on 'New' from the left menu. From the list of categories, go down to the bottom and under the 'Design' category, click on 'Card'. Select 'Thank You Card' and open up a blank drawing by clicking on the option shown below.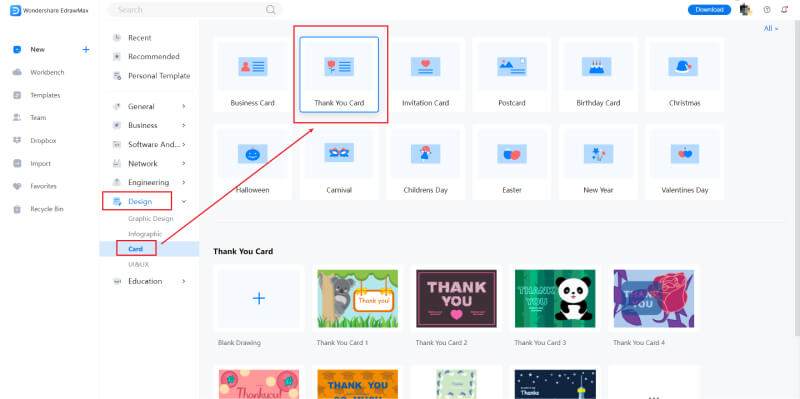 Step 3.
Select a template
To use a template, open the gallery by clicking on the 'Templates' option on the left menu. When the screen loads, go to the list of categories and click on 'Cards'. Select 'Thank You Card' to see the available drawings. You can also search the gallery using the search bar given on top. Click on the one you want to use, and then on the preview screen, click on the 'Use Immediately' button to get started.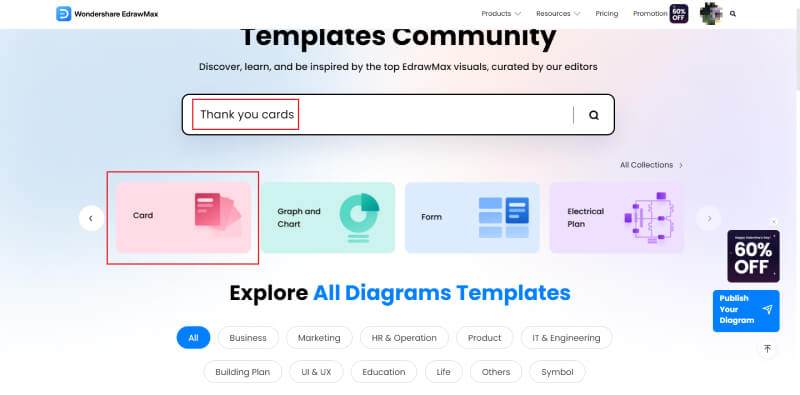 Step 4.
Customize your card
Once you are at the drawing board, you can add shapes and symbols to your canvas by simply dragging them over from the library on the left. Click on the one you need to use, and then while holding the button down, bring the cursor to the white space at the center. To move an existing shape around the canvas, you can make the same action.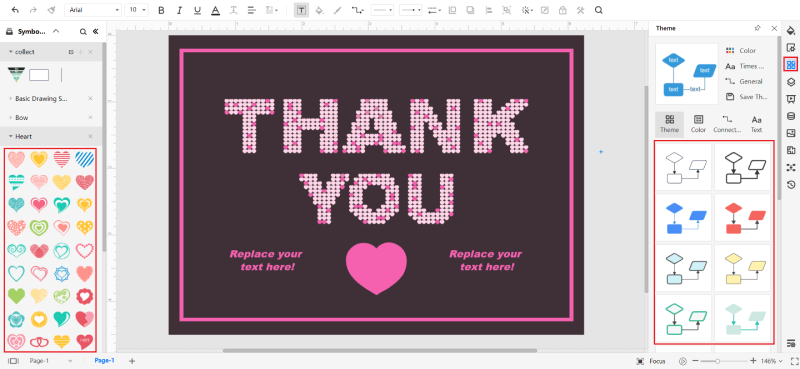 The 'Theme' menu lets you change the color combinations, fonts, and connector styles used in your drawing. You can modify them individually or choose a preset theme to edit them all collectively.
To save your work online on the EdrawMax cloud, simply go to the 'File' menu at the top left. Click on the 'Save' button. You can also use the 'CTRL + S' keys to do the same thing. If you want to download your work in a viewable and shareable format, use the 'Export' feature instead. You can choose between different file types such as PDF, SVG, and .docx.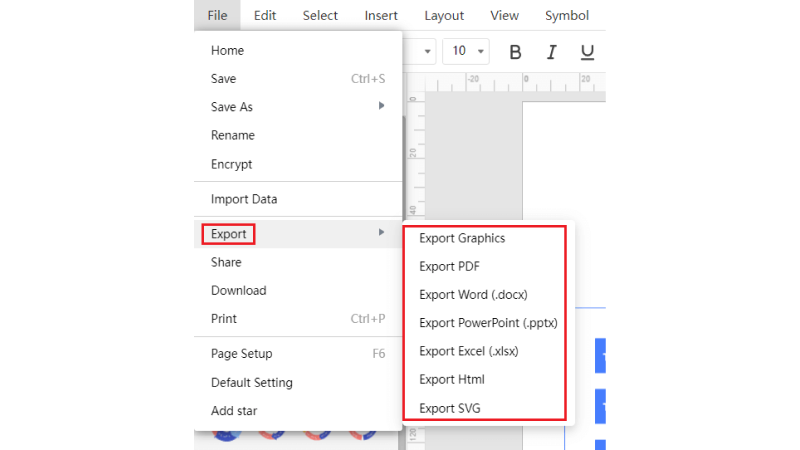 The presentation can be done in two ways if you are using EdrawMax. You can either start a slideshow or make some custom slides. The first option lets you display your drawing without any sort of modification or change applied to it. The canvas is brought to the center of the screen, and the surrounding menus disappear. This is a good way to make an impromptu presentation of your work. On the other hand, the 'Slide' menu (accessible from the right menu bar) lets you make slides of specific portions from your drawing. When you click on the 'New Slide' option, a purple box will appear. You can change the position and size of the same. Whatever this selection covers will be included in the slide, and whatever is left out will remain excluded.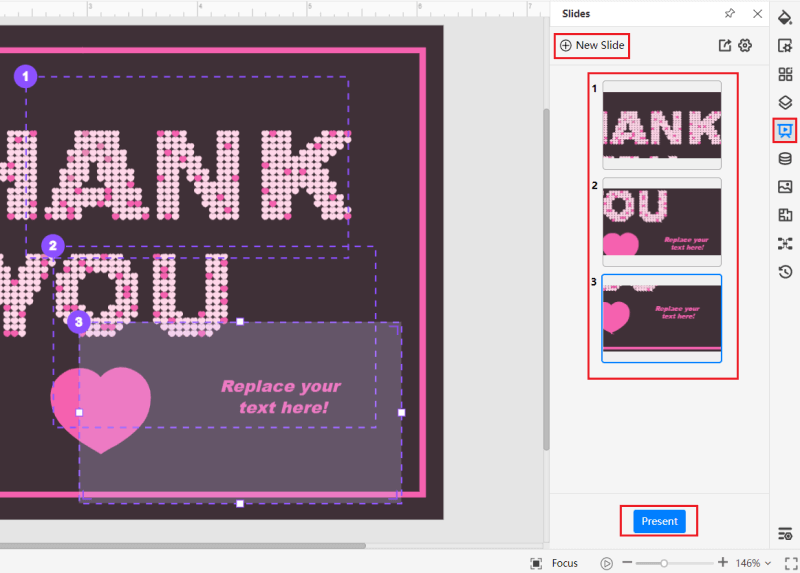 4. Expert Tips for Making Thank You Card
Tip 1: Choose a readable font
While making a thank you card, it can be easy to go a bit overboard with the customization and decoration. Be sure to pick a readable font. Don't pick something like VLADIMIR SCRIPT or OLD ENGLISH TEXT. (I think you can't even read what I wrote there….)
Tip 2: Write a proper message
Instead of just sufficing on saying 'thanks' or something, write out a proper note or message that shows that you actually feel indebted to the other person. Don't make it cheesy, or the recipient could get uncomfortable. Make it a couple of lines and 25-30 words at most.
Tip 3: End with another phrase of thanks
This is something that you should apply not only when making thank you cards but anytime you want to send a written note of appreciation to another person. Start with a thanking phrase, write the sentences and then end with 'Thanks a lot again' or 'Once again, thank you so much. This repetition makes the note richer in sentiment.
EdrawMax Online
Create 280+ types of diagrams online
Access diagrams anywhere, anytime
Everything in desktop + Templates Community
Team management and collaboration
Personal Cloud and Dropbox Integration
5. Key Takeaways
If you are looking to learn how to make a thank you card , the above guide features a stepwise guide on using the software. The awesome features offered by the software make it suitable for rookies and experts. The next time you want to send a note of thanks to someone, make it meaningful by designing it yourself using a dedicated application. Find more cards templates.
Related Articles