What Is Landscape Design?
Landscape design is a visual description using scaled symbols and measurements. It's important to make a landscape plan before the start when designing your front yard or backyard landscape, so you have a precise blueprint to follow. A design for the landscape is like a floor plan for an outdoor setting.
Using elements like trees, flowers, grass, fences, stones and other symbols of the garden design reflects your ideas on paper.
Landscape design is the process of organizing six major compositional elements of a landscape which is Landform, Vertical Structures, Horizontal Structures, Vegetation, Water and Environment to make good outdoor space.
Why Should You Use Landscape Design?
Landscape design plays a crucial role in terms of architectural layout and design. And helps incorporate the collective decision and construct a plan for the same.
Landscape designs help you transform your visual design ideas.
It ensures you've got a precise landscape plan for potential use.
This assists in making choices on what products to purchase.
It ensures a minimum of hassles while completing the project.
Getting a precise measurement landscape plan, you can determine which objects you desire, and how each object fits into its location.
Developing good impacts on the environment and connecting with nature.
How to Plan A Landscape Design?
Step 1: List the needs & assess the landscape

How do you envisage using the landscape? Various activities involve different surfaces, structures, or plantings. Make a rough map and list current features, such as fencing, trees and shrubs, houses and paved surfaces.

Step 2: Draw the basic outline plan

Measure the area, and transfer to the plotting tool the basic dimensions. Next, plot the location of the fixed characteristics you can't change, as identified in step 1.

Step 3: Add other objects & elements

Include elements like shrubs, trees, flowers, drawn to scale and placed on the grid in different configurations. Don't neglect the practical details, such as the location of irrigation, lighting systems, provision for electricity and other key aspects of development and construction.

Step 4: Finalize your plan

Once you define the basic pattern for the landscape, you create the design with labels and construct the greenery, creative flower beds and paver designs. Visualize how colours, shapes, textures and patterns would fit together, just like in decorating a house. Thus giving a final shape on how to plan landscaping.
Landscape Design Examples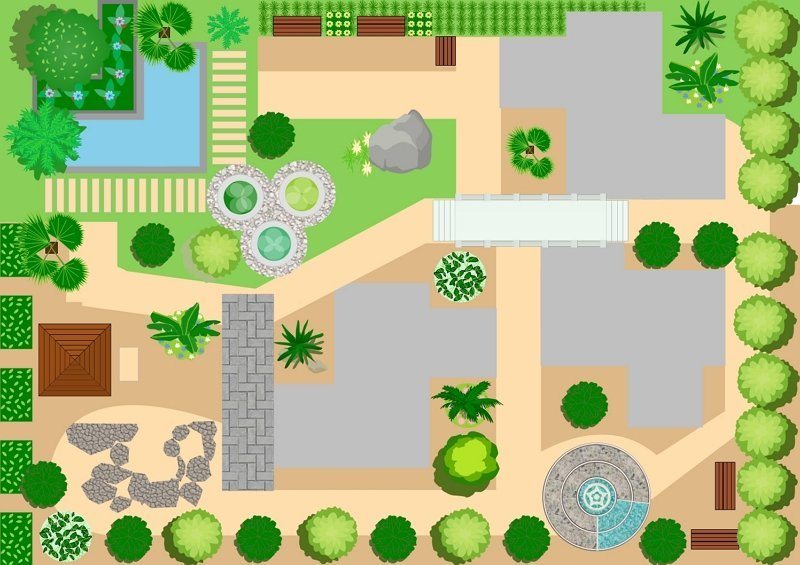 The above diagram depicts the landscape design of a garden. It is effectively constructed to include pathways along with greenery.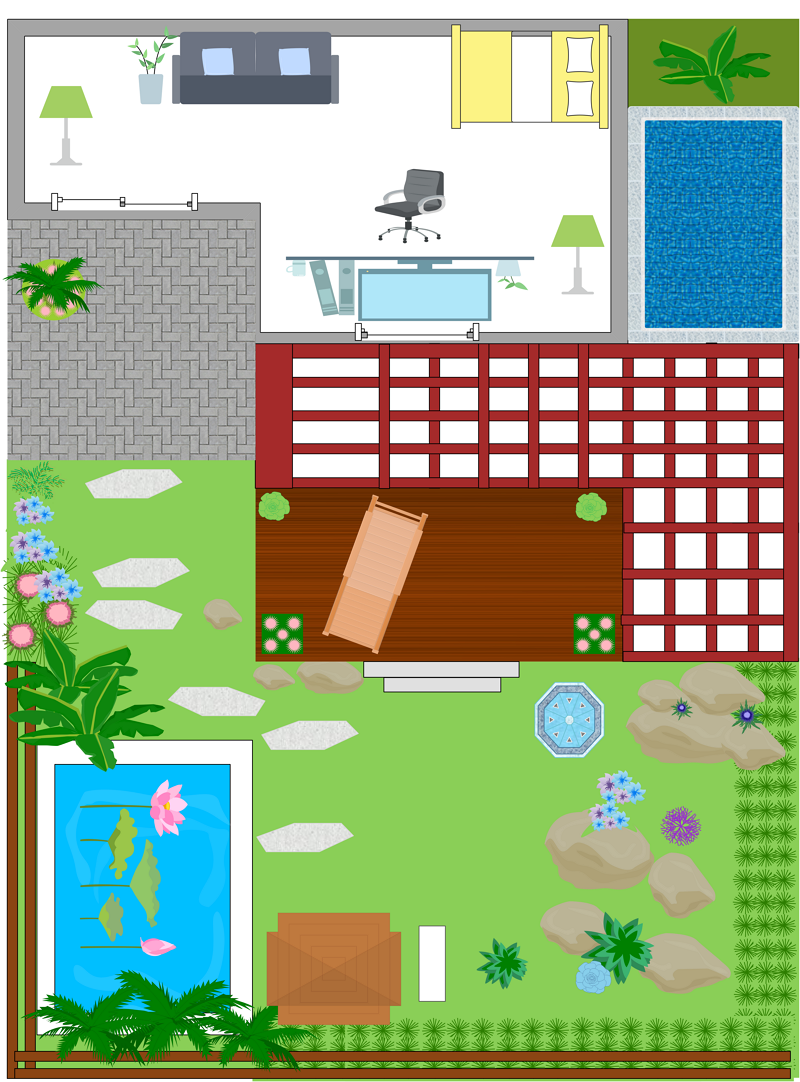 In this example, the landscape design is detail-oriented and includes relevant aspects like a pond, seating area, pathway tiles, and other aspects of the design.
FAQs on Landscape Design
How does the design process work?

While the process can vary depending on the designer, the needs of the client, and the project complexity, most residential design projects include initial plan, layout & master plan, documentation & implementation support.

How do I choose a landscape designer?

Education, experience, creativity and compatibility are factors to consider when hiring a landscape designer. Ask what level of formal training the designer has achieved, and see their work samples. It may be a portfolio or photos, or website or plans or the designer may refer you to an installed design.

Do I need a landscape design?

A good landscape design will turn your boring yard into a place that you enjoy by raising your property's accessible living area. A professional landscape design will ensure that your investment is well thought out and ideally tailored to you and your family if you choose to renovate and redesign your yard.

How to choose a good landscape design tool?

A tool that helps you in easily translating your vision and the available land into a visually and aesthetically appealing landscape is a good design tool.

How much will the landscaping project cost?

Drill down to the details of your remodelled landscaping. Before the project starts it is best to choose all the materials and plants. So you'll get a realistic idea of the cost.
Key Takeaways
An easy landscape design application helps you to do minimal work while still delivering a high-quality product. You will obtain an extensive array of design elements with the tool, including representation view for trees, rocks, swimming pools, pavilions, benches etc. To ensure the accuracy of your design, you can easily add smart dimensioning symbols to the objects. The drag-and-drop feature will make every type of landscape design easy to build.