1. What is Interactive Infographic
Interactive Infographic aid in the development of brand credibility and authority, as well as in engaging your audience and explaining complicated subjects. However, even the most pleasing infographic is still merely text and graphics on a screen. That's why dynamic and interactive infographics are so enticing and allow you to infuse a new spirit into your marketing initiatives. When it comes to developing interactive infographics or animated infographics, the only restriction is your imagination, just as with any other sort of visual engagement. Of course, the structure of these forms of infographics necessitates a bit more time contribution, but we believe there are several reasons why the extra effort will be well worth it!
2. The Interactive Infographic Examples
So, what exactly constitutes an excellent interactive infographic? It all boils down to smart design, compelling interactivity, and a fascinating subject, whether it's really basic or quite complicated. The possibilities are virtually limitless. If you're interested in experimenting with interactive infographics or need some profound encouragement for your next project, here are some of the top interactive infographic examples that might blow your mind!
Example 1: Interactive infographic
The above interactive infographic features one of the most aesthetically appealing graphic designs available. The infographic includes some basic facts on learners' perceptual learning ability. Furthermore, the graphics in the backdrop appear to move and engage with the user instantaneously while the textual material stays static. This dynamic design has a significant influence on capturing and holding the attention of an observer!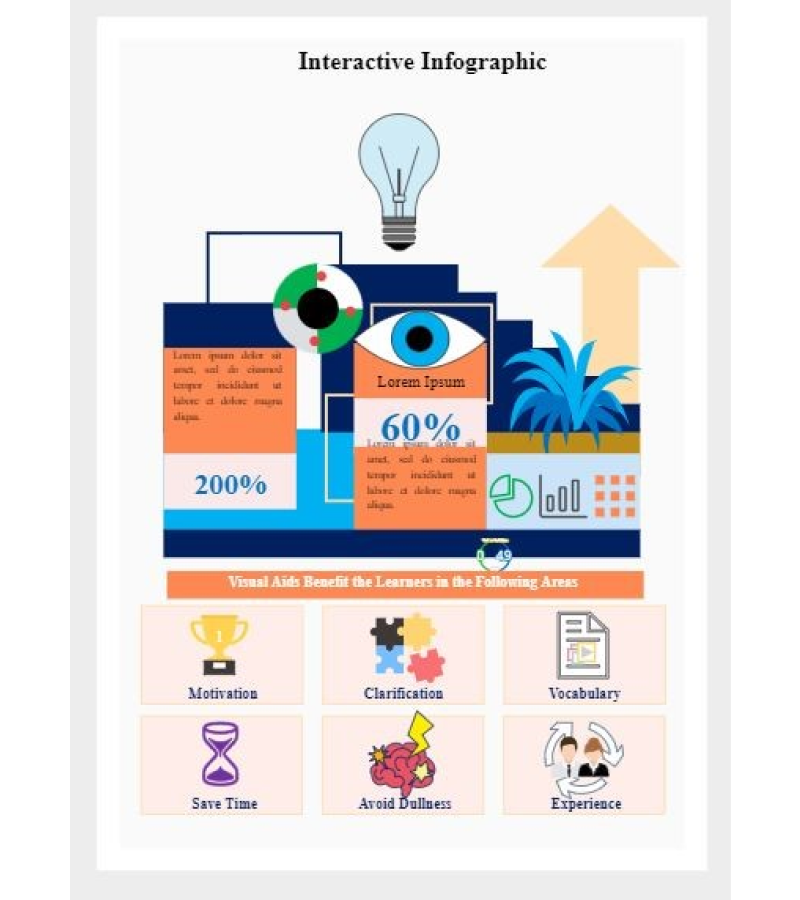 Example 2: Interactive infographic html5
This is a simple yet engaging interactive infographic html5 template that you can use to create your own infographics. Though the background might be a little cliche, it all comes down to the design and the interactive engagement of the topic that a user might choose. Nevertheless, an additional image or an animation to support your static text can do the magic!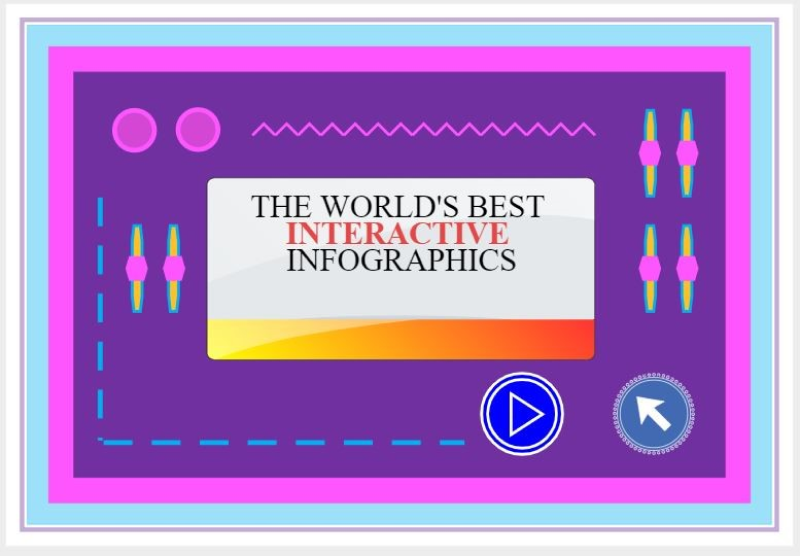 Example 3: Interactive infographic examples
The combination of visually engaging the audience and telling a story is the heart of an interactive infographic. As you can see from these interactive infographic examples, the visuals are simple yet engaging! If you feel confident, you can also incorporate a few animations into your infographic to make it more appealing. Instead of talking bounty about carbon-di-oxide emissions, this infographic takes a new way of explaining things in a factual manner. This kind of creativity is what will hook the audience to keep viewing your stunning infographics.
Example 4: Line chart interactive infographic
A line chart, also known as a line graph, is a graphical presentation that demonstrates how parameters shift over time, generally by comparing them to another element. Line charts may be used to illustrate how data changes over time. And how this modification influenced the overall trajectory. They are often used to compare various sets of data across time. All fabricated text shown in the above line chart interactive infographic is replaceable, including the base color, Label position, pattern, form, column name viewpoint, and label alignment, which may all be altered to meet your needs.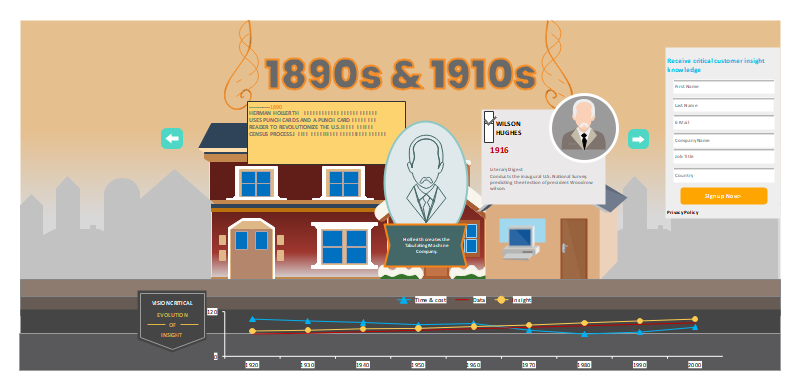 Example 5: Interactive infographic design
When it comes to interactive information design, it all depends on the creator's ideas and how they want to portray them visually. In the above interactive infographic, the different top dog names of breeds are mentioned in a unique way. This uniqueness serves as the key to grabbing the attention of the audience and making them entangled through the visualization. Though there is not much description mentioned, it is still engaging since the topic is something all dog owners can relate to.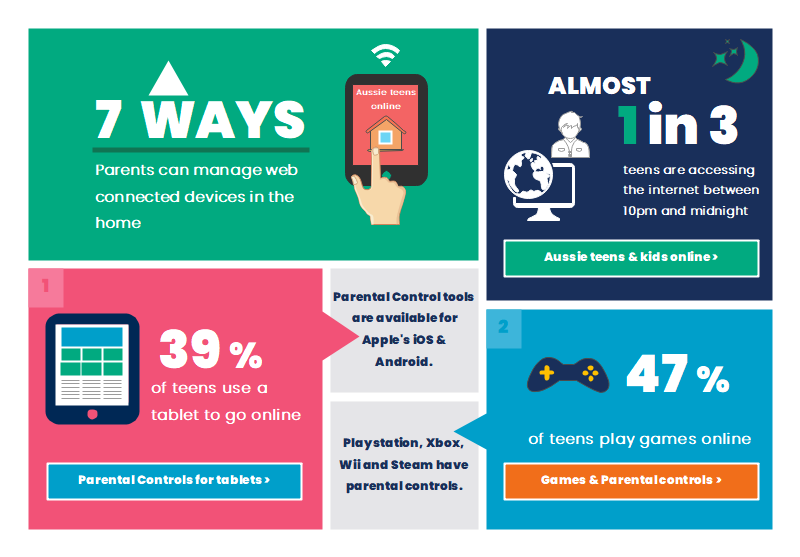 Example 6: Coffee interactive infographic
This is considered one of the best interactive infographic of all time. As you can see in this coffee interactive infographic, the visuals are so appealing that even if you finish looking at all the mentioned stuff, you still want to view it one last time! This is the victory and achievement that all infographic creators would want from their visuals too. Everything corresponds to the topic's effectiveness and engagement, from the background images to explaining the different methods.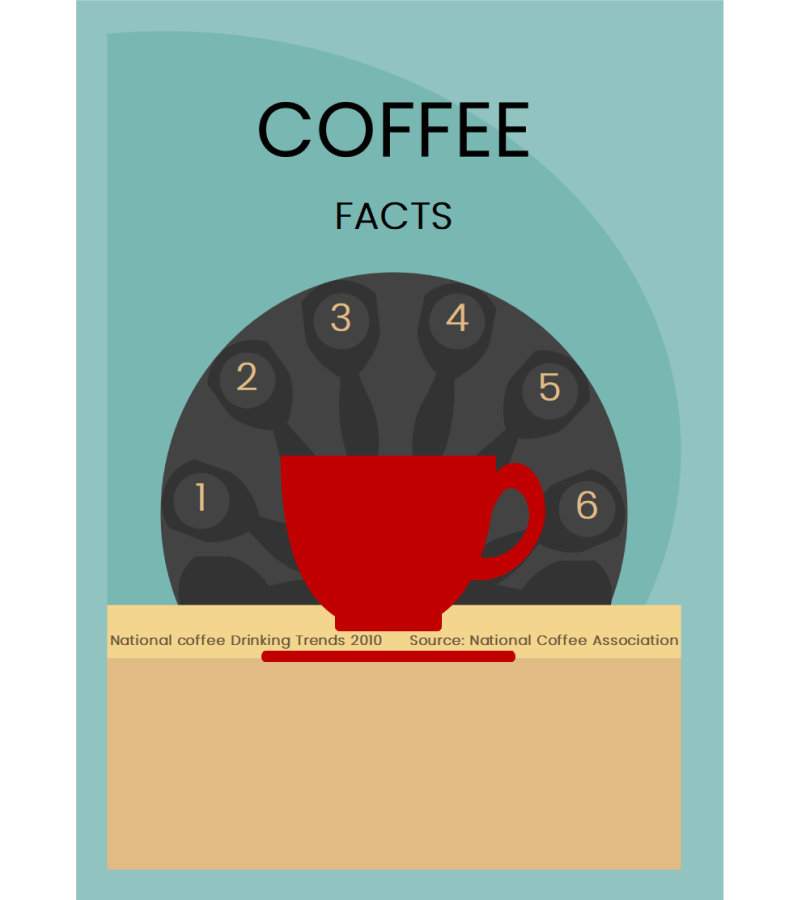 3. How to Design an Interactive Infographic
Creating and designing an interactive infographic does not just need a suitable title and visuals. An engaging, interactive infographic consists of enticing template selection, drafting eye-catching text, and interlinking everything to the topic's environment. Some of the other steps involved in creating a perfect interactive infographic involves:
Step 1 - Choosing the suitable template:Choosing the right template for your interactive infographic is the most crucial step in creating a visually appealing poster. If it is hard for you to design your own template, then thousands of websites sell infographic templates where you can hover onto and choose the right one.
Step 2 - Customizing your design:The next crucial step in creating a visually appealing interactive infographic is adding information and engaging visuals. An excellent interactive infographic should contain both these factors whatsoever.
Step 3 - Connecting the dots: After you have completed adding texts and visuals, make sure that the images correspond to the vibe of the selected title. A properly made interactive infographic should uplift the weight of the title and interact with the audience through the color, pattern, alignment, etc.
Watch this video to learn more. If the video doesn't play, please visit it at YouTube.
4. Best online infographic maker
We all can relate to the fact that creating and designing your interactive infographic template can be time-consuming, as well as stressful. So, the best online infographic maker that we would recommend is Edrawmax. Edrawmax is an all-in-one designing software that houses a constellation of templates that you can choose from. Not just that, you can also design your own templates with their advanced designing tools to get your ideas on board!
EdrawMax Online
Create 280+ types of diagrams online
Access diagrams anywhere, anytime
Everything in desktop + Templates Community
Team management and collaboration
Personal Cloud and Dropbox Integration
5. Key Takeaways
Overall, an interactive infographic should communicate with the audience in an effective way about a specific topic. If you want to boost your online marketing strategies, interactive infographics are the new wave. Creating an intriguing infographic about your products can not only boost the advertising aspects but also bring in a lot of traffic from the audiences! What are you waiting for? Head over to the Edrawmax template community to choose your favorite template and start making your impressive interactive infographic! Find more infographic templates.
Related Articles