Free Editable Bedroom Layouts
Redesign and redefine your bedroom! Use EdrawMax and design your customized bedroom layouts if you are moving into a new place or just want to do a makeover to your room!
1. What is a Bedroom Layout?
The layout of any room is the graphical representation of the object's placement in your room. As the name suggests, the layout shows how you have laid out the fixtures and placed objects throughout the room. Bedroom layouts can be of great help when redesigning or renovating a room. You can use them to place things such as beds, side tables, couches, and many other things digitally without actually having to place them and checking if they fit.
5 Tips for Designing a Bedroom
You can make bedroom layouts for yourself or your friends or clients; anyone you wish to. Here are some things that you should consider when designing a bedroom layout.
#1 Take Dimensions
Ensure the entire room is mapped out with the exact dimensions and placement of fixtures such as many levels, fireplace, windows, doors, and any electrical fixtures. Another major thing to keep in consideration is the user requirement. Different types of users such as children, elders, single individuals, or a couple will have different design preferences and requirements.
#2 Utilize Space Efficiently
Make sure the space is utilized to its maximum, but at the same time, it is clutter-free, and not too much stuff is crammed in. Keep natural light and ventilation in mind and privacy, and design the layout accordingly.
#3 Check out Standard Sizes
Choose the suitable standard sizes of furniture. A smaller room will not accommodate a king-sized bed, but a queen-size or three-quarter bed can be pretty space-saving and helpful. Standard sizes of all furniture such as beds, cupboards, wardrobes, and tables are available online, and you can quickly check and place them.
#4 Space Circulation
Always keep human circulation in mind as well. You should design the bedroom to utilize every space to its maximum and still leaves enough room for users to move freely without tumbling into objects.
#5 Major Focus
Design the bedroom layout according to your needs. If you need storage, you can choose a different furniture style, such as beds with cabinets underneath and tall-heighted wardrobes that will occupy a lesser area but provide whole storage. Initially, focus on the placement of basic objects such as beds, side tables, etc., and then move towards secondary objects such as couches, bean bags, etc. Workaround the existing fixtures and utilize maximum space to look visually pleasing and spacious.
2. Bedroom Layout Ideas & Examples
Here are some bedroom layouts and plans designed while considering different aspects and specifications such as sizes and other aspects. You can design your own using these examples and the tips mentioned above.
Example 1: Bedroom Layout
This is a basic bedroom with almost all necessities and spaces kept in the account. The bed is placed right beside the window so that the morning sunlight comes through and is fresh. The wardrobe is placed in the corner, and another storage cabinet in the opposite corner, making the central circulation clutter-free. The workstation is also in a centralized location, in the proximity of all elements and furniture in the room. Overall, it is a good basic bedroom layout with ample space utilization and accessible space for circulation with sunlight and ventilation. A balcony is also a good place for the users to sit and relax and enjoy the view.
Example 2: Small Bedroom Layout
This is a small bedroom layout for children. The main focus is to provide a suitable space for children and parents to transverse the space efficiently. Minimum size of 70 square feet is required for a room to qualify for a children's bedroom. This small bedroom layout is designed as per the needs of a child. There is an open central space for playing and other activities, a space for doing homework and studying, a piano in front of the window to create a specific ambiance and vibe, and a single bed on the side. This is a very nicely designed layout. It allows the user to live comfortably instead of just a small space to sleep only.
Example 3: Master Bedroom Layout
This is a template of the main bedroom layout. The main bedroom is one of the main rooms in any house. It has to be designed for extreme comfort and has luxurious amenities. Master bedrooms mostly have a king-size bed, dressing table, a walk-in closet, and a large bathroom with a bathtub, shower tray, and countertop sink. It has to be designed carefully by utilizing every space. Keep in mind that having more space does not mean you have to cram it. It should look filled and spacious, and breathable at the same time. This plan shows all parts of the house and all architectural details such as fixtures, doors, windows, and other technical details.
Example 4: Bedroom Floor Plan
This is the floor plan of a small house with two floors as the stairs suggest. It can be seen how all spaces are utilized, and an ambiance of a cozy household is created. It includes a decent-sized bedroom, a hall, dining room, a kitchen, and a wash area. The bedroom includes a double bed with side tables, a couch, and a TV with a console. The hall also includes two three-seater sofas and a TV. It can be utilized as a multipurpose space for guests and a living room. All the spaces are well connected, and circulation is also excellent.
Example 5: One Bedroom House Plan
This is a small one-bedroom house plan, and it shows incredible creativity by the designer. It features a decent arrangement and placement of objects while making it clutter-free, making it easier for users and their pets to move around freely. The space is cleverly made to appear spacious by introducing an open kitchen instead of covering it. The placement of windows and ventilators helps make the house lively and not suffocating. The bathroom is also decent sized and includes basic amenities such as a washbasin, toilet, and shower tray. The bedroom has also been well designed. It has accommodated a double bed, side table, dressing and still has enough room for people to move around.
Example 6: 2 Bedroom House Plan
This is the template of a two-bedroom house plan. It is decently designed, and all the spaces are perfectly designed according to the user's needs. A small family can easily live here. It consists of 2 bedrooms, an outdoor patio, a decent-sized study, a very spacious living, and dining area, and a kitchen and washing area. It also features a balcony. The connectivity of all areas is excellent, and circulation is easy and spacious. It is a well-planned 2-bedroom house, and all aspects are kept under consideration.
Example 7: 3 Bedroom House Plan
This is a three-bedroom house plan, and the space has been utilized exceptionally well. It features three bedrooms, a spacious kitchen, a study, ample living and dining room space, and a small courtyard. The main bedroom also has an attached bathroom. All rooms have large windows that keep natural light and ventilation in mind. The study room also has a large window and a plant to create an excellent, calm, peaceful environment catering to users' needs. Overall, it is a well-planned house, and all spaces are utilized perfectly.
Example 8: 4 Bedroom House Plan
This four-bedroom house plan is the perfect example of efficient planning. It has almost the same area as the three-bedroom house. However, the designer has still managed to put in 4 bedrooms and separate bathrooms for each room, a kitchen, and a decent living and dining space. The key to an efficient design is using methods to utilize maximum space so that it looks visually pleasing and aesthetic as well and not a jumbled mess. The main bedroom is also well planned and has a large sitting area. All rooms can accommodate a king or queen-sized beds with ample room for storage and circulation.
Example 9: Low Cost 2 Bedroom House Plan
A house does not always have to be luxurious. This low-budget three-bedroom house plan is perfect for a growing family. The smaller bedrooms are adjacent to each other. All the bedrooms, including the main bedroom, have L-shaped windows, perfect for providing good ventilation and natural lighting throughout the day, thus saving energy. The living room and dining room are placed centrally so all the family members can gather at this place to spend some quality time together. Each room has attached bathrooms, and there is a work area too.
3. Online Room Planner
Now that you have looked at all these examples, you must be wondering how these bedroom layouts and plans were made. EdrawMax Online is the best online room planner available on the market currently. You can easily create plans with this user-friendly, easy-to-use tool that can help inexperienced users. It comes with free floor plan templates and symbols, and blocks that users can modify and use as required. You can grab any template to work on and customize it according to your preference. You can also save, print, and share your created floor plans and bedroom layouts with anyone easily.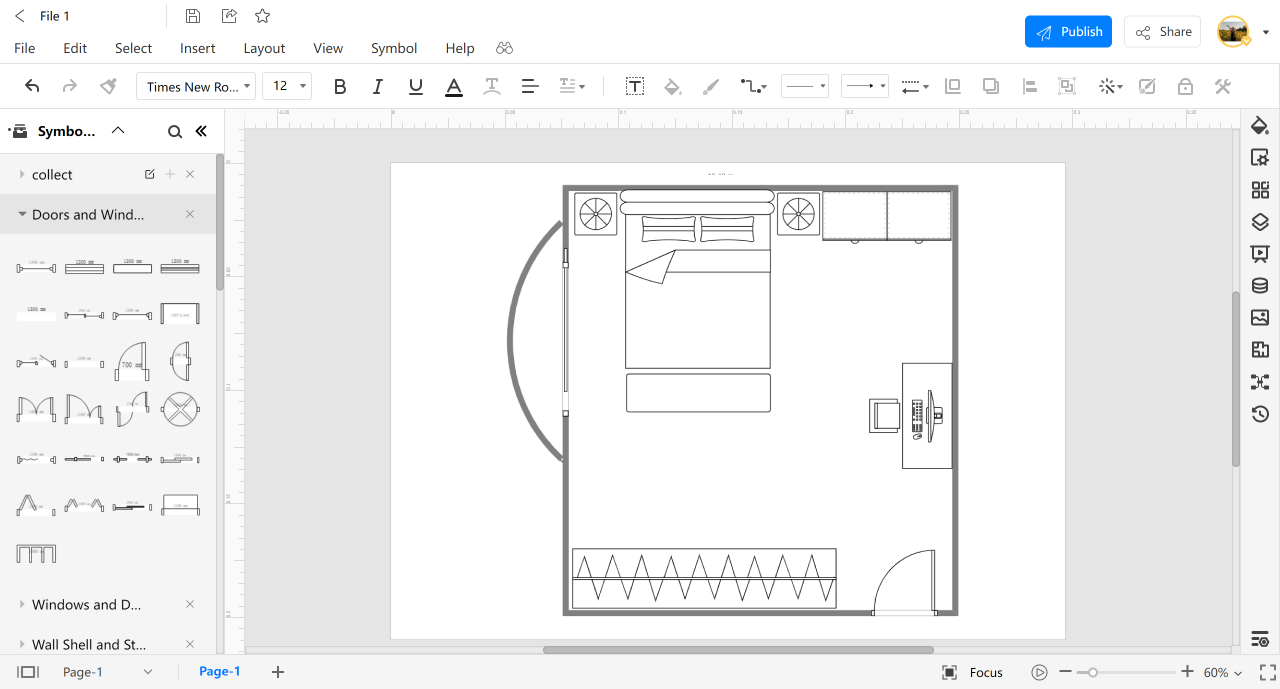 4. Key Takeaways
You have now learned all that goes into bedroom layouts and designs. Use the tips provided above combined with the ease of EdrawMax to create excellent and eye-catching graphics of floor plans and room layouts. EdrawMax provides tons of features and free templates, symbols, furniture blocks according to standard sizes, and you can also customize them to your liking.
Related Articles