1. What is a Sports Infographic
Sport is a favorite pastime for both adults and children alike. Since people like to know records and compare different teams and sports persons, there is a lot of data and information involved. Sports infographics are combinations of text and visuals that help you convey complex data in an understandable format that is visually appealing and effective. You can use them to communicate records, present sports personalities' profiles, and show match statistics.
2. The Sports Infographic Examples
The sports infographic examples show different samples and help you understand how to create attention-grabbing sports infographics and exploit this tool to create visual content.
Example 1: Sports Infographic
This sports infographic shows various games using a balanced ratio of images and text in a tiled pattern. This infographic has many uses. For example, it can be used for showing available sports in a facility or the options for training. Also, you can give children an overview of sports in which they can participate.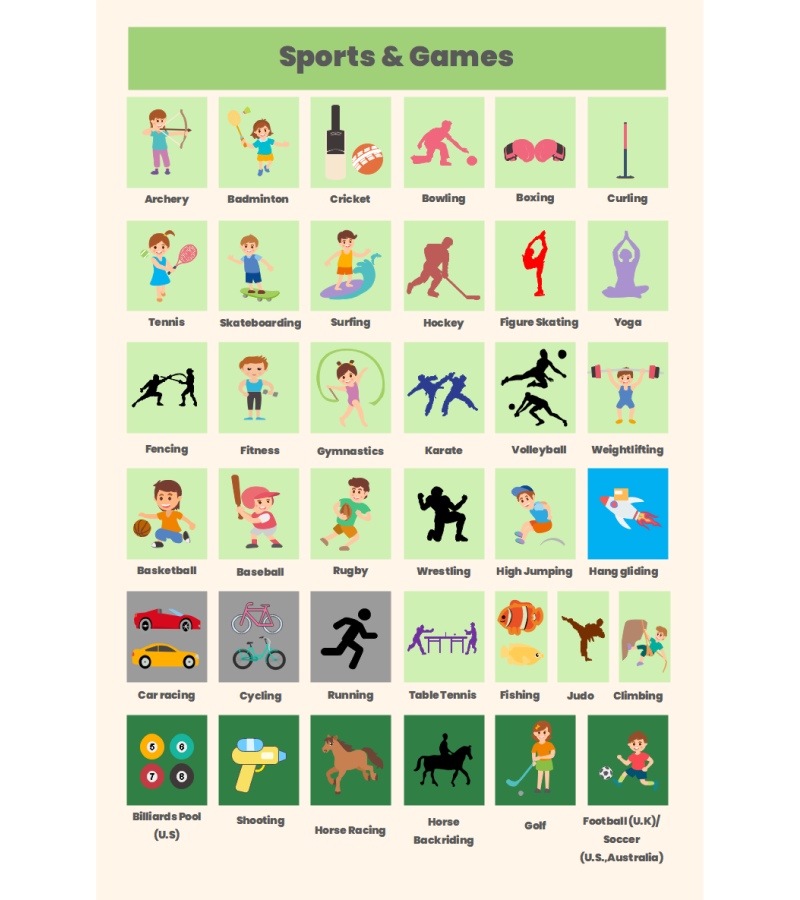 Example 2: Football Infographic
A football infographic is a sports infographic example that shows the top records of a season. It is great for announcements of achievements, record keeping, and rewards. It shows the top five football clubs, top three formula one teams, and top three NFL teams. Since these sports infographic templates are fully customizable, you can change the teams and the sports according to your requirements.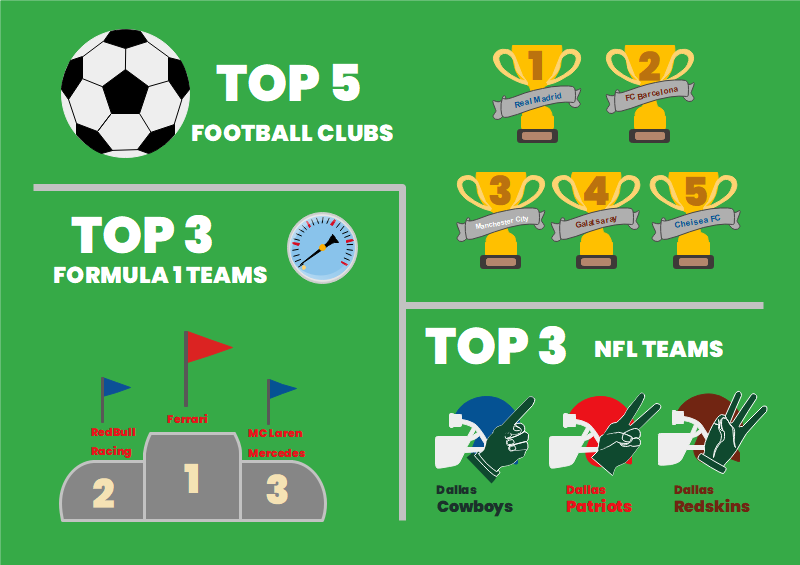 Example 3: Yoga Infographic
Yoga infographic shows the benefits of yoga for individuals. It shows the benefits in both images and text to show how yoga improves posture, prevents respiratory problems, lowers blood pressure, improves memory, and strengthens muscles. It can make an excellent display piece in any yoga facility and a great presentation tool.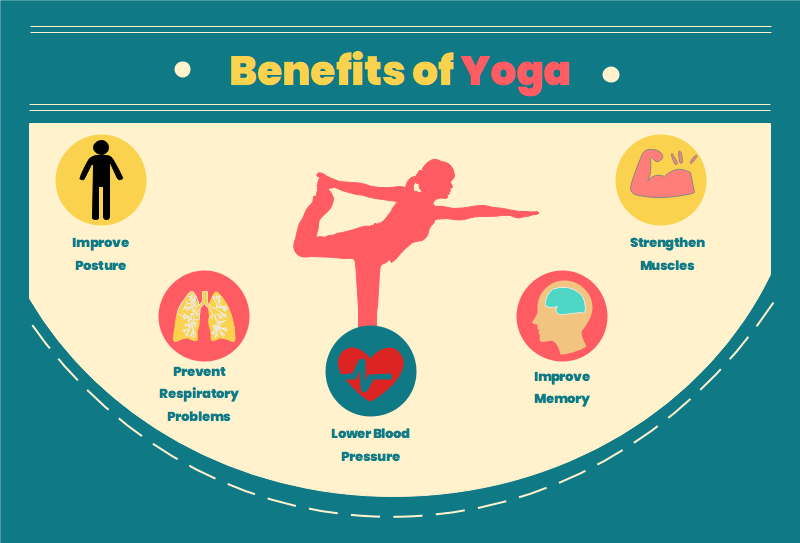 Example 4: Basketball Infographic
A basketball infographic is a sports infographic that shows a personality portfolio for a sportsman. This example shows the potential of an infographic as it covers the whole biography in one page that would have needed hundreds of words in the text. It covers medals, tournaments, financial worth, statistics, and other data.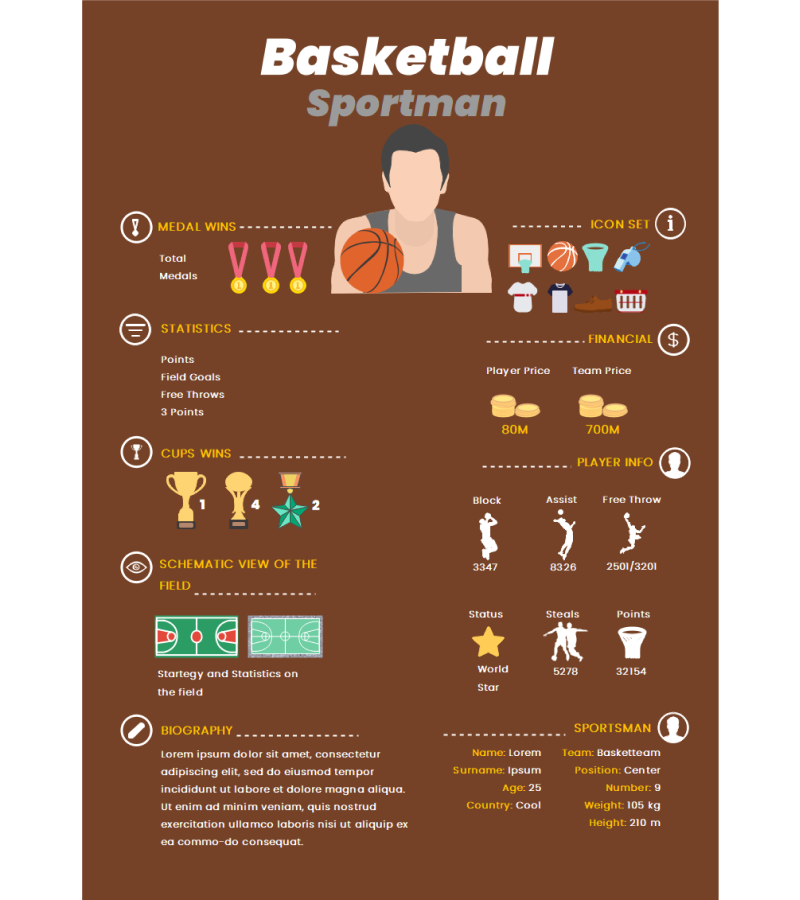 Example 5: History of Sports Infographic
This sports infographic provides a brief overview of the history of sports. Sport has been an important part of human civilization for centuries. This inforgaphic condenses this long history into just a few simple but effective sentences. The design is also attractive and the histories of some of the most popular sports are dealt with. Sports coaches should share this infographic with all their players so that they can have a little background to the activity that they are taking part in. Sports goods stores, sports stadiums and sports related social media pages should also share this infographic to spread awareness about the long heritage of sports in human history.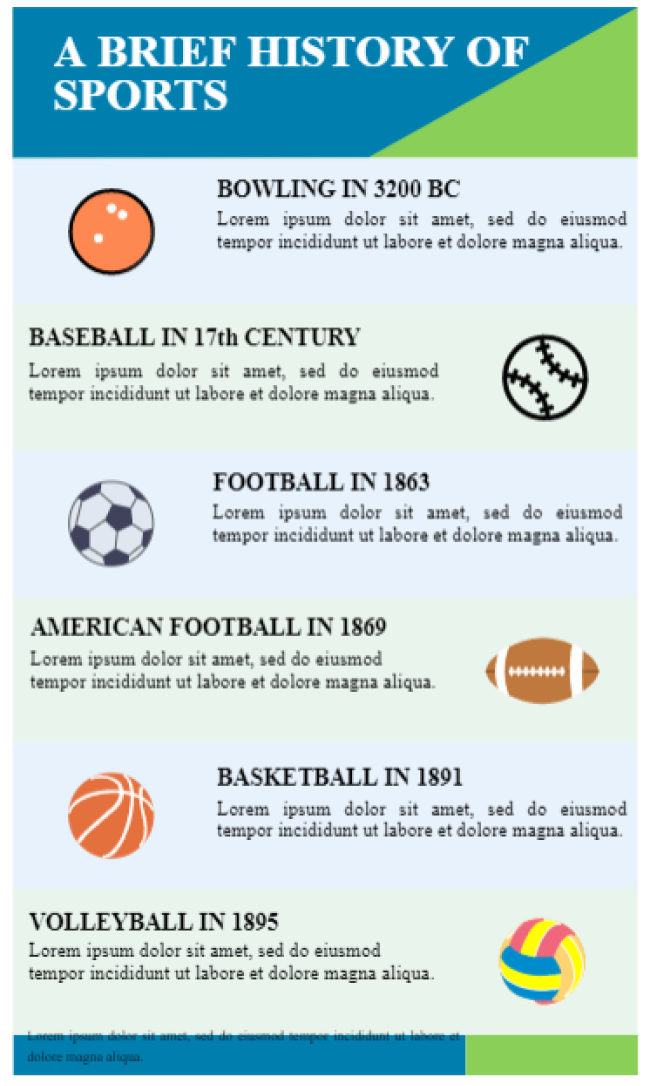 Example 6: Bicycle Infographic
The bicycle infographic shows the data about bicycle riding. The first part of the infographic shows the benefits of this sport with both icons and text both. The following part of the infographics shows you the power of graphs and charts for a visual representation of data. It also shows a world map with the largest bicycle riding population. A very good example of the great potential of infographics.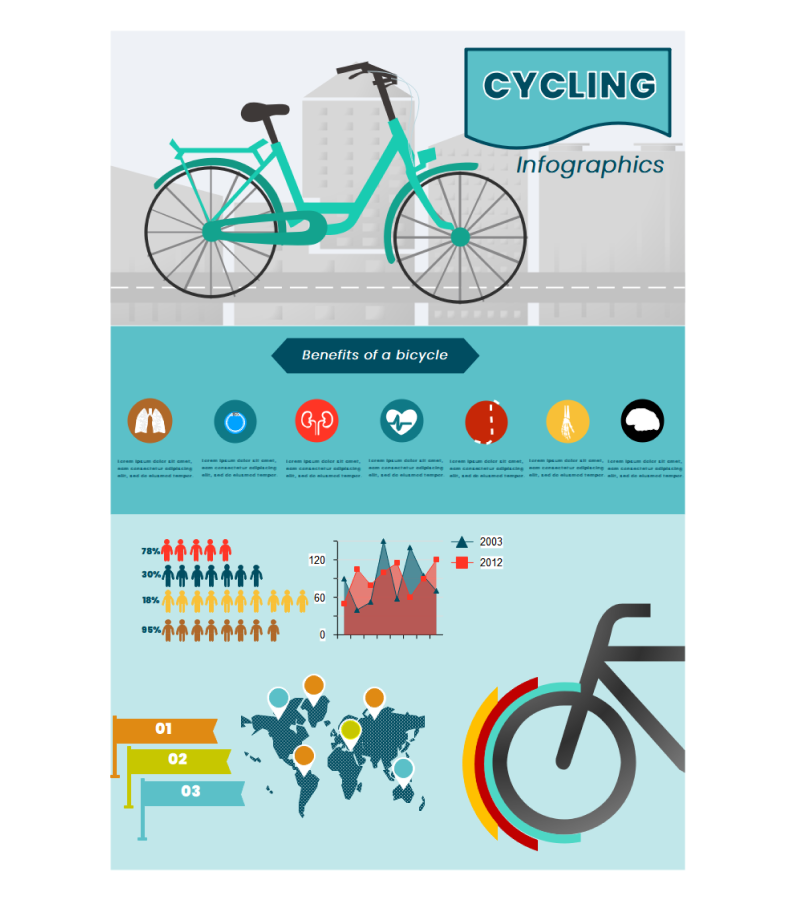 Example 7: Tennis Infographic
The tennis infographic is a customizable sports infographic template that shows tennis player images with five pointers and text. This template can be used for various purposes like showing the benefits of tennis, the top tennis players, the top records or training tips, etc. The use of bright colors on a blue background is a very attractive theme.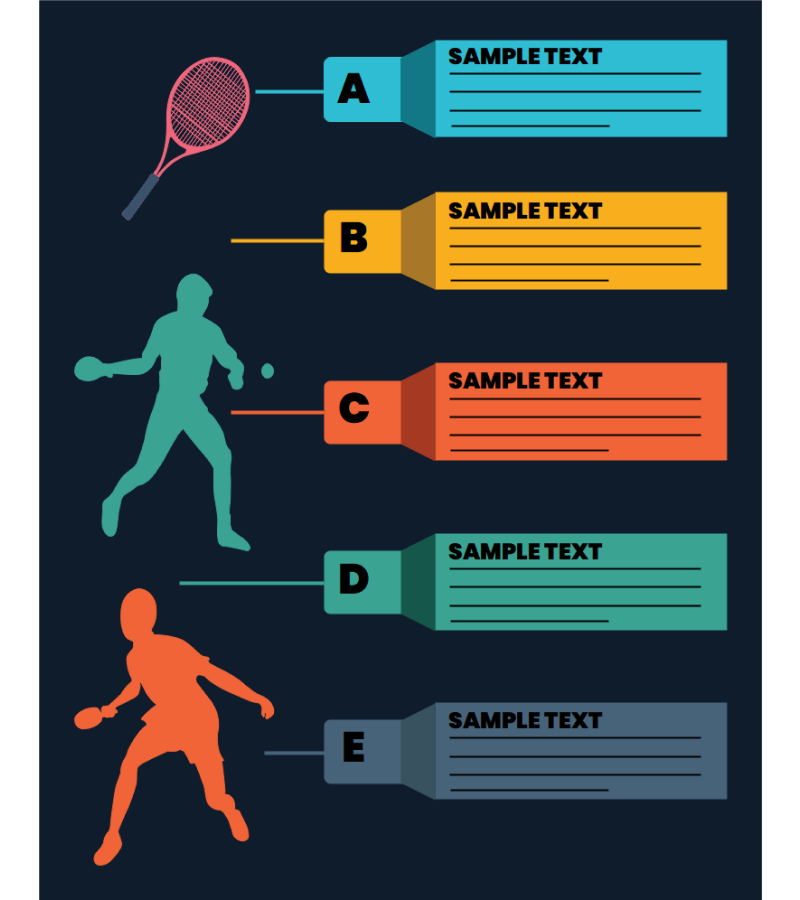 Example 8: Golf Infographic
Golf infographics is a great candidate for campaigning to make golf a more popular sport globally. It shows how relevant graphics make the infographic more acceptable and more effective. The use of golf shots for emphasizing the main points is an excellent idea. The template can raise awareness by busting the most common myths.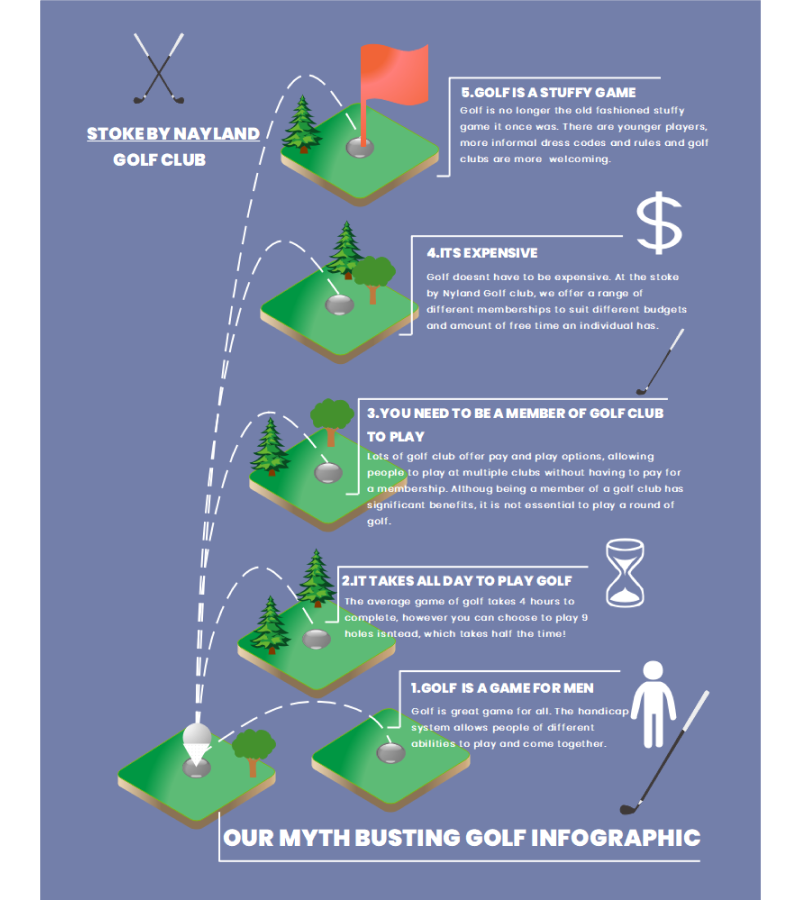 Example 9: Hiking Infographic
Hiking infographic shows the benefits of hiking as a sport and a hobby. It uses both images and text to improve the communication effectiveness of this template. Since the templates are fully customizable, you can also use the same layout for other sports. Also, you may want to add or remove the point for the same topic.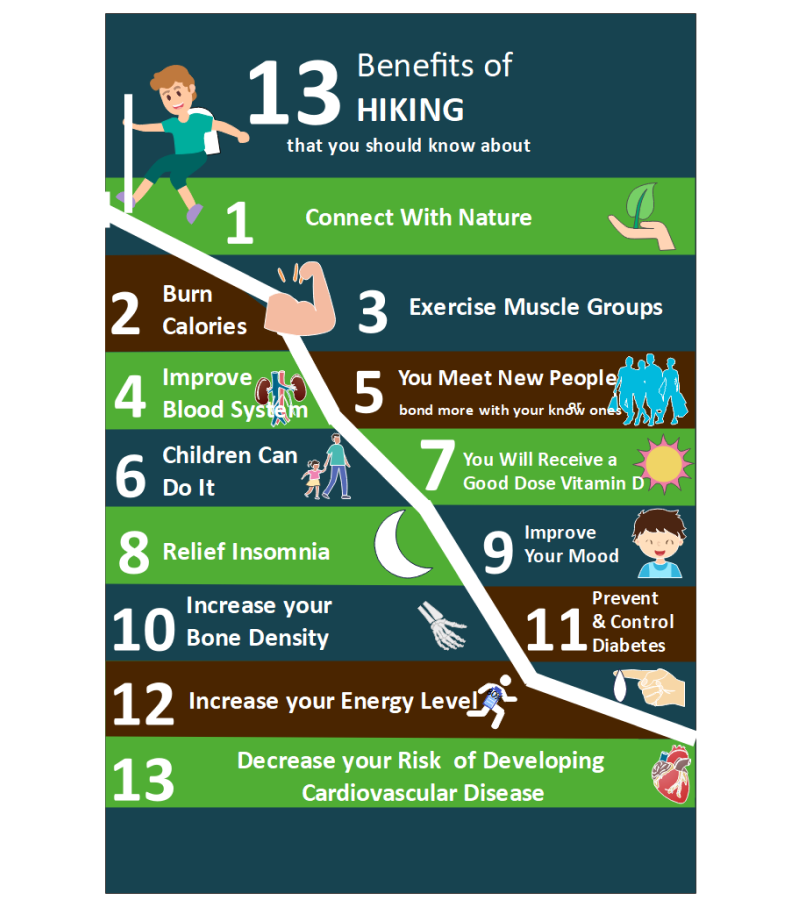 3. How to Design a Sports Infographic
Here are some steps to follow for a sports infographic.
Step 1 - Topic and Audience of your sports infographic:The first step for any infographic is identifying the main purpose and the main audience of your work. You can arrange brainstorming or idea generation sessions to answer these two critical questions. The infographic contents should be relevant to the needs and understanding level of the audience.
Step 2 - Identify data contents:After identifying the audience and goal, you have to figure out the details, including the data and information you will add to your sports infographic. When your infographic is text-based, you need information points and relevant images. When your infographic is data-based, you add charts and graphs for visual data representation.
Step 3 - Plan the infographic details: Your pre-requisites are done, so you are ready for the sports infographic design. You should identify the layout, placement of graphics and text elements, color theme, title, and footer of your infographic. Other important aspects are aspect ratio, the dimensions, file type, and the distribution method to optimize the infographic.
Step 4 - Pick a template and customize: EdrawMax is an excellent online infographic maker software to create stunning infographics with tools to format images, text, and layout. The fastest way to create infographics in EdrawMax is to exploit the potential of a well-stocked templates library available at https://www.edrawmax.com/templates/. These templates are fully customizable and free to use, so you can easily adjust these samples according to your requirements. Professional designers develop these templates; hence, they follow their best practices.
Step 5 - Download, export, share or embed your infographic: Once your sports infographic is ready, download your finished piece in EdrawMax format. Another possibility is exporting your work in multiple graphics or other formats like pdf, ppt, jpeg, gif, doc, or others for platform-independent access. These portable files help you distribute, present and print your sports infographic easily without any restriction. EdrawMax also has a share button for social media sharing and campaigning.
Watch this video to learn more. If the video doesn't play, please visit it at YouTube.
4. Online Infographic Maker
EdrawMax is an online infographic maker because infographics tend to get complicated and effort-intensive. It would be best to decide on the dimension, text and image ratios, color theme, and dimensions. EdrawMax allows you to use templates, layout wireframes, and easy-to-use toolkits for text, images, and layout editing. The software is very easy to use because of drag and drop features, and you can easily assemble an infographic within minutes using the symbols and clipart libraries.
EdrawMax Online
Create 280+ types of diagrams online
Access diagrams anywhere, anytime
Everything in desktop + Templates Community
Team management and collaboration
Personal Cloud and Dropbox Integration
5. Key Takeaways
Sports infographic is a very widely used type of infographic for various uses, and they can be used for promotions, campaigning, record displays, and so on. EdrawMax makes creating these infographics simple with easy drag and drop features and well-stocked libraries. It also makes infographic designing a matter of minutes with professionally designed templates. We have discussed some examples above, and you can find more infographic templates in Templates Community.
Related Articles