Red Bull SWOT Analysis
Red Bull has constantly been focusing on expanding its franchise and products across the globe. The SWOT Analysis of Red Bull by EdrawMax manifests the company's current major strengths and opportunities.
1. Lead-in
In this article, we are going to talk about Red Bull SWOT Analysis. Red Bull started their journey in Austria, and within three decades, they have successfully penetrated most of the major markets. They export drinks worldwide and as the sponsor of some major sports teams or athletes. The Red Bull SWOT analysis can show the conditions like strengths and weaknesses that have worked on the brand's success.
Red Bull's SWOT analysis also determines the potential of Red Bull, its growth opportunities, and threats. In this elaborate guide, we will help you understand the importance of SWOT analysis and how you can build one using the free templates and components offered by EdrawMax Online.
2. About Red Bull
2.1 Introduction of Red Bull
Red Bull is one of the leading energy drinks with a robust presence in major markets like Europe, the UK, the USA, and Asia. Dietrich Mateschitz founded Red Bull as an inspiration from the drinks of East Asia. However, their innovative ideas and unique marketing strategies helped the brand receive success in a short period. Homed in Austria, the company exports its beverages all over the world.
Besides beverages, Red Bull is a known name in the sports world for its association with games for a long time. They have a racing team and sponsor teams and events as a part of the campaigns. The SWOT analysis of Red Bull can hint at the strengths, weaknesses, opportunities, and threats that impacted their journey. It is significant to know the basic company details For an accurate Red Bull SWOT analysis.
2.2 Overview of Red Bull
| | |
| --- | --- |
| Name | Red Bull GmbH |
| Founded | 1 April 1987 |
| Industries served | Energy Drink, Sports, Automobile Services |
| Geographic Area Served | Worldwide |
| Headquarters | Salzburg, Austria |
| Current CEO | Dietrich Mateschitz |
| Annual Revenue (US$) | 6.6 billion (2020) |
| Profit (US$) | 971 million (2020) |
| Employees | 12,736 (2019) |
| Main competitors | Coca-Cola, Kraft Heinz, Monster Beverage, Pepsico. |
2.3 History of Red Bull
| | |
| --- | --- |
| 1987 | Red Bull released in the market |
| 1994 | They signed with two international athlete partners |
| 1995-1997 | Penetrates UK and US markets |
| 2001 | Red Bull's billionth can is sold |
| 2003 | Red Bull Sugarfree is introduced |
| 2005 | Their Formula One Team debut |
| 2007 | Red Bull Records start its journey |
| 2012 | The Red Bull stunt team completed the Stratos Jump |
| 2015 | They capture the 43% market share for energy drinks |
| 2018 | A new line of organic sodas is launched |
| 2019 | The brand experiences a surge in sales with a record selling of 7.5 billion cans |
3. SWOT Analysis of Red Bull
Strengths
Powerful branding: For the success of any brand, they need to have a strong image. Red Bull energy drink has garnered the attention of the youth with its remarkable icon of youth branding. They constantly worked on creating their brand image, which will separate them from other non-alcoholic beverages. Their logo and tagline "Gives You Wings" is widely recognized. Its innovative strategies have led them to be a brand with a valuation of $9.9 billion. Moreover, they have gained 71st rank on the 2019 list of the most valuable brands.
Marketing strategies: Though Red Bull is a beverage; its marketing strategy is not similar to that of Pepsi and Coca-Cola. Red Bull has successfully established itself as the first of its kind. As an energy drink, it has marketed drinks associating them with Sports. They have used social media to reach the youth who are their target audience. Their innovative marketing strategies have helped them gain a large number of people in a short time. Red Bull Racing is the third-best Formula One Team, and the company also supports various teams and sports people.
Global Presence: Red Bull started its business in Austria, but the company did not limit its progress within the geographical boundaries of Europe. Instead, they successfully penetrated markets like Asia, Africa, America, and Australia. It has led them to have a global presence with a customer base worldwide. It has increased their brand recognition, and at the same time, they have less vulnerability to the economic conditions of a country. It will be helpful for their long-term growth.
Efficient Supply Chain: Red Bull imports their beverages worldwide, and to meet the customers' demand, they need to have a smooth supply chain of efficient suppliers and distributors. It has helped them decrease the wastage of raw materials and send sufficient quantities to the stores as stock.
Weaknesses
Unhealthy: Red Bull is an energy drink. Hence, the main ingredients are carbonated water, caffeine, and sugar. Therefore, excessive consumption can cause kidney damage or diabetes. Thus, the primary target audience of the company, Gen Z, tends to avoid sugary food and beverages. It is a significant drawback of the company. Though the brand has brought other less sugary alternatives like Red Bull Zero or Sugar-Free Red Bull, they have the same sweet taste without much change in flavor.
Limited Variety: If a brand has multiple products, it becomes easy for them to grow and increase its sales figure. But Red Bull has a limited number of products, and it may fail to stand against other alternatives like iced tea, Sparkling water, fruit drinks, and flavored sweet beverages. Red Bull only sells energy drinks, with sugar and without sugar. It is one of their biggest weaknesses.
Costly: Though the company uses innovative marketing strategies, its customer base is limited. Red Bull products are expensive. Thus, it does not have many low- and middle-income group customers. Moreover, economic conditions can influence people's buying habits, and many customers may prefer to stop spending on costly beverages. They may lose customers to other similar products available at a cheaper rate.
Patent Issue: Red Bull does not have a patent for the product they sell. Other companies can have a similar formula to make a beverage with a bit of change in flavor. Red Bull will not be able to defend itself against it, and at the same time, its business may get affected.
Opportunities
Find Healthy Alternatives: As more people are ready to consume healthy food and drinks, Red Bull can use the opportunity to increase its customers by adding healthy beverages with less sugar and caffeine. As a global brand, they have the resources to invest in R&D to develop new beverage flavors that will bring them more customers.
Increase Variety: Red Bull beverages are limited in variety; they have a surgery energy drink and a sugar-free one. The company needs to increase its diversity and flavors to address the preference of more customers. They may include other items besides their signature energy drinks, including healthy alternatives. Though they have introduced a separate line of organic soda, they must work on the healthy beverages to be released under the core company.
Automation for cost-cutting: Since Red Bull is pricier than others of its kind, many customers feel reluctant to buy Red Bull and choose other less costly alternatives. Thus, the company must consider decreasing the price or bringing in a new range of products at a low price. To reduce the cost of their existing products while maintaining a good profit margin, they can work on using automation processes. It will decrease the cost, and the raw material wastage will also reduce.
Association with sports: Getting a patent for the energy drink is challenging. Therefore, the brand can suffer. Red Bull can work on their brand recognition, which will help them to have more people identify them by its brand name. As Red Bull has a deep association with sports and expertise of years as a sponsor, they can use it as a tool to build their brand recognition.
Threats
High competition: Though Red Bull started as the first of its kind, currently, there are multiple competitors of the brand. There are monster and other sugary drinks that have unique flavors. Besides that, many local brands are coming up with similar drinks to Red Bull at a lesser price. These brands may eventually take away some of Red Bull's customers, which is a threat to the business of Red Bull.
Global Economy: Any business will get impacted by global economic conditions. The costs of the raw materials are increasing with labor wages. It may decrease the profit margin of the company. If there is unemployment in the economy, that can affect people's buying habits. They may consider spending money only on necessity, and thus, the business of Red Bull may suffer.
Health Policy of countries: The increasing rate of lifestyle diseases has led the governments of many countries to consider their health policy. Many countries have strict regulations regarding food quality. Red Bull has high sugar levels and high caffeine and can be hazardous to people's health. Moreover, there are chances of the company's business getting banned in some countries with strict health policies.
Global Pandemic: Red Bull mainly does the campaign of their products by sponsoring sports events and teams. Due to the pandemic, the sports events were halted, which took away the chances of promotion from Red Bull.
Red Bull SWOT Analysis Diagram
As you saw here, SWOT analysis is an integral part of any organization's progress as it not only depicts the strengths and weaknesses in detail but also introduces the opportunities and threats it faces. In order to retain the information for a long time, students and professionals are advised to work on a Red Bull SWOT analysis diagram using the astounding customization options offered by EdrawMax.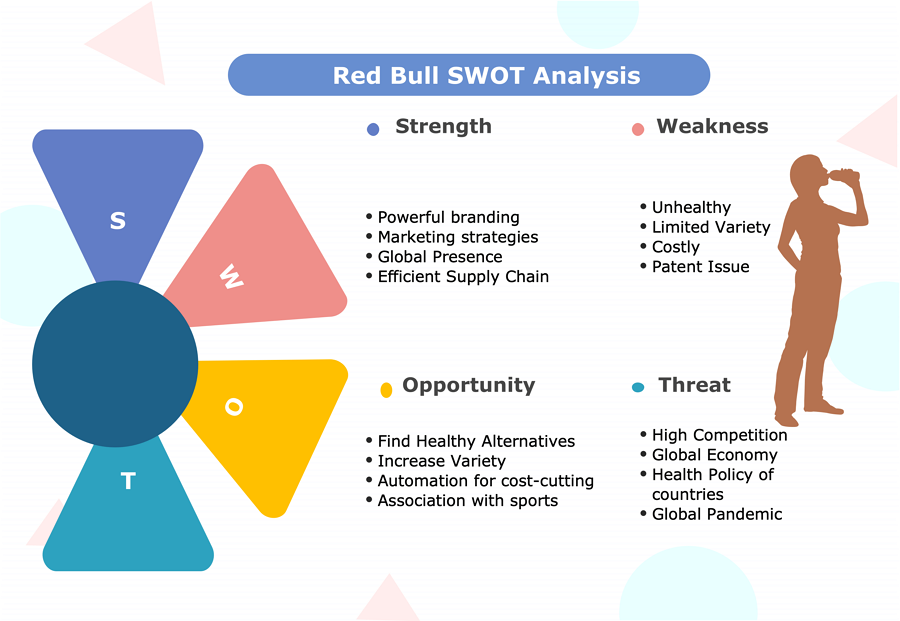 4. Free SWOT Analysis Diagram Creator
With EdrawMax, you can create similar SWOT analysis diagrams without worrying about technicalities. The tool offers a wide range of customization options that helps in creating complex diagrams. Check out some of the most amazing features of this SWOT analysis creators:
With EdrawMax's template community, you can easily create a SWOT analysis, PESTEL analysis, Venn Diagram, and more in one canvas.
This free SWOT analysis diagram creator is designed by professional experts. So when you work on the design and customization parts, you do not have to worry about accuracy.
EdrawMax has an online version allowing you to access your files from anywhere.
Unlike other tools that take up much space on your system, this free SWOT analysis diagram creator is very user-friendly for your system.
The amazing feature or element of using EdrawMax is that it is free to use.
With this free SWOT analysis diagram creator, you can export the file in multiple formats depending upon your requirement.
EdrawMax Online
Create 280+ types of diagrams online
Access diagrams anywhere, anytime
Everything in desktop + Templates Community
Team management and collaboration
Personal Cloud and Dropbox Integration
5. Key Takeaways
Red Bull SWOT Analysis is done in detail in this article. Red Bull is an internationally recognized brand and has customers across the globe. Their innovative marketing strategies have created a strong brand reputation. However, high price and lack of variety can hamper their business, considering many new players are entering the market. Many of them are offering similar beverages at a cheaper rate. The company needs to make a strategy to compete with other leading brands. They can bring in more customers by releasing healthier drinks which are presently high in demand.
EdrawMax Online is the best diagramming tool in 2022 for beginners and professionals alike. The tool not only offers free components but also provides access to some of the amazing content guides that ensure you correctly draw all the complicated diagrams. From free templates to components, EdrawMax offers a wide range of options that ease your efforts in making great SWOT analysis diagrams. Download EdrawMax today and create some amazing SWOT analysis diagrams for your organization or company.
Reference
Healthline. 2022. What Are the Side Effects of Drinking Red Bull?., [online]. Available at: https://www.healthline.com/nutrition/red-bull-side-effects (Accessed 9 September 2022).

IIDE. 2022. Complete SWOT Analysis of Red Bull - 2022 Update | IIDE., [online]. Available at: https://iide.co/case-studies/swot-analysis-of-red-bull/ (Accessed 5 September 2022).
Related Articles