Sephora SWOT Analysis
This Sephora SWOT analysis 2022 by EdrawMax underlines the company's strengths and weaknesses and suggests probable external opportunities and threats.
1. Lead-in
SWOT analysis is the management practice used to evaluate the performance of an organization based on its internal and external factors. The internal factors are the areas of its strengths and weaknesses, and the external factors refer to the opportunities and threats the firm may encounter. SWOT analysis Sephora is a powerful management tool that will help understand the operations and will help the management in making future strategic decisions. SWOT expands into strengths, weaknesses, opportunities, and threats.
In this article, we will discuss the Sephora SWOT analysis, which will give a detailed study of the various aspects of the business. SWOT analysis of Sephora is the mode to gain knowledge about a large brand like Sephora and enable it to grow further. Sephora is one of the largest brands in the retail and lifestyle sector. Learning about its various aspects of functioning through a dominant management framework like SWOT analysis for Sephora will aid in discovering the positive and negative factors influencing its growth. In this article, you will learn how effective it is to create and share SWOT analysis diagrams using the in-built features of EdrawMax Online.
2. About Sephora
2.1 Introduction of Sephora
Sephora is a world-renowned multinational beauty brand that originated in Paris, France. Headquartered in its origin, Sephora has a broad reach of over 180 countries, with its presence in the most highly regarded cities of the world. Controlled by LVMH Moët Hennessy Louis Vuitton, Sephora ensures that its stores are always well-stocked and provide an unparalleled user experience.
The article deals with Sephora's SWOT analysis and how Sephora's marketing strategy is appreciable, given its wide success over the planet. It gives tough competition to Sephora competitors with its high-end product and services maintained since its existence. It has a long history which dates to 1970 and since then is known to have carved out a path of success. So, before getting into the analysis, it is essential to gather further information about the company and its history.
2.2 Overview of Sephora
| | |
| --- | --- |
| Name | LVMH Moët Hennessy Louis Vuitton |
| Founded | 1970 |
| Industries served | Retail and lifestyle |
| Geographic Area Served | Worldwide |
| Headquarters | Paris, France |
| Founder | Dominique Mandonnaud |
| Revenue (USD) | US$ 10 billion, as of 2021 |
| Significant people | Jean-André Rougeot, CEO |
| Employees | 28,540, as of 2021 |
| Products | Cosmetics, Skincare, Haircare Body Care, Fragrance, Nail color, Body lotions, Beauty tools, and other beauty products. |
| Main competitors | MAC Cosmetics, The Body Shop, Urban Decay Cosmetics, Maybelline, Nordstrom, L'Occitane Ulta Beauty, Estee Lauder, Macy's, Christian Dior, and others. |
2.3 History of Sephora
| | |
| --- | --- |
| 1970 | Sephora was launched in Paris. |
| 1977 | Flagship store Champs Elysees was established, and Sephora was sold to LVMH. |
| 1998 | First United States store was opened in New York City. |
| 2004 | First Canadian store was opened in Toronto. |
| 2007 | Operations extended to the Middle Eastern market. |
| 2014 | Calvin McDonald was replaced by David Suliteanu as the president and CEO of Sephora Americas, the first Australian store that was opened. |
| 2016 | Opened store in its 400th location in Chicago, which is also the new flagship location. |
| 2017 | Opened the largest store of the brand in New York City. |
| 2018 | Signed a long-term lease at Town Square Metepec, which is the new retailing and entertainment store in Mexico. |
3. SWOT Analysis of Sephora
SWOT stands for strengths, weaknesses, opportunities, and threats. Thus, Sephora's SWOT analysis will consider these four things. Below are the external and internal factors contributing to the company's advancements.
Strengths
Cohesive brand image: Sephora maintains a cohesive brand image throughout traditional, social, and online media. They ensure that the brand image is highly impactful and thus are known for excellent marketing strategy.
Sublime sensory experience: The stores cater to a splendid sensory experience for customers. The decorations, the music, the professional staff, and the ability to try makeup with the certified staff's help – everything about the store is just a treat for the senses.
High customer engagement: Store designs allow customers easy access to makeup. The stores provide fragrance testers, color identifiers, a handheld gadget to identify the preferred colors or facilities that help the customers to determine their appearance. All these make the Sephora store highly engaging for customers.
Wide variety of products: SWOT analysis of Sephora shows that one of its primary strengths includes its broad product range. Private labels sold under the dominant brands like Mac, Estee Lauder, Kelvin Klein, and others.
Interactive website: Sephora offers the best digital experience. The interactive websites of the brand are easy to navigate, offer variations, and host a Beauty Talk section where the customers can interact with one another and consult with makeup experts.
Weaknesses
High prices: Sephora primarily serves premium products and is thus highly priced compared to other brands. So, the products are not affordable to all masses. It could be a significant drawback limiting the generation of revenue.
Channel dilution: Sephora is an enormous player in the beauty industry. Its parent company is an exclusive retailer of several cosmetics and beauty products which has affected the sales of the private beauty label Sephora. His has affected the brand image and has diluted the parent company.
Untouched Asian market : Sephora has exclusive channels. Thus, market penetration in Asian countries has been low. Emerging economies like China and India hold a promising ground for brands like Sephora. Also, due to other brands promoted by Sephora, it becomes a tough competition for itself.
Massive investment in the user experience: The beauty brand spends a massive amount on creating a premium user experience. It tries to incorporate this into all its channels, distracting it from original selling products. Often customers use it without actually buying any products.
Opportunities
Growth in the cosmetics sector: The cosmetic business is rapidly growing due to the potentiality of the beauty market. Today, the female population is growing more and more beauty conscious. Thus, creating an opportunity for beauty brands like Sephora to expand their business and gain a sustainable position in the market.
Inclusivity: As an employer, Sephora endorses inclusivity. It entertains employees irrespective of their race, religion, color, gender, ancestry, sexual orientation, or any other category that provokes segregation between employees. It will create a reputed brand image for Sephora, which they can use for further growth.
Exploring the Men's Market: Sephora is indeed well-known for the female cosmetic products they provide their customers. However, recently, they have excelled in the men's care segment, which is rapidly growing. Hence, the brand can use it as an opportunity to explore the men's market and gain profit from it.
Entering New Markets: Consumers in emerging economies are always ready to spend more for the value of their products. Thus, Sephora could use it as an opportunity to enter these emerging economies.
Threats
High competition: Big players in the market give tough competition to Sephora. Brands like Estee Lauder, Calvin Klein, MAC, Versace, Ales Group, Clarins, and Parfuma Lubin are the biggest competitors for Sephora.
Inflation in raw materials: Steep price hike in raw materials has resulted in high inflation in the prices of the products. SWOT analysis by Sephora shows that a price rise has massive chances of lowering sales and thus is a plausible threat.
Fake Rules: Every market has a duplicate of the original brand products selling the replica of that specific brand at a lesser price. Many consumers often choose those over the original to save money, thus, creating threats to the original brand.
Past Lawsuits: Sephora went through several lawsuits two to three years ago that negatively affected its brand image. Thus, such lawsuits in the future can pose severe credibility issues among customers against this particular brand.
Sephora SWOT Analysis Diagram
As you have seen here, the organization's SWOT analysis helps us understand its multiple opportunities and threats and how it can utilize its strengths and overcome its weaknesses. To understand the SWOT analysis, we will create a Sephora SWOT analysis diagram using the free templates and components offered by EdrawMax.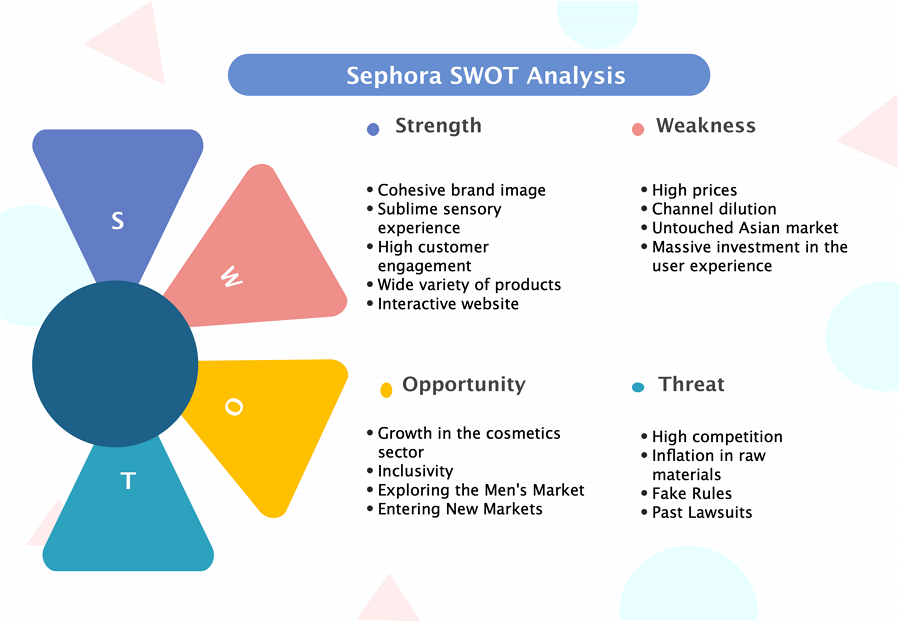 4. Free SWOT Analysis Diagram Creator
As you saw in this extensive guide, you can create some wonderful SWOT analysis diagrams using EdrawMax. This 2D SWOT analysis maker comes with free templates, SSL certification, the highest level of encryption, and more. Some of the most prominent features of this free SWOT analysis creators are:
With EdrawMax's template community, you can easily create a SWOT analysis, PESTEL analysis, Venn Diagram, and more in one canvas.
This free SWOT analysis diagram creator is designed by professional experts. So when you work on the design and customization parts, you do not have to worry about accuracy.
EdrawMax has an online version allowing you to access your files from anywhere.
Unlike other tools that take up much space on your system, this free SWOT analysis diagram creator is very user-friendly for your system.
The amazing feature or element of using EdrawMax is that it is free to use.
With this free SWOT analysis diagram creator, you can export the file in multiple formats depending upon your requirement.
EdrawMax Online
Create 280+ types of diagrams online
Access diagrams anywhere, anytime
Everything in desktop + Templates Community
Team management and collaboration
Personal Cloud and Dropbox Integration
5. Key Takeaways
Thus, Sephora's SWOT analysis gives know-how on the various business aspects that affected the firm's operations. After that, it introduces the beauty brand Sephora, an overview of the company, its history, and a detailed SWOT analysis of Sephora. The readers have an insight into the internal and external factors influencing the company through SWOT analysis for Sephora. It will help the management to make sound future strategic decisions, ensuring sustainable growth and development of the organization.
If you are a beginner who is not that versed with diagramming, you will find EdrawMax Online to be your savior. This diagramming tool lets you create over 280 diagrams, 3x times more than what MS Visio offers.
Reference
Bhasin, H., 2022. SWOT analysis of Sephora.Marketing91. [online]. Available at: https://www.marketing91.com/swot-analysis-of-sephora/ (Accessed 4 September 2022).

IIDE. 2022. Detailed SWOT Analysis of Sephora - 2022 Edition | IIDE., [online]. Available at: https://iide.co/case-studies/swot-analysis-of-sephora/ (Accessed 4 September 2022).
Related Articles