Free Editable Shark Infographic Examples
Infographics are graphic visual representations of data, knowledge, or information that are meant to deliver information quickly and clearly. Learn how to make a shark infographic with these editable shark infographic templates.
1. What is a shark infographic?
Shark infographics are a collection of text and visuals that describe different topics weaved around the habitat, relationships, ecosystem, and others about sharks. These infographics serve many purposes. For example, teachers use them in schools to brief students about sharks, their types, different body systems, and the threats to their existence. In comparison, the wildlife institutes use them to portray efforts for their well-being.
2. The shark infographic examples
In the following section, we will study some shark infographic examples to see the potential of shark infographics in different situations. According to the situation, the ratio of the text-to-visual is assigned so that the information is conducted to the targeted audience better.
Example 1: Shark Infographic
Shark infographic uses the metaphors of sharks and shrimps to show the role of different types of employees in a company. It shows that the ratio of shark vs. shrimp is 25 to 75. As you can see, it is a very clearly described infographic as it shows the definition of shark and shrimp workers. So, the sharks are always moving and are the predominant predators in a company. While the shrimps are more in number and they carry out small roles.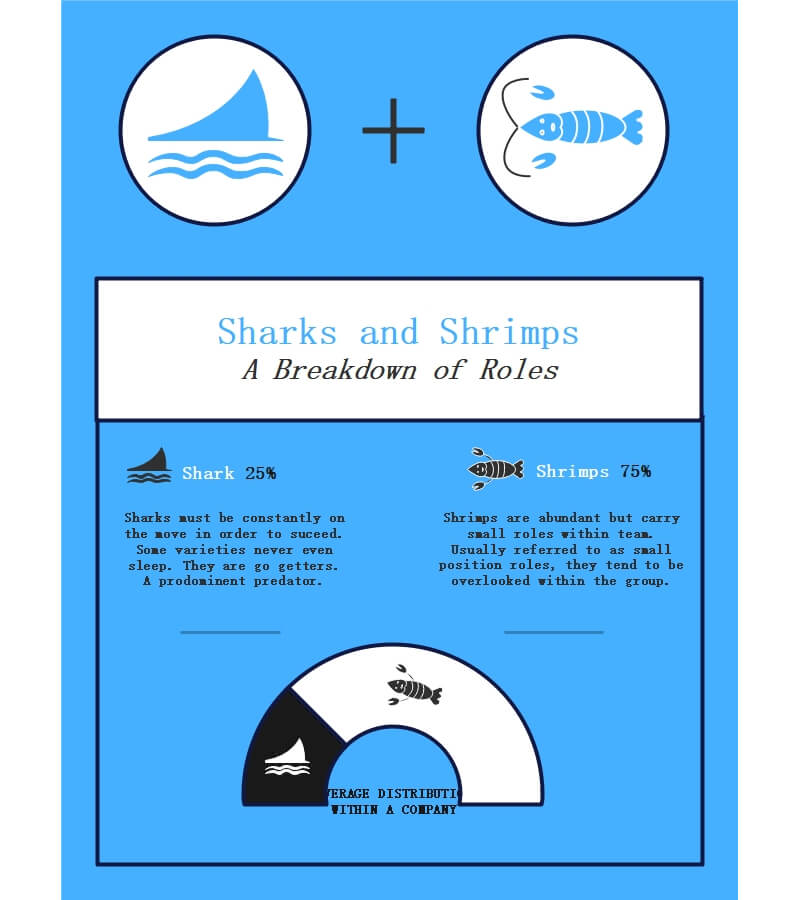 Example 2: Shark Attack Infographic
A shark attack infographic is an example that shows the fatality numbers in shark attacks from 1580 to 2009. As the world is getting more aware of the shark attacks in the oceans and people are exploring marine life, shark attacks are also becoming a hot topic. This infographic has a data-driven approach as it shows the attack vs. fatalities in different geographical locations and then the overall statistics.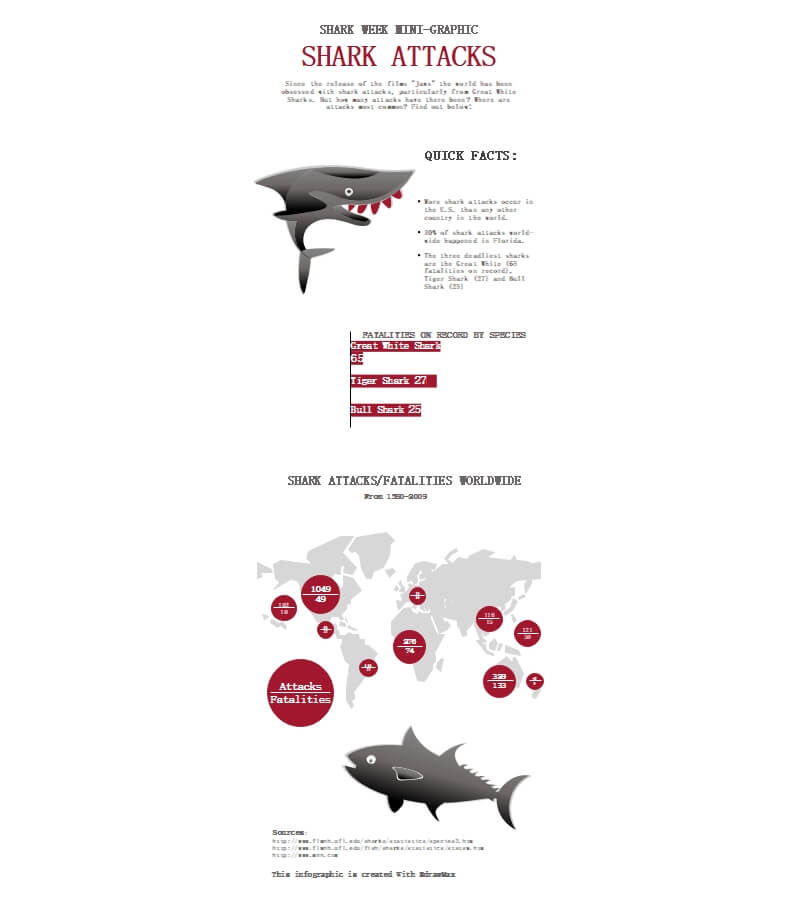 Example 3: Shark Tale Infographic
The shark tail infographic is predominantly image-based, and it shows the evolution of shark tails with pictures. The evolution theory is based on the belief that different species change their physical features to adjust to their circumstances. The shark infographic in this example shows the gradual change in the tails. We can conclude that a wider tail shape probably performs better in water currents.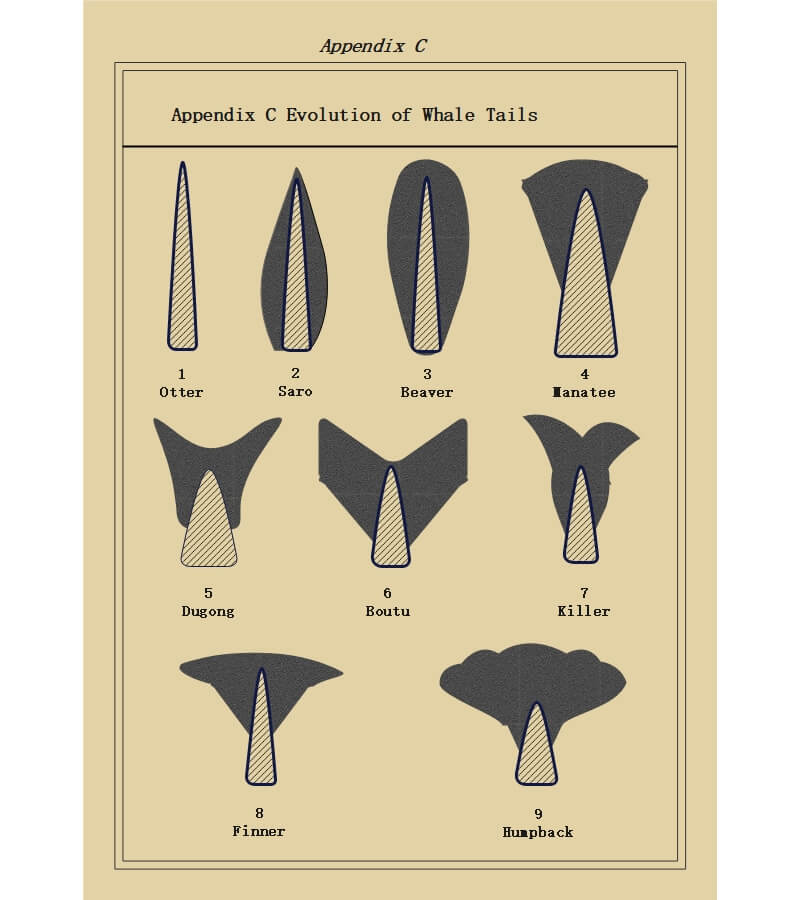 Example 4: Great White Shark Infographic
Great white shark infographic is a shark infographic template focused on the white shark facts. It shows images with very prominent fact texts describing the lifespan, teeth, eye color, and food. Since it uses large sizes of images and text, it is very suitable for charts, banners, and displays where your audience might be viewing your shark infographic from a distance.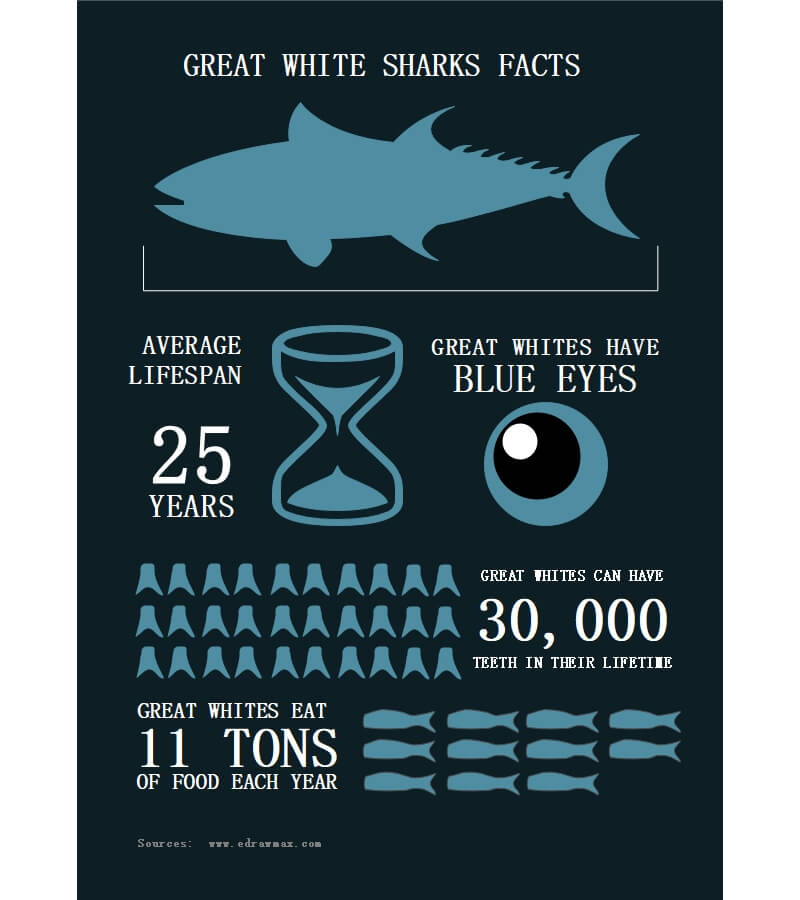 Example 5: Facts About Shark Infographic
The shark infographic is a detailed fact-based template focusing on text than images. The main theme is the fast decline in the population, which is supported by some solid facts. It starts with details about different species of sharks and then proceeds on their killings, reproduction rate, and decline in population because of fin trade. The end of this shark infographic example compares the harm caused to human life by various animals.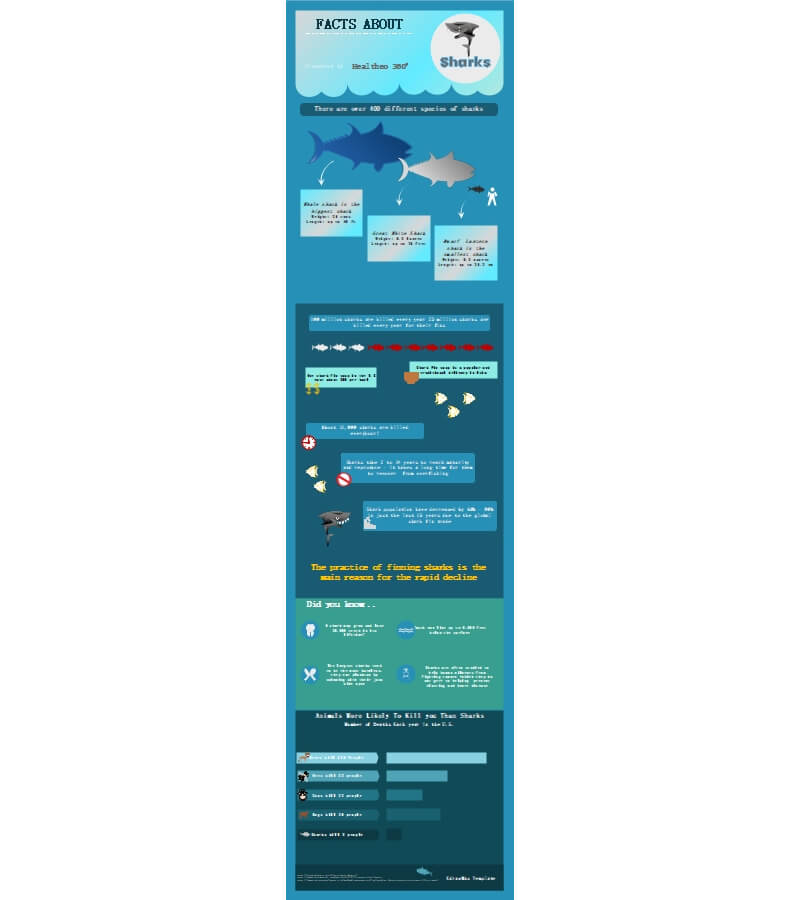 Example 6: Protect Shark Infographic
Protect shark infographic is a very interesting infographic example. It only shows a few words but delivers the message loud and strong. The ratio of text to image is fantastic, and the basic theme of colors ensures that the audience's attention remains focused on the main message of protecting sharks.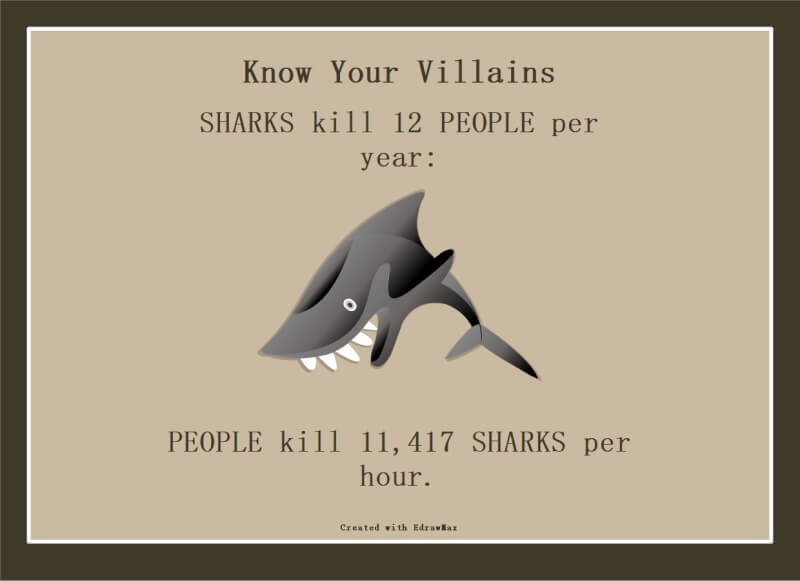 Example 7: Love Shark Infographic
Marine life color theme helps this love shark infographic example capture the audience's attention immediately and for a long span. This is a very simple infographic with minimal text, graphics, and color usage that focuses on the message. As the shark population is endangered and can affect the marine life ecosystem, it is important to make efforts for their life and living conditions.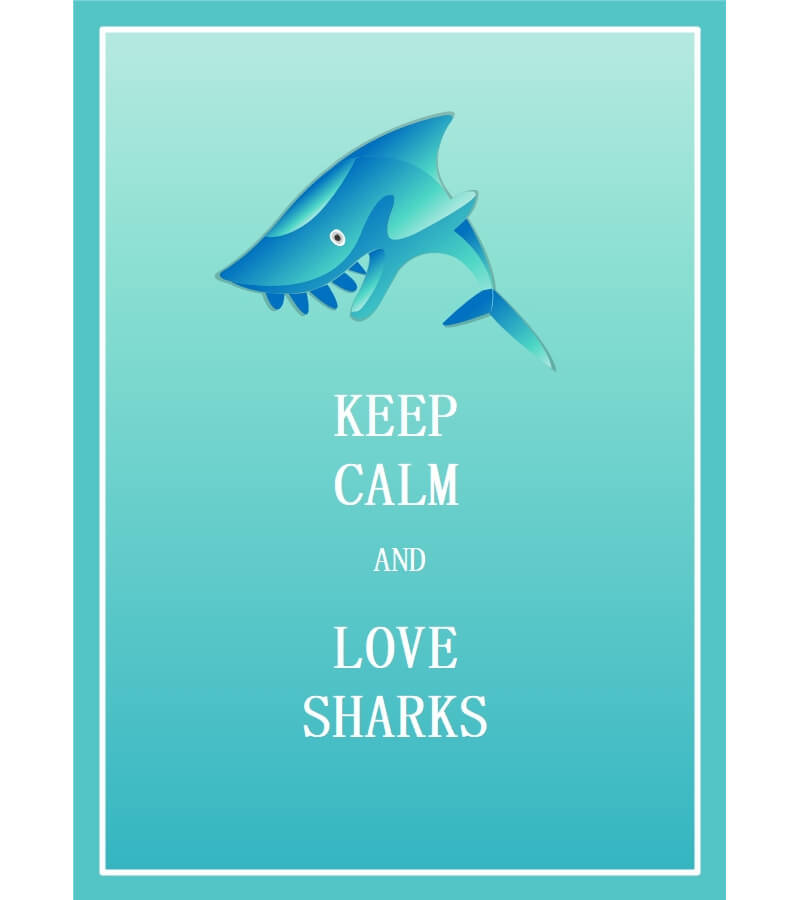 Example 8: Shark Slogan Infographic
Simple, clear, and loud, this shark slogan infographic example is a barebone, no-frills approach to communicating an important message to the audience and emphasizing its critical nature and seriousness. You're more likely to get injured riding a bike than being bitten by a shark.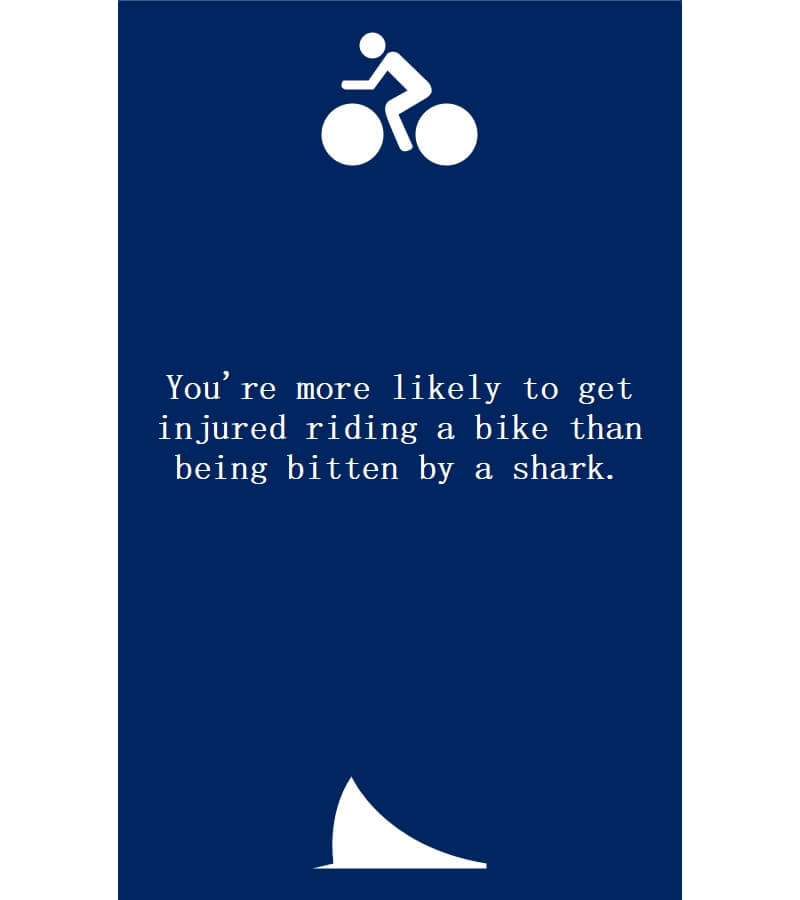 Example 9: Tiger Shark Infographic
Tiger sharks play an important role in the marine life ecosystem. Unfortunately, the malpractices of humans and garbage disposal in the sea are making their lives difficult and their population fairly lower than before. This tiger shark infographic example analyzes this situation and communicates the effects of human malpractices to help them survive. It uses a minimal color scheme but a good combination of text and images to help the impact of the message among the audience.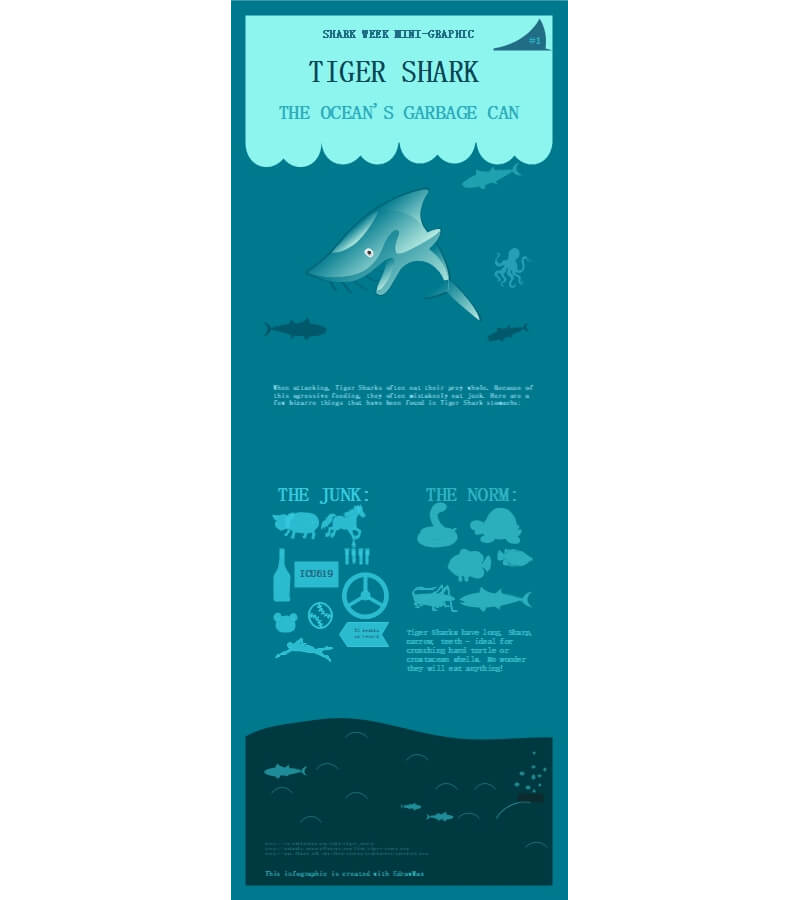 3. How to Design a Shark Infographic
Step 1: Who and What is your infographic for?
It is important to answer these questions before building your infographic. A well-planned process before development saves time and effort, and you need less rework and corrections. This is a great opportunity to involve your team and brainstorm on the audience and the goal of your shark infographic. Finding out your target audience is critical because it affects the text to visual ratio, the details, and the layout of your work. For instance, in our shark infographic example, we may decide that the audience is children in school, and the main goal is saving shark lives.
Step 2: Organize your data
After you have figured out the audience and goal, you need to know what details you will add to your infographic, including the data and information. You may need more details for scientific presentations and business work like charts, graphs, and data. While for others, a simple and short message with some images may suffice.
Step 3: Plan the infographic details
The next step is to decide the layout, placement of graphics and text elements, color theme, title, and footer of your infographic. Also, decide the aspect ratio, the dimensions, file type, and the distribution method to optimize your work accordingly.
Step 4: Get inspired by a premade template
EdrawMax infographic maker is a comprehensive software with various toolkits for image, text, and layout modification. You can start your infographic development from scratch. However, the software has awesome shark infographic templates for free download and customization. You can use these infographic templates with your data to design an excellent piece of work. Professional designers develop these templates; hence, they follow their best practices. Pick a template and put in your data, make necessary changes, and you are good to go.
Step 5: Download, export, share or embed your infographic
Download your finished piece in eddx format, or you may want to export your work in multiple graphics or other formats like pdf, ppt, jpeg, gif, doc, or others for platform-independent access. EdrawMax also has a share button for social media sharing and campaigning.
Watch this video to learn more about how to create an infographic. If the video doesn't play, please visit it at YouTube.
4. Online Infographic maker
EdrawMax is an online infographic maker and is an excellent tool for creating infographics because infographics can easily get complicated and effort-intensive. Creating infographics in a simple picture or word processing tool takes time. However, EdrawMax allows you to use templates, layout wireframes, and functional toolkits for text, images, and layout editing. The layout is very simple with drag and drops features, and you can easily assemble an infographic within minutes using the symbols and clipart libraries.
EdrawMax Online
Create 280+ types of diagrams online
Access diagrams anywhere, anytime
Everything in desktop + Templates Community
Team management and collaboration
Personal Cloud and Dropbox Integration
5. Key Takeaways
Sharks are an endangered species, and we need to support them to save their lives. Shark infographics are a great way to involve people and raise awareness among the audience from every walk of life. We hope the shark infographics examples and templates we discussed here will help you play your role in this campaign. Also, explore more shark infographics templates in the EdrawMax library to save your time. Find more infographic templates.
Related Articles