Free Editable SIPOC Diagram Examples
The SIPOC diagram stands for suppliers, inputs, process, outputs, customers and is pronounced as sigh-pock. A SIPOC diagram is a visual tool for describing a business process from the start to the end. However, this is an analysis level or initial level diagram created before the implementation phase starts. A SIPOC diagram template is also called a high-level process map because it does not have in-depth details.
1. What is a SIPOC Diagram
A SIPOC diagram is a tool that helps the team to identify all relevant elements involved in a process even before the implementation phase kicks in. It allows converting a complex project into a simple document and is typically used in the Measure phase of the Six Sigma DMAIC methodology.
SIPOC stands for:
Suppliers: They supply the inputs to complete the process.
Inputs: It includes materials, equipment, information, forms etc.
Process: It is the series of steps required to convert the inputs into outputs by adding value.
Outputs: Deliverables whether internal or external.
Customers: The entities who receive the output.
Here are simple steps to create SIPOC diagrams:
The process comes in the middle of the SIPOC term, but it is the first step while creating a SIPOC diagram. You can add four to five high-level steps in description or visual format.
Identify the outputs of this process.
Who will receive the outputs of the process? These are the customers.
Identify the inputs required to carry out the process.
Who will provide the inputs required? These are suppliers.
2. The SIPOC Diagram Examples
SIPOC Templates are handy during the process because it gives a high-level view of the process that all the stakeholders understand. After all, no technicalities are not involved here. Also, because the diagrams are about essential elements, you can quickly brief a newcomer using this diagram. It makes sure that everyone involved is on the same page before and during the process. Here are some SIPOC examples to give you a better idea of what it is all about.
Example 1: Coffee Shop Operation SIPOC Diagram
This coffee shop SIPOC diagram template shows the operations and process of a coffee shop. This is a classic SIPOC template that includes the following:
Suppliers: The coffee shop team has identified two suppliers, including the coffee and food merchants and coffee machine maintenance service. However, as they refine their understanding of the process, they might also want to include the supplies like crockery, napkins, and other essential stuff.
Inputs: The inputs are coffee beans, machine hours, and workers.
Process: This is a significant part of the operations of a company. Here, the team identifies the steps for the procedure. However, the method mentioned here is very preliminary without the minute details of workflow.
Output: They have identified two outputs. One output is coffee served to the customer, while the other is a complete transaction.
Customer: customers are the walk-in people who come to the facility for coffee.
Source: EdrawMax Online Edit Now
Example 2: The SIPOC Model
This elementary SIPOC template uses colors and columns to make the model easily readable and understandable. The process here is to set up the laptop for a new employee. There is a standard process for setting up the laptop to avoid confusion every time the device is set up. This SIPOC example shows that the more complex components can also be described as a separate part as the process is shown as a different flowchart below the SIPOC example. The identification of components is as follows.
Suppliers: Hiring Manager, HR, Laptop Supplier
Inputs: Confirmed Start Day, seven days' notice, Approval from both HR and hiring manager
Process: Process is shown as a separate flowchart.
Outputs: Configured laptop, email access, confirmation that everything is working, email to the hiring manager
Customers: all the customers are in house people, including the hiring manager, new employee, and the supplier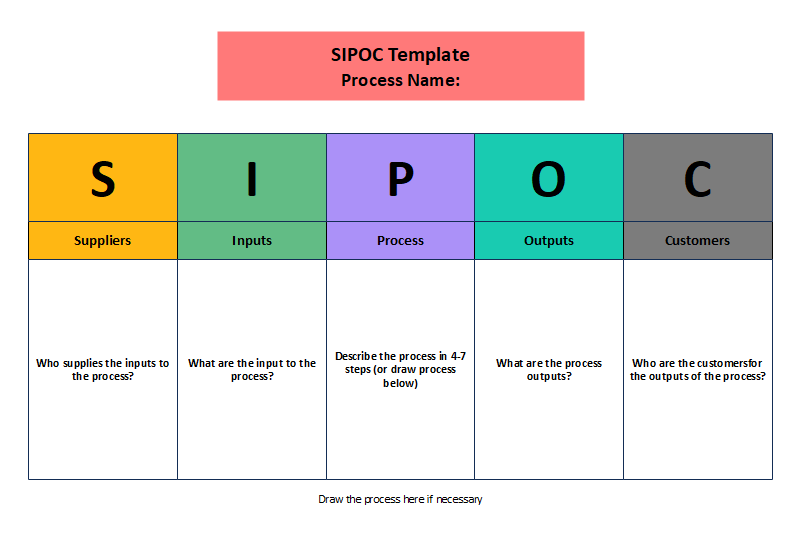 Source: EdrawMax Online Edit Now
Example 3: SIPOC Diagram
This SIPOC diagram template is a beneficial sample for beginners because it shows a question in each segment of SIPOC elements. The answer to each question is the required data in each component. This allows for quick reference and easy manipulation for beginners. The possible questions are; who supplies the materials? What resources are needed or provided by the supplier? What steps or activities are required in order to create value for customers? What products are made, and who are the customers?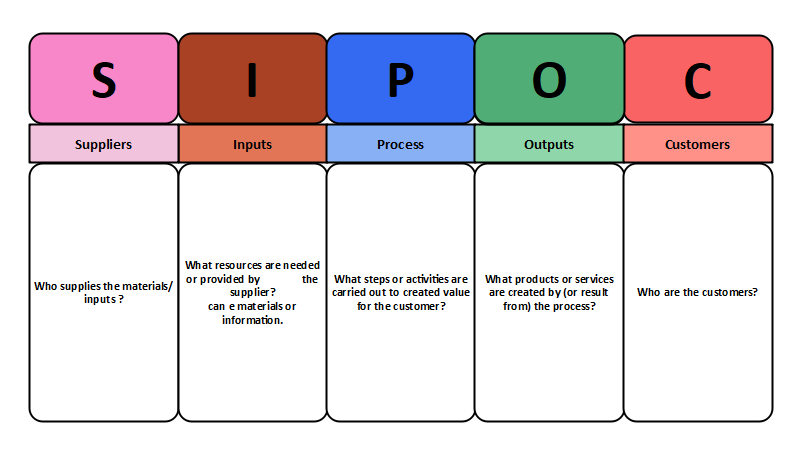 Source: EdrawMax Online Edit Now
Example 4: SIPOC Templates
This SIPOC diagram template shows that the relevant information can also be filled in separate columns in the diagram. For example, the scope, process name, date, and notes are shown in the table. This SIPOC template also mentions separate references to more detailed documents for further information. For example, it shows form CAP3 in outputs in inputs, forms CAP1 and CAP2, etc.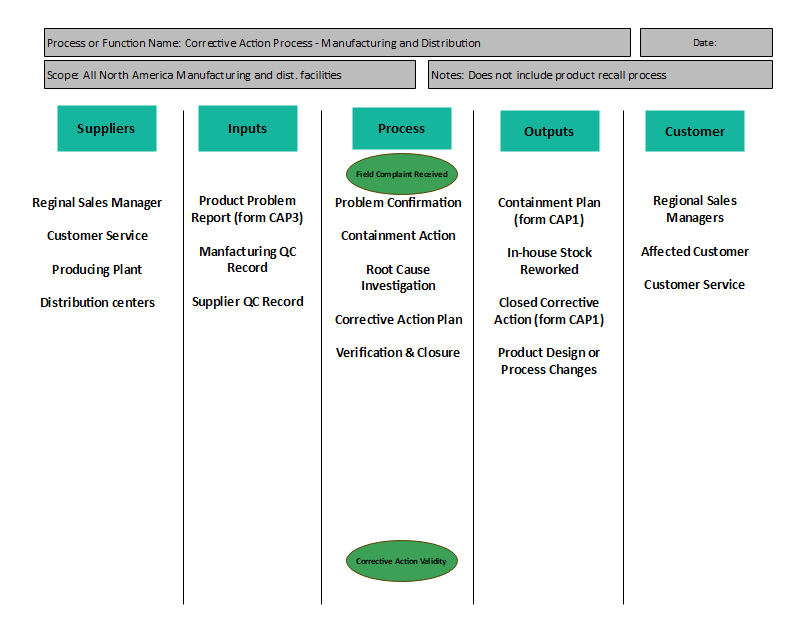 Source: EdrawMax Online Edit Now
Example 5: SPIOC-Simplifying IT Process Work
This SIPOC template shows the basic working of an IT process. This is a different type of SIPOC diagram because it is based on use cases. In summary, we can say that a SIPOC diagram may be divided into smaller parts to make it straightforward. For each use case, a separate element is identified. It means a SIPOC may have multiple small chunks of the process with respective suppliers, input, process, operations, and customer.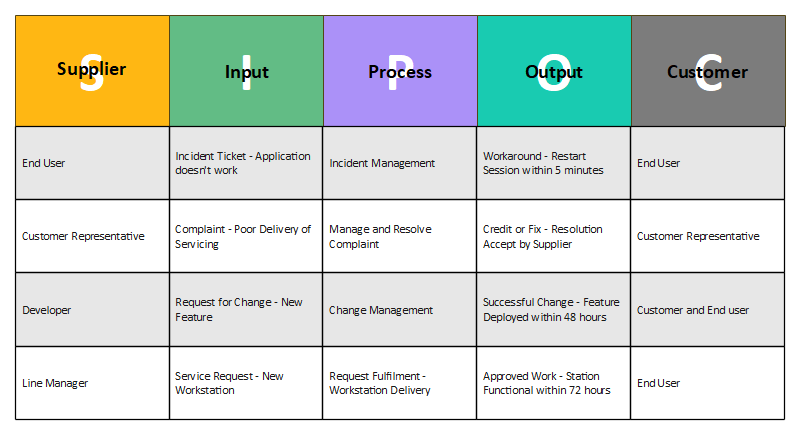 Source: EdrawMax Online Edit Now
Example 6: SIPOC Diagram: 5 Easy Steps to Map Your Process
This is a customizable SIPOC diagram template that the team can fill. It also mentions that the process must be detailed in a separate column for more clarity and simplicity. The use of colors and shapes makes this template attractive and straightforward. The process here can be shown as a flowchart or in descriptive form; it depends on the requirements of individual teams and operations.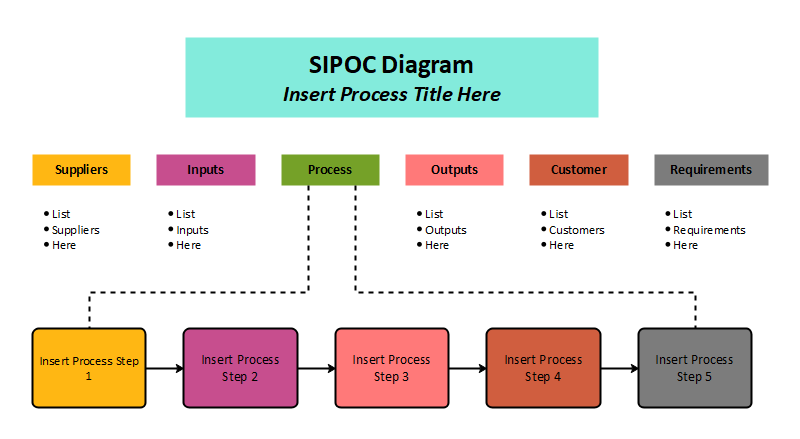 Source: EdrawMax Online Edit Now
Example 7: Understanding the SIPOC Diagram
This is another unique model for the SIPOC diagram. It is a blank template that the users can customize according to their requirements. It shows that you can connect different elements in one column to specific data in the other column. For example, some inputs may only work for particular parts of a process so that you can connect input A to those particular process parts. Or, if supplier 1 provides only inputs A and B, you can connect these two inputs to supplier 1. This adds more clarity to the SIPOC example.
Source: EdrawMax Online Edit Now
Example 8: SIPOC Diagram PPT
SIPOC PowerPoint template is a popular template for presentation of project management and business improvement. It has the potential to give a brief description of how to add value to input through the process to produce outputs and gain profits. This template can also be used to provide explanation of company profile, organization's mission and vision, business strategy and project agenda.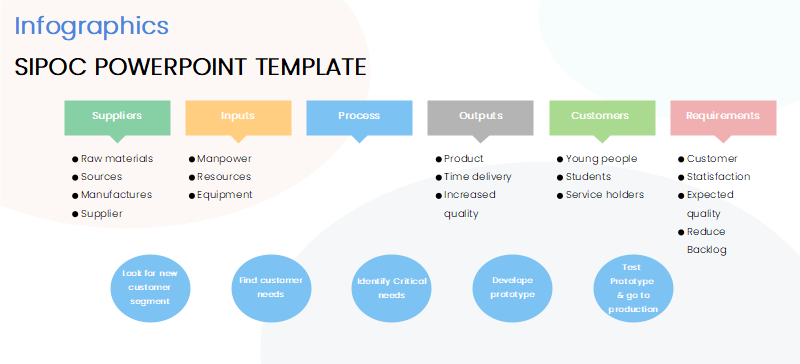 Source: EdrawMax Online Edit Now
Example 9: Free SIPOC Diagram Template
This free customizable SIPOC diagram template can be downloaded and printed. You can download it and fill it according to your own specifications. It uses colors to make the template more presentable and easy to follow. The process is then expanded into steps to add more details for the viewers.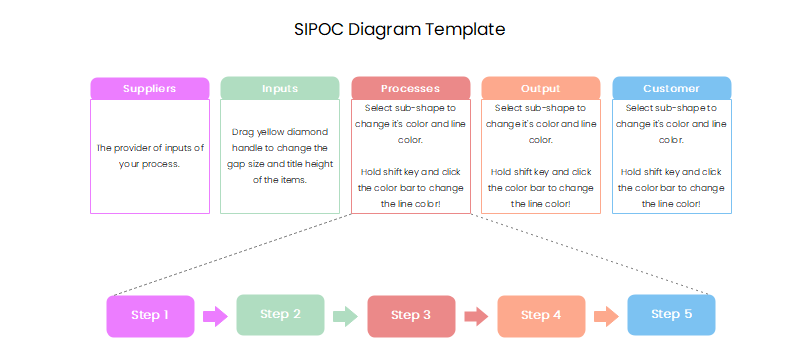 Source: EdrawMax Online Edit Now
3. Online SIPOC Diagram Maker
SIPOC diagram templates can clarify the basic questions about the process using these questions.
Who are the suppliers of inputs in the given process?
What are outputs expected from the process?
Who are your customers, both in-house and outsiders?
What are the specifications for the end product?
An online SIPOC diagram template maker makes the design process easy and saves a lot of time. This eventually means that the team can spend more time discussing and identifying the process elements rather than the drawing itself. EdrawMax Online is a quick-start diagramming tool that allows quick and easy drawings, including SIPOC diagrams and around 280+ other drawing types. Another advantage is the vast library of pre-made templates available at Template Gallery. You can customize these templates according to your requirements to create drawing within no time.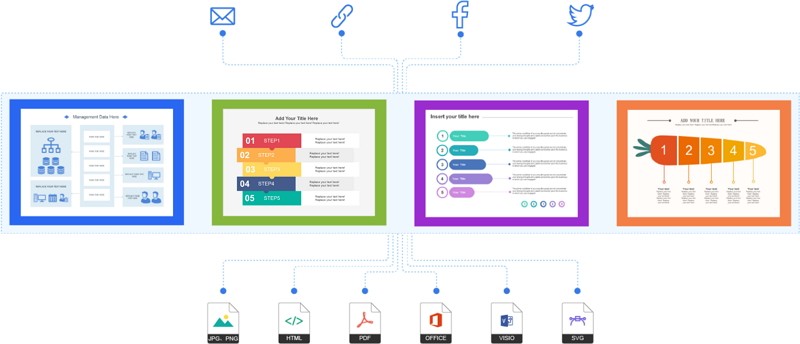 Why Choose EdrawMax Online
Create over 280 diagram types
Supports team collaboration
Personal cloud & data protection
Print, share and download
Powerful template community
4. Key Takeaways
SIPOC is a fundamental tool of quality improvement movement that summarizes the inputs and outputs of the process in tabular form. It stands for Supplies, Inputs, Process, Outputs and Customers. Alternatively, some organizations use the opposite acronym COPIS which emphasizes the customer has the most importance and her point of view values the most.
EdrawMax Online is an online SIPOC diagram maker that allows creation of SIPOC diagram templates along with 280+ other types of diagrams. It is a quick and easy to use software and does not even require a download.