Free Editable Living Room Layouts
Learn how to design your living room with different principles, examples, and tips by reading below. Also, learn how to create living room layouts using EdrawMax.
1. What is a Living Room Layout?
The living room is one of the most integral parts of a house. It does not matter if the house is small or big. There is always a central gathering space with means of entertainment and a place for the inhabitants to come and sit together. It seems like an endless puzzle to figure out the arrangement and configuration of all the furniture in your living room, including sofas, chairs, coffee tables, stools, rugs, and whatnot. It is essential to design your living room to the best, so it serves you with the best space utilization and comfort according to your lifestyle. As it is one of the most used parts of a house, you have to make sure everything is perfectly arranged, and nothing gets in the way between you and a peaceful time spent. The best way is to create a layout first before actually arranging everything.
Tips for Designing a Living Room Layout
Get are some tips to get you started that you should keep in mind while designing a living room layout. It will help you get an idea of the actual placement of objects, along with plenty of room for customization and fixes.
#1 Dimensioning
Make sure you have accurate dimensions of every nook and corner of the room. The placement of windows, doors, and walls will influence your design more than you think.
#2 Thoughtful Placement
Before placing everything, keep in mind that the placement matters. If you plan to place a TV in the living room, you will have to consider the positioning of any windows in the room. If the TV is directly in front of the windows, it will cause glare due to the sunlight and cause issues for the viewer. Similarly, the placement of every element will matter, and you will have to be very thoughtful while placing everything.
#3 Configuration
Being the central part of a house, a living room is expected to cater to more than 1 or 2 people. In that case, you should have ample seating for more people considering guests. It would be better than all the furniture is pointing towards each other and the TV or any primary entertainment source.
#4 Elements
Understand the user's mindset and requirements and choose the significant elements accordingly. If the house is home to a more prominent family, a twin sofa or an oversized couch would be the right place. Suppose the house is in a colder region. In that case, a central fireplace will also be a good call, along with a warm and cozy corner as a dining space if the living room is combined with it. If there are kids, a small space can be left for rugs to be placed along with bean bags as kids often don't like to sit on couches with adults.
#5 Feng Shui
Feng Shui is a Chinese principal used to design living room layouts. It usually promotes the room to be open and bright with ample natural light and ventilation through large windows. You can also use mirrors to reflect lights, giving the room a more open feel. A more symmetrical and balanced approach is supported well to arrange the elements to appear visually appealing, balanced, and symmetrical. Cramming up the space with all kinds of stuff is not always the right option, and it should be allowed with ample breathing space.
2. Living Room Layout Ideas & Examples
This section will learn about different styles and examples of living rooms and how to design living room layouts in different conditions. Read below to learn about the different types of living room layouts.
Example 1: Living Room Layout
The living room is designed to create a space peaceful enough and powerful enough to act as the domain of the house. The large, centralized living room creates a feeling of openness with an oversized L-shaped couch on one side facing the media wall and the other section overviewing an open kitchen with a dining table on one side. The living room layout appears to be complete yet open and spacious, which you should be looking for. The media wall is placed so that even if someone is working in the kitchen, they can still watch the TV while working. The dining table is placed in the corner closest to the kitchen, so it is easier to transport utility items there. A planter is also placed near the window to account for natural light and fresh air simultaneously.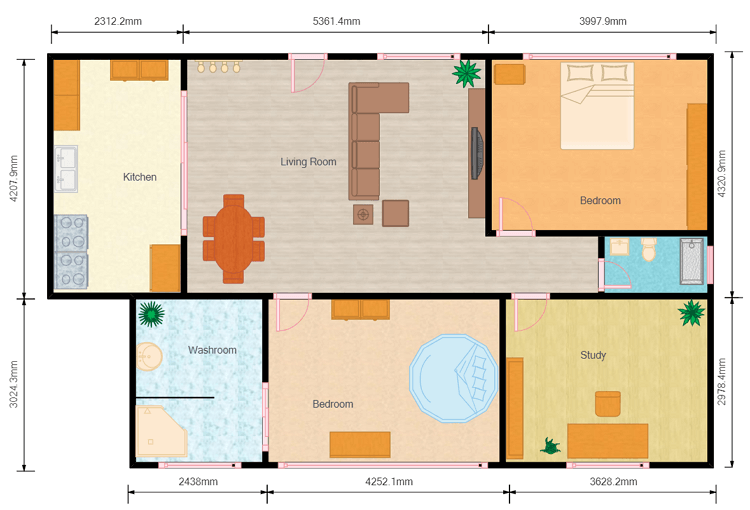 Example 2: Small Living Room Layout
This is a relatively small living room where multiple people live. Yet, the designer has carefully placed objects so that it feels spacious and open despite the smaller size. The sofas and rugs are placed in the corner, and the TV is on the front wall leaving ample space in the middle for users to move around quickly. If the sofas were further in the middle of the room, there would not be enough space for people to move around on either side. These little tricks help define the actual quality and call for efficient planning and space-saving tactics.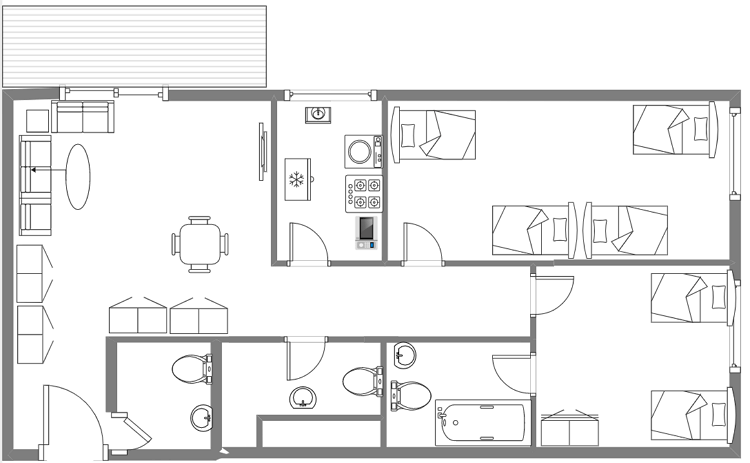 Example 3: Open Concept Kitchen Living Room Floor Plan
This living room layout features an Open Concept Kitchen attached to the living room. There is no wall or specific entrance to the kitchen. The kitchen can be seen from the living room and vice versa. This is a modern concept and has been widely practiced recently. It helps all users enjoy themselves together simultaneously even if someone has to cook and engages every individual equally during family time or when all of them gather in the space to have some quality time. Overall, it also enhances the look of the house or apartment and gives an impressive look to anyone who looks at it for the first time. This design makes the space appear extraordinarily open and spacious as no walls separate the kitchen or dining room from the living room.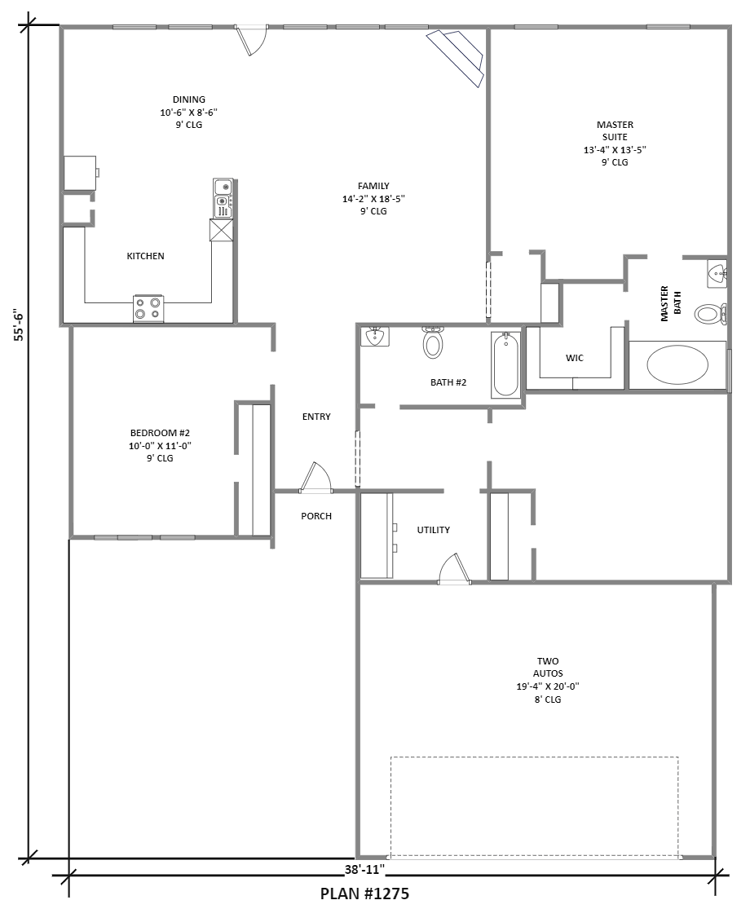 Example 4: Rectangle Living Room Layout
This living room layout is relatively simple to design and is rectangular. It contains a small dining table for the users to eat together and is placed near the kitchen. The most important aspect of this living room is centralized, and all the rooms open into this space. This centralized placement assists in the users passing through a shared space and actively interacting with each other. They can also sit together and have meals or entertainment sessions as well.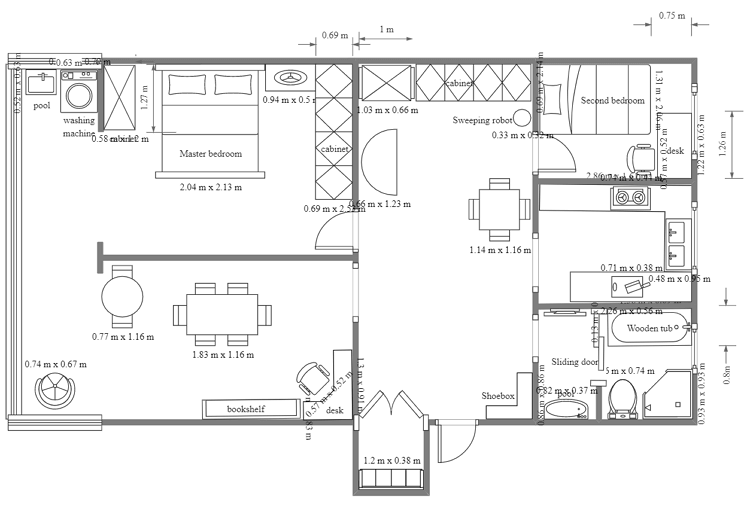 Example 5: Living Room Layout with Fireplace
The main focus of this living room is the fireplace. This is pretty common in colder regions, where a room is designed around a fireplace. All the major seating features are closer to the fireplace. The couch, the love seat, coffee table, and recliner are close to the fireplace to enjoy its warmth on a cold evening. Moreover, the media wall is also not centralized and is closer to the fireplace complimenting the position of the couches and recliner. Make sure you do not place anything too close to the fireplace, or else it can cause a fire hazard or damage furniture and any other thing placed too close to it.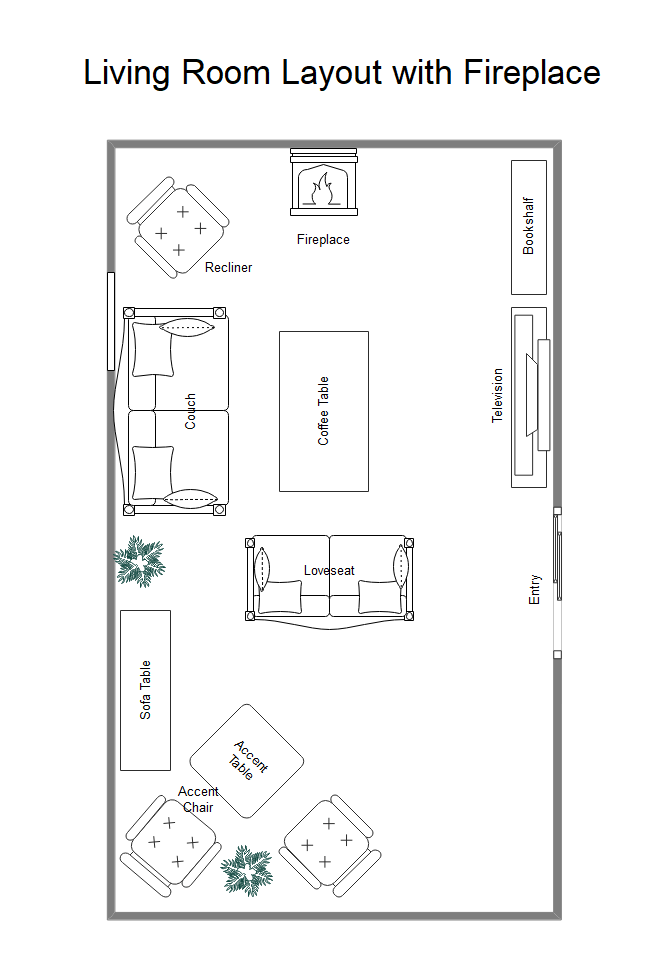 Example 6: Narrow Living Room Layout
This layout features a narrow living room which is carefully planned to accommodate the most without cramming it up with too much stuff. It is a small cozy space where everyone sits and relaxes. It features a three-seater sofa and two single sofas pointed towards a media wall with a console and side table. Natural lighting and ventilation are also considered with the large window on one side. The window will provide light and the fresh air without disturbing the media wall by putting a glare on the TV. This is the result of careful and thoughtful planning.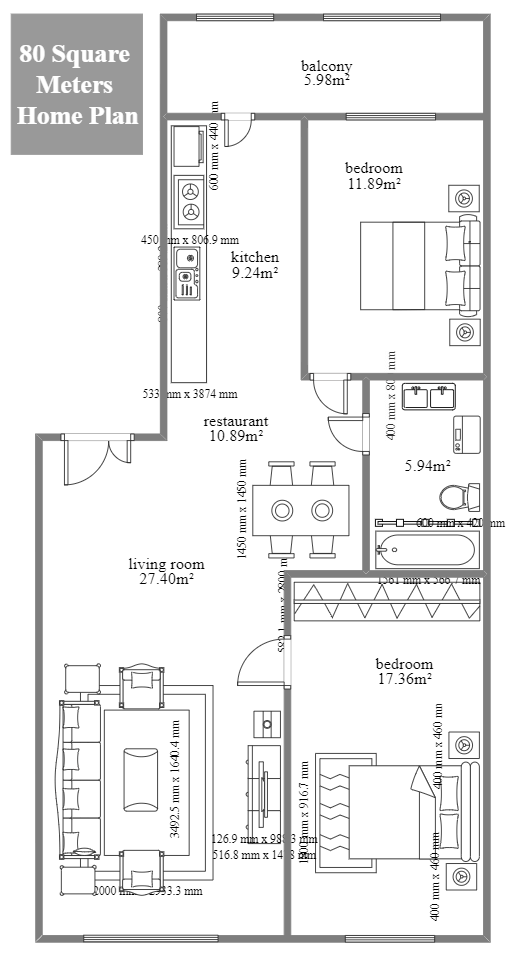 Example 7: Large Living Room Layout
This layout features a rather large house with a large living room. The sofas are placed in a typical configuration pointed towards the media wall. One side leads to the dining and kitchen, and the other opens in the lawn and swimming pool area. The large windows provide sunlight, fresh air, a good view of the outside, and a feeling of openness. The space is not crowded at all is kept as simple as possible. A small sofa is placed near the entrance on the lawn side, which provides good views and a calm relaxing ambiance.
Example 8: Living Room Furniture Layout
This is a very detailed furniture layout of a living room and provides little details of the space. It features the color and design on the sofa, placement, and color of the rug. Table, storage cabinet, and detail of the media wall. It also has a conjoined dining room, which features a round table and is placed near the kitchen. It also has ample space for movement and circulation and a bathroom to facilitate the users.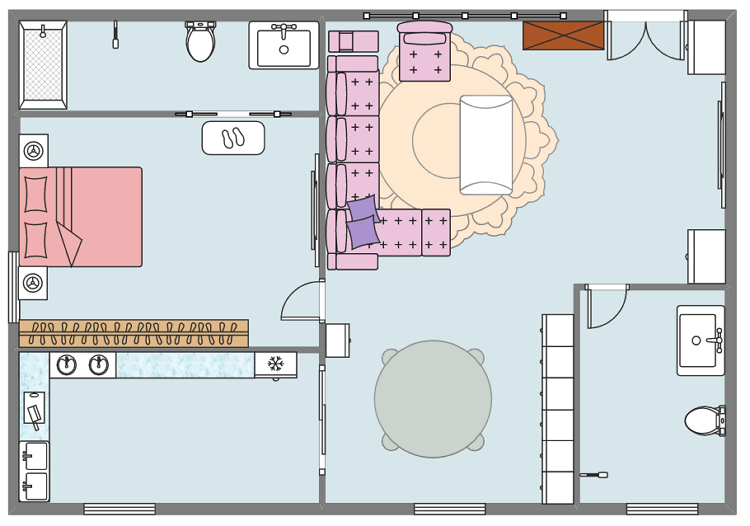 Example 9: Living Room Floor Plan
This floor plan provides us with furniture detail as well as technical detail of architectural elements as well. It shows two fixed windows behind the couches and a sliding window on one side of the living room. The TV is placed on a wooden console instead of being mounted on the wall. The 5-seater sofa set provides ample space for users to sit. The coffee table and side tables give room for placing things and decoration pieces around the room, giving it a pleasant and calm feeling.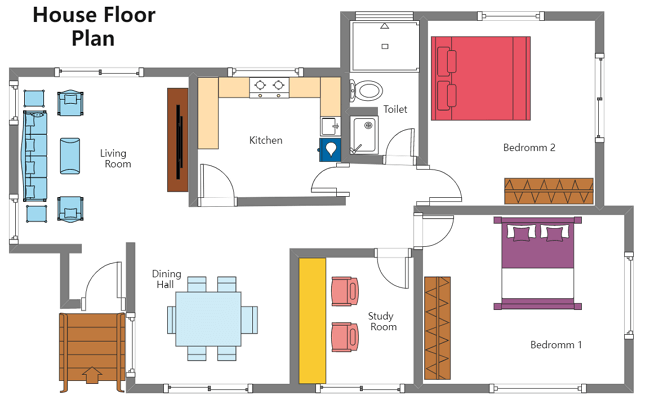 3. Online Room Planner
If you wondered how you made these complicated layouts, say no more. You can also create these living room layouts easily using one of the best software for layout creation: EdrawMax Online. It has tons of free templates to choose from to make your layout from scratch. You can also add furniture of all sorts using the extensive library of symbols and furniture blocks to change their size and color for further customization. Moreover, you can also share the layouts with your friends and family and multiple platforms after you are done.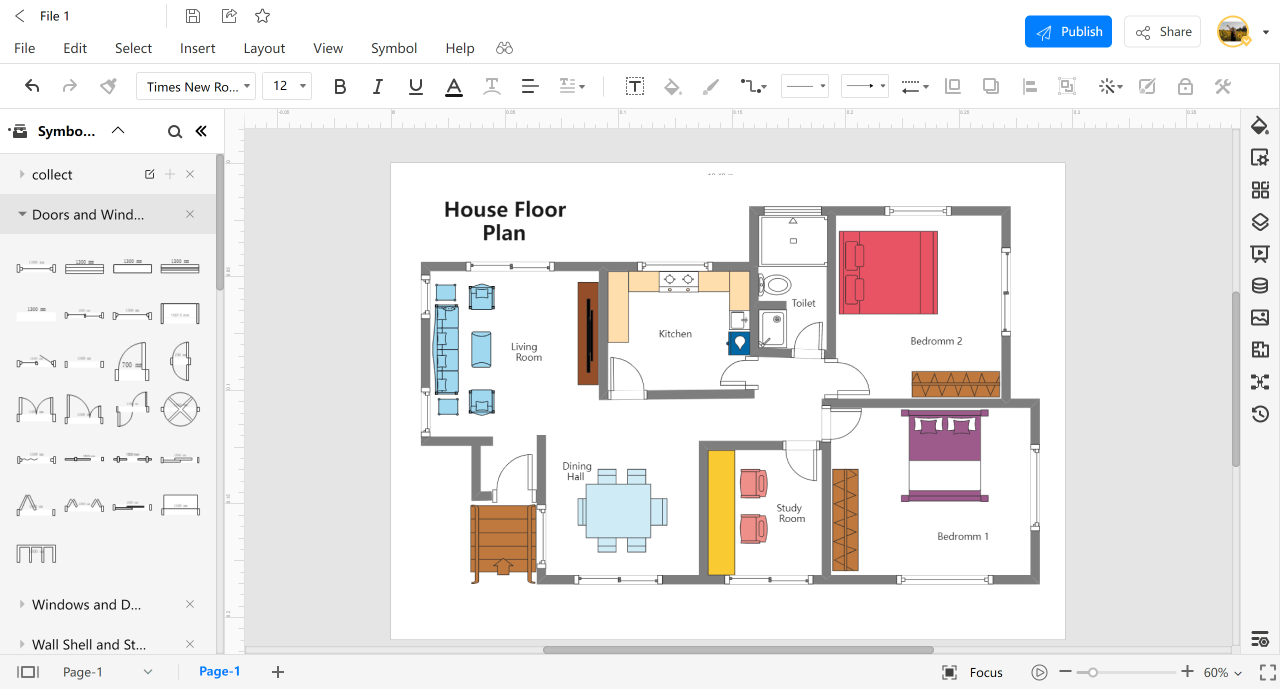 4. Key Takeaways
Now you know how to design or remodel the look of your living room. You can use the tips and tricks along with the examples and templates from EdrawMax to create the best and most unique living room layouts you could ever wish for.
Related Articles