Activity Diagram with Swimlanes
This article is about swimlane activity diagrams and their usages in business modeling and software development. We will also highlight some of its examples to understand them better. Finally, we will learn how to create a swimlane activity diagram with EdrawMax.
1. What is Activity Diagram with Swimlanes?
Let's understand activity diagrams first. Like a flowchart or a data flow diagram, an activity diagram visually depicts a system's series of actions or control flow. Activity diagrams are frequently employed in business process modeling. During the early design phase, activity diagrams are especially beneficial. In a use case diagram, they can also describe the steps. Activity diagrams are also used to visually represent a complex process, such as an algorithm or workflow.
Now let's understand the term "Swimlanes." They are boundaries or borderlines which separate an organization's activities from the activities of other organizations. The swimlane activity diagram clearly states who does what in a process. Swimlanes must be arranged in a logical order. There should be no more than five swimlanes in an activity diagram, or the diagram will look like a complex activity map.
Swimlane activity diagrams are widely used in big multinational corporations with multiple departments and divisions. In the activity diagram, they identify the roles and duties of each department so that tasks should not overlap and things are done efficiently.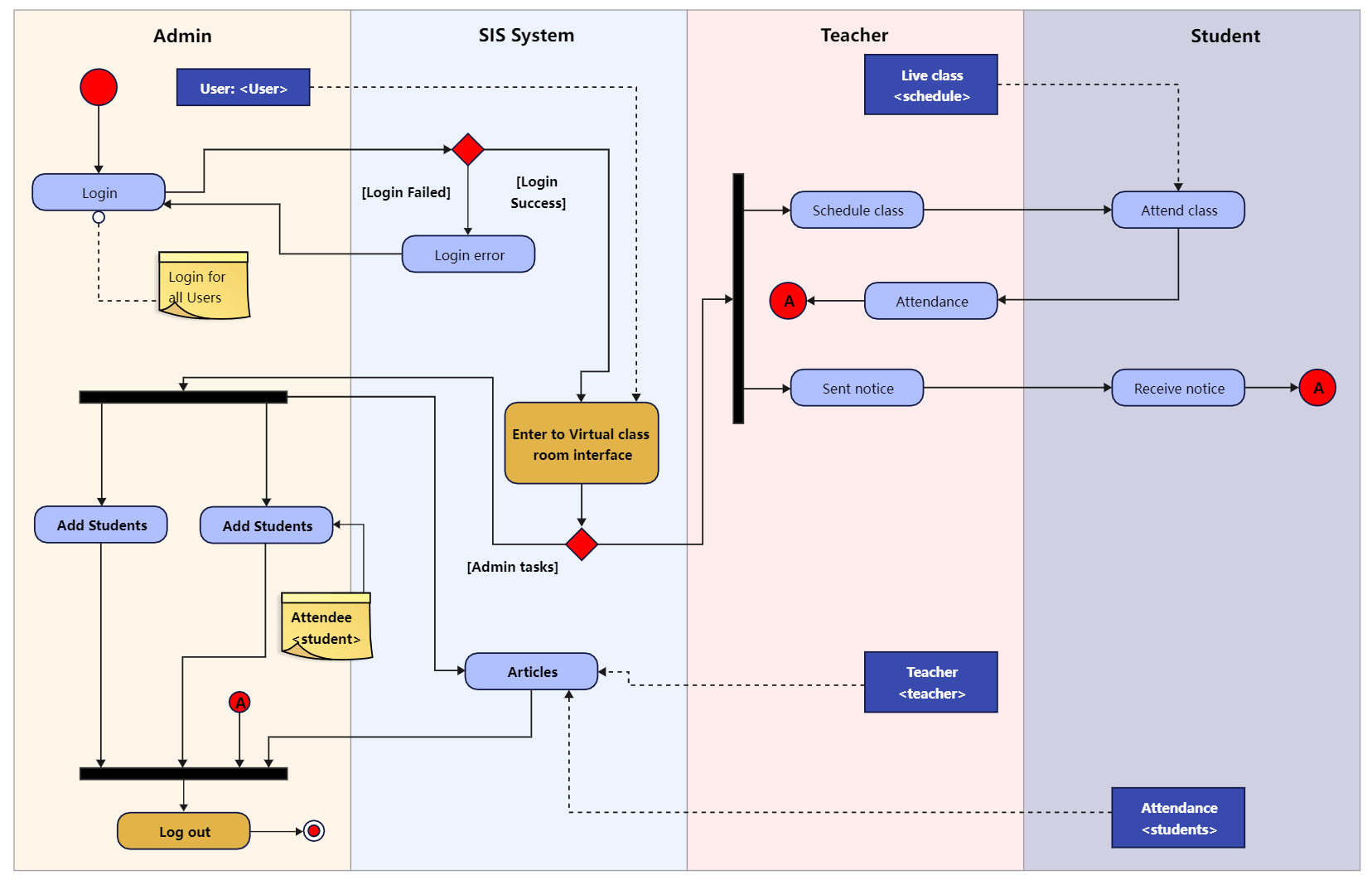 Click on the image to edit. Source: EdrawMax Online
2. Activity Diagram with Swinlane Examples
Let's look at some examples of swimlane activity diagrams and where they are used.
Example 1: Swimlane Activity Diagram for Library Management System
Let's take an example of the Activity diagram of the Library management system here with the flow of arrows in the library management system swimlanes; you can see the interaction between the librarian and the system. The library admin or librarian's activities are visible in the system. This activity diagram includes these actions because they are prevalent in library management systems.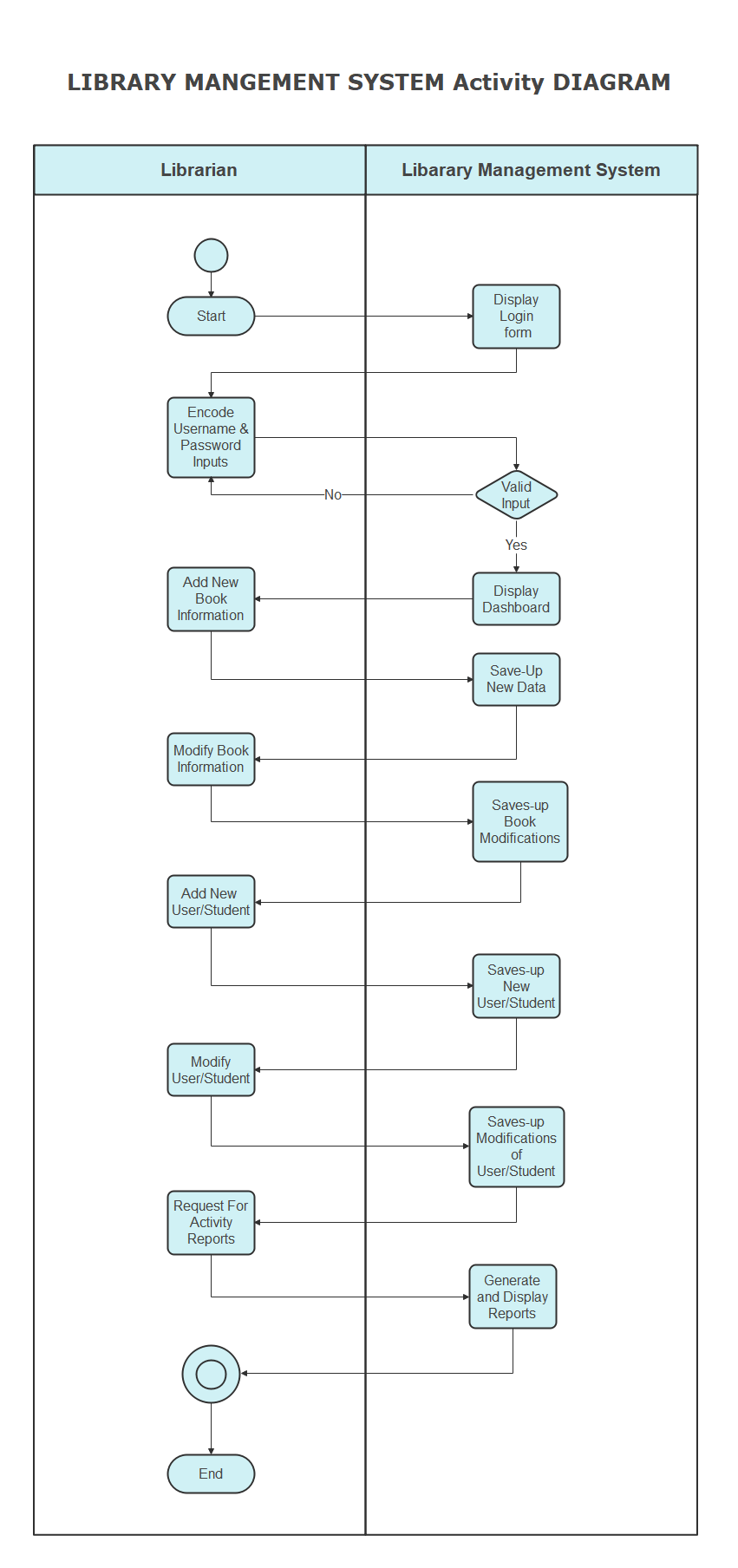 Example 2: Swimlane Activity Diagram for Online Shopping System
The online shopping system offers a function that will significantly assist both buyers and sellers when doing online shopping. Look at the swimlane diagram for the online shopping system; here, with the flow of arrows in the online shopping system utilizing swimlanes, you can see the activities between the customer and the shopping system in this activity diagram demonstration. This activity diagram explains workflow and a complete visual guide for a buyer on how to purchase online and for sellers to sell online.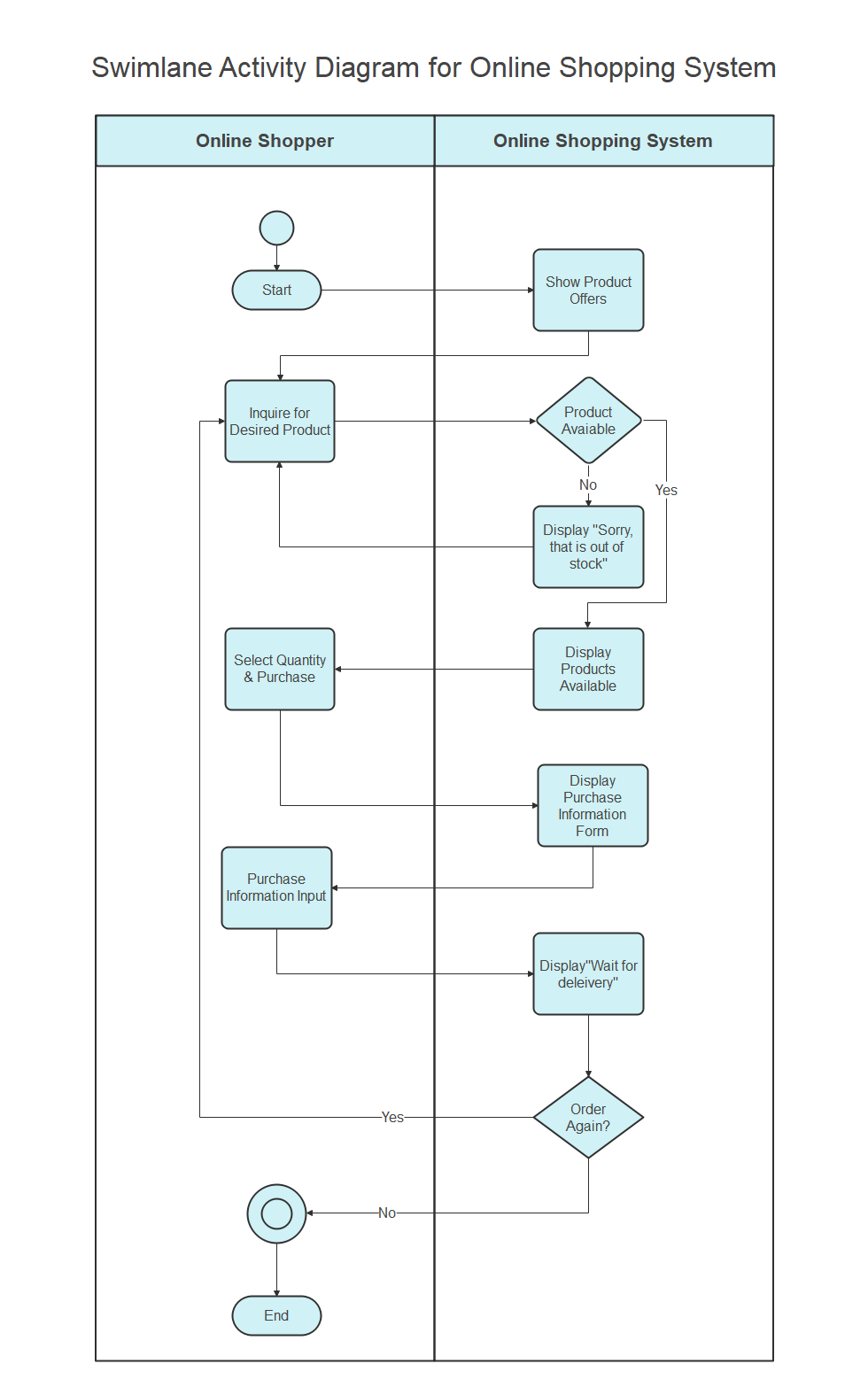 Example 3: Swimlane Activity Diagram for Hospital Management System
Let's look at the Swimlane activity diagram for hospital management system design for two users in the hospital management system. It was created to provide you with an example of a situation in which two users are engaged in a specific activity. This activity diagram will ultimately help both the patient and the admin sitting at the hospital to know their work.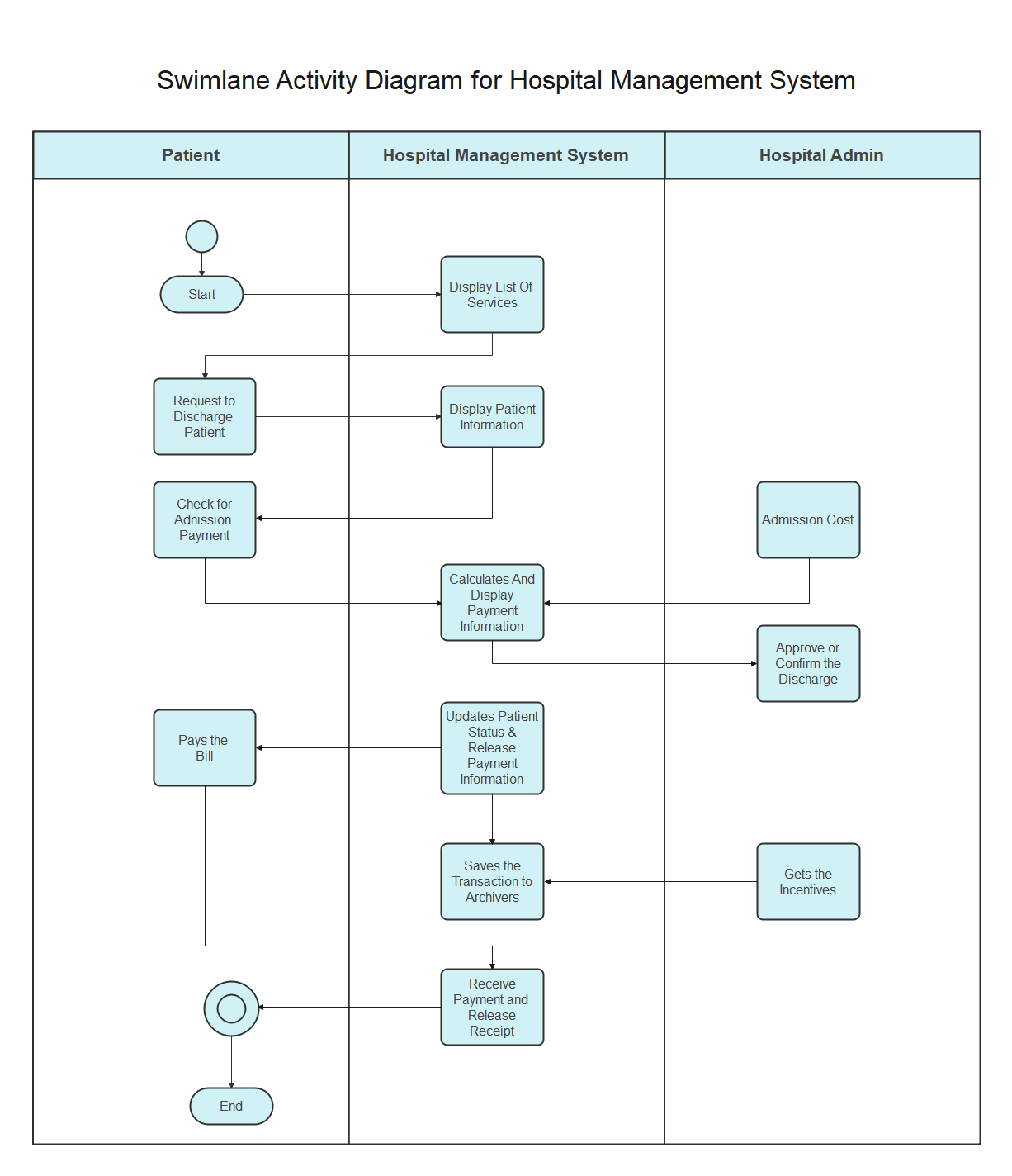 3. How to Create a Activity Diagrams with Swinlanes?
After reading about the swimlane activity diagram with some of its examples, you must know what the swimlane diagram is? Now let's learn how to create one.
1. Organize Information
First of all, identify the process that you will map out, then look at who is involved in the whole due process? Which departments or domains are involved? Now list down all the tasks and steps. After having this information, you can create an exemplary swimlane activity diagram for an activity or work.
2. Draw the Lanes
Create the skeleton of the diagram by mapping out the lanes for the diagram; you can easily do this by using any online software available to create an activity diagram. Sketch out as many lanes as you have departments or people. The lanes can go vertically or horizontally; it depends on the structure of the activity for which you are making the diagram.
3. Identify Initial Point
Figure out the starting point of the process, then move through the rest of the process in order. Answer some of the questions throughout the diagram. Answering "yes" or "no" to those questions helps you determine the next step in the process.
4. Review the Activity Diagram
It's a best practice to review the diagram with your team members; once the whole activity is mapped out in this way, you will be able to determine bottlenecks, inefficiencies, confusion, least priority tasks, and other issues.
4. Online Activity Diagram Maker
Now that you have finally learned how to create a perfect swimlane diagram for your activity, it's time to choose the best software to give your map a perfect visual look to let your team understand it and work accordingly. Using EdrawMax, you can easily create a swimlane activity diagram; the application is user-friendly and a good tool for beginners unaware of creating an activity diagram for themselves.
With EdrawMax, you can design 280 plus diagrams using thousands of predesigned templates available, customize the template according to your activity, map out your process, and boom, you have now created a swimlane activity diagram for your procedure. You can access EdrawMax free of cost on any browser, whether Windows, Mac, or Linux. Using its enrich feature, you can draw a perfect activity diagram for yourself and then export it to multiple formats like PNG, PDF, VSDX, SVG, etc., to showcase it to your team.
5. Key Takeaways
One of the most competent privileges of a swimlane activity diagram is that it clearly shows who is responsible for what part of a process. The diagram can simplify even the most complex processes into a simple flowchart. Because the swimlane diagram requires you to break down processes by both teams or people and tasks, it can help you identify bottlenecks that can be improved. Hence you need to map out the whole activity in a visual diagram which you can quickly do with EdrawMax, which is users' number one choice when thinking of a tool to create a swimlane diagram.
Related Articles