Background of Tesla
Tesla Inc., founded in 2003 is named after Nikola Tesla, a famous scientist and inventor. The following SWOT analysis of Tesla will delve into its dynamic business model and innovative automotive designs.
Tesla's energy-saving approach and luxury centric designs have made it one of the top automobile industries worldwide. Martin Eberhard and Marc Tarpenning, the initial founders of Tesla Motors (former name) met with Elon Musk in February 2004, who contributed US$6.5 million of the initial US$7.5 million round of investment.
Tesla revolutionized the automobile industry by its clean energy model and created a huge global impact. Tesla's first vehicle, the Roadster became the first automobile to use lithium battery cells.
Headquartered in California, United States, Tesla has gained popularity among the American public as a premium electric car model with an innovative design.
The SWOT analysis of Tesla will provide a deeper understanding of its working model and future projections.
| | |
| --- | --- |
| Company | Tesla Inc. |
| CEO | Elon Musk |
| Founded | 2003 |
| Location | Palo Alto, California, United States |
| Annual Revenue | US$ 24.58B (2019) |
Development Timeline of Tesla
2003: The company was founded by Martin Eberhard and Marc Tarpenning.
2006: Tesla made a deal with Toyota. Both companies joined hands to source drivetrains from the RAV4 EV crossover SUV.
2008: The Original Roadster debuted into the automobile industry. This vehicle revolutionised the perception of an electric vehicle.
2012: The Model S launched into the market being the first clean sheet designed vehicle to. It proved that Tesla can not only do fast but also create a luxury Sedan.
2015: Marked the beginning of Tesla's entrance into auto-pilot. Tesla tested its semi self-driving vehicles.
2017: In a concert like-reveal, Tesla's CEO Elon Musk launched Tesla Semi and the New Roadster. The New Roadster became the fastest production car worldwide.
2019: The launch of Model Y, a compact crossover and The Cybertruck, Tesla's energy-saving version of a pickup truck.
2019-20: Tesla became the most financially valuable American automobile company by surpassing GM and Ford.
Benefits of SWOT Analysis Tesla
SWOT is the acronym for Strengths, Weaknesses, Opportunities and Threats. These are the internal and external factors which help understand the strategy of any business. It helps in identifying potential threats and creating a model for the company's resources to be utilised effectively.
A SWOT analysis of Tesla will help determine the current positioning of the company and evaluate its potential business predictions and future plans. It is also a brilliant business case study as Tesla is a prominent factor in many business classes.
Strengths

These are the qualities of the company that helps it accomplish the organisation's mission. For example huge financial resources, employee competency, brand loyalty, products and services, etc.

Weakness

These qualities prevent the organisation from accomplishing its goals. Examples of weaknesses can be poor decisions making, lack of USP, insufficient research, etc. Weakness should be eliminated.

Opportunities

These are created in the environment in which the company operates. For example, opportunities can arise from market, industry, government, consumer etc.

Threats

Threats arise when external factors can jeopardise or interrupt the company's process. Examples of threats can include employee unrest, changing technology, increased competition etc.
SWOT analysis of Tesla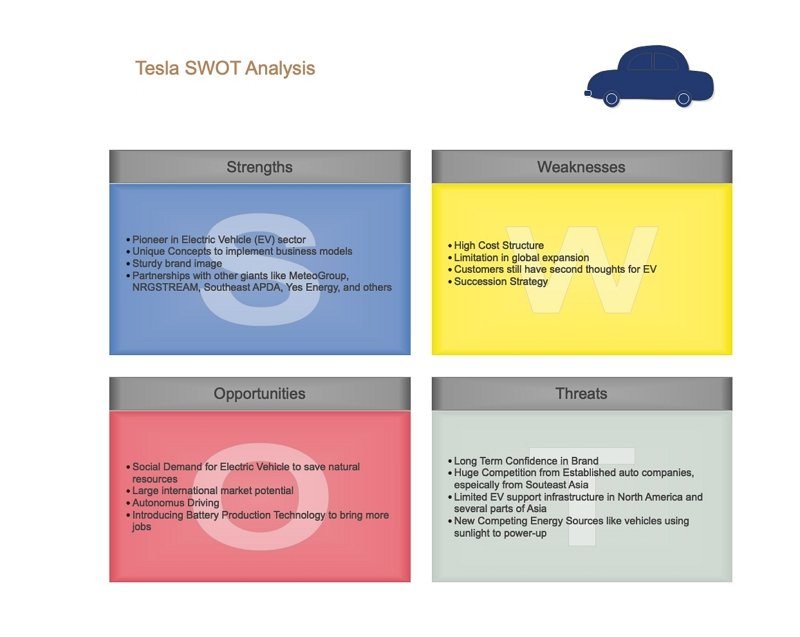 Strengths
Energy Efficiency - Tesla is a leading pioneer when it comes to electric vehicles due to its prominent use of renewable energy sources like solar power.
Partnership - Tesla is collaborating with big giants like Southeast APDA, Yes Energy etc. These collaborations help is expanding Tesla's renewable energy efforts and in the global market.
Highly innovative - Tesla's design is top class. And they put a lot of thought during engineering and designing of their electric vehicle to give extreme comfort to their consumers.
Sturdy Brand Image - The market trusts and expects the company to develop clean energy and profitable products. It has gained immense fame.
Weakness
Limited Presence - On the one hand, Tesla is working on establishing themselves in a hypercompetitive automobile market and on the other they are trying to expand globally.
Premium Product Range - Tesla is an established premium clean energy brand. One of the setbacks they can face is in terms of affordability and a consumer's trust when it comes to electric vehicles.
Succession Strategy - Elon Musk has become the brand face od Tesla and it is accepted as an one-man-show. Although Elon Musk himself has a lot on his plate.
Opportunities
Autonomous Driving Technology - Tesla's autopilot technology has gained it fame for its safety and convenience. Making it trustworthy by consumers and the share market. Tesla's work in autopilot is constantly evolving.
Environment-friendly cars - As consumers are becoming more environmentally conscious, the need for more electric vehicles is growing along with the need to minimise fuel-driven cars.
Battery Production Technology - Tesla is planning on manufacturing its battery cell in-house. This can be a game-changer as it will help the company lower its production cost. And will also create many jobs, in turn, helping the economy.
Threats
Increased Competition - Heavy research is being done for automobiles powered by renewable energy and many big companies like BMW and Volkswagen are becoming Tesla's competitors.
New technologies - There are innovative ways of energy being used in vehicles. Competitive pressure can lead to high operational costs and decreased profit margins.
Long Term Sustainability - It is essential to maintain long term sustainability for a clean energy automobile company. This is a potential threat due to Tesla's unstable manufacturing conditions and limited EV support infrastructure in North America and several parts of Asia.
EdrawMax Online
Create 280+ types of diagrams online
Access diagrams anywhere, anytime
Everything in desktop + Templates Community
Team management and collaboration
Personal Cloud and Dropbox Integration
Key Takeaways
Tesla is an established pioneer in sustainability and innovation. In the SWOT analysis, Tesla has the strengths to remain successful. There are certain challenges the company is likely to face. In terms of expansion in Asia and other parts of the world. Tesla needs to re-evaluate strategies and focus on gaining popularity globally. Based on SWOT analysis, Tesla needs to -
Continue and increase research for renewable energy sources.
Work on establishing consumer trust and establishing long term confidence in the company.
Expand overseas and work on securing production globally.