Free Editable Timeline Graphic Organizer Examples
A timeline graphic organizer visually shows a series of events that occur or are expected to occur. This linear graphical organizer timeline has many uses in project management, teaching, scheduling, and reviewing. Timelines are also handy for studying or reviewing history where the significant events are shown on the timeline visually. Here we will discuss different types of timelines and how to make them efficiently and accurately.
1. What is a Timeline Graphic Organizer
A timeline graphic organizer helps in illustrating chronological events visually. Each event is characterized by its start date, the event's name, and the end date. Different circumstances may happen separately, or they may also overlap each other entirely or partially. A straight line indicates the direction of the events from one branching point to the other. It is an excellent tool in strategic planning, education, and reviews.
There are different timeline graphic organizers, and you can choose the best candidate for you according to your requirements. The different types are:
Horizontal timeline
Vertical timeline
History timeline
Event timeline
However, the difference primarily lies in the representation and visual form of the timeline. The details and main characteristics remain the same in all these organizers.
2. The Timeline Graphic Organizers Examples
Now, we know what a graphic timeline organizer is, so let us see some examples to figure out how we can use this tool for our needs.
Example 1: Timeline Graphic Organizer
This is a barebone, no-frills, simple timeline graphic organizer. It is useful when your chronological order is based on years and a long trail of events. Since it uses a curved line, it is suitable for arranging various events on one screen. This is suitable for presenting your timeline to the audience on one screen to give a complete overview of events. The use of different colors makes it more readable and easier to understand.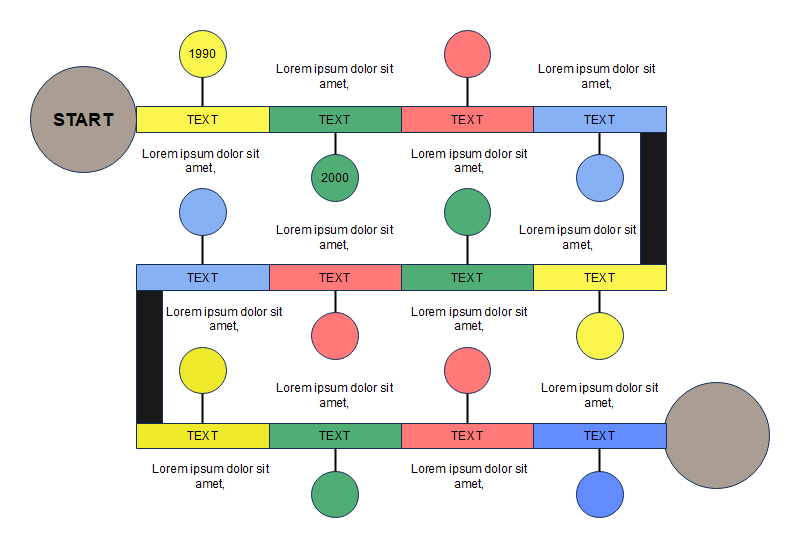 Source:EdrawMax Online
Example 2: Horizontal Timeline Graphic Organizer
A horizontal timeline graphic organizer breaks down your workflow for all the stakeholders in the project. You can edit the content to add your title, text, and time functions. You can even change the fonts, texts and represent your customized timeline. You can even change the bar to represent time and workload. Resizing the bar helps your team to visualize the related parameter depth.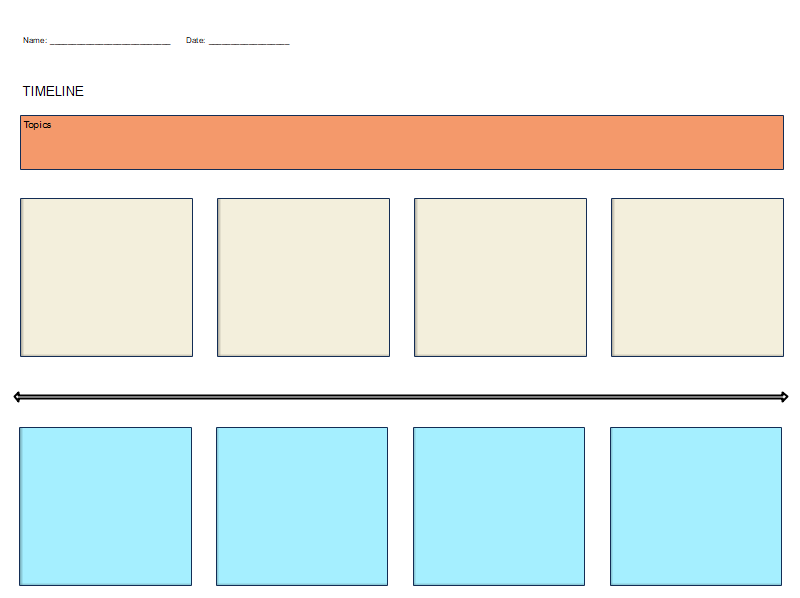 Source:EdrawMax Online
Example 3: Vertical Timeline Graphic Organizer
A vertical timeline graphic organizer helps you schedule your project in a simple form; it uses colors and graphics to make it more readable. It is an effective way to organize and prioritize the tasks in the project planning timeline. The colors and icons in this timeline help you to color code information and help you and your time refer to a particular milestone or event. Even in reviewing history, you can color-code different occasions with different colors to make visual markers more meaningful.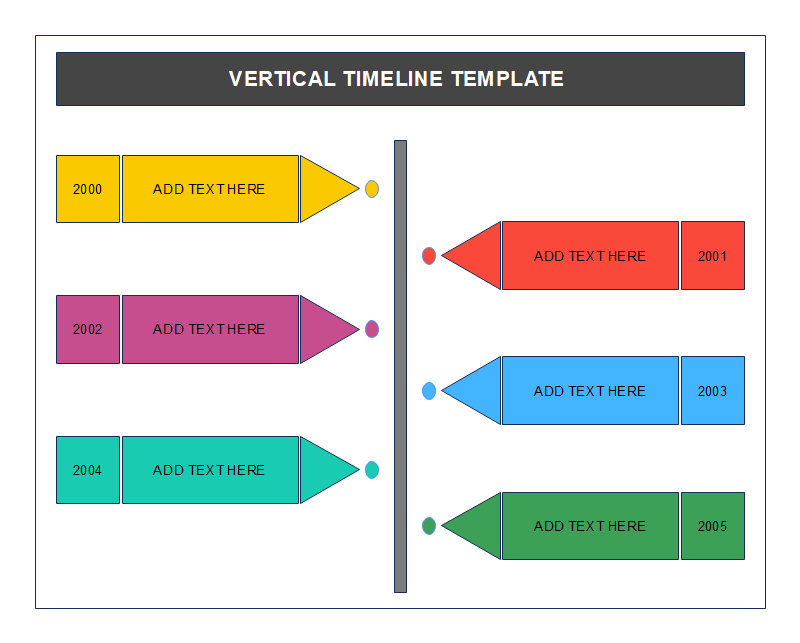 Source:EdrawMax Online
Example 4: Company History TimeLine Infographic
Company history graphic organizer timeline uses two directions of chronological sequence to help you understand the history of a company. The same can be used in reviewing other historical events too. It is a detailed template with years on the horizontal scale and months on the vertical scale. Each time frame is visible clearly, and the details go under it. Using two chronological scales helps to make this template easy to understand and clearly shows which year has been more eventful and exciting, or we can say a more successful year for the company.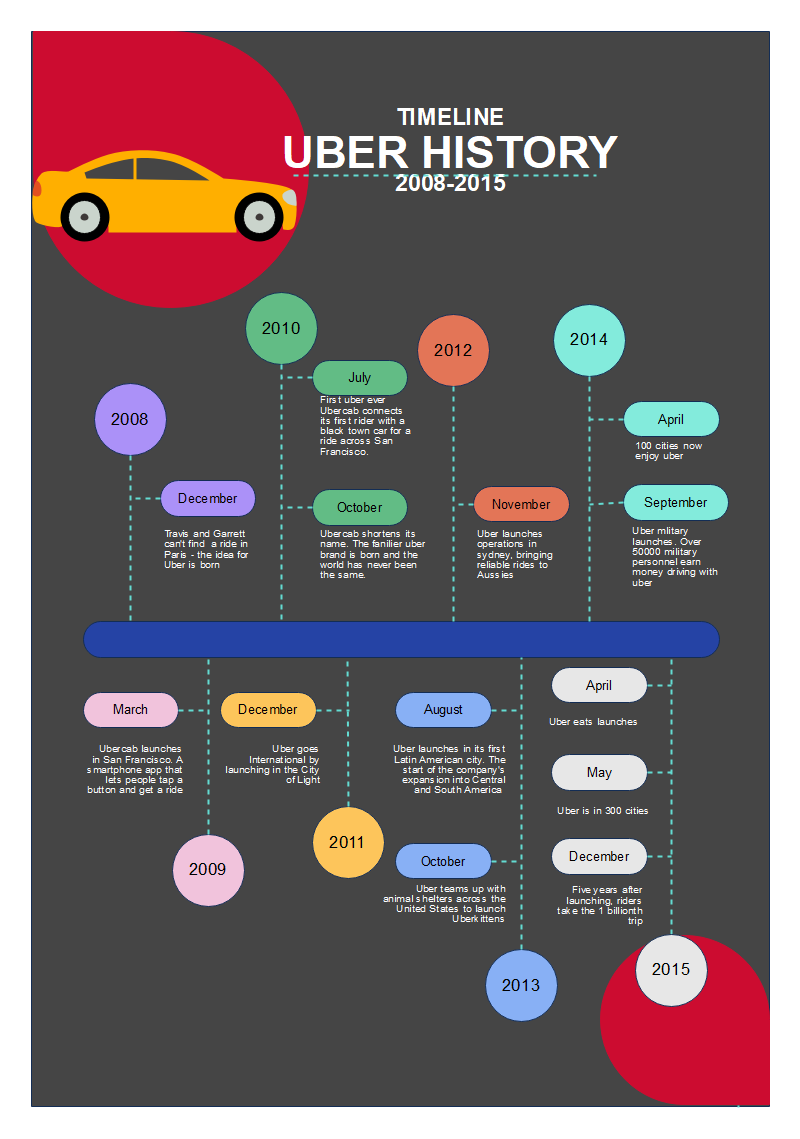 Source:EdrawMax Online
Example 5: Timeline Graphic Organizer Example
This is a simple timeline graphic organizer example that spans the chronological order in the horizontal direction. Simple graphics are used to represent happy or sad events. Since it is a straightforward graphical representation of a timeline, it is beneficial for teaching younger kids about this visual tool.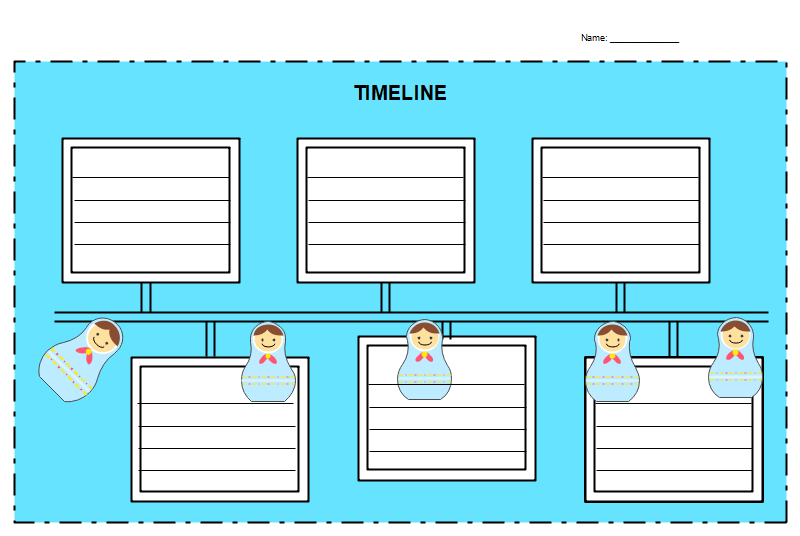 Source:EdrawMax Online
Example 6: History Timeline Graphic Organizer
This is a very creative timeline graphic organizer that shows a vertical timeline divided into yearly milestones. The graphics can be customized, and relevant images may be used for clarity purposes. This particular organizer represents the history of technology starting from 1970 going up to 2010. Using EdrawMax, you can use the icons from the vast media library to find relevant graphics for your story. You can summarize your history in five specific events and represent them here in this template to show your events creatively.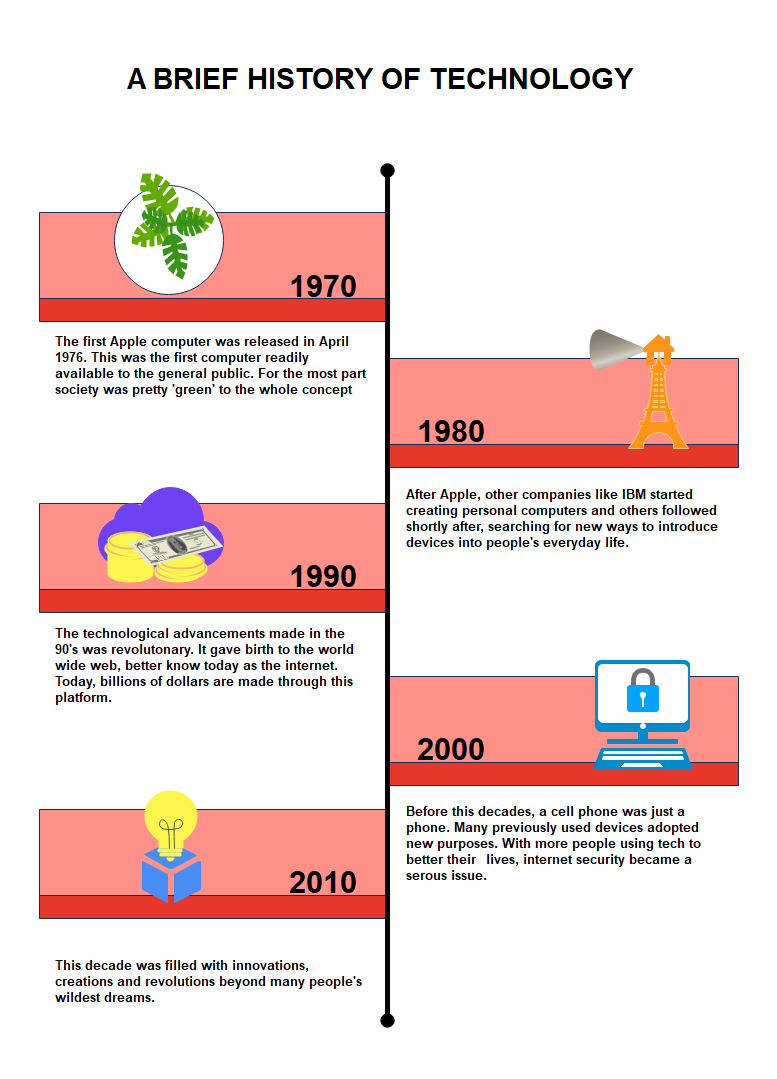 Source:EdrawMax Online
Example 7: Timeline Graphic Organizers
The blank timeline template uses horizontal orientation to represent the timeline illustration; it is simple and easy to read. This graphical timeline organizer uses the spaces above and below the line to make it a clean and easier to read template. This template can be fully customized to be used in any situation with your personalized data.
It is a simple layout and can quickly be filled in and printed in manuals, training literature, and other documents without any problem.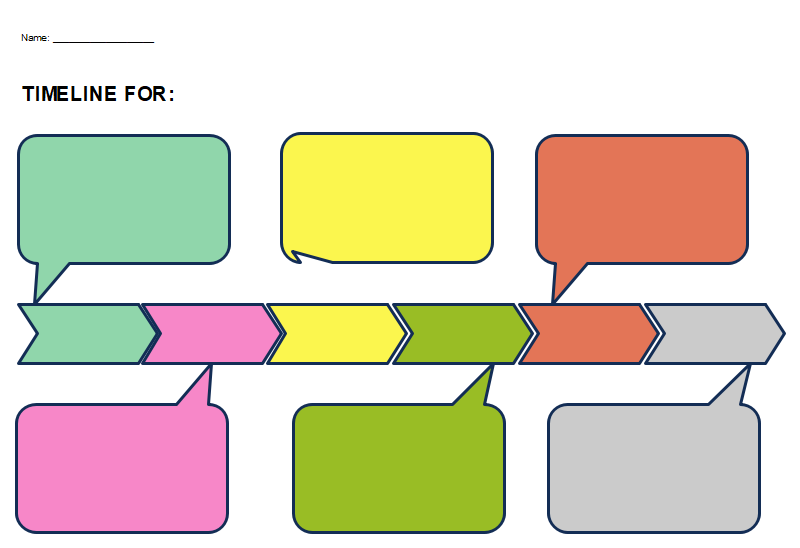 Source:EdrawMax Online
Example 8: Biography Timeline Graphic Organizer
A biographical timeline graphic organizer is helpful in easily depict different events in someone's life. It is usually employed for celebrities and influential personalities in the world. It starts with the birth, represents important life events, and finishes at death or the most recent accomplishment. The template uses horizontal orientation with a details box attached to each milestone so that the details are not jumbled up.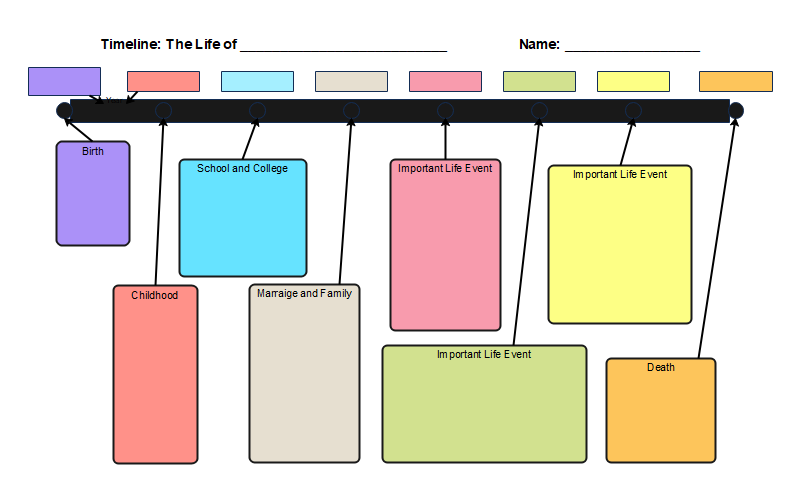 Source:EdrawMax Online
Example 9: Monthly Timeline Graphic Organizer
This is a vertical monthly timeline graphic organizer. It shows the template for one year only. However, you can extend the same pattern for more years. It is a good template for history discussion, progress reports, and growth. It helps you to visualize your timeline in a way that is easy to follow and summarizes the information accurately. It can be used for project planning, history tracking, and scheduling. The milestones can also be broken down more finally like going to the weekly details too.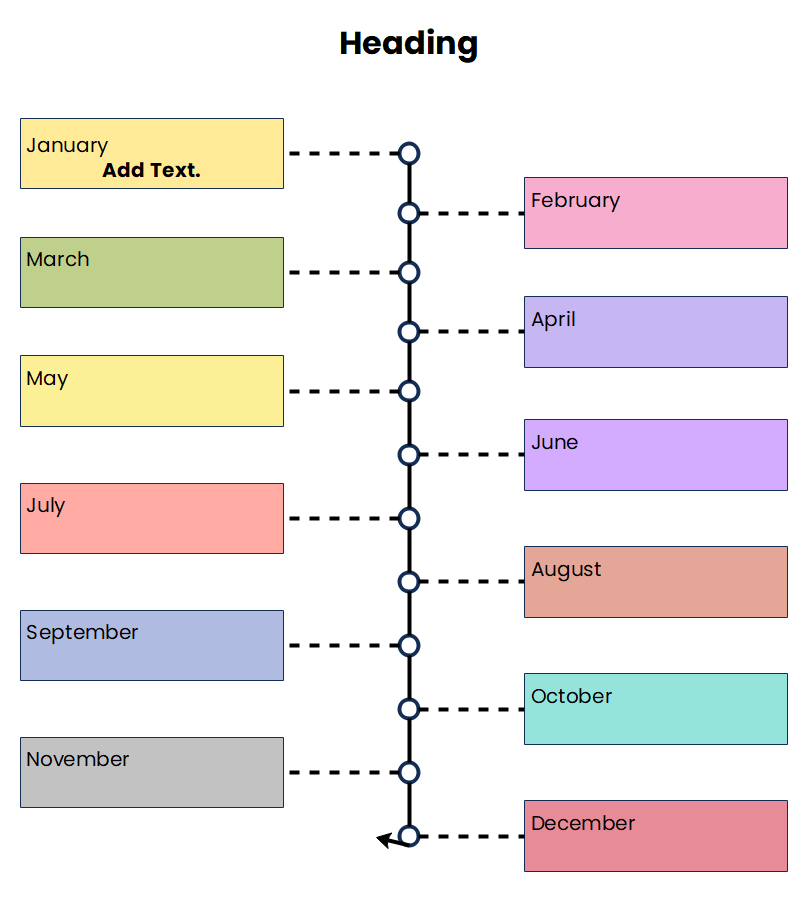 Source:EdrawMax Online
3. Online Timeline Graphic Organizer Maker
The best way to create your template for the timeline is to use an online timeline graphic organizer maker. EdrawMax Online is an excellent solution for creating tailored timelines that is easier to follow and adheres to your requirements. It has a fully stocked media library for symbols, graphics, and images that you can use to create exceptional timelines along with 260+ other types of drawings. Even if you do not want to start from scratch and appreciate some support, you may find a suitable template at templates community.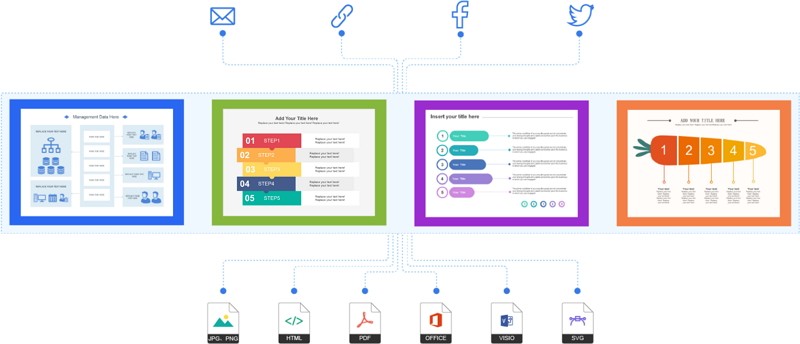 EdrawMax Online
Create 280+ types of diagrams online
Access diagrams anywhere, anytime
Everything in desktop + Templates Community
Team management and collaboration
Personal Cloud and Dropbox Integration
4. Key Takeaways
Timeline graphic organizers are an excellent and necessary addition to a project manager's toolkit, strategic planners, and even teachers and students. They can be used to schedule tasks, review history, understand a story timeline, and project planning. It is essential to make timelines that suit the requirements properly. That is why there are many different types of timelines like vertical, horizontal, monthly, bar chart timelines, etc. The example discussed above provides a basic understanding of different types of timelines. Additionally, you can find various timeline graphic organizer templates at templates community for a quick start at creating these organizers.