Free Editable Tree Map Graphic Organizer Examples
Tree map templates are graphic organizers that show the relationship between elements or trajectories from a component to another to form a trail. Depending on how the tree map graphic organizer is being used, the tree's trunk or roots are the main elements, parent elements, or the topic. At the same time, the branch elements show relevant facts, factors, details, properties, outcomes, etc.
1. What is a Tree Map Graphic Organizer
Tree map templates or tree map graphic organizers are data visualization tools that show the hierarchy of the data and the relationships between the elements in different levels of order. It may use nested rectangles or other shapes, and sometimes a depiction of a real tree is also used.
In tree map templates, data is organized as branches and sub-branches. It can show different data dimensions and information through rectangles, shapes, colors, levels, etc. you can even start with a basic hierarchical structure and then drill down the data to expand the levels and categories.
Reading tree map graphic organizers, on the other hand, helps children to understand sentence structure. They can create sentences by going through a linear path through different levels of the tree, each representing a part of the sentence. For example, levels can be subject, helping verb, and verb for the most straightforward sentences. They are beneficial for students who are visual learners.
2. The Tree Map Graphic Organizers Examples
Choosing the correct type of tree map template for the right situation is very important for making these graphic organizers. Therefore, always look closely at your data and the case where it will pick the best template.
Tree maps may be challenging to develop initially, but they can depict many dimensions of data in one single screen once done. Let's look at the most popular tree map templates and learn how they can be used in different scenarios.
Example 1: 4 Generation Family Tree Template
This 4-generation family tree map graphic organizer is perfect for school projects. Ideal for younger kids, the organizer has a colorful layout to ensure that the students find the project engaging and fun. The cute little tree at the center of the organizer further enhances its appeal and makes it more engaging for the kids. The organizer allows the students to provide details of up to four generations of their family in the available spaces spread throughout the organizer. All the boxes are linked with the help of arrows to help students clearly demonstrate relationships between different family members. Starting with themselves, they can enter details of their parents, uncles, aunts, grandparents, and more to complete the family tree.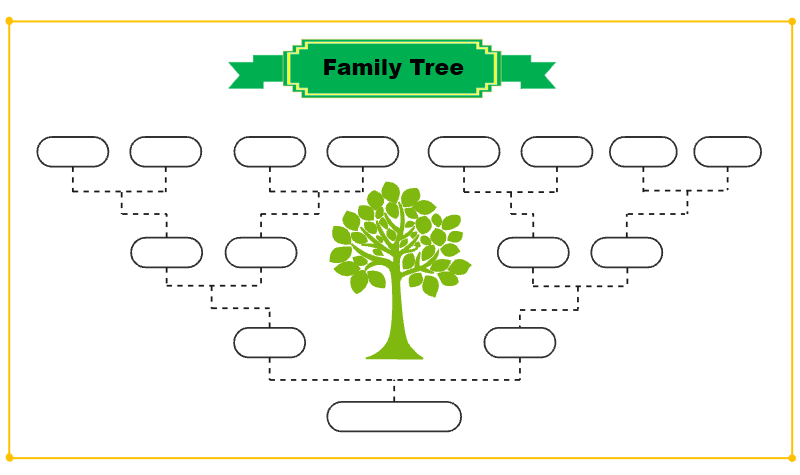 Source:EdrawMax Online
Example 2: Blank Tree Map Worksheets
This is a typical hierarchical tree map template. It can be used for many purposes in reading, writing, science experiments, and classification of ideas. A blank tree map graphic organizer is a very versatile visual tool that can be used in various situations. They are great for nonfiction reading and writing and also for organizing facts about a nonfiction topic. It has two levels, the root and then the second level is divided into four parts. Under each element, we can see blanks for details.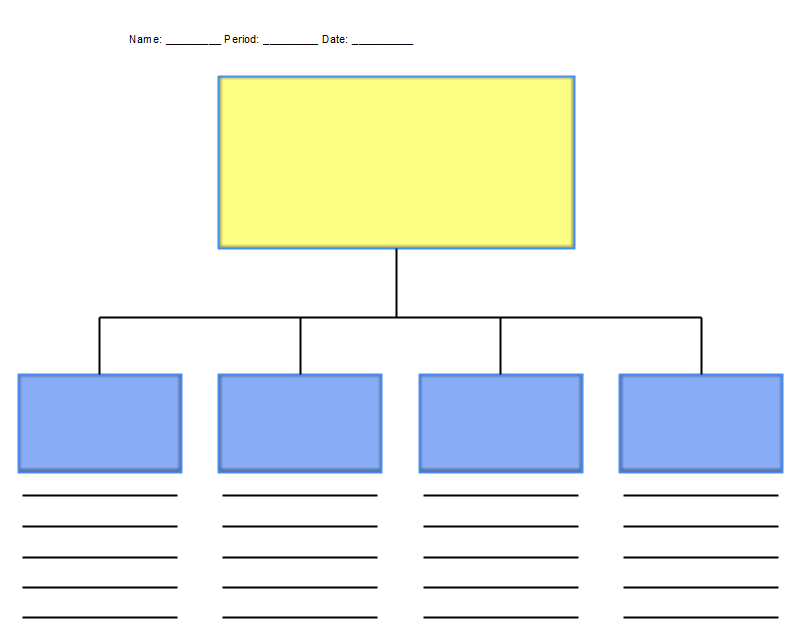 Source:EdrawMax Online
Example 3: Blank Tree Map Graphic Organizer
This blank tree map graphic organizer is a perfect tool for making sentence writing more manageable and more understandable for students of lower grades. You can use these trees with your students at the beginning of the year to discuss sentence structure. It uses a subject with three verbs (can, have, are) and some nouns or even verbs to complete the sentence. Hence it is a great tool to teach sentence structure with small three-part sentences. Writing in complete sentences can be difficult for students initially, and tree maps provide support to introduce and review basic sentence structure.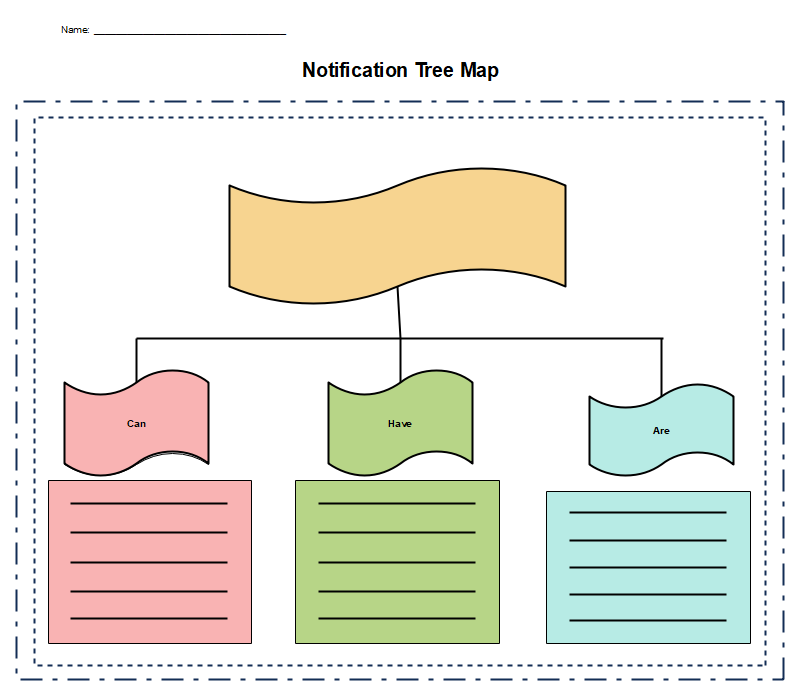 Source:EdrawMax Online
Example 4: Tree Map Graphic Organizer
This tree map organizer shows that this tool can be used to manage events using different teams. The event is at the root of the tree and is called teams and tasks. There are four other teams called locations, catering, decoration, and transportation. The tasks and checklists related to each team will be shown under their particular branch. It is a great example to teach classification of information and breaking down complex jobs into smaller manageable chunks.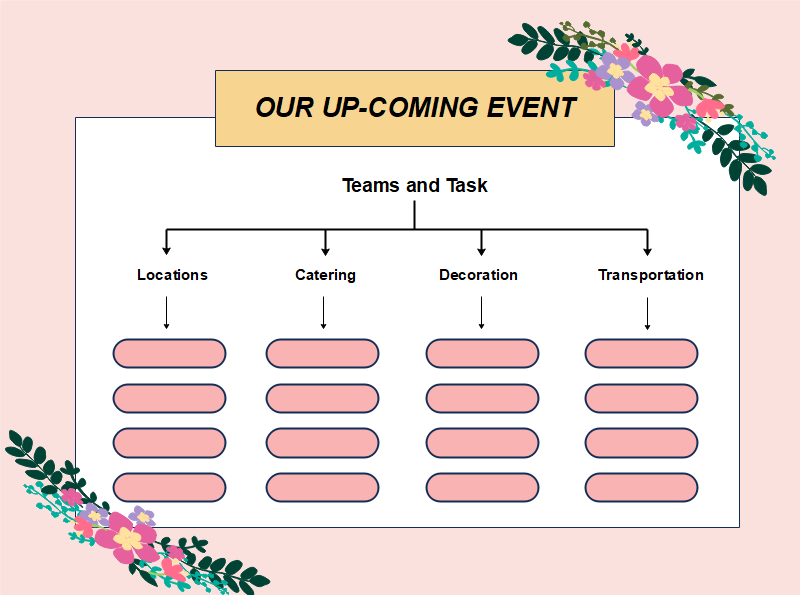 Source:EdrawMax Online
Example 5: Tree Graphic Organizer
This tree map graphic organizer is used for studying the cause and effects of a particular event. It is a tool to identify, sort, and display possible causes of a problem or quality characteristic. It visually illustrates the relationship between an outcome and all the factors that contribute to the development. This tree map template may take the causes at the truck level and the effects on the upper level. Students can use single words or complete sentences based on their skills to complete the tree.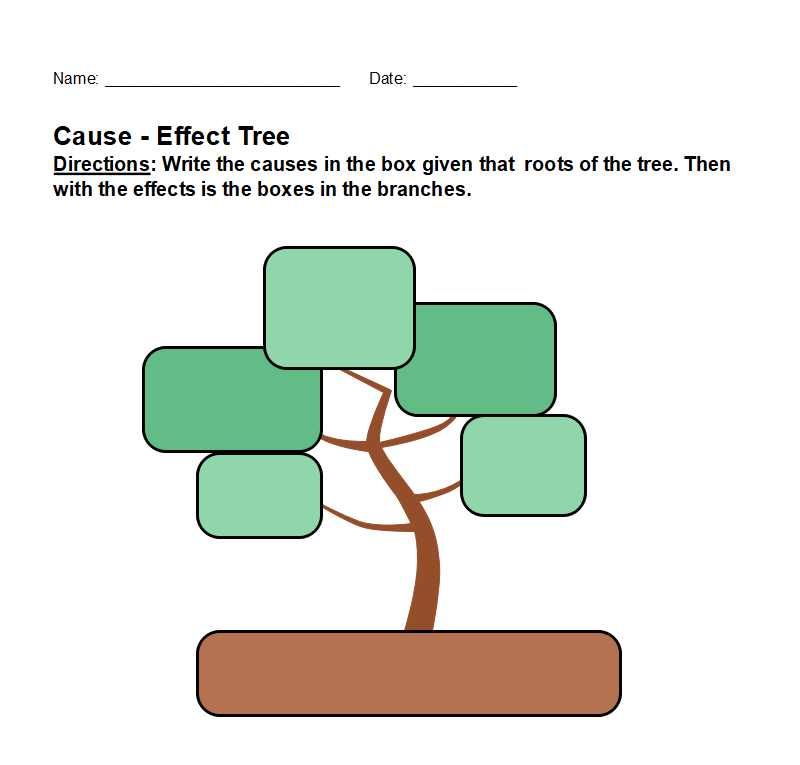 Source:EdrawMax Online
Example 6: My Family Tree Graphic Organizer
The family tree may well have won the award for the best and the most popular family tree graphic organizer. This particular organizer shows four different levels with multiple branches. The user can customize, add and remove leaves as per her requirements. It may be used in the formal settings for identification of family history as well as for students to help them identify and name relations between different family members.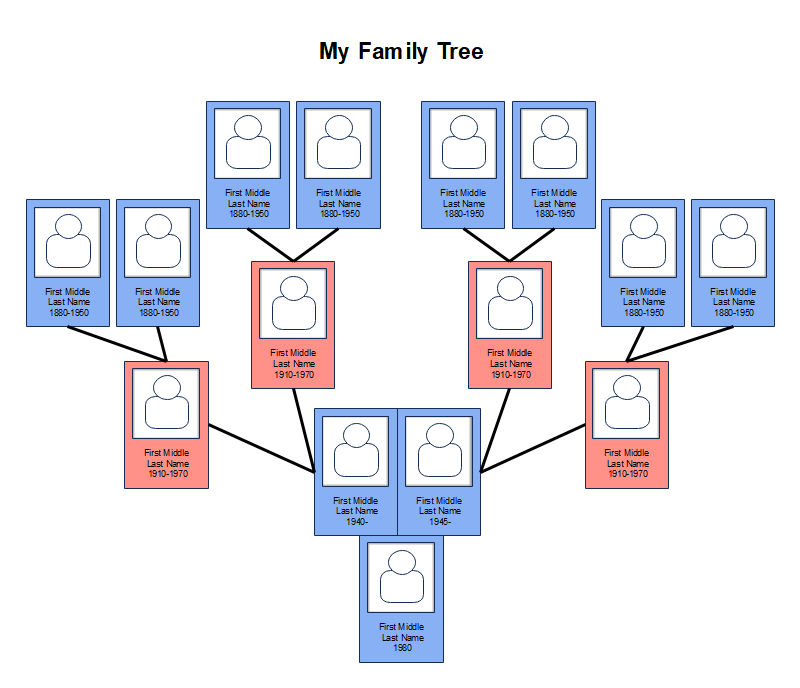 Source:EdrawMax Online
Example 7: Details Tree Map Graphic Organizer
Details tree map graphic organizer can be used in multiple scenarios. It can be used for notes taking during workshops, lectures, or events. It can also be used for brainstorming sessions and idea generation for creative writing. You will write the topic in the trunk, and the details go in the six clusters. Since this organizer does not have many levels, it is not very suitable for hierarchical arrangements or the classification of information scenarios. It is somewhat flat, or you can say two-level organization only.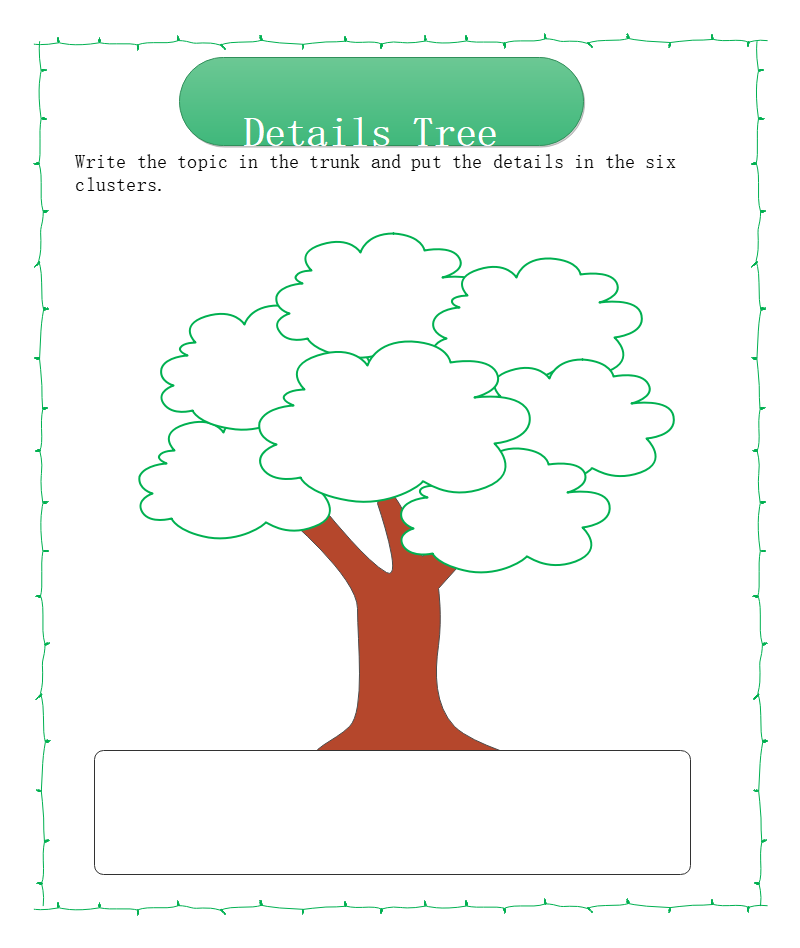 Source:EdrawMax Online
Example 8: Greek and Latin Roots Root Word Tree Graphic Organizer
Greek & Latin roots are the basic building blocks of over 70% of the words in the English language. This tree map template is helpful in demonstrating Greek and Latin root words and the English words derived from them. It is an excellent tool for language classes at higher grades. The teacher or students decide which root word they will work on. Write the root word in the box at the base of the tree. Now they start brainstorming to come up with as many words from the given roots as possible. These words are written in the branches. It can be completed in one session or over a while for more complex roots.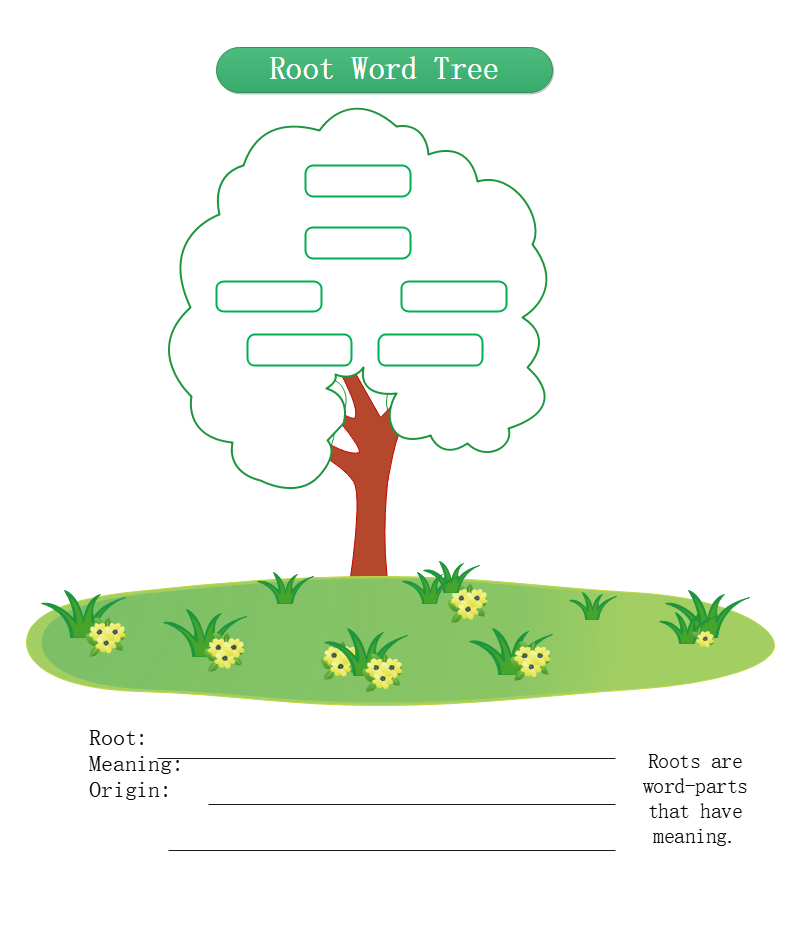 Source:EdrawMax Online
Example 9: My Family Tree Map
This is a very detailed and very well-researched family map tree. It can be used to trailing through the family history of famous personalities or to create a family lineage for a family. It starts from the root and traverses through numerous levels to go to the leaves. The rectangular shapes given are spacious enough to add further details like country, place of birth, year of birth, lifespan, or any other related fact.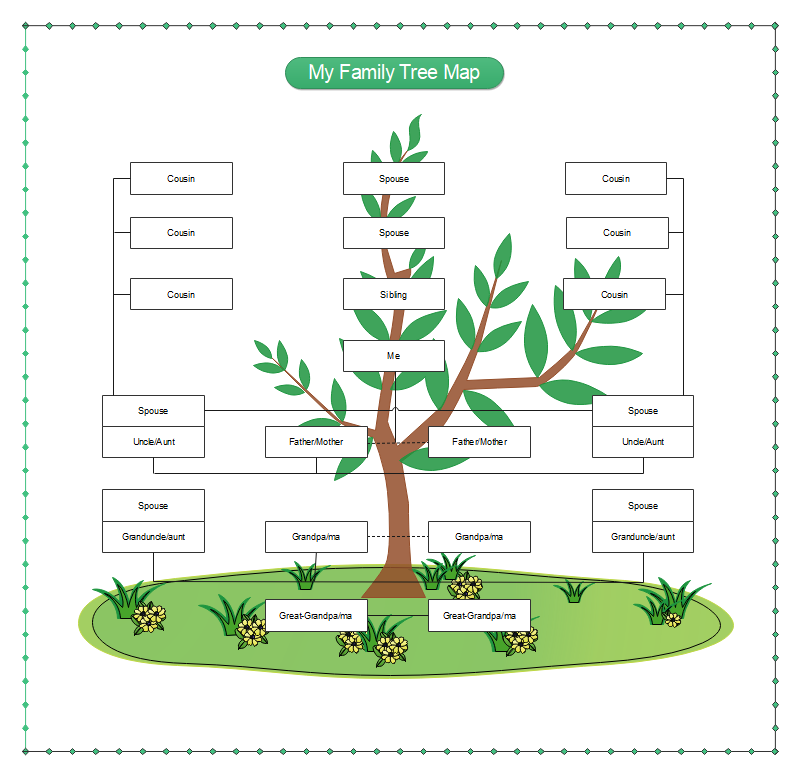 Source:EdrawMax Online
3. Online Tree Map Graphic Organizer Maker
The tree map graphic organizer is used to present the hierarchical nature in a graphical form. There are many tools available for creating graphic organizers both online and on the desktop. EdrawMax Online is a powerful tool that has vast symbol libraries, drawing tools, and customization features for over 280+ types of drawings. It is a must-have software for teachers, graphic designers, drawing professionals, and companies. You can easily create a professional-looking tree map template using the symbols and tools available. You can even save more time by picking up a template from templates community and building on it. The design quality is superb, the layout is professional, and customization has no limits in the EdrawMax Online territory.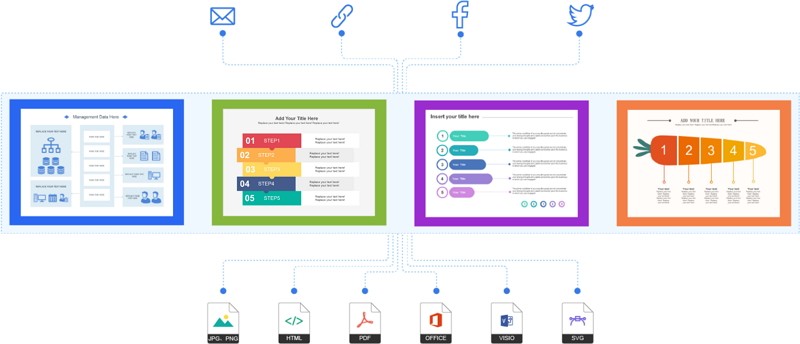 EdrawMax Online
Create 280+ types of diagrams online
Access diagrams anywhere, anytime
Everything in desktop + Templates Community
Team management and collaboration
Personal Cloud and Dropbox Integration
4. Key Takeaways
Tree map templates come in handy in many situations, including classrooms, data collection and representation, literary exercises, organization structures, and showing the chain of command from an HR perspective. It is always better to create tree maps that are clean-looking, compact yet with complete information using a tool that can be easily modified in case required. EdrawMax Online is an easy-to-use and professional software that makes creating tree map graphic organizers a matter of few clicks and some drag and drop actions. You can find out more graphic organizer examples in the Template Gallery.