Free Editable Ecomap Examples
Want to engage more easily with study participants or want to highlight the social context of relationships? Well, what better ways are there than an effective ecomap? Here are some free editable ecomap examples that you can try today.
1. What is a Ecomap
Ecomaps are one kind of graphical representation, which shows the connections of an individual to all systems that are at play at the given time. These graphical presentations are useful for a number of purposes. However, they are mostly used in nursing professions and social work. This system was developed in 1975 for the first time by Hartman for depicting the ecological system, encompassing an individual or a group. Ecomap examples use different symbols to represent various connections of the individual in a simple manner. In other words, it gives the counselor an easy way out to have a better knowledge about the surrounding of the individual in question.
2. The Ecomaps Examples
Ecomaps reveal the necessary information about not only the existing relationships but also their quality. That is why it has become an easy tool for professionals to assess clients and their relationships with the system, family, and the surroundings as a whole. Based on the purpose, the use of ecomap will vary. Here are some ecomap examples.
Example 1: Family Ecomap
The most common use of ecomaps is to assess the connections in a family and their quality. Based on what areas the interviewer wants information about, the family ecomap can be both a very content one or comparatively large. Family ecomaps usually cover information about the health service of the family, the work, educational connections that may include schools, colleges, universities, and so on. These ecomaps may also include information about sports activity. Information regarding friends and extended family is also a part of this ecomap.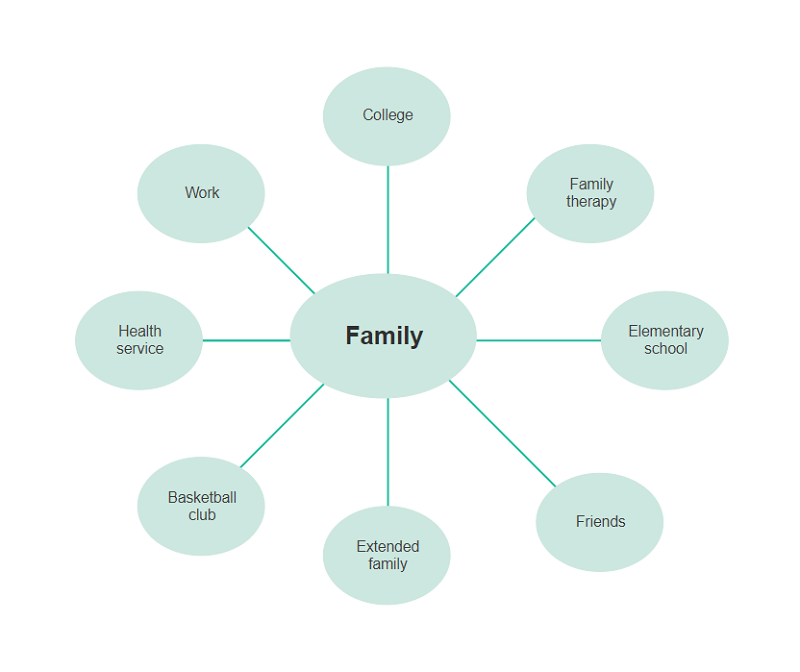 Source:EdrawMax Online
Example 2: Larger Society Family Ecomap
These are also family ecomaps, except they involve a larger part of society. Besides the connections regarding basic rights, these maps include some additional services in society. For example, they include the religious connection of the family unit in society. They also include connections of the family with health institutes and physicians. Social services and other non-health community services are also included. Some of these ecomap templates also include utility services. The family unit, as an individual, makes the center of the map, and the connections are made surrounding it.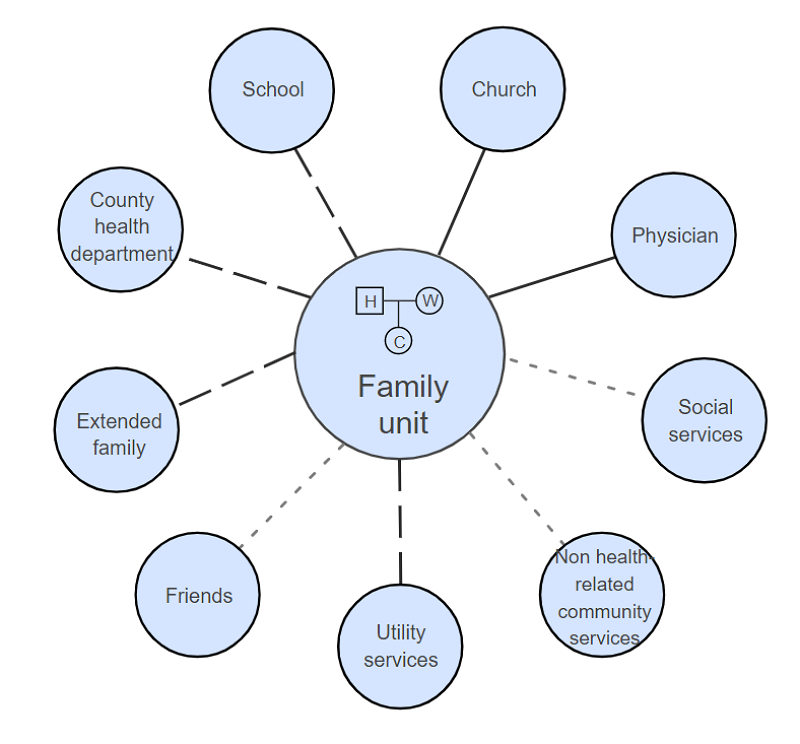 Source:EdrawMax Online
Example 3: Ecomap for Seniors
These ecomaps are a great help to understand the connection encompassing a senior citizen of the citizen. In these ecomaps, usually, a circle is drawn that includes the family members of the senior citizen. Other connections outside the family remain outside this circle. Like other ecomap templates, these also use a single line, double lines, and others to indicate the strength of the connection, and so on. In this case, marriages, deaths, information as such are also included in the map as well as the flow of resources, energy, or interest.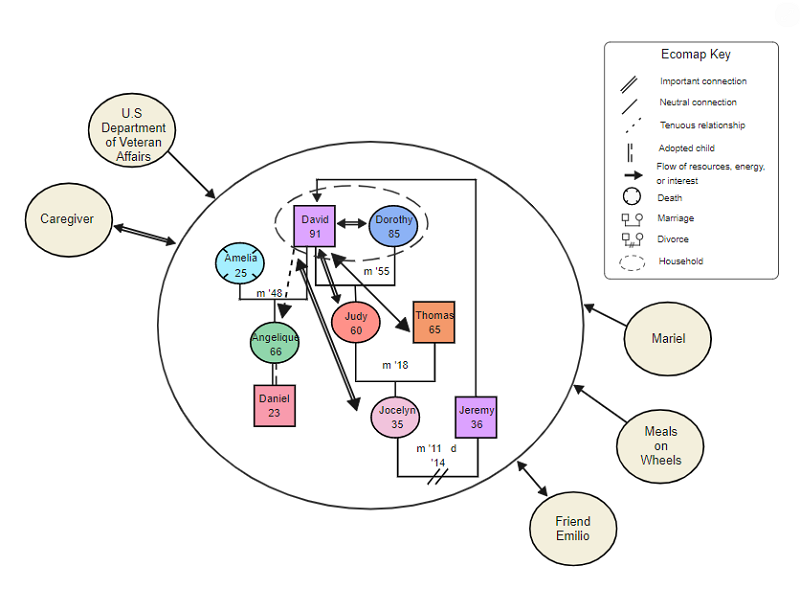 Source:EdrawMax Online
Example 4: Ecomap for Social Relationships
This type of ecomap example is all about the individual's relationships with others in society. Now, based on the individual and his connection range, the ecomap will have either a few boxes of information or a large amount of it. The information usually included in these types of ecomaps is the individual's work relationships, recreation friends or buddies, connections in school, college, sports connections, regular friends, counselor or other types of health specialists, and so on. The intensity of these connections is usually indicated by the thickness of the lines.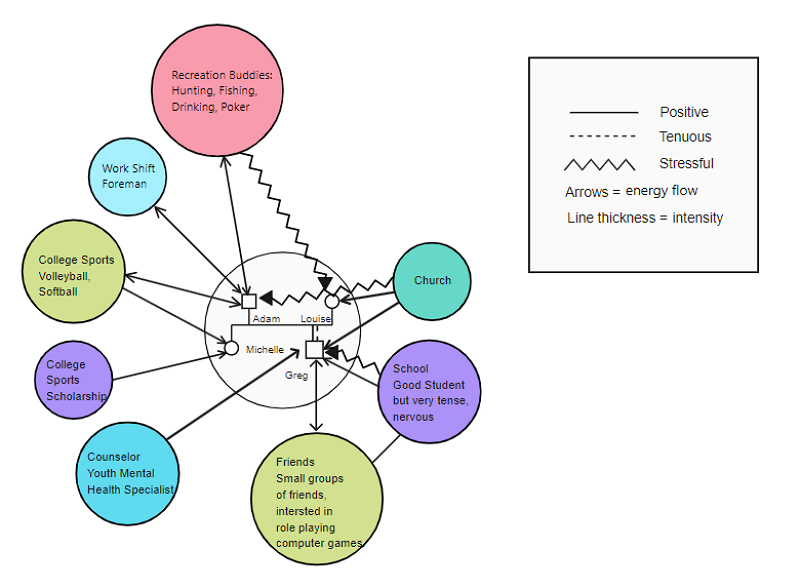 Source:EdrawMax Online
Example 5: Parent-Child Ecomap
The center of these ecomaps is made with the parents and their children. Based on the number of children and active parents, the center will include more interviewees. The activities and connections of these parents and children are then lined out in these maps. The information usually includes different sets for the parents and the children. For the parents, the connections usually involve hobbies, work, and family. And for the children, the information usually involves hobbies, school, friends, etc. A common interest in both cases may be their connection with the extended family.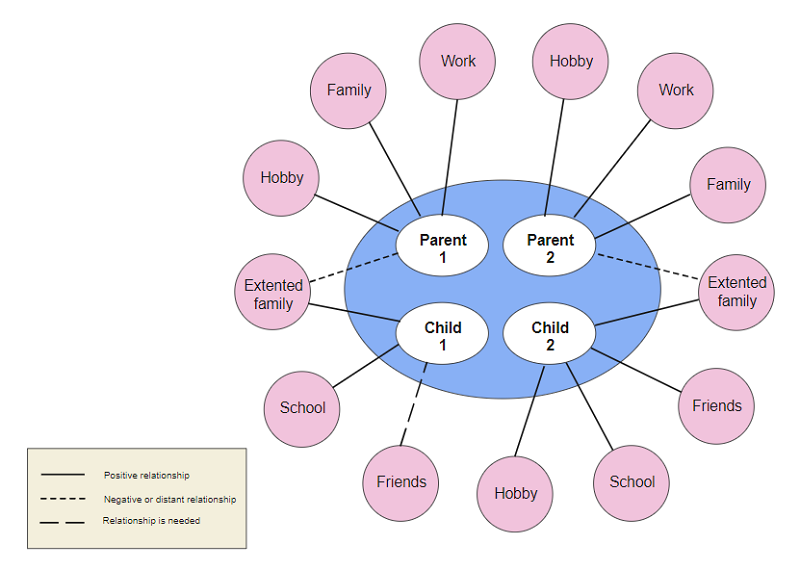 Source:EdrawMax Online
Example 6: Child Ecomap
A child ecomap centers the child and includes information about his or her interests and emotions. For one, it includes their connection to the pet, if any. It also gives information about their daily contacts outside the family, which may include but is not limited to friends, health care providers, bullies at school, etc. Extracurricular activities, like Karate and dance lessons, may also be included. Nevertheless, their family connections, like father, mother, grandparents, siblings, etc., and extra-family connections, like best friends, and some other connections may also be included.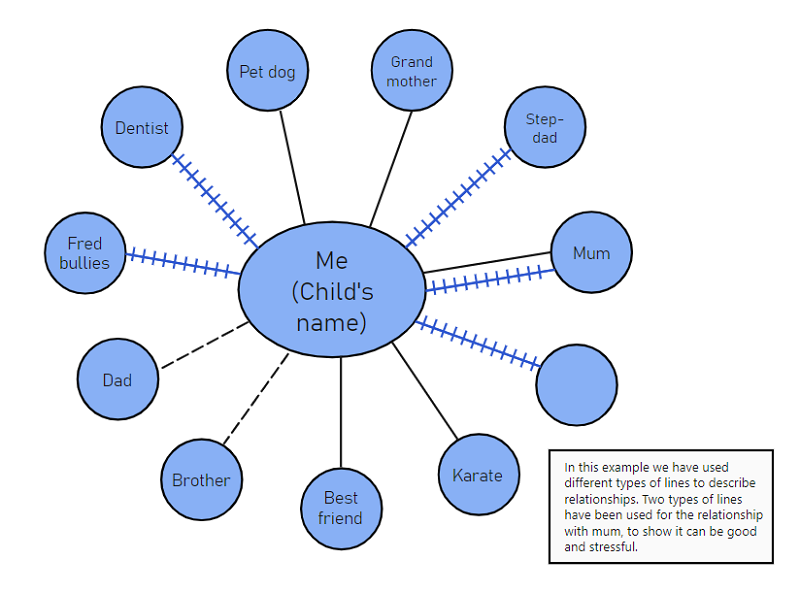 Source:EdrawMax Online
Example 7: Ecomap for Developing Family Service Plan
Ecomaps for developing family service plans involve children with developmental delay or their families. As we all know, assessing the services and supports that such a child may need is quite important, and ecomaps for developing a family service plan help in the process. In this case, the regular activities, like work, health care, involvement in social welfare, culture and/or religion, recreation, and involvement with people, like community neighbors, friends, family, etc., are included. The counselor marks different connections as positive relationships, negative relationships, strained relationships, absent relationships, and arrows to denote flows of resources.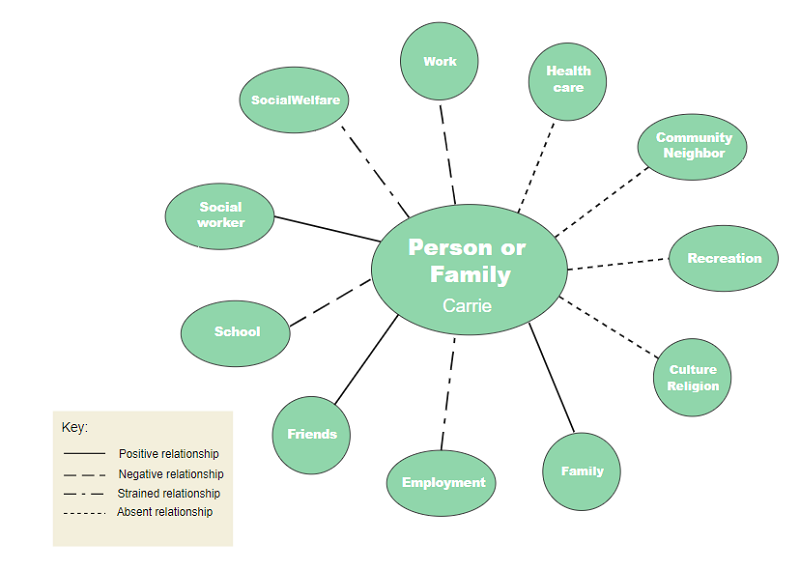 Source:EdrawMax Online
Example 8: Individual Ecomap Example
Ecomaps for individuals are more common, and the connections are more easily established. For starters, you just need to draw some lines connecting different people to the life of the individual in question. These lines will vary on the basis of the strength of the connection. For example, strong connections or a lot of support can be described with wide lines, while some support is described with medium lines and simple existence is denoted by single lines. Source of stress can be indicated by broken lines, and outward support or supporting someone else is denoted by arrows toward that person.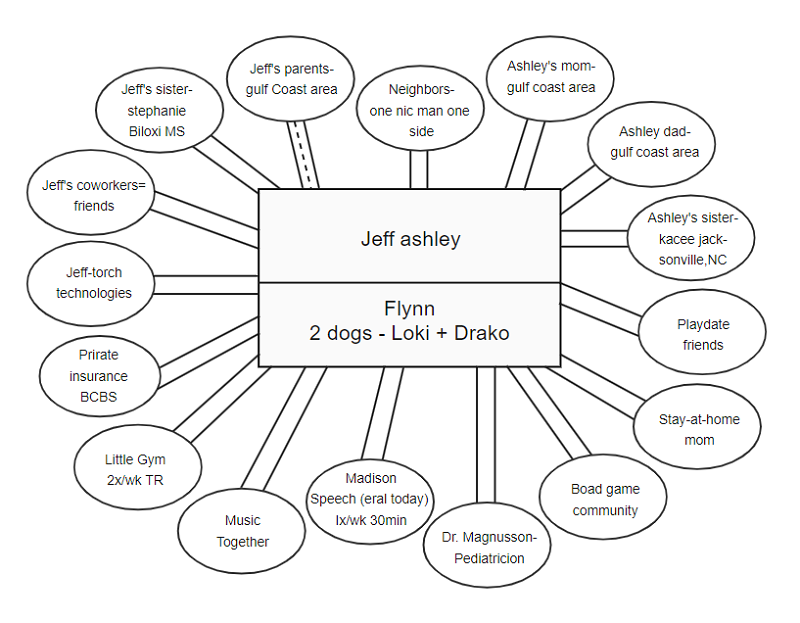 Source:EdrawMax Online
Example 9: Ecomap for Parents with Support levels
Ecomaps do not always involve children; they can sometimes even include a parent with support levels. These ecomaps describe the connections that parents have with their surroundings. The interviewer asks some formal and informal questions to get the answers. The connections include the parents' relationship with their kids, their parents, their neighbors, and so on. Furthermore, the interviewer also obtains information regarding their work life, their health plans, cultural or religious points of view, sports or fun activities, and so on.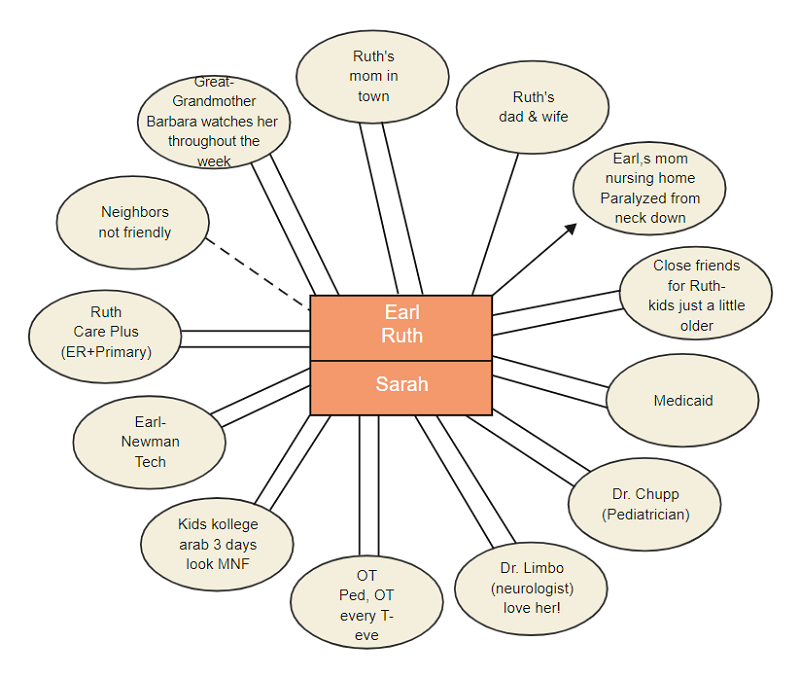 Source:EdrawMax Online
3. Online Ecomap Maker
There are a number of ecomap makers, which can come in handy in terms of making ecomaps online. However, some of them will cost a significant amount and some others are quite challenging to operate. Nevertheless, you can use EdrawMax Online, which is a good choice for making visual organizers and representations, like ecomaps. EdrawMax offers thousands of free built-in templates with over 26,000 different symbols to help in the process. You can easily collaborate with your team and share with social media. As a whole, EdrawMax is everything you and your team will need for intelligent diagramming and creating excellent ecomaps. Here you can also find detailed steps of how to create an ecomap.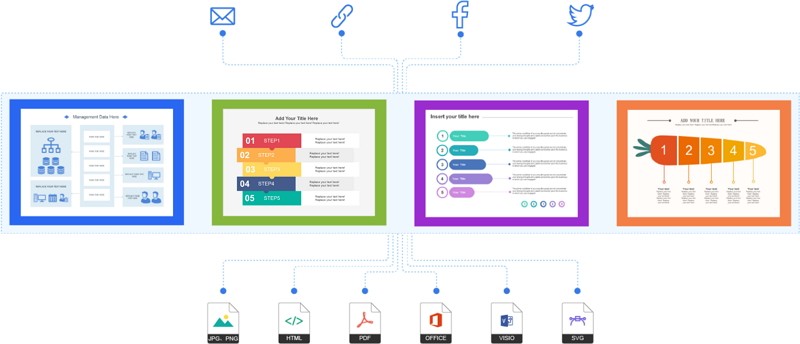 Why Choose EdrawMax Online
Create over 280 diagram types
Supports team collaboration
Personal cloud & data protection
Print, share and download
Powerful template community
4. Key Takeaways
Ecomaps can come in handy when you want to organize a handful amount of information and grasp them quickly. However, the best online ecomap makers, like EdrawMax Online, can help you in visualization, innovation, collaboration, and so on. Hopefully, the ecomap examples mentioned in this article will help you a lot.