Free Editable Web Graphic Organizer Examples
Web graphic organizers are visual tools to represent relationships and links between different entities in an idea or topic space. They are a great aid for students, teachers and professionals to clarify the concepts for themselves or their audience. Read the article and get free editable web graphic organizer examples.
1. What is a Web Graphic Organizer
Web graphic organizers are a method for visually organizing information, ideas, and concepts to help the audience, students, teachers, or employees understand and retain. These tools allow making connections, making a big connected plan and communicating the idea effectively in an easy to understand way. Web graphic organizers are also very effective teaching aids, especially for children with learning disabilities. The goal of an effective web graphic organizer is to organize complex information simply. It can use shapes, colours, images and text to simplify the information and the connections. There are many types of graphic organizers that you can use according to your requirements. For example, if you are looking for an organizer to take notes while studying, a concept map is good. While in comparison studies, the Venn diagram is a better choice.
2. The Web Graphic Organizer Examples
There is no single format for web graphic organizers that we can use according to the requirement. Colors, shapes and graphics can be utilized in graphic organizers for a better experience. Below are 9 editable web graphic organizer examples.
Example 1: Character Web Graphic Organizer
This graphic organizer is a perfect tool for studying and creating characters for kids. This is a great aide for reading classes and creative writing classes. However, this is more suitable for kids of grade 2 onwards because, along with the physical features, it asks the student to fill in personality traits and actions along with the text evidence. Character web graphic organizers are an essential study tool for teachers related to language arts and literature reading.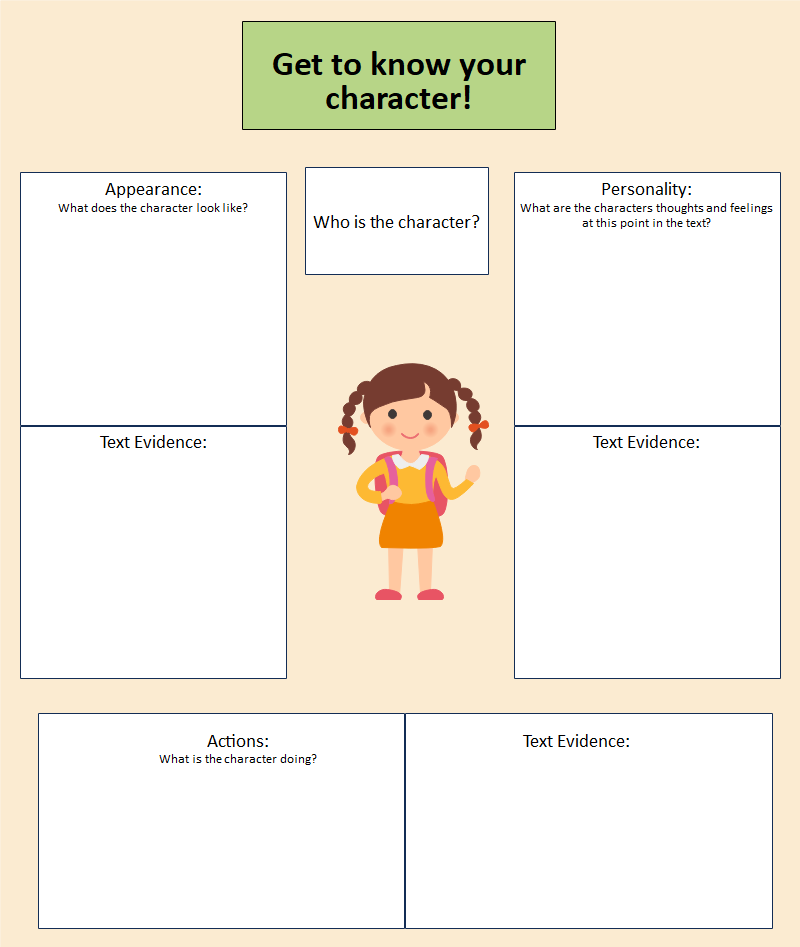 Source: EdrawMax Online Edit Now
Example 2: Idea Web Graphic Organizer
Idea web graphic organizer is based on the spider map methodology of the concept map. It has the main topic in the center of the map, and different ideas related to it are placed in the connected branches. Each branch is then classified into other concepts associated with the respective concepts. This organizer is very useful for brainstorming and idea generation in conferences, workshops and classes. It allows a better understanding of the topic and different ideas related to it.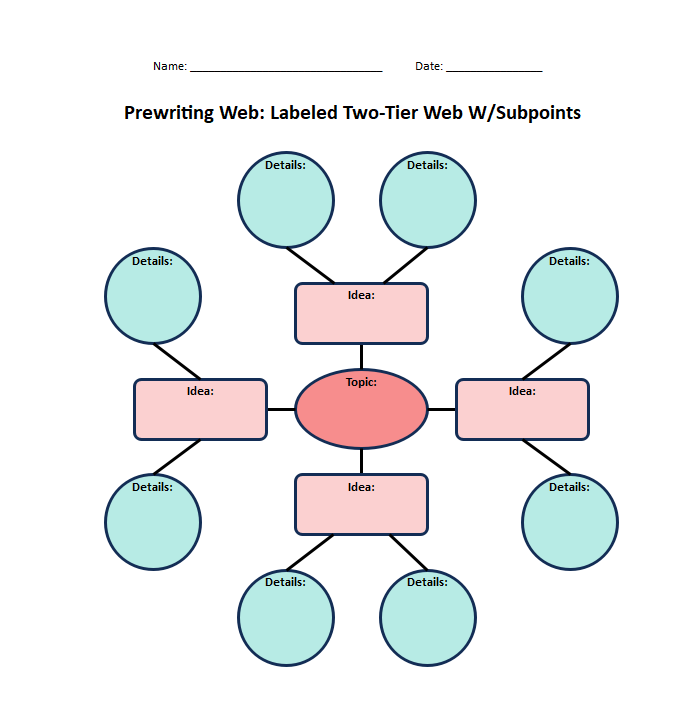 Source: EdrawMax Online Edit Now
Example 3: Story Web Organic Organizer
Story web organic organizer is a suitable organizer for studying and reviewing literature pieces and stories. For example, teachers can use it for literature review or creative writing in language classes and workshops. The student needs to fill in all elements related to the story's plot, including exposition, rising action, climax, falling action and resolution. The details of all these headings are also described in the organizer for quick reference.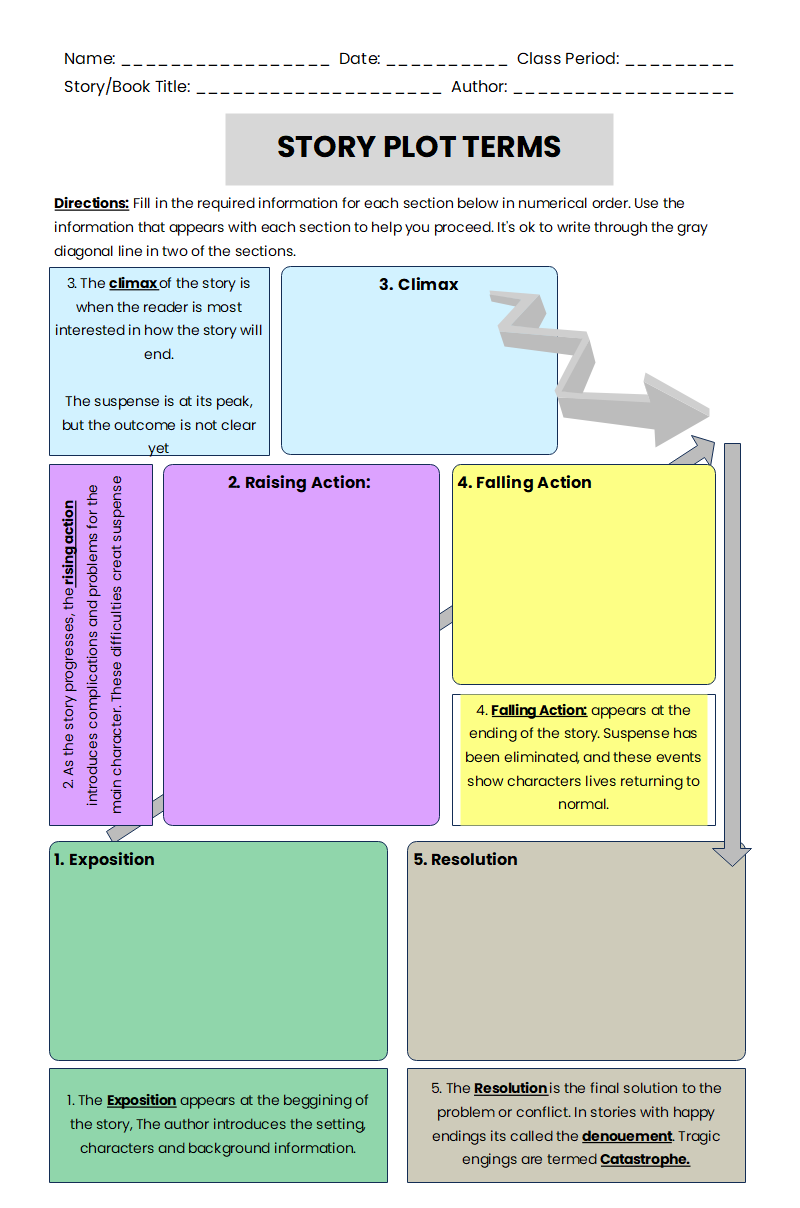 Source: EdrawMax Online Edit Now
Example 4: Concept Web Graphic Organizer
Concept web graphic organizer is a concept map that studies the causes of problems. For example, we can explore climate change, its causes, solutions and evidence. All these main branches are further expanded in detail. This is a great tool to study problems and find their answers and rationales. It can grow to more levels. However, too much detail and levels can make the study more complex.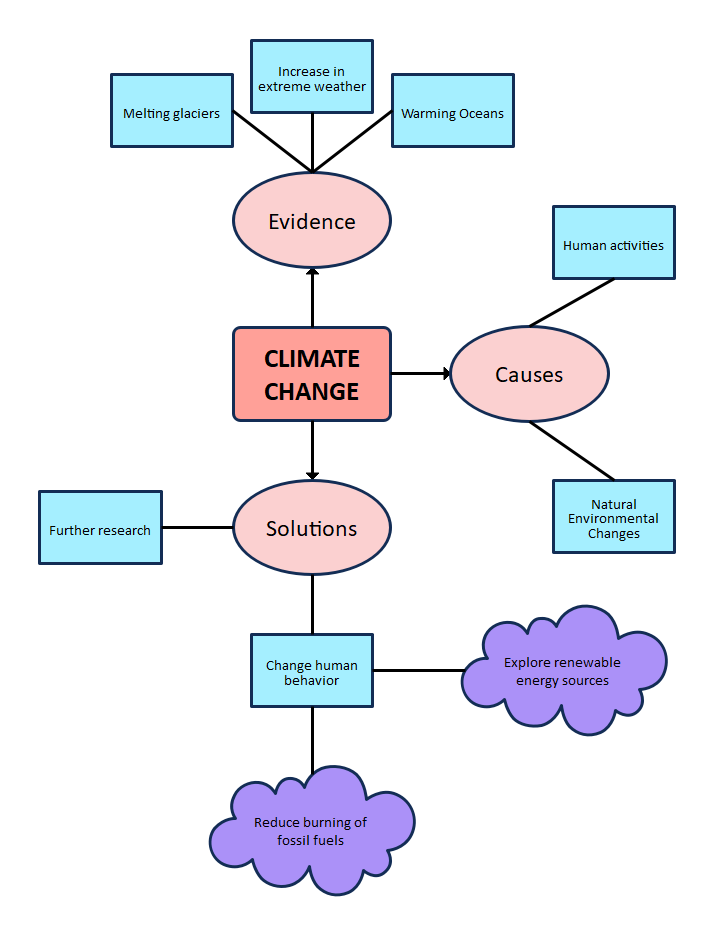 Source: EdrawMax Online Edit Now
Example 5: Brainstorming Web Graphic Organizer
This is another concept map that gives the basic structure for studying and brainstorming a topic. It can be used for problem-solving, idea generation, literature studies and environmental challenges. This is a bare-bone structure that can be used as it is, or it can also be customized to add specific subtopics. For example, brainstorming sessions for a team, can be used in their structural form. However, it can be filled in initially by the teachers for students of lower grades to give them pointers for guiding the thought process.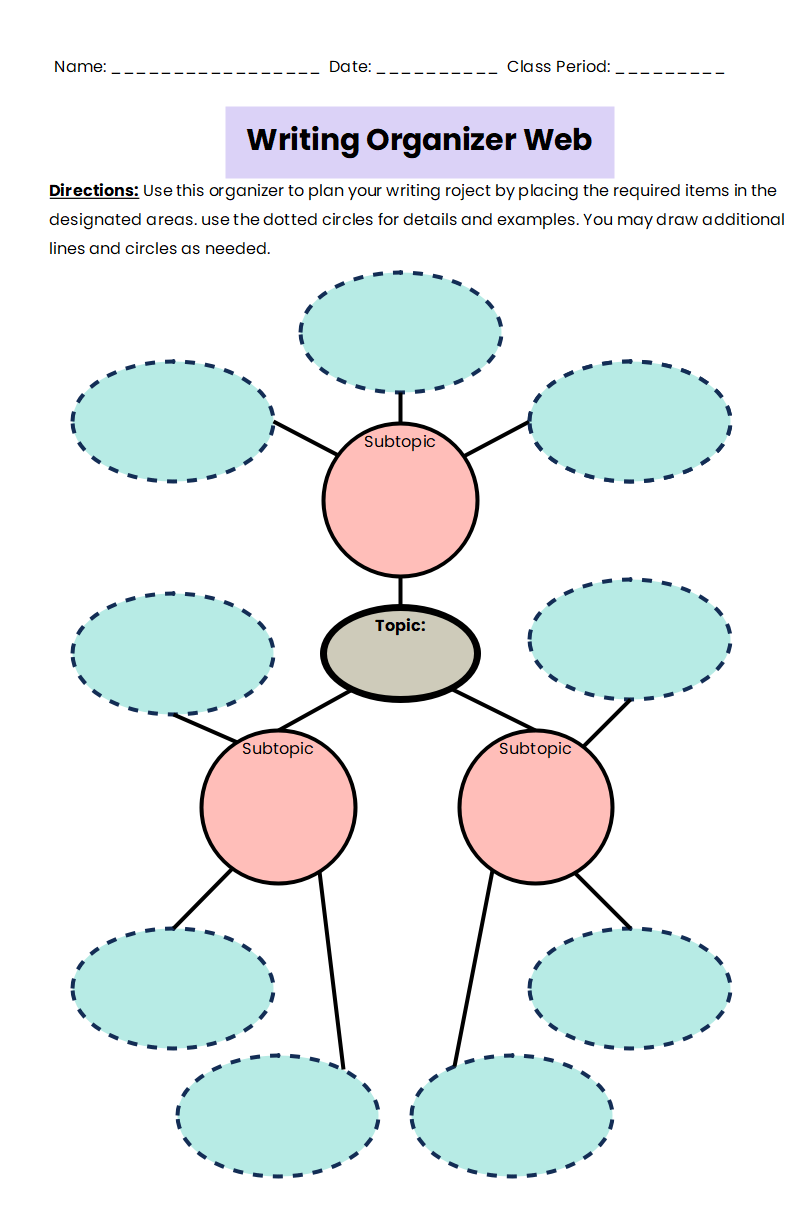 Source: EdrawMax Online Edit Now
Example 6: Food Web Graphic Organizer
Food web graphic organizer is a visual tool to brief students about food chains and dependency of different species on other species and how nature works. It uses pictures of animals included in the food chain; therefore, this organizer is very useful for students in lower grades. It is a great study aid for studying animals and nature and helps retain interest and information effectively.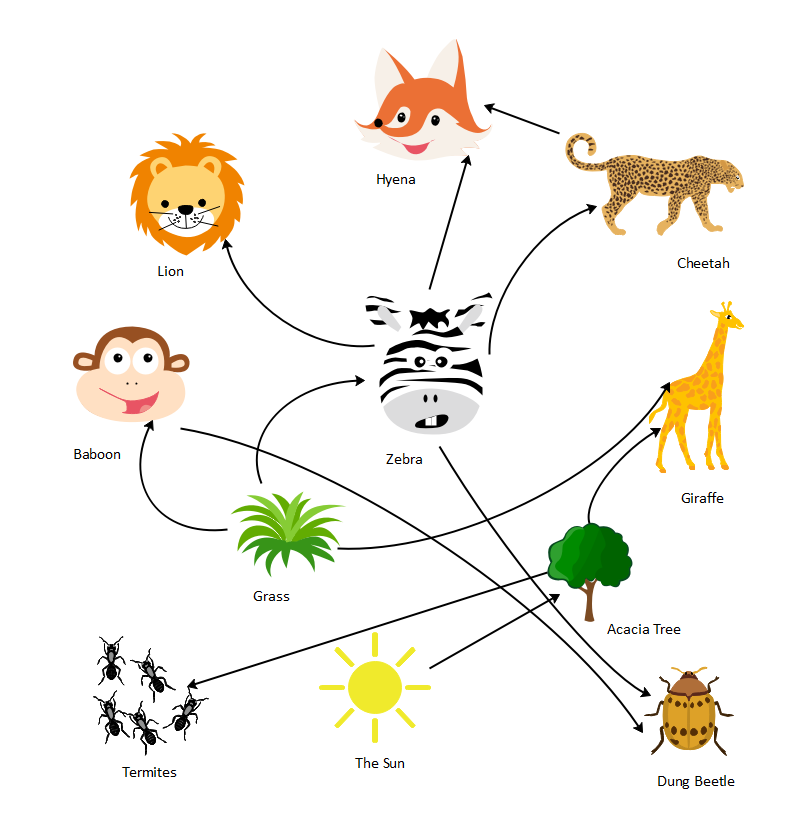 Source: EdrawMax Online Edit Now
Example 7: Cluster Web Graphic Organizer
A cluster graphic organizer is a non-linear graphic organizer that helps systematize idea generation of a central topic. This is a detailed and informative graphic organizer to understand different types of species. It may help understand the classification or organization of specific issues or concepts. For example, this organizer is about plants and their classification at multiple levels. It can be extended to various levels. Some images and graphics are also used to make the organizer more attractive and more meaningful.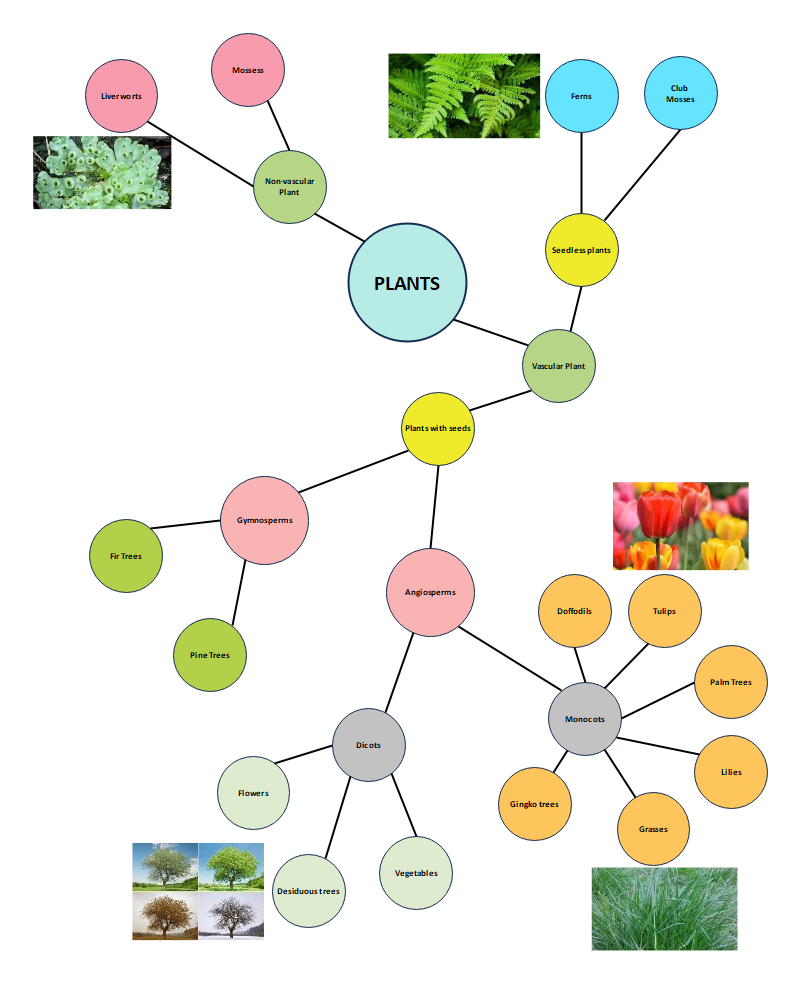 Source: EdrawMax Online Edit Now
Example 8: Semantic Web Graphic Organizer
Semantic web graphic organizers are maps of words that visually display connections of words or phrases based on the meanings. Semantic maps are especially effective and useful for understanding the meanings of words for students with learning disabilities. It helps to enhance vocabulary and retain the meaning of new words learned. It also supports reading comprehension. It is also a great tool for maintaining information after reading, including word connections and concepts.
Source: EdrawMax Online Edit Now
Example 9: Web Graphic Organizer with Lines
Web graphic organizers with lines are a writing aid for understanding concepts and topics. It may show a picture in the center to write about, or a written topic may be included. It can also be used to make notes about a topic, observe the given pictures or write about a topic. Adding lines to the organizer helps in writing properly and adding details to the topic.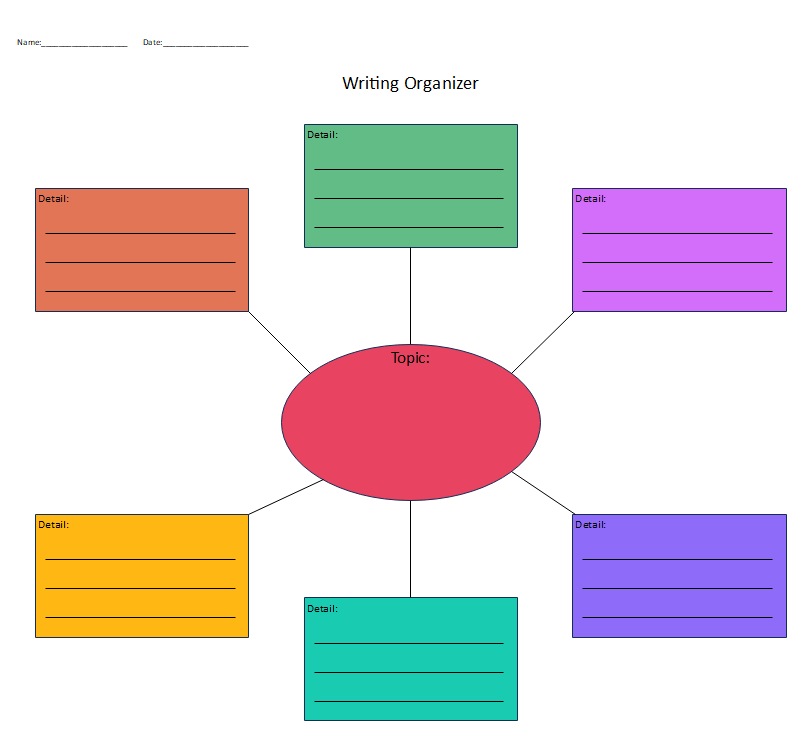 Source: EdrawMax Online Edit Now
3. Online Web Graphic Organizer Maker
Online web graphic organizer makers are available online easily. However, you need to select one with some important features like export in different formats, customizable images and different tools. EdrawMax is a perfect tool that is available in both desktop and online versions. You can draw attractive drawings and diagrams effortlessly with a wide variety of tools available in the software. It has a collection of pre-designed and customizable templates for drawings. You can also contribute to the template gallery through your diagrams. Symbol libraries are also available for different drawings that can easily be dragged and dropped in the mainframe for easy drawings.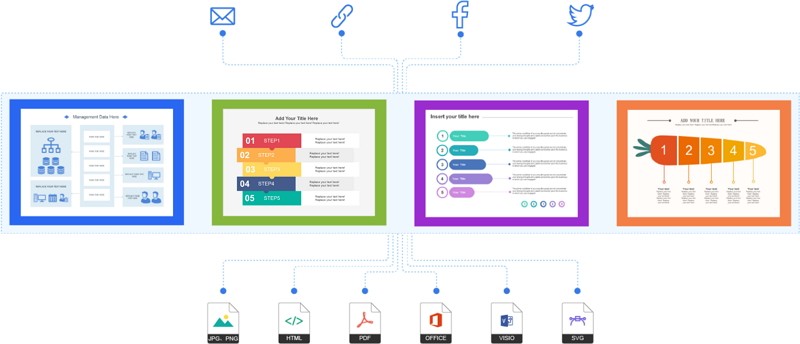 Why Choose EdrawMax Online
Create over 280 diagram types
Supports team collaboration
Personal cloud & data protection
Print, share and download
Powerful template community
4. Key Takeaways
Editable web graphic organizers are great graphic organizer makers for teachers, students and professional teams for brainstorming, idea generation and problem resolution. These visual tools help students with learning disabilities, and teachers use them very effectively. EdrawMax Online is a very helpful software to create all kinds graphic organizers effectively within less time. You can find out more graphic organizer examples in the Template Gallery.