Wendy SWOT Analysis
The SWOT analysis of Wendy's by EdrawMax analyzes the fast-food giant by strengths, weaknesses, opportunities & threats.
1. Lead-in
SWOT Analysis is the analysis of a company done basing on its strength, weaknesses, opportunities, and threats. Wendy's SWOT Analysis is nothing but looking into the depths of the company by keeping in mind these four significant features. The SWOT Analysis of Wendy's will also give the higher-ups and professionals an idea about where Wendy's stands among its competitors in the market.
The SWOT Analysis for Wendy's makes it all easier to identify the problems and find solutions to tackle them in the future. In this article, we will introduce the SWOT analysis by creating a SWOT analysis diagram using EdrawMax Online.
2. About Wendy's
2.1 Introduction of Wendy's
Wendy's is one of America's most popular fast food joint chains with an international presence. Wendy's value propositions are "Quality is our recipe," "Do the Right Thing," and "Give Something Back." No one can ignore Wendy's competitors as they all hold a significant position in the market. Wendy's SWOT Analysis will help to understand these competitors and their competition with Wendy's.
2.2 Overview of Wendy's
| | |
| --- | --- |
| Name | Wendy's |
| Founded | November 15th, 1969, Columbus, Ohio, USA |
| Industries served | Restaurant |
| Geographic Area Served | USA, Canada, Argentina, Aruba, The Bahamas, Cayman Islands, Chile, Curacao, Dominican Republic, Ecuador, El Salvador, Georgia, Guatemala, Honduras, India, Indonesia, Jamaica, Japan, Kazakhstan, Kuwait, Mexico, New Zealand, Philippines, Panama, Qatar, Trinidad and Tobago, UAE, UK, Uzbekistan |
| Headquarters | 1 Dave Thomas Boulevard, Dublin, Ohio, USA |
| Current CEO | Todd A. Penegor |
| Revenue (USD) | US$ 1.9 billion approximately for the year 2021 |
| Net income (USD) | US$ 200.4 million approximately for the year 2021 |
| Main competitors | Chick-fil-A, KFC, Good Times Restaurants, Luby's, and Burger King |
| Employees: | Approximately 14000 employees as of 2022 |
2.3 History of Wendy's
| | |
| --- | --- |
| 1969 | Founded Wendy's in Ohio |
| 1976 | First Canadian restaurant opened in Hamilton, Ontario |
| 1990 | Expanded operations |
| 2004 | Wendy's Wonderful Kids (WWK) is Established |
| 2008 | Wendy's consolidated with Arby's Restaurant Group, Inc. to form Wendy's/Arby's Group, Inc. |
| 2013 | Wendy upgraded its brand logo |
| 2018 | Company raised $200 million for the Dave Thomas Foundation for Adoption |
| 2019 | Company celebrated 50th anniversary |
| 2022 | Wendy's opened its 7,000th restaurant in Dacula, Georgia |
3. SWOT Analysis of Wendy's
Strengths
Brand name: Wendy's is a well-known name in the market. It has over 10000 employees. The brand value and reputation of this company are very high. It has a long history of experience, and its operations show that experience. It has a strong chain network built over the years, and now that network comes in handy.
Global presence: Wendy's is the largest burger chain in the world. It has over 6000 stores and restaurants all over the world. It is known for its strong global presence.
Quality food: Even though other stores provide their customers with good quality food; they are nothing in front of Wendy's. Wendy's is known for its fresh meat. Instead of frozen, they use fresh ones, which is a big deal for health-conscious customers in today's world.
Impressive marketing strategies: To have a well-established global presence and to let more and more people know about your business, you should know how to make proper marketing strategies. Wendy's has a strong marketing strategy via TV commercials, and its social media presence can be considered a big thing.
Weaknesses
The issue with operations across all the stores: It is pretty natural that when you have so many outlets, some mismanagement will be there. However, when your business is as popular and in demand as Wendy's, you cannot afford to make mistakes and create issues in operations in other parts.
Needs to have more outlets: Though Wendy's has quite a massive list of countries as its clientele, it is pretty noticeable that all its other competitors have a far vaster global presence than Wendy's. It is not very good for the business, as it needs to focus more on expansion.
Expensive products: Fast food has become a daily need and is something people consume almost regularly. However, if it is not within budget, it is natural that the demand will start to go down, which is not helpful for Wendy's to gain profit.
Bad for health: No matter how good quality ingredients they use to make these foods, it is pretty normal to know that fast food is not at all a healthy living choice. Wendy's has a vast menu of questionable food products that can harm their customers' health.
Opportunities
Expand to semi-urban markets: There is still scope for Wendy's to increase its reach to more places. With its high demand in semi-urban areas, there is a high opportunity for them to make more revenue.
New developing countries with emerging economies: With the emergence of new economies, demand for restaurants like Wendy's has increased globally, thus, creating favorable opportunities for expansion for the company.
Mergers and acquisitions: Businesses always flourish if the owners and higher managing staffs of the companies know with whom to merge their companies or what kind of acquisitions should be entertained. These decisions will play a significant role in making Wendy's a bigger company than it already is.
Menu based on customer demands: The company will gain more popularity and more business from every part of the world If Wendy's can start providing its customers with menus according to their and local demands.
Threats
High competition: Wendy's has some best competitors in the market, and more competitors entering can be a significant threat to the age-long business that Wendy's has already established.
Increase in raw material prices: The increase in raw material prices will directly affect the production cost, which in return, will be the reason behind the hike in the product price. Wendy's is already considered expensive. Moreover, if the prices increase further, it will affect their clientele and their popularity.
Health-conscious newer generations: Once, people loved fast foods, but now they are way more health-conscious than before. This positive thought might be good for humans but not for businesses running in the fast-food industry like Wendy's.
Global pandemic and recession: After the worldwide pandemic, the whole world has entered a recession stage, and when it will get better, no one knows. So, in such situations, with such a high recession, fast food joints like Wendy's cannot have the business they always did. It will undoubtedly incur a loss.
Wendy's SWOT Analysis Diagram
As you have seen here, the organization's SWOT analysis helps us understand its multiple opportunities and threats and how it can utilize its strengths and overcome its weaknesses. In order to understand the SWOT analysis better, we will create a Wendy SWOT analysis diagram using the free templates and components offered by EdrawMax.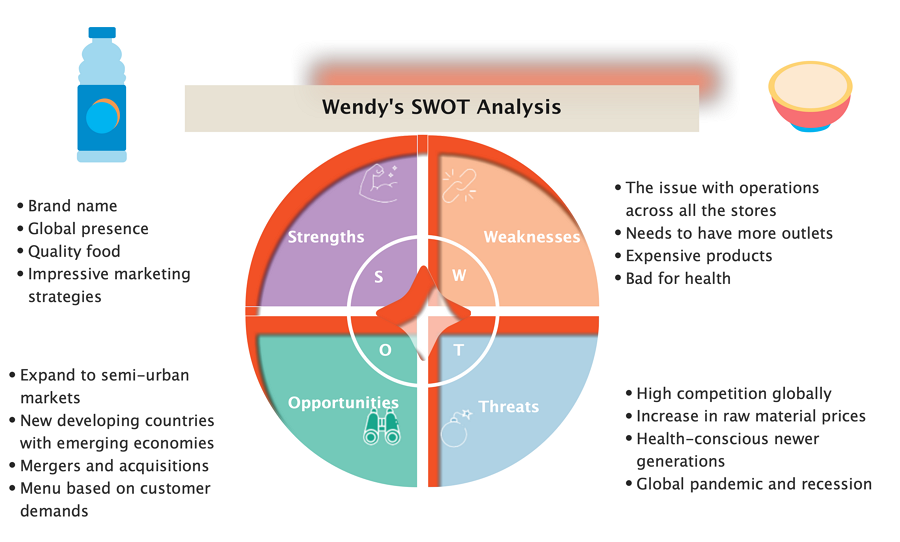 4. Free SWOT Analysis Diagram Creator
As you saw in this extensive guide, you can create some wonderful SWOT analysis diagrams using EdrawMax. Some of the most prominent features of this free SWOT analysis creators are:
With EdrawMax's template community, you can easily create a SWOT analysis, PESTEL analysis, Venn Diagram, and more in one canvas.
This free SWOT analysis diagram creator is designed by professional experts. So when you work on the design and customization parts, you do not have to worry about accuracy.
EdrawMax has an online version allowing you to access your files from anywhere.
Unlike other tools that take up much space on your system, this free SWOT analysis diagram creator is very user-friendly for your system.
The amazing feature or element of using EdrawMax is that it is free to use.
With this free SWOT analysis diagram creator, you can export the file in multiple formats depending upon your requirement.
EdrawMax Online
Create 280+ types of diagrams online
Access diagrams anywhere, anytime
Everything in desktop + Templates Community
Team management and collaboration
Personal Cloud and Dropbox Integration
5. Key Takeaways
This article is about Wendy's SWOT Analysis and how it will help the company. The SWOT Analysis of Wendy's will calculate the company's place in the market among its competitors. The SWOT Analysis for Wendy's will also help to figure out ways to make it stand better in the market.
EdrawMax Online is an all-in-one diagramming tool that offers a wide range of customization options. This free SWOT analysis creator gives you an option to export your file to different file formats, helping you to have better collaboration options. With the in-built templates and customization options, you do not require any technical expertise. All you need is the basic creativity and the data availability, and this diagramming tool will do the rest!
Reference
Business News Daily. 2022. SWOT Analysis: Definition and Examples - businessnewsdaily.com.Marketing91. [online]. Available at: https://www.businessnewsdaily.com/4245-swot-analysis.html (Accessed 6 September 2022).

Wendy's. 2022. Your online destination to all things Wendy's. Ya welcome!., [online]. Available at: https://www.wendys.com/ (Accessed 6 September 2022).
Related Articles