What Is a Lotus Diagram?
A lotus diagram is an effective management and thinking tool that helps you logically organize information to solve complex problems and manage your tasks. We will tell you everything you want to know about lotus diagrams. Learn how to use lotus diagrams their benefits, and also check out our lotus diagram examples.
1. What is a Lotus Diagram?
A lotus diagram is a structured brainstorming tool for generating new ideas and finding creative solutions for complex problems. We use these diagrams to visually represent our ideas and concepts similar to mind mapping but easier and more efficient. These diagrams help you break down problems or statements in small bits, so you can focus on all of the details and generate new ideas to solve the problem. You can easily use it to analyze a complex topic by dividing it into components.
These diagrams are mainly used to explore all components of a topic. The lotus blossom technique organizes information to visualize the logic and hierarchy of each component. A blank lotus diagram template is a graphic organizer with a 9x9 grid. The topic title or central idea goes at the center, and the lotus blossoms with related components and solution ideas expanding outwards. These diagrams help students develop creative thinking and improve their comprehension of any topic.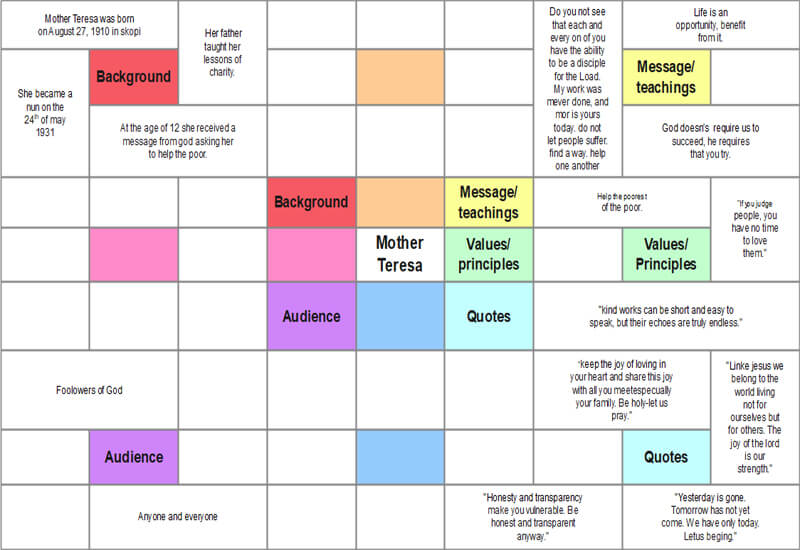 Click on the image to edit. Source: EdrawMax Online
2. Benefits of Using Lotus Diagram
Complete smooth brainstorming sessions with a lotus diagram. These diagrams are excellent thinking tools that let you focus on every detail and component of any topic or problem. Brainstorming sessions are sometimes frustrating, but you can get results and manage information efficiently with the lotus blossom technique.
Promote creativity and out-of-the-box thinking with lotus diagrams. Solving complex problems is not easy, but with lotus diagrams, you can analyze all the information and go over every detail that helps you develop creative solution ideas. Creativity also plays a big role in generating fresh ideas and explaining related themes.
Logical thinking is essential for organizing information and creating an effective framework to solve your problems. A Lotus diagram helps you utilize logical thinking to manage ideas and information in a logical hierarchy and develop an efficient solution by focusing on every detail in a logical order instead of only analyzing the major points.
Better understand the problem or the main idea of any topic by breaking it down into various components and analyzing them with a logical diagram. A logical diagram helps you improve your comprehension of any topic by visualizing the details you want to prioritize and organizing information similar to our brains. These diagrams are flexible and easy to understand for all ages.
3. Lotus Diagram Uses Cases
Outlining Writing: Students can use a lotus diagram to outline narrative writing or essays. These diagrams help students structure their writing creatively and complete their writing projects. You can write the topic of your essay or narrative in the center and expand the lotus by adding more details, timelines, and characters in the diagram.
Dividing Tasks: Lotus diagrams are excellent tools for planning events and dividing tasks. Suppose you are holding a party; you can create a plan to complete all the preparations efficiently. You can write the event name in the middle and use the lotus blossom technique to organize preparations and visualize their details.
Developing new strategies: Professionals use lotus diagrams to develop business and marketing strategies, analyze their plans, and create a framework for their companies' production. Teams create new strategies and develop various marketing methods using the lotus blossom technique. Lotus diagram gathers the ideas of all the team members and helps them determine which one is more beneficial.
Thinking and Analyzing: a lotus diagram is the best review graphic organizer because you get enough space to brainstorm and analyze every related theme or solution idea about any topic or problem. It helps with team analysis and brainstorming session where each team member represents their thoughts and compare their ideas to find out which method is more suitable to solve the problem.
Watch this video to learn more about graphic organizer. If the video doesn't play, please visit it at YouTube.
4. How to Use Lotus Diagram
Teachers, professionals, students, historians use lotus diagrams to organize information logically and structure their ideas to find an efficient solution to complex problems. Before you use your diagram, it is better to understand how to use a lotus diagram to ensure that you are using the correct layout based on your task. Follow these steps to use a lotus diagram for brainstorming and analyzing.
STEP 1: Pick the Main Topic
You need a problem statement or some topic to use a lotus diagram. You can also use a lotus diagram to create someone's biography or explain nouns. Start by writing the problem statement and pick the concept you want to explore. For narrative writing, you can write the title in the center of the diagram and move to the next step.
STEP 2: Brainstorm Ideas and Complete the Central Grid
The next step is to complete the central grid with ideas and components related to the main idea or topic. You can explore eight related themes of the main idea in one lotus diagram. After brainstorming the ideas, fill the eight boxes of the central grid around the main idea.
STEP 3: Expand the Lotus
To use the lotus blossom technique, you must expand the lotus by placing the ideas and themes related to the main topic in the eight outer grids. Take all related themes to create new lotuses around the central grid by using the related themes and ideas as the central idea.
STEP 4: Fill the Outer Grids
The last step is to fill the outer grids and complete the lotus. This method makes it easy to brainstorm ideas because you can focus on each component specifically and come up with tons of new ideas related to the problem that leads to a creative solution. Fill the outer grid in the same way you filled the central grid.
5. How to Make a Lotus Diagram
Lotus diagrams are easy to use and understand; however, making a lotus diagram is a difficult and time-taking task. You can easily make these diagrams with a blank lotus diagram template and diagramming tool. EdrawMax Online is the best lotus diagram maker that gives you many professional templates, symbols, and icons to complete your diagram. It also comes with various customization tools and unique features to edit your diagram. Here is how you can make a diagram on EdrawMax Online.
STEP 1: Log in to EdrawMax Online or create a new account.
STEP 2: You can pick a template or open a blank canvas to make your lotus diagram from scratch. Navigate to the education category and click on the graphic organizer. Select the lotus diagram and click on the ''+'' button to get a blank canvas. To use a template, go to the template community and search for the lotus diagram template.
STEP 3: After you get the template or the open blank canvas, the next step is to customize your diagram with amazing editing tools. Get icons, symbols, and connectors for the symbol library. Use connectors to create a layout and align the diagram to present it. Style your diagram by color fill, drawing tools, and auto themes.
STEP 4: After making the diagram, you have to download or share it. EdrawMax Online supports various document formats, so you can export your diagram in any format you want or print it.
6. Lotus Diagram Examples
Check out our lotus diagram examples before you make your diagram. There are various layouts and uses of lotus diagrams, and picking the right design depends on the topic you want to explore. Our examples will help you understand the benefits of lotus diagrams, and you can also select the template you want from these examples.
Example 1: Blank Lotus Diagram
A blank lotus diagram is a brainstorming tool that helps you visualize concepts issues and complete main ideas that lead to an efficient solution. The main idea is at the center, and eight boxes contain related concepts and solution areas surrounding it. The grid moves outwards to make the lotus bloom, and each concept in these eight boxes forms a separate lotus. These concepts are the main ideas in a particular blossom lotus and lead to an efficient solution.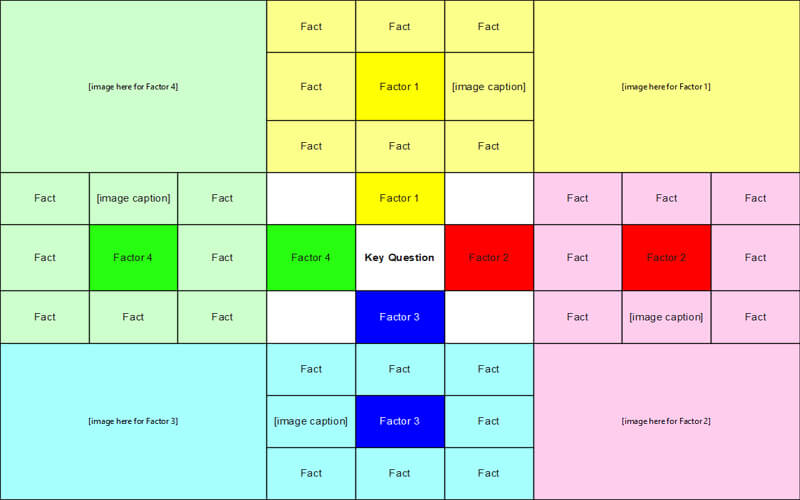 Example 2: Lotus Diagram Template
A lotus diagram is a powerful management tool that helps you reach a complete solution with smooth brainstorming sessions and efficiently organizing information and concepts. A lotus diagram template is the best way to map the solution for your problem because you can track your steps back to the main idea and start in a new direction. Teachers use templates because it helps them save time and effort by picking a template and printing it.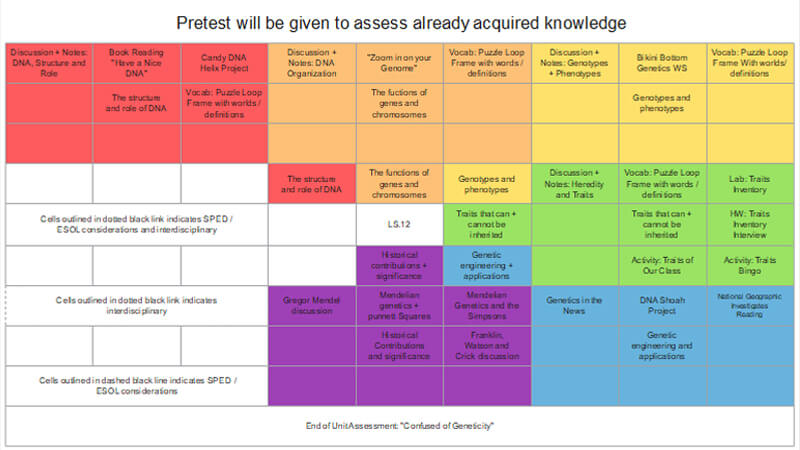 Example 3: Lotus Diagram Language
A lotus diagram is a thinking and analysis tool that helps you focus on the main idea to solve any problem or organize data logically. It is easy to understand the ideal format based on your topic with lotus diagram examples. The lotus diagram language is perfect for explaining a diverse concept such as a language.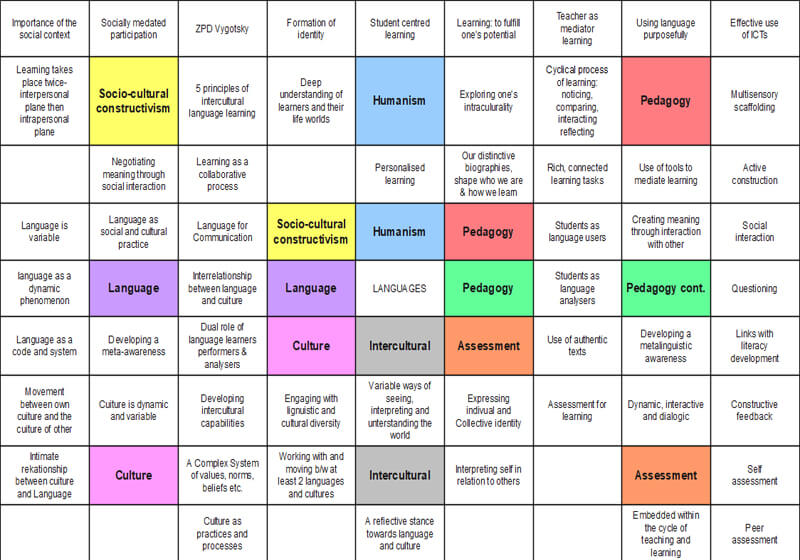 7. Key Takeaways
A lotus diagram is a thinking tool that helps brainstorm ideas and solves complex problems. These diagrams promote logical thinking to help you improve your comprehension of any topic and foster creativity to generate new ideas. Making a lotus diagram online with EdrawMax Online makes your task much easier, and you can use its professional templates and customizations tools. Find any template you want in the template community and export your diagram in any format you want. Find more lotus diagram examples.
Related Articles