What Is a Vicinity Map?
A vicinity map depicts the project site locations and its surrounding area and landmarks. It helps professionals, architects and engineers to get an accurate reference to the area around their project sites, such as highways and roads. Here, we will talk about vicinity maps, their uses, and how to create these maps using free templates.
1. What is a Vicinity Map?
The vicinity map is a small map that graphically represents the proposed area near or in close proximity to prominent landmarks. It depicts the event or project side referencing nearby developments or various other geographic features. People use these maps to locate their building projects and create building plans based on their area. It gives the general layout of the location around the sub-divided property.
Vicinity maps are the shorter variants of a city map to help simplify the area layout and showcase all objects in the vicinity of the project site. A vicinity map showcases many things such as building footprints, street layouts, and landscaping. It also represents smaller details such as parking and elevations of buildings and establishments. Vicinity maps contain more information than a location map because the purpose of having these maps is to allow anyone to get to the marked site only by looking at the map, without asking for more instructions.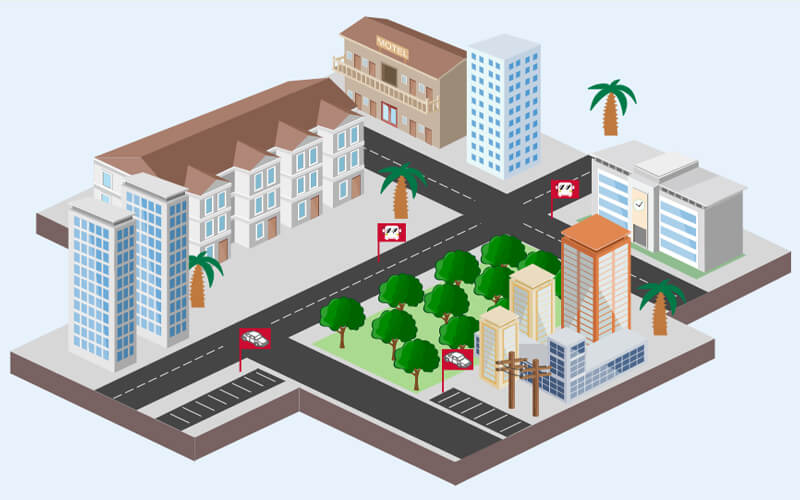 Click on the image to edit. Source: EdrawMax Online
2. Benefits of Vicinity Maps
Get to the site location with the help of vicinity maps without asking for more information or directions from others. These maps make it easier for everyone to locate the project site because they come with details and labels about the landmarks and prominent establishments around the area. It helps people get to the location only by relying on the map.
Improve your comprehension of cardinal directions using vicinity maps. Educators use these maps to help their students understand cardinal directions and how to follow them. Having a basic understanding of cardinal directions and how to get to the desired location using these directions in a city is essential for students.
Promote your business using vicinity maps by displaying them to the people and making it easier to get there. These maps are best for real estate and hotel businesses because you can use these to advertise the ideal location for hotels and housing establishments.
3. Vicinity Map Use Cases
To Make construction Plans: Vicinity maps are mainly used to make construction plans for buildings or other establishments. Town maps graphically represent the area's layout surrounding the site, which makes it easier for architects to develop an efficient building plan based on the landmarks and other buildings around it.
Driving Instructions: We use vicinity maps to depict the streets, roads, and highways near the project site to make an efficient driving plan that will not get in the way of the project's construction. Teachers use cartoon maps to help students improve their motor skills by following the roads in the vicinity map and learning how to drive around in the city.
Education: A city map is an excellent learning tool for students. Engineering students also use these maps to create projects. Teachers use vicinity maps to contrast historical and current maps. It helps them share stories with their students with geographical data. Students can also make classroom maps using these tools.
4. How to Create Vicinity Map
4.1 Steps to Create a Vicinity Map
A vicinity map is an excellent navigation tool that visualizes the layout of a sub-divided site and the prominent landmarks in its proximity. You can use these maps to develop road plans or find various places. Making a vicinity map is simple, and all you need is a destination between two points and a diagramming tool. You can also make these maps on google maps by adding details and layers. Follow these steps to create vicinity maps.
STEP 1: Write the name of your map and describe its purpose.
STEP 2: Use diagramming software to create a map using templates for your projects, or you can create a vicinity map with google maps.
STEP 3: Open google maps and search with the address of your project site. Click on the site and zoom in to access the exact location.
STEP 4: Open the google maps menu by clicking on the three horizontal lines in the left corner.
STEP 5: Click on print to save your vicinity map as a PDF document.
4.2 Vicinity Map Design
You can easily create a vicinity map using templates with EdrawMax Online. Teachers, students, professionals use vicinity maps for many things. However, making a vicinity map takes time and effort. With templates and excellent drawing tools, you can create these maps quickly. EdrawMax Online gives you a comprehensive template and symbol library. It also comes with creative editing tools and many unique features. Follow these steps to create vicinity maps using EdrawMax.
STEP 1: Log in to EdrawMax or create a new account.
STEP 2: Navigate to the engineering category and click the map option. Select directional maps and click on the "+" button to get an open blank canvas. You can also visit the template community and search for the template you want. After selecting the template, you can edit it right away.
STEP 3: Customize your diagram by adding shapes, icons and other components from the symbol library. Draw connections between the elements of your diagram. Align your diagram and style it to make it suitable for your task. Add details with drawing tools and change the themes and colors of your diagram. Use color fill to make your diagram more attractive.
STEP 4: After your diagram is complete, you can share and export it in any format you want.
Watch this video to learn more about how to create a vicinity map. If the video doesn't play, please visit it at YouTube.
5. Free Vicinity Map Templates
Example 1: Business Vicinity Map
In this example, the business vicinity map represents a city infographic of an urban space with four boundaries. Various symbols represent establishments and prominent landmarks in this template. There is also space for details and notes at the side of the template where you can write a description of each component of your vicinity map. It depicts the infrastructure of that particular area of the city.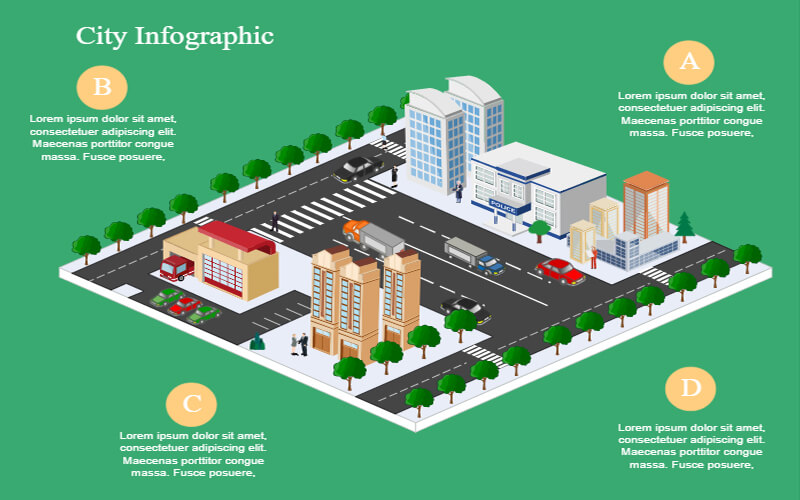 Example 2: Vicinity Map of Residence
A vicinity map of residence graphically represents the layout of the residential area and the roads around it. You can also call it a directional map to find a location in residence. You can use simple icons to depict houses, cars, and other residential establishments. A 3D template like this one is easy to use and edit. After getting the template, you can go to EdrawMax and customize it in a few minutes.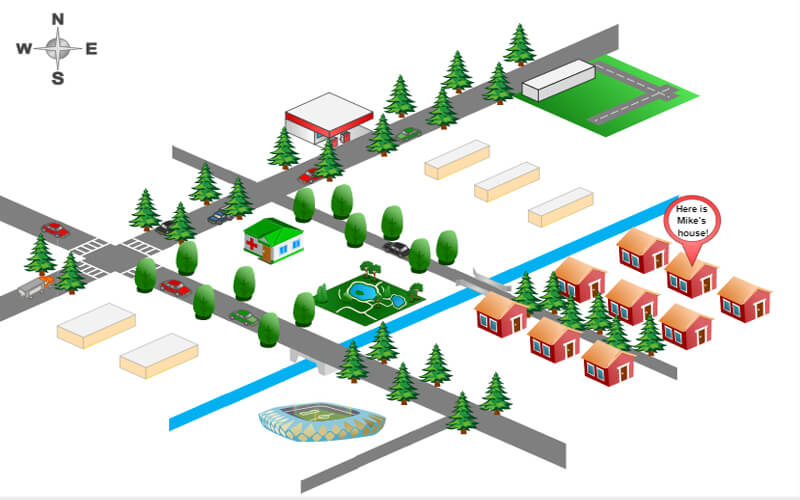 Example 3: Location and Vicinity Map
A location and vicinity map visually represents a sub-divided area and landmarks, such as roads, buildings, and establishments. These maps help people get to their desired location by following the directions on the map without any need for other assistance. It also features a compass to give you an understanding of cardinal directions.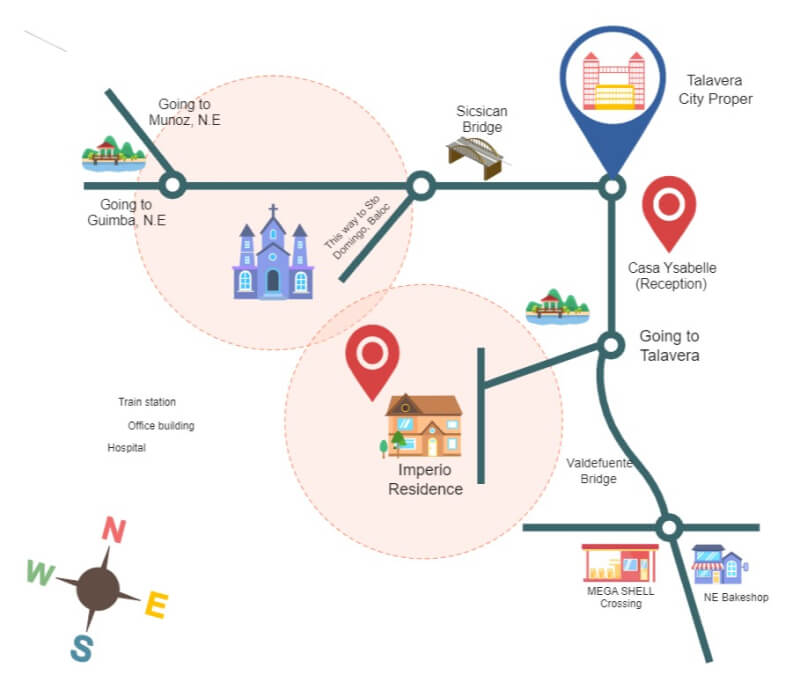 6. FAQ About Vicinity Map
1. What is a business vicinity map?
A business vicinity map depicts the landmarks and establishments around your business to determine whether your business will be successful in the current location. It also helps promote your business by giving easy directions to your business. You can use these maps for advertising hotels and residential areas if you work in real estate.
2. What is the difference between vicinity map and location map?
A location map and a vicinity map are two different concepts. A location map gives you the location of anything in the physical space, such as roads in a city or a country. A vicinity map deals with proximity by depicting the area around a particular project site. It covers a smaller area but gives you more details.
3. What should be included in a vicinity map?
You can add various components in a vicinity map. This map features roads, buildings, stores, and other prominent landmarks. There are also labels and details about everything included in the vicinity map. While creating these maps, you must have the start and ending point of the proximity.
7. Key Takeaways
A vicinity map showcases locations, landmarks, demographics, and construction ideas in proximity. You can add various details in the vicinity map, such as labels and descriptions of the components. Teachers and civil service professionals use these maps for many tasks and projects. EdrawMax Online is the best vicinity map maker with free professional templates and a comprehensive symbols library. You can select a template and create a diagram in a few clicks with EdrawMax. It also supports various documents formats, so go to EdrawMax Online and get started now. Find more vicinity map templates..
Related Articles