What is a VRIO Analysis?
A VRIO is an analysis tool used by analysts to evaluate the internal resources and proficiency of a firm. Here, we will tell you everything you want to know about VRIO analysis. Learn how to use a VRIO framework and what are its benefits. Also, check out some VRIO examples and templates.
1. What is a VRIO Analysis?
VRIO is an acronym for value, rarity, imitability, and organization. It is a strategic planning tool that analyzes an organization's internal environment and capability. The VRIO analysis gives a realistic assessment of a firm, making it is easier for the leadership to understand the strengths and weaknesses of their organization. It helps them improve their shortcomings and develop strategies to better their internal resources and sustain a competitive advantage. VRIO tools act as a guide on setting the company's priorities on important resources.
The VRIO analysis help firms understand the elements of their business by depicting the relationship between the firm's internal resources and its performance. It uses decision tree diagrams to represent the characteristics of a firm graphically and lists tangible and intangible items. It asks whether the resources add value to the firm and determine if they are rare. Rare resources are costly to imitate, so no other companies will try to use them. VRIO plays a big part in setting the strategic direction for the company.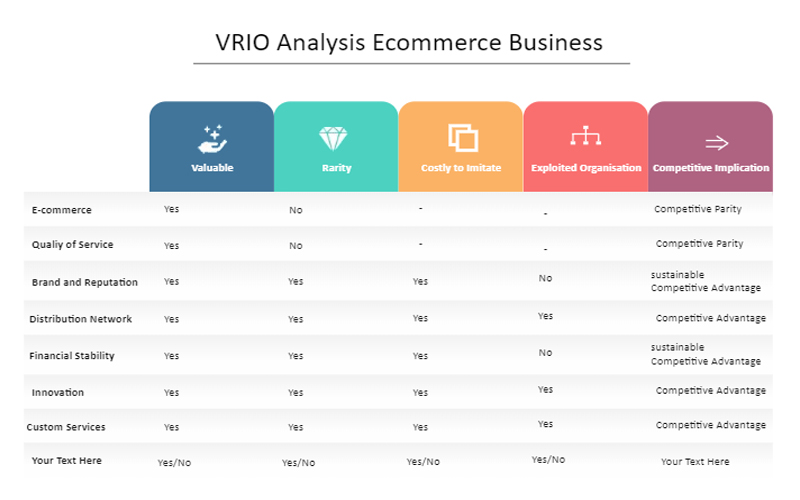 Click on the image to edit. Source: EdrawMax Online
2. Benefits of VRIO Analysis
Discover unrecognized competitive advantages with a VRIO framework analysis. These tools focus on the internal resources of a firm that are essential to maintain the competitive edge in the long run. It also helps the leadership discover resources they already possess that might give them a huge advantage.
Setting future plans with a VRIO analysis makes it easier to develop strategies that will help the company sustain its competitive advantage in the future. VRIO tells the firm about each element of its business, making it possible to predict the state of the industry in the future and make plans and prepare for anything.
Evaluate threats to your business with a VRIO analysis and discover potential opportunities that you can avail with proper strategies. A VRIO model represents all the tangible and intangible items of the firm, from valuable to rare resources giving a deeper insight into the potential threats the firm might face if it keeps moving on the same track. It helps the leadership solve those threats with planning.
Analyze your competitors the competitive advantage your company sustains in the marketplace depends on the performance of your competitors. With a VRIO analysis, you can not only analyze your firm, but you can also do it for your competitors. It helps you better understand your competitors, and if you can't beat them, you can make plans that will help you in the long run.
3. VRIO Analysis Use Cases
Exploiting Opportunities: In the VRIO analysis, the firms exploit opportunities that might increase their competitive advantage in the marketplace or try to remove a threat using them. The resources that strengthen one industry might weaken the other, so the business use VRIO to keep up with the trend. There are many opportunities to exploit, such as the demographic or cultural change that affects the whole business.
Development of Strategic Plans: VRIO is managerial tool firms use in the early stages of strategic plan development. They go over the internal resources of their companies to develop strategies that will help them in the long run. It also helps them refresh their old methods by exploiting changes in the marketplace and mitigating threats.
Assembling Resources: You can use a VRIO analysis to realize the value, rarity, and imitability of a firm's internal resources, but knowing that will do anything on its own. You need to create plans and organize your firm to take advantage of your resources and sustain a long-term competitive advantage. It all depends on how you assemble resources because, without proper organization, your resource would mean nothing.
4. How to Do VRIO Analysis?
4.1 Steps to Create a VRIO Analysis
The VRIO framework is an analysis tool for a company's internal resources, used by its management to decide which resource hold the traits outlined by VRIO. You can do a VRIO analysis by determining company resources, organizing your firm, protecting your resources, and analyzing your competitors. Follow these steps to do a VRIO analysis.
STEP 1: The first step is to identify your internal resources' value, rarity, and imitability. Conduct detailed analysis to determine your tangible and intangible resources. Tangible resources are physical, and companies can buy them, but intangible resources are hard to gain. Start with intangible resources because they are more important.
STEP 2: The next step is to determine whether your company's organizational structure can use these resources to avail of potential opportunities. It would help if you had an effective strategic management plan for this step.
STEP 3: Protect the resources that help you sustain a competitive advantage for the long term. Once you determine you have the resources and your company is organized to process those resources, make sure to protect them from imitability with everything you got.
STEP 4: After your resources are safe and your firm uses them to sustain its advantage, the next step is to review your VRIO resources regularly. Determine if they got the same value as before or discover any new, more effective resources.
4.2 VRIO Analysis Design
After you understand VRIO analysis, the next step is to get started with EdrawMax and create it using free templates. EdrawMax Online is the best VRIO analysis diagram maker because of its user-friendly interface and comprehensive collection of free templates. It also comes with a symbol library and many unique customization tools. EdrawMax lets you export your diagram in any format you want, and you can create more than 300 types of diagrams with it. Here are the steps to create a VRIO analysis on EdrawMax.
STEP 1: Log in to EdrawMax or create a new account.
STEP 2: You can make your diagram using a template or open a blank canvas to draw it from scratch. Go to new, and click on the business category. Select analysis canvas and click on the "+" button to get a new canvas, or select a template to edit it right away.
STEP 3: The next step is to customize your VRIO analysis diagram. Go to the symbols library and insert icons and symbols with a simple drag and drop. Add connecters to visualize the relationship between components. Align your diagram, adjust the layout, and style it by changing fonts. Customize it using drawing tools, auto themes, and color fill.
STEP 4: After your diagram is complete, the next step is to download it. EdrawMax Online supports various document formats, so you can export in any format you want. You can also share and print it.
5. VRIO Analysis Example
You conduct a VRIO analysis to identify the internal resources of your company. The task is already complex, and you can only make it easier by using free templates to create VRIO diagrams on EdrawMax Online. Most analysts use templates to create these diagrams because it helps them save time, and they don't have to worry about any mistakes. Here are some VRIO analysis examples for reference and free templates.
Example 1: VRIO Analysis of Amazon
The VRIO analysis of amazon in this example graphically represents the company's internal resources that make it the leading e-retailer in the U.S. It has high global brand equity, market capitalization, international market reach, and excellent artificial intelligence capabilities. These resources fulfill the VRIO standards, but Amazon is the best due to its research and development department.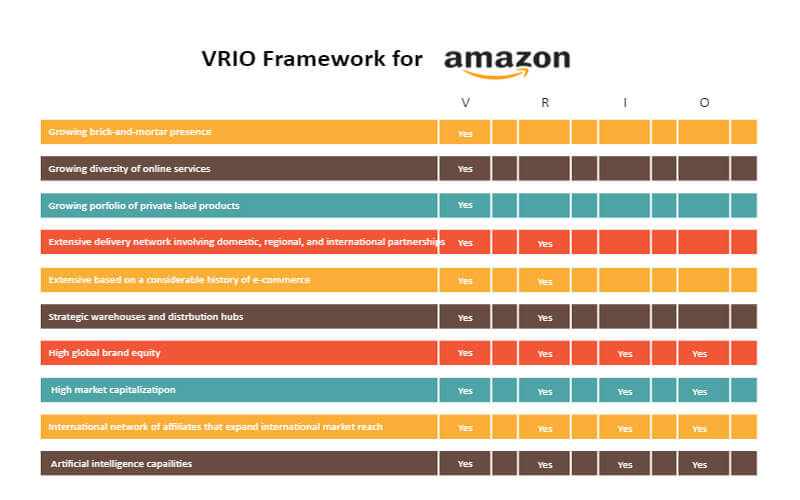 Example 2: Starbucks VRIO Analysis
The Starbucks VRIO analysis in this example depicts the company's core competencies that made it successful. It is valuable because customers think it is their third home, and the brand has more value. Excellent reputation in the business and unique store atmosphere are intangible resources, and its performance and resources are costly to imitate. You can use this template to analyze other firms, such as a VRIO analysis of Facebook.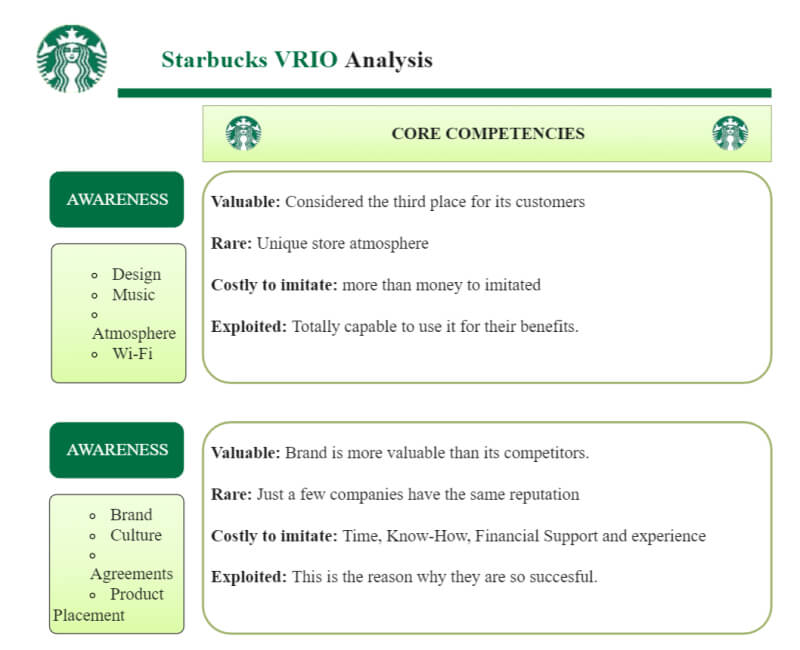 Example 3: VRIO Analysis for Apple
The VRIO analysis for Apple in this example represents the resources and capabilities of the world's leading technology brand. Managers use this to identify the places for improvement for Apple, and it also helps them refresh their strategic plans. The analysis tells us that the company is one step ahead of other companies because it focuses on the areas where its competitors are weak. Use this template to make a VRIO analysis of Vodaphone or other tech companies.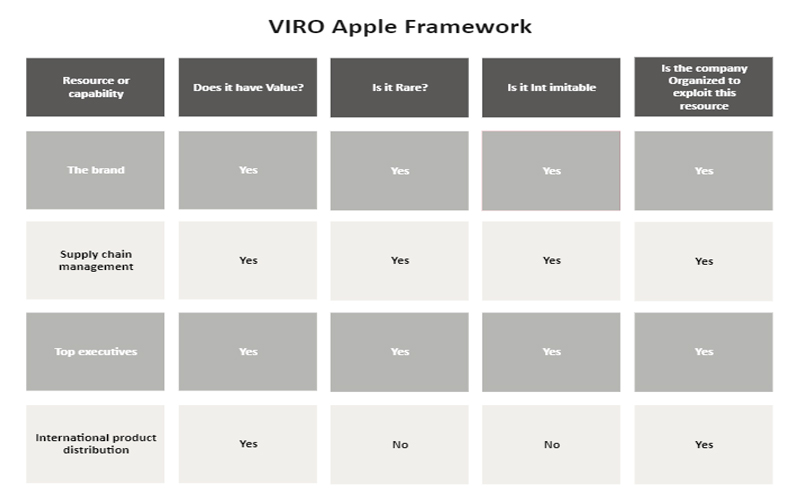 6. FAQ About VRIO
1. What is VRIO model?
The VRIO model is a strategic framework of a firm's internal resources that is a part of its larger strategic plans. It evaluates the capabilities of a company and categorizes its resources based on its framework. A VRIO helps management identify the competencies of their firm and the possible threats they might face.
2. What is VRIO in strategic management?
VRIO is an excellent analysis tool in strategic management. It tells the company which of their internal resources will help them sustain competitive advantage in the marketplace and develop strategies to protect and process those resources. Its goal is to identify which resources are more valuable and provide potential opportunities with strategic management and organization.
3. 3. What are the VRIO criteria?
VRIO is an acronym for four traits outlined in its framework that represent the criteria to categorize internal resources that will help sustain competitive advantage. The V stand for value, R stands for rarity, I stands for imitability, and O stands for organization.
7. Key Takeaways
A VRIO analysis is a strategic management and analysis tool that graphically represents the analysis of a firm's internal resources. Analysts conduct VRIO analysis to categorize tangible and intangible resources based on the VRIO framework. The analysis help managers and leaders of the firm develop strategies to use those resources to sustain competitive advantage in the marketplace. You can easily create a VRIO analysis diagram on EdrawMax Online. It gives you free templates and a symbol library to make your diagram. It also supports various document formats. Find more business analysis diagram examples.
Related Articles