What is Enterprise Architecture?
Businesses are transforming very fast, be in terms of competition, technology, or other legacy issues. This new era also demands evolving business patterns and new concepts. Enterprise Architecture is one such concept introducing the whole business structure. An enterprise consists of many things, such as people, processes, technology, information, etc. These parts are somewhat interconnected to achieve the business objectives. Well, this interconnection is what an EA depicts.
Thus, you can call it a blueprint for the organization's IT environment.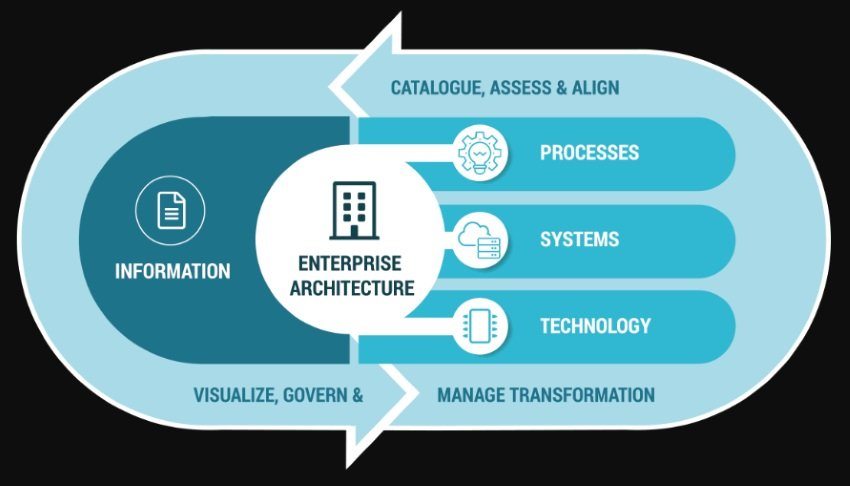 Image Source: linkconsulting.com
Enterprise Architecture History
Zachman Framework made the ever-lasting history to Enterprise Architecture. It all started in the 1980s when Zachman published "A Framework for Information Systems." This publication has led to significant ideas revolving around the concept of EA. Well, Zachman's Framework had not directly concerned or linked with EA, but the ideas presented have led to the thinking of integration and interoperability IT infrastructure in an organization.
Several authors have also argued that the Zachman Framework influenced all other EA methodologies and frameworks. Thus, we can divide the long history of EA into three aspects, namely the Business Systems Planning, modern EA, and early EA.
If we talk about the influence of modern EA, then we can trace ourselves back to the IBM methodology BSP (Business System Planning) in the 1960s. A certain process followed in BSP defined relationships and other model processes, data, and systems. So, the existing IT infrastructure was known to take a step ahead through development in information systems plan, action planning, and communication.
The PRISM research service introduced in 1986 was another well-renowned modern EA framework concept. One year later, John Zachman, an IBM marketing specialist, launched a similar framework described into 15 categories.
Enterprise Architecture has come a long way through innovation and, it's the most challenging skill in an enterprise. It is now evolving into an active and dynamic thought-leading process through the use of collaboration, special tools, and change in mindset. Enterprise Architects are determined to provide valuable services to companies by aligning other IT concerns and cutting costs.
Purposes of Enterprise Architecture
Look EA as a Business Management tool and embrace its purpose as follows:
It helps to manage, create, and develop an interconnected, holistic model of business that encompasses information, processes, technology, and applications.
It provides a detailed view of facilitating the development of the company's systems, processes, and technologies as well as executing business strategy.
One of the primary purposes is to enable integration and ensure consistency in business IT operations.
It also helps to manage and develop a high-level, holistic roadmap of projects and engagements that require solutions and offers a steady path from the current state to the desired targeted state.
It aims to offer lifecycle management to the solution portfolio.
It is essential to understand the terms used in describing the relationships within Block Diagrams. These are:
Association:  it explains the communication amongst the blocks.

Aggregation:  this term describes how a unit gets made of parts.

Composition:  it is a proper form of aggregation in which the existence of an object which is part of a unit relies on the presence of the group.

Generalization:  is a leading relationship between blocks in which a designated block contains all the properties of the entire block diagram.
How Can a Company Benefit from Enterprise Architecture?
As a better manager of Information Systems, EA is not only applied to one subject. You can have it in other matters of the enterprise as well to manage well.
It has the following advantages for an enterprise.
Simplify the enterprise structure
EA benefits by simplifying the enterprise structure and making it more efficient through broad sharing capabilities, low costs, flexible workforce, reduced management costs, fewer redundancies and duplication, more organization, and improved productivity.
Align the operation of technology with business
It helps to create an enterprise and analyze business models for an extensive transformation project portfolio to guide investments and decisions. It also increases the ROI on both businesses as well as IT investments.
It helps in maintaining software development costs, improved interoperability, increased application portability, and secure network and system management with the ability to address critical enterprise issues like an exchange and up-gradation of system components and security. 
It further helps to support strategic changes such as diligence for acquisitions, and mergers, and the management of integration Programme introducing new technology, regulatory, and other legal changes. It also assists in aligning the infrastructure such as Cloud, SaaS, etc. with the consolidation of existing processes, people, and applications.
Reduced risk and better returns
There is much reduction in complexity through EA in IT and Business while providing maximum ROI and flexibility to buy, make, and outsource the business IT solutions. It further helps in reducing overall risk and increasing the ownership cost.
What are the Challenges of Enterprise Architecture?
Enterprise architecture faces some severe challenges that even led to the failure of some government projects. Given below are the challenges faced by EA today.
Time is the biggest constraint, especially in enterprise architecture projects. Well, you need to consider this cost while defining the whole budget, but the problem lies in significant stretches of projects for years. It is because an architect also needs time to understand the constantly changing processes and systems.
Everyone might not face this challenge, but the ones who do not have a defined budget. Even in some government projects, it has cost millions of dollars in price tag due to the absence of a budget and well-defined plans.
Lack of flexibility is another concern in major enterprise architecture frameworks. Every organization may not benefit from inflexible and rigid structures adopted by enterprise architects. However, the solution is to hire an experienced and intelligent enterprise architect for the purpose.
If EA is not effective, the organization's goals will suffer. Thus, you must never adopt an ineffective EA project in the first instance. Rather, analyze the plan with regards to both times as well as defining the objectives and metrics of a business.
Common Frameworks of Enterprise Architecture
Listed below are four main Enterprise Architecture Frameworks.
1. Zachman Framework
As discussed above in the history section, it is the earliest and effective developed by John Zachman in 1987 through the article published in the IBM Systems Journal. Well, the framework has been updated several times from then, but it still is the core foundation of Enterprise Architecture.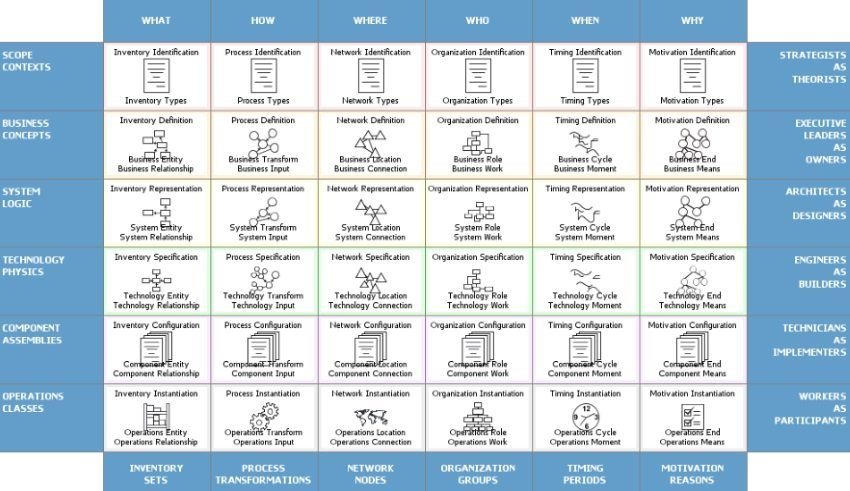 Image Source: visual-paradigm.com
Zachman Framework includes interrogatives as follows:
How (function)
What (data)
Where (network)
When (schedule or time)
Where (network)
Why (strategy or motivation)
It also includes five aspects, as follows:
System Model (Designer)
Context (Partners)
Business Model (Owners)
Technology Model (Builder)
Detailed Representations (subcontractor)
2. TOGAF
It is one of the most popular EA frameworks in use today. Also called "The Open Group Architecture Framework", TOGAF is based upon the framework methodology developed by the Department of Defense. It is a work product done by an industry standards organization. The framework consists of four architecture domains and eight key sections.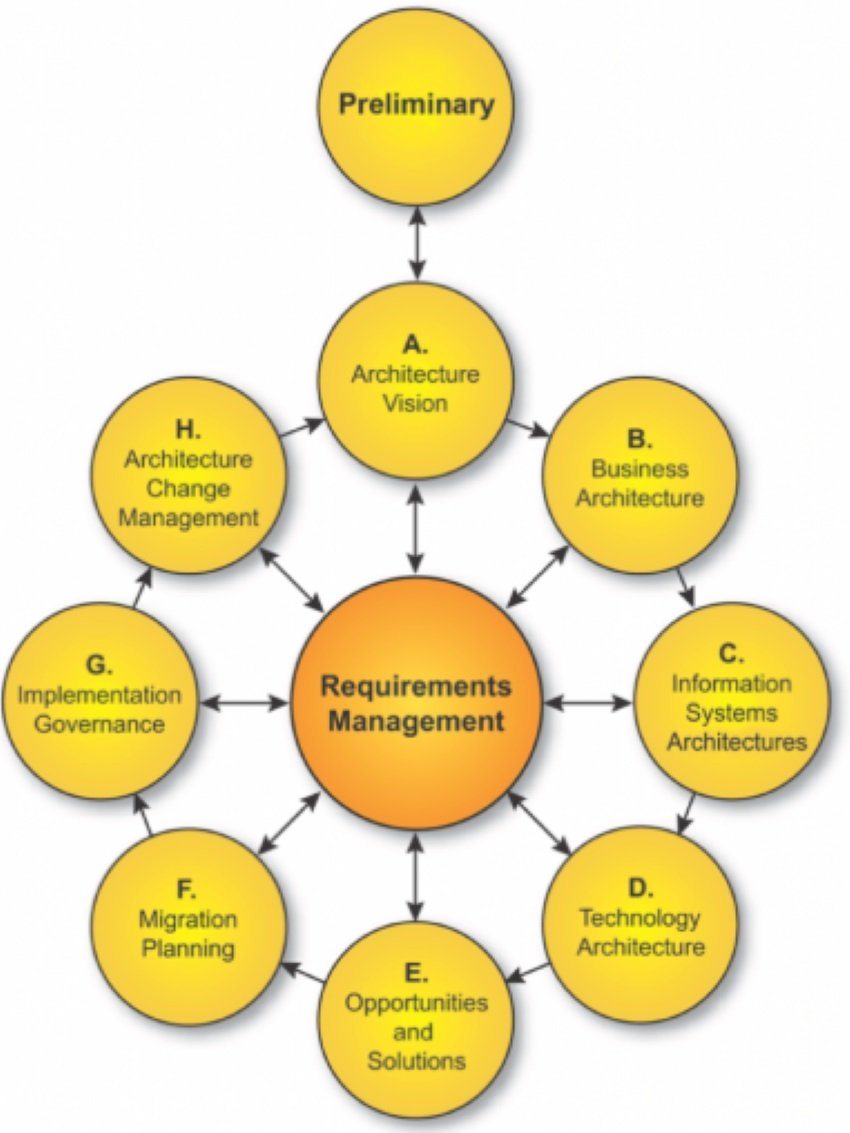 Image Source: bizzdesign.com
3. EAP
Enterprise Architecture Planning model was proposed in 1992 by Steven H. Spewak. This model also became the basis for other EA frameworks and mainly consists of four levels, namely the getting started, where we are today, the vision of where we want to be, and our planning to get there.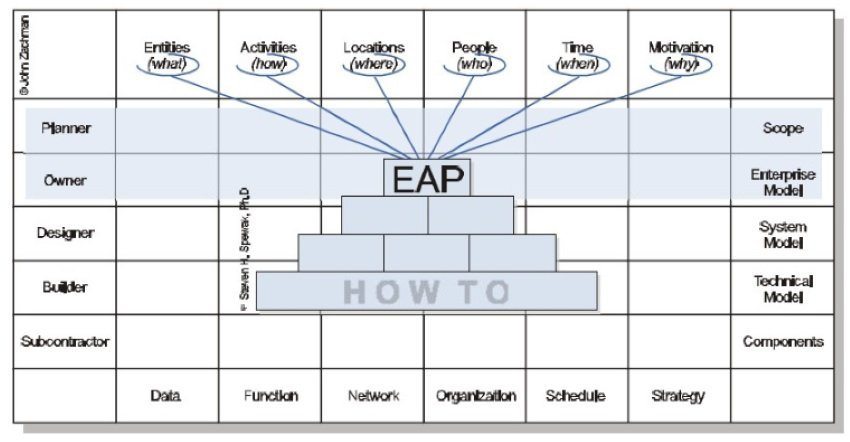 Image Source: wikimedia.org
4. NIST
This model by National Institute for Standards and Technology the USA uses a five-section model that includes information architecture, business architecture, information systems architecture, data delivery systems, and data architecture.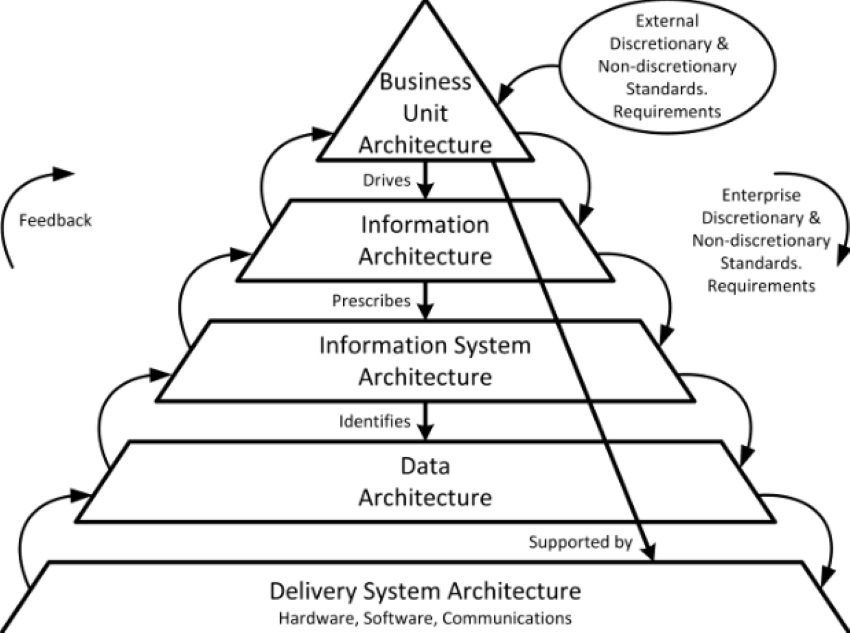 Image Source: researchgate.net
Enterprise Architecture Examples
You can consider these examples to have a better understanding of Enterprise Architecture.
Example 1:  Cloud Cube Process
The diagram shows how different parties and agencies cooperate with their products or services.
Various production plans have been set up by publishers to cope up with consumer needs. So, the types will be generally get indicated through a cloud database where all finished products get forwarded to the users.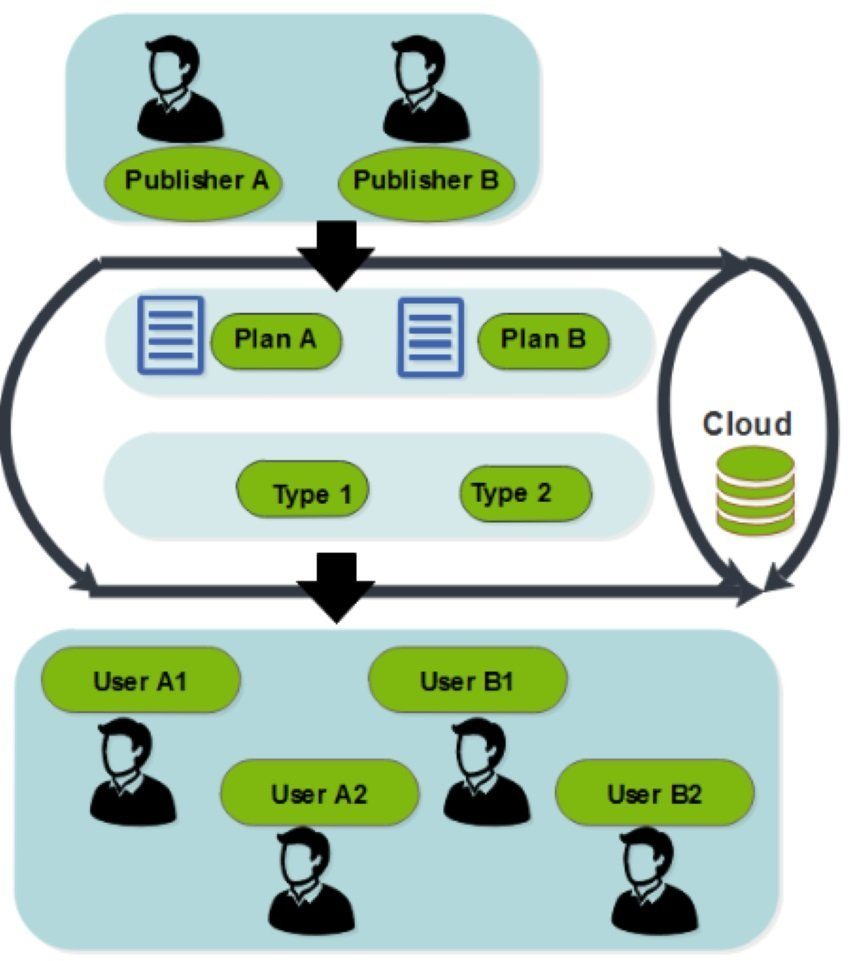 Example 2:  Product Optimization
This diagram will help you learn the optimization of production resources, their identification, and the decrease in costs during the overall product development process. Some internal fees or improvement costs may be there at the final stage due to the wastage of project packages and low productivity.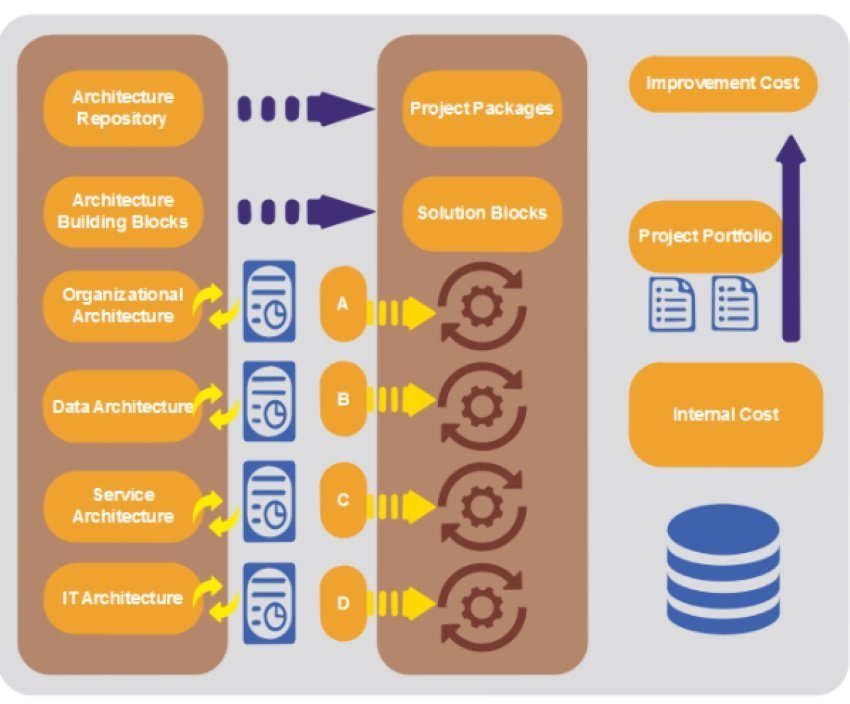 Example 3:  SSO (Single Sign-On)
Different software systems in an organization are having an access control system known as SSO. Their single versions can get generated through IP networking, and the user can use an individual ID to access the whole system. It also consists of close business relationships with various business models, including critical factors.
How to Create an Enterprise Architecture Easily?
Now, you can manage your business projects efficiently with EdrawMax Online, the easiest method to create an enterprise architecture framework. It will offer you fully editable templates, symbols with intuitive user interface.
Here are some points to consider before making an enterprise architecture diagram.
Firstly, identify your purpose of Enterprise Architecture.
Consider your requirements with typical business questions regarding the processes and impact.
Next, identify the business rules and various assumptions.
Identify your EA framework.
Step 1:  Open the website
The first step is to open the EdrawMax Online website. You need to sign up, which is free. After you set up an account, proceed with the next step.

Step 2:  Open Enterprise Architecture Templates
It's easy to find EA templates on the site. You can either search 'enterprise architecture' in the search bar or click the Business button on the side menu. Open any of the free templates provided.

Step 3:  Create an enterprise architecture diagram
An Enterprise Architecture Diagram creation interface will open. The interface is simple and very user-friendly to create your EA diagram conveniently. You can use EA icons, basic shapes, and adjustment options provided in the sidebars on both sides.