A value chain depicts every activity needed to transform ideas related to creating new products and services into reality. Value chain analysis is essential for any business or industry to increase their profit and decrease their cost compared to their competitors.
1. What is Value Chain
The value chain is a conceptual model that represents business activities to manufacture new products and depict strategies to succeed in the market. It involves everything starting from initial production, marketing, final delivery to after-sales customer services. Value chain analysis determines the success of any business product. It gives details about every process related to the creation of a new product or service.
Every small and large transaction must create some value if you want a profitable business. The value can either be the customer's trust in the company or satisfaction from using new products, or the profit made by the business. Value chain evaluates your business value and profit. It shows you the good strategies for your business and creates new ideas to get more sales by keeping customers' trust.
Value chain analysis is important if you are trying to create a new product for your business. It helps you cover every little detail. It even gives you information about the raw materials you are going to use for your product. It enables you to turn your business ideas into reality. With its help, your business can profit from products by keeping the cost at a minimum.
2. Background of Value Chain Analysis
Michael Porter introduced the concept of value chain analysis back in 1985 as a chain of activities that increases the value of any business if an organization strictly follows it. The concept of value chain comes from two different origins. One is the French concept which is also called the Filiere concept. The other one is the commodity chain concept by Wallerstein. Both of these are the source of the current global value chain concept.
Potter's concept for value chain analysis includes competitive advantage. It explained that a business should break down its activities to create more value from the customer by focusing on value-added parts of the company. Wallerstein's concept of commodity chain explained the global system theory.
The modern value chain analysis stems from Wallerstein's concept of distributing dynamics of business activities of any business according to the labour intensity from various countries. It tells you how to increase the value of a product by depending on natural resources from different regions and reducing production costs.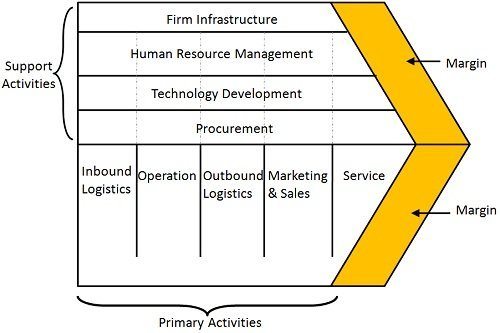 Image Source: EdrawMax Community -Value Chain Example
3. Components of a Value Chain
Value chain gives you details about the framework of business activities and the mechanics of the entire process. But you can get more detailed information from a value chain by creating an analysis. Porter's concept of value change analysis is helpful when it comes to competitive business and services. It classifies the analysis into two categories of business activities done by any organization.
Primary Activities:
The primary activities of a business include the core functions of an organization. The creation of a new product starts from inbound logistics. It keeps track of getting raw materials for the product, warehousing the raw materials and anything related to the supplier. The next step is operations, where the organization makes a new product. After that, outbound logistics include the process of delivering the product to customers. Marketing handles the promotion and sales of the new product. Services handle matters like a refund, exchange, product maintenance and customer support.
Inbound Logistics: Includes receiving goods from suppliers, storing, material handling, stock control and distribution of raw materials to production units;
Operations: A sequence of activities like machining, assembling, packaging, etc. of final products manufactured from natural materials and thereby adding value to products;
Outbound Logistics: Includes a collection of finished products, their storage, and distribution to wholesalers, retailers and customers;
Marketing & Sales: Activities like advertising, promoting the final products, public relations, etc., to spread awareness among the target audience for creating a demand for the product;
Service: This refers to after-sales services like maintenance, warranty etc., to maintain the product value.
Support Activities:
Supportive activities improve the primary activities of any business. It helps you add value by providing support for each movement of your business. There are four activities for support in the Value chain. The first one is the procurement of resources for an organization. It provides helps with logistics such as dealing with vendors and suppliers. The second one is human resources management. It deals with hiring workers and marketing the product. The infrastructure supports the operation activities, and tech development helps with research and automating the process.
Firm Infrastructure: This refers to the various management activities undertaken in every firm including planning, financing, quality control, legal and governmental issues, etc.;
Human Resources Management: Includes management of employees and staffs like, recruitment, retention, training, promotion, and transfer of employees;
Technology Development: The Research & Development (R&D) department where technology is used to understand the current statistics and trends of the market and apply them to add value to the products;
Procurement: Involves creating a supply chain of all the necessary consumable inputs like man, material, and machinery within the stipulated budget of the firm.
4. Benefits of Value Chain Analysis
Value chain analysis is often called the value chain management since it encompasses the monitoring and control of all the underlying activities to create a competitive advantage. As such, we can gain lots of benefits from it. Some of the benefits of effective value chain management are:
Better product-planning, research & development by creating cross-platform teams;
Standardization of processes by measuring the metrics of the business;
Reduction in cost by optimizing the value chain components or activities;
Improved flow of materials and products through accurate forecasting of sales as well as demands;
Improvement in after-sales services and customer support through coordinated operations.
5. Value Chain Analysis Use Cases
Lowest possible cost advantage: Value chain analysis is mostly used to get the maximum output from the lowest possible cost. It all depends on the concept of competitive business. When you give the same services as your competitors, but it costs you less compared to them. Value chain does that by picking add-value activities to remove extra cost and provide an optimized effort.
Making improvements: With value chain analysis, you can look for the relationship between various primary and supportive activities to find out areas of improvement. Analyzing helps you identify the inefficient parts of the value chain. Most of the time, one unproductive activity affects the efficiency of other activities as they are typically linked to others. You can use value chain analysis to locate those activities and make improvements.
Increasing profit: For an enterprise, using value chain analysis is the only way to increase profit if they are unwilling to expand their services' cost to maintain customers' trust. The value chain helps increase profits by using two methods. One method includes increasing customers' value by giving them a satisfying product to gain their trust. The other method is to create a new high-quality product so that other organizations can't compete with you.
6. Limitations of Value Chain Analysis
While there may be several benefits of a value chain analysis , there is one major limitation.
It can break down an organization's operations into segments that can lead to the firm losing its overall business strategy and vision. It is because sometimes it is not possible to understand how the activities relate to each other.
7. Examples of Value Chain Analysis
Now, let's take a look at some cases of the value chain analysis. You can find more Value Chain Analysis examples.
1. Financial Acquisitions Value chain Model
This example portrays the general process of business acquisitions and mergers. It mostly among enterprise-level businesses.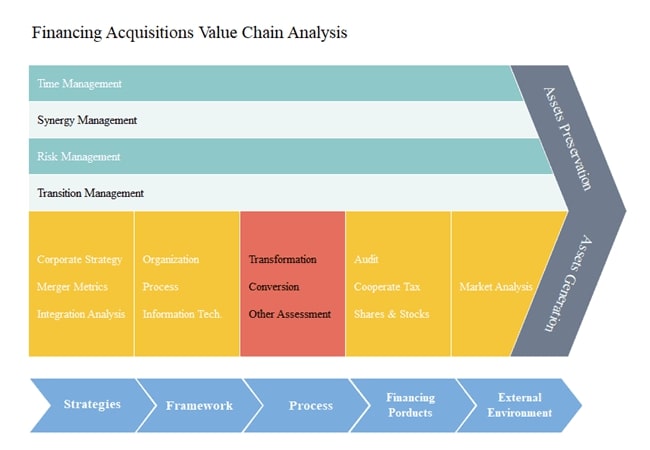 Image Source: EdrawMax Community - Value Chain Example
Primary Activities:
Corporate strategies with merger metrics and integration analysis;
Information technology in organizational processes;
Transformation  and other assessments;
Audits, shares, and stock;
Market analysis;
Support Activities:
Time Management;
Synergy Management;
Risk Management;
Transition Management;
The organizational framework, financing products, and the eternal environment play a significant role in the overall process.
2. Academic Research Value chain Model
It relates to the general operations and strategies undertaken by researchers. You can find these sorts of VCA among universities and research groups. Here the primary activities are the applications, whereas the support activities are the various theories associated with the research defining the forms.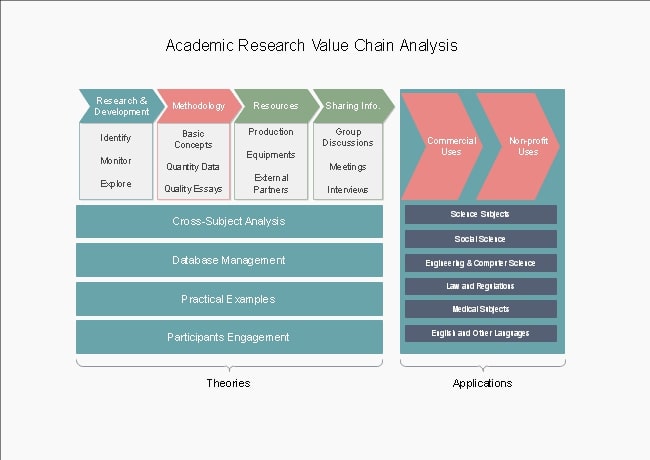 Image Source: EdrawMax Community - Value Chain Example
Theories:
Research & development: Identify > Monitor > Explore;
Methodology: Basic concepts and data;
Resources: Equipment and external parties;
Information sharing: Meetings & group discussions;
These theories get guided by various factors like database management and practical examples.
Applications:
Commercial uses;
Non-profit uses;
These applications get impacted by various factors like Engineering, law, and order, etc.
3. Airline Industry Value Chain Example
This is an airline industry value chain based on Porter's concept of value chain analysis. At the bottom of the diagram, five sections represent the primary activities in a value chain. On the left side, there are four sections for the four supportive activities. All primary and secondary activities move towards the same goal depicted by the arrow. In the procurement section, you only see two hands representing the communication between all sections from start to end.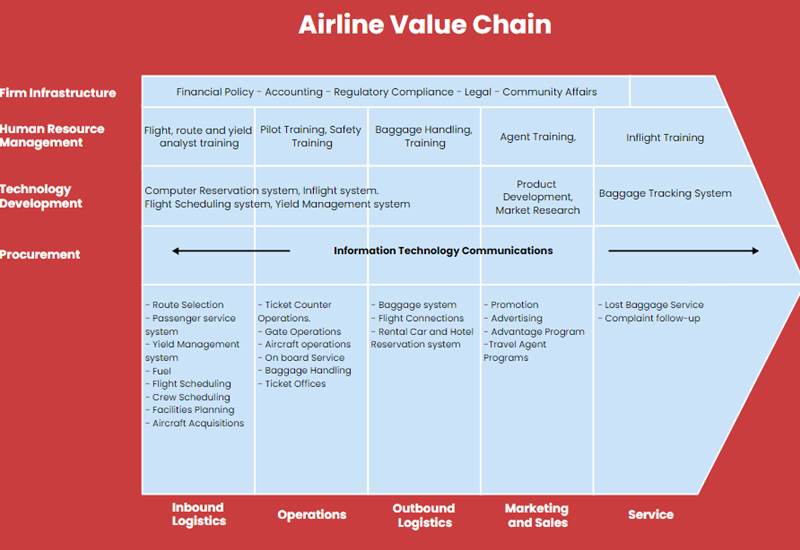 Image Source: EdrawMax Community - Value Chain Example
8. How to Conduct a Value Chain Analysis with EdrawMax Online?
Conducting an astute value chain analysis can become somewhat tricky if you are doing it for the first time. You can consider various diagramming tools available in the market. EdrawMax Online, being one of the best online tools, does not require any installation on your computer. It is excellent for beginners and professionals alike. It has a wide range of diagramming options and cool features. Here you can find detailed steps of how to do a value chain analysis.
Step 1:  In your web browser, open the EdrawMax Online home page, and log in with your credentials;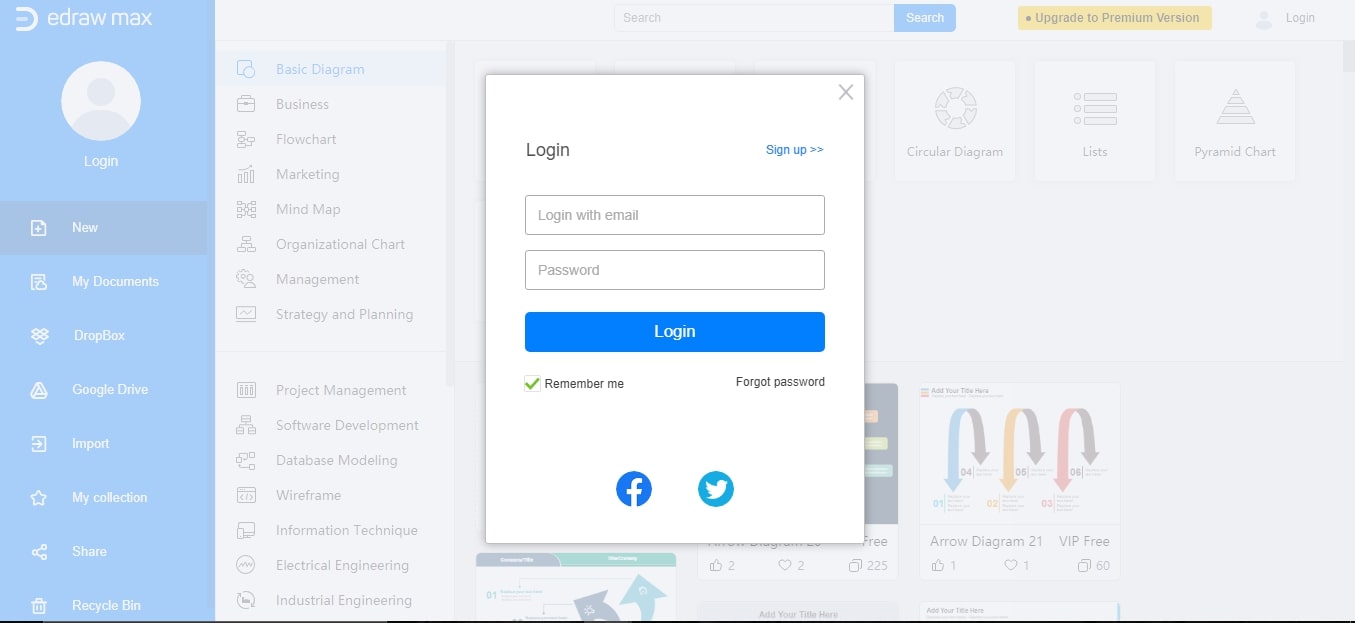 Step 2:  As the home page opens, you will find many diagram template categories; click on 'Strategies & Planning' and select the 'Value chain Analysis' diagram;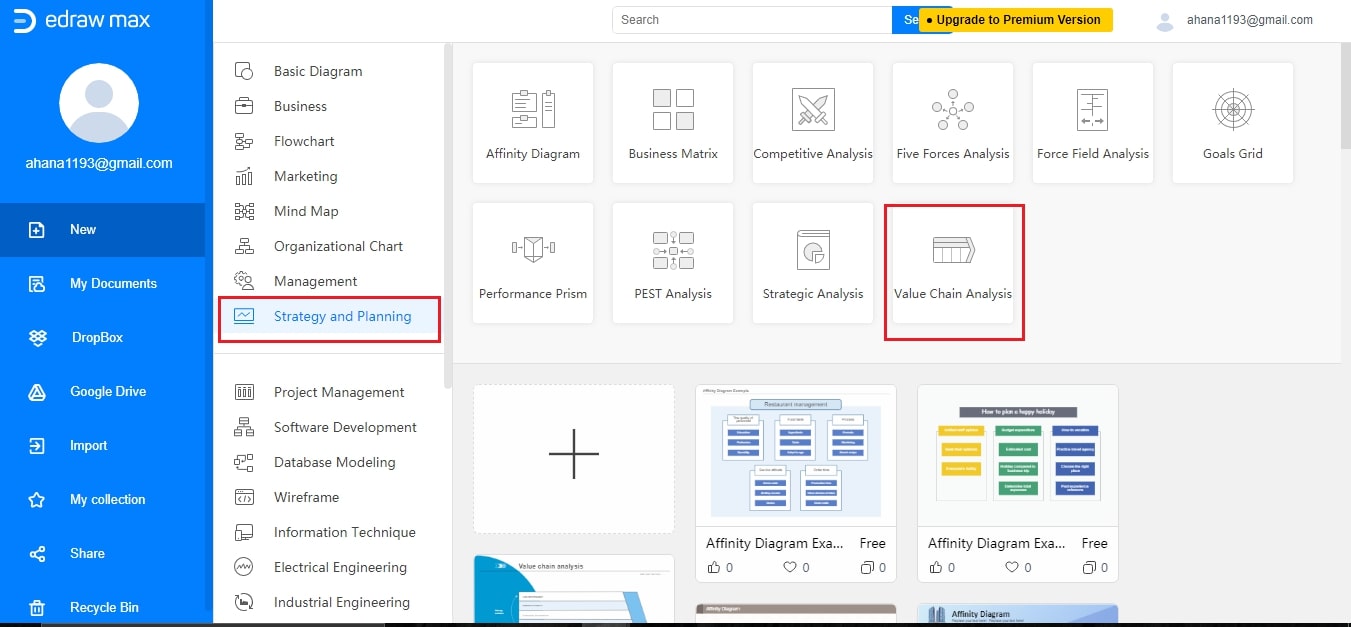 Step 3:  As the Value chain Analysis window opens you will find a diagram-shape library in the left; choose as you require and drag & drop it on the drawing canvas;<
Step 4:   Position it and label it as is;
Step 5:   Name all the Support activities as per your plan;
Step 6:   Name all the Primary activities again, as per your project;
Step 7:  Label both the borders as 'Margin';
Step 8:  Your Value chain diagram is complete; save it in the usual way or back-up directly to Cloud.
9. Value Chain Analysis FAQ
What are the five primary activities of the value chain?
The five primary activities of a value chain include inbound logistics, operations, outbound logistics, marketing and sales, services. All of these preparatory activities work together with secondary activities to improve the efficiency of the whole system.
What are the supportive activities of the value chain?
There are four supportive activities in Porter's value chain analysis. These include procurement, technology development, human resource management and infrastructure. These secondary activities support the primary activities by adding value and improving the in-efficient activities of any organization.
What are the types of the value chain?
Porter's concept of value chain classifies business activities into two categories. The first one is primary, and the second one is supportive. Both of these represent various activities during the manufacturing of some product or services. There are also some specific activities based on the type of industry.