How To Create an AI Form? Step-by-Step Tutorial
AI is diverting the attention of the audience because of its incredible innovations. Let's explore how AI technology can help create AI forms.
Also available for
Windows, Mac, Linux, iOS, Android, and Web.
All options >>
Creating business forms has always been a challenge, especially when the business size is large. It is because business documents are of different types, such as invoices, inventory records, sales reports, custom quotes, etc. Additionally, every brand uses different formatting styles to structure its business forms. Thus, the manual creation of business forms by administration personnel can consume a considerable time.
With the emergence of AI trends, crafting a custom-made business form has become effortless. The modernized AI-inspired diagramming tools enable the one-click creation of business AI forms of any type. After establishing the form using the AI software full form creator, you can impart a personal touch to the document.
1. What Is Meant by AI Form?
A business form is an organized document having a predetermined layout. Forms are useful for storing information and transferring it to another entity logically and comprehensibly. Every form follows a different structure; for example, an invoice may contain the company's name, due date, item quantity, total amount, product code, billing details, etc. In contrast, a purchase order may constitute the vendor name, product name, quantity, code, delivery address, total payable amount, and due date.
Digital form documents are the backbone of all businesses' administrative processes. No matter what is your business horizon or which industry you operate in, documentation is your primary duty. Generally, two purposes of document forms exist: to have internal control of the business and to store evidence of all transactional or general affairs of the business.
Several diagramming applications are used to create digital business forms. Most drawing tools enable state-of-the-art features, such as a drag-and-drop option, to insert tables and placeholders. Still, form creation may give you a hard time if you deal with hundreds of files daily.
To simplify your form creation routine, some cutting-edge tools present AI technology. These AI-powered tools require you just to input your document requirement, resulting in a flawless AI form. These forms of AI technology allow you to invest your precious time in more important administrative activities.
Importance of AI Forms
People today are fortunate to have possibilities like AI form-making platforms for producing documents rather than traditional paper documents. They may be paperwork, but the paper isn't required. Databases, project management solutions, and digital diagramming solutions are now widespread. Although hard copies are preferable, you can use the AI-driven diagramming solutions available online for your documentary purposes. Here are the potential benefits you may get by switching to AI-generated business forms: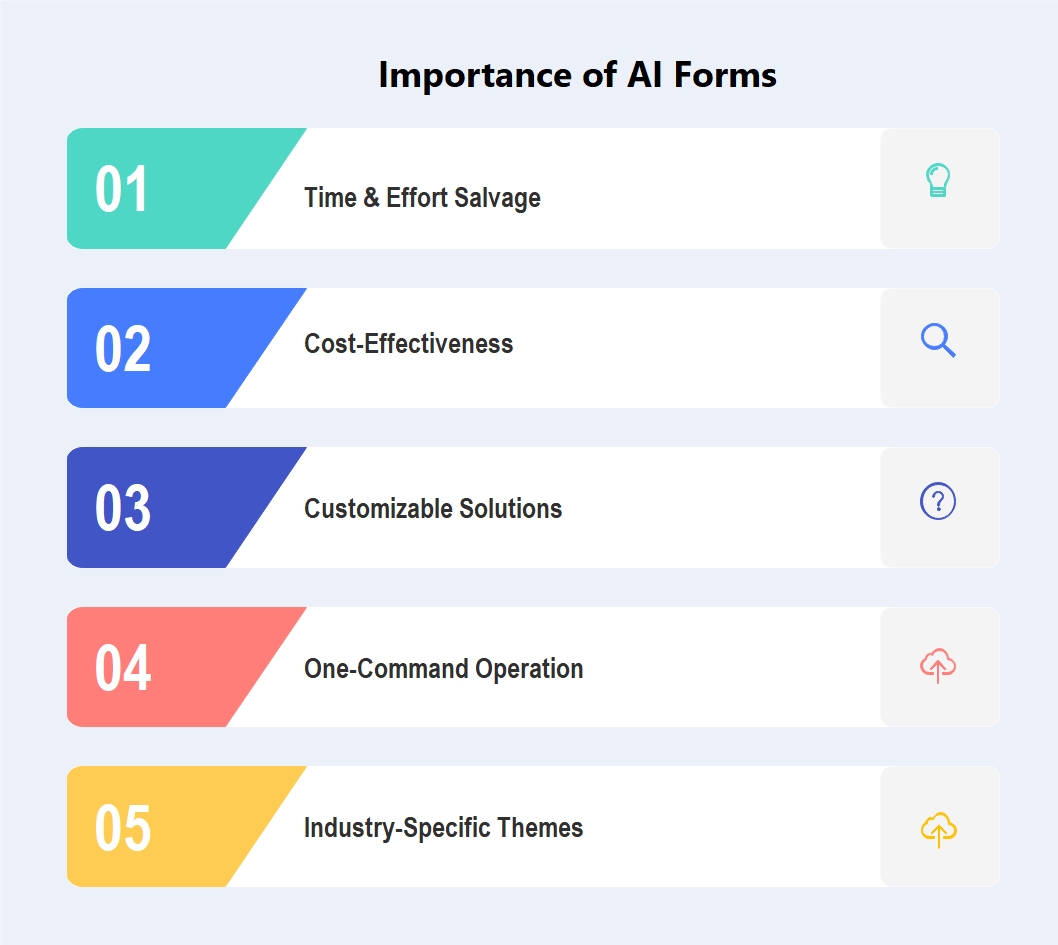 Time & Effort Salvage
Unlike manual drawing, AI-powered drawing tools take only one second to formulate the entire form. You don't even necessitate dragging and dropping tables, shapes, or textboxes to build your business form. Everything is readymade and fully customizable according to your needs. In contrast, you may consume hours developing a simple, well-formatted business document form.
Cost-Effectiveness
Not all, but some propriety diagramming tools offer AI functionality in their free version. Thus, AI form software is more economical than hiring an expert document creator or purchasing a premium prebuilt form template from an online forum.
Customizable Solutions
You can configure your AI-made business form to meet your branding needs. For example, you can implement your brand colors and fonts to impart a personalized outlook.
One-Command Operation
AI tools are ultra-smart to understand the needs of their users. Even if you type a single command, AI will grasp your intent and deliver you a full-fledged business form. You don't even need to input sentences or paragraphs to make AI understand; only an appropriate keyword will serve the same purpose.
Industry-Specific Themes
Most AI drawing tools contain field-specific layouts for forms, having document formatting according to that field. For example, the chemical industry may have a carrot-red theme. In contrast, a management department form may comprise a sky-blue theme. Additionally, you can instruct AI by inputting to which industry you belong. Sometimes, AI automatically identifies through the keyword, such as the warehouse inventory management form.
2. Design Your AI Forms More Strikingly with EdrawMax!
When it comes to choosing a scalable AI-powered diagramming solution, many users get stuck with the idea of hefty pricing. However, you should cease comparing features with pricing factors. It is because several expensive tools provide a mediocre feature spectrum. In contrast, some cost-effective diagramming applications offer commendable features range for free.
EdrawMax is a creative threshold that meets users' expectations by providing state-of-the-art AI features. Using its AI Assistant, you can draw a fully developed business AI form in seconds without even a minute of manual intervention. Additionally, you can communicate your requirements in the input bar for an unambiguous AI understanding and errorless document form creation. EdrawMax AI also breathes life into business document forms by providing valuable features like one-click unification.
EdrawMax AI Features Provision
EdrawMax AI is the hallmark of innovation that always outshines the market because of its groundbreaking features. Let's see which features the latest version of EdrawMax is offering:
Communication with EdrawMax AI Assistant
The interface of EdrawMax AI opens up with an AI Assistant asking for the requirements. You can enter your design or form requirements, and EdrawMax AI will create the document form for you. Additionally, you can mention a specific brand standard theme, font, or layout.
Font unification
If you want to unify the fonts of all the forms, stop selecting a box one by one and changing its font type from the toolbar. Instead, use the EdrawMax AI font unification feature to make your fonts consistent throughout the document.
Color unification
The color combination is a decisive factor, especially in branding and marketing. If you want to implement your personalized brand colors, use the color unification feature. For example, if your brand follows a combination of blue and white, set the boxes color white & blue whereas keeping the text black.
One-click theme editing
Rather than making the overall theme consistent through color or font adjustments, you can implement a consistent theme to the entire AI form with just one click. If your AI form is long-winded and requires excessive time for editing, use this feature as a substitute.
Smart Analysis of diagrams
EdrawMax AI performs a smart analysis of your forms of AI-created projects and suggests possible improvements. Additionally, it will rectify the drawbacks within the document with just one click.
Expand or Shrink Textual Content
If you are not capable of making your content expansive or shrunk, use AI content functionalities. EdrawMax AI Assistant makes your content passages longer or shorter without damaging their creativity.
Content's Tone Modification
You can set the tone of your AI form content, such as informal, professional, confident, or friendly, using the Changing Tone feature. Content's tone determines how you structure your business document for your target receivers.
Translating the Content
EdrawMax AI's content translation feature helps you to translate your business form into another language. You can decode your content into more than ten languages, making your document understandable to a foreign audience.
Image Text Extraction
EdrawMax utilizes OCR recognition technology to extract text from images. Thus, if you fret about inserting textual content from an image into the form, use the EdrawMax AI image text extraction feature.
How To Design a Table/Form Using EdrawMax's AI Feature?
Follow the below-given procedure to generate an AI form using EdrawMax:
Step1
Download the latest version of "EdrawMax" by visiting its official site.
Step2
Navigate to the "New" option in the left sidebar, click the "Create New" bar at the top, and wake the EdrawMax AI Assistant. You can also go to the "Form (AI)" option under the "Basic" tab in the left sidebar.
Step3
Choose the "Table" option from the given options to start the form creation.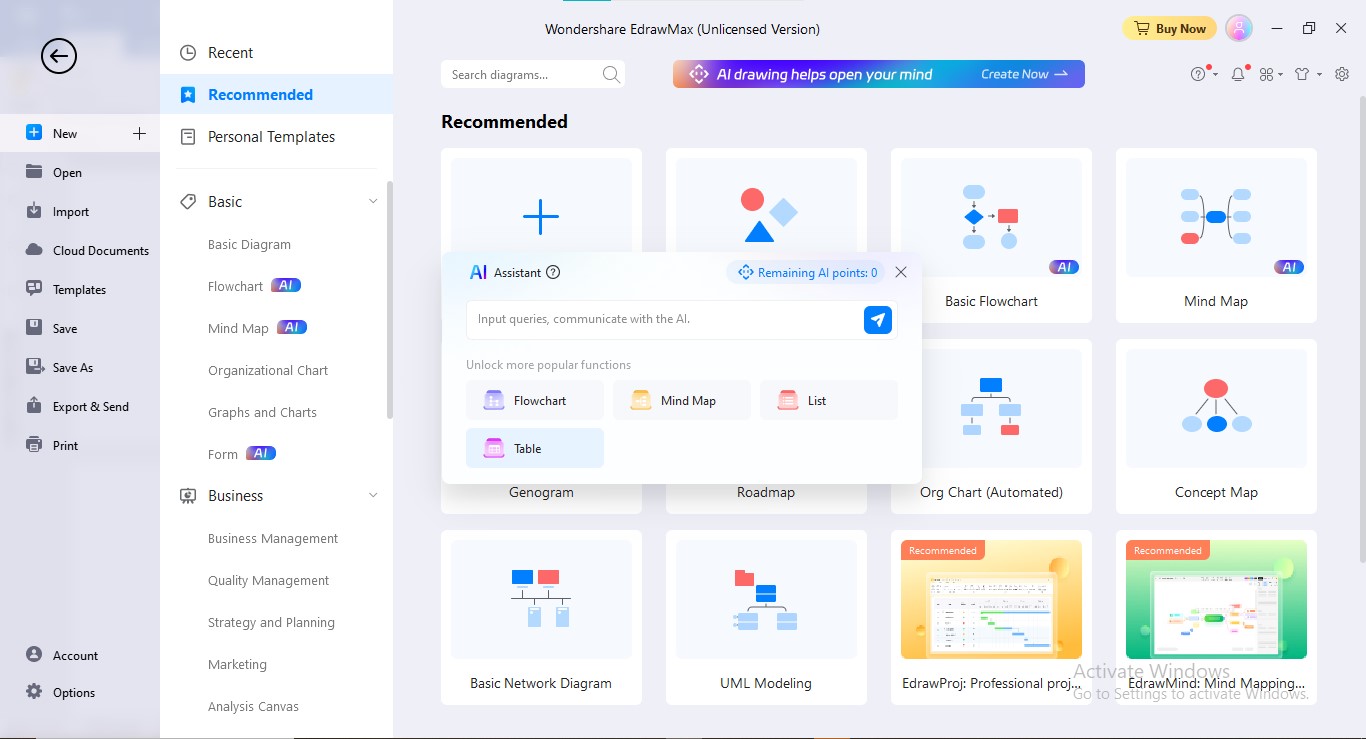 Step4
Now, input your AI form requirements in the search box, and click the "Go" icon to trigger the form creation.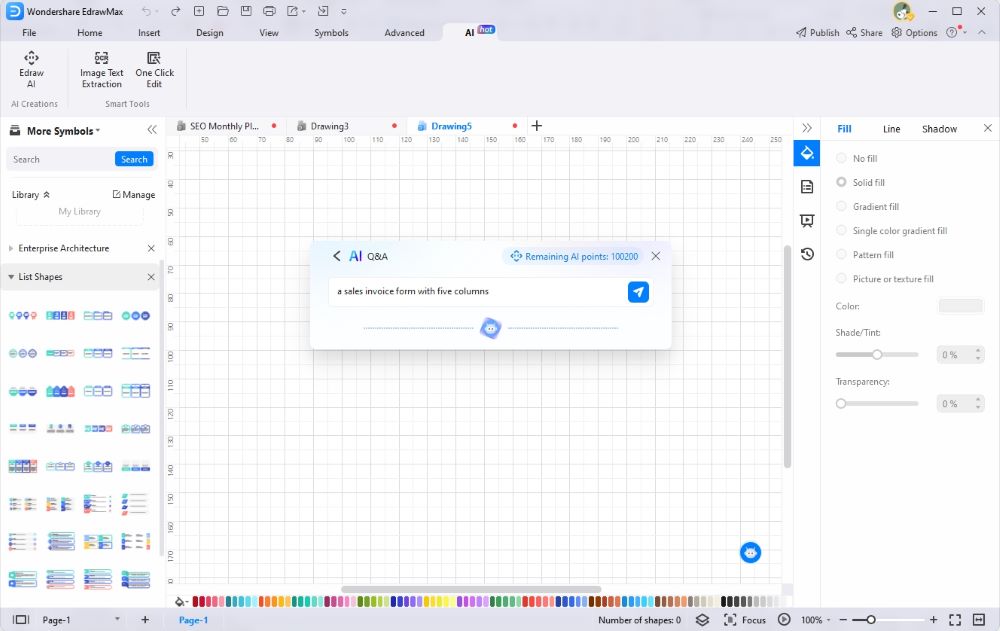 Step5
AI Assistant will take a few seconds to generate a full-fledged business AI form and then launch the editing interface to customize the form.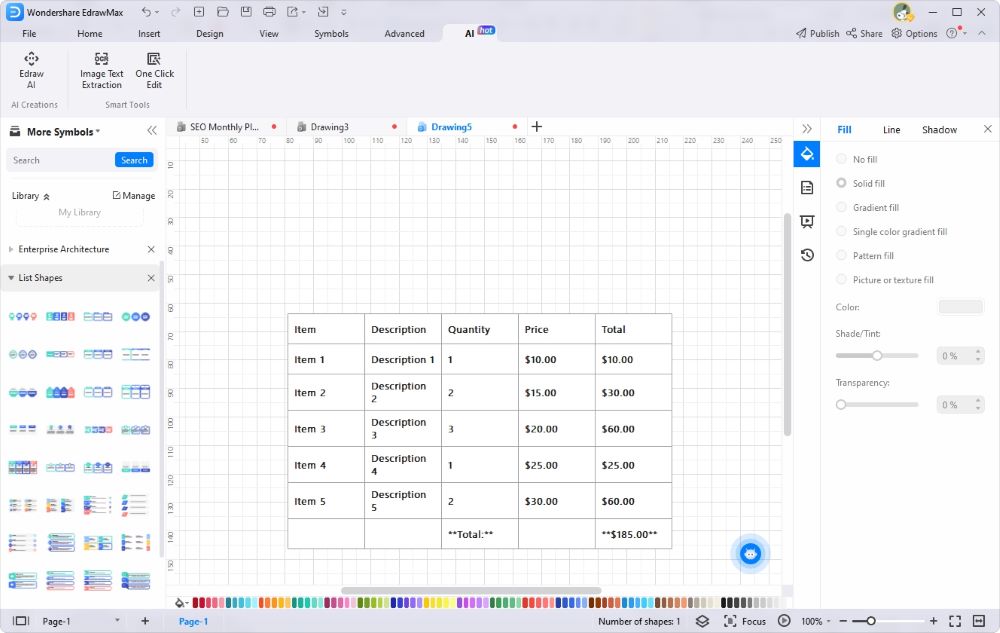 Step6
You can use Edraw AI to add other information to the generated form.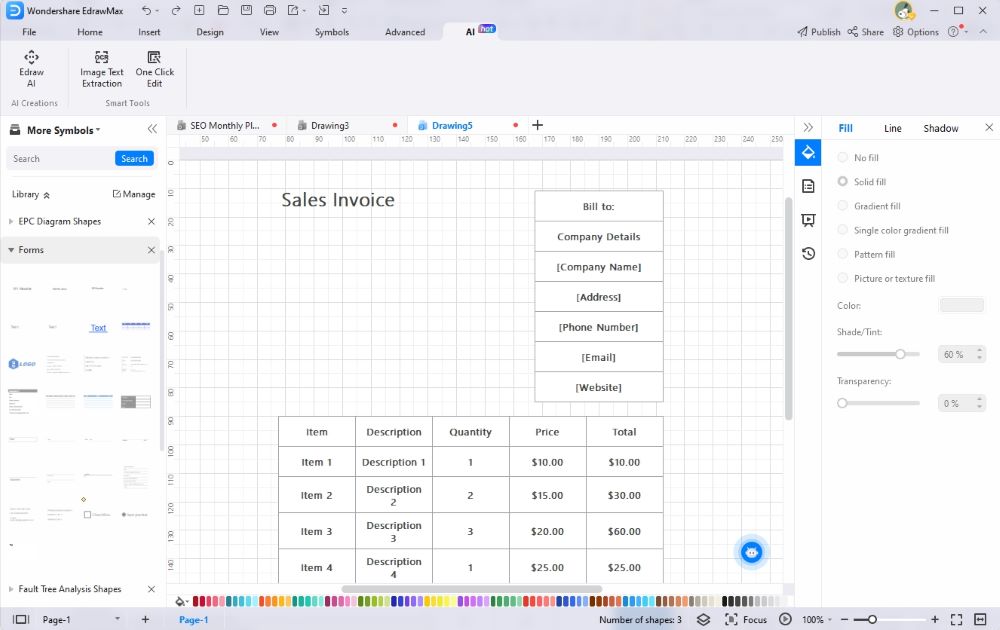 Step7
To use a one-click edit feature to unify the theme of your AI-generated form, navigate to the "AI" tab in the main menu. Choose the "One-Click Edit" option from the given options, and go to the "Change Global Style" tab.
Step8
Now, choose your desired theme, click the "Use Immediately" option, and then the "Apply" button to implement that theme.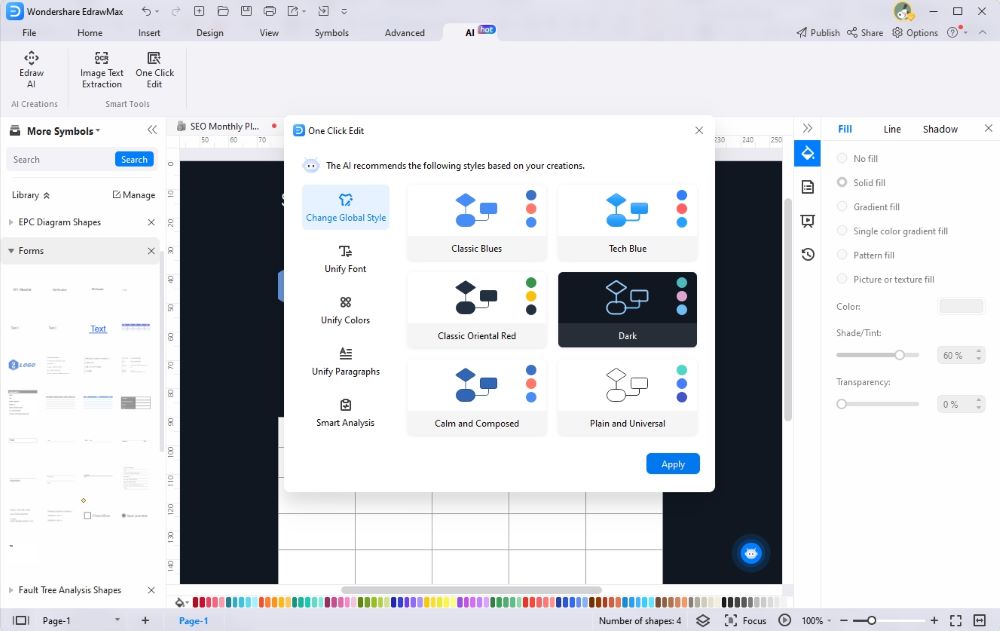 Step9
To make your fonts consistent throughout the form, click the "Unify Font" option in the "One-Click Edit" dialogue box and choose your desired font.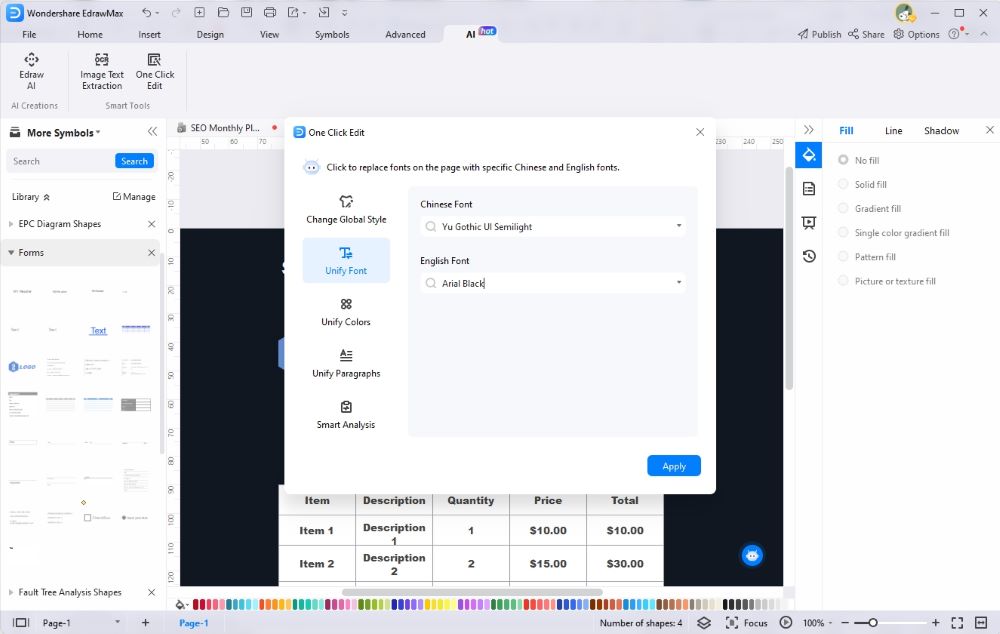 Step10
To export your AI form, click the "Export" icon at the title bar and choose your desired export format.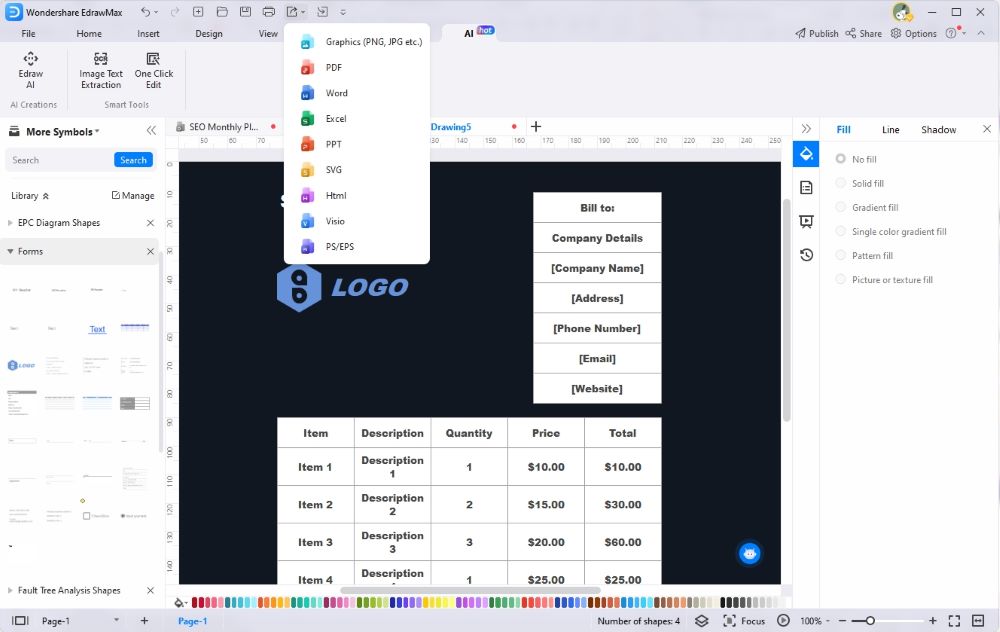 3. Conclusion
Business forms are essential documents used to store, track, and disseminate important business information from one working body to another. With the advancement in technology, businesses have switched to digital document forms. Yet, administrative bodies still face several form creation and management issues because of hundreds and thousands of document processing operations.
If you are grappling with similar challenges, you can embrace a more productive approach, i.e., AI forms. Using these forms of AI technology, you cannot only save time but also avoid formatting & alignment issues. If you're on a journey to discover the best AI software full form creator, try EdrawMax's invincible AI services.
EdrawMax Desktop
Create over 280 types of diagrams
Windows, Mac, Linux (runs in all environments)
Professional inbuilt resources and templates
On-premises software for business
Enterprise-level data security
EdrawMax Online
Create over 280 types of diagrams online
Access diagrams anywhere, anytime
Team management and collaboration
Personal Cloud and Dropbox Integration
Related Articles