The Best Free Online Flowchart Creators
Free online flowchart-making tools allow you to establish and customize flowcharts without necessitating application download, installation, or device compatibility.
Also available for
Windows, Mac, Linux, iOS, Android, and Web.
All options >>
1. Introduction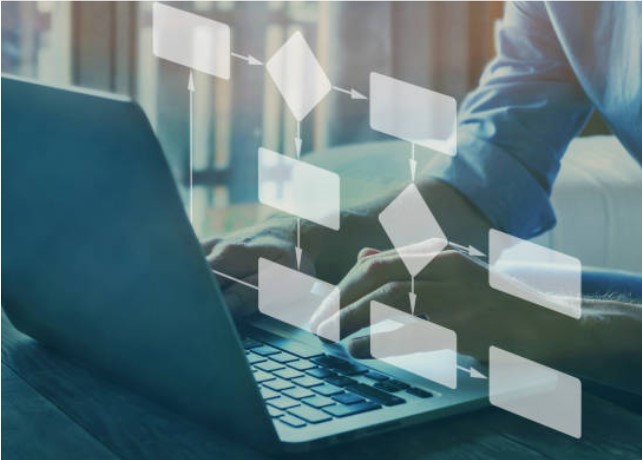 Finding the ideal flowchart tool for your personal or enterprise needs can be really challenging, especially if you are not acquainted with market vicissitudes. Some tools can be pretty expensive, but their feature range is average; contrastingly, some offer a free version, but they are incompatible with your device version.
Free online flowchart creators have revolutionized the flowcharting practice because of the immense benefits they provide to their users. Web-based flowchart-making tools eliminate compatibility issues, storage hassles, accidental file loss, and constraints of accessing your flowchart from a target device. Given these perks, we have attempted to spotlight 7 top-notch free flowchart online tools that will ease out your drawing-related troubles.
2. Top 7 Free Online Flowchart Tools
No matter where you dwell or which device you exploit for flowchart-making, these high-performing online flowchart tools will cherish your diagramming experience with the abundance of their striking features:
EdrawMax
EdrawMax has always been the winner whenever it comes to an all-in-one diagramming race. Its web-based interface is emblazed with incalculable features, including extended elements customization, drag-and-drop functionality, multiple page creation, several export formats, and more. Additionally, it syncs your files to the Cloud, enabling you to access the latest version of your file anytime, anywhere.
Specifications
Explanation
Ratings from G2:
4.3/5
Pricing:
Starts from $99 per year
Main Features:

Shapes library
Elements customization
Multiple page creation
Flowchart publishing and sharing
History version
Cloud syncing
Pros:
EdrawMax provides innumerable templates regarding flowcharting to enable convenient flowchart creation.

Its free basic plan allows you to create a stunningly-looking flowchart without investing heaps of money.

You can create multiple pages within a single file: so, if your flowchart is long-winded, you can extend it to the next page.

The customization options are unlimited: EdrawMax offers profound detailing of each element, e.g., fill color, border color, shadowing, transparency, and effects for shapes, text, connectors, & other elements.

EdrawMax facilitates each range of users by providing flowchart symbols for different fields. Additionally, you can add icons and clipart to make your flowchart more articulated.

The auto-saving feature is fantastic, allowing you to save your file on the Cloud, which you can access anytime, anywhere.

The tool provides multiple export formats to save your flowchart file in your preferred format without necessitating format conversation through outside sources.
Cons:
The free plan offers limited features regarding customization.

You need a premium account to get a watermark-free project file.
EdrawMax Online
Create 280+ types of diagrams online
Access diagrams anywhere, anytime
Everything in desktop + Templates Community
Team management and collaboration
Personal Cloud and Dropbox Integration
Canva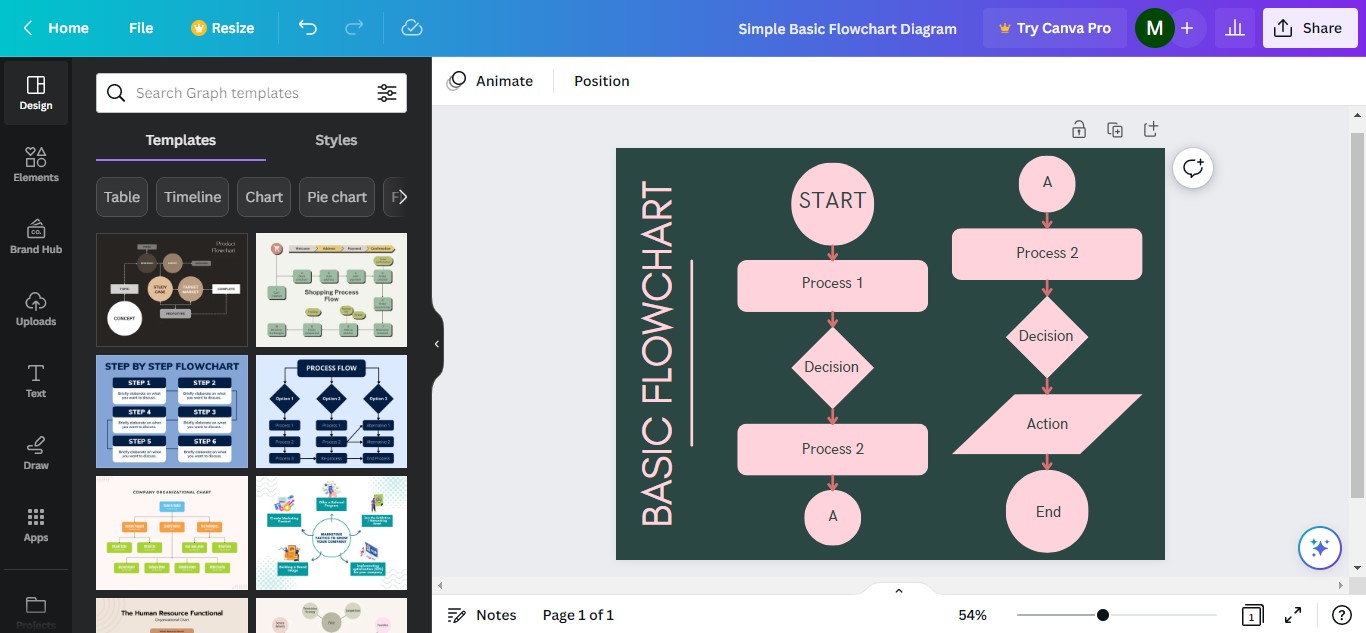 Canva is a state-of-the-art innovative web-based solution for establishing your flowcharts without feeling handicapped about a certain device for its access. Loaded with a tremendous library of gorgeous images, graphics, videos, and other media, Canva offers complete freedom to personalize the flowcharts to its users.
Specifications
Explanation
Ratings from G2:
4.7/5
Pricing:
Starts from $54.99 per year
Main Features:

Templates library
Data import/export
Adding images, hyperlinks, and videos
Multiple export formats
Integrations
Pre-built themes
Pros:
Canva provides a free lifetime plan, allowing you to create multifarious flowcharting diagrams without any trouble.

The interface of Canva is exceptionally intuitive, not requiring any tech-specific knowledge to navigate through the canvas.

With a replenishing library of templates, images, videos, elements, and graphics, Canva presents plenty of choices to customize your flowchart by expressing your creativity.

Canva offers several export formats, including PDF, SVG, JPG, PNG, and more.
Cons:
You cannot stretch the canvas once you select the dimension of your drawing page.

Most of the templates, images, and media are accessible through premium versions.
Lucidchart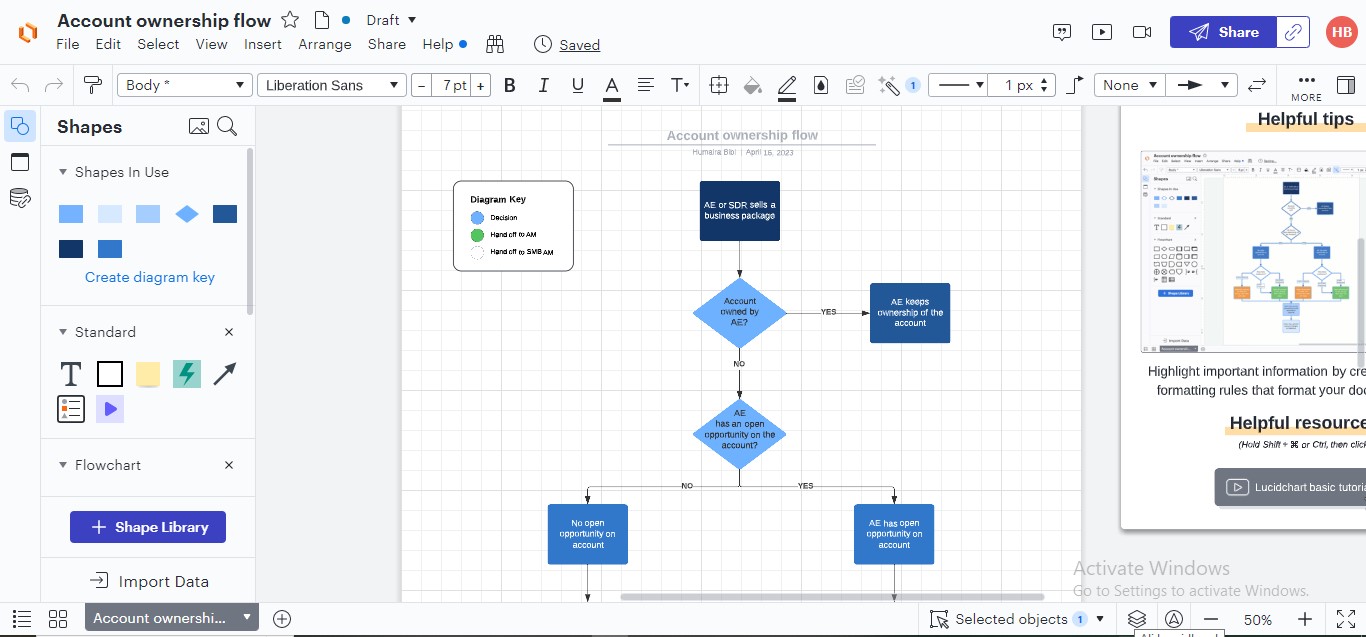 As the name implies, Lucidchart is a one-stop solution for constructing lucid and expressive flowcharts without downloading its desktop or mobile application. Lucidchart leverages its users with an expandable canvas, appealing templates library, all and sundry flowchart shapes, and multiple export capabilities.
Specifications
Explanation
Ratings from G2:
4.8/5
Pricing:
Starts from $7.95 per month
Main Features:

Drag-and-drop
Single sign-on
Integrations
Shapes and connectors library
Online collaboration
Image import
Pros:
Lucidchart facilitates flowchart creation through its built-in features, such as when adding a decision box, it automatically shows yes and no options in popup form.

The tool offers user guides and tutorials to assist new users in better tool understanding and diagramming experience.

You can fabricate complex diagrams with no expert-level knowledge because of its inclusive homepage interface.

The tool provides an ocean of available integrations to ease out the flowchart-making process.
Cons:
Free version provides limited objects.

Templates should be more adjustable.
Creately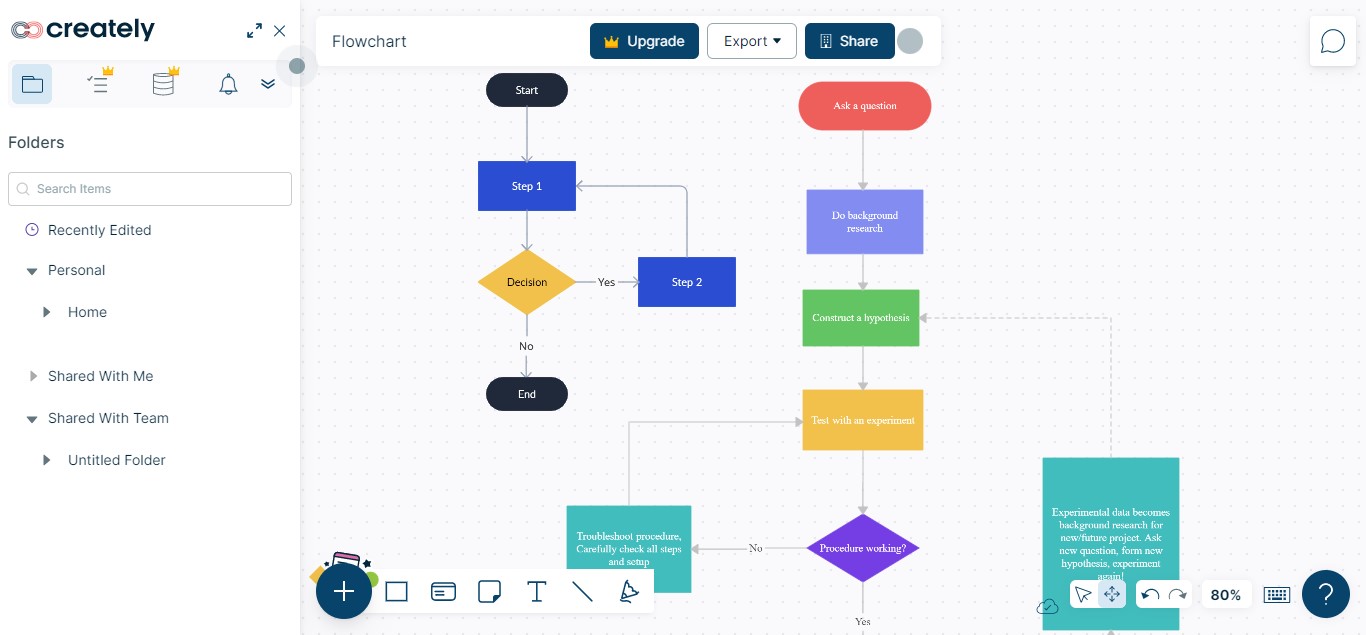 Creately is listed as one of the best free online flowchart creators because of its user-leveraging features. Providing a stretchable canvas, drag-and-drop option, unlimited shape & connector types, well-established interface, and export choices, Creately enables laid-back flowchart editing.
Specifications
Explanation
Ratings from G2:
4.3/5
Pricing:
Starts from $5 per month
Main Features:

History version
Team collaboration
Several export options
Drag-and-drop feature
Sticky notes
Freehand drawing
Pros:
Creately provides a drag-and-drop functionality to easily load the shapes into your flowchart.

The interface of Creately is professional, providing myriads of features to facilitate the users.

Creately enables you to work collaboratively on your flowcharts, in addition to offering tools for tracking individual performance.

The integration circle of Creately is vast, which empowers the users to easily upload, import, and merge files.
Cons:
The tool sometimes lags when the undo option is used.

Font and shape customization options are limited in the free version.
Miro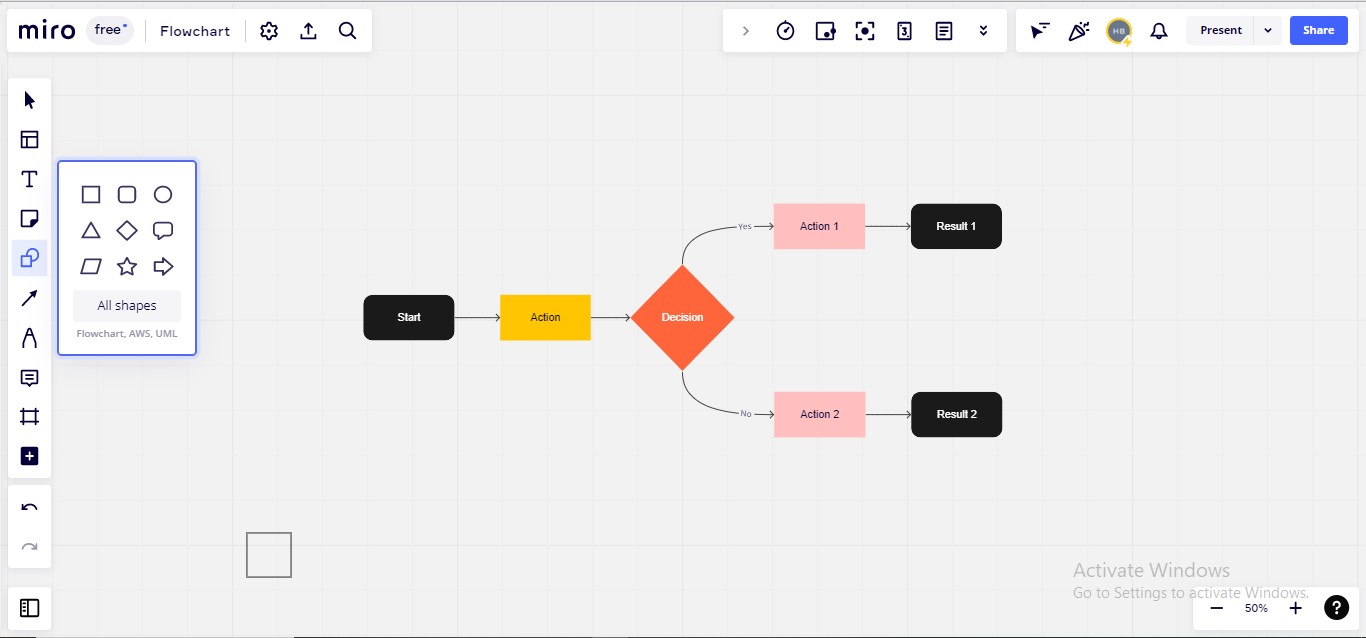 Originally developed as a digital collaborative whiteboard, Miro serves as a Swiss army knife to its users, providing endless possibilities to create, customize, and share their flowcharts. The interface of Miro is quite sleek, user-friendly, and replenishing, which facilitates effortless flowchart customization.
Specifications
Explanation
Ratings from G2:
4.8/5
Pricing:
Starts from $8 per month
Main Features:

Templates library
Drag-and-drop functionality
Marker colors
Integrations for flowchart sharing
Collaborative editing
Multimedia import
Pros:
Miro provides a comprehensive interface, highlighting all the features on the same window to avoid confusion.

Miro enables you to collaborate on your flowcharts in real time for better teamwork.

Encompassing a vast shape and connectors library, Miro empowers you to create a flowchart regarding any field effectively.

It has an infinite Canvas to extend your diagram to the limit you wish, avoiding misstructuring and flowchart tilting or imbalance.
Cons:
The interface sometimes hangs when larger files are loaded.
Draw.io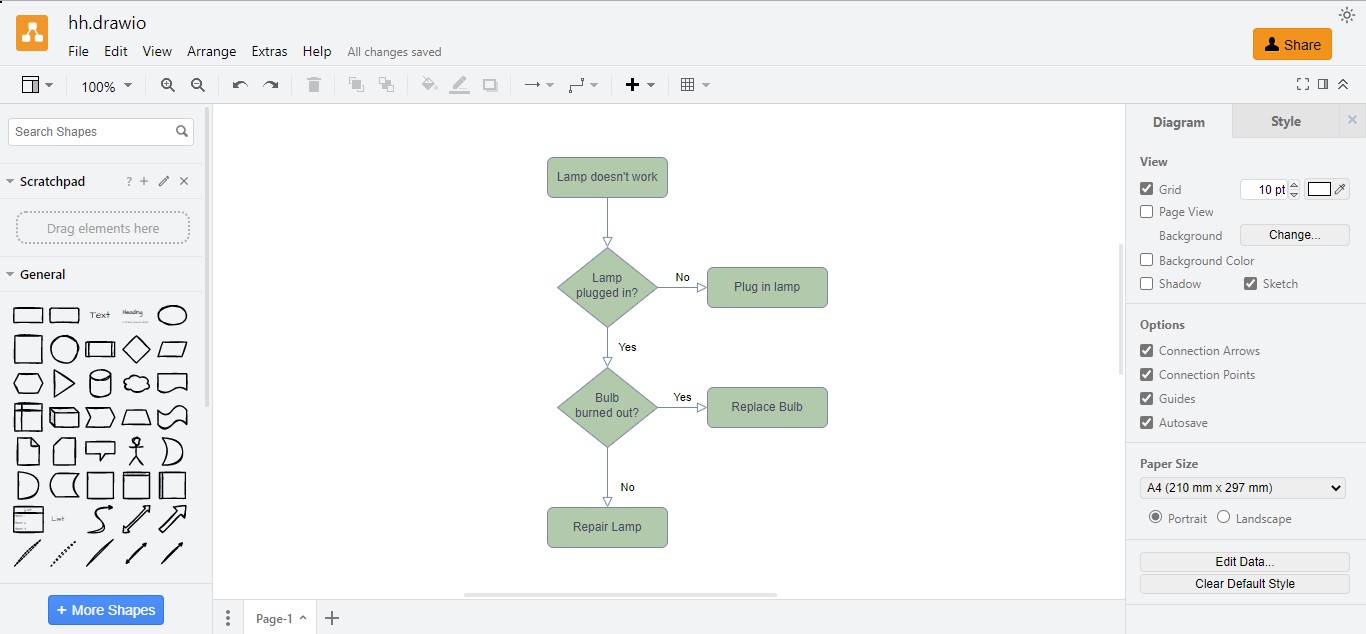 If you're looking for a non-complex platform for making personal or business-related flowcharts, look no further than Draw.io. Its cloud storage, easy-to-use user interface, and straightforward customization options enable a beginner-level user to utilize it without any trouble.
Specifications
Explanation
Ratings from G2:
4.3/5
Pricing:
Starts from $5 per month
Main Features:

Shapes and connectors assortment
Background customization
Undo and redo option
Drag-and-drop functionality
Adding table and charts
Multi-language availability
Pros:
The interface of Draw.io is pretty straightforward, involving no complex inventories.

The tool has a vast collection of shapes related to every type of flowchart, which you can add using the drag-and-drop feature.

Draw.io needs no signup to create your flowchart diagram, facilitating hassle-free editing.

You can collaborate on your flowchart diagrams in real-time and see what the other team members are doing.
Cons:
The web-based interface starts lagging when used for a long time.

Non-rectilinear flowchart diagrams may be tricky to manage.
Zen Flowchart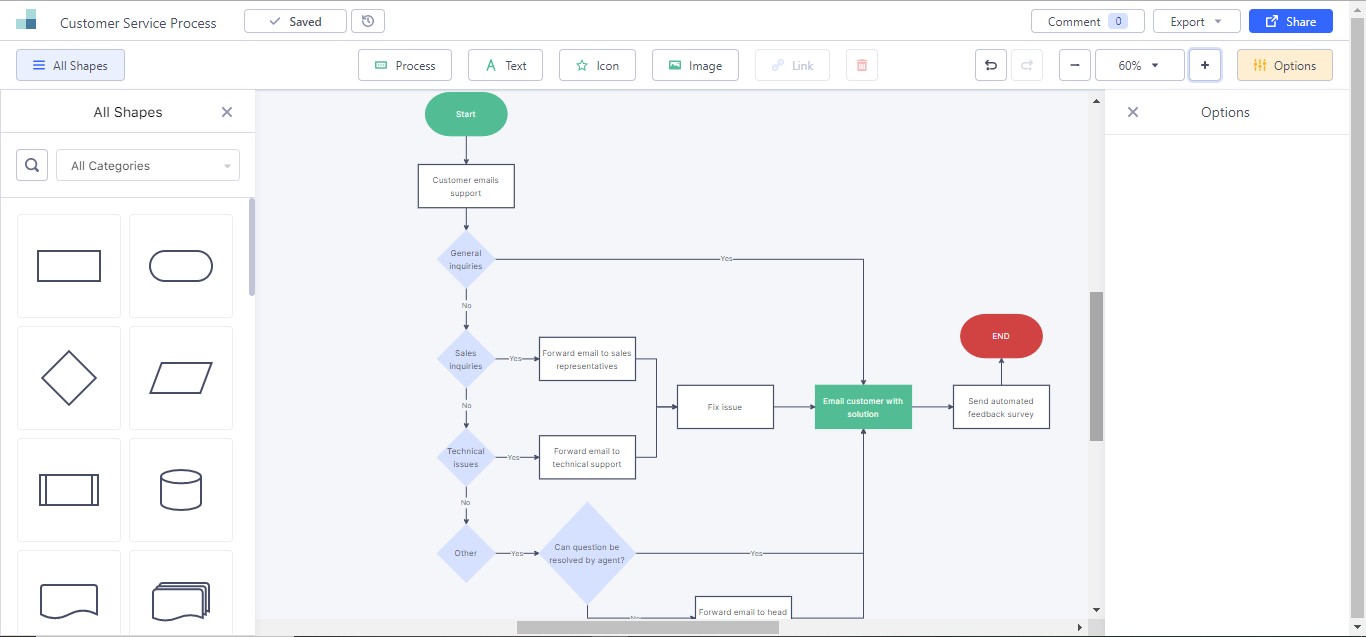 Endowed with a straightforward and neuro-inclusive interface, Zen Flowchart allows you to configure your flowcharts online without paying a single penny. Its cloud storage capability eliminates the hassle of accessing your flowchart through a single device. Its free basic plan proves to be a blessing for startup users.
Specifications
Explanation
Ratings from G2:
5/5
Pricing:
Starts from $6.3 per month
Main Features:

Flowchart sharing
Shapes library
Element's customization
Icons and images
Version history
Suitable export formats
Pros:
Zen Flowchart is probably the most convenient flowchart-making tool because of its candid interface.

The tool features drag-and-drop functionality to easily import shapes and elements into the flowcharts.

You can export your flowcharts in various formats, including JPG, PNG, PDF, etc.

Enabling multi-user real-time collaboration, Zen flowcharts boost productivity by bringing remote teammates together.
Cons:
The tool offers limited customization choices.

You cannot import data from external sources, such as Microsoft Office files.
3. Conclusion
If you're looking for a befitting solution for your flowchart-creation needs, you must opt for flowchart creators online because of the numerous perks they provide to their users. Above is the curated list of cutting-edge flowchart websites for online flowchart drawing and their salient aspects, such as rating, pricing, features, benefits, & drawbacks.
EdrawMax Desktop
Create over 280 types of diagrams
Windows, Mac, Linux (runs in all environments)
Professional inbuilt resources and templates
On-premises software for business
Enterprise-level data security
EdrawMax Online
Create over 280 types of diagrams online
Access diagrams anywhere, anytime
Team management and collaboration
Personal Cloud and Dropbox Integration
Related Articles