Sole Proprietorship Organizational Chart – An Essential Guide
Sole proprietorship organizational charts explicate individual roles in an elegant way, providing direction to the solely-owned business.
Also available for
Windows, Mac, Linux, iOS, Android, and Web.
All options >>
Inaugurating as a sole proprietor is the simplest and most straightforward route for stepping into the business cosmos. However, the absence of direction and proper planning can smash up the entire efforts and invested resources. So, a successful single proprietorship organization demands constituting a well-planned roadmap to prevent undesirable consequences.
A prudently-devised sole proprietorship organizational chart relieves the pains of complex business planning by smoothening communication at the superior-subordinate level. In this pursuit, we have composed a profound guideline about the organizational chart for sole proprietorship, its structure, advantages, and tips for its effective implementation.
1. What Is Meant by Sole Proprietorship?
A sole proprietorship, also called a sole trader or sole entrepreneurship, is an unincorporated business with only one owner responsible for paying personal income tax on the company's profits. Almost all sole business owners operate under their own business names; however, one can use a Fictitious Business Name (FBN), which requires registering your business name with the local secretary of the state.
Having a sole proprietorship is the most convenient type of business to start or dissolve because of lacking governmental regulations. Thus, consultants, new business ventures, and freelancers frequently embark on these kinds of enterprises. The significance of sole proprietorship is that the profit gained through revenues belongs solely to the owner. On the other hand, the loss or debts in a sole proprietorship are also confronted by the owner.
2. Overview of Sole Proprietorship Organizational Chart
Businesses utilize several actionable metrics, departmental models, & other analytics to achieve their operational objectives and validated learning. However, formulating an abstract view of the entire company is essential for improving business strategizing and decision-making.
A sole proprietorship organizational chart visually elucidates the relationships between different entities working inside the organization owned by a single individual. By highlighting the roles through structural hierarchies and stratified reporting relationships, single proprietorship organizational charts help identify the employees how the organization is functioning.
The importance of an organizational chart for a sole proprietorship cannot be denied whenever it comes to productive business outcomes. Consider the example of a solely-owned corporate without an organizational chart; the employees working in that organization will never know whom they should report in case of a bottleneck.
Additionally, a well-coordinated organizational chart is indispensable for streamlining the communication network, allowing the employees to discuss the project details. Knowing each member's rank will enable productive negotiations about project planning which will further enhance the subordinates' confidence in their superiors.
3. Example of Organizational Chart for Sole Proprietorship
Graphical illustrations assist the users in concept comprehension more effectively. The following visual example of a sole proprietorship organizational chart will suffice for your understanding:
The organizational structure of a sole proprietorship company is non-complex, comprising a handful of individuals for operational activities. A sole proprietorship encompasses a sole owner, a public partner for public affairs management, and a private partner for business affairs management.
The public affairs include reception, storage, and distribution of goods, whereas the company's private affairs include managing monetary dealings, documentation, and other operational tasks.
Note that the owner of a sole proprietorship organization is a single individual, having undivided power; even if someone has a partnership with another individual or company, it cannot be regarded as a single proprietorship. The partnership in sole proprietorship pertains to the business' operational activities.
4. Organizational Structure for Sole Proprietorship
A sole proprietorship is a business with just one owner; the owner is the supervisor as well as in charge of making day-to-day business decisions or recruiting employees to operate his business. Being an unincorporated company, the business owner enjoys several benefits since government liabilities are scarce in such types of enterprises.
There are dozens of people working under the owner who controls the day-to-day & project-based activities and delivers a final report to the owner. The number of hierarchical levels depends on the size of the company; the greater the company's size, the more hierarchical divisions will be. However, most sole proprietorship business organizations hold up to three or four hierarchical or management levels.
If the existing owner sells his company, the new owner would have to form a new business entity, whether it's a new sole proprietorship, partnership, limited partnership, or Limited Liable Company (LLC).
5. How to Create a Sole Proprietorship Organizational Chart?
Maintaining a proper chain of command and balanced workflow necessitates a well-developed organizational chart. Thus, if you are a business novice and want to initiate as a sole proprietor, creating a professional org chart is an essential consideration. Rather than heading to expensive design solutions, it is advisable to employ a professional diagramming tool like EdrawMax.
With a massive inventory of striking templates, an intuitive user interface, unlimited customization possibilities, and multiple export formats, EdrawMax breathes life into your organizational charts to impart a fertile business experience.
EdrawMax Desktop
Create over 280 types of diagrams
Windows, Mac, Linux (runs in all environments)
Professional inbuilt resources and templates
On-premises software for business
Enterprise-level data security
EdrawMax Online
Create over 280 types of diagrams online
Access diagrams anywhere, anytime
Team management and collaboration
Personal Cloud and Dropbox Integration
Creating a Sole Proprietorship Organizational Chart Using EdrawMax Application:
EdrawMax elevates your diagramming practice through its state-of-the-art editing features; you don't require any expert-level design knowledge to constitute your proprietorship organizational chart. The only requisite to utilize EdrawMax's prebuilt templates is to sign up for a Wondershare EdrawMax account. The detailed procedure for creating your proprietorship business org chart is given below:
Step 1: Download the "EdrawMax" application and launch it on your device to access its interface.
Step 2: Click the "+New" option in the left panel, and choose the "Org Chart" option from the main widget. If you want to customize a template, navigate to the "Templates" option and proceed with your favorite template.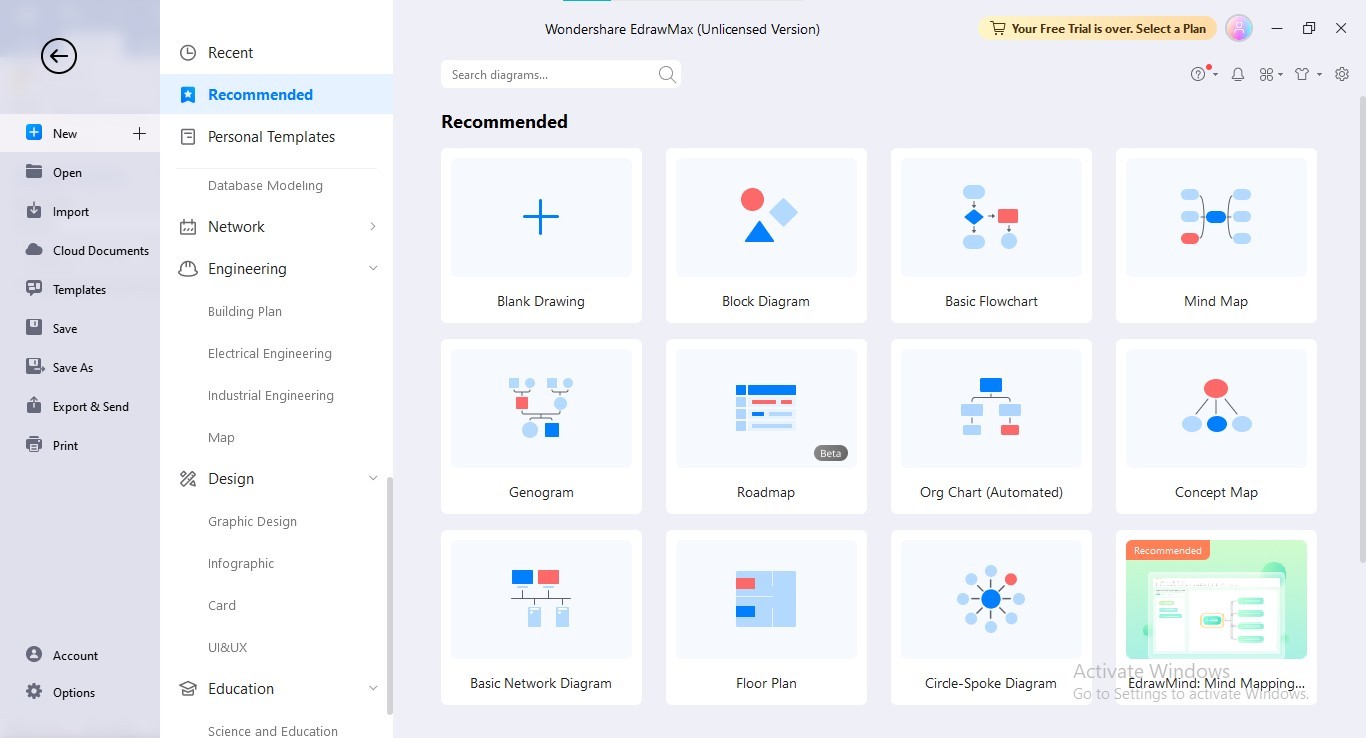 Step 3: Embed information into your sole proprietorship organization chart; it is better to collect and add employees' details for more precision.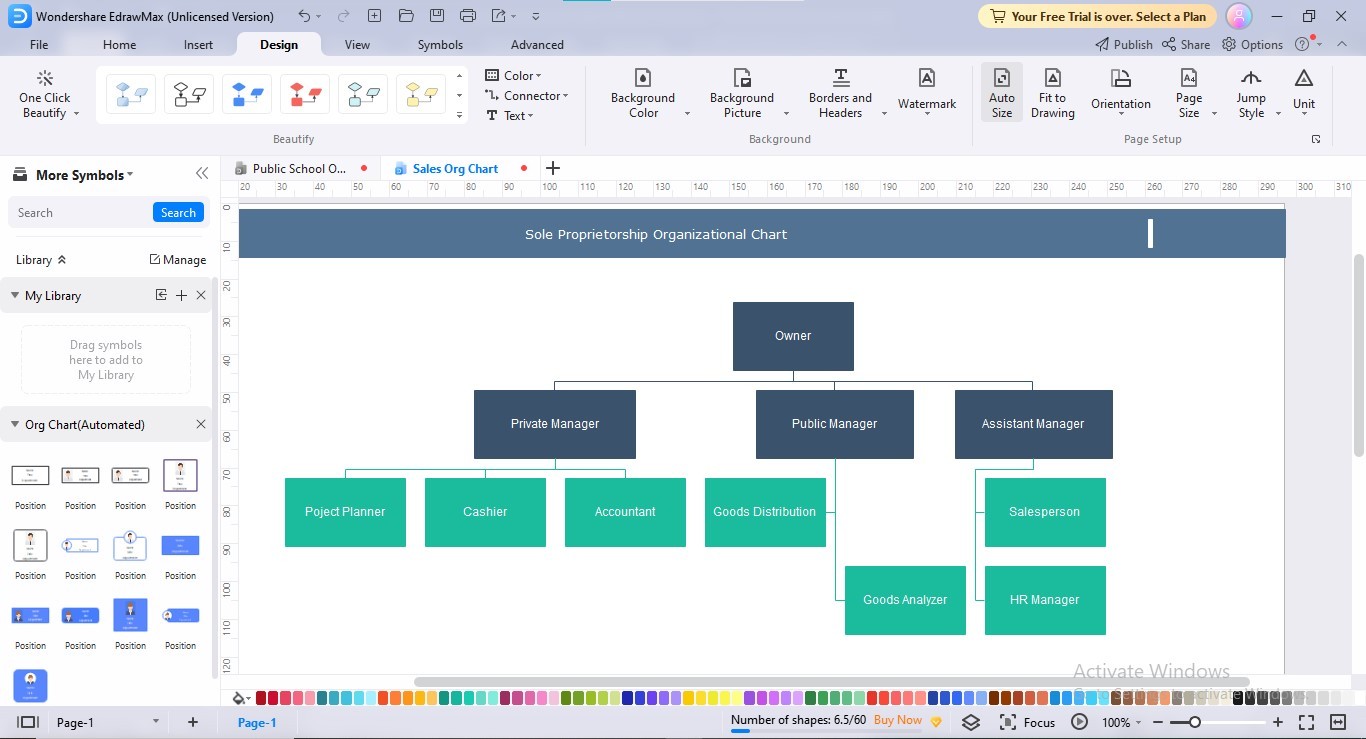 Step 4: Customize your organizational chart according to your needs and preferences by incorporating your favorite theme, color concoction, and diagram layout.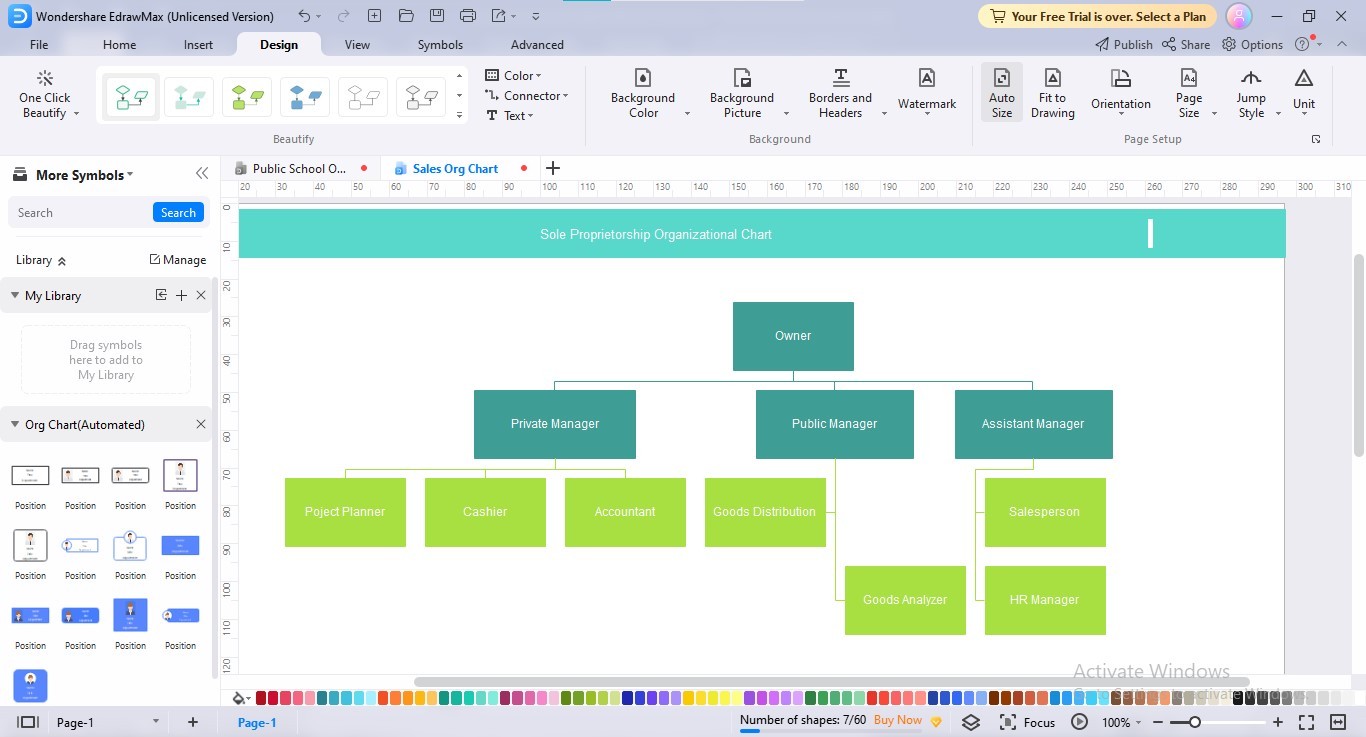 Step 5: Export your organizational chart by clicking the "Export" icon at the top bar to save it for future use.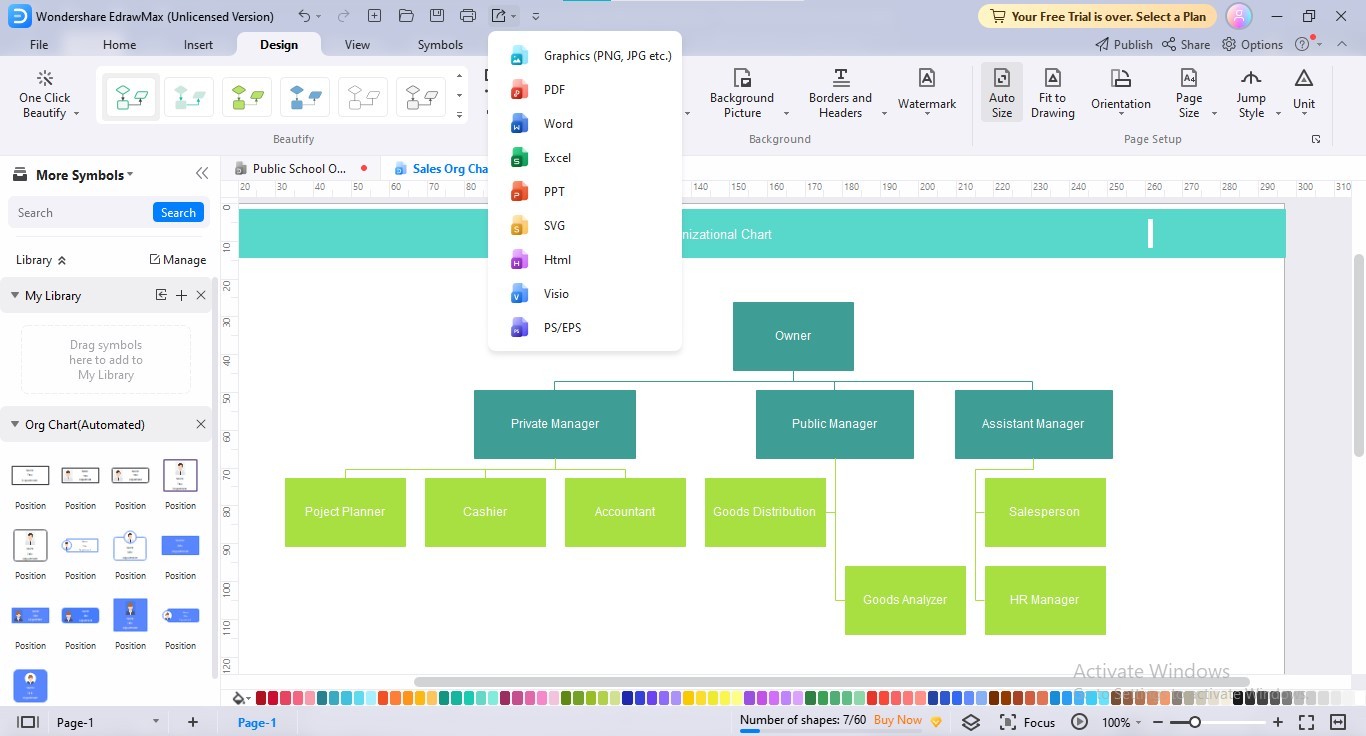 6. Advantages of Creating an Organizational Chart for Sole Proprietorship
The obvious advantages of creating a well-organized organizational chart for sole proprietorship organizations are pertinent to efficient system management and improved communication flow between different level employees. Additionally, you will obtain the following benefits by formulating a proper org chart for your enterprise:
A diligently-formed sole proprietorship organizational chart maximizes business performance by streamlining day-to-day activities.
The divisional hierarchy clearly defines each employee's role so that he may remain focused on his targets.
Managing your staff becomes easy, especially when you have a massive number of employees
Developing a well-coordinated org chart promotes a healthy work environment where each worker is encouraged to perform their duty with motivation.
Business strategizing becomes effortless since organizational structure allows you to communicate your prospective projects freely.
Your employees remain mindful of their duties, as well as the reporting structure, in case your business experiences any issues or bottlenecks.


7. Five Tips to Create an Effective & Optimized Org Chart for Single Proprietorship
It has always been a daunting experience to initiate as a sole proprietor since a business startup involves investing time and resources. Therefore, we have formulated some valuable tips that can facilitate you in making your inaugural experience productive and delightful:
Collect detailed information about your employees, including their qualifications, experience, mastered skills, and resolutions about your company. All these chunks of data will help you evaluate your employees' efficiency level; you will easily identify in which rank they should be placed.
Affix the photo of each employee along with their name & rank in your sole proprietorship organizational chart so that individuals' recognition becomes effortless.
Make your organizational chart accessible to each employee so that each worker, from a manager to a frontline employee, knows about his duties and day-to-day responsibilities.
Conduct training-based events to educate and encourage your employees to follow your prepared organizational structure utterly. Such sessions would also increase the motivation & interest level of your workers, and they will impart their utmost efforts to fulfill your prime business objectives.
Indulge your subordinates in decision-making and other team-based company activities, giving them an opportunity to unleash their creativity; it will foster a positive work culture in your organization, which is a key secret of successful organizations. Additionally, it will reduce the bureaucracy that prevailed through the traditional hierarchical system.
8. Conclusion
A sole proprietorship business is one that comprises only one owner, accountable for both the profit and loss of the organization. To visually represent the roles and responsibilities of the individuals working in the sole proprietorship, proprietors employ the sole proprietorship organizational chart, which outlines the hierarchy of the personnel for operative divisions.
The organizational structure is an inseparable component of a sole proprietorship company, necessitating it to visualize via an organizational chart. The organizational chart for sole proprietorship not only demarcates the individual roles but also provides a blueprint for day-to-day operations, making the organizational environment interactive and practical.
However, you require actionable strategies to implement the sole organizational chart in your business circle, such as training, group discussions, workers' evaluation, and creativity-based events.


Related Articles