What Is a Microsoft Org Chart? A List of the Prominent Characteristics
This piece of writing presents a comprehensive debate on what a Microsoft org chart is and what characteristics it carries.
Also available for
Windows, Mac, Linux, iOS, Android, and Web.
All options >>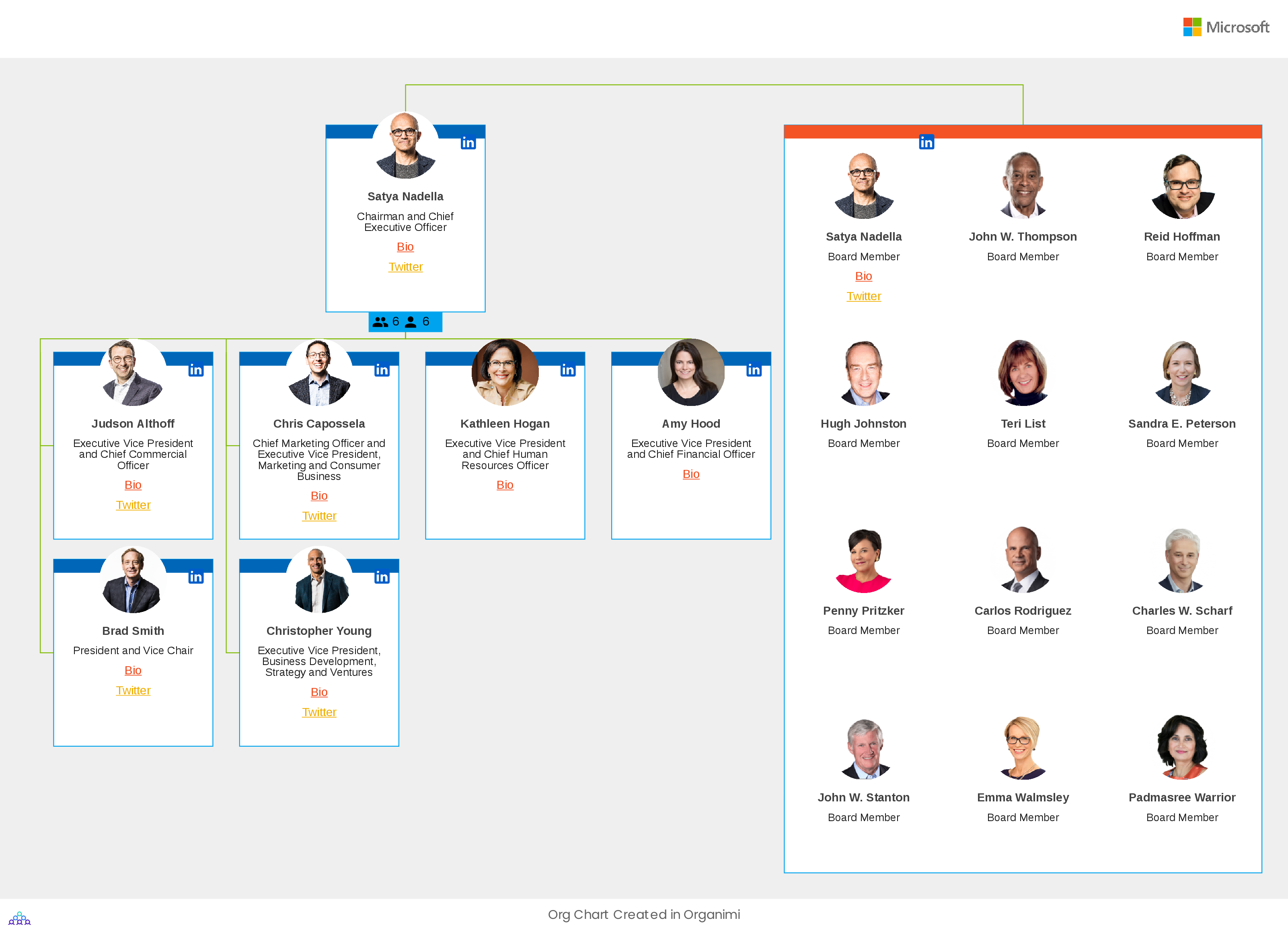 Microsoft, with over 180,000 employees, is one of the biggest and leading tech companies in the United States. Though it is a huge organization, the top decision-making team has a limited number of people, including the CEO, Executive Vice President, Chief Marketing Officer, Vice Chair Person, Business Development Strategy and Ventures, Chief Human Resource Officer, and Chief Financial Officer.
A structural change was introduced to the Microsoft org chart in 2015, which played a key role in helping the company reach new heights. The Microsoft hierarchy chart emphasizes the importance of business outcomes to ensure long-term success. This guide also presents the important characteristics of the organizational structure at Microsoft.
1. Microsoft Organizational Chart: What Does It Carry?
You can understand the organizational structure of Microsoft company with a Microsoft organizational chart, as shown below. This chart carries multiple divisions, and every division is dedicated to particular services or goods. In addition, each division has its research and development department, a professional sales team, and highly trained customer support staff.
A broad control bounds a large number of team members to report to a single manager. At the same time, the divisional structure of Microsoft assists the company in supporting a major strategy of integrated services and products and innovation. This division-based approach enables the organization to operate in multiple flexible entities with different goals to achieve.
2. The Top Characteristics of Microsoft Org Chart
The prominent features associated with the Microsoft hierarchy chart are as follows.
2.1 Product Based Divisions
The primary feature of the Microsoft org chart is the product-based divisions, and the major criteria for grouping personnel is output or product. For example, the company has a separate division for intelligent cloud products and another for a variety of other products. With the use of this effective structural characteristic, Microsoft has gone the extra mile to innovate its products. The Microsoft hierarchy chart presents four divisions (as listed below) based on products.
Personal Computing
Business Process and Productivity
Corporate
Intelligent Cloud
2.2 Global Corporate Groups | Functional Structure
The second prominent characteristic of the Microsoft organizational chart is the global corporate groups. Different functions that are required for technology business form these groups. Let's consider one group, Human Resources. It is responsible for managing the workforce and all other related tasks. These structural features make sure that the company operates as a whole. The 13 global corporate groups associated with the Microsoft org chart are listed below.
Legal
Finance
Marketing
The CEO's office
Human Resources
Business Development
Research and Technology
Global Commercial Business
Devices and Windows Group
Services and Applications Group
Operations and Corporate Strategy
Microsoft Cloud and Enterprise Group
Global Sales, Operations, and Marketing
2.3 Geographic Segments
The least significant characteristic of the Microsoft hierarchy chart is the geographic segments. The operations are categorized into these segments in the financial report of the organization. Based on the Microsoft org chart, the two geographical divisions are as follows.
2.4 Centralization
In Microsoft, the decisions are made by managers who have been given the authority to do so. Bill Gates introduced this centralized approach toward decision-making to reduce the chances of management getting biased. This approach has helped the company to enhance its business performance and follow universal standards.
2.5 Span of Control (SoC)
Microsoft is known for its wide span of control. It shows a single manager manages a higher number of subordinates. In simple words, you can say that a large number of employees report to a single manager.
3. How Can You Make an Org Chart in EdrawMax?
Creating an organization chart, without a doubt, is the most important task for any company, as it controls everything that has to happen within the company. This is why people usually look for an effective and reliable way to draw an efficient chart. You must be looking for the same. Aren't you?
Well, when it comes to making an org chart, Wondershare EdrawMax is listed on top. It is a wonderful utility that not only helps you draw the chart within a few minutes but also offers an elegant interface to improve the user experience. Let's look at how you can make an organizational chart with this tool.
EdrawMax Desktop
Create over 280 types of diagrams
Windows, Mac, Linux (runs in all environments)
Professional inbuilt resources and templates
On-premises software for business
Enterprise-level data security
EdrawMax Online
Create over 280 types of diagrams online
Access diagrams anywhere, anytime
Team management and collaboration
Personal Cloud and Dropbox Integration
A Step-By-Step Guide to Creating an Org Chart with EdrawMax
Before moving forward, ensure you have EdrawMax installed on your computer or laptop. If you don't have this software, make sure you download it from the official website. If you want to try its features before buying, hit the "Try It Free" button. But if you are looking to purchase the full version of EdrawMax, tap on the "Buy Now" button.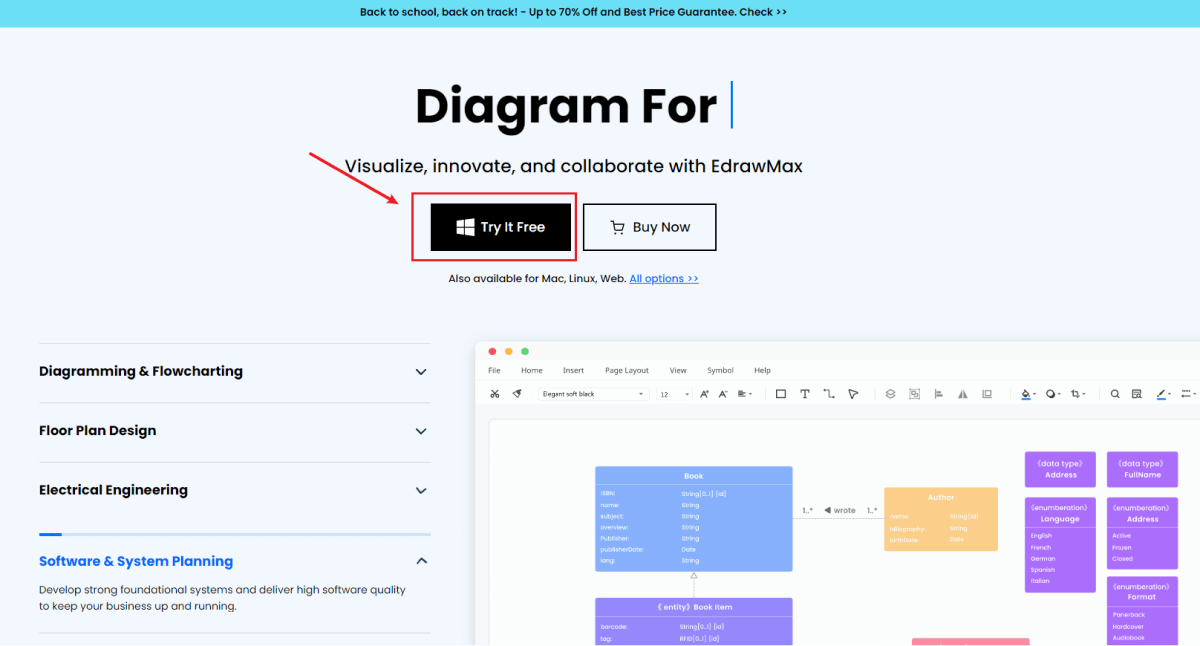 Step 1: Once this tool gets installed on your system, launch it, create an account, and log into it. If you want to make the organizational chart quickly, there is nothing better than using pre-built templates.
To select the desired templates, go to the left panel, and click on the "Templates" option. There, you will see many templates available in EdrawMax.
Now, go to the search bar and type "organizational chart." Then, select a template that suits your needs the most. For this, move your cursor on the specific template, and tap on "Use Immediately," as shown below. Doing this will allow you to make changes to this template.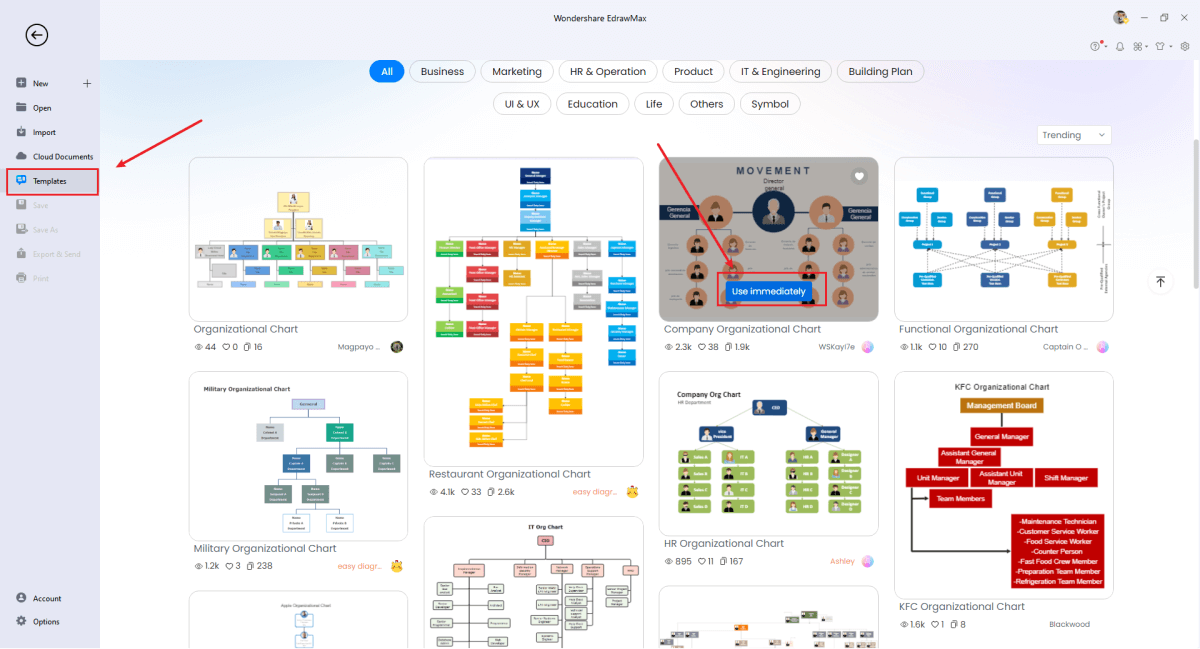 Step 2: This step is dedicated to making an org chart from scratch, which is quite an easy job with EdrawMax. If you are the one who wants to put every detail by yourself, creating the chart from scratch is a better option in that case.
Go to the left panel, tap on the "New" option, and choose "Organizational Chart" from there. There, you will find some typical templates. You are free to change their layouts as per your requirements.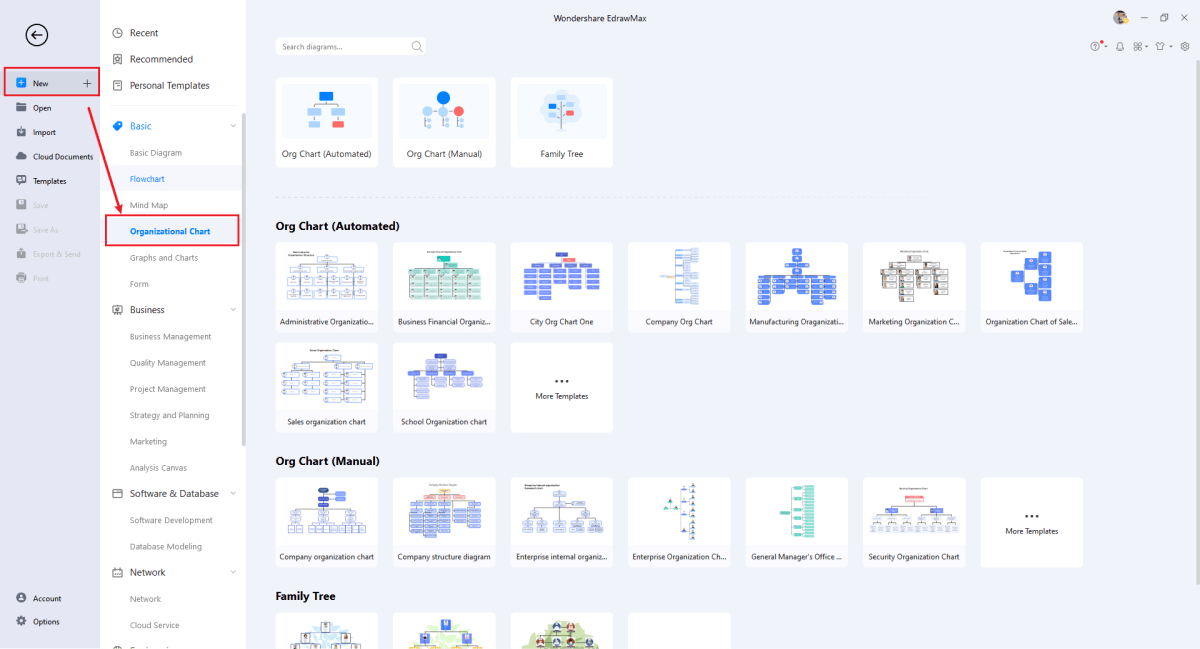 Step 3: As soon as you select the basic template, the next step is to introduce symbols to it. Go to the top menu, and click on "Symbols." Now, choose any symbol from the list, hold it, and drag it to the editable screen. You are free to use any symbol and add it to the "My Library" section for later use.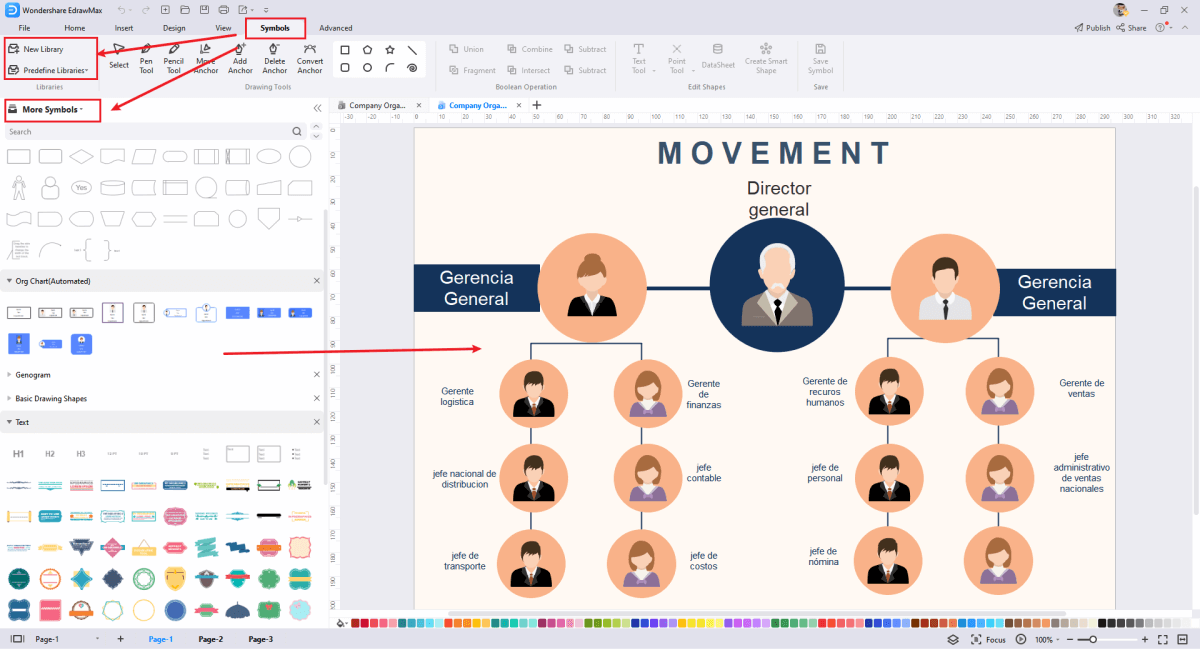 Step 4:It is time to customize your org chart. This step is about adding more details to your chart. The customization menu in EdrawMax is super amazing and convenient to use. A huge selection of options is available to choose from. Changing the size and color of existing symbols is easier than you can think. You will see different categories with a list of components. Select the one that perfectly matches your needs.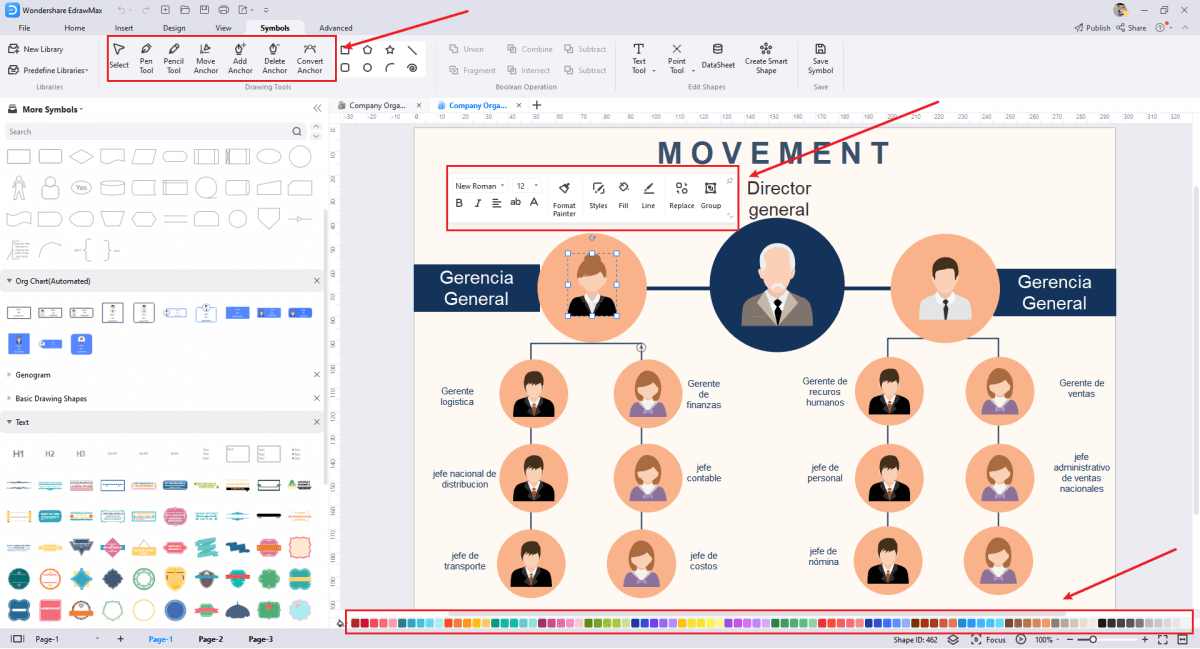 Step 5:Now, review the org chart you just created. If you are satisfied with the final diagram, you can export it. For this, go to the "File" menu. Select the "Export & Send" option, and choose the desired file format to export your chart. The formats you will see on the list include; graphics, PDF, Office, HTML, SVG, and Vision, as shown below.
If you want to share your organizational chart in your social circle, tap on the "Publish" button to do this task.
Following the above steps carefully makes it very easy for you to create organizational charts using built-in templates; a wide range of symbols, and advanced customization options. It helps you make better plans to ensure successful business growth.
Note: If you are still confused about making your org chart, don't forget to watch this video guide. It gives a visual presentation of all steps and makes the overall process simple and quick to a great extent.
Why Should You Use EdrawMax to Create an Org Chart?
Well, EdrawMax is a free tool you can use to make org charts. Apart from doing it for free, it makes your job fast and convenient. It means you can happily say goodbye to all tools that consume a lot of time.
The best part of using Wondershare EdrawMax is that it comes with a 15-day free trial. With this trial, you can experience a wide range of its potential features. It is enough for you to determine the real credibility of this org chart maker.
As far as the user experience is concerned, EdrawMax has an elegant interface. In addition, it is a fully customizable utility that enables you to draw org charts either from scratch or using a pre-built template.
The template community is growing day by day, making the job easier for you. Furthermore, this tool supports 14 different file formats when exporting your final diagram. Along with organizational charts, you can use this software to make more than 280 kinds of diagrams. Both desktop and online versions are available. The desktop version is compatible with Windows, Mac, and Linux operating systems.
4. Frequently Asked Questions (FAQs)
Q: Why does every department within an organization have an org chart?
A: Well, an org chart presents the hierarchy of an organization, which identifies lines of authority and senior managers. In addition, it displays the goals and responsibilities of different regions, departments, divisions, and employees. This is why it is crucial for every department to have an org chart to ensure smooth and seamless growth.
Q: What should I consider when making an org chart?
A: A couple of things are necessary to keep in mind. Some of the most important are listed below.
Make your chart fit on one page
Use one box to mention people with the same position or title
Keep the size of all boxes the same
Introduce even spaces between all boxes
Place the title above the employee's name
Use hyperlinks to display more information
Break large org charts into multiple small charts linked with each other
Q: What if an organization does not have an org chart?
A: No organization can run in the long run without an appropriate org chart, as it becomes impossible to create long-term and effective business strategies. Having no organizational chart also refers to a situation where administrative and project responsibilities are neglected.
Q: Is there any limitation of an organizational chart?
A: Yes. Organizational charts show formal relationships only. With these charts, you cannot get any idea about the informational relationships with an organization that contribute to the overall success of a company.
5. Final Words
Like any other organization around the globe, Microsoft has a unique organizational chart. The whole business of the company largely depends on the Microsoft hierarchy chart. Though the management has less number of people, they have strong control over every process.
A huge number of employees work under a single manager in different departments. This approach assists the company in innovating services and products and following the highest possible global standards to stand out in the market. Read the above discussion to better understand how Microsoft operates.
Do you want to create an organizational chart for your company? Looking for an efficient and dependable tool to achieve this goal? If the answer to these questions is yes, give Wondershare EdrawMax a try. You will never get disappointed with the outcomes, as it has everything to offer you are actually looking for. With a huge library of built-in templates and an advanced editing panel, you can customize your charts to meet your needs fully.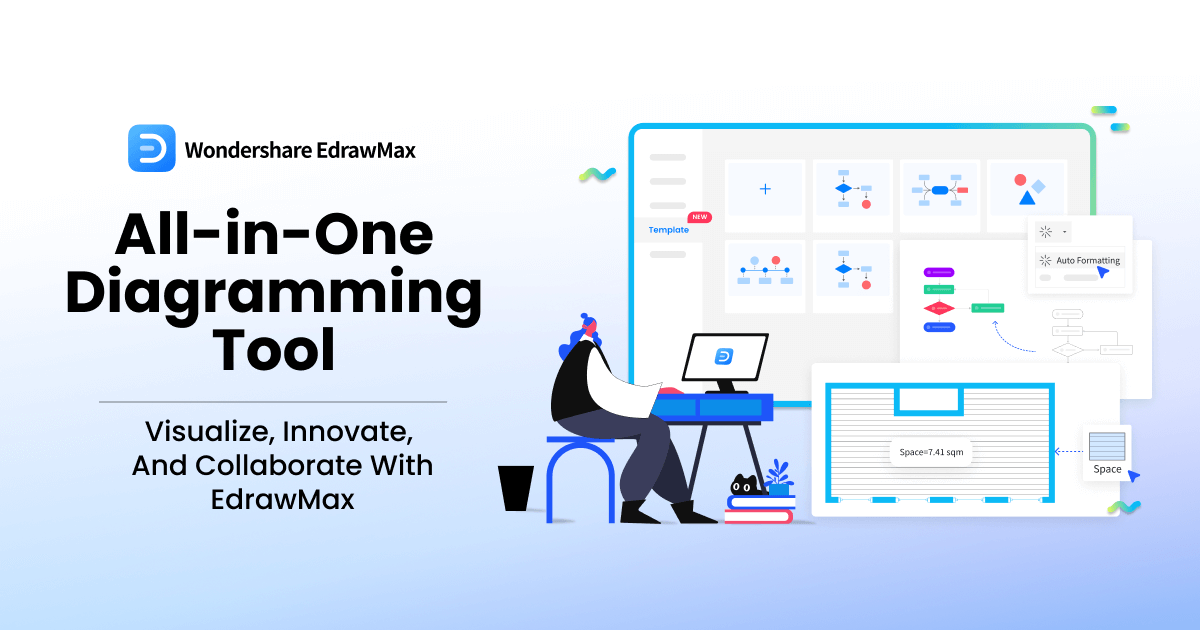 Related Articles