Best Open Source Flowchart Software in 2023
Open-source flowchart makers impart flexibility to tailor the feature variety, encouraging you to unleash your potential creativity.
Also available for
Windows, Mac, Linux, iOS, Android, and Web.
All options >>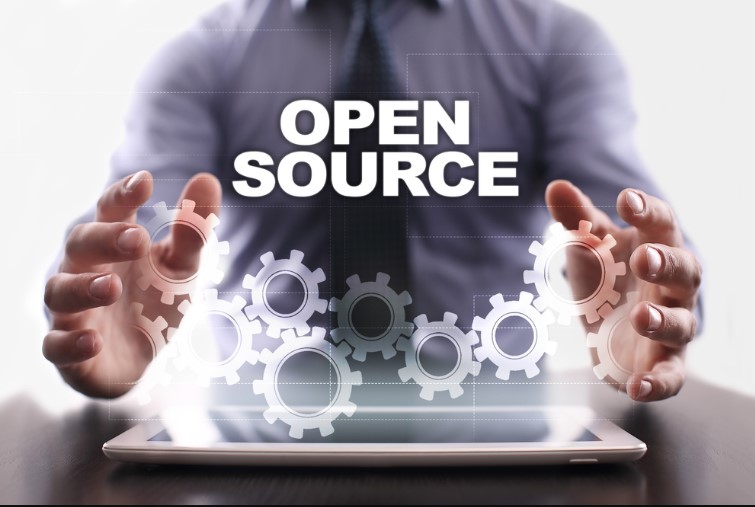 Consideration of flow diagrams is an excellent way to map your project processes with visual detailing and allow all the team members to effectively analyze the project. For this, various flowchart diagram software can be elected, but if you anticipate the outrageous effectiveness with upgraded functionalities, you must opt for an open-source flowchart software that facilitates you in expounding the processes' flow in algorithms.
However, you may need to consider various factors at clapping eyes on the finest tool. In this connection, this detailed guide presents a comparative analysis of a few top picks apropos of open source flowchart tools.
1. Overview of Open Source Flowchart Tool
Open-source flowchart tools refer to those solutions that are modifiable through source code for more personalized features and customization controls. Such tools encourage individual contributions, not only making the tool innovative but also assisting the users in getting practical benefits.
Benefits of Using Open Source Flowchart Tool
Using customizable flowcharting tools may bring the following benefits to your flowchart-making regime, allowing you to maximize performance through tailored aspects:
Rather than opting for premium flowchart-creating solutions, it is advisable to hunt an open-source tool because it provides myriads of features at no cost. Additionally, the tool will remain available forever without worrying about the budget.
Another perk of open source flowchart software is that you can customize its features by modifying the source code.
State-of-the-Art Options:
Open-source diagramming solutions are accessible by everyone on the internet; thus, they always contain state-of-the-art features.
2. Introduction of Top 5 Open Source Flowchart Software
If you're pursuing the best open-source tool, you've landed in the right spot. The plethora of open-source flowcharting tools may confound you with an assortment of the best ones, so here we have curated a comprehensive list of top open-source flowchart tools that best meet all your diagramming needs.
1. Dia Diagram Editor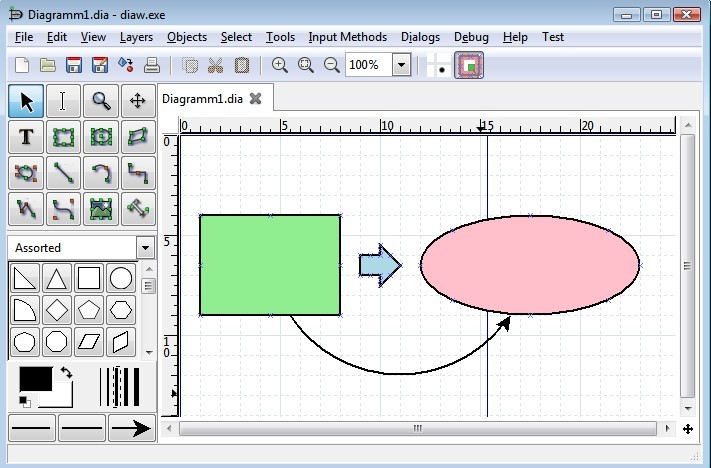 Dia Diagram Editor is a free open-source diagramming tool that allows you to create, edit, and export your flowcharts according to your preferences. Supporting almost all operating systems, diagram types, and flowcharts, Dia Diagram proves an unbeatable solution for custom-modified flowcharting features.
| | |
| --- | --- |
| Main Features | Description |
| Predefined Shape Library | Dia Diagram editor provides a shape library containing more than 1000 predefined symbols and objects for multipurpose diagramming. |
| Drag-and-Drop | You can insert an object or shape by dragging and dropping it onto the canvas, making your flowcharting easy. |
| Export Formats | Dia provides extensive options for exporting your documents, including JPG, PNG, SVG, PDF, VDX, EPS, etc. |
Pros:
Dia provides an expansive shapes and symbols library to complement your flowcharts.

You can utilize the prebuilt templates to customize your flowchart.

Dia Diagram allows you to export your flowchart in several formats, ensuring hassle-free file access.

You can benefit from its drag-and-drop functionality to import shapes into your flowcharts quickly and effortlessly.
Cons:
The user interface may seem a little bit outdated.

Templates customization may be challenging because themes are fixed.
2.Pencil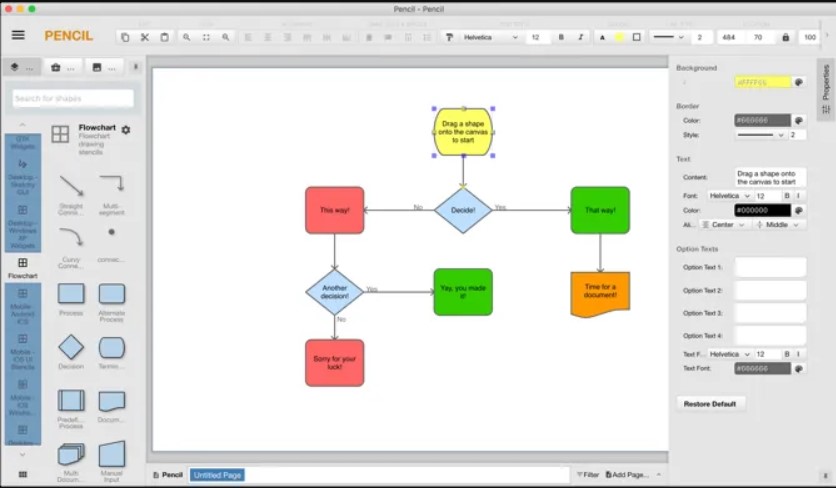 Pencil, a free and open-source prototyping application, allows you to customize the source code according to your choice for creating personalized, marvelous flowcharts. A massive shapes library, GUI-inspired diagramming support, multiple export formats, and inter-page linking make it an unrivaled solution in the sketch tools market.
| | |
| --- | --- |
| Main Features | Description |
| Diagram Drawing Support | The tool provides new-fangled wired connectors to add innovation to your flowcharts instead of using rectilinear connectors. |
| Different Export Formats | Pencil allows you to export your flowchart files in several formats, including PDF, PNG, SVG, ODT, etc. |
| Inter-page Linking | You can interlink various pages to create a link between various flowchart ideas and processes. |
Pros:
The interface of Pencil is quite user-friendly, allowing you to personalize your flowcharts effortlessly.

The tool provides an extensive built-in shapes library to constitute whatever kind of flowchart you want.

The tool's export choices are various, enabling you to save your file in your desired format.

The tool offers pre-installed GUI prototypes to employ for different diagramming types, whether you are accessing the tool via Windows, Mac, or Android.
Cons:
The customization options are limited.

The software does not launch updates regularly.
3.OpenOffice Draw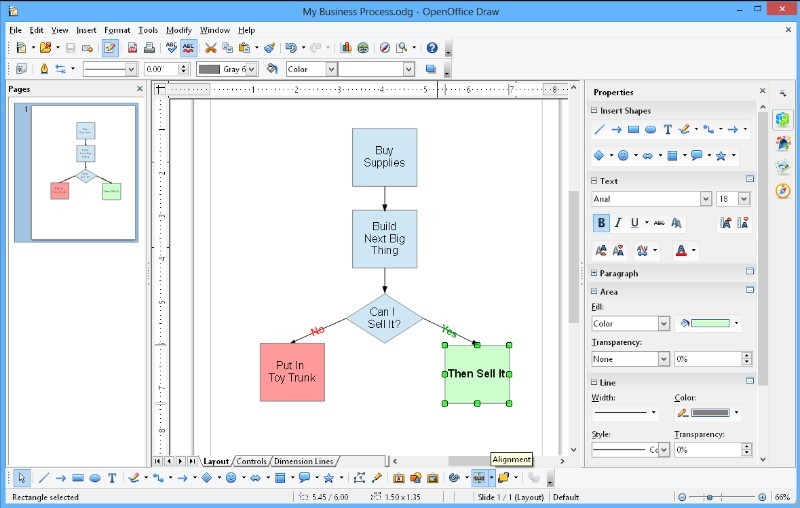 OpenOffice Draw is another good pick in choices of top free open-source flowchart makers enabling you to transform your business ideas & processes into comprehensive visual flowcharts just by picking & dragging the symbols.
| | |
| --- | --- |
| Main Features | Description |
| Alignment | Using the Alignment option, you can conveniently align your shapes in the same position collectively with a single click. |
| Quick Toolbar: | The tool allows you to place a particular toolbar you use most frequently on the main screen. |
| Interoperability: | The interoperability feature makes OpenOffice Draw's files easily supported on different platforms. |
Pros:
The quick toolbar option eliminates the hassle of accessing symbols manually while making flowcharts.

Cross-platform compatibility makes it easy to use it on different systems.

OpenOffice Draw runs pretty smoothly on the system, even when creating complex flowcharts.

It's an excellent alternative to MS Office tools; you won't find much difference in the functioning of both platforms.
Cons:
No integrated cloud storage is available; files can be saved locally only.

The interface of OpenOffice Draw isn't good enough, making it complex to use the menu.
4.Draw.io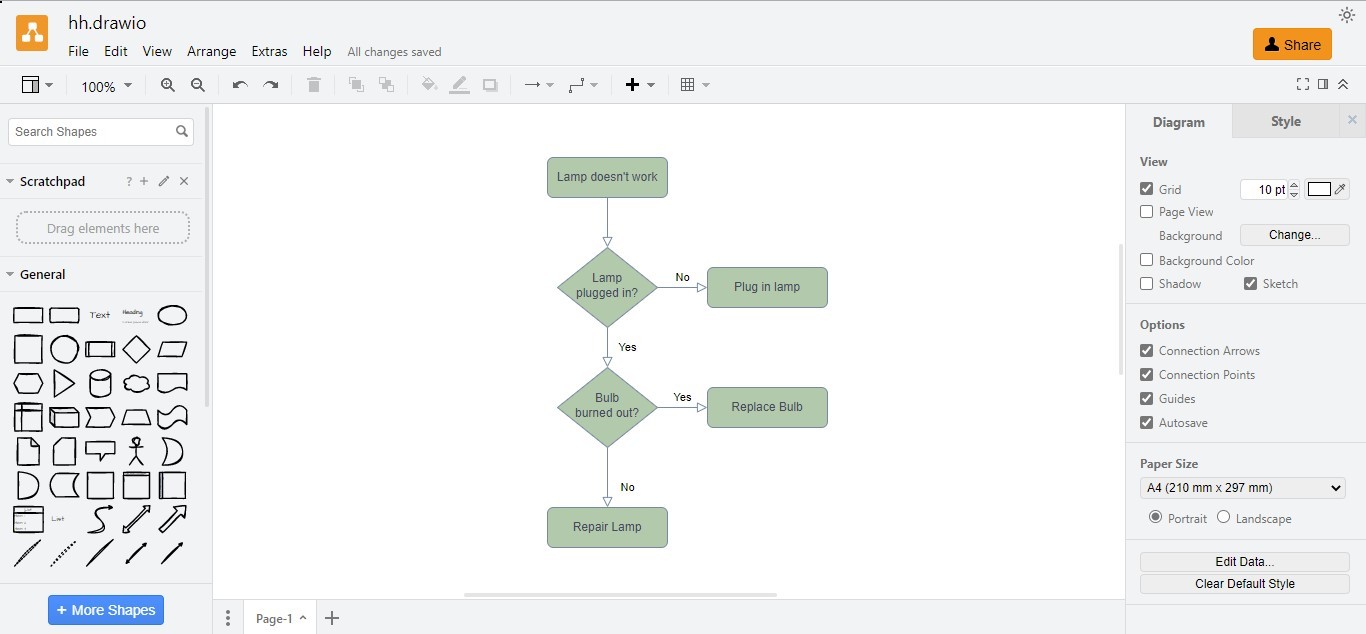 Being the most straightforward platform for flowchart making, Draw.io enables its users to configure the features according to their preferences. The application is entirely web-based, which you can utilize to optimize your flowchart outlooks. Moreover, the interface is exclusively inclusive, which won't trouble your cognitive senses.
| | |
| --- | --- |
| Main Features | Description |
| Adding Multimedia | You can incorporate various media into your flowcharts for more precision and clarity. |
| Drag-and-Drop Feature | Utilize its drag-and-drop functionality to import elements expeditiously and effortlessly. |
| Shapes Library: | Draw.io provides a basic, advanced, and miscellaneous shapes library to complement your flowcharts. |
Pros:
The export options provided by Draw.io are straightforward, involving no watermark or margins.

The tool offers a Multilanguage availability feature so that diversified users can exploit it.

You can access and watch its video tutorials to establish a better idea about its usage.

Draw.io enables hotkeys for quick navigation, avoiding lengthy navigation dropdowns.
Cons:
The tool experiences glitches if employed for a long time.

The templates library feature could be included to maximize performance.
5.Inkscape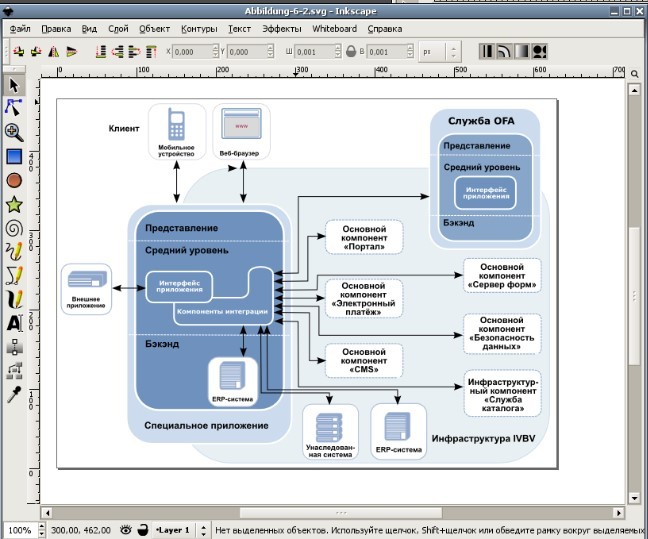 Inkscape is categorized as an all-in-one vector graphics platform for making multifarious diagrams, including flowcharts, logos, clipart, cartoons, etc. Offering a rich assortment of appealing features, the tool encourages you to tailor the source code in addition to editing and customizing your flowchart layouts.
| | |
| --- | --- |
| Main Features | Description |
| Layers creation | You can create, display, and hide layers of your flow diagrams to showcase different flow levels. |
| Innovative Color Customizations | Inkscape allows you to add solid, gradient, patterned, and marker fills to your shapes. |
| Objects Alignment | You can group, ungroup, scale, and skew the elements both interactively & by allocating numeric values. |
Pros:
The tool incorporates numerous element customization options for an attractive flowchart.

You can export your file in multiple formats, including SVG, PNG, JPG, PDF, etc.

Inkscape provides an extensive shape library, so you never miss out on an essential shape.

You can also perform freehand drawing for more interactive flowcharts.
Cons:
The user interface could be more intuitive.

It lacks the team collaboration feature for interactive editing.
3. EdrawMax - A Top-notch Flowchart Designing Software
If an open-source platform isn't your primary requisite, then you can also opt for EdrawMax's all-in-one designing tool that facilitates you in creating eye-catching & detailed flowcharts tailored to your needs. It's considered one of the best diagramming software integrated with advanced features and is much more effective than most open-source flowcharting tools.
Highlights of EdrawMax
To get better insights into the EdrawMax, we have shed light on its salient features & specifications:
Specifications
Free & Subscription-based
Pricing Model
The Price Range Starts from $99 per year
Price Range
Windows, Mac, Linux, Web, IOS, Android
Salient Features

Customization: EdrawMax presents full customization; you can edit & customize the shapes, symbols, themes, etc., to make more polished and effective flowcharts or other diagrams.
>
Data Import/Export; The Import/Export option in EdrawMax facilitates the users to easily import/export files in various file formats, i.e., graphics, pdf, Word, Visio, etc.
>
Data Visualization: EdrawMax allows you to visualize all sorts of data in digestible form with a data import option.
>
Drag & Drop: The drag & drop feature ensures the utmost design convenience if you've just started with the EdrawMax. You can create a fantastic diagram, i.e., flowcharts using merely dragging and dropping the symbols & shapes.
>
Flowcharts: With a highly intuitive user interface, you can use appealing colorful elements standardized for flowcharts, Gantt Charts, UML diagrams, and more.
>
Collaboration and Sharing: Working in a collaborative environment is pretty convenient with EdrawMax; you can collaborate with your teammates and share your files across various social media channels.
>
Templates: EdrawMax offers numerous prebuilt and editable templates for flowchart designing, mind mapping, database modeling, engineering use cases, and various other purposes that can be configured according to particular project information.
>
4. Conclusion
If you intend to visualize your project into a comprehensive flowchart, the choices of flowcharting tools are limitless; you can find various free & open source flowchart software in this connection.
Open-source flowchart tools allow you to improve the tool features per your requirement. Given this, we have picked out a few best open-source flowchart tools you can rely on to make your flowcharting experience more personalized. This detailed guide thoroughly analyzes all the tools to get good insights into the best open-source flowchart platforms.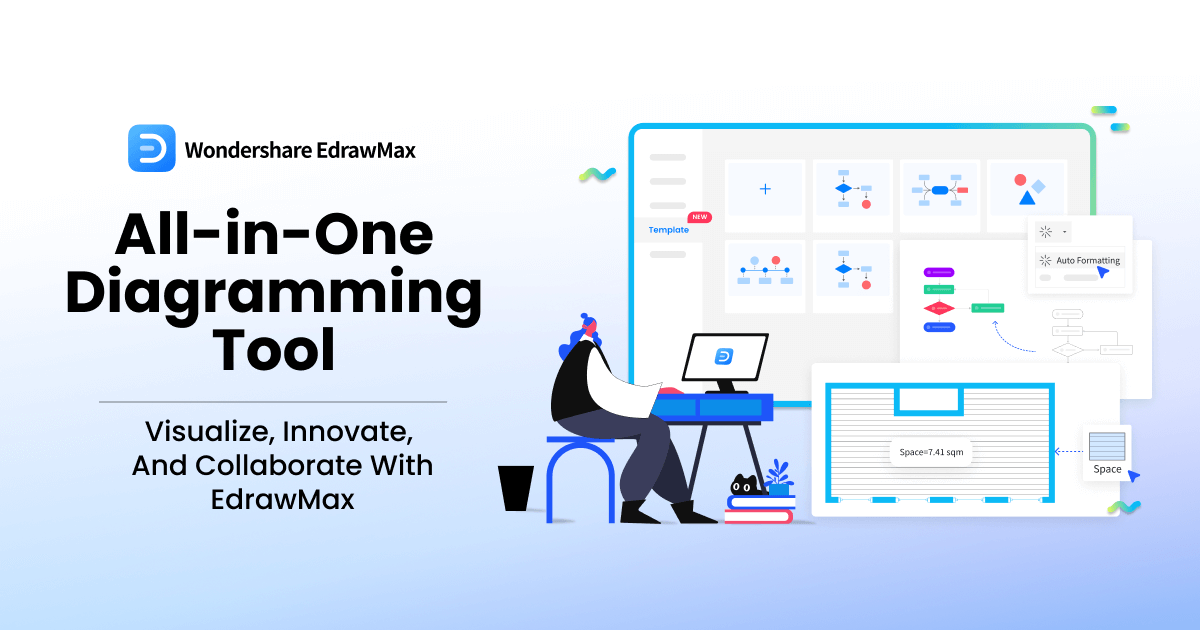 Related Articles