The Basics of Coffee Shop Organizational Structure
Whether you're owning a renowned coffee shop or just have taken charge as a new manager, having an adaptable organizational structure will help you outshine in the crowded market.
Also available for
Windows, Mac, Linux, iOS, Android, and Web.
All options >>
1. Introduction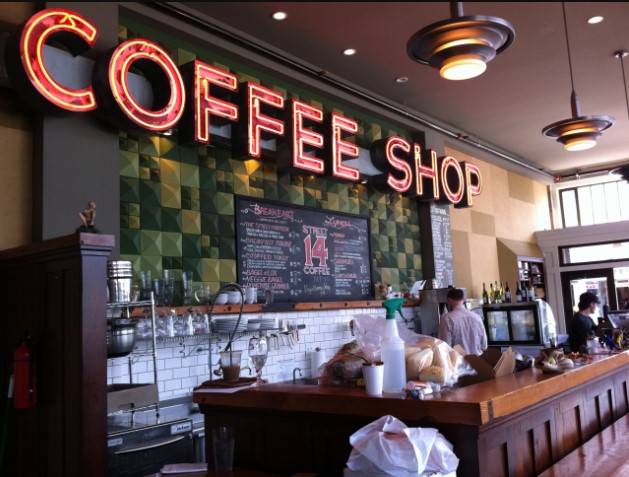 Coffee is a widely-loved refreshment worldwide, with a revenue of $90,277 million in the global market the preceding year. Whether it's cappuccino, espresso, or Americano, coffee is the paramour of all, epitomizing love, inspiration, and lavishness.
The organizational structure of a coffee shop is the foremost factor to consider whenever inaugurating a café business. Developing a realistic structure results in satisfied customers, effective strategizing, seamless collaboration, and streamlined workflow. Given this ground, we have demonstrated the café organizational structure, its significance, examples, creation procedure, and tips to implement org structure in your coffee business.
2. Overview of Coffee Shop Org Chart
An org chart visualizes the individual roles of the personnel working in an organization to clarify who is supposed to perform what. This visual scheme is helpful, defining everyone's designation and responsibilities so that he may work with full motivation & focus.
The same rule applies to cafes and espresso bars; they necessitate an appropriate organizational structure for smooth operational activities. A coffee shop org chart is one that illustrates the ranks & roles of shop employees in hierarchical divisions to improve the line of communication and elucidate reporting relationships.
No matter whether small or large-sized, a coffee shop comprises various services, including an owner, accountant, cooks, assistant cooks, head waiter, assistant waiters, baristas, dishwashers, sweepers, etc. A particular hierarchy is required to maintain an unbroken chain of command so that each employee should report to their superiors without getting jumbled about whom to consult.
The organizational chart of the coffee shop must be accessible to everyone; rather, it should be fixed on the shop's notification board to remind each individual what their day-to-day duties are.
3. Examples of Organizational Chart of Coffee Shop
If you are a new entrepreneur and possess no idea of how to structure your newly-developed coffee shop, you can contemplate some of the coffee shop organizational structures presented below:
Small-Sized Coffee Shop Organizational Chart
The above image portrays the organizational structure of a small-scale coffee house containing a handful of employees. In the picture, the shop owner comes to the top, managing all the activities of his subordinates.
Under the owner, there is an accountant who keeps a record of monetary affairs, an executive chef who decides the menu & product line of the shop, and an assistant restaurant manager who controls the waiters' staff. All the cooks work according to the instructions of the executive chef, taking the assistance of assistant cooks.
The head waiter is controlled by the assistant restaurant manager, who in turn controls the frontline waiters. Dishwashers and assistant cooks work in collaboration with cooks to facilitate coffee-making, baking, and other culinary tasks.
Mid-Sized Coffee Shop Organizational Chart
The structure of a mid-sized coffee shop is commonly functional based, as illustrated in the above diagram. The functional hierarchy is significant since it allows the employees to work motivationally in their relevant field instead of focusing on a particular product or objective, as in the case of the divisional organizational structure.
In the above diagram, the coffee shop comprises an administrator who reports to the shop owner. Under the administrator, the manager controls all the activities, encircling accounting, customers, waiters, cooks, baristas, and other staff. All the subordinate staff, including assistant cooks, bakers, baristas, and senior & junior waiters, report to the manager.
4. Benefits of Creating an Org Chart for a Coffee Shop
An organizational chart provides a direction to your business, in addition to assigning individual roles. Following are the benefits your coffee business is supposed to acquire by implementing a well-coordinated organizational structure:
Establishing a professional café organizational structure primarily can develop an interactive work environment where all the personnel fulfills their tasks collaboratively.
The organizational chart of your coffee shop will demarcate the role of each employee, describing who is expected to perform what.
A smooth chain of command will assist employees in determining whom to report to in case of an issue.
Efficient workload management, the key to every successful business, can be achieved through a high-end organizational chart.
The rightful workforce distribution via the coffee shop org chart will result in better employee relationships and on-time task accomplishment.
Functionality-based task distribution will allow the workers to accomplish their tasks with utter motivation.
There are diminished chances of monopoly since each one is mindful of his duties.
A professionally-built org chart for your coffee shop will augment productivity, which in turn will enhance the trust of customers, resulting in greater revenues.
5. Organizational Structure of a Coffee Shop
The organizational structure of the majority of coffee shops is a "Matrix" comprising vertical and horizontal hierarchies based on functional needs. The vertical-to-vertical relationships may be based on a parameter, such as product, project, region, or function.
If you want to understand the organizational structure of a general coffee shop, consider its below-given hierarchical division of workforce:
Owner:
The owner of the shop owns the business; his task is not to control or monitor the activities, rather, he receives a report of all the gives and takes.
Administrator:
The administrator is the person working under the owner who is responsible for delivering the report of all undergoing or prospective activities to the owner. Additionally, the administrator supervises all the managers to check whether they are performing their duties well.
Manager:
Managers dictate and manage all the operations undergoing in the shop, from resource management to project management to finance management. There can be multiple managers in the coffee shop, especially when the business circle is pretty large.
Another task of managers is to instruct and supervise the subordinates, whether they are cooks, waiters, or cashiers. All the working staff reports to the manager in case of a problem or a bottleneck.
Assistant Restaurant Manager:
The duty of assistant restaurant managers is to monitor the assistant staff, such as junior waiters, assistant cooks, dishwashers, etc. The rank of Assistant manager is synonymous with the manager.
Accountant:
The accountant monitors and handles the monetary affairs, such as sales, revenues, transactions, profit & loss, and cash management.
EdrawMax Desktop
Create over 280 types of diagrams
Windows, Mac, Linux (runs in all environments)
Professional inbuilt resources and templates
On-premises software for business
Enterprise-level data security
EdrawMax Online
Create over 280 types of diagrams online
Access diagrams anywhere, anytime
Team management and collaboration
Personal Cloud and Dropbox Integration
Cook:
The duty of the cook is to make coffee for the customers; he is supervised by the manager. In some restaurants, the same cook makes coffee as well as other dishes, such as pastries or biscuits, etc.
Assistant Cook:
The Assistant cook helps the chief cook prepare supplementary dishes, such as biscuits, cookies, pastries, and cakes.
Senior Waiters:
Mid-sized coffee shops possess a senior waiter who not only supervises the junior waiters but also instructs them about how to present the coffee to customers and other table manners.
Junior Waiters:
The job of junior waiters is to present coffee or other cuisines to the customers; a small-sized coffee shop may comprise three to five junior waiters.
Barista:
Also referred to as "Coffee Artists," baristas are the personnel who decorate the coffee with cream and other delicious ingredients in different ways to present it to the customers.
Dishwashers:
Dishwashers are exclusively dedicated to washing cutlery and cookware used in coffee-making services.
Sweepers & Assistants:
They are additional employees who are dedicated to cleaning the tables & floor after the customers leave the restaurant, returning the crockery for washing purposes, placing the saucepans, and other such tasks.
6. Which Factors Influence the Organizational Structure?
Whenever forming the organizational structure for a business, several factors influence, whether in a good or bad way, altering the structuring pattern of your business. Here are some of the factors which may influence your coffee shop's organizational structure:
Size of the Business:
It is important to consider the size of your business while constituting the organizational structure. For example, if your business horizon is small, going with a flat organizational structure is preferable. On the other hand, if your business is expanding and handling the employees is difficult, you must adopt the hierarchical structure.
Number of Staff:
If your staff contains a handful of employees, you don't need to formulate a high-level hierarchy to manage them. Contrastingly, higher staff numbers will require a complex business structure.
Number of Customers:
You must also focus on how many customers your business brags about while you're forming an organizational structure. The high number of customers demands employing more workers, ultimately going for a hierarchical structure.
Product Demand:
If your focus is the product, you must go for the divisional organizational structure. Additionally, you need to research the market trends profoundly; for example, which coffee flavor is most liked by the customers in a particular area.
7. How to Create an Organizational Structure?
Product sales and revenue generation become easy when you have a pre-planned shop operation mechanism. Using a professional application like EdrawMax, you can effortlessly create your mechanizing SIPOC diagram or PMO organizational chart for the coffee shop. Serving as a multifarious platform for diagramming, EdrawMax replenishes with countless flowchart templates, customization possibilities, and export formats.
How to Create Your Coffee Shop SIPOC Diagram Using EdrawMax?
Using the EdrawMax application for flowchart creation is incredibly straightforward; you don't need to be tech-savvy to utilize the tool for diagramming. Here is how you can constitute a flowchart and add page connectors to it:
Step 1: Download the "EdrawMax" application to use it for diagramming.
Step 2: Navigate to the "Templates" option and type "SIPOC Diagram" in the search bar. You can also go with the blank template by clicking the "New+" option in the left panel.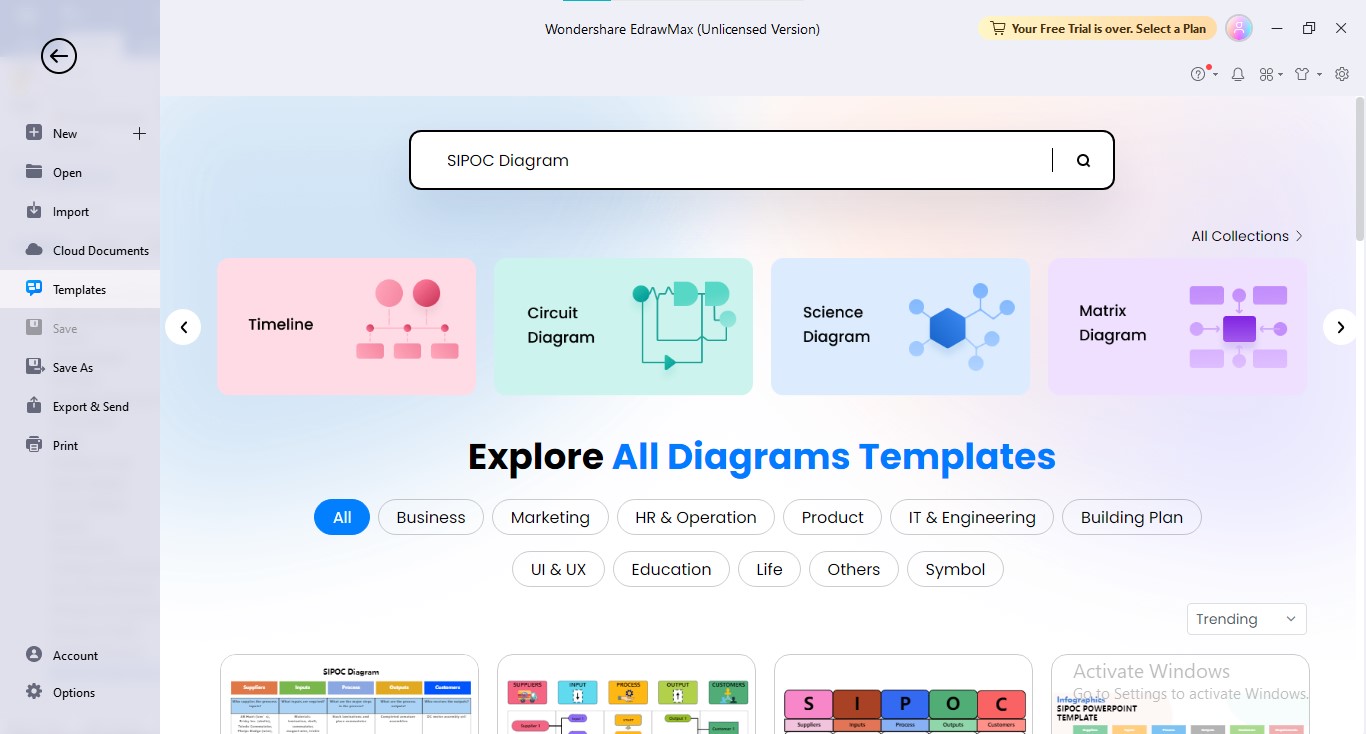 Step 3: Add the required information in your diagram to complete the formation process.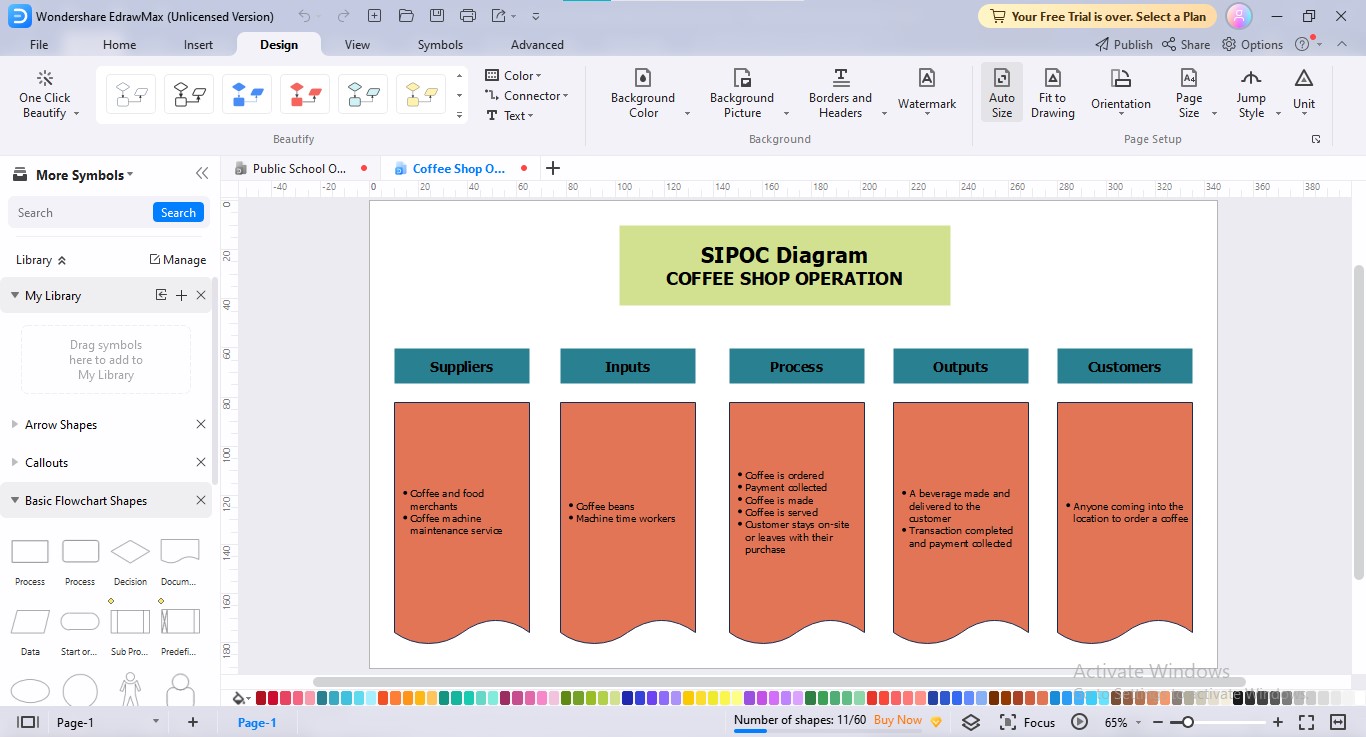 Step 4: Customize your diagram according to your choice by implementing a preferable theme, color combo, and diagram layout.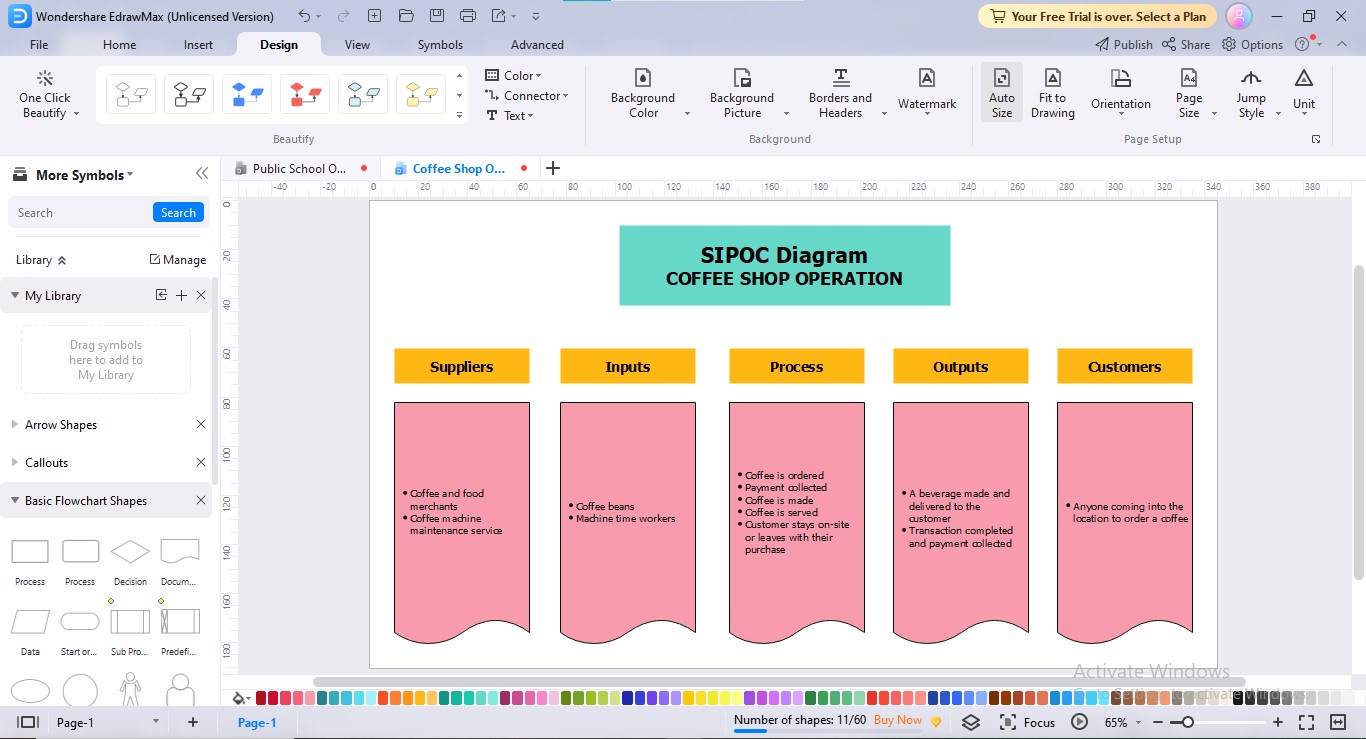 Step 5: Export your diagram by clicking the "Export" icon at the top of the window./p>
EdrawMax Desktop
Create over 280 types of diagrams
Windows, Mac, Linux (runs in all environments)
Professional inbuilt resources and templates
On-premises software for business
Enterprise-level data security
EdrawMax Online
Create over 280 types of diagrams online
Access diagrams anywhere, anytime
Team management and collaboration
Personal Cloud and Dropbox Integration
8. How to Implement an Organizational Structure in a Coffee Shop?
Implementing a real-time organizational structure in your coffee shop may experience certain tailbacks, such as performance downturns and employee disinterest. Therefore, we have described some tips to efficiently implement & incorporate the organizational structure in your coffee shop:
Disseminate the organizational chart among the staff so that each worker is aware of their role. It is advisable to upload it on your online forum so everyone can access it.
Arrange some informal coffee-related events so that your employees feel engaged and inspired.
Managers must keep a strict check on waiters' performance and the quality of coffee to ensure customers are satisfied with the cafeteria's services.
Train your employees to deliver the best version of themselves so that a positive work culture is promoted in the cafeteria.
9. Conclusion
The organizational structure of a coffee shop is as essential as for any other business. A cafeteria contains a range of workers, including managers, cooks, waiters, cashiers, and so on. Thus, implementing a well-formed organizational structure in the café brings numerous benefits to the business, such as customer retention, efficient workload management, and a positive work environment.
On the other hand, one must take practical steps, for example, employee training and quality checks, to implement the organizational structure in the café properly.
EdrawMax Desktop
Create over 280 types of diagrams
Windows, Mac, Linux (runs in all environments)
Professional inbuilt resources and templates
On-premises software for business
Enterprise-level data security
EdrawMax Online
Create over 280 types of diagrams online
Access diagrams anywhere, anytime
Team management and collaboration
Personal Cloud and Dropbox Integration
Related Articles