---
How to Make a Flyer on Google Docs
A flyer is a single sheet of unfolded paper with advertisement content printed on it. Flyers contain information regarding an upcoming event, product, or company. Now, it is not difficult to make a flyer. You can make a flyer in Google Docs easily. To learn how to make a flyer in Google docs, keep reading.
How would you like to create your Flyer?
How to Make a Flyer on Google Docs
Step 1: Open Google Docs
Go to https://docs.google.com/ and open Google Docs. But without a Google account, you can't use Google Docs.
Step 2: Open Template Gallery
After you log in, you'll see the Template Gallery preview in the upper section of the page. Click the Template Gallery, and you'll be directed to the gallery where all the pre-made templates are categorized under their specified section.
Using the Google Docs templates will be a great choice, which can save you an amount of time. Then you can select one of the pre-made templates that you like and use it as the basis of the new flyer.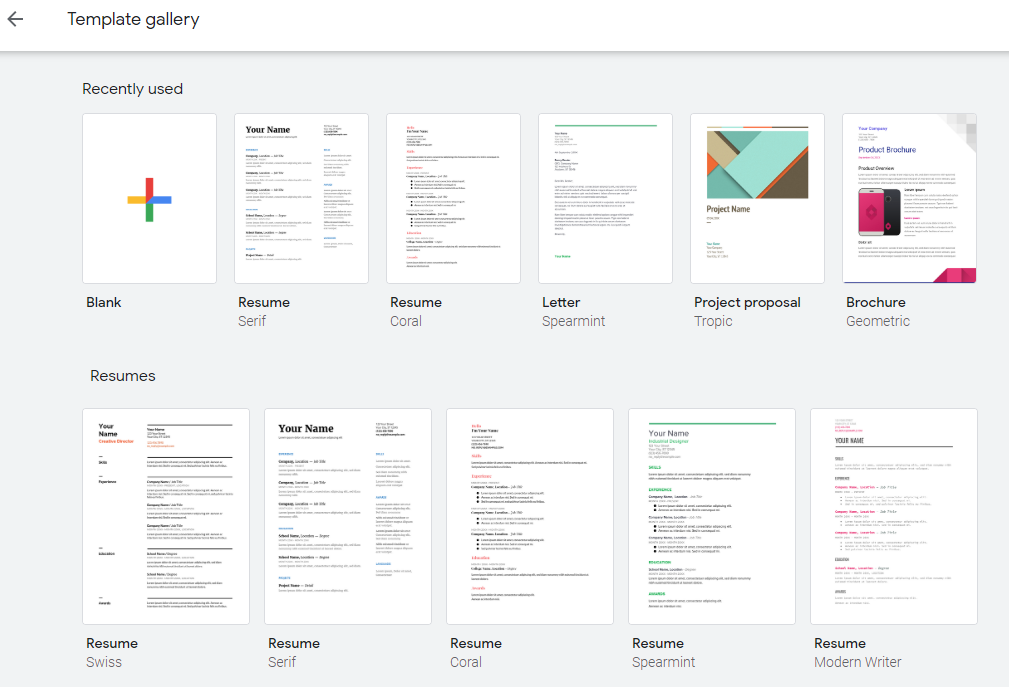 Step 3: Edit the Flyer
After the template opens in the Google editor, you can change the title, text, and graphics with the existing formatting tools.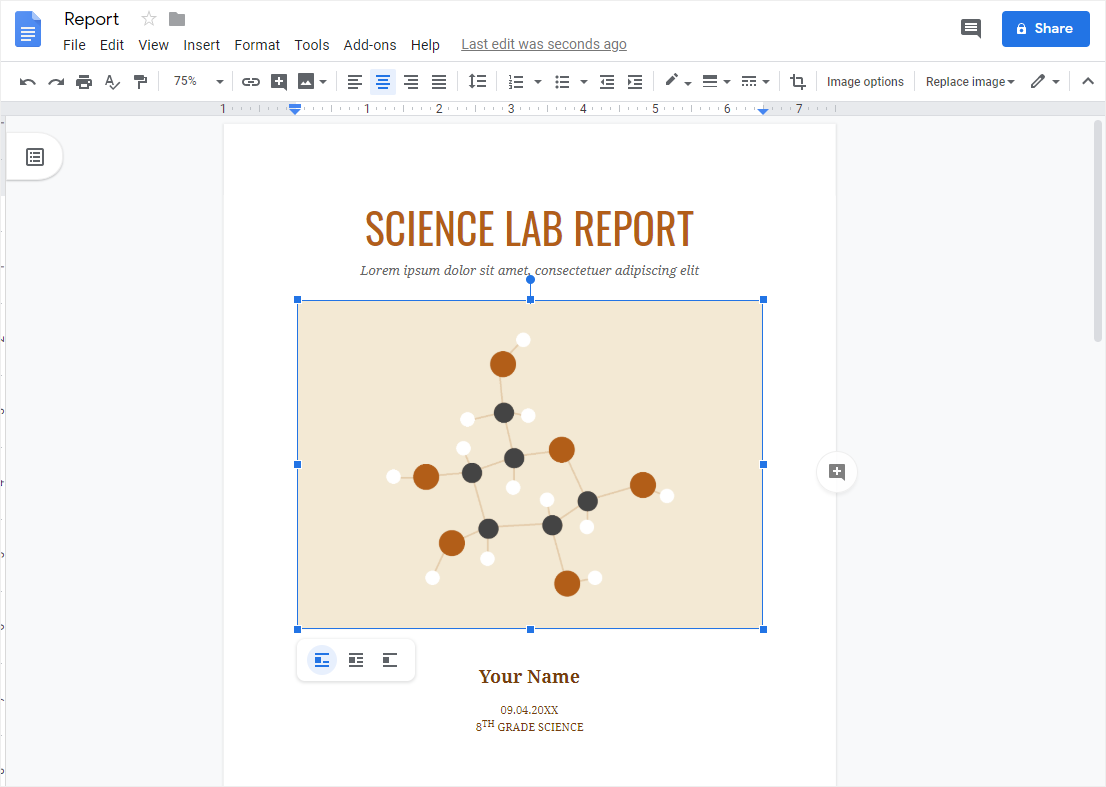 Step 4: Create Custom Flyers
With the drawing and formatting tools in Google Docs, you are also able to make flyers on Google Docs from scratch. Choose Insert on the tab group to insert images, tables, charts from your local or cloud storage. The options on the Format menu allow users to modify text styles, adjust text spacing, add columns, bullets and lists, and other formatting options.
On the horizontal toolbar, there are quick buttons and options for change font styles, sizes, colors, or shape positions.
How to Make a Flyer on EdrawMax
Step 1: Open EdrawMax Online
To create a flyer in EdrawMax, first, log in to your Edraw account. You can access the EdrawMax online tool directly from https://www.edrawmax.com/online/. If you don't have an account on EdrawMax, then sign up for free using your valid Email address.
Step 2: Find Flyer Templates
Now, to make a Flyer, you need to open the Flyer section. Click on the Graphic Design tab from the New menu. In the Graphic Design section, you will see Flyer among other options. You can see the Flyer tab with the pre-made templates in the below picture.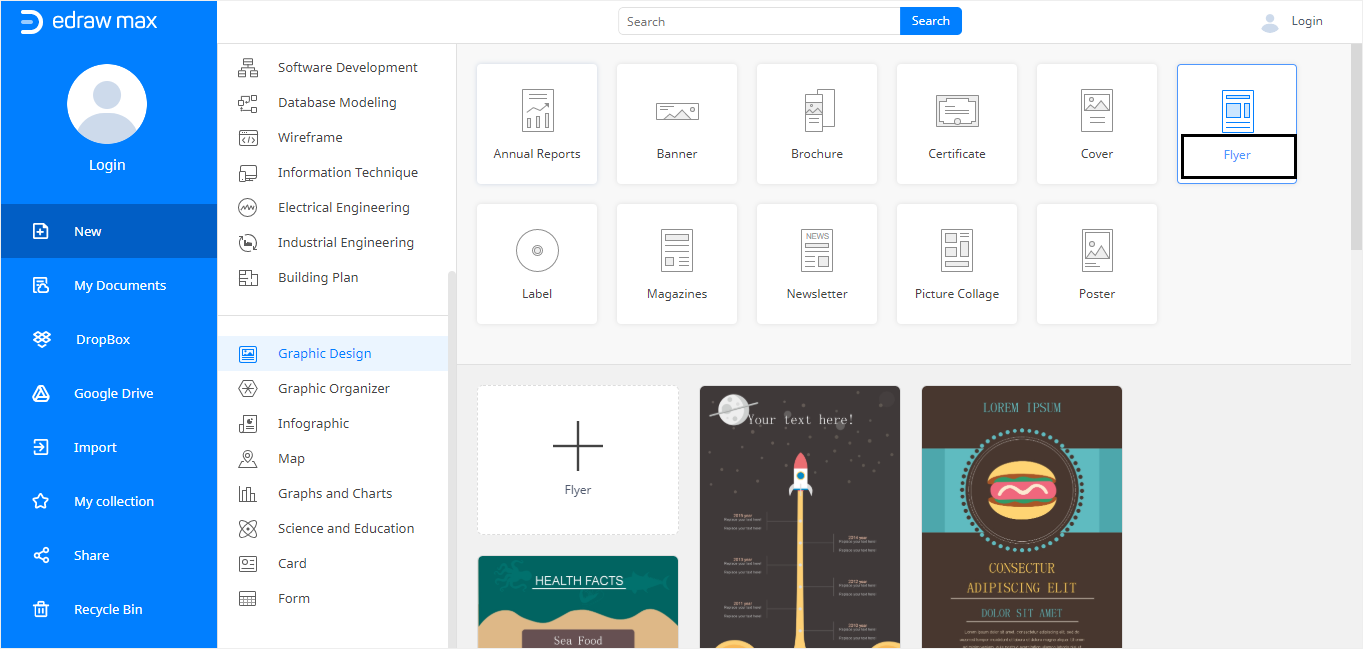 Step 3: Open a Flyer Template
When you click the Flyer tab, some flyer templates will show up in the below section. If you want to make a flyer from scratch, you can click a large "+" sign with Flyer to open a blank drawing page. Alternatively, you can use a pre-made flyer template from the available options. EdrawMax has a lot of free editable flyer templates available for use.
Step 4:
When you select a template, it will open in the EdrawMax editor. You'll be able to edit the template in the editor. The template will revamp in the editor, as shown in the picture below.
You can edit the content from the editing options. Click the placeholder text in the template and replace it with your choice. You can also change the font color, size, and style.
Moreover, you can add images, tables, charts, QR codes, and even graphs to your flyer. EdrawMax also allows you to edit the background and add watermarks. There are many other editing options available on EdrawMax Online, which supports you to customize the flyer to fit your needs adequately.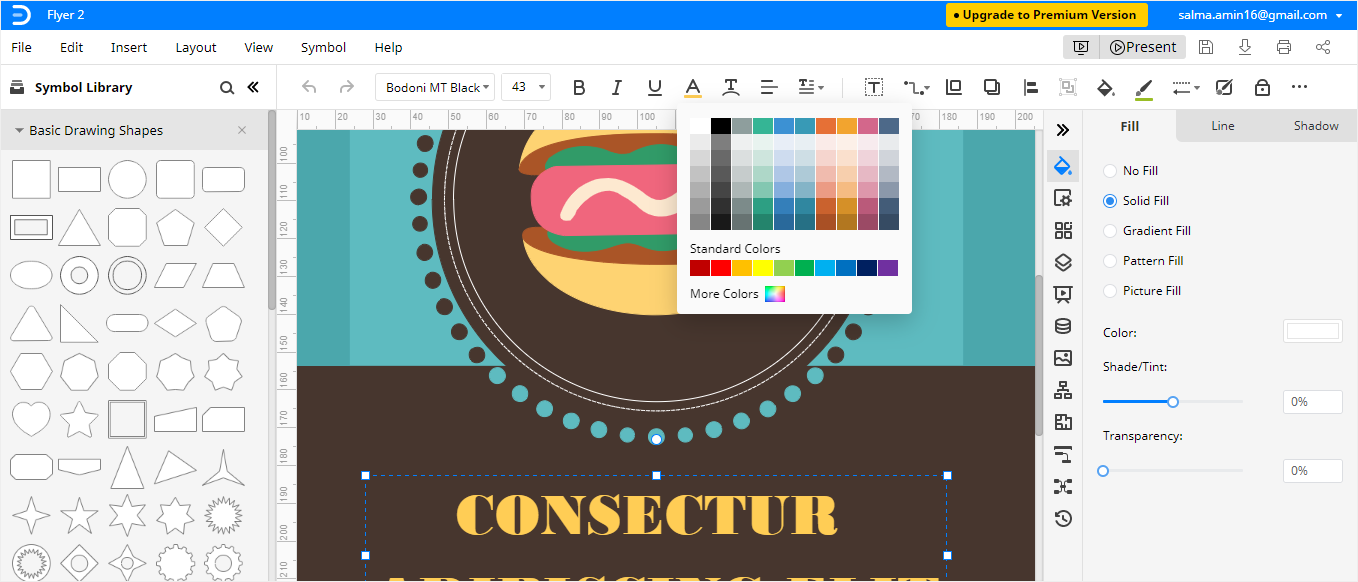 How to Save an Edraw Flyer as a Common File
When you finish editing the template or create your flyer in EdrawMax Online, you can save it on your desktop for printing. Follow the steps to save your flyer in different formats.
When you finish editing the template or create your flyer in EdrawMax Online, you can save it on your desktop for printing. Follow the steps to keep your flyer in different formats.
Click on the File tab, and then you can choose to save, share, export, and print your flyer. Besides, there are several available export options, which allow users to present their flyers in various formats.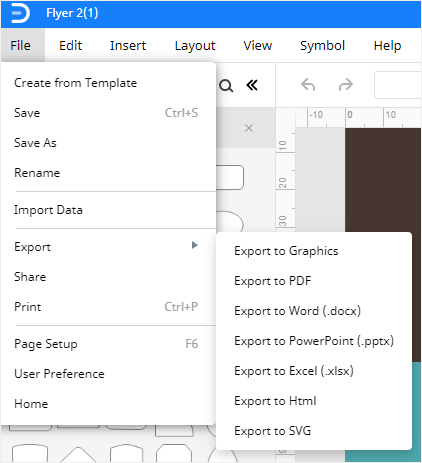 Related Articles