Why Use a Flyer?
When you need to get the word out about your business, event, or program, creating a flyer can be a great and cost-effective choice of advertising. Creating a flyer to promote an event may seem outdated, with many different forms of digital advertising available. Yet, flyers are still an impactful way of reaching people, and the best part is that it is cost-effective and pretty straightforward to create one.
How to Make a Flyer using a Flyer Creator
A great way to get started with making a flyer is to do it yourself by creating a flyer online. There are a lot of tools online for creating flyers, yet many of these tools can seem complicated and challenging to use for beginners who just want to pop out a flyer and get done with it in a short time without having to learn design software.
A beginner-friendly tool for creating a flyer online is EdrawMax Online. This tool offers lots of editable flyer templates to suit your needs. It supports a drag-and-drop function and has a generous number of symbols and vector images to help beginners easily create a professional-looking flyer in a matter of minutes.
Below is an easy step-by-step guide on how to use EdrawMax Online to create a flyer online for free right now.
Step 1: Visit and sign up on EdrawMax Online
To get started with making a flyer online, go to (EdrawMax Online) and sign up with your email address. You can create a flyer for free using a free account, however, upgrading to a premium account unlocks loads of cool features and awesome templates that you'll love to try.
Step 2: Select a pre-designed template
Right inside the EdrawMax Online tool, on the leftmost part of the screen, click New. Scroll down the list of project categories and select Graphic Design.
Click Flyer from the list of graphic design options. Select any pre-made template you like to design it according to your needs.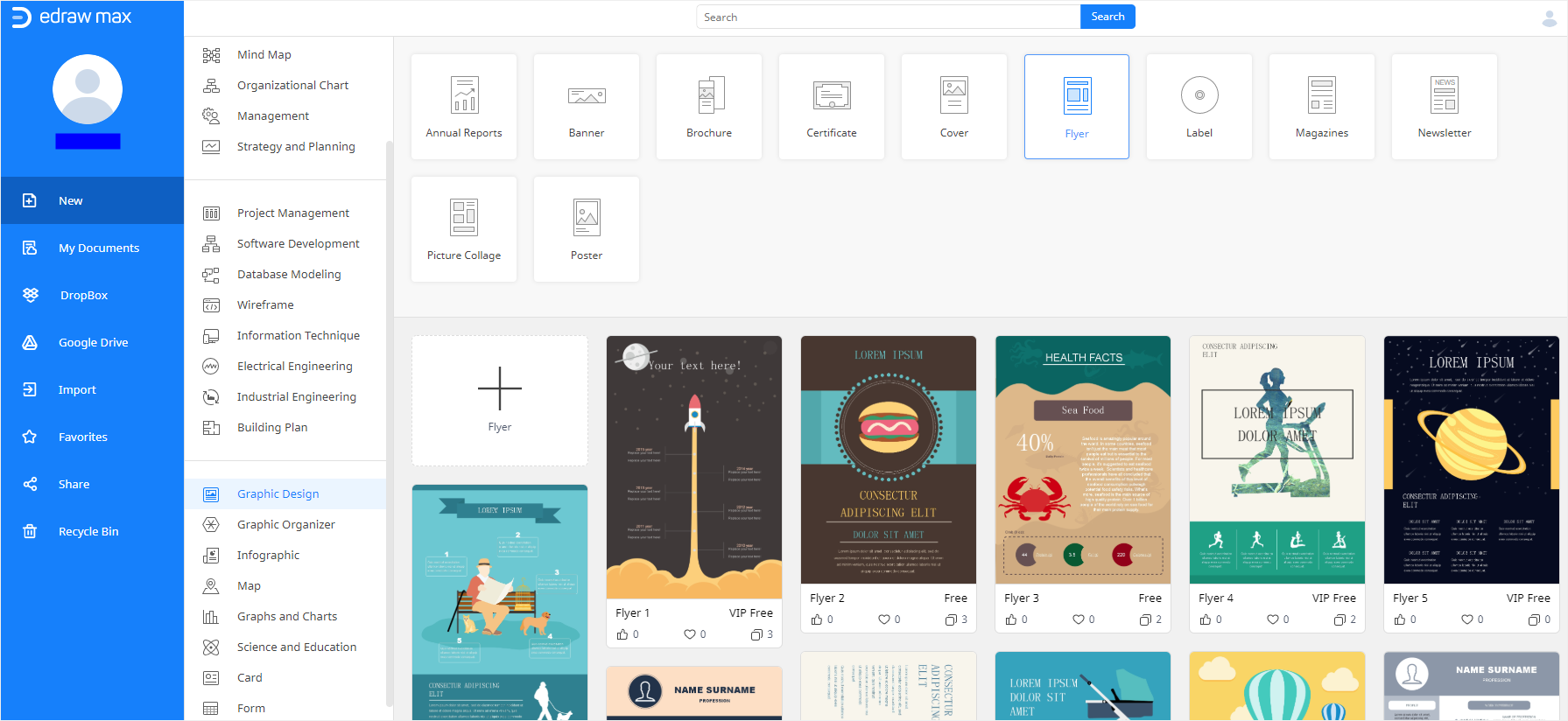 Step 3: Customize your flyer with formatting tools
Edit and personalize the flyer template using the formatting tools. Below are some formatting tools to help you add a personal touch when making your flyer online with EdrawMax.
Symbol Library: This a vast library of images and icons that you can drag and drop onto the flyer canvas when customizing your flyer. Select symbols from different categories by clicking the search icon on the symbol library.

Text formatting options: You can format your text using the text format options: Bold, Italic, Underline, Font color, Align,
Style format options: Use the style icon to make changes to the style of the flyer. From the style format tool, you can customize your flyer using the sub-options: Fill Color, Line, and Shadow.
Page Settings: Click the page settings icon to display a list of options to edit the size of your flyer, edit background, watermark, and much more.
Theme: Use the theme format tool to change the theme of the flyer and color scheme.
Image: Use the image format tool to add your pictures to the flyer and edit brightness, contrast, and transparency.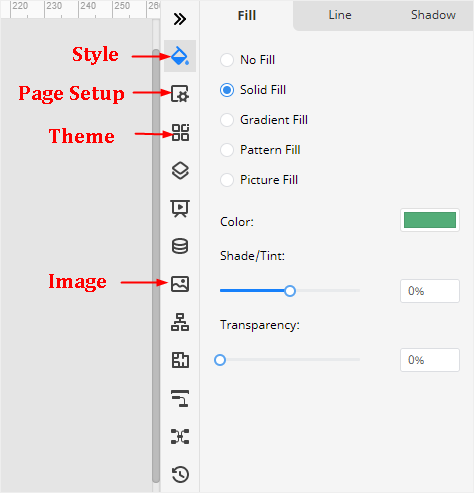 Step 4: Save your flyer
Once you finish designing your flyer, click the Save icon to save your work.

Step 5: Print and Export
To export your flyer, click the download icon next to the Save icon. EdrawMax Online premium subscribers can export their flyers in different file formats such as PDF, Office formats, PNG, JPG, and SVG.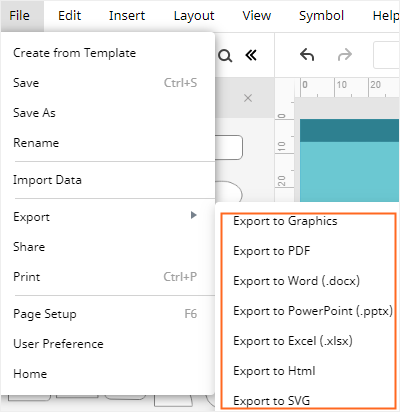 To print the flyer, click the Print icon. From the print section, you can make some more edits such as page size, orientation (portrait or landscape), adjust scaling, and preview flyer before printing.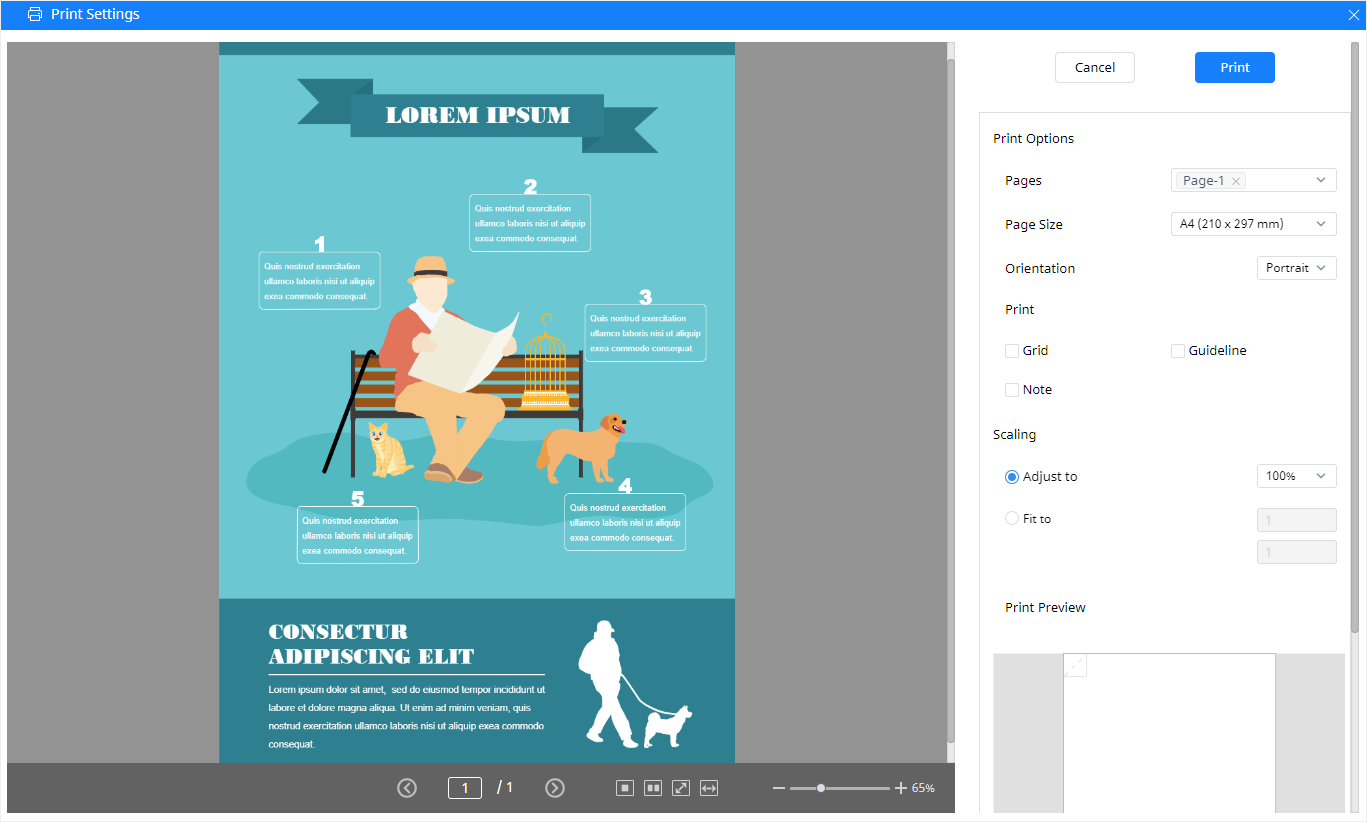 Advice on Printing a Flyer
Flyers are a great way to distribute information and create awareness about an event or service. Flyers must be made in the right way in order to create impact and derive results. When you decide to create a flyer online, paying attention to the points below will help you make a creative flyer:
Make an Impression: How do you get people to stop whatever they are doing and take a look at your flyer? Great visuals and design! When creating a flyer online, keep in mind that you have to design it in a way that grabs people's attention, stops them in their track, and makes them want to take a look. Using the right images with a wow-factor is a great way to get people to engage with your flyer.
Keep it brief and straight to the point: Don't fill your flyer with irrelevant information. Highlight the main points and benefits of what you are promoting. Flyers should be easy to skim through.
Color and font matter: Your choice of color and fonts determine how much readers will pay attention to your flyer. Select colors that complement each other and go well with the service your flyer is promoting (Christmas flyers always come with a splash of red and not gray!). Choose readable fonts and try not to jumble different fonts in one flyer.
More Editable Flyer Templates
Here are some flyer templates to inspire you for when next you want to create a flyer online.
Map Flyer Template: Get a project that involves highlighting different service areas, locations, or neighborhoods? A map flyer would be an ideal choice. Infused with the right color palette, you can customize this flyer template to suit your specific needs.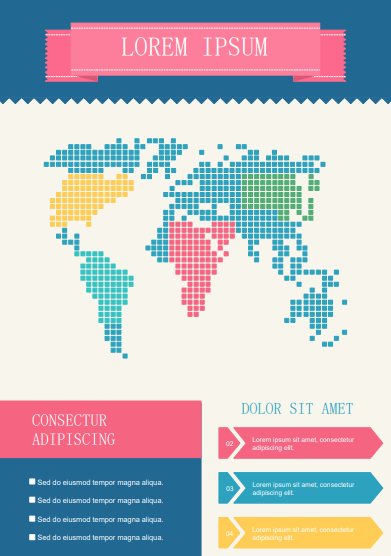 Music Festival Flyer Template: This flyer template is perfect for when you've got to get the word out about a musical, concert, or festival. Tweak and edit to personalize it for your event.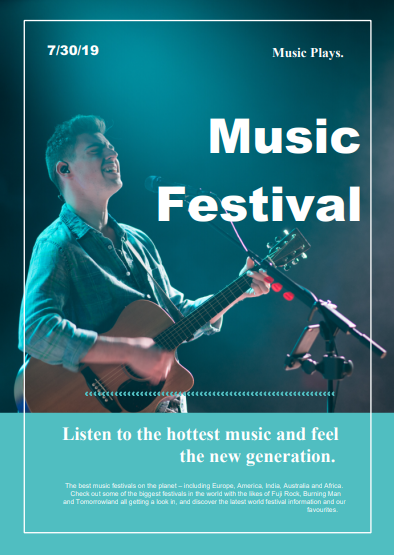 Pasta Restaurant Flyer Template: The ideal flyer template to capture the beauty of delightful well-made meals and create awareness about a recipe or restaurant. Tweak it to your specific needs.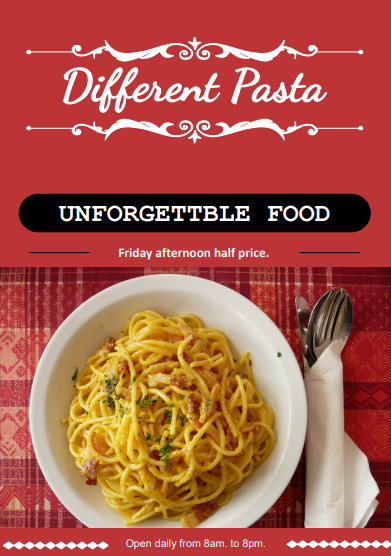 Related Articles