How to Create a Workflow Diagram Online
What is a Workflow Diagram?
As you can tell by the name, a workflow diagram is a visual drawing of different steps that portray the work performed for a task from start to finish. Many business processes can be described with the help of a workflow diagram. It shows all the different methods and steps involved in completing a task and who is responsible for each step. This diagram is useful for the study, analysis, and explanation of complex business processes and can identify significant weaknesses in the process, whether it is production, development, designing, etc.
We will tell you how to create a workflow diagram in this article today.
When to Use a Workflow Diagram?
Before we talk about how to create a workflow diagram, first, you should know where to use a workflow diagram. As stated earlier, workflow diagrams are commonly used in different types of businesses, such as:
Workflow diagrams can be handy in documenting processes like collection, payments, purchase orders, etc.
You create a workflow diagram for the medical field to portray different stages of treatments or the steps involved in recovery etc. It will make it easier for the patient to understand what he should expect, whereas it also makes it easier for the doctors to explain complex procedures.
Education departments can create a workflow diagram to tell students how to apply to different universities and what steps they should follow.
How to Make a Workflow Diagram
Edraw Max Online is a multipurpose graphics tool that can be used to create a wide range of diagrams, charts, and other visual content. Learn how to create a workflow chart in Edraw by following these steps:
Step 1 – Open Edraw Max Online
Launch Edraw Max online on the browser.
Edraw Max Online URL: https://www.edrawmax.com/online/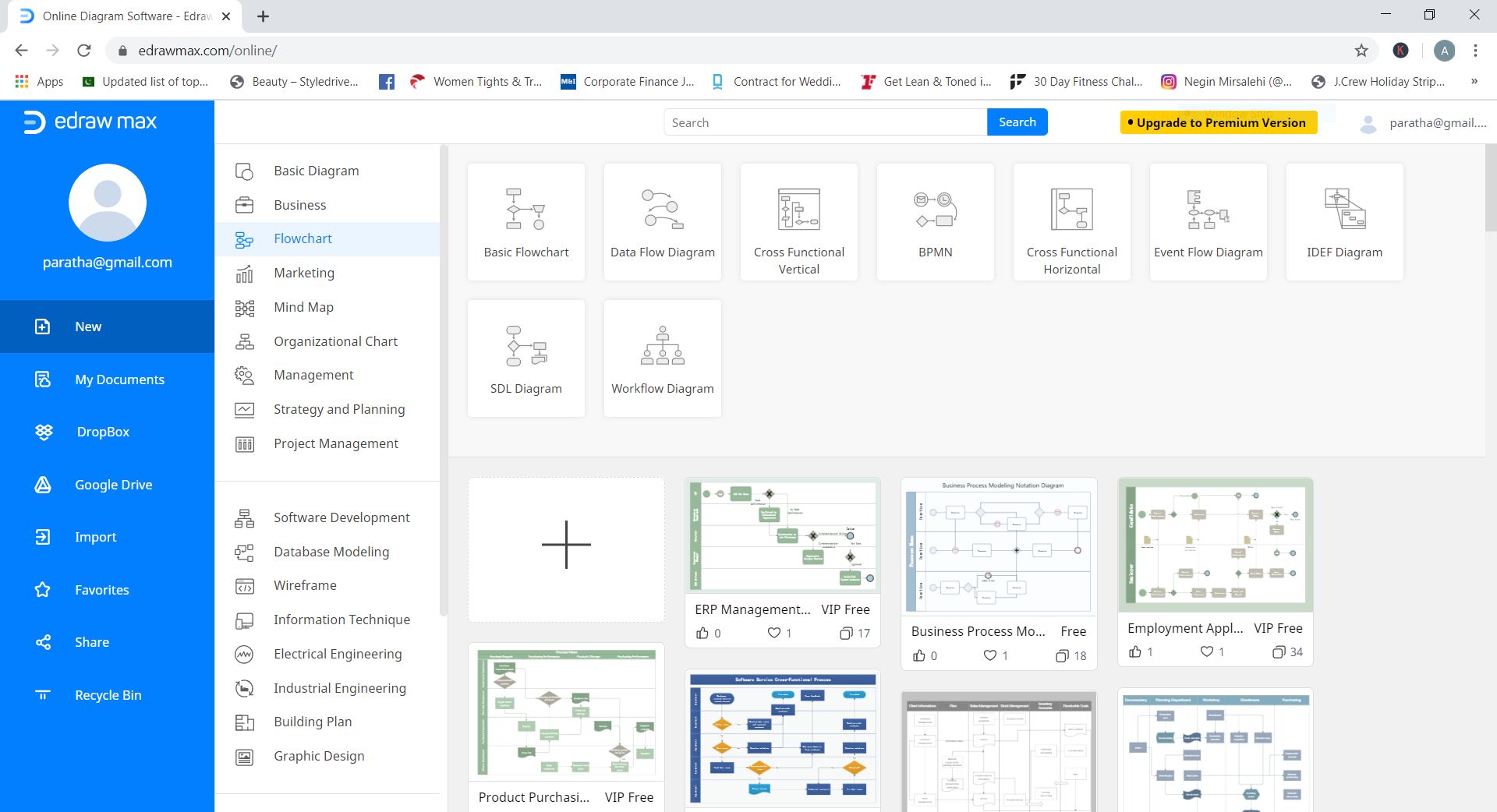 Step 2 – Choose Workflow Diagram
In the navigation pane on the left side of the screen, click on Flowchart and then click on the Workflow option.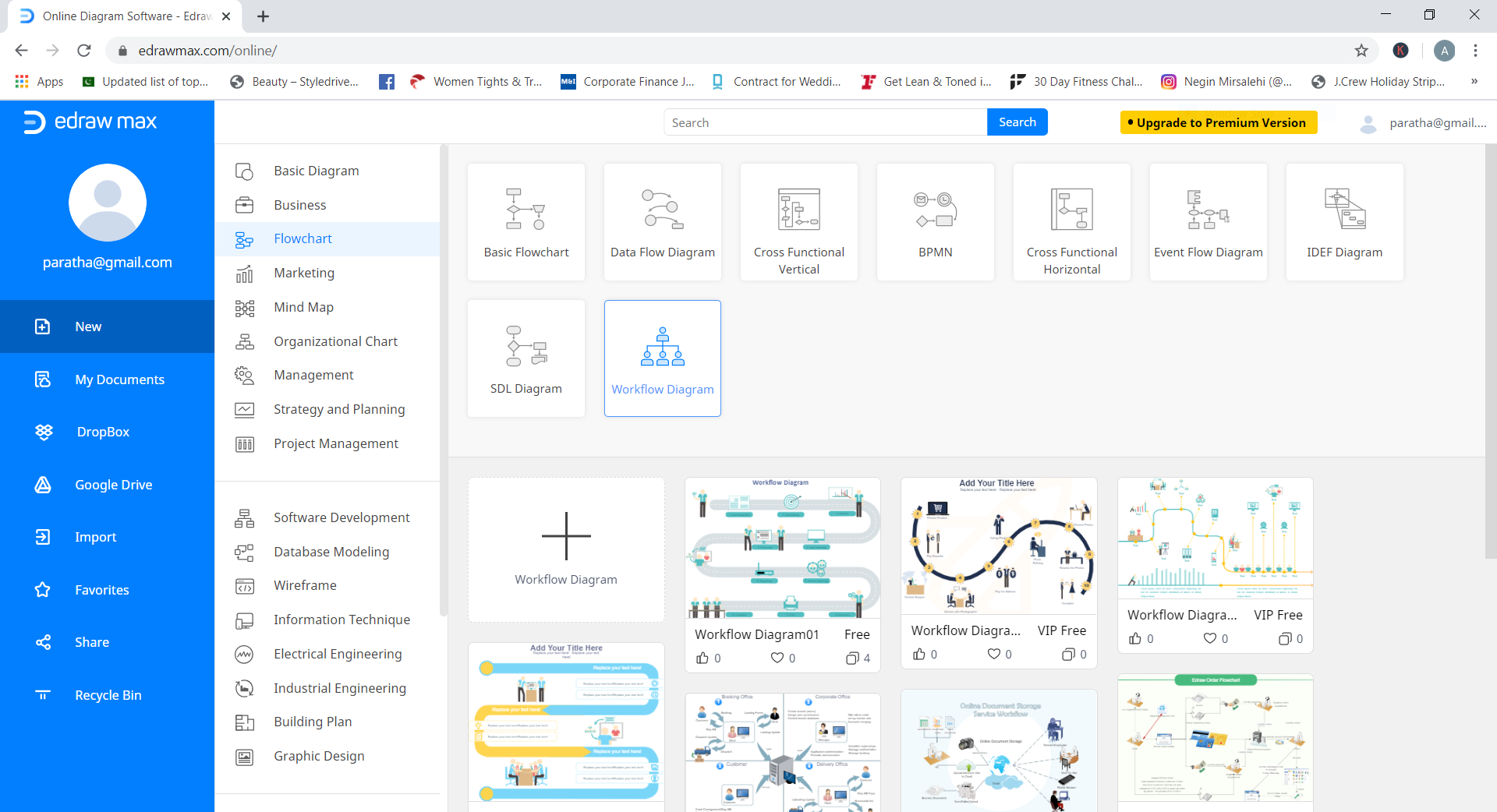 You will get some pre-designed templates to choose from. Click on the one you prefer to create a workflow diagram online using a pre-designed template. You can also create a workflow diagram from the start all by yourself. For this, you need to select the blank template.
Step 3 – Create a Workflow Diagram
Now Edraw Online will launch a new tab on your browser with the pre-designed or blank template once you click on it.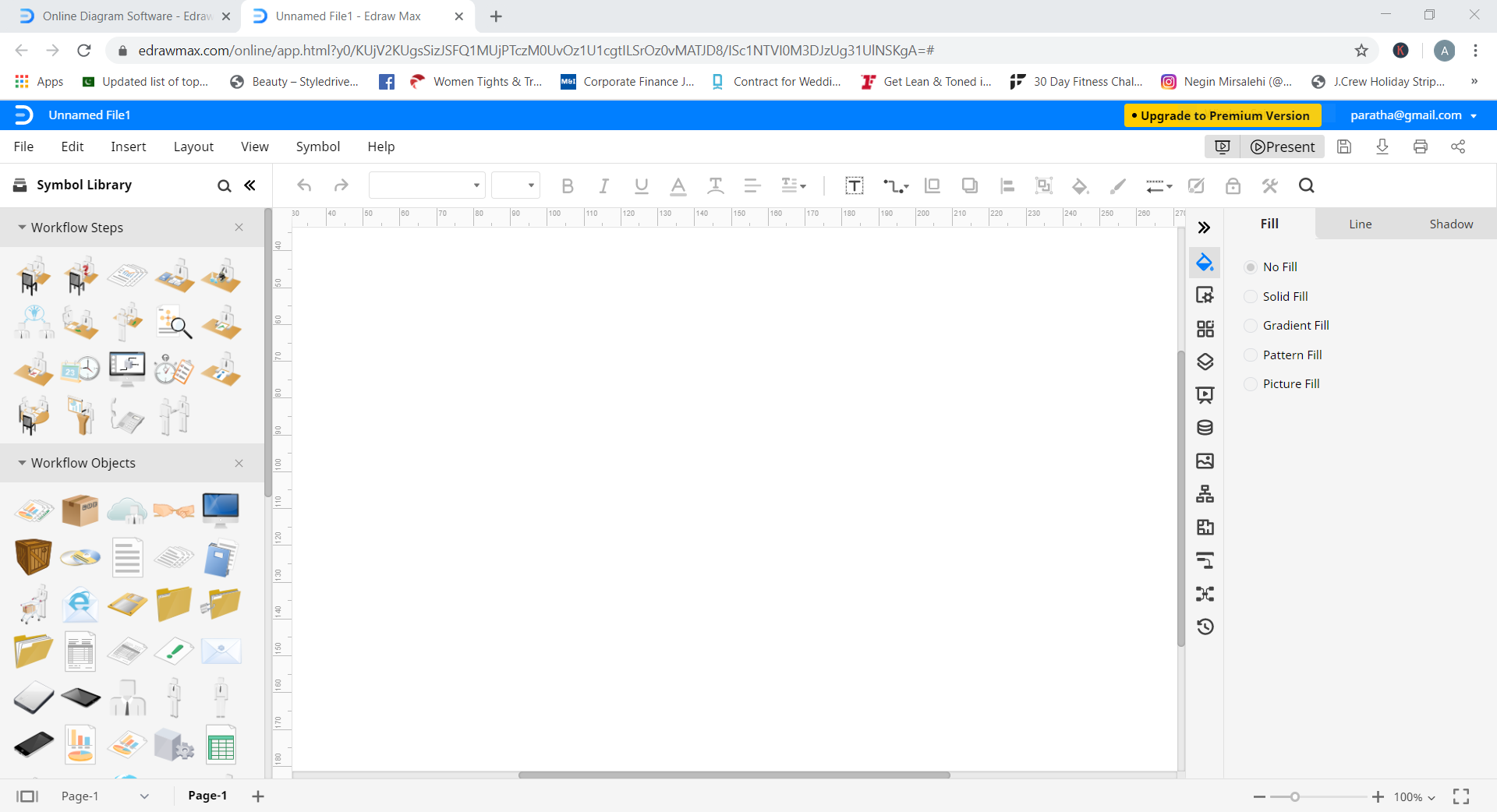 To create a workflow diagram, add symbols in the Symbol Library. Click on the icon next to Symbol Library and wait for the pop-up window. Now scroll down to Workflow, select DFD Symbols, and click OK. Now use the shapes, stickers, and symbols to create a workflow diagram from scratch.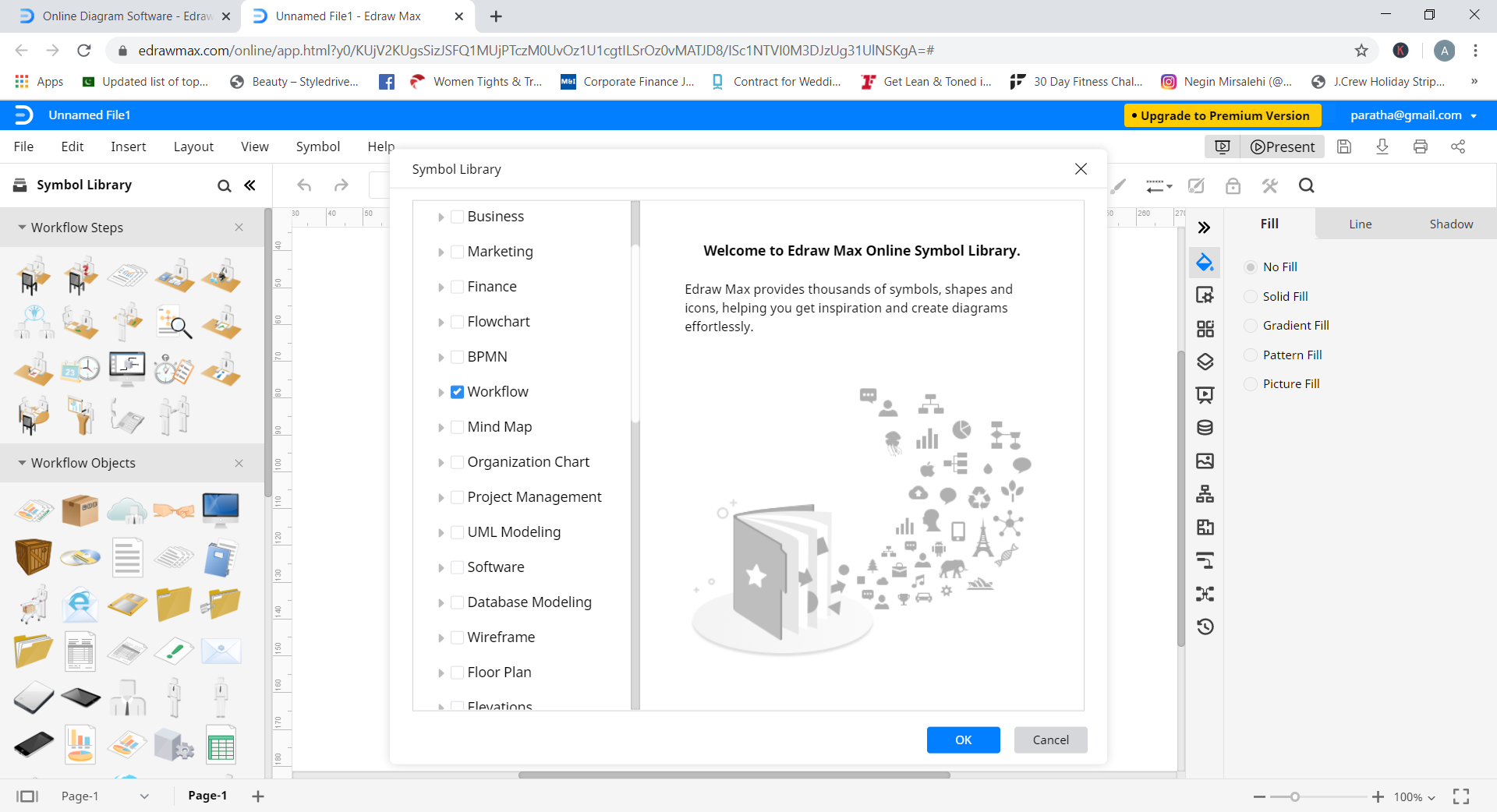 Use the navigation panes on either side of the screen to customize and edit your workflow chart if you are using a pre-made free template.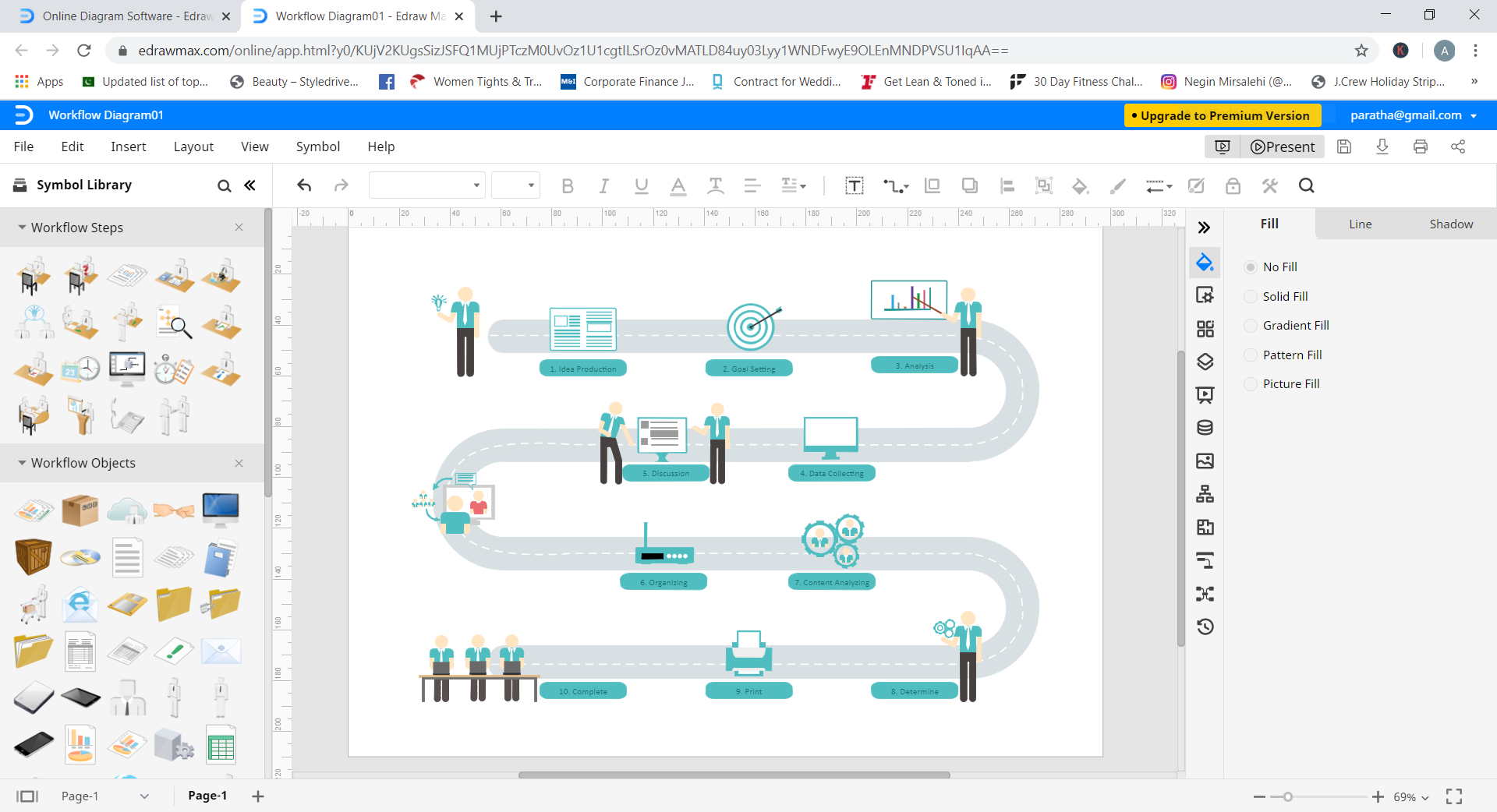 Step 4 – Customize Your Workflow Diagram
Customize and edit your Workflow Diagram with the help of different formatting tools available in Edraw. Adjust the size, font, shape, color, alignment, and other details according to your preference. You will find various editing options in the navigation pane on the right side of the screen. Once you are done editing, close the side panels by clicking on the << and >> symbols on the top corner of each panel.
Step 5 – Save File
Click on File to save your document.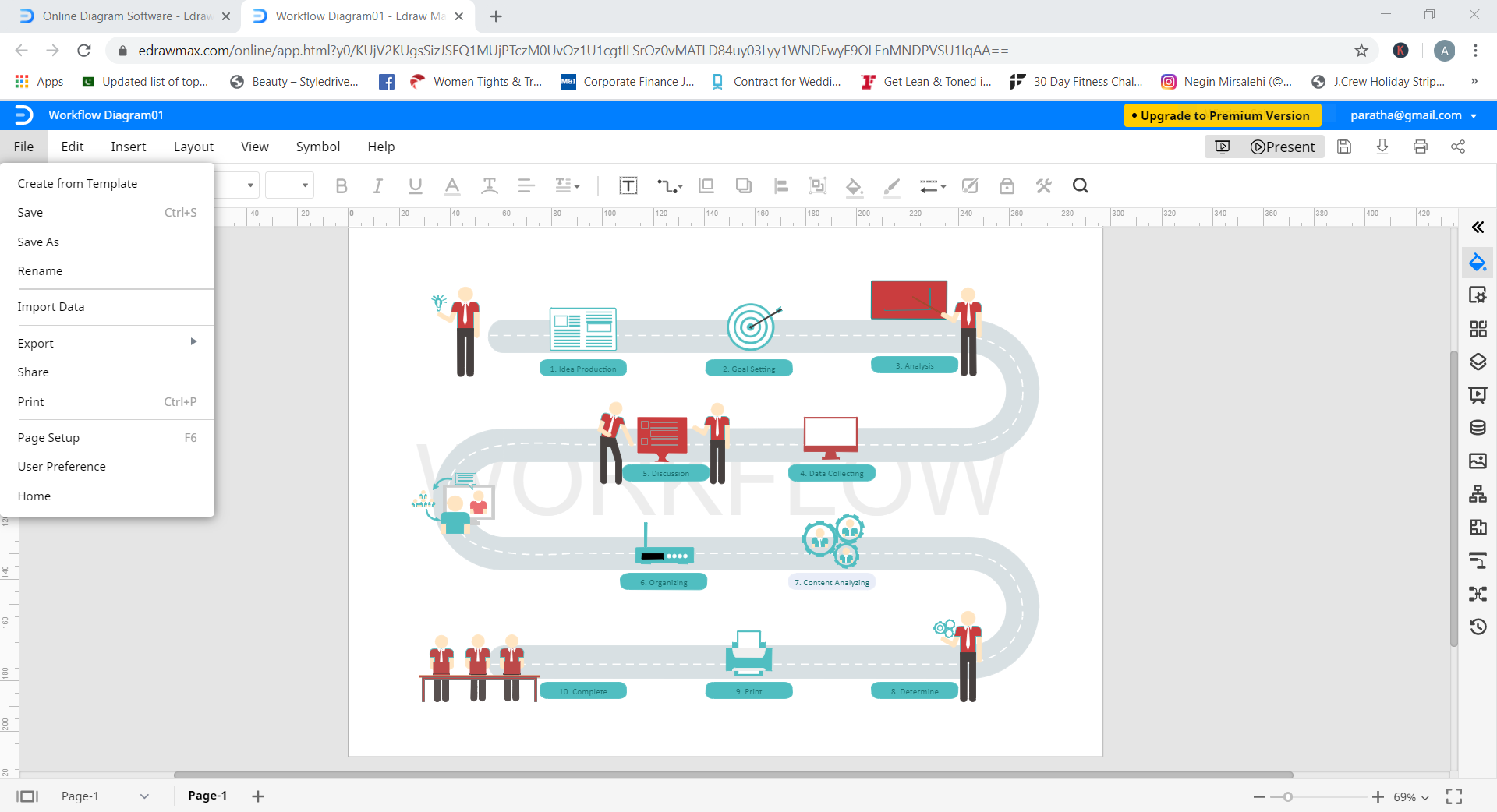 More Free Workflow Diagram Templates
You can make more workflow diagrams using Edraw Max Online in just a few easy steps. Just download one of these templates, edit, and you are done!
Manufacturing Workflow Template
This manufacturing workflow diagram template can be used in manufacturing businesses as well as by students to study the manufacturing process. This template shows all the necessary steps of creating a good product such as quality assurance, packaging, storage, shipments, etc. Download this template to make your custom workflow diagram right now!
Click here to free download Manufacturing Workflow Template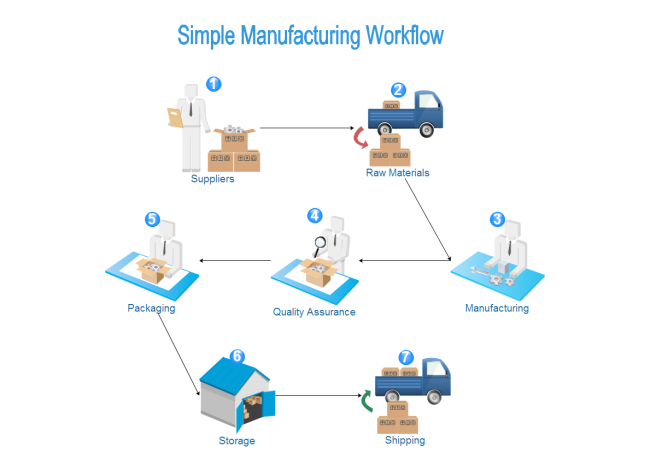 Performance Workflow Template
This detailed performance workflow diagram is made up of swim lanes to differentiate between function units and represents the performance workflow among different departments of an organization. It can be used by different individuals to study and analyze the performances of various departments quickly and easily. You can also customize this template in just a few steps!
Click here to free download Performance Workflow Template.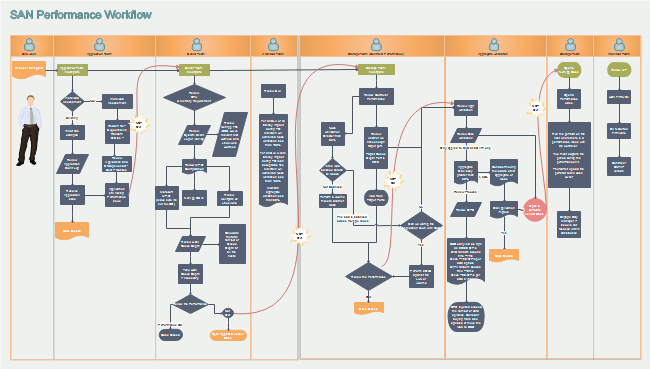 Logistic Management Workflow Template
Are you running a logistic business or want to learn how it works? Well, this logistic management workflow template will help no matter what you need it for. With the help of this template, you can work on different steps involved in running smooth and successful logistics. So, download this template right now and start away!
Click here to free download Logistic Management Workflow Template.