How to Design Your Dream House
If you are in search of a complete guide on how to design a house, you are going in the right direction as here we have provided a complete detail, including the things you should pay attention before starting to design your dream house, and the process of how to design scratch by using Edraw Max, as well as the mistakes that you should avoid during the planning and designing sections. We have thought about designing your dream house as easy as possible!
It is incredibly convenient for you to choose Edraw Max to start scratch your dream house with easiest 5 steps!
What to Consider Before Starting Your Design
The very first obstacle you face while designing your dream house is the plot selection. Choosing the plot is the first main process as it will decide the surrounding of your dream house. There are various tools available that help in scratching your dream house. One of the best and widely used tools is Edraw Max software which we are going to learn today.
Looking for some ideas of the modern house, selecting pictures which satisfy your requirement of how to design a house will help a lot. It may include attractive partitions, massive façade, open to sky design, connected gardens, parabola, use of colored glasses, and many more elements. Knowing your budget is the base point. Materials to choose, the volume of the house, and many more topics depending on the budget factor. Dreaming of a massive house with a low budget is surely not going to work.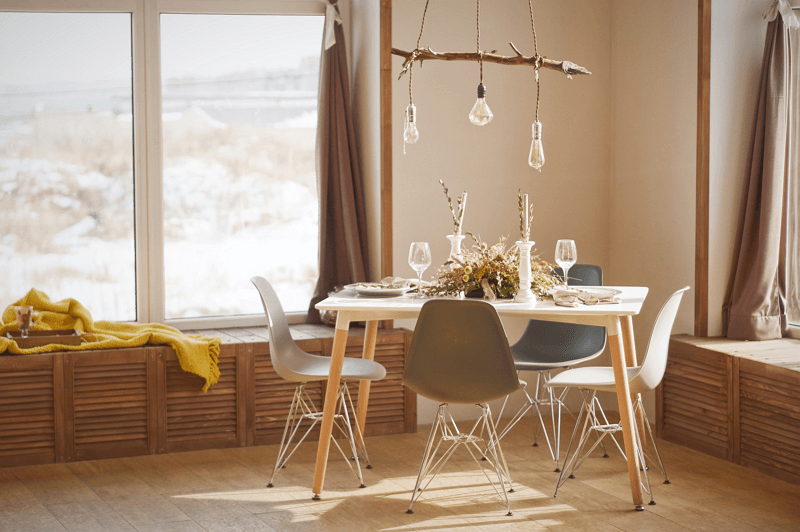 How to Design Your Dream House
There are three steps that involved in the process of designing your dream house:
The Initial Stage
1. What to Consider?
Before starting, you should consider the following things while designing your own house.
Inspect and make sure the land which you are planning to purchase is right for you.
Keep your family in mind while designing your house.
Ensure the living space faces the right direction.
Consider an open flooring plan.
Involve planning experts.
2. How to Visualize?
Now just think what kind of a house you dream of if money was not the problem. Think about what kind of views you would like to see every day when you wake up. As you now have some fleshes of images, take help from the internet, and try to find a similar image. Go through architectural books and magazines. Read blogs and work of some famous architects like Zaha Hadid, Peter Zumthor, Le Corbusier, and many more.
The question, how to design a house also has much importance on what style of a house you dream of. Whether you seek a traditional house or a modern house. Whether you want an ornamented design or minimalist design. Experts suggest taking a look at as many options as you can. It will help you make decisions firm and fast. At an initial stage, you should be clear what type of house you need.
3. Summary
Without getting firm with the initial stage, never rush on the planning stage. The initial stage acts as a base for the planning stage. It also lets you understand how to design a house.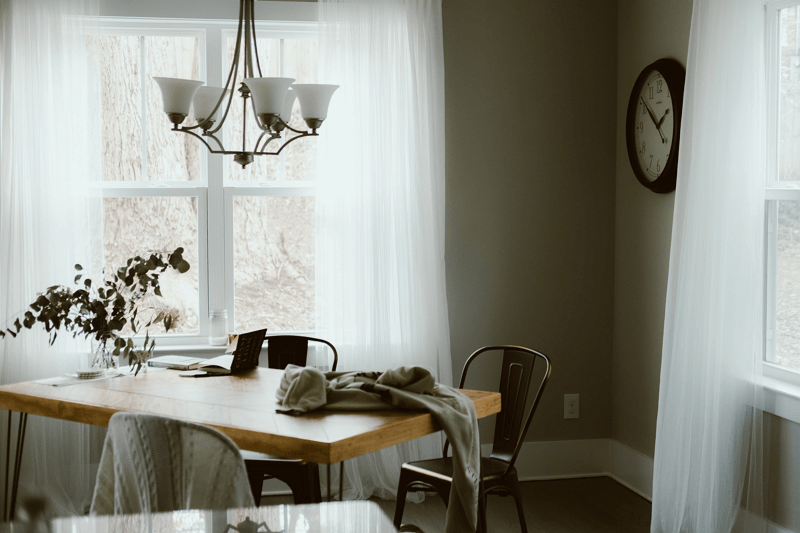 The Planning Stage
1. How to start?
These are some considerations related to how to start building a house. Remember that good planning is synonymous with success when building a home.
The terrain is much more important than it seems. It is one of the biggest expenses, so we must carefully plan the price we are willing to pay for the floor.
Before starting the project, find the right land for your home. Do not forget that the house must adapt to the land on which it is to be located.
Once you have the land you will have to find an architect that adapts to what you need. Participate in the project, do not forget that your home is going to be your place, so it must adapt to what you want.
The application and management of licenses are also carried out in the phase of contact with the architect.
Once you have the project, it is time to contact the professionals who will work in your home. Contact experienced people who are capable of making your project come true.
Do not forget that the house should be a reflection of your style and your tastes. Although the work has started, you can always make changes on-site, to model the original project to what you need.
A factor as important as the terrain or the construction itself will be the choice of materials. You should not only choose the type of material you want to incorporate into the house, but you must also choose the qualities and characteristics.
During the construction process, you can start to choose the furniture and the finishes. As we mentioned, your house should speak about your style and your tastes, the furniture is the confirmation of this idea that should reflect your personality.
Don't forget the outdoor spaces. Plan the environment and the landscaping project, do not forget that these outdoor spaces must be a mixture of functionality and aesthetics.
Finally, don't forget to plan and control the costs of the work. This must be a continuous work that is carried out throughout the construction process.
2. Summary
The planning stage includes the space division, the number of furniture, placement of furniture, and many more things. The planning stage is the base for the designing stage. Always have a firm and perfect decision with reasons for each division and then slide on the designing stage. Make sketches to understand the space, which will help you detect the fault more clearly.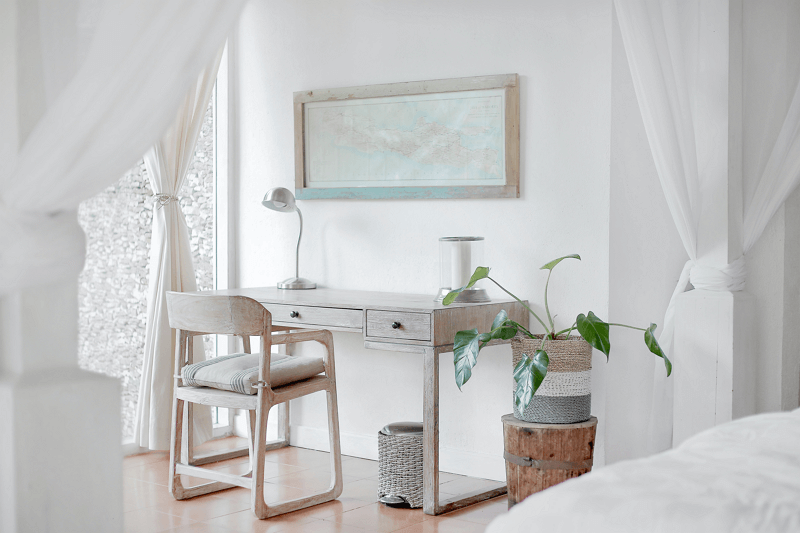 The Designing Stage
1. How to design a house?
Drafting a scaled drawing is like drawing your dream house on a small scale. The view seen for the top of the building is called a plan. The plan helps to design a furniture layout, electrical layout, and plumbing layout. Always think about the proportion when drafting. The colors you want to add in each space, the lighting effect, kind of ambiance of each space, and many more things are important. These all points are included in this stage.
If you are looking for an easy, simple, and effective way to draw a modern house, we recommend using the Edraw Max website. They offer outstanding software. In just 5 steps, you will be able to draw a complete plan. Let us learn here in the following:
Step 1: Setting up your canvas:
Click on New > Building Plan > Home Plan and double click it to begin immediately.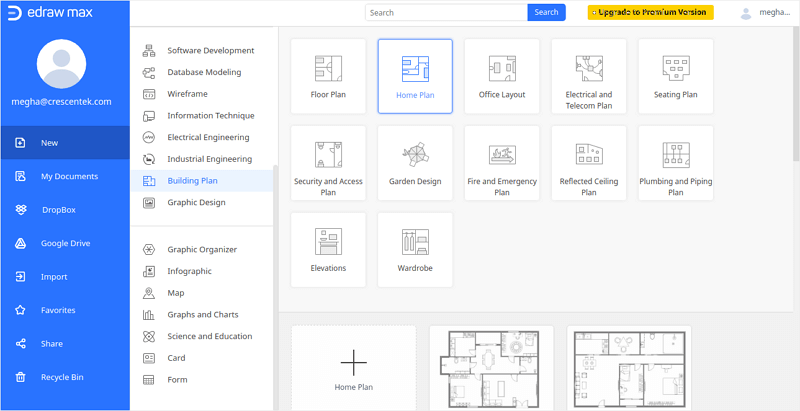 Step 2: Select room shapes:
Now trace the structure, wall, and shell and get the right room shape and drag it do the canvas page. You can also resize it as per your requirement.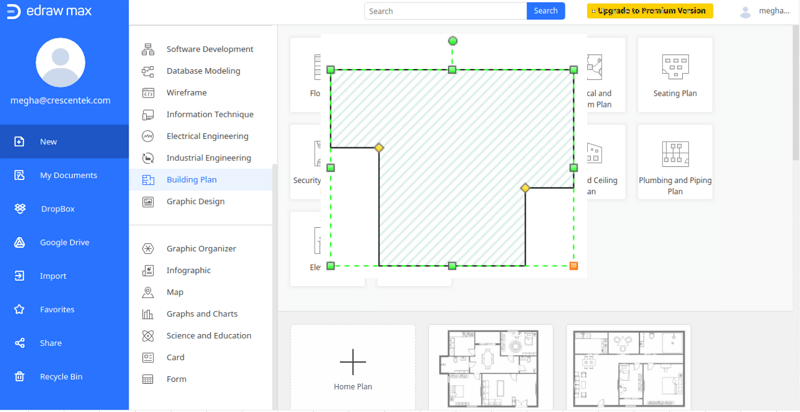 Step 3: Choose wall shapes:
Click on the same menu list, select exterior walls shape, and drag them down to your drawing page. Now, wait for endpoints till it turns red.

Step 4: Design the interior's wall:
This is the same process as we did above but now in this step, it is your capability to place them within the structure of your exterior walls. If you want to resize, drag its endpoints the same like you did earlier.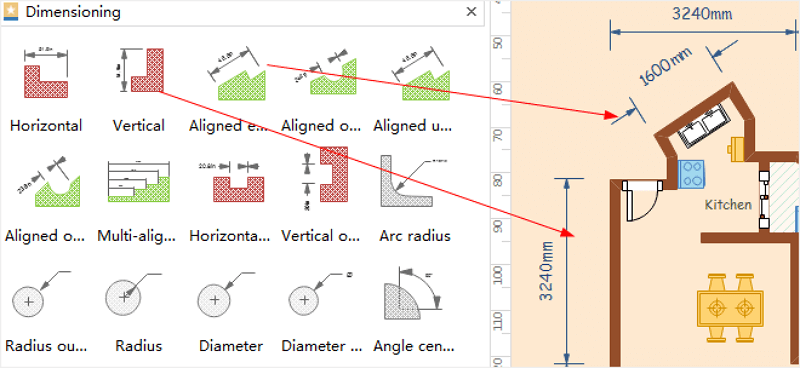 Step 5: Add electrical icons and structural elements:
From the same structure, walls, and shell options, you can make structural shapes. Once you are done with this step, now find the Dimension Library and can add dimension lines.
Next, insert electrical symbols from the Electrical and Telecom option. Here you can explore through a wide variety of wall switches, fixtures, and outlets. Simply drag and drop those according to your need and it's done!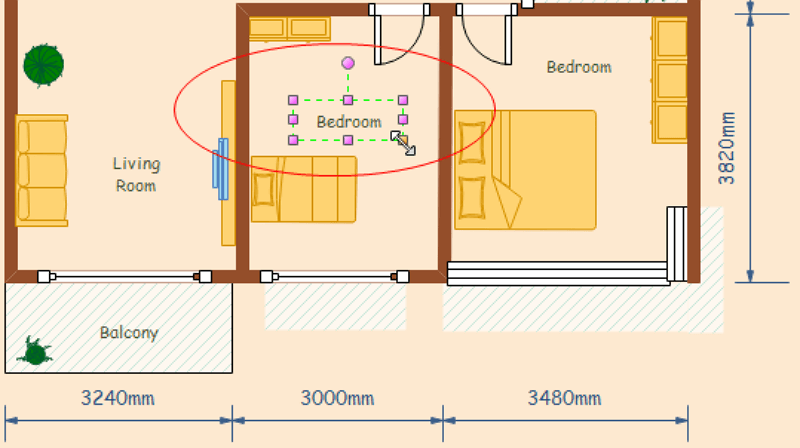 2. What Are the Key Points to Consider?
The design should be very flexible. Having a shortage of space is the issue faced today. So, designing a convertible space is the best option. Design each space very logically. Bedrooms should be placed with visual barriers. Toilets entry should be indirect. Space division should be according to the number of persons accommodating. Make sure you design your space based on how much you want visual connectivity.
5 Design Mistakes You Should Avoid
Here we will show you some of the common mistakes when designing your dream home.
1. Not having a plan:
Planning is nothing more than being able to see the whole picture. To break down the steps or phases from the beginning to the end of the construction of the house, to detect possible unforeseen events, delays, and cost overruns. The planning and the people involved must be included in this planning. This will allow you to have a realistic idea of what each task takes you and anticipate the information or steps necessary for each phase.
2. Not managing your budget well:
The economic issue which you will need to define well. Keep in mind that the budget on construction sites tends to go up even when it is well defined, so imagine if it is not. In addition to the maintenance, cleaning, and cost of heating or cooling. If you build more square meters than you need, think about the cost that will have.
3. Not wasting any square meters in your house:
It is important to see how you distribute those square meters in the rooms, in which each space has its meaning.
4. Not ignoring the importance of windows:
It is essential to think carefully about what windows you open in the walls, their size, and placement. If you place the windows without a good analysis, you may find that the house is not well lit or not well ventilated.
5. Not Neglecting Team Work:
No matter for the design of your dream house, or for the decoration of home, do not neglect the importance of team working! Since the more people work together, the more powerful and effective your productivity could enhance.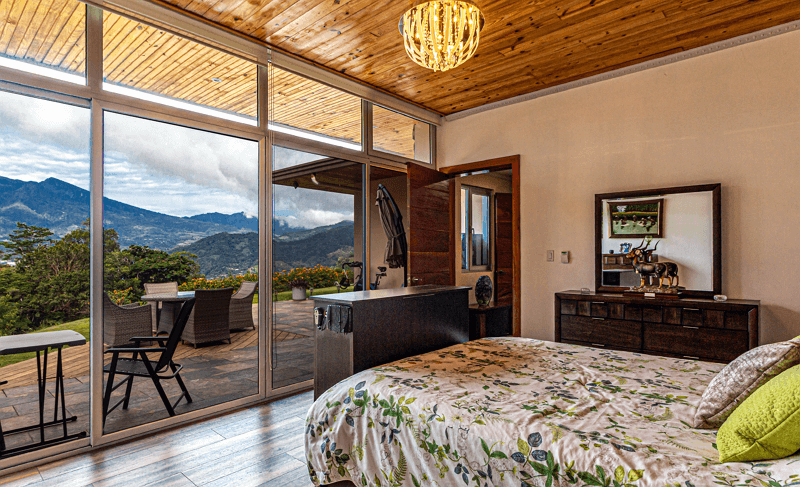 Conclusion
We are sure this complete guide on how to design a house will be helpful to create your dream house. We recommend keeping all these points in mind. Once built, it is very expensive and difficult (or impossible in some cases) to rectify the errors, so it is essential to design your house in advance with floor plan. Therefore, a powerful designing software seems important for you, It is advisable to use Edraw Max software to create your floor plan to make your idea visualized with ease!