Organizational Chart Types
An organization is complete with an org chart that helps showcase the management structure, different departments or flow of command within. Here we look at the different purposes of org charts; the company organizational chart sample depicts the different types that exist and some prominent organizational chart examples of prominent companies.
1. What is an Organizational Chart
As the term depicts, an organizational chart is a diagrammatic representation of a reporting hierarchy of an organization or the relationships that exist between different departments of an organization. Also known as the org chart, it usually implies applications that showcase the structure or management setup of a government department, of a business or any organization.
The uses of org charts are several. They are used either to showcase the different departments of an organization, flow of command as well as acts as a planning tool. It can be used as a personnel directory as well. In case an organization is team-based, that is depicted by such charts with team members or functions depicted in them.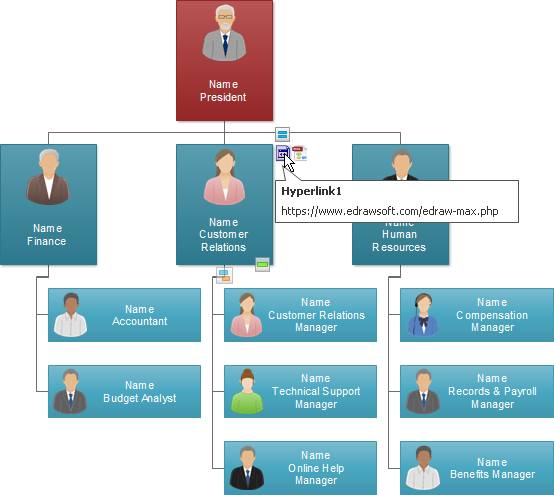 Source:EdrawMax
2. Why is Organizational Chart Important
The purposes of organization charts are multiple. These are drawn up initially by business leaders and the Human Resource department of an organization and revised and appraised from time to time. The requirements of org charts are several such as:
When new employees or trainees are being inducted into an organization, they need to be showcased this chart that gives them an overall view of the different departments and positions in the company.
Updates on Management Changes
The org chart needs to showcase the latest positions and departments and as when there have been changes; it needs to reflect the same, either in terms of positions or departmental structure.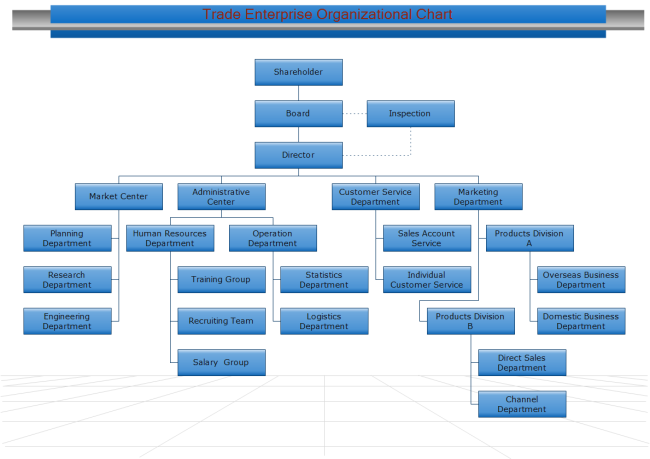 Source:EdrawMax
In most business and HR presentations this is a requirement that is showcased first. It helps to introduce a company and its flow of command to business partners and clients as well as to new inductees.
In the case of small organizations or businesses, the managers and their team leads or functional leaders have their names reflected in the org chart of a company; their titles and position details are also showcased which helps new inductees to know such information as well as the flow of command that exists.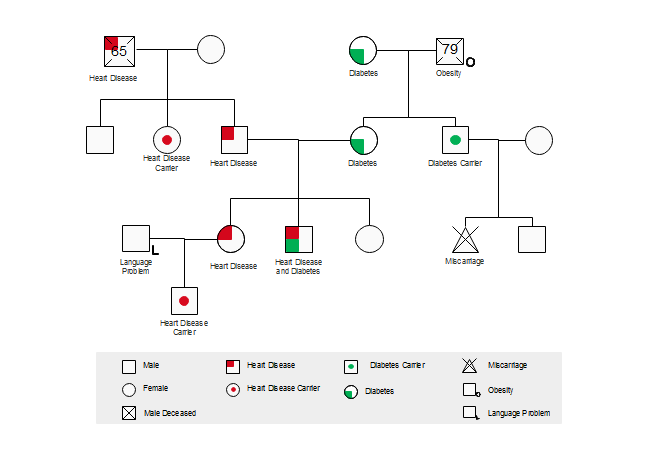 Source:EdrawMax
3. Organizational Chart Examples of Different Types
There are different types of organizational charts that exist though four distinct patterns emerge that are used often.
The diverse chart designs help people to visualize team roles and reporting relationships for different organizations, whether they are businesses, educational institutions, nonprofit organizations or governments. The four types are as follows:
Functional or Top-Down
Structure-Based on Divisions
Matrix-Based Structure
Flat Organization Design
Such a hierarchical organizational chart with a top-down approach reflects a traditional structure for businesses. The structure shows C Suite which is at top and then comes the senior management after which it is middle management and so forth. The structure shows division of the different departments such as finance, operations, marketing, IT, human resources and others. There is no further visibility of the different departments or inter-functional relations.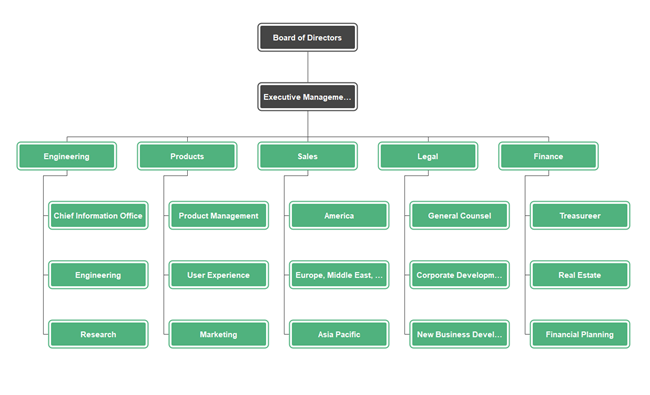 Source:EdrawMax
In such an organizational chart example it is ideal to depict companies that are organized as per product lines or geographies. For instance, a car company has several divisions that could be as per product types such as sedans, electric cars, and SUVs with every division's functional structures shown as well. The same divisions work well for companies that have units that are geographically separate or distinct.
This type is ideal when a company has a team-based setup. There could be projects or products that form the main streamlines along with their team setups such as managers and team leads. These could be interlinked to other functions as well. Such an organizational chart example is ideal when one is illustrating a company that has cross-functional groups instead of silos that are vertical.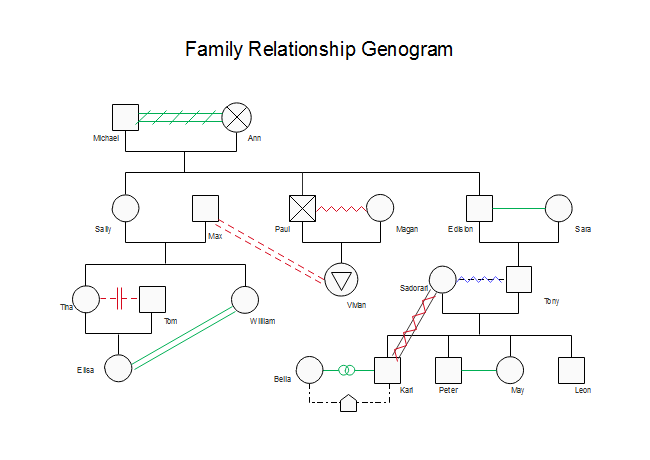 Source:EdrawMax
Such an organizational structure helps facilitate an open and better way of communication and a work environment that is dynamic and flexible. Here resources are shifted easily as and where needed and as per the skill set requirements. It is a fluid flow of work patterns that often have constant updates.
In such an organizational chart example there is an absence of several layers or flow of command beyond one or two. It is usually applied to smaller businesses where people have distinct roles with the power to manage their functions or departments. When two or three people run a small business or agency, their org chart would showcase a flat structure.
4. Organizational Charts Applied in Companies
There are examples of 5 famous companies that applied organizational system in their management:
If we look at the corporate structure of this company, the main functional areas are cloud computing, core commerce, mobile and media, investee companies and innovative initiatives. It is a functional and top-down chart since the main divisions and interlinked functions and departments are showcased in the chart.
This financial company has a divisional form of the org chart. The three main divisions being asset management, insurance, and banking, the different product lines as per geographies are depicted in the chart. Different colors showcase the different divisions and the functional hierarchies in them.
Source:EdrawMax
Goldman Sachs is another financial giant that has a large, international presence that presents a good company organizational chart sample. Its divisions are several and are depicted in the org chart accordingly. These are investment banking, institutional client services, investing and lending and investment management. These major divisions have further subdivisions that are showcased in the chart as well. There is no further information shown about different departments or management setup.
Citibank showcases a top-down hierarchical and divisional org chart. In this case, the top positions are shown as per the bank's major setup and the major divisions. For instance, there are three main divisions, that Citigroup innovation lab, startup accelerator division and venture capital. The top-down positions for each group are then shown accordingly.
Amazon is another fortune 500 company whose org chart depicts a top-down hierarchical structure. The main division heads are shown along with the different projects and services under them.
5. How to Create an Organizational Chart
Today there are several software applications like Edraw that make it possible for one to quickly draw up an organizational chart, with tools and features that make it easy to showcase the different divisions, functions, and flow of command and as per the type of chart that would meet an organization's requirements.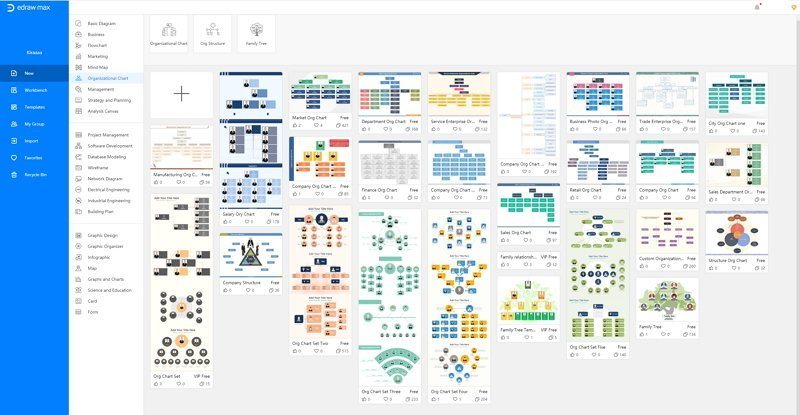 Source:EdrawMax
With this software suite, there are three easy steps to follow to start creating an org chart. One can start with a blank template and import data directly to start. The next step comprises making use of templates and then using different chart tools and features to customize the illustration, getting a polished and professional finish.
Step 1: Start with a Blank Page
When the software is opened there are available templates showcased as in the list of template categories. On clicking Create, one can start a blank drawing page and insert a shape from the Org Chart tab. Once the drag and drop function is used, it becomes easy to start with the next steps.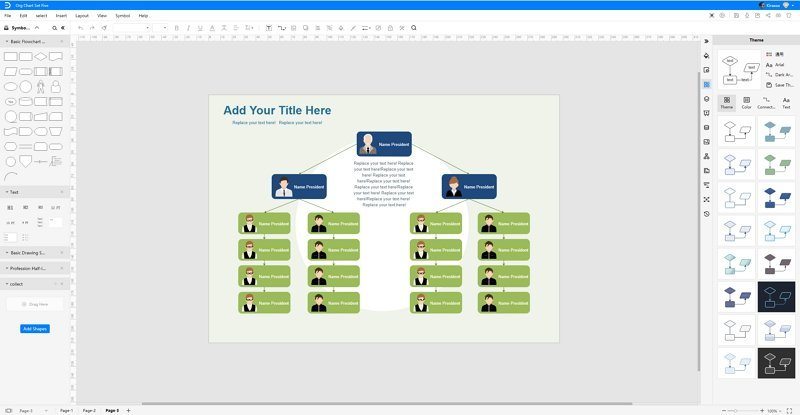 Source:EdrawMax
Step 2: Add Departments and Sub Divisions
Once the right format is chosen, it is easy to complete the following steps. One can use floating buttons whose shapes can be changed. There are easy ways to add on additional buttons for subordinates or subdivisions.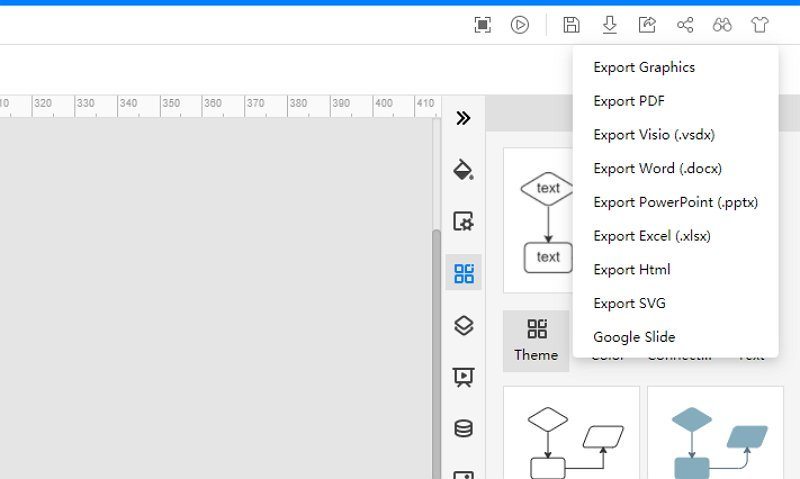 Source:EdrawMax
Step 3: Arrange the Layout
This can be done once all essential boxes are added. Layout tools are present that help users to put their diagrams in order.
Source:EdrawMax
6. Conclusion
With the above company organizational chart samples and examples one can know about the different org chart forms available and how software applications like EdrawMax help to draw up such illustrations easily. With substantial diagrams templates, you could easily create an organizational chart without any efforts!