Best Ideas on Designing a Father's Day Cards
Infuse an extra dose of delight into the lives of our beloved dads with the magic of these heartfelt Father's Day cards.
Also available for
Windows, Mac, Linux, iOS, Android, and Web.
All options >>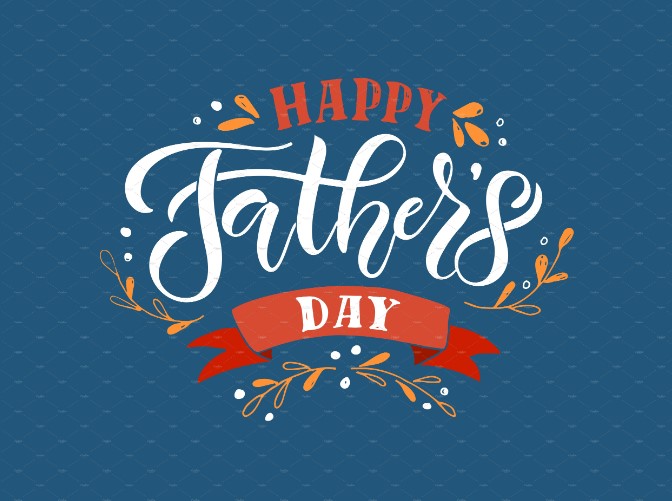 A father serves as the sturdy pillar of support, the wise voice of guidance, and the gentle heart that makes one feel safe. Father's Day is a joyful reminder to express our gratitude for the countless moments of support and encouragement that our fathers provide.
A Father's Day card is a tangible embodiment of love for your sole guide – your father. As you pour your heart into this labor, envision the joy that will dance in your father's eyes when he receives this precious gift. So, let your imagination take flight, and create a Father's Day card that will be treasured for years to come.
1. Insights Into Father's Day
Father's Day is a special occasion celebrated worldwide to honor and appreciate fathers and other father-like figures. It is a day to acknowledge the significant role that fathers play in the lives of their children and families.
On this day, children and family members often express their appreciation through various gestures such as giving gifts, preparing special meals, spending quality time together, or simply sharing heartfelt words of love. However, the most sentimental expression of unconditional love to the father is a Happy Father's Day card.
History of Father's Day
The idea of a special day to honor fathers can be attributed to Sonora Smart Dodd, who was inspired by the Mother's Day celebrations. In 1909, she proposed the concept of Father's Day as a way to express gratitude to her own father. This Civil War veteran raised her and her siblings single-handedly. Dodd's efforts gained momentum, and on June 19, 1910, the first Father's Day was celebrated in Spokane, Washington.
However, it wasn't until 1972 that Father's Day was officially accepted as a national holiday in the United States, signed into law by President Richard Nixon. Since then, the observance of Father's Day has spread globally, with different countries adopting their own dates & traditions to honor fathers.
Father's Day Cards
Father's Day cards act as heartfelt tokens of affection, allowing us to convey emotions that may sometimes be difficult to put into words. We can honor and celebrate our fathers through these cards, making them feel cherished on their dedicated day. Father's Day cards are a beautiful way to generate lasting memories and reinforce the bond between father. These cards will also remind them of the love and appreciation flowing between them and their children.
2. Best Editable Templates for Father's Day Card
Using a template to craft your card always proves a time-saving and cost-effective approach. Whether you're looking to create a sentimental, funny, or sophisticated card, these editable Father's Day card templates will provide a perfect canvas to express your love and appreciation:
Hero Father's Day Card Template
Our fathers are no less than real-life superheroes. They possess extraordinary strength, unwavering dedication, and an unbreakable spirit. From the moment we enter this world, they become our protectors, our role models, and our guiding lights. Like superheroes, they have the power to make us feel safe, inspire us to reach for the stars and to lend a helping hand when we stumble.
The above Father's Day card expresses the same attributes of our daddies. With its thoughtful design and heartfelt message, this Father's Day card is a meaningful way to honor our fathers and let them know that they keep an exceptional place in our life. The design of the card is simple yet expressive.
Elegant Father's Day Card Template
In this captivating Father's Day template, no long-winded quotes exist. But the visuals used in the card speak volumes. It showcases a powerful message with a simple yet profound illustration: a father and son standing side by side.
The card beautifully captures the essence of the father-child relationship, symbolizing the aspiration a child has for their father. The warmth exuded by the blue background evokes a sense of love, trust, and security. It reminds us that sometimes, the most meaningful expressions of love can be conveyed through imagery, leaving an indelible impression on our hearts.
Expressive Father's Day Card Template
The image of a father is often associated with a moustache and wearing a tie as a symbol of his role in providing for the family. The given Father's Day image encapsulates this sentiment perfectly.
The presence of the tie represents the dedication fathers impart to ensure the happiness and well-being of their families. It serves as a reminder of the love they embody. The card beautifully captures the essence of fatherhood, showcasing the depth of their commitment and their profound impact on their children's lives.
Balloon Father's Day Card Template
The above Father's Day card template is a complete expression of love, inspiration, and strength. A daughter is seen riding on her father's shoulders. Both are seated on an air balloon, which symbolizes heights of success and love. Other visuals, such as the sun, clouds, heart balloons, and footprints, further augment the card's outlook.
The background is teal blue, conveying the true essence of the father's affection and sincerity. Overall, the card is perfect for daughters who want to pay kudos to their fathers.
3. EdrawMax- The Best AI-Powered Designing Tool!
Introducing EdrawMax, the ultimate tool for creating personalized Father's Day cards that perfectly capture your heartfelt sentiments. With its powerful AI features, EdrawMax removes the hassle of generating manual Father's Day cards with huge efforts.
You can craft a heartfelt message using the EdrawMax AI content creation feature. Simply input a few keywords or themes, and EdrawMax will suggest a variety of heartfelt messages tailored specifically for Father's Day. Whether you want to express gratitude, love, admiration, or simply share a meaningful memory, EdrawMax's AI will generate heartfelt messages that resonate with your emotions.
How To Design a Father's Day Card Using AI EdrawMax?
EdrawMax's user-friendly interface allows you to effortlessly generate the wishing quote for Father's Day cards, ensuring your message perfectly complements the design of the card. You can even add personalized touch like photos or illustrations to make the card truly unique. Here is how you can utilize the Edraw AI feature to design your Father's Day 2023 card:
Step1
Download and launch the "EdrawMax" application.
Step2
Click the "Create New" tab in blue to wake the Edraw AI Assistant.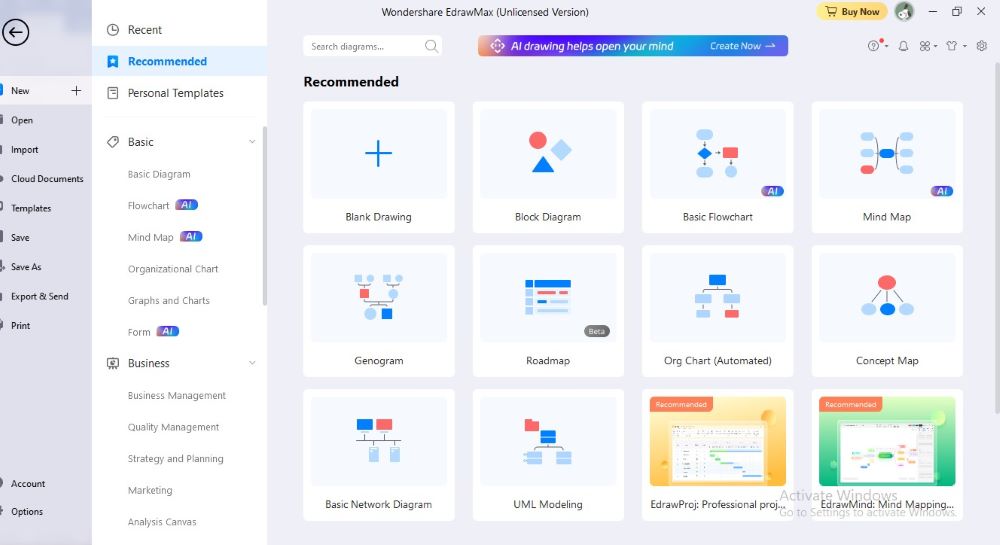 Step3
Input your requirements in the search box. For example, if you want the tool to generate wishing quotes, write "Father's Day wishing quotes" in the search box.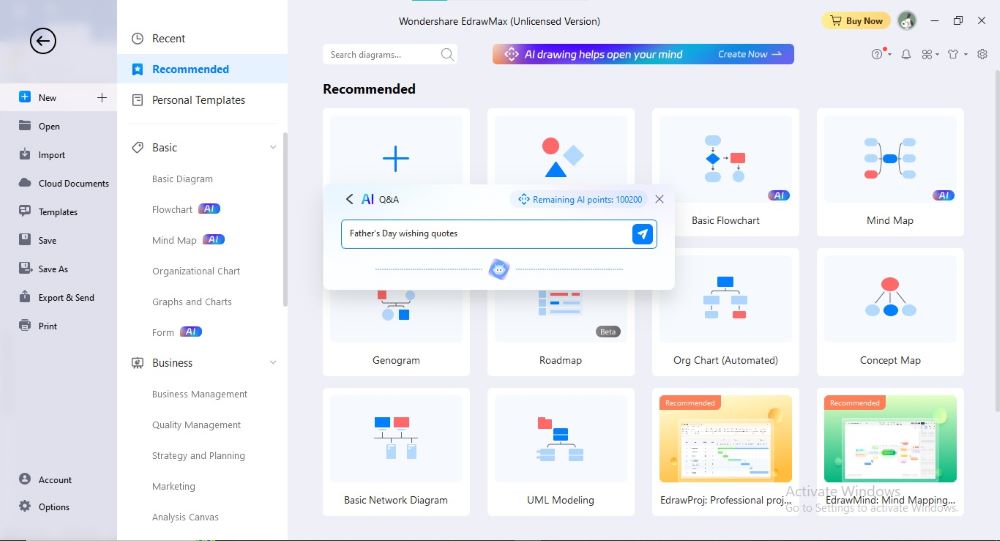 Step4
Edraw AI will generate stunning quotes for your Father's Day cards in a few seconds.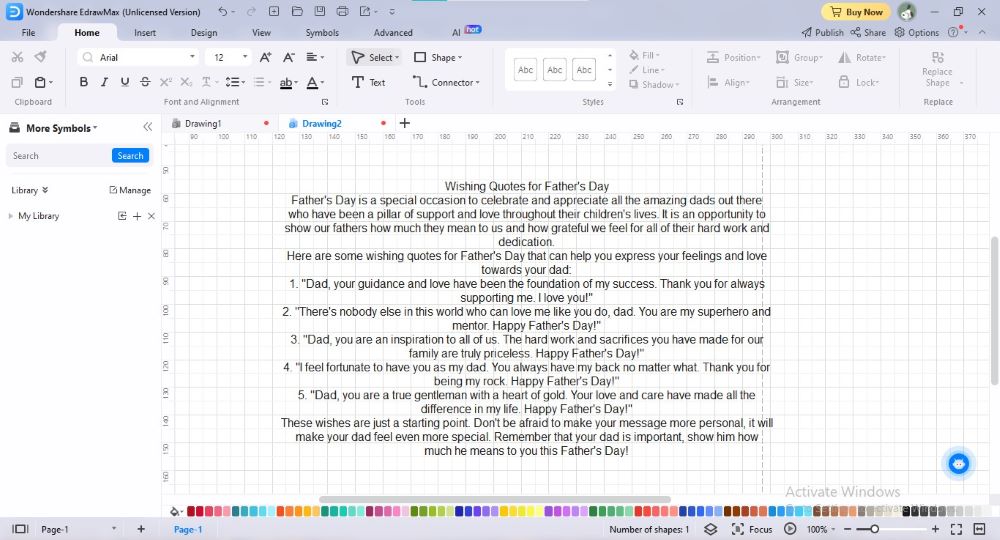 Step5
Now, click the "+" button to start a new project. You can import a template in this file or create a Father's day card from scratch.
Step6
Click the "File" tab, and choose the "Templates" option from the left sidebar.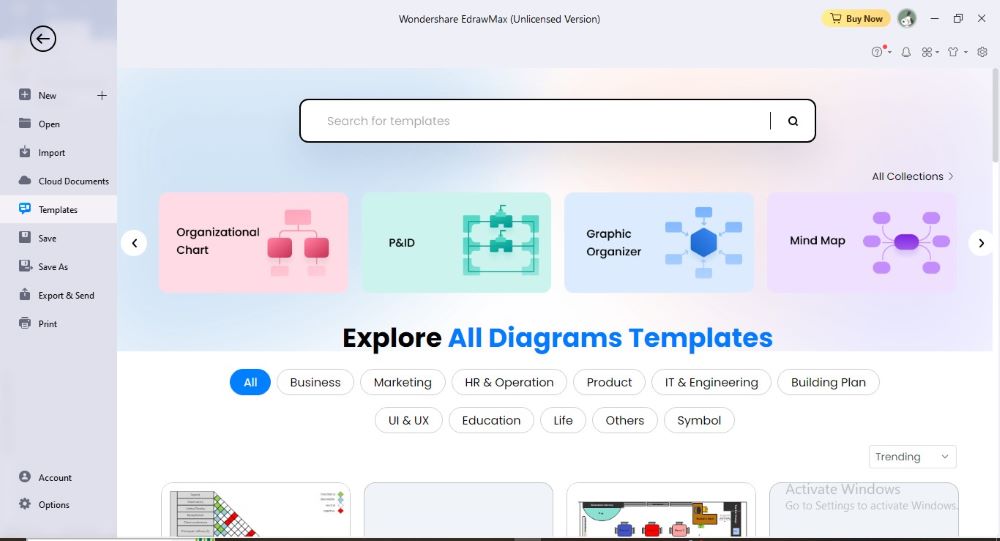 Step7
Type "Father's Day card" in the search box and proceed with your desired template.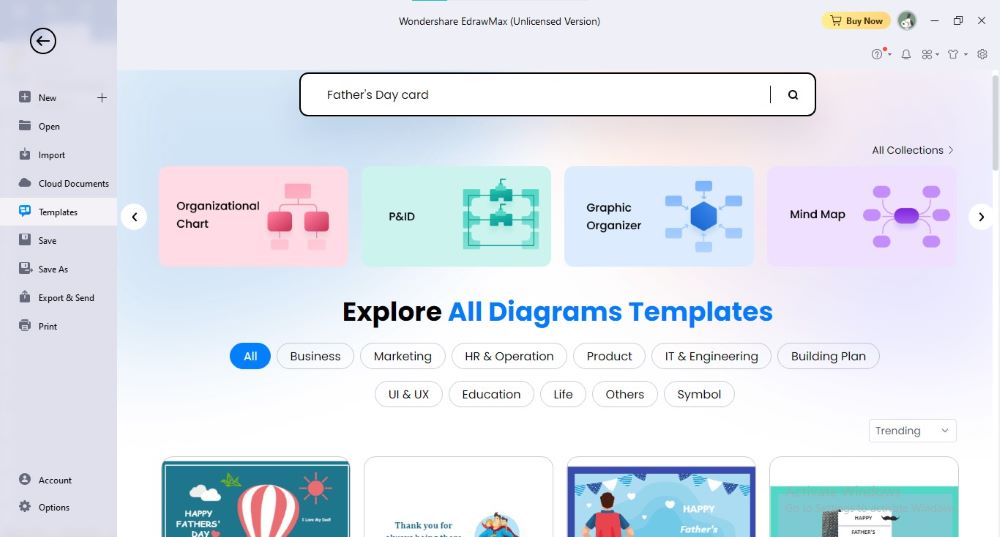 Step8
Edit the Father's Day card data to add your personalized content. Copy the AI-generated content from the previous tab, and paste it into your custom card.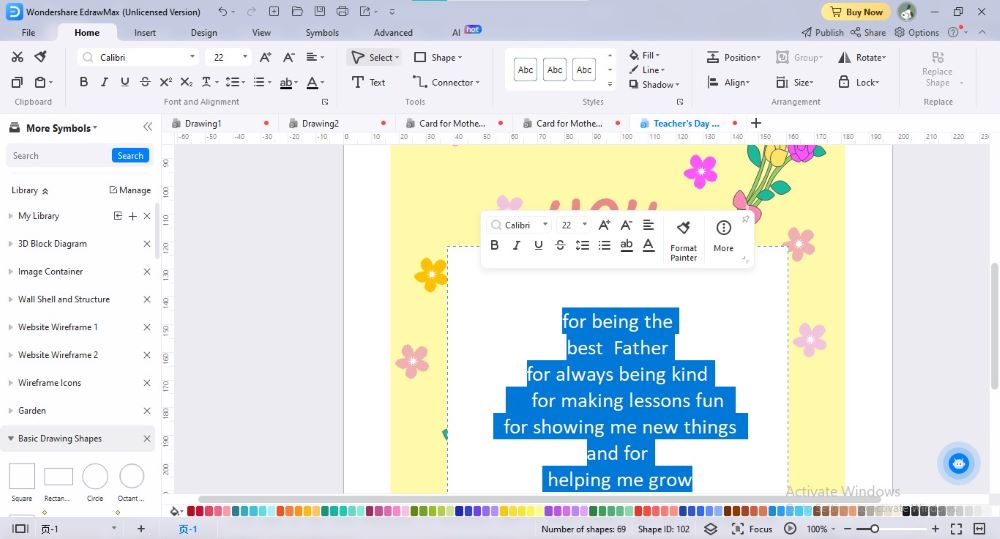 Step9
You can personalize the theme and fonts of your card with a single click. For this, go to the "One Click Edit" option under the "AI" menu.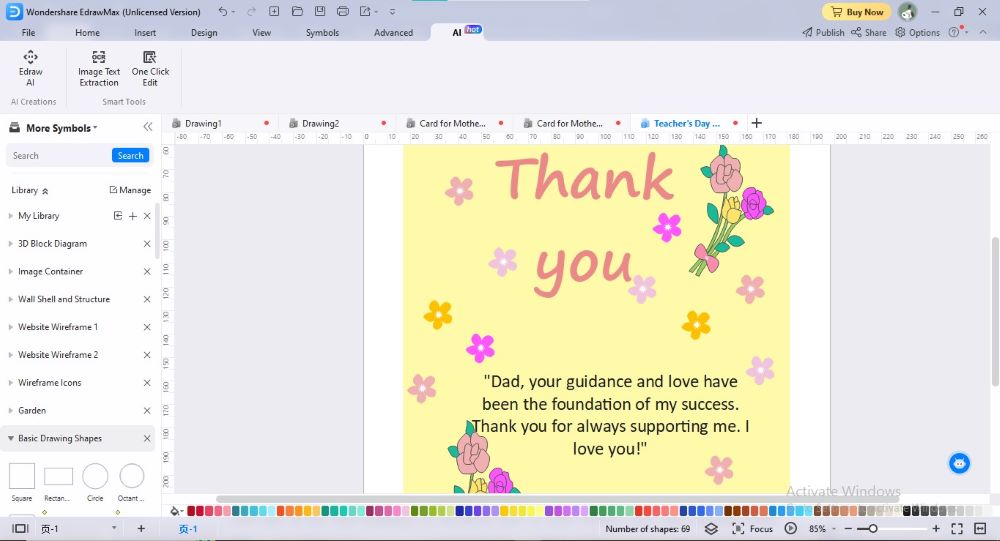 Step10
Choose you preferred global theme from the provided ones. Unify the colors by navigating to the "Unify Colors" tab.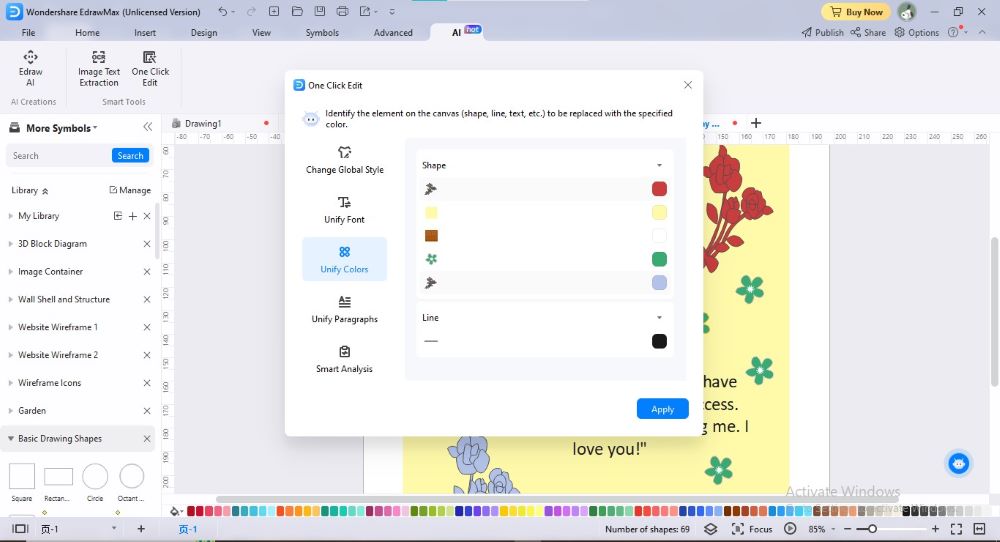 Step11
Export your Edraw AI-generated Father's Day card through the "Export" icon at the top.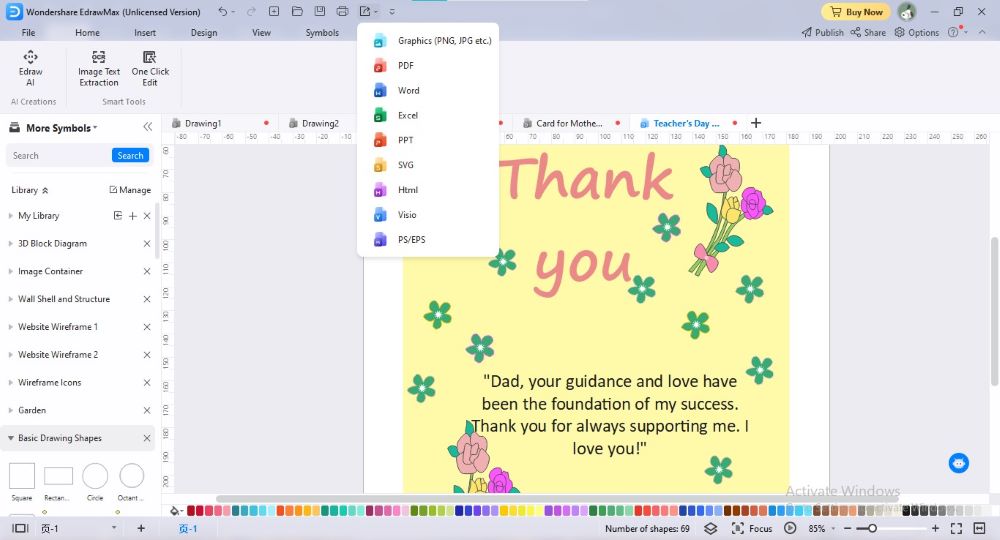 Benefits of Using Al-Powered EdrawMax
Blending design flexibility with AI innovation, EdrawMax brings several revolutionary features that can enhance your card creation experience. You will get the following benefits for employing EdrawMax as an ultimate Father's Day card creator:
You can generate your Happy Father's Day card content using Edraw AI one-click content creation.
The AI-powered text polishing feature helps craft heartfelt messages with improved grammar and language.
EdrawMax ensures layout consistency through smart analysis, resulting in a visually pleasing card.
You can modify the outlook of your card using the one-click edit feature. Global style editing, font & color unification, and smart analysis are some brilliant features to improve your card's appearance.
EdrawMax allows you to add icons, clipart, images, and other graphic elements to modify your Father's Day card according to your preferences.
4. Conclusion
Father's Day is an honored event to commemorate the incredible endeavors of our fathers. For such a valuable occasion, your delights will remain tasteless without an emotion-filled card. Father's Day cards serve as a way to convey our emotions and show our fathers how much they mean to us.
Using card templates for Father's Day offers numerous benefits. Card templates provide a starting point, saving us time and effort in designing from scratch. They offer a variety of professionally designed options that we can personalize to reflect our father's unique tastes. Thus, design your Father's Day 2023 card by merging EdrawMax's exciting template with a mind-blowing AI-generated quote.
EdrawMax Desktop
Create over 280 types of diagrams
Windows, Mac, Linux (runs in all environments)
Professional inbuilt resources and templates
On-premises software for business
Enterprise-level data security
EdrawMax Online
Create over 280 types of diagrams online
Access diagrams anywhere, anytime
Team management and collaboration
Personal Cloud and Dropbox Integration
Related Articles